PPE turns into 'tremendous' opportunity for Reed City factory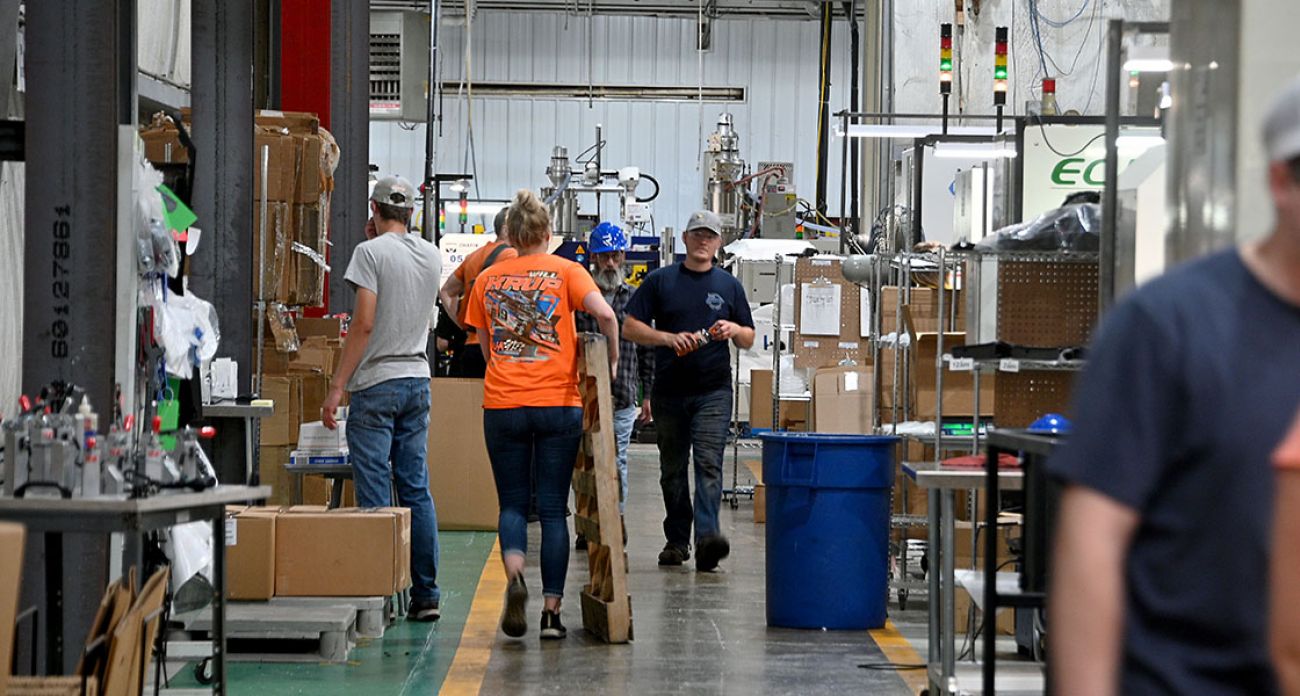 During three shifts a day and sometimes for six days a week, machinery is humming at a small town factory where the pandemic is creating expansion opportunities and jobs.
Reed City Group in Osceola County is not the first company to switch gears from fabricating parts for the automotive industry to making personal protective equipment (PPE) for the COVID-19 virus. But it is one that's sticking with it, and potentially leading the way as the state's manufacturers hope to regain business by making the medical products once sent overseas.
The pandemic is a tragedy, but the changes to the company located between Big Rapids and Cadillac are "tremendous," said said Brad Doornbos, director of business development for Reed City Group. It has hired at least 30 workers and purchased equipment for the switch, as its plastic-injection molds now create parts for medical devices.
"We're learning what it means to be part of a major [original equipment manufacturer] supply base," Doornbos said.
Statewide, many businesses made PPE during the shutdown, said John Walsh, CEO of the Michigan Manufacturers Association.
Some companies could do so fairly quickly and preserve jobs, but most have gone back to normal production, Walsh said, after deciding that a permanent change wasn't feasible as original lines of business returned, like auto production.
Very few are like Reed City Group and continue to maintain PPE production, Walsh said.
However, an estimated 300 small manufacturers in Michigan say they have excess capacity and may be able to make the switch too, Walsh said. Now many businesses are wondering if they also have the access to floor space, to labor and to the tooling to find more opportunities in the pandemic.
"They're earnestly taking a look at the future and how might they expand their business to make PPE," Walsh said.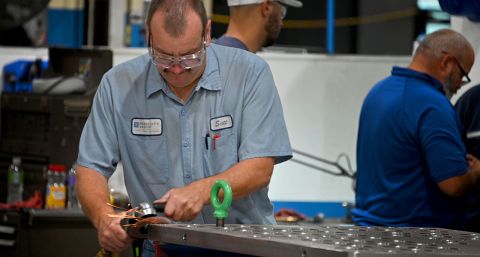 It's working in Reed City. Today, most garage doors in America are stamped into shape by big hydraulic presses operated by an automation division of Reed City Group. The company still makes molds for plastic injection, as it has for 61 years, and it also has 26 machines to do its own injection molding.
The company, with $25 million a year in annual revenue, had 82 employees three years ago, growing to 102 before the pandemic. It's also added $5 million in equipment over that time.
Like many small manufacturing companies, Doornbos said the management team at Reed City Group in March felt as much fear as any other business leaders. Some of the work it does for Yoplait Yogurt kept it open during the shutdown, with employees carrying letters in their cars stating that they were essential. Another client contracted for a part on face shields, and that kept a few more people working. And it made some automotive parts for two weeks after the shutdown, building a stockpile for whenever the client reopened.
All of that wasn't enough.
"We were still facing layoffs," Doornbos said. Staff wondered: "How many of us? All of us?"
Then, he said, "the phone call came."
On the other end of the call was a contact who'd worked with a previous client. He'd moved into a role with a manufacturing group sourcing high volumes of PPE following the $16 billion directed toward manufacturing it in the $2 trillion federal Coronavirus Aid, Relief and Economic Security (CARES) Act passed in March. Reed City Group was invited to submit a bid for a plastic part.
Not long after, Doornbos said, the management team found itself standing in a circle in the CEO's office at 7 p.m. on a Friday night while holding hands and praying.
Reed City Group was one of three finalists for the work, and winning it was "so important," Doornbos said.
"Not only because of the impact it would have in the short-term on us to be able to keep the doors open and keep people working, but our injection molding business up until that point was primarily automotive-focused … and any company wants to be fairly diverse in the markets they serve," Doornbos said.
With the contract, came that diversification: Now about half of the $25 million per year business is automotive, and it's moving even more into medical device making.
The change means that it can use an 80,000-square-foot building that it owns across the street from its existing factory and offices, doubling its manufacturing footprint. The plastic injection molding will move to that facility, as the company buys new machines and creates a clean room rated for medical device manufacturing, yet another step to gaining more bio-pharma business.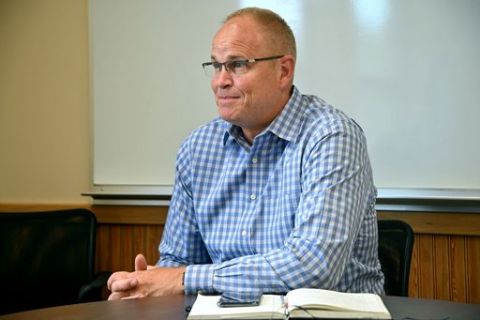 By mid-July, Reed City Group was being asked to bid on still more contracts: PPE, more tooling, and plastics now made at another manufacturer. None of the clients could be disclosed, Doornbos said, and details on the parts also can't be publicly discussed.
But the impact is resonating.
"We all knew as we stood there and prayed for this to happen, that if it happened it would be a game-changer," he said, "not just for this company, but for the community."
The company, then Reed City Tool, was acquired in 2017 by a pair of private equity investors, Argosy Private Equity and Stone River Capital Partners. Since then, growth has been a goal, with investments including automation and 3D printing.
The growth is benefitting the region's employment base. Reed City Group hired about 30 people since spring as production increased. Jobs range from entry-level production to more skilled positions, including 24 operators of injection molding equipment. The company cultivates an employee pipeline by offering tours to area students and offering an apprenticeship program.
It also bought eight new mold machines, investing in capital equipment at a time when many factories were closed. That, Doornbos said, let the company share its "glimmer of hope."
Walsh said that as an industry, manufacturers are looking for federal liability protection for companies making new health-related products. They also hope that the state considers some financing, even loans, to assist with costs.
The products may never be made at the lowest possible costs as they are overseas, including China, "which has been an adversary for a long time" to tooling and injection molding, Doornbos said. However, the shipping costs and unpredictability of a global economy means that "reshoring" is becoming more viable, he said. For every seven parts produced overseas, three might come back to the United States, he said.
Meanwhile, the pandemic continues in many countries, including the United States, Doornbos said he still worries about the world economy, even as his company now has a foothold in making critical equipment and will be busier if needs for PPE escalates.
"If things do go bad, they're going to need some of the equipment that we're producing," Doornbos said. "I'd give that up just for normalcy. I learned to compete on a level playing field, not for a pandemic to give us an edge because of the product we're producing."
We're not just a news organization, we're also your neighbors
We've been there for you with daily Michigan COVID-19 news; reporting on the emergence of the virus, daily numbers with our tracker and dashboard, exploding unemployment, and we finally were able to report on mass vaccine distribution. We report because the news impacts all of us. Will you please donate and help us reach our goal of 15,000 members in 2021?