Recreational pot is nestling comfortably into small-town Michigan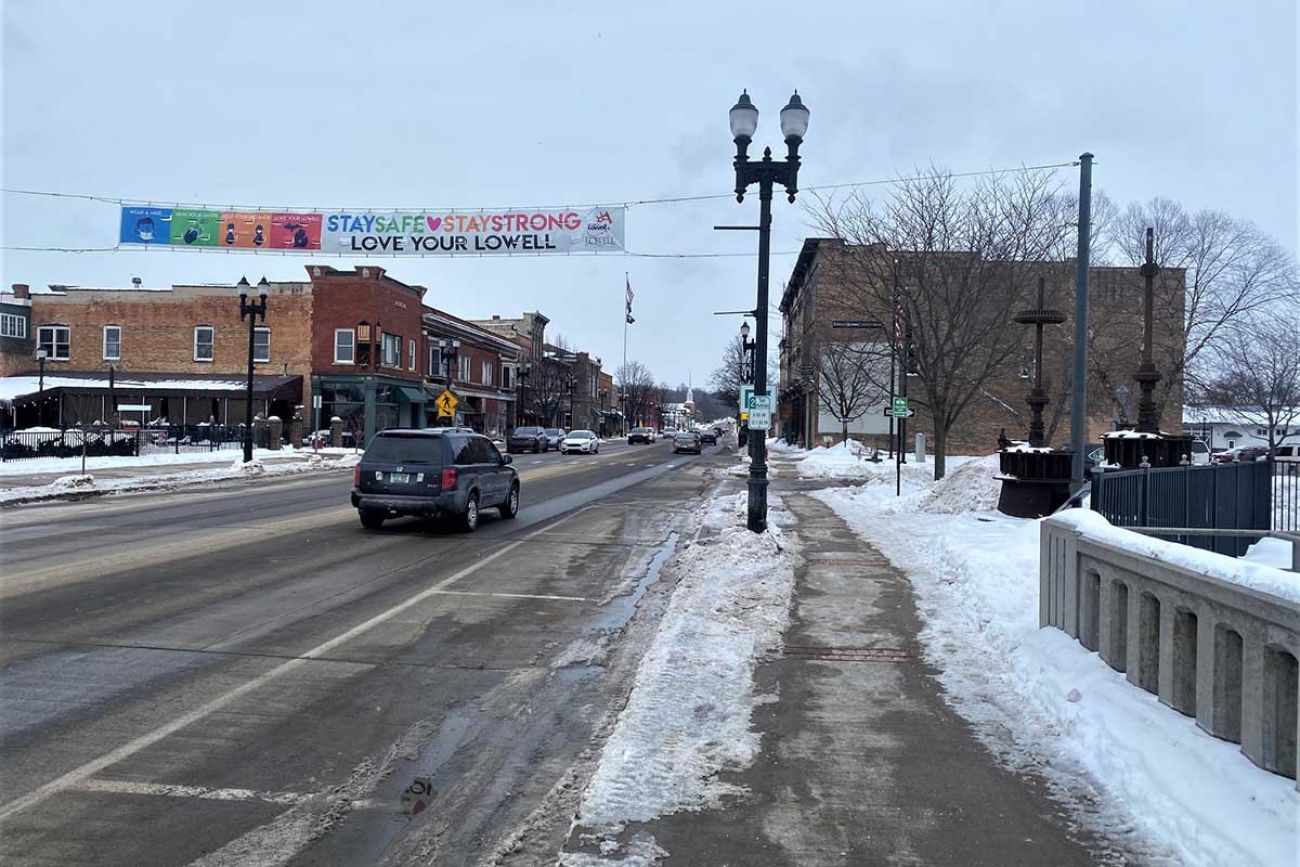 About 15 miles east of Grand Rapids, officials in Lowell foresee "significant" returns for their small city from recreational marijuana. (Bridge photo by Ted Roelofs)
LOWELL—Judging by the day-long stream of traffic at a local marijuana shop, this small community in Kent County is all in on pot.
"We'll see anywhere from 450 to 800 people a day," said Kyle Miller of Meds Cafe, as locals and customers from Lansing to Grand Rapids pulled in for curbside pickup of their favorite stash.
Lowell City Manager Michael Burns said he is high on what marijuana can do for this town, a quiet place of about 4,100 people on the Grand River some 15 miles east of Grand Rapids. Lowell boasts two recreational marijuana shops, where cannabis flower goes for upwards of $50 per one-eighth ounce, and has given approval for two more shops, two growing operations and three microprocessor marijuana businesses.
Burn views this burgeoning industry as a community cash register.
Related:
"I think the tax revenue for the city could be significant," he said. "I am hoping I can add another full-time police officer. I am hoping there is more for roads."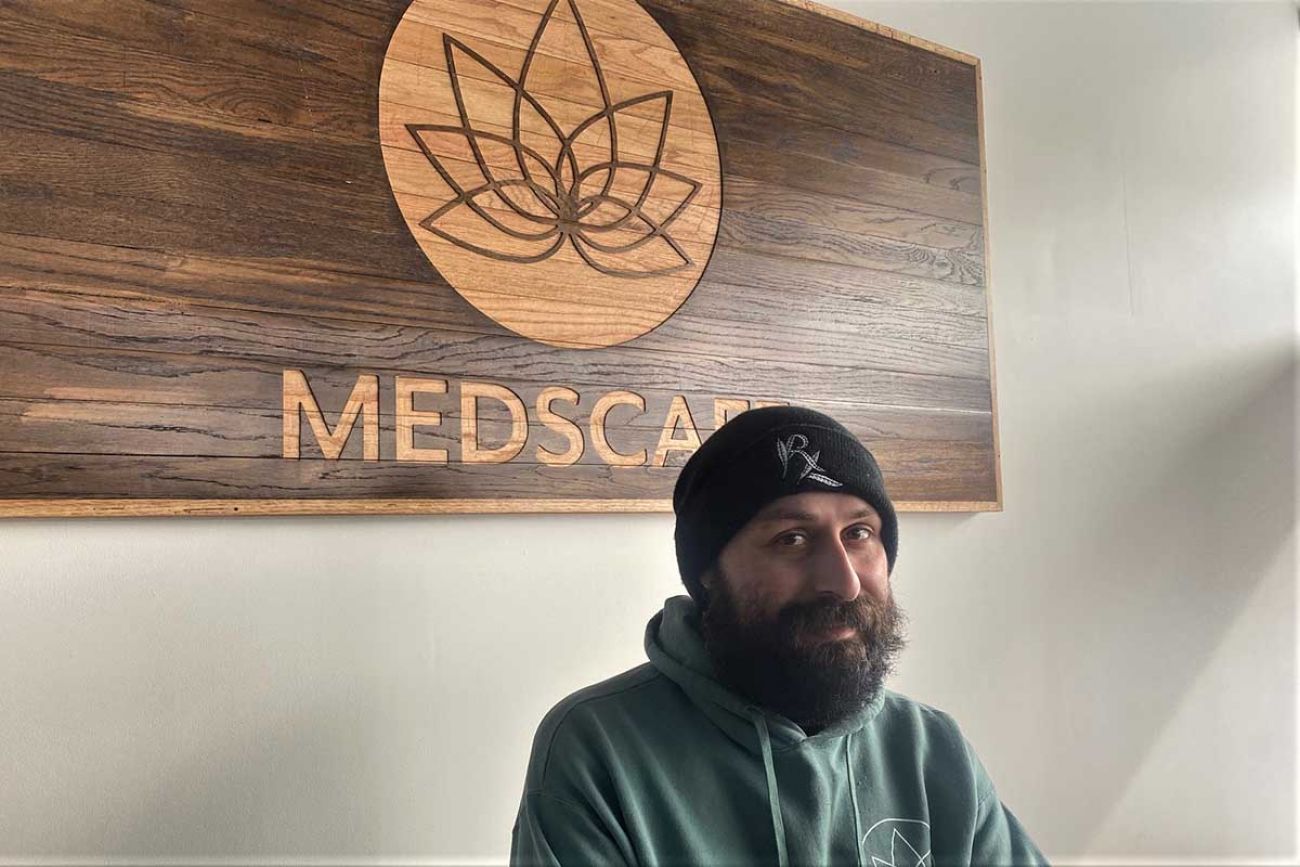 Kyle Miller of Meds Cafe said its store in Lowell sees hundreds of customers a day. (Bridge photo by Ted Roelofs)
More than two years after recreational marijuana was approved by Michigan voters, and 15 months after recreational marijuana shops began to open across the state, dozens of smaller, often rural communities are betting big on pot, even as some larger cities have been slower to embrace the business.
Given initial tax projections, some of these towns might have to wait a bit longer to hear that register ring. But others say they are already reaping the financial benefits.
Bridge Michigan interviewed officials, store owners and residents in three communities that have fallen hard for pot — Lowell, Webberville and Kalkaska. Their reviews are mostly positive, both in the boost to local budgets, and jobs provided by retail and grow operations. As for a feared spike in crime or drug abuse, local education and law enforcement officials say there is no early evidence of that.
"As far as any increase in the criminal aspect, we haven't seen it," Lowell Police Chief Chris Hurst said.
"The only criminal complaint we had as relates to those businesses was that an employee was embezzling at one of them. We've seen no increase in substance abuse or disorderly conduct or anything like that."
Hurst's impressions square with some studies of other states that legalized recreational pot, which found little or no connection between approval and increased drug use or traffic fatalities. Other studies have found no links between recreational marijuana and violent or property crimes.
There have been local reports, however, of potentially dangerous overdoses among young children who somehow got their hands on potent forms of edible marijuana.
Dr. Erica Michiels, associate medical director of the pediatric emergency department at Helen DeVos Children's Hospital in Grand Rapids, said in 2020 that she admitted six toddlers to the hospital for marijuana ingestion.
"When a toddler gets a hold of that, they don't eat one like someone who's wanting to get high, they eat the whole package because it tastes like gummy bears," Michiels said.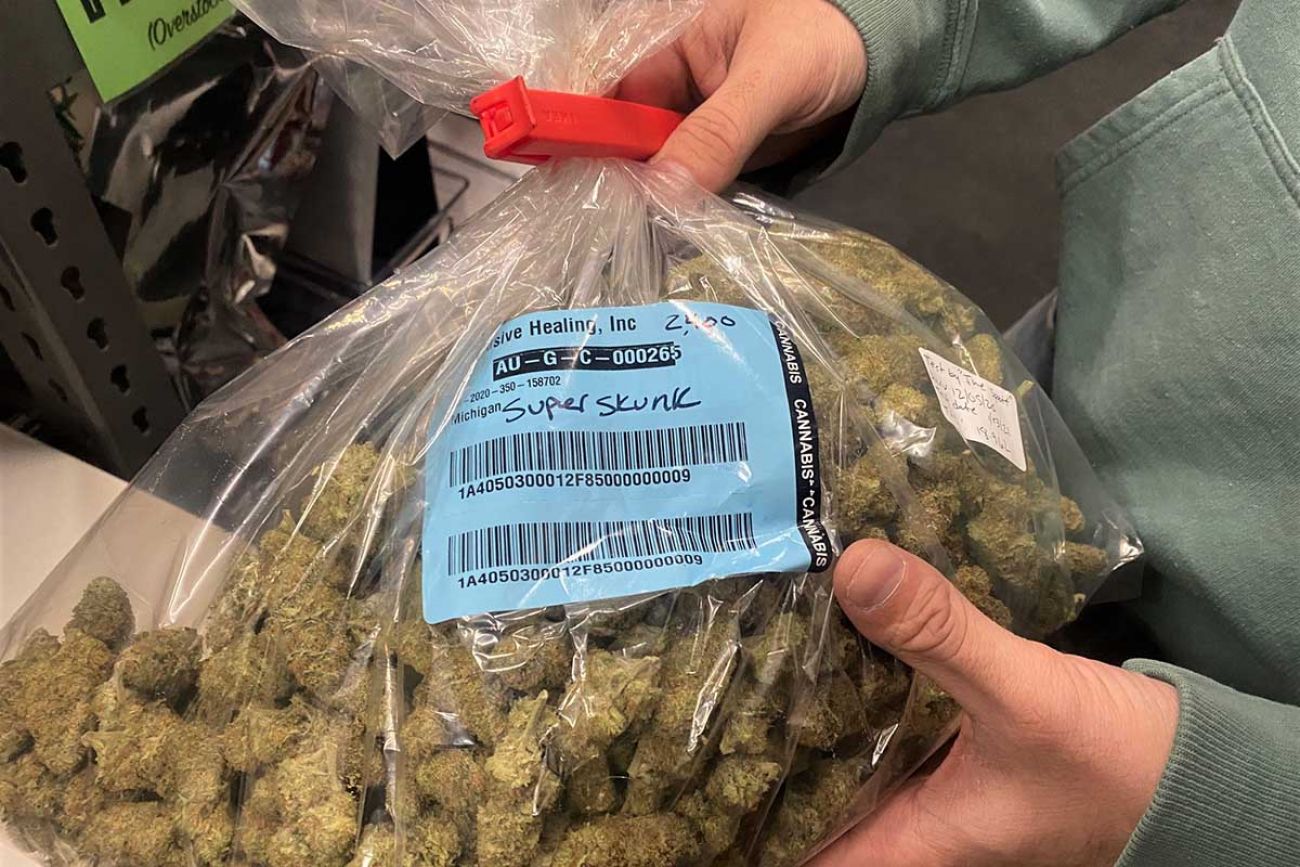 Customers pay $65 for one-eighth ounce of this variety. (Bridge photo by Ted Roelofs)
A 2015 state health study in Colorado did find a rise in marijuana-related hospital billing codes following its legalization of recreational marijuana in 2014. But an analysis of that trend by PolitiFact, a journalism project of the nonprofit Florida-based Poynter Institute, concluded the data failed to establish marijuana was the cause of the hospitalizations. It also found that emergency visits tied to marijuana actually dropped in the year after legalization.
After slow start, a surge expected
Town officials say have yet to hit a gusher of new revenue from marijuana sales. It took 13 months from when voters passed recreational pot in November 2018, to the opening of recreational dispensaries in December 2019. And under the terms of the ballot proposal, significant revenues to local governments were not expected immediately.
Under the approved ballot measure, a 10-percent excise tax on sales was to be divided four ways: 15 percent each to local communities and counties where recreational pot businesses open, with the remaining 70 percent going to K-12 schools and the state transportation fund.
But the proposal also specified that in the first two years of legalization, the first $20 million raised by the tax would go to medical research on marijuana before being divvied up by the four government groups.
According to Michigan's Department of the Treasury, the excise tax brought in $31 million in fiscal 2019-2020 — which left just $11 million to be divided among local and county governments, schools and roads.
But tax revenue is expected to jump in the coming years. The Senate Fiscal Agency projects about $1.5 billion in sales, producing $154 million excise tax revenue, in fiscal year 2022-23. Fifteen percent of that means roughly $23 million for local communities. Getting a slice of that pie may not turn heads in bigger cities like Grand Rapids, but for a small town like Lowell, with a general fund budget of $3.2 million, a boost of several hundred-thousand dollars is significant.
A couple months after the first recreational pot stores opened in December 2019, there were just a few licensed shops in the entire state. Today, there are nearly 240 licensed recreational marijuana storefronts, with dozens more on the horizon. Monthly sales of recreational marijuana and related products jumped from $10 million in January 2020 to $67 million this January.
Under the state excise tax formula, communities with multiple shops get more revenue, since the legalization measure said local revenue is to be "allocated in proportion" to the number of retail stores and microprocessing businesses, which are smaller operations that sell home-grown marijuana from a maximum of 150 plants.
Recreational marijuana is also subject to the state's 6 percent sales tax, which goes to K-12 schools and state revenue sharing for local governments.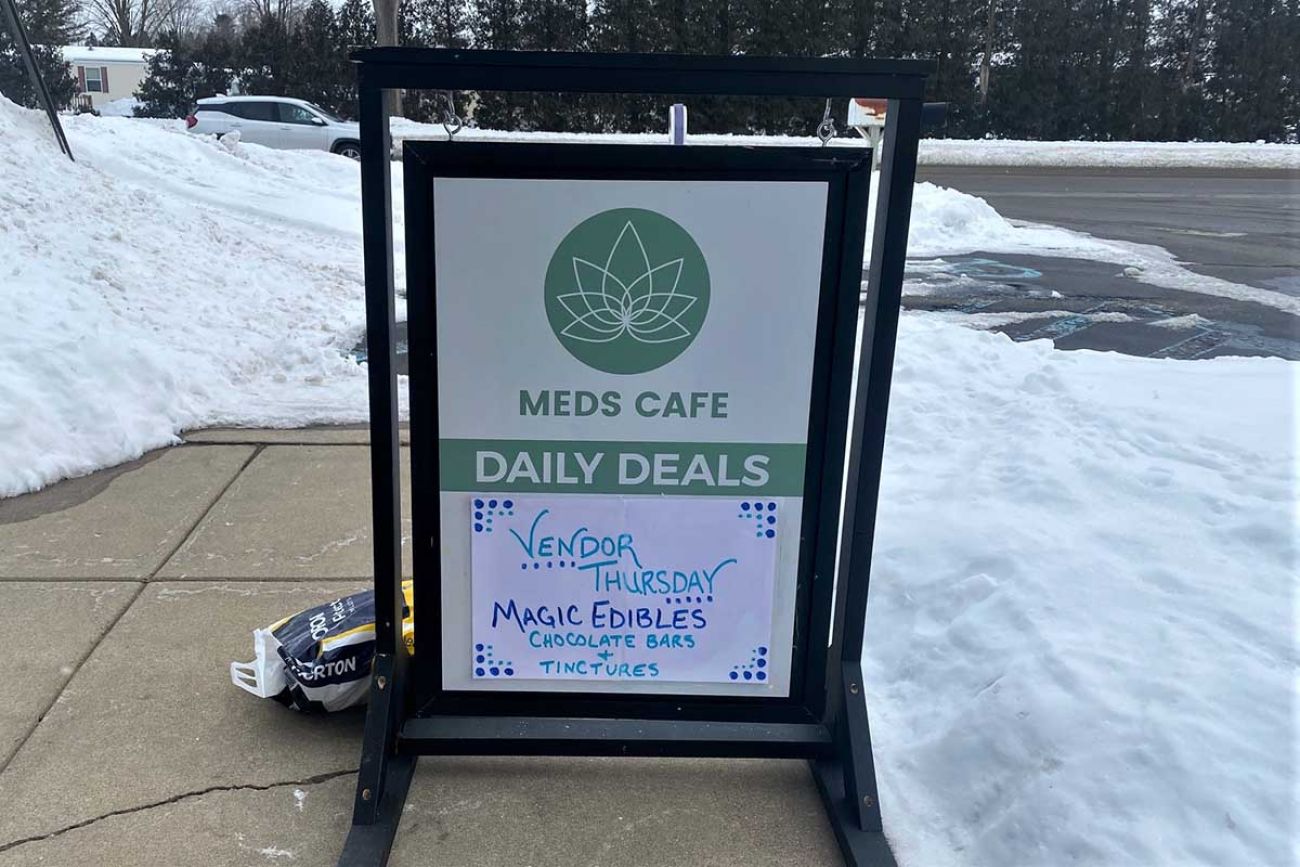 Customers drive from west of Lansing to Grand Rapids for what Meds Café has to offer. (Bridge photo by Ted Roelofs)
Many communities were slow to approve recreational marijuana; indeed, some 1,400 Michigan cities, villages and townships rejected it outright, including Grandville, Walker, Wyoming and Kentwood in Kent County, Holland and Midland, and Novi and Dearborn near Detroit.
The city of Detroit only approved recreational pot in November, a year after the city council passed an ordinance putting a temporary ban on marijuana growers and recreational shops. The city will license up to 75 retailers.
In Lowell, the opening of recreational pot shops has been surprisingly undramatic.
"At first, I thought this was going to make us the pot town of America," said resident Beth Smith, as she ordered a pale ale at a craft brewery.
"But I think it's been good for our community. It'll bring jobs. And people are getting what they need, without going on the black market."
She put her beer down after taking a sip.
"To me, a pot shop in Lowell is like another brewery," she said. "It's like their own way of partying."
In Kalkaska, a brightening bottom line
Officials in the villages of Kalkaska, east of Traverse City, and in Webberville, east of Lansing, say they are seeing badly needed jobs and revenue from marijuana.
A few years ago, Kalkaska was up against chronic budget shortfalls and a sagging property tax base. The collapse of a short-lived natural gas boom in the region a decade ago added to the strain, with Kalkaska facing $6.4 million in unfunded retiree debt in 2011 — which ate up 46 percent of its general fund revenue.
Kalkaska Village President Harley Wales told Bridge that revenue from marijuana is bringing optimism to a town that some now jokingly call Kal-Hash-Ka.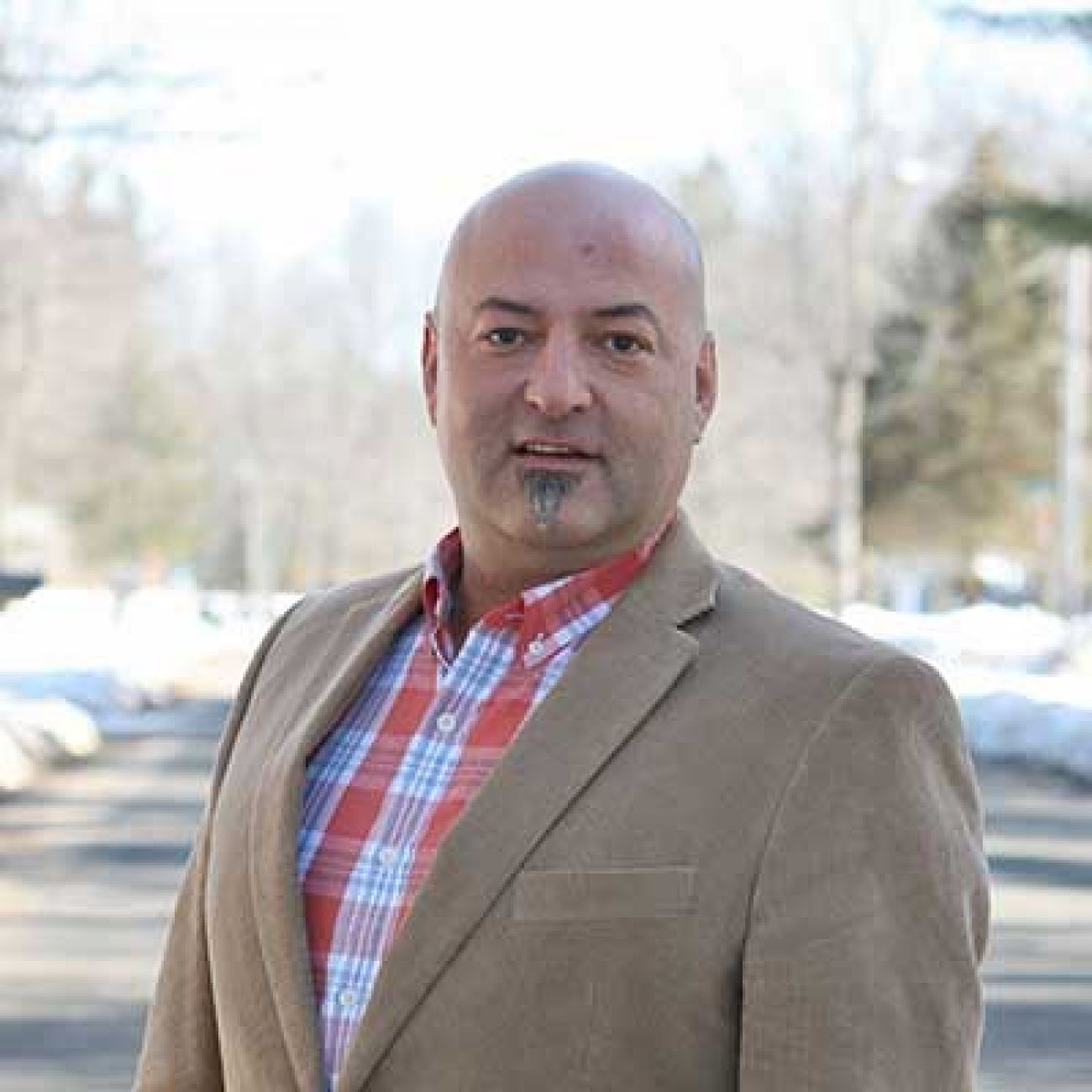 Kalkaska Village President Harley Wales said revenue from recreational marijuana sales has given the small community "a huge boost." (Courtesy photo)
The village of 2,000 people has three retail pot shops — all sharing the same parking lot — with approval for up to five more shops licensed for adult recreational as well as for medical marijuana, which was first approved in Michigan in 2008.
According to Wales, an industrial park in the community now has 15 licensed marijuana supply businesses, 11 already in operation. He said the largest grower employs about a 100 workers, at wages that start at about $15 an hour.
The village has yet to see any revenue from the 10-percent excise tax. But Wales said annual licensing and inspection fees generate upwards of $225,000 — helping beef up the town's police force from one officer in 2018 to five officers now.
"It's given the village a huge boost," he said.
Kalkaska's adoption of a marijuana economy is not universally embraced.
At Uptown Hair Care in Kalkaska, salon owner Brandy Ball expressed mixed feelings.
"The jobs, that part's good," she told Bridge. "I'm not for it. I'm not against it."
Ball said many of her customers are older residents, some of whom still worry about what societal ills marijuana could bring.
"People think it's going to bring crime and be a gateway drug," Ball said. "It's fairly mind-blowing, some would say."
But area resident Molly Paryani said the legal marijuana trade has been "a godsend" to her and her family.
Paryini was hired a month ago for a $15-an-hour job at one of the marijuana growing operations. A mother of five, she said she quit her job as a nursing assistant at a local hospital over fear of contracting COVID-19.
"I just hope that people's fears are alleviated as we go down the road with this, and that people see that people have jobs and the economy is flourishing because of this," Paryani said.
Kalkaska Public Schools Superintendent Terry Starr said he's heard virtually no complaints from teachers or parents since pot came to Kalkaska, in spite of early fears over its potential impact.
"At this point, we're not seeing any patterns of different behavior that we would link to the community's focus on marijuana," Starr told Bridge.
"Have we seen any uptick as to the use or influence of marijuana? The answer would be no.
"As long as there doesn't seem to be a negative impact on our schools, I would see this as having a positive impact on our economy and on jobs. So far, so good."
In Webberville, 'more jobs and more money'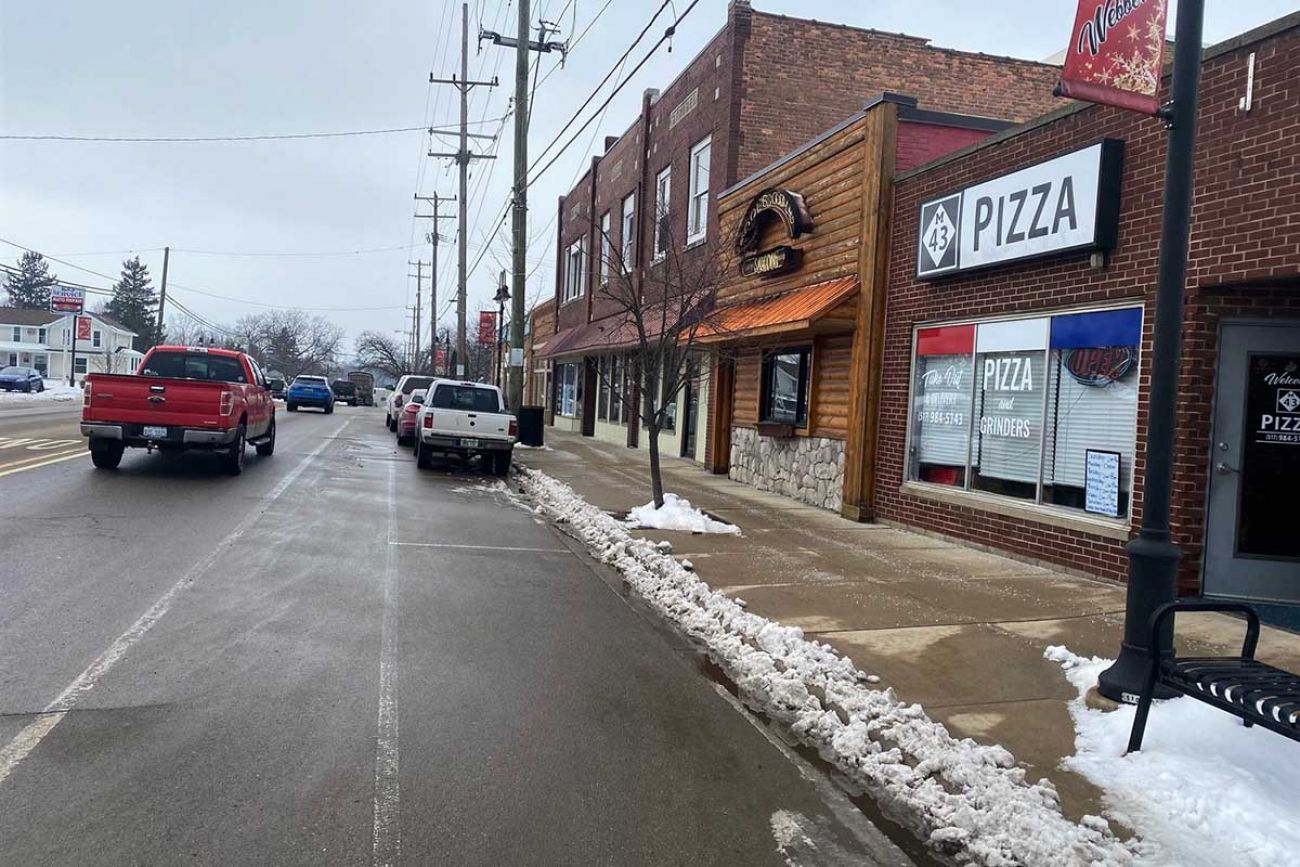 Webberville, population 1,322, saw little recent economic growth until marijuana came to town. (Bridge photo by Ted Roelofs)
In Webberville, a village of roughly 1,300 set amid miles of flat farmland east of Lansing, cannabis producer C3 Industries opened a 36,000-square-foot growing operation in late 2019. It's one of two operations in the town, providing jobs for more than 50 workers. C3 recently posted salaried job openings at the plant: for an extraction technician at up to $69,000 a year and a supply chain manager at up to $140,000 a year.
C3 Industries, based in Ann Arbor, said it plans a 90,000-square-foot expansion at the Webberville site and will add another 110 jobs.
Village Clerk-Treasurer Jaymee Hord said entry-level jobs at the growing operations pay at least $15 an hour, with many being filled by local residents.
"Those jobs are nothing to turn down your nose at," Hord said.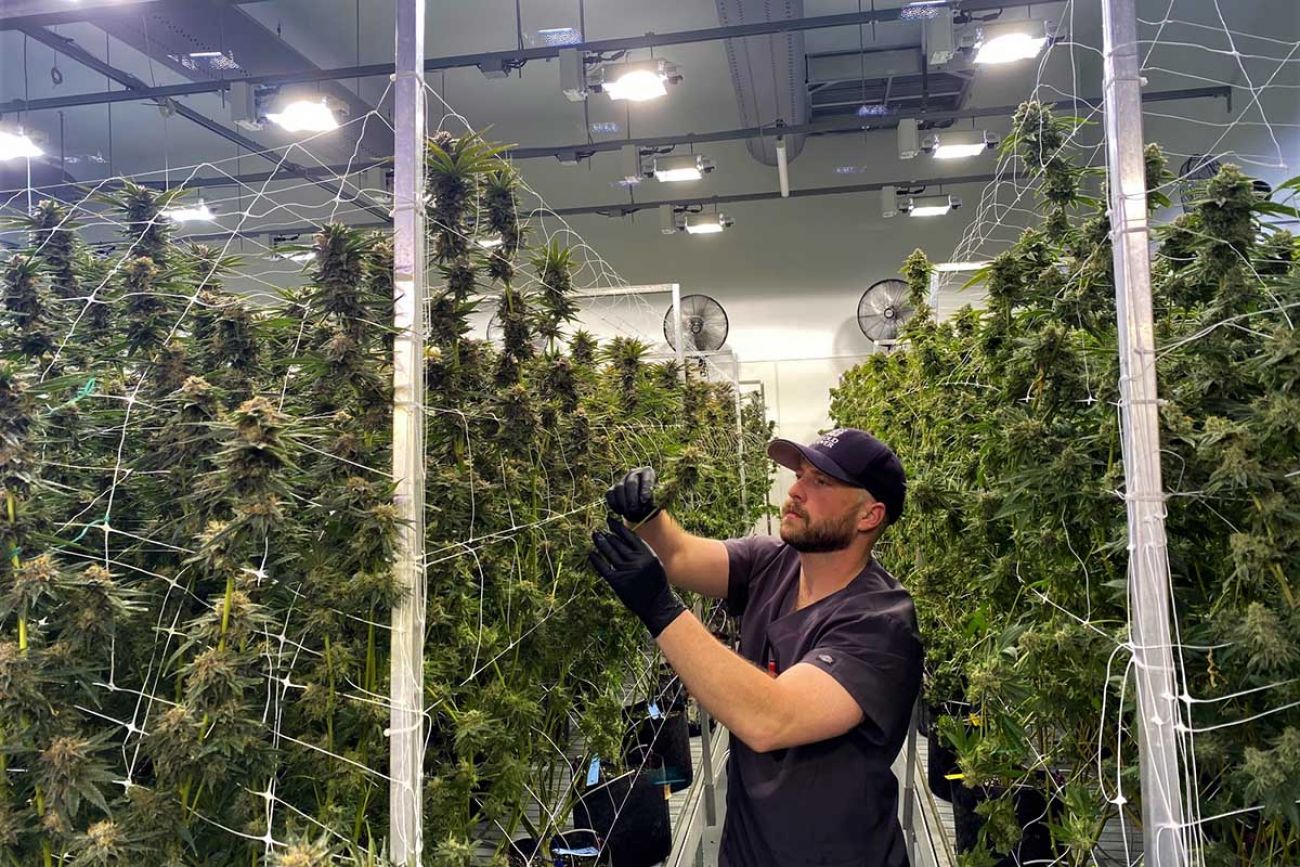 In Webberville east of Lansing, this C3 Industries marijuana production plant brings jobs and tax revenue. Zach Ballard of C3 Industries tends to plants just before harvest. (Bridge photo by Ted Roelofs)
Hord said real industrial property taxes from the town's two growing operations will generate about $19,000 this year, on top of industrial personal property taxes she expects will bring in thousands of dollars more a year.
The operations shell out another $20,000 a year to the village in licensing fees — which is not nothing in a town with a general fund budget of less than $1 million.
C3's expansion, she said, will only mean "more money and more jobs."
A small-town empire
If there's an early corporate leader in Michigan's small-town marijuana retail sweepstakes, it might be Troy-based Lume, owned by Robert Barnes and his brother, Donald Barnes, Jr., members of the family that owns Belle Tire.
Lume runs 15 recreational pot shops in Michigan, from Adrian just north of the Indiana border, to Sault Ste. Marie, Escanaba and Negaunee in the Upper Peninsula. Its website says it has another 15 shops in the pipeline, including Bay City, Saginaw and Southfield, with most of the rest in small-town Michigan.
"We have a five-year goal to have a hundred stores in Michigan," Lume President and COO Doug Hellyar told Bridge. "Our goal is to be in every corner of the state."
Hellyar said Lume employs more than three hundred workers in its recreational shops, most full-time employees with health care coverage and 401(k) retirement plans. Store managers can earn $70,000 a year.
Hellyar said these benefits make recreational pot an easier sell, especially in rural communities that may have seen hard economic times.
"The more stores we opened up," Hellyar said, "the easier it's been to gain acceptance in other communities."
Business Watch
Covering the intersection of business and policy, and informing Michigan employers and workers on the long road back from coronavirus.
Thanks to our Business Watch sponsors.
Support Bridge's nonprofit civic journalism. Donate today.
Only donate if we've informed you about important Michigan issues
See what new members are saying about why they donated to Bridge Michigan:
"In order for this information to be accurate and unbiased it must be underwritten by its readers, not by special interests." - Larry S.
"Not many other media sources report on the topics Bridge does." - Susan B.
"Your journalism is outstanding and rare these days." - Mark S.
If you want to ensure the future of nonpartisan, nonprofit Michigan journalism, please become a member today. You, too, will be asked why you donated and maybe we'll feature your quote next time!