'There is no playbook' for Michigan's businesses to navigate COVID-19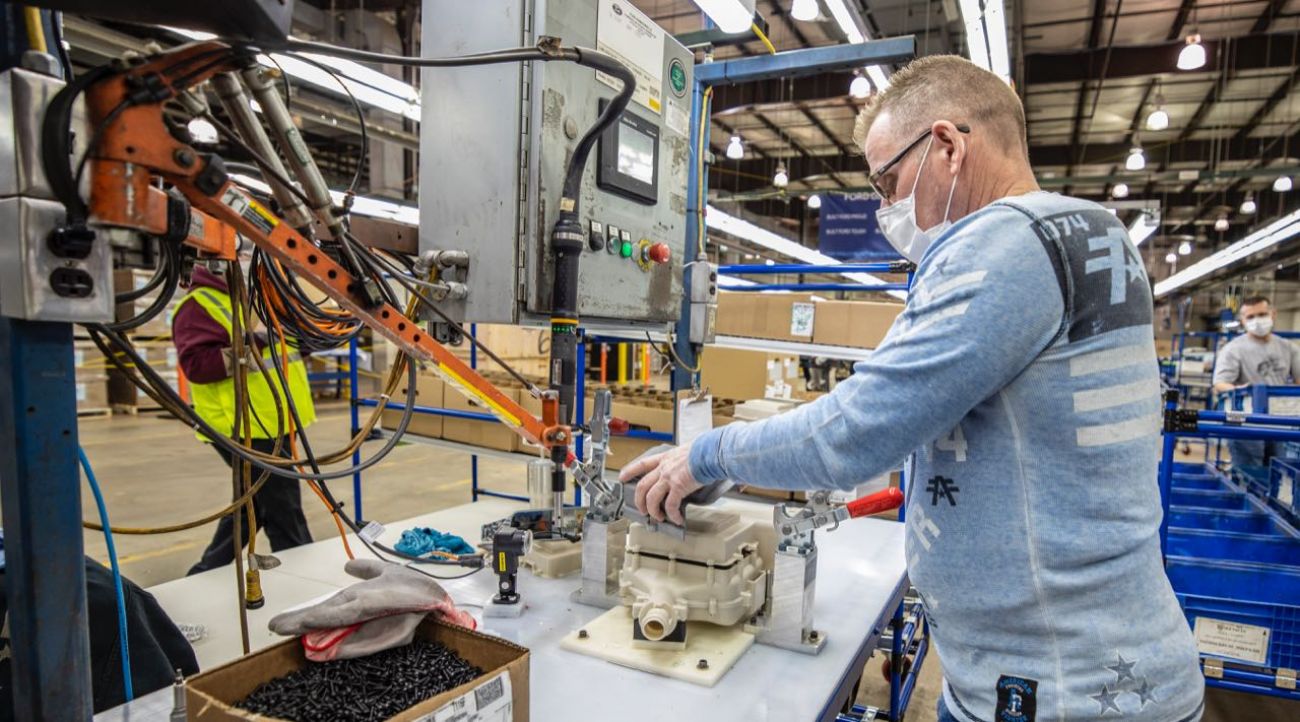 One statistic that does not show up in CMS Energy's financial statement points to the unmapped road Michigan businesses are traveling due to the global pandemic.
"At this time, we've experienced zero fatalities," CEO Patti Poppe said during the utility's first-quarter earnings call on April 27.
She went on to cite other numbers: 11 positive cases for COVID-19 among 8,000 workers. Seven employees returned to work.
Poppe's bottom line: "Our social distancing is working."
It is an unprecedented earnings season for Michigan's public companies. A look by Bridge Magazine at first-quarter financial results, announcements and analyst calls for 20 companies across many sectors shows the first cracks in business performance from the COVID-19 pandemic.
In most cases, CEOs say those cracks are growing deeper and wider. The reports also detail companies' vast, varied and rapid responses to a global economic downturn whose magnitude and duration, top business leaders said, cannot be guessed.
Many companies in the state stopped providing investors with guidance regarding future financial performance because they can't predict what's coming next.
"There is no playbook to navigate the environment we face," said J.B. Brown, CEO of Detroit-based Ally Financial.
Since early March, Michigan companies have moved legions of employees from offices to working at home, furloughed hundreds of thousands of workers, shut down assembly lines and businesses. At the same time, they enacted safety protocols, managed perilous supply chains, ramped up online selling and digital operations, cut costs, expanded charitable activity. Many amassed cash to ride out the storm.
Domino's Pizza CEO Richard Allison described his company as "a 60-year-old brand that has rewritten most of our standard operating procedures in the last six weeks."
Ford Motor Co. CEO Jim Hackett said the automaker had been preparing for a recession before the pandemic struck, but never anticipated the global economy shutting off like a light switch.
"In all sincerity . . . we just never imagined the economy turning off," Hackett said on the company's April 28 analyst call.
"I never had a business plan that was called 'pandemic.' "
Signs of danger
Zeeland-based Gentex Corp. manufactures auto-dimming mirrors and other technology for most of the world's automakers. The company was on track to meet earnings expectations for the first 10 weeks of the first quarter ended March 30, then COVID-19 shut down the auto industry in parts of Asia, Europe and North America. Gentex sales fell $40 million in the last two weeks of March.
This amounted to a modest 3 percent decline in the company's quarterly results, but it was just the beginning. IHS Markit estimates light vehicle sales will drop 22 percent worldwide in 2020, and Gentex expects its net sales to decline as much as 15 percent for the full year.
What happened at Gentex is a common pattern across industry sectors—revenue tanked in March, losses accelerated in April, and corporate leaders say they can't predict when economic recovery will begin.
Ford reported a net loss of $2 billion in the first quarter and projects $5 billion in losses by the end of June. At CMS Energy, commercial and industrial electricity use is down 20 percent to 25 percent. Dow expects second-quarter sales to drop about 25 percent.
Livonia-based Masco, whose brands include Behr paint and Delta faucets, delivered 4 percent higher sales early this year, but expects sales to fall as much as 25 percent through June. It will be worse if stay-at-home orders are prolonged or expanded.
"This [forecast] assumes that in the United States and Europe our closed facilities begin reopening throughout the month of May and that there are no further restrictions enacted in additional states or geographies," said Masco CEO Keith Allman.
Stryker, a medical-device company based in Kalamazoo, generates up to half its revenue from elective procedures that are being postponed during the pandemic. "For Q1, we achieved organic sales growth of 2.4 percent, reflecting strong momentum through the first two months of the quarter and into March, followed by a marked slowdown tied principally to a deferral in elective procedures," said Stryker CEO Kevin Lobo.
In April, Stryker's sales were down 35 percent to 40 percent and the company, like many others, withdrew its earnings guidance because of uncertainty over the scope and duration of the pandemic. One sign of hope: Lobo said the company is "encouraged by the planned gradual resumption of elective surgeries in the U.S. and abroad."
At Ally Financial, car loan applications were up about 5 percent in January and February, then more than 20 states enacted stay-at-home orders that stopped or restricted dealer sales. Ally's loan applications dropped by more than half in late March.
The company recorded a $903 million expense in the first quarter to cover projected future loan losses due to COVID-19—more than triple the expense taken for anticipated bad loans year earlier. As a result, Ally lost $319 million in the first quarter, compared with net income of $374 million in the same period last year.
Investors reacted with concern. Ally shares dropped 3.25 percent the day its earnings were announced.
Survival mode
Michigan companies, like their peers nationwide, are focused on costs and liquidity. They tapped their available credit to amass cash, suspended share buybacks to preserve resources, and cut capital expenditures, salaries and discretionary spending.
To boost revenue, some created or expanded high-tech, no-touch ways to sell products and services in the age of social distancing. Strategies include new customer apps, more robust digital sales channels, and no-contact pizza delivery and car sales.
Ford borrowed $15 billion to increase cash on hand from $22 billion to $34 billion in the first quarter and says that is enough liquidity to carry the company through 2020. "We're pulling every appropriate lever to protect our core business, strengthen the balance sheet," Hackett said.
Ford chief operating officer James Farley Jr. said the company is applying lessons learned in China in the early days of the pandemic.
"Early on in China, we focused on business continuity," he said. "We mapped our suppliers for the liquidity in the supply chain. We created a unique logistics portal to track our supply chain. We secured air freight capacity to deliver critical safety equipment to our team in China . . . and to ensure supply of critical parts to regions like North America."
When dealerships in China were forced to close, Farley said, Ford enhanced online sales channels. "In China today, over a third of our sales are direct online," he said. "We increased doorstep delivery of sanitized vehicles. . . . We schedule remote service and vehicle pickup for maintenance, to make it easy for customers."
Prescient preparation
A few years ago, Troy-based Flagstar Bank prepared for a possible pandemic as part of its business continuity planning—and soon afterward allocated laptops to most employees so they could be deployed to work from home.
In mid-March this year, 2,500 Flagstar employees participated in a remote-work test, and the company subsequently expanded its network and connection capacity to accommodate an additional 10,000 users. Ten days later, Gov. Gretchen Whitmer enacted the state's stay-at-home order.
"Today, over 80 percent of our employees are working remotely and . . . productivity has not dropped," said Flagstar CEO Alessandro DiNello. "In fact, in the last two weeks of the month, we processed over $2 billion of mortgage loans, increased warehouse balances by over $1.5 billion, worked out arrangements with every commercial customer seeking a deferral, accepted thousands of requests for mortgage forbearance, and built a new technology platform literally overnight to launch the [Small Business Administration's] Paycheck Protection Program."
Flagstar opened its platform for the SBA loan program 36 hours after the federal government released guidelines. "We took and processed over 3,000 applications for $400 million in loans," DiNello said. "Remarkably, all these processes were performed and managed remotely."
Pizza, paint and Eggo waffles
Consumers sheltering in place devastated markets for many companies in Q1, but it boosted revenue for others:
Pizza, it appears, is pandemic food. Domino's global sales increased 4.4 percent in Q1, then spiked more than 10 percent in the first four weeks of Q2. The company is hiring 10,000 people in the United States to keep up with demand.

Homebound residents tackling DIY projects boosted sales of Masco's Behr paint.

Stocking up on staples and eating at home increased demand for low-end refrigerators and freezers from Whirlpool and breakfast foods from Kellogg. Sales of Eggo waffles spiked 45 percent in March.

Perrigo Co. in Allegan manufactures private-label and branded consumer products including pain relievers and cold, cough and allergy medicine — which consumers stockpiled. "

We estimate that customer reactions to COVID-19 added about $90 million to $110 million to consolidated net sales in the quarter," said CEO Murray Kessler.

Germ-fighting spurred demand for soap and sanitizer pumps and other packaging products from TriMas, headquartered in Bloomfield Hills. The company is increasing global production capacity because it believes the heightened focus on hygiene is here to stay.
Companies are challenged to determine which virus-inspired consumer behaviors are transitory reactions and which are structural changes that should be factored into long-term strategies.
They also face more fundamental questions.
"How fast will businesses bounce back?" CMS's chief executive Poppe asked. "How soon will people gather in public spaces? How quickly will manufacturers be able to start making non-essential goods again? Will the government stimulus help so that the small businesses can come back after this?
"At this point, there's just too many unknowns."
RESOURCES:
Business Watch
Covering the intersection of business and policy, and informing Michigan employers and workers on the long road back from coronavirus.
Thanks to Business Watch sponsors:
Support Bridge's nonprofit civic journalism. Donate today.
We're not just a news organization, we're also your neighbors
We've been there for you with daily Michigan COVID-19 news; reporting on the emergence of the virus, daily numbers with our tracker and dashboard, exploding unemployment, and we finally were able to report on mass vaccine distribution. We report because the news impacts all of us. Will you please support our nonprofit newsroom?