Sister-in-law: Ex-MI House Speaker Lee Chatfield sexually assaulted me as teen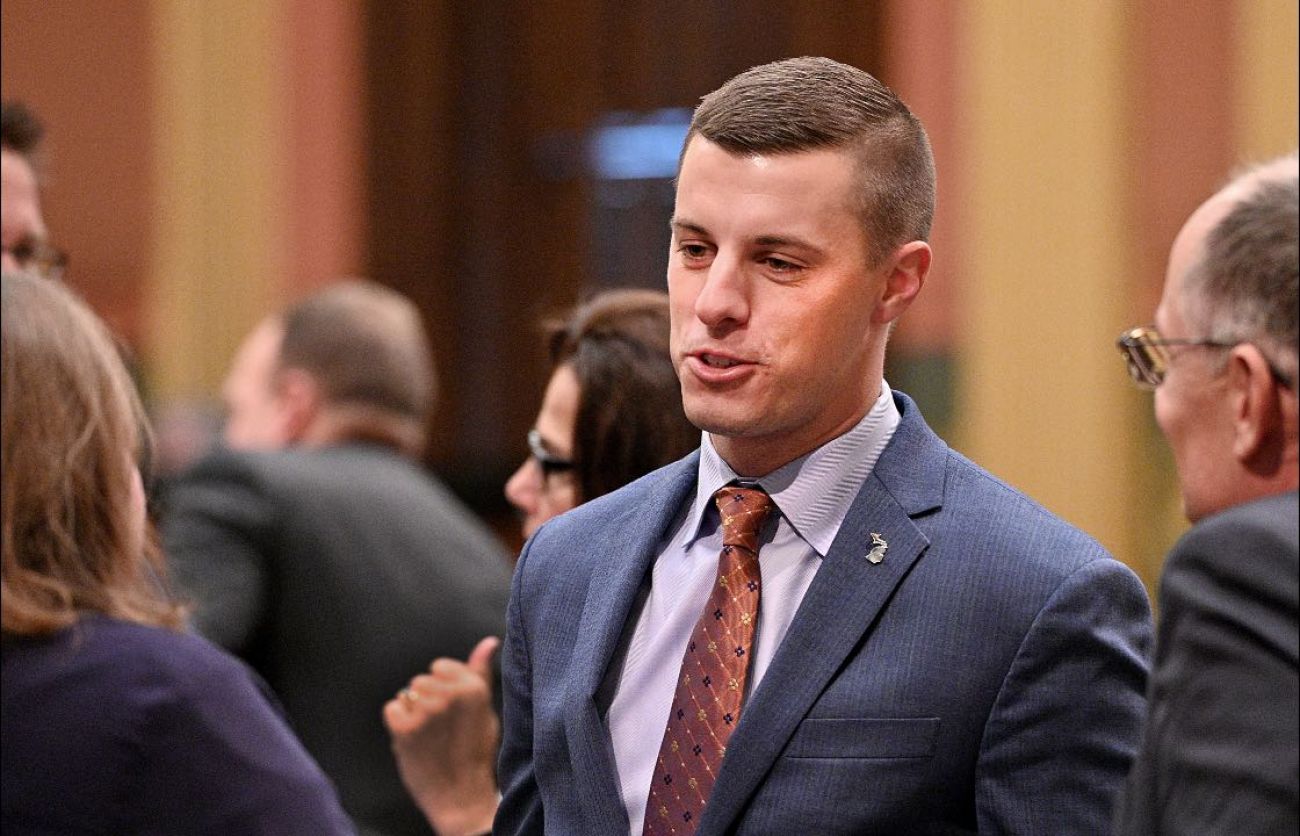 The sister-in-law of former Michigan House Speaker Lee Chatfield alleges he began sexually assaulting her when she was a teenager attending the Northern Michigan Christian school where he taught before entering political office. (Bridge file photo)
Children & Families
Sister-in-law: Ex-MI House Speaker Lee Chatfield sexually assaulted me as teen
June 1: Lee Chatfield's home searched amid criminal probe, Dana Nessel confirms
April 11: Records: Police searched Lee Chatfield's family school in sex assault probe
Feb. 17: Michigan troopers execute warrant on Lee Chatfield's brother as part of probe
Feb. 15: Michigan State Police raid home of Lee Chatfield associates
Feb. 3: Lee Chatfield allegations fuel push for ethics reform in Michigan Legislature
Jan. 31: Michigan Attorney General now involved in Lee Chatfield sex assault probe
Jan. 21: Michigan school run by Lee Chatfield's family didn't report past abuse claim
LANSING—Former Michigan House Speaker Lee Chatfield manipulated and sexually assaulted the teenage girlfriend of his younger brother when she was a student at the Christian academy where he taught, the woman said she has told police.
Michigan State Police and the Lansing Police Department are investigating the criminal complaint filed by the woman, who is now Chatfield's sister-in-law. She said the encounters continued for more than a decade into 2021.
Chatfield — a pastor's son whose website was emblazoned with the slogan "Faith, Family, Service" before it went offline in the past week — was the youngest Michigan House speaker in more than a century when legislative colleagues elected him to the powerful position at the age of 30 in 2018.
But behind the squeaky clean image, Chatfield took advantage of the girl's vulnerabilities when she was a high school student and continued to sexually assault her throughout his political tenure in Lansing, including inside his Capitol office, Rebekah Chatfield, now 26, said in a series of interviews in recent weeks with Bridge Michigan.
"He destroyed me, and has controlled my life since I was 15-16, the past 10-11 years," she said. "And I know the only way to get justice for this is to come forward and to file a criminal (complaint) against him."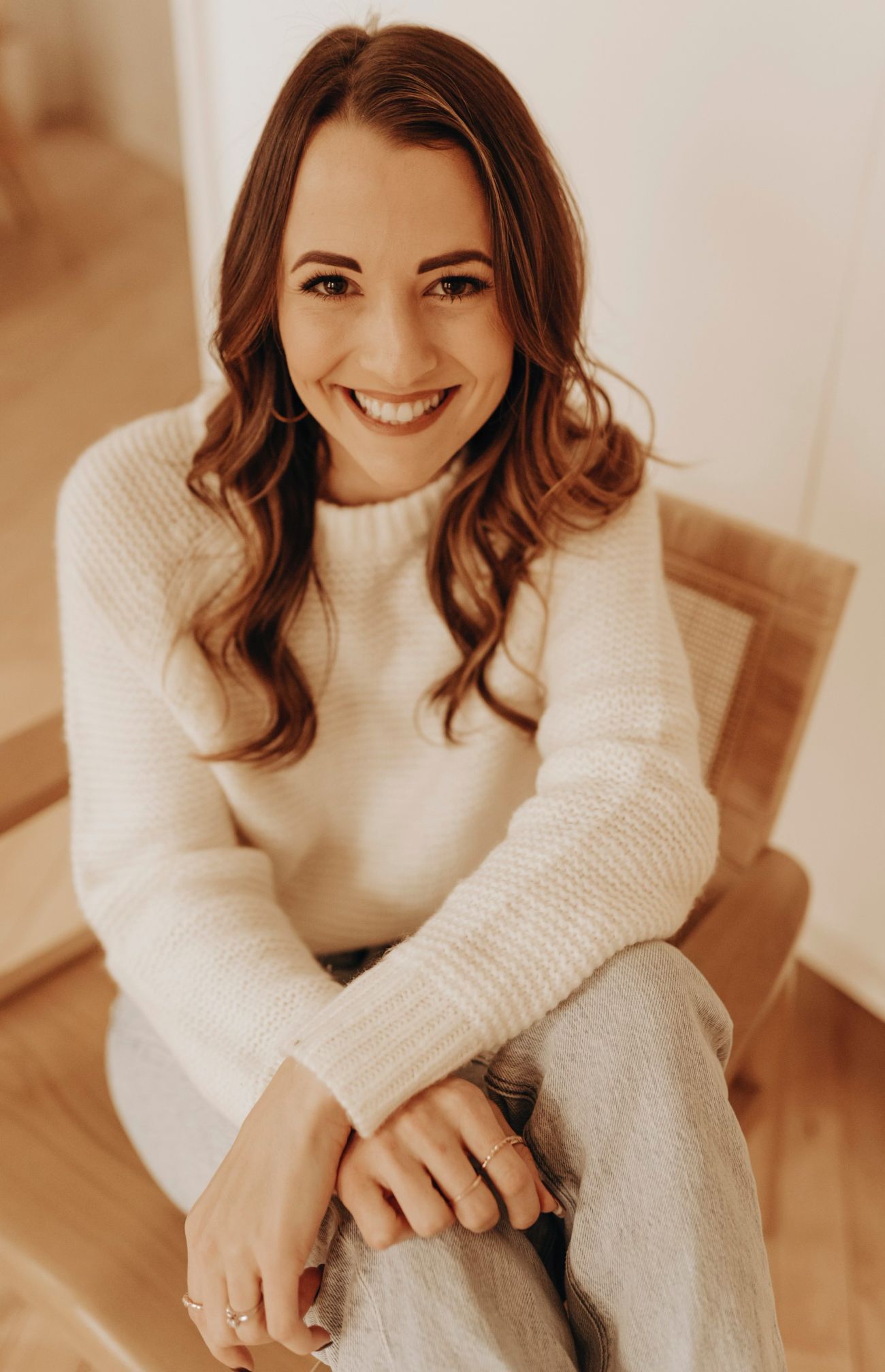 Rebekah Chatfield said she is coming forward with allegations of sexual assault against Lee Chatfield in hopes of inspiring vulnerable teens who are fearful of reporting abuse. (Courtesy photo)
Rebekah Chatfield told Bridge she documented her allegations in a criminal complaint filed last month with police in Lansing, where she lives. The city declined to release the complaint to Bridge under the state's public records law, saying Monday that disclosure would interfere with an "ongoing investigative proceeding."
Lansing City Pulse first reported the existence of the police report Thursday evening.
Lansing Police "immediately" began investigating the complaint and are currently "coordinating with Michigan State Police for accusations in jurisdictions outside the city of Lansing," city spokesperson Robert Merritt told Bridge. Shanon Banner, a spokesperson for the Michigan State Police, confirmed state investigators in northern Michigan are reviewing the complaint.
Lee Chatfield could not be reached for comment Thursday or Friday, directly or through family members. Calls to his cell phone prompted an automated message that "the wireless customer you are calling is not available." An email sent to an account linked to his personal website bounced back, indicating the address no longer exists.
But in a statement Friday, Lee Chatfield's lawyer characterized the interactions with "the woman who is now claiming she was raped" as a consensual affair when they were both adults. The lawyer also stated Chatfield had multiple extramarital affairs.
"Their affair lasted for years, but they were both consenting adults," attorney Mary Chartier said of the claims leveled. "Mr. Chatfield deeply regrets the decisions he has made. It has caused great pain to his wife and family, and they are working through this together. But he did not assault this woman in any manner during their years-long adult relationship. He intends to vigorously fight these false claims."
Chartier did not respond to a Bridge request for an interview Friday afternoon.
The former House Speaker, a Levering Republican, left office at the end of 2020 when term limits prevented him from seeking re-election. He has been encouraged to run for higher office but is not poised to be on the ballot in 2022.
Related:
Rusty Chatfield, Lee's father and the founder and administrator at the church and school where his son taught, told Bridge in a brief phone call Friday "the allegations are false," but declined to answer further questions.
Rebekah Chatfield first approached Bridge with her story in late December, after she filed her complaint with Lansing police.
In multiple interviews spanning several hours, she said Lee Chatfield initiated unwanted sexual contact with her when she was a 15- or 16-year-old student at Northern Michigan Christian Academy. The private school is in Burt Lake in Cheboygan County, part of a campus that also includes Rusty Chatfield's church, Northern Michigan Baptist Bible Church. Lee Chatfield taught and coached soccer at the school before entering state politics.
The assaults continued, Rebekah Chatfield said, for years before and after the Chatfield family pressured her and Lee Chatfield's youngest brother, Aaron Chatfield, to marry when they were both 19.
Rebekah Chatfield said she kept the incidents secret for more than a decade because she was too ashamed and fearful to tell anyone, including friends, family members, even her husband. She told Bridge she did not keep a diary, texts or any other writings or evidence of her encounters with Lee, saying she feared Aaron or others would discover them.
She said she finally shared what happened with her husband Aaron, her mother and some family and friends in December, after the emotional trauma became unbearable. That was also when she reached out to Lansing Police about Lee Chatfield.
Rebekah Chatfield said she was a vulnerable high-schooler from a struggling family when Lee Chatfield took her under his wing, allowing her to stay overnight at his family home with his wife and their young children, who Rebekah sometimes babysat.
"I had a lot of family stuff going on in my life," she told Bridge. "My dad was a recovering alcoholic, and so I believe that Lee used those (circumstances) against me and helped take advantage of me. So he would manipulate me, he would mess with my emotions."
What began with unwanted touches in his basement stairwell eventually turned into unwanted sex, and the alleged assaults continued "more times than I can count" over the ensuing years, Rebekah Chatfield said. She told Bridge she could not recall precisely when in high school the touching progressed to intercourse. Eventually, she said, she stopped resisting.
She said she is coming forward now to publicly accuse her brother-in-law in part to encourage other vulnerable young women to speak up in similar situations. She also said she feared that once her police report became public, the encounters would be painted as consensual, making it more important for her own voice to be heard.
Bridge Michigan does not generally identify people who alleged they were sexually assaulted without their permission, which Rebekah Chatfield provided.
Michigan criminal law generally puts the age of consent to sex at 16. Michigan law also makes it a crime for a teacher to have any type of sexual penetration with a student under the age of 18, though some charges can only be brought within 10 years after an alleged crime.
Rebekah Chatfield's attorney, Jamie White with White Law PLLC, said Thursday that his firm has been in contact with the Lansing Police Department and Michigan State Police and that, because of jurisdictional matters, the case could ultimately end up in the hands of the FBI.
White said his firm has obtained a private investigator and will "devote any resources we have to address it."
White also said he has recommended investigators look into possible misuse of public funds "to support behavior that is extremely inappropriate." He declined to elaborate.
Aaron Chatfield, Rebekah's husband, also spoke on the record with Bridge in December and said he supports his wife. He said he did not know about the alleged assaults by his brother but had suspicions years ago about his brother's close behavior with Rebekah.
Aaron Chatfield told Bridge his brother had few moral boundaries when it came to women. He said he worked for a time in Lansing as an unofficial driver for his politically powerful brother, and said part of his job was taking Lee Chatfield to strip clubs or evening rendezvous with various women, inside and outside of government, including a former staffer.
"Lee portrays himself as a family tradition, conservative guy who believes in the Bible and the Bible is so important," said Aaron, 26. "No, it couldn't be further from who my man was as a person."
In a phone interview Thursday night, Paul Chatfield, another younger brother to Lee, questioned Rebekah Chatfield's timeline and said he wanted to see results of a police investigation before drawing further conclusions.
While Paul, 27, said he believes Lee engaged in "inappropriate behavior" with Rebekah, he said he does not know how far it went and indicated he does not think the alleged sexual contact began as early as she alleges.
"What she is saying, I don't believe," Paul Chatfield said. He added that "the best-case scenario is, I'm disappointed" in Lee.
Rebekah Chatfield, then Rebekah Leonard, said she was in fourth grade when her family first joined the Chatfield-run church. Her family was reeling from her parents' divorce and her father's alcoholism.
She said her family had recently left a Gaylord Baptist church that would later become embroiled in a nationwide sexual abuse scandal, when they joined Northern Michigan Baptist Bible Church, the Burt Lake congregation led by Rusty Chatfield.
Rebekah and her two younger brothers soon enrolled in the church-affiliated school, Northern Michigan Christian Academy. There, she said she befriended and would later begin dating classmate Aaron Chatfield, one of the pastor's seven children, who is nearly seven years younger than Lee.
Lee Chatfield was a young teacher and coach at the school. Rebekah said he had taught her in several classes, and served as an assistant coach for Rebekah's soccer team.
Through thrice-weekly church services, daily school lessons, regular after-school events and frequent visits to the Chatfield family homes, Rebekah Chatfield said, the church and its founding family gave her a sense of belonging during a traumatic and vulnerable time in her life.
They also instilled in her an obedience to church hierarchy, male superiority, sexual purity and distrust of the outside world, she said. Women were expected to marry young, have children, and obey the men in their families.
"They preach at the pulpit that the men are always right, the women have no say," she said.
The school would be the Leonard children's educational home until 2011, when Rebekah's mother, Debbie, told Bridge she moved to pull her children from NMCA after she and her new husband, Jeff Newbury, grew frustrated with what they characterized as the school's intensely conservative and patriarchal teachings.
Debbie Newbury said she was also uncomfortable with Lee Chatfield's flirtatious posture toward the school's teen girls. She said he would lean down when talking to them, or touch their shoulders.
"You just brush it off, thinking, 'Well, you know, he's an authority,'" she said. "But it bothered me."
As the family prepared to move to Harbor Springs, Jeff and Debbie decided to send their children to public school. But 16-year-old Rebekah, who had known only private Baptist schools, said she was fearful of attending public school and attached to the Chatfield family. She wanted to stay.
Lee Chatfield encouraged the Leonard children to resist the move, Rebekah and her mother said.
"Instead of him saying, 'Hey, you should listen to your parents' – what they're supposedly preaching from these pulpits – they…started planting seeds in my head of why I shouldn't listen to them, and why I shouldn't trust them," Rebekah Chatfield said.
When Debbie and Jeff Newbury took the matter to Rusty Chatfield, Debbie said, he also pushed for Rebekah to stay. But Rebekah, then 16, was "old enough to make her own decisions," Debbie Newbury told Bridge.
So Rebekah stayed at the Chatfield school, moving in with her biological father, who lived nearly an hour away from the church and school compound in Burt Lake.
"Lee quickly took me in," Rebekah Chatfield said, in what she now characterizes as grooming, a term for the tactics abusers use to gain access to their victims, normalize the abuse and keep it a secret.
Because the church discouraged teenage couples from socializing without a chaperone, Rebekah Chatfield said, Lee frequently encouraged her and Aaron to spend time at the home he shared with his wife and their young children. He invited Rebekah to stay overnight after babysitting the young family's children, or returning late from school soccer games.
The abuse began, she said, on one of those nights when she was 15 or 16. She said she couldn't be sure of the exact time frame, but her memory of the encounter is clear.
Late at night, she was in the basement of the Chatfields' home watching TV when she said Lee Chatfield joined her. When she attempted to go upstairs, she said, he blocked her way and then began groping her through her clothes while she stood, frozen and confused.
"Eventually he stopped and then he got up, walked to open the door and he let me go back up to my room," she said. "That was just the start of it."
The next morning at school, she told no one.
"I just wanted to push it down" out of her memory, she said. She attended class while Lee was visible lecturing across the hall.
She said she did not tell Aaron, or anyone else, fearing repercussions. The Chatfields "ran that whole church and school," she said. Meanwhile, her father's health had worsened, making her home life worse and increasing her dependence on the Chatfields.
"My whole world was the Chatfield family," she said. "So if I told (the Chatfields), that would, that would ruin everything. I couldn't see what would happen past then. I didn't know there was an option to report. I didn't know there were options for therapy. "
Thomas Plante, a professor of psychology at Santa Clara University and an expert in church sex abuse, told Bridge Michigan it's not uncommon for people to avoid coming forward for years or even hide evidence of abuse, believing it to be their fault or fearful of being disbelieved or punished.
Over time, Aaron Chatfield became suspicious of Lee's interactions with his girlfriend, he said in a separate interview with Bridge. Lee had always seemed "too touchy" with Rebekah, he said. Lee would make jokes to him, like: Who's butt is better, mine or hers?
"I always had questions," Aaron Chatfield told Bridge. "I don't remember how I asked, I just remember saying, 'Is something going on between you and Lee?'"
"I just saw the way he looked at her," Aaron said.
Rebekah Chatfield said the abuse escalated over the next two years of high school. She said Lee would find excuses to text her late at night when she stayed at his family's house — for instance, inquiring about whether the heat was on. He would then enter the guest room where she slept, groping her while she lay stunned and scared. The encounters were typically short, she said, because Lee feared his wife would awaken in the couple's nearby bedroom. They eventually escalated into intercourse.
"I wanted out," she said, but Lee took pains to keep Rebekah in the family's orbit. When she attempted to distance herself from him, he would find reasons to text her. Each time she and Aaron broke up, Lee would counsel them back together.
And as an omnipresent coach, teacher and mentor figure at the church school, she said, "he made sure that my life was that church and school."
Eventually, she said, emotional and psychological manipulation by Lee wore her down, and she stopped resisting. He warned her that she had more to lose than him if anyone found out, she said, and grew irritated when she rejected his assertion that she enjoyed the encounters.
For a time, the thought of telling anyone stopped crossing her mind. She described it as "living in survival mode."
"When I was in my darkest place, I didn't know what else to do, and he continued to remind me that I didn't have, really, anyone else but him," she said.
Debbie Newbury said she noticed a change in her teenage daughter around the time that her daughter said Lee Chatfield began grooming her. Rebekah had become distant and emotional. She would pull her eyelashes out. When her mother questioned Rebekah about what Debbie saw as an unnatural attachment to the Chatfield family, she said Rebekah would withdraw.
"She couldn't talk to me, and I didn't know how to reach her," Debbie Newbury said.
Rebekah said that when the Chatfield family discovered she and Aaron were having sex, Rusty Chatfield pressured them to get married. The pair were engaged in June 2014, and married two months later, when both were 19 years old.
Neither of them appeared to be ready.
As the Chatfield clan gathered at the family homestead in Levering on a night soon before the wedding, the couple said Aaron was outside having second thoughts while Rebekah cried in the house.
Lee came to her, offering reassurance, Rebekah Chatfield said. Then, she said, while she was crying, he pulled her into a closet and made her perform a sex act.
"After he finished he said, 'Don't worry. I'll talk to Aaron, you guys are getting married.'" Rebekah Chatfield recounted to Bridge. "And he walked out."
In a separate interview with Bridge, Aaron Chatfield acknowledged he had "cold feet" in the run-up to the wedding and said Lee encouraged him to go through with it. But he didn't think that was unusual at the time, and knew nothing about Lee making advances on his girlfriend.
Now, "I'm rethinking every conversation I ever had with Lee," Aaron Chatfield said.
Among the seven Chatfield adult children — two sisters and five brothers — Lee was the charismatic leader. Youngest sibling Aaron knew him not just as a brother, but also as his schoolteacher, soccer coach and mentor. Aaron sat out a semester of college to knock on doors for Lee's first House campaign in 2014. Later, the young star of the Michigan Republican Party secured Aaron a political job in Lansing.
"So the level of hurt," Aaron said, "goes very deep."
Rebekah Chatfield said her marriage to Aaron further strained her relationship with her parents, who did not approve. That, she said, left her ever-more isolated.
Meanwhile, Aaron told Bridge, his high school suspicions about Lee and Rebekah eventually faded.
Rebekah said the encounters with Lee continued, though more sporadically, after she and Aaron went off to private Christian colleges in Illinois and Indiana. In one instance, Rebekah claims, Lee Chatfield came to visit with his parents and two sons.
"And during my husband's soccer game," she said, "he took me back to my house and assaulted me."
Two years after Lee won election to the state House, Aaron said he quit school early to follow him to Lansing, calling his older brother "the person I looked up to most in the world." Lee secured Aaron a job and helped the couple land an apartment just blocks from his own.
Aaron Chatfield, and brother Paul, worked in the Michigan Legislature in 2017 and 2018. They did not work directly for Lee but left their jobs to avoid a potential conflict of interest when their brother assumed a supervisory role as 76th Speaker of the Michigan House of Representatives.
Both Paul and Aaron remained active in Lansing politics while their brother served in one of the most powerful positions in the Legislature.
Aaron went to work for Grand River Strategies, a political consulting firm that was contracted to help run the House Republican Campaign Committee. But really, Aaron said, he worked for Lee as his personal driver, a job that exposed him to another side of his brother.
Lee Chatfield would request rides at all times of the night, Aaron recalled. They made regular trips to meet up with women in "ritzy" Birmingham, frequented the Legends strip club in Detroit and would stay at expensive places like Detroit's Shinola Hotel.
Since Rebekah told him on Dec. 8 about her alleged assaults, Aaron said, he is supportive of his wife and wracked with guilt that he didn't recognize what she said was happening, given what he knew about his brother.
Aaron's role as Lee's driver and unofficial assistant gave Lee considerable power to create scenarios that left Rebekah alone with him, she said. On one occasion two years ago, Rebekah said, she and Aaron were visiting Lee's office at the Capitol when he sent Aaron to pick up a pizza. She said he then took her to another room and pressured her into unwanted sex before Aaron returned.
Stu Sandler, co-founder of Grand River Strategies, confirmed that Aaron Chatfield worked for him in 2019 and 2020 and was assigned to the House Republican campaign.
"I didn't keep track of where they went or what they did," Sandler said of Aaron and Lee Chatfield, denying any knowledge of allegations that Aaron would routinely drive Lee to strip clubs or meet-ups with women. "I certainly didn't pay (Aaron) to do that."
Aaron Chatfield also periodically worked for his brother's political committees. In 2019 and 2020, the last two years before term limits prevented him from running for re-election to the House, Lee Chatfield's campaign and leadership PAC reported paying Aaron Chatfield nearly $20,000 in wages, according to campaign finance disclosures.
Rebekah described her husband as suspicious of her and Lee — sometimes checking her phone or asking questions. She frequently deleted texts and social media messages from Lee, she said, afraid that someone would discover the encounters, which continued into 2021.
In an increasingly dark place in her mental health, with Lee exerting influence over her family's finances in addition to the psychological manipulation that she said begun in her teens, Rebekah acknowledged that she initiated the contact with Lee on some occasions.
But "in reality," she said, "it was never consensual, because it started when I was a minor — the brainwashing, the mentality, the manipulation, the psychological, the emotional — he groomed me into being who he wanted me to be."
This past July 25, she said, Chatfield contacted her via text message or the Snapchat messaging app, wanting to come over to her apartment in Lansing while Aaron was away. She resisted, telling him Aaron would soon be home. Chatfield responded that he would get there first. He was on his way, she said, when he got into a fender-bender in downtown Lansing.
When Lee informed her about the collision, she said, "I literally threw my phone and I was like, 'thank you, God."
Lansing Police records confirm Chatfield was involved in a crash at the intersection of South Walnut Street and West Kalamazoo Street on the night of July 25.
Since then, she said, "I've literally thought of every exit strategy." But she felt there was nobody she could tell, because nearly her entire social circle is people from the Chatfield family or the church.
Struggling in early December, she took a weekend trip out of state to visit a childhood friend, hoping the distance would bring peace. The morning she was supposed to return home, she confided in her friend.
Rebekah Chatfield never boarded the plane back to Michigan, saying she feared repercussions after she lodged her complaint with Lansing Police. She said she plans to stay out of state until further notice.
She's coming forward now, she said, after mental health issues tied to the alleged abuse reached a breaking point. She was experiencing suicidal thoughts and deep depression. Her marriage was suffering. She wanted out.
When Rebekah called Aaron days after she had been scheduled to return home, he asked: Were you raped? She sat silent. His next question: Is it something with Lee?
As Rebekah told him about the sexual assaults, she acknowledged to her husband that his past suspicions had been correct. "All those times you asked me questions about Lee, I had to lie, and you were right," Aaron recalled her saying.
Aaron said he is confident that his wife is telling the truth about being manipulated into being victimized by sexual assaults as a teen and is standing by a woman he believes is "the most amazing person."
Rebekah Chatfield said she wants to serve as an inspiration for other vulnerable teens who are fearful of reporting abuse.
"I would love for this to help give people strength so they could come forward," she said. "...I've never felt like something has been more my purpose until now."
Get help
If you are a victim of domestic abuse or sexual violence, get help by calling the national domestic abuse hotline at 1-800-799-7233 or chat online here with the Michigan Coalition to End Domestic and Sexual Violence. You can also find local domestic violence aid services in your county by clicking here.
If you or someone you know is contemplating suicide, there are people who can help. Call the National Suicide Prevention Lifeline at 800-273-8255 (800-273-TALK) 24/7. The group also lists resources for anyone who may be contemplating suicide: www.suicidepreventionlifeline.org.
Only donate if we've informed you about important Michigan issues
See what new members are saying about why they donated to Bridge Michigan:
"In order for this information to be accurate and unbiased it must be underwritten by its readers, not by special interests." - Larry S.
"Not many other media sources report on the topics Bridge does." - Susan B.
"Your journalism is outstanding and rare these days." - Mark S.
If you want to ensure the future of nonpartisan, nonprofit Michigan journalism, please become a member today. You, too, will be asked why you donated and maybe we'll feature your quote next time!