Stay home, don't stay safe. Domestic violence calls up amid Michigan lockdown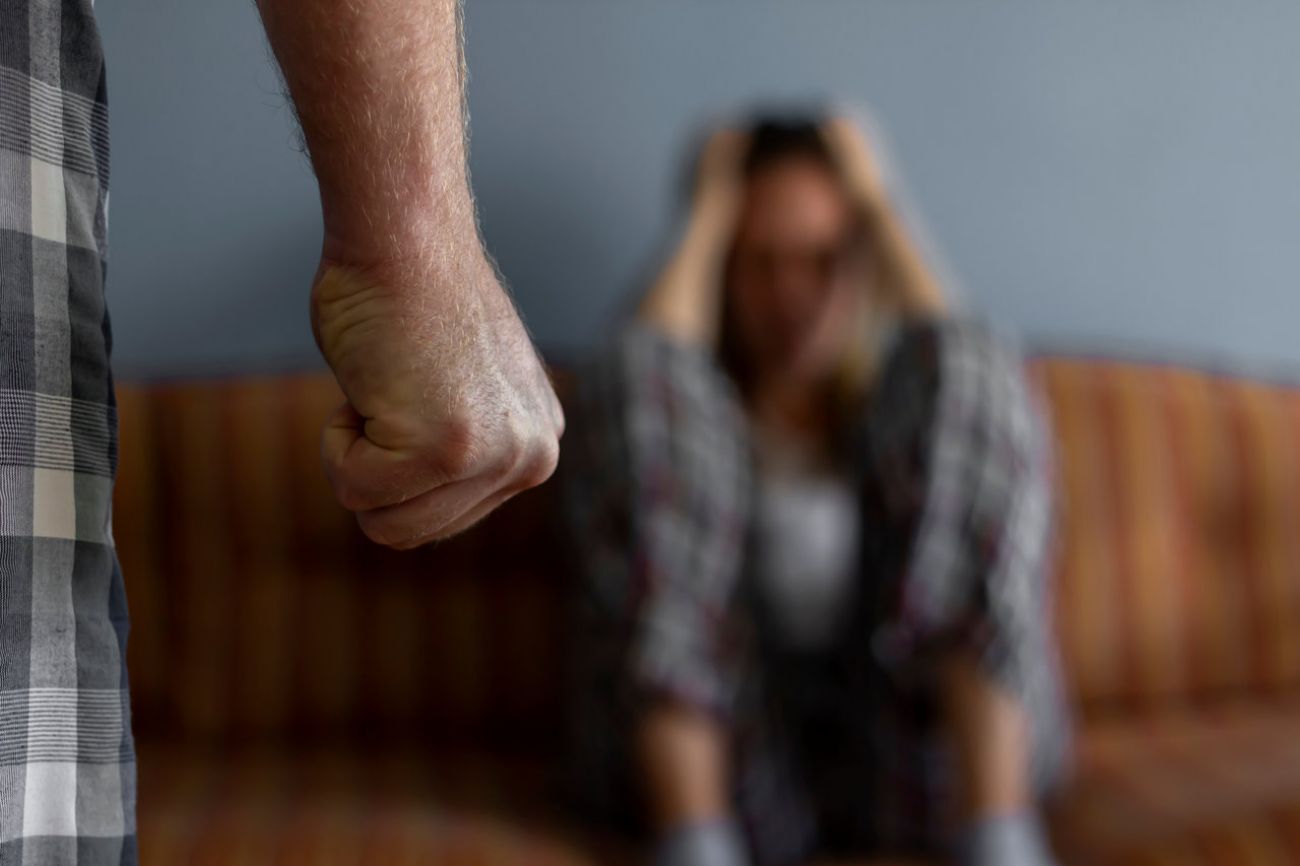 Children & Families
Stay home, don't stay safe. Domestic violence calls up amid Michigan lockdown
Weeks stuck at home can be a challenge. For those in abusive relationships, they can be a nightmare.
Over the last several weeks, a Kalamazoo-area woman began to feel unsafe after weeks of lockdown with her partner because of the coronavirus, recalled Sherry Brockway, who works with victims of domestic violence and assisted the woman.
Tensions flared. The woman petitioned the hospital for mental health services for the man, but it was too overwhelmed by the pandemic to help. She awoke that night to a beating, said Brockway.
"She was able to get out the next morning, immediately came to the YWCA and got shelter," said Brockway, director of emergency response services for the Kalamazoo YWCA, which helped her file a police report and obtain a personal protection order.
"She feels safe, she's just got some anxiety now about charges getting prosecuted."
In seeking help, the woman was an exception to a trend that terrifies activists: The coronavirus lockdown appears to be heightening abuse, but victims seem to be choosing to endure chaos over fear of exposure to the virus or uncertainty of starting over during an economic downturn.
To get help
If you are a victim of domestic abuse, get help by calling the national domestic abuse hotline at 1-800-799-7233 or chat online here with the Michigan Coalition to End Domestic and Sexual Violence. You can also find local domestic violence aid services in your county by clicking here.
Contacts to the Michigan Coalition to End Domestic and Sexual Violence, a statewide association for domestic violence shelters and services, have jumped to 393 in March and the first half of April this year, up from 189 the same time last year. The state Domestic and Sexual Violence Prevention and Treatment Board, a government oversight agency, has also seen a surge in help requests, although data are not yet available.
But several police agencies told Bridge they haven't received more domestic violence calls, while officials from shelters in Macomb County, Wayne County, Kalamazoo, Lansing and Traverse CIty said they haven't seen an uptick in requests for beds.
"It's exactly what you would expect. Perpetrators are now in the homes 24/7. It's just unsafe," said Sarah Prout Rennie, executive director of the Michigan coalition.
Contacts to the group through text and online are increasing, while phone calls are decreasing, an indication that victims are turning to more discreet helplines in close quarters.
It's not just Michigan: Heightened confinement to slow the pandemic is also increasing domestic violence around the world. The head of the United Nations flagged the issue last week, calling for governments globally to make combatting the "horrifying global surge in domestic violence" a central part of their COVID-19 strategy.
Stress, anxiety, financial uncertainty and unemployment increase the unpredictability, frequency and lethality of domestic violence, experts said. Since mid-March, at least a quarter of Michigan workers — 1 million people — have filed for unemployment.
With schools closed, tensions over childcare and at-home education can increase, making abusive relationships more dangerous, officials said.
In southeast Michigan's Oakland County, prosecutors issued 99 domestic violence charges from April 1 to April 15, up from 67 during those two weeks in 2019.
"But of more interest is the fact that this is a county that doesn't see more than 20 murders a year," Oakland County Prosecutor Jessica Cooper told Bridge. "In the last two weeks, we have seen five, two of which were domestic."
In one, a Hazel Park man is accused of strangling his wife after an argument in which she accused him of cheating. In the other, a Southfield man faces charges of shooting his girlfriend after a fight, leaving her daughter to report the crime to the police.
Mandated together time and financial stress can increase domestic violence, but this pandemic "is the granddaddy of them all" Cooper said.
Lori Kitchen-Buschel, executive director of Wayne County domestic violence aid service First Step, said her organization works with police to assess changes in the likelihood victims are to die from their partner's abuse.
"What we're seeing in these reports is definitely more intense and more lethal violence, where more weapons are involved, right now," Kitchen-Buschel said. "Things are appearing to be very intense."
The problem with calling police
While domestic violence groups report more calls for help, many police agencies in Michigan aren't seeing the same increase.
Police and prosecutors in Ann Arbor, Sterling Heights, Grand Rapids, and Wayne and Macomb counties told Bridge there has been little change in the number of domestic violence reports or warrant requests over the same time last year.
"Historically, we see domestics increase slightly over holidays, and we tend to attribute that to more people being together and generating more domestic reports. So we were slightly surprised to see that the numbers have not increased," said Bonnie Theil, detective lieutenant with the Ann Arbor Police Department.
Victims are less likely to call police during a lockdown "because if they arrest the guy then he may be released and come back and beat them up worse," said Carol Jacobsen, a University of Michigan professor who works with incarcerated domestic violence victims.
And with concerns that police may be busy or getting sick,
such as in Detroit
, some victims fear may police won't come if called.
"That kind of news travels quickly, even among isolated folks, around their fear of what will happen if they call law enforcement," said Prout Rennie of the Michigan coalition.
"Will the person actually get arrested and taken to jail?"
Police encouraged people to call if they're in a dangerous situation.
"We will respond," said Grand Rapids Police Sgt. Dan Adams. "We will be there and we remain fully functional and fully dedicated to answering those calls for service."
The unique challenges of a pandemic
It's hard enough to leave an abusive relationship during less tumultuous times.
Abusers use a variety of emotional, psychological, financial and physical strategies to isolate their partners from help and convince them they — or their children — wouldn't survive without them.
"With an abusive relationship, a lot of it is about power and control," said Kristina Nikolova, an assistant professor of social work at Wayne State University specializing in domestic violence.
"The coronavirus has resulted in a lack of control for pretty much everyone, and that feeling of helplessness is unfortunately driving people to exert control over other people in their household, sometimes in violent ways."
Abusers often ensure their partners are financially dependent on them, which is likely to increase under the pandemic's conditions, Nikolova said. Even the $1,200 stimulus check from the federal government could go to the abuser if it's deposited in a joint checking account.
Some who want to escape don't have a safe place to go and turn to shelters for temporary housing. The coronavirus makes that even more complicated, as victims may fear moving to communal housing when public health experts say to hunker down, experts said.
"People are even more afraid to come to shelter because shelter obviously means exposing your whole family to a lot of new people," said Carmen Wargel, chair of the Macomb Community Domestic Violence Council.
During typical times, victims lay the groundwork for leaving home while children are at school. That's no longer possible, Wargel said.
In Wayne County, where shelters are already operating at capacity and have a waiting list of around 125 people every month, demand for temporary housing has remained the same, said Kitchen-Buschel of First Step.
But to guard against viral spread, the shelter is limiting suites to one person or family, which has reduced their capacity from an average of 45 people to 20 to 35.
"COVID-19 has not changed the fact that there is a shortage of beds for the need, but it has created additional challenges for the health and safety of survivors," Kitchen-Buschel said.
Shelters including Kitchen-Buschel's are much like apartments, with each family given their own living space. But shelters with fewer resources and those in rural areas are often just converted houses.
Shelters statewide are taking precautions to sanitize surfaces and maintain social distancing, but each service has stories illustrating how the pandemic is causing crises they couldn't have anticipated.
At End Violent Encounters, a shelter in Lansing, staffers usually buy toilet paper at Costco and Sam's Club. When the shelves became bare, the shelter nearly ran out of toilet paper, until a call to the community brought in donations.
Kitchen-Buschel of Wayne County First Step said they've gotten reports of couples living separately who share custody of children in which the abuser attempts to expose a victim's children and then send them home to the victim.
"The health risk to those who are more at-risk or have loved ones who are give abusers another way to assert power and control and hurt those they are abusing," she said.
Finding solutions
Advocacy groups advise people who call their hotlines to get creative in seeking help as they stay home with their abuser.
For example, people might coordinate with a friend or neighbor to set up a signal, like putting up a piece of paper in a certain window that means it's time to get help, said Debi Cain, executive director or the state Domestic and Sexual Violence Prevention and Treatment Board.
"There's certainly nothing that keeps women in a violent situation. If they want to reach out and go to a shelter, they absolutely can do that," Cain said.
Shelters across Michigan are partnering with hotels to provide more housing for victims that may need to escape, and the state Housing Development Authority recently set aside $500,000 for the network of shelters to spend on supplies, safety materials and additional housing if necessary.
But more resources are still needed, multiple shelter directors and advocates said. Many shelters are dealing with a lack of sanitation supplies as demand has increased everywhere. Nurses, who provide sexual assault examinations at many shelters, have been pulled to work in hospitals treating coronavirus patients. And many services are struggling to find enough workers as former staffers are kept at home caring for children because they can't afford childcare services.
"It's important to remember that in this crisis," said Wargel of the Macomb County service, "domestic and sexual violence are still very much a part of people's lives."
RESOURCES:
Only donate if we've informed you about important Michigan issues
See what new members are saying about why they donated to Bridge Michigan:
"In order for this information to be accurate and unbiased it must be underwritten by its readers, not by special interests." - Larry S.
"Not many other media sources report on the topics Bridge does." - Susan B.
"Your journalism is outstanding and rare these days." - Mark S.
If you want to ensure the future of nonpartisan, nonprofit Michigan journalism, please become a member today. You, too, will be asked why you donated and maybe we'll feature your quote next time!