Beech tree disease ravaging eastern U.S. is now in Michigan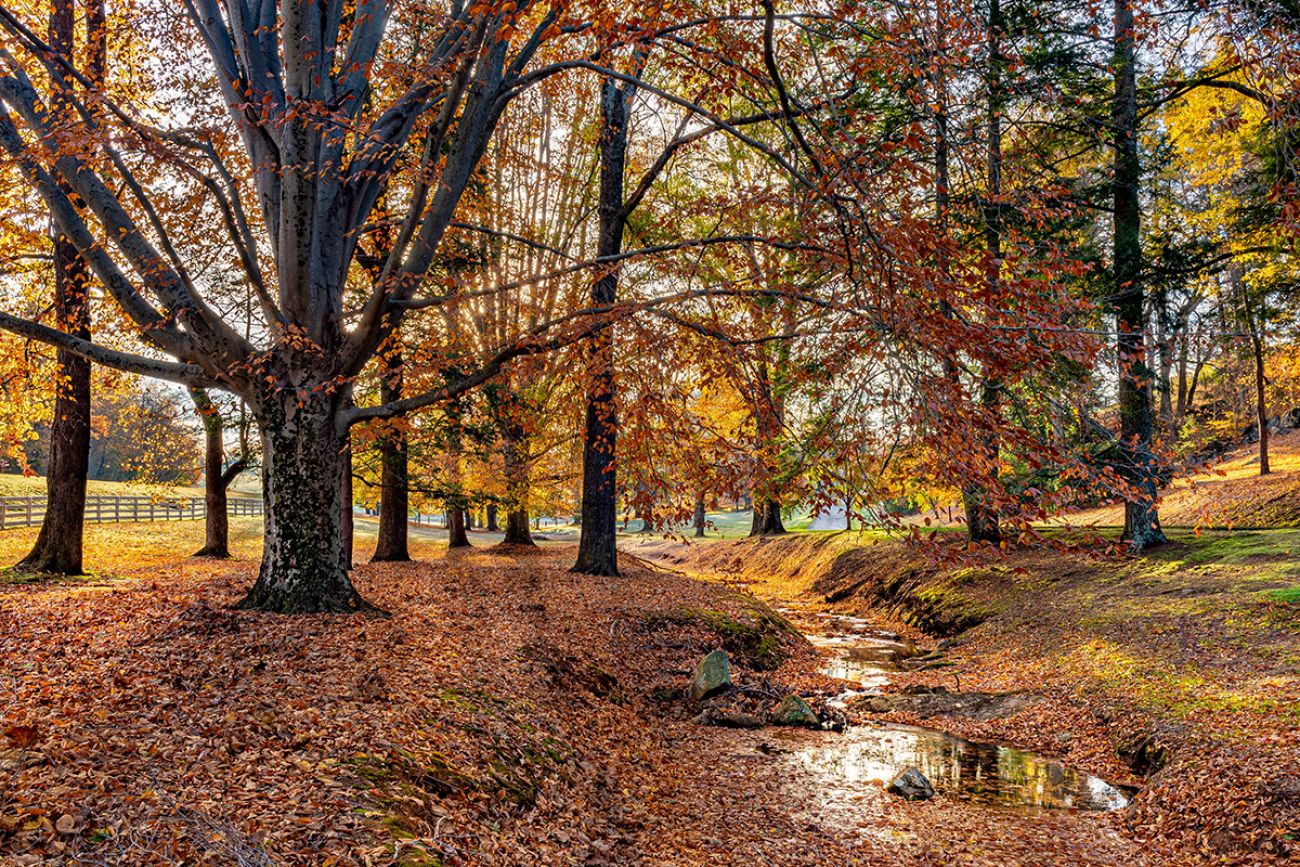 Michigan's Department of Natural Resources has identified the state's first sighting of beech leaf disease in St. Clair County. It's one of two serious threats to the state's beech trees. (Shutterstock)
A new invasive threat to Michigan's beech trees has been found in St. Clair County, according to the state's Department of Natural Resources.
Beech leaf disease, a fairly new disease that can kill a tree within six to ten years, was discovered by residents in St. Clair County. The leaf disease's appearance in southeast Michigan comes at a time when a bark disease is killing off millions of beech trees in the Upper Peninsula and the northern Lower Peninsula
Michigan is home to about 37 million American beech trees, which are known for their thin smooth bark.
Related:
There is no known treatment for the leaf disease, which is linked to a microscopic worm that damages the leaf tissue on native and foreign beech trees, according to Simeon Wright, forest health specialist for the DNR.
Wright said the disease was known to be in Ontario and the first U.S. finding was made in Ohio in 2012. The disease has since spread to eight other states.
"It has been found across the East Coast and into Maine, but it's unclear how much of that is rapid spread or how much is just detection," Wright said.
The disease is still new which means there is not a lot known about how or how quickly it can spread, Wright said.
Researchers recently discovered the microscopic worm, believed to be a nematode, lives in the buds of beech trees over winter and, over time, dark bands develop between the bands of the leaves.
"Eventually, the buds will no longer unfurl and develop in the spring," said Wright, noting that the beech tree ends up starving because there are no leaves to synthesize and create energy for the tree.
Wright said beech leaf disease is confined to St. Clair County as far as the DNR knows.
Researchers believe the disease could be spreading in a number of ways, such as through nursery stock, by bugs over short distances or birds over long distances.
"But there's still very limited research to indicate exactly how it's getting spread around," Wright said.
Without sufficient research on the leaf disease, Wright said it is hard to tell how much of an impact it is going to have on Michigan's beech tree populations.
Wright said the DNR anticipates it would take a number of years for the disease to kill the trees found in St. Clair County, and "it's not clear as to how far and how fast it would move in Michigan."
There is ongoing research at Michigan State University and Ohio State University to identify a systemic treatment that could be injected into the diseased trees, according to Wright.
"That might be useful to at least reduce symptom development and the impact the disease has," Wright said. "But as of now, there is nothing that has been thoroughly studied and that can be recommended for treatment."
With the limited information known about the disease, Wright said the best prevention method is to refrain from moving beech material from the infected area to new locations.
"We don't know if that will completely prevent the spread of the disease, but we are hopeful it will slow it down," Wright said.
The beech species is a high-value tree in Michigan used for landscaping and lumber and feeds a lot of the state's wildlife, according to Deborah McCullough, an entomologist at Michigan State University.
"They make thousands of tiny beech nuts which are little pills packed with protein and fat (for wildlife)," McCullough said.
McCullough has been researching the impact beech bark disease has had on Michigan's beech trees, which is a major threat to the population.
Beech bark disease is caused by a sap-feeding scale insect (small insects with piercing-sucking mouthparts) and fungus, which kill the wood by blocking the flow of sap. Infected trees decline in health before eventually dying.
The first lot of beech trees to be infected by the bark disease were in Ludington and Newberry in 2000, according to McCullough. Beech bark disease has since spread throughout the northern Lower Peninsula and Upper Peninsula, killing about 2.5 million beech trees to date, and new infested forests are reported each year.
"You have beech bark disease just tearing things up and now there's this beech leaf disease that we don't know nearly as much about," McCullough said. "I really don't want to see beech getting hit by both of those problems."
While there is not a known treatment for beech leaf disease, McCullough said people can try to treat trees infected by the bark disease with insecticides.
"It's not guaranteed but you certainly reduce the chances of it getting aggressive," McCullough said.
Tom Morgan, an arborist at Owen Tree in St. Clair County, said beech leaf disease has been on Michigan arborists' radar for a decade since it was first found in Ohio but now there is momentum to study it and find treatments.
"There has been some testing done with phosphate treatments that show promising results on younger trees," Morgan said.
In Ohio, researchers tested trees with potassium phosphate products, which had promising results. Phosphite has successfully treated other plant diseases and tends to stimulate the plant's natural defenses.
Todd Fleishans, an arborist at Camelot Tree & Shrub in Roseville, said he understands the threat of both the leaf and bark diseases' impacts on Michigan's beech tree population.
The beech bark disease seems to be traveling south 10 miles a year, according to Fleishans, so "we have a few years before we actually see it down here."
Michigan Environment Watch
Michigan Environment Watch examines how public policy, industry, and other factors interact with the state's trove of natural resources.
Michigan Health Watch is made possible by generous financial support from:
Our generous Environment Watch underwriters encourage Bridge Michigan readers to also support civic journalism by becoming Bridge members. Please consider joining today.
We're not just a news organization, we're also your neighbors
We've been there for you with daily Michigan COVID-19 news; reporting on the emergence of the virus, daily numbers with our tracker and dashboard, exploding unemployment, and we finally were able to report on mass vaccine distribution. We report because the news impacts all of us. Will you please support our nonprofit newsroom?