Cool spring takes a bite out of Michigan's mosquito season. At least for now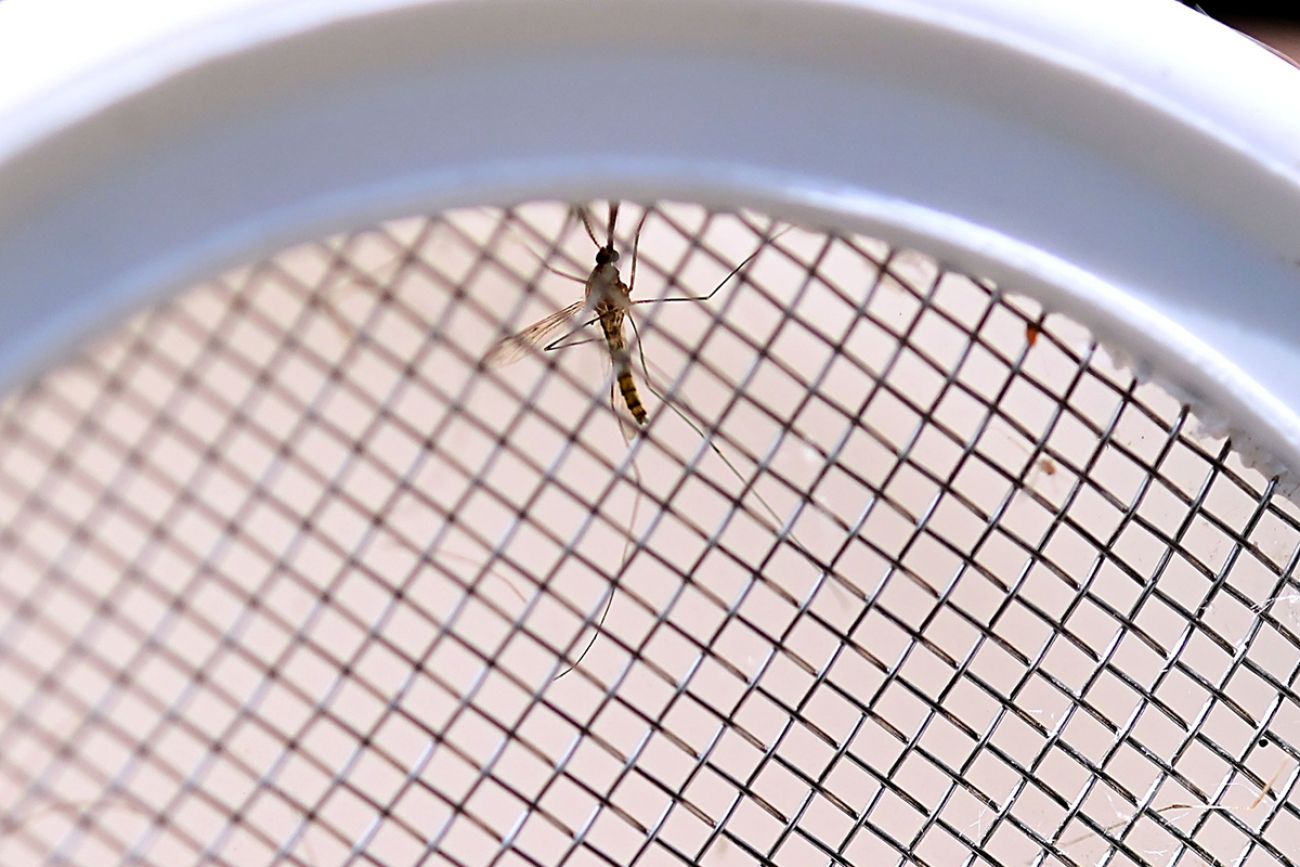 The first generation of mosquitoes each year are usually the ones that people notice the most in mid-May to early June, but the cooler temperatures killed lots of larvae before they had the chance to grow into pesky adults. (Bridge photo by Dale Young)
Not to tempt fate, but it's been a surprisingly mosquito-free summer so far. That could change (and often does over the course of a Michigan summer, says an MSU entomologist), but for those planning backyard barbecues or trips up north in the coming weeks, you may survive relatively itch-free.
Here's what you need to know about the demon bugs.
Why are there fewer mosquitoes so far this year?
Michigan State University entomologist Edward Walker told Bridge Michigan there were fewer mosquitoes born this spring in Michigan this year than normally. He said cool temperatures delayed floods from melting snow, which in turn delayed mosquito larvae from developing into adults.
Related:
"The longer the time they're developing as larvae in the water, the more likely they are to die," Walker said.
The cooler spring temperatures killed lots of spring meltwater mosquito larvae — the mosquitoes that Michiganders typically notice in mid-May to early June — before they had the chance to grow into their pesky adult form.
"I think that's the kind of thing that happened this spring — they just ran out of time," Walker said.
Will there be more mosquitoes later this summer?
It's been quiet so far but it is impossible to predict what Michigan's mosquito population will look like later in the summer. Walker said the determining factor will be if Michigan receives "lots" of rain in a short period.
"Nobody can predict how much rain we're going to get very far out," Walker said. "We could get a lot next week or we could go into a dry spell."
Has climate change impacted the mosquito population?
Yes. And not in a good way.
The 65 different mosquito species in Michigan are showing up in differing numbers than in previous summers. Mosquitoes that were previously only found in the southern part of the U.S. and select parts of Michigan's southern border are migrating further north and are showing up in prevalent numbers in mid-Michigan, Walker said. Walker suspects that climate change has made Michigan more hospitable for southern mosquitoes.
"We are seeing changes in our mosquito distribution that I think are related to climate change," Walker said. "The more northern species which are cold-adapted are retreating to the north. Their lower latitudes are moving northward and more southern species are coming up and appearing in their place."
Are there disease-carrying mosquitoes in Michigan that can harm me?
Mosquitoes in Michigan can carry two diseases, Eastern Equine Encephalitis, or EEE, and the West Nile Virus. The diseases attack the nervous system and often result in neurological damage or death.
In 2021, one Michigan resident was infected with EEE and 46 residents were infected with West Nile Virus, according to the state health department's annual report.
The southern species that is becoming prevalent in Michigan, called Culex Erraticus, is a known carrier and transmitter of EEE. The virus has been a deadly issue in recent summers in Michigan that has killed birds, deer, horses and people who were bitten by disease-carrying mosquitoes. Walker believes the new species has the potential to make the situation worse in the southern half of the lower peninsula — the new home for the southern bloodsuckers.
"We have begun to see it all the way up to the latitude of Midland and Mt. Pleasant, whereas previously it had just been found rarely way down along the Ohio-Indiana border without any established populations," Walker said.
What can you do to avoid being bit?
The best answer to avoid mosquitoes is to stay inside, but that would mean not enjoying the Michigan summer.
The state health department encouraged Michiganders to take the following precautions:
Apply insect repellents that contain the active ingredient DEET, or other U.S. Environmental Protection Agency-approved product to exposed skin or clothing, and always follow the manufacturer's directions for use.
Wear long-sleeved shirts and long pants when outdoors.
Maintain window and door screening to help keep mosquitoes outside.
Empty water from mosquito breeding sites around the home, such as buckets, unused kiddie pools, old tires or similar sites where mosquitoes may lay eggs.
Use nets and/or fans over outdoor eating areas.
Michigan Environment Watch
Michigan Environment Watch examines how public policy, industry, and other factors interact with the state's trove of natural resources.
Michigan Health Watch is made possible by generous financial support from:
Our generous Environment Watch underwriters encourage Bridge Michigan readers to also support civic journalism by becoming Bridge members. Please consider joining today.
We're not just a news organization, we're also your neighbors
We've been there for you with daily Michigan COVID-19 news; reporting on the emergence of the virus, daily numbers with our tracker and dashboard, exploding unemployment, and we finally were able to report on mass vaccine distribution. We report because the news impacts all of us. Will you please support our nonprofit newsroom?