Experts: Whitmer has upper hand in Line 5 case, but May shutdown is uncertain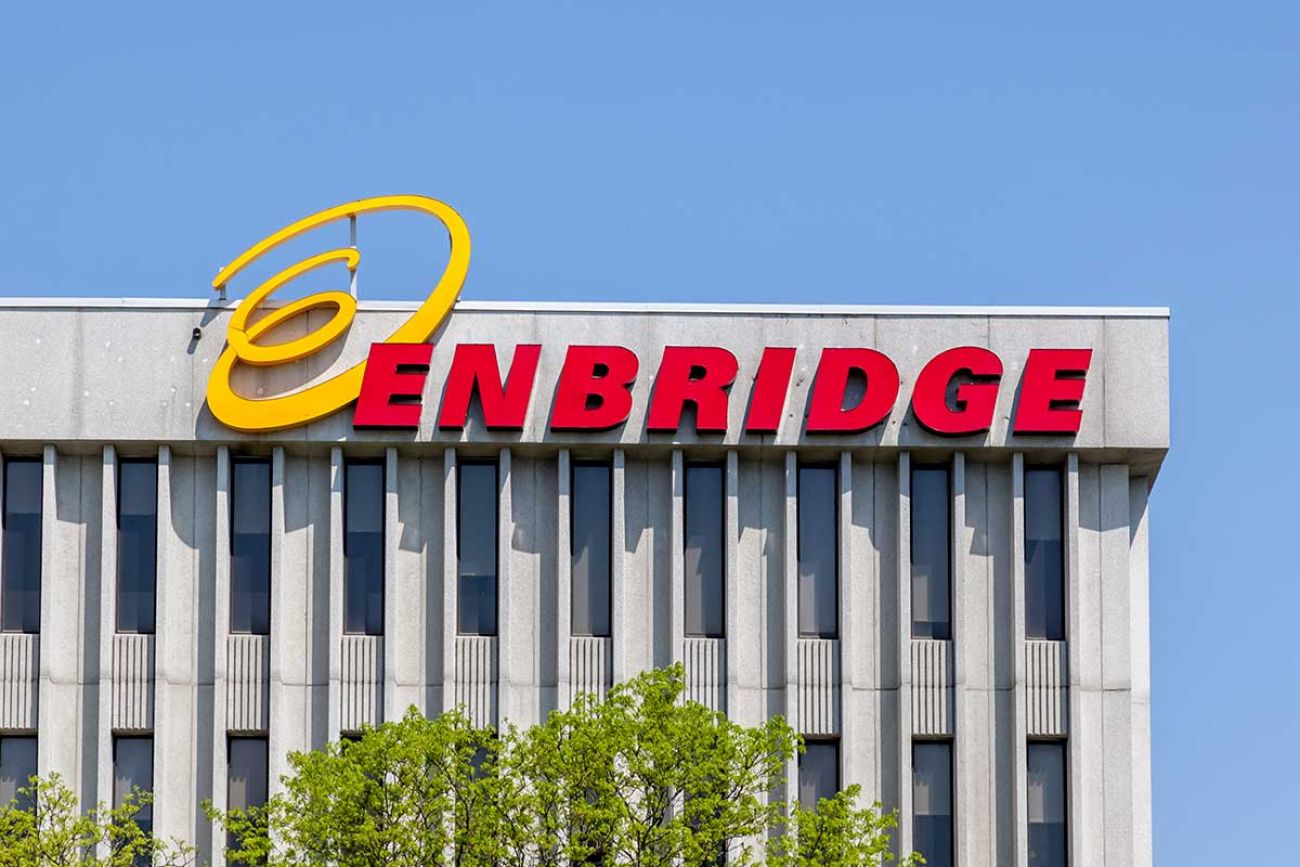 May 11: On eve of Line 5 shutdown deadline, Enbridge vows to defy Michigan order
Michigan Gov. Gretchen Whitmer has a strong case against Enbridge Energy, but that doesn't necessarily mean the oil will stop flowing through Line 5 anytime soon.
That's the conclusion of legal experts who spoke to Bridge Michigan about the hurdles Whitmer must clear to make good on her announcement that the Canadian petroleum company has 180 days from last Friday to permanently cease operating its 67-year-old pipeline at the bottom of the Straits of Mackinac.
It could be months or years before Michiganders know for sure when or whether Enbridge must decommission Line 5, legal experts told Bridge, as the state and Enbridge fight a legal battle that many expect to reach the Michigan Supreme Court.
Along the way, they said, the case is likely to raise broad questions about Michigan law that could impact Michigan's ability to regulate a host of environmental concerns in the Great Lakes and influence other pipeline disputes across the nation.
A successful case could be nationally significant, said Michael Blumm, the Jeffrey Bain Faculty Scholar and Professor of Law at Lewis & Clark Law School and an expert in the legal doctrine Whitmer used to justify its shutdown, by "showing other states what's possible."
Shutdown decision prompts legal showdown
Whitmer's shutdown order follows years of debate about how best to reduce the risk of an oil spill from Line 5, a pipeline that transports up to 540,000 barrels of petroleum products daily across the Straits as it travels from Wisconsin to Ontario.
After campaigning for office on a promise to shut down the pipeline, Whitmer ordered the Michigan Department of Natural Resources to review Enbridge's compliance with a 1953 state easement that allowed Enbridge to operate in the Straits.
Related stories:
On Friday, Whitmer and Dan Eichinger, director of the Michigan Department of Natural Resources, notified Enbridge that the results of that review have convinced them to revoke Enbridge's rights to operate in the Straits.
Their rationale was twofold: Michigan should never have granted the easement in the first place, Whitmer and Eichinger wrote, because allowing Enbridge to transport oil through the Straits poses a spill risk that "cannot be reconciled with the public's right in the Great Lakes and the state's duty to protect them."
Second, state officials determined Enbridge has repeatedly violated the terms of its easement by failing to properly support the pipeline, allowing the pipe to bend in ways that could compromise its structural integrity, and failing to maintain the pipeline's protective coating, among other issues.
"Enbridge has imposed on the people of Michigan an unacceptable risk of a catastrophic oil spill in the Great Lakes that could devastate our economy and way of life," Whitmer said in a statement Friday. "That's why we're taking action now."
Michigan Attorney General Dana Nessel also filed a lawsuit Friday in Ingham County Circuit Court seeking legal reinforcement of Whitmer's decision. Within hours, Enbridge had vowed to fight it, although as of Wednesday afternoon, the Ingham County Circuit Court website indicated the company had yet to file a response to the state's lawsuit.
That sets up a legal showdown that is unlikely to be resolved by May, when the state says Enbridge must shutter the pipeline. It's now likely up to a judge to decide whether Enbridge must meet the 180-day deadline even if the legal dispute extends beyond May.
Whitmer has upper hand
Two environmental law experts said the state has the upper hand in the case.
That's because the Whitmer's revocation order leans on a "public trust" legal doctrine, which gives Michigan regulators broad authority to protect the Great Lakes from environmental harm. It also leaves little room for the Republican-led Legislature, whose leaders have advocated to keep Line 5 open while Enbridge works to build a replacement pipeline deep underground, to challenge Whitmer's decision.
In an email to Bridge, Senate Majority Leader Mike Shirkey's spokeswoman called Whitmer's decision "irresponsible," but did not say whether Shirkey anticipated any response from the Legislature. A spokesman for House Speaker Lee Chatfield said only that he was "checking" when asked about whether the Legislature could challenge Whitmer's order.
The public trust doctrine, which requires states to hold their navigable waterways "in trust" for the public, has been used across the country to challenge water extraction, pollution and other activities that could undermine public rights to use navigable waterways for fishing, boating, and other protected uses.
Michigan's public trust duties are enshrined in the state constitution, which means any effort to alter or limit Michigan's responsibilities would need to go through voters.
And the constitution is clear, said Nick Schroeck, a University of Detroit Mercy associate law professor who specializes in environmental law, in its directive that Michigan must "provide for the protection of the air, water and other natural resources of the state from pollution, impairment and destruction."
"It makes protecting natural resources a paramount concern for our state," Schroeck said, and state leaders for years have openly warned that Line 5 threatens those resources.
Still, legal experts said, Enbridge has several avenues to challenge the state's decision.
Enbridge leans on tunnel agreement
Enbridge hinted at a possible component of its legal strategy on Friday, when it released a statement accusing the state of violating a 2018 agreement with the state under then-Republican Gov. Rick Snyder that gave the company permission to replace Line 5's lakebottom segment with a new pipe buried in a tunnel deep beneath the lakebed.
The company contends that the tunnel project will reduce the risk of an oil spill to virtually nothing.
In an email to Bridge, company spokesman Ryan Duffy said the state assured Enbridge as part of the tunnel agreement that the existing lakebottom lines "may continue to operate and are in compliance with the Easement."
"We believe that nothing has changed to change this conclusion and commitment by the State," Duffy said.
The state's new complaint is similar to a separate lawsuit Nessel filed in June 2019 in Ingham County Circuit Court. That suit, which is still pending before Judge James Jamo, also argues that Enbridge's easement violates the public trust doctrine and should be revoked.
Enbridge's approach to the earlier case offers a window into the company's likely legal arguments as it seeks to challenge Whitmer's shutdown order. Enbridge lawyers have argued, among other things, that federal regulators are in charge of pipeline safety, so Michigan has no legal right to shut down Line 5 over safety concerns.
Jamo appeared unconvinced by that argument when he granted Nessel's request for a restraining order earlier this year that temporarily shut down the pipeline following reports that it had sustained "significant damage" from a then-unknown source.
But while federal officials regulate pipeline safety, states can oversee pipeline siting. Enbridge may have difficulty convincing a judge that federal oversight should prevail, since Enbridge's predecessor agreed to the state easement's terms in exchange for the right to put its pipeline in the Straits, Schroeck and Blumm said.
"The state has very intentionally set this up as a question about this easement, and a question about the state's obligation under the public trust," Schroeck said.
Schroeck said he also expects Enbridge to claim that its long history of operating Line 5 without a spill in the Straits has created a private property right to keep the oil flowing.
If the judge agrees, the judge could order Michigan to compensate Enbridge for financial losses stemming from a shutdown, Schroeck said.
Along the way, Enbridge and its supporters are likely to raise concerns that a Line 5 shutdown would have widespread economic ramifications in Michigan as well as out-of-state and abroad.
Line 5 is part of a system that pumps oil from western Canada throughout the continent, including to refineries in Michigan, Ohio and Ontario. It's also the primary source of propane in the Upper Peninsula. Line 5 proponents argue a shutdown would strand U.P. residents who depend upon the pipeline to heat their home, although experts hired by the state determined there are other ways to meet U.P. fuel needs.
Whitmer's order has also fueled backlash from government officials outside of Michigan, including Ontario Energy Minister Greg Rickford.
In a statement Friday, Rickford said he was "profoundly disappointed" in the shutdown decision, and vowed to "work with Enbridge and the Governor of Michigan to keep Line 5 operating in accordance with the highest health and safety standards."
A question of timing
Ultimately, the most important question in the case may not be whether Enbridge must shut down Line 5, but when.
"Delay is their biggest weapon here," said Liz Kirkwood, executive director of the nonprofit water advocacy group For Love of Water (FLOW), which has lobbied to shut down Line 5.
The company has already promised to close the lakebottom line several years from now, once it completes the tunnel, which it claims will cost $500 million and take about three years to construct.
If Enbridge can convince a judge to keep the existing pipeline open until the lawsuit reaches its conclusion, "it's cheaper to litigate so long as the oil keeps flowing," said Blumm.
Whitmer and Native American tribes, environmentalists and others who support a shutdown have argued the pipeline poses such a dire risk of an oil spill, it must be shut down immediately.
So far, Jamo, the judge in Nessel's original Ingham County suit, has not appeared to share that sense of urgency. Nearly six months since the state and Enbridge presented arguments in that case, he has not offered a timeline for when he'll issue a decision.
But environmentalists said they're hopeful that the easement review's troubling conclusions will prompt Jamo to act faster.
In both cases, the losing party is almost certain to appeal Jamo's decision. If the matter reaches the Michigan Supreme Court, it will test the court's new political dynamics. Voters on Nov. 3 elected two Democratic appointees to the court, shifting the body's power dynamics from a 4-3 conservative majority to a 4-3 liberal majority.
Incoming justice Elizabeth Welch, who will join court in January, is former president of the Michigan League of Conservation Voters, an environmental advocacy group that wants the pipeline shut down.
In an interview with Bridge shortly after her election, Welch vowed to take each case "separately and on the merits," and did not hint at where she would stand on a potential Line 5 case, or whether she would be forced to recuse herself from the litigation.
Shutdown order complicates tunnel's fate
While the state's shutdown order awaits almost certain legal scrutiny, Enbridge has vowed to forge ahead with plans to build its Straits tunnel. But the company's supporters and an energy analyst said the tunnel's future is far from certain.
Even before Whitmer issued her shutdown order, the tunnel project was mired in legal uncertainty, with Tribes and environmental groups hoping to block the project by convincing state regulators not to grant key permits.
If Line 5 is shut down before a tunnel can be built, said Phil Flynn, senior energy analyst at The PRICE Futures Group in Chicago, economic uncertainty will further complicate the tunnel plan. Enbridge will have to decide whether it's worth spending money on the tunnel project with no guarantee that it will withstand legal challenges.
That's an easy financial calculus if the lakebottom pipes are still generating revenue in the meantime, Flynn said. It becomes much harder if Line 5 is shut down.
The Michigan Public Service Commission is weighing whether to let Enbridge move Line 5 inside the tunnel, should it be built. Part of that process includes a review of whether the relocation is necessary.
Kirkwood, of FLOW, said if Whitmer succeeds in her shutdown quest and Michigan's propane and oil industries find other ways to transport petroleum products, Enbridge will have a harder time convincing the commission a new pipeline is necessary.
"Making a decision about whether to let Enbirdge relocate a piece of pipeline from Point A to Point B is a very different question than 'are we going to let you restart this pipeline that has already been shut down?'" she said.
Separately, the Michigan Department of Environment, Great Lakes and Energy is reviewing two permit requests tied to the tunnel project. In an email, EGLE spokesman Nick Assendelft said the governor's shutdown orders will have no impact on that process.
Michigan Environment Watch
Michigan Environment Watch examines how public policy, industry, and other factors interact with the state's trove of natural resources.
Michigan Health Watch is made possible by generous financial support from:
Our generous Environment Watch underwriters encourage Bridge Michigan readers to also support civic journalism by becoming Bridge members. Please consider joining today.
Only donate if we've informed you about important Michigan issues
See what new members are saying about why they donated to Bridge Michigan:
"In order for this information to be accurate and unbiased it must be underwritten by its readers, not by special interests." - Larry S.
"Not many other media sources report on the topics Bridge does." - Susan B.
"Your journalism is outstanding and rare these days." - Mark S.
If you want to ensure the future of nonpartisan, nonprofit Michigan journalism, please become a member today. You, too, will be asked why you donated and maybe we'll feature your quote next time!