Huron River chromium spill prompts call for stricter Michigan pollution law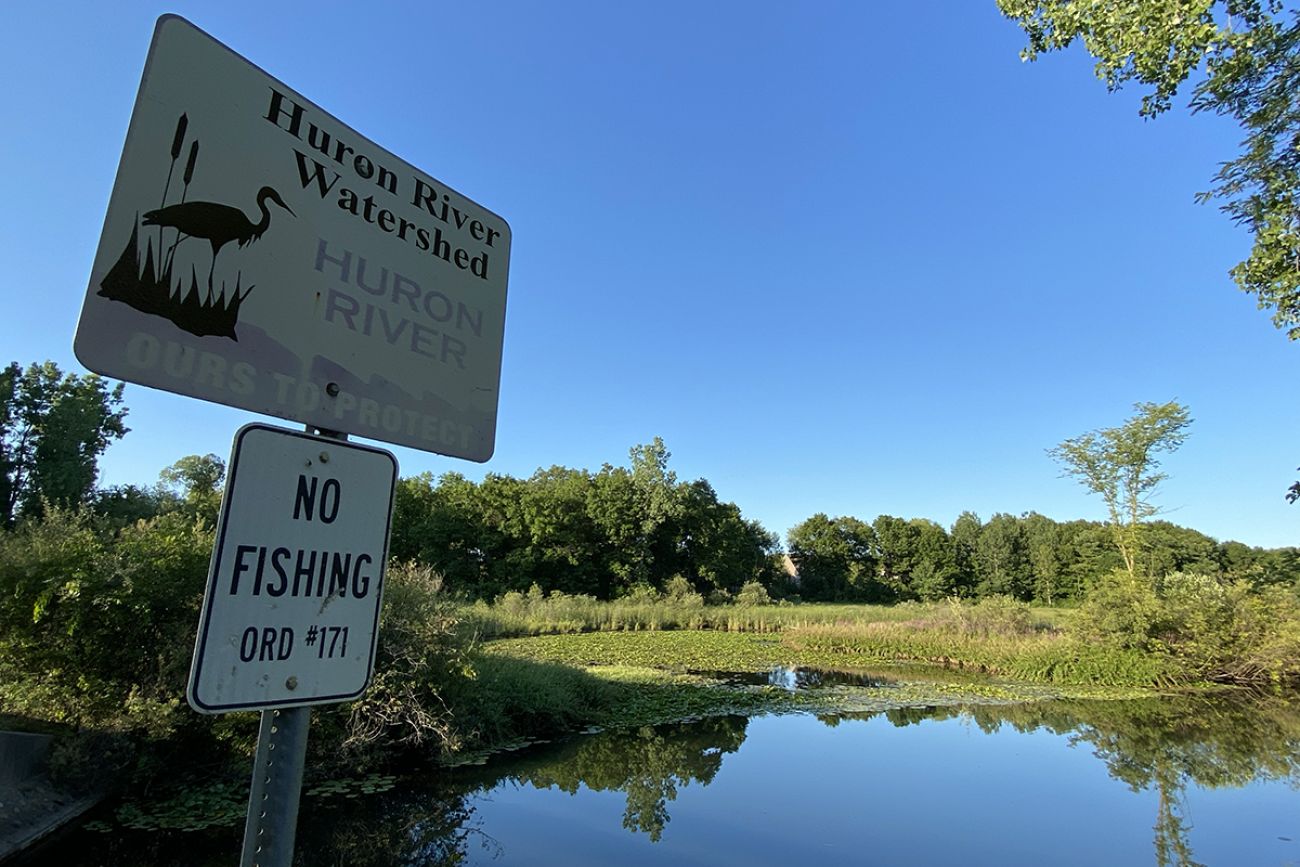 A large swath of the Huron River remains under a "no contact" advisory after a massive release of liquid containing hexavalent chromium from a Tribar Manufacturing plant in Wixom. (Bridge photo by Kelly House)
Activists are putting pressure on lawmakers, industry and regulators following the spill
They want stronger regulations and a vow from automakers to stop using hexavalent chromium
Industry officials: We're trying, but change isn't easy
---
Aug. 10: State: Tribar staffer ignored 460 alarms in Huron River chromium release
After a week of fear and anger over Tribar Manufacturing's latest chemical contamination scare, it appears the Huron River has avoided a worst-case scenario.
Of 144 river water samples collected since Tribar Manufacturing released up to 10,000 gallons of hexavalent chromium-containing liquid into nearby sewers, only three have come back chromium-positive.
Regulators suspect much of the toxic metallic compound may be bound up in solid waste at the Wixom water treatment plant or in on-site filters at the Tribar factory, though additional analysis is ongoing.
Related:
The Michigan Department of Health and Human Services continued to recommend on Tuesday that people avoid all contact with the stretch of river from North Wixom Road in Oakland County to Kensington Road in Livingston County.
But with the immediate crisis seemingly under control, Huron River residents and environmental activists are now turning to lawmakers, industry and regulators with a plea: Make sure it doesn't happen again.
"The fact is, they're just one company," said Bruce Heavner, who said his Milford kayak and canoe livery has seen a 70 percent drop in business in the week since the Tribar release. "If it wasn't them, it could have been anybody else."
Bruce Heavner said his family kayak and canoe livery has seen a 70-percent drop in business since the Tribar release. (Bridge photo by Kelly House)
Heavner, frustrated with repeated environmental contamination scares on the Huron, is hosting a rally Wednesday where businesses, politicians and environmentalists will demand that Tribar be made to pay for cleanup.
Citing the incident as an example of the ways lax federal toxics substances regulations collide with weak state-level enforcement to make industrial pollution more likely, a host of environmental groups and lawmakers are calling for stronger laws and greater corporate stewardship to get hexavalent chromium out of the auto supply chain.
But if past failed attempts are any indication of the future, they could face stiff headwinds.
Discouraging 'wanton recklessness'
Among environmentalists' top priorities: Taking another stab at strengthening the state's "polluter pay" law, after multiple past failed attempts.
That law holds industry liable for cleaning up pollution it causes. And Michigan's was briefly one of the strongest in the nation, extending cleanup liability to current and past owners and operators of polluted sites and setting aggressive cleanup standards.
But changes in 1995 under then-Gov. John Engler narrowed liability only to those who directly caused the pollution, and shifted part of the law's focus from cleaning up contamination, to containing it.
Proponents of the Engler-era changes said they would aid in redevelopment of contaminated urban sites, because new owners needn't worry about being held liable for pollution caused by a prior owner.
But Lana Pollack, who authored the strict earlier law, told Bridge Michigan that in addition to producing thousand of "orphan (pollution) sites" where the public must pay for cleanup, reduced liability for polluters encourages "wanton recklessness" from companies that know the consequences for polluting will be "cheaper than doing what they need to do to avoid it."
It's not yet clear what caused the Tribar release, nor what consequences the company could face or to what extent Michigan's cleanup laws could come into play. But activists say they were disturbed to learn that Tribar faced no state penalties after widespread PFAS pollution in the Huron River was traced back to another of the company's facilities in 2018.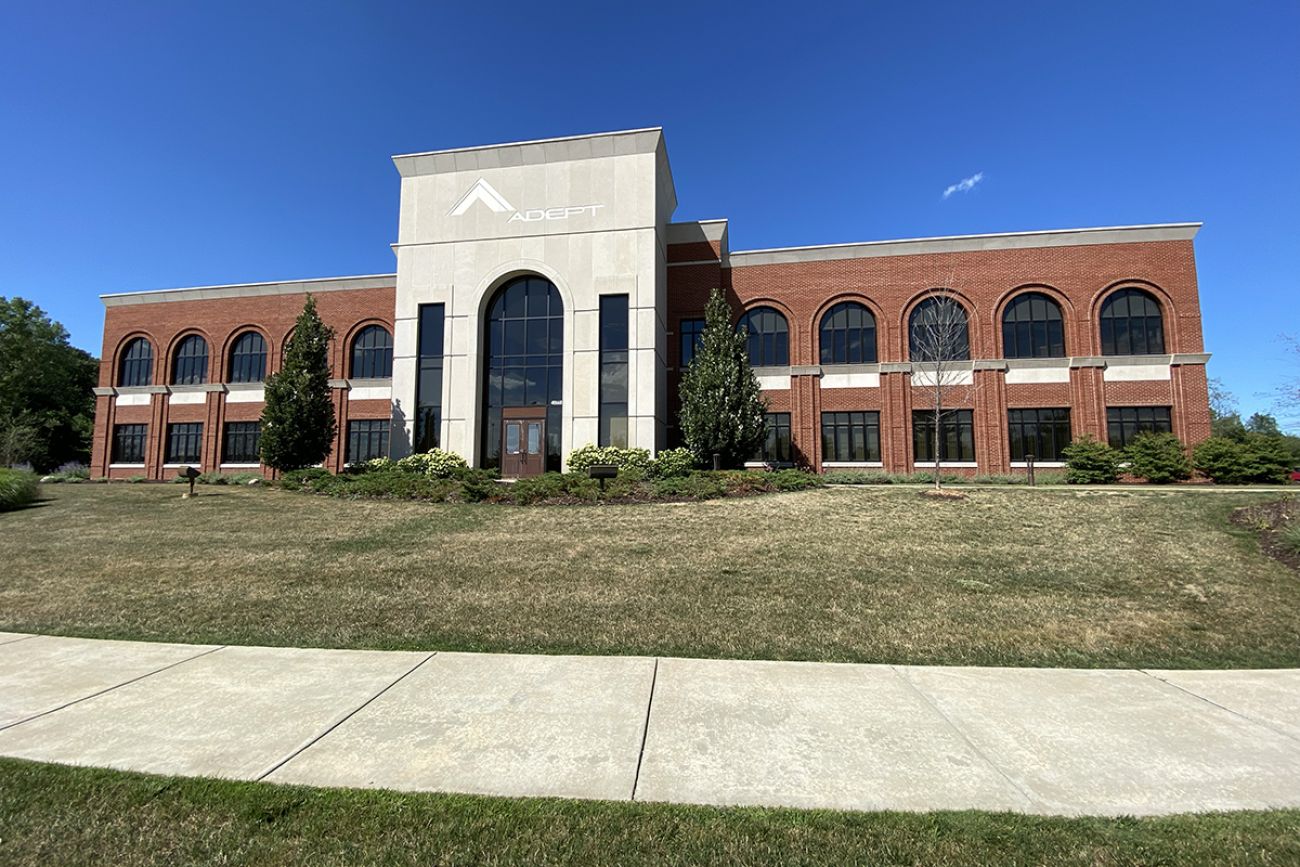 Tribar Manufacturing's facility on Alpha Drive in Wixom, where thousands of gallons of hexavalent chromium-containing liquid was released into city sewers. (Bridge photo by Kelly House)
The latest polluter pay push, dual bills by Ann Arbor Democrats Rep. Yousef Rabhi and Sen. Jeff Irwin, would require polluters to clean up releases "to the extent technically feasible." Those bills would also strike language that allows polluters to limit cleanup so long as they restrict public access to polluted sites.
Rabhi said the rationale behind the bills is simple: If you make a mess, you clean it up.
"That's something that we're all taught from an early age," he said. "It seems that we should be holding polluters that are literally putting people's lives in danger to the same standard."
Republican lawmakers who chair committees in charge of the bills — Senate Committee on Environmental Quality Chair Rick Outman, R-Six Lakes, and House Natural Resources and Outdoor Recreation Committee Chair Rep. Gary Howell, R-North Branch — said they see things differently.
Outman said he favors a regulatory scheme that allows lighter cleanup for industrial sites than residential sites. And he said he hesitates to force companies to clean up environmental contamination that occurred before the substance in question was tightly regulated.
"If a company was doing everything right, according to the laws that were in place at the time, then it seems tough to hold them responsible (for cleanup) today," he said.
Howell questioned whether Michigan needs stronger regulations, or simply better enforcement of regulations already on the books.
The Michigan Manufacturers Association also opposes the bills, arguing that stronger cleanup standards would slow an already-onerous process of readying contaminated sites for reuse.
"I personally believe (the bills) would result in less cleanup, and less closure of sites," said Caroline Liethen, the association's director of environmental and regulatory policy. "It would hurt the overall goal of getting sites back to a usable form."
Pressure on automakers
Discouraged by their prospects in the political arena, where Republicans control the state House and Senate, environmentalists are mounting a public pressure campaign on industry.
The Ann Arbor-based nonprofit Ecology Center has launched a campaign pressuring automakers to stop doing business with companies that continue to use hexavalent chromium, which is valued partly because it produces shinier, more corrosion-resistant grilles and emblems.
Automakers "have supplier standards, and they have relationships with suppliers, and they could play a significant role," said Ecology Center Research Director Jeff Gearhart. He noted that similar top-down pressure from the auto industry helped reduce lead and mercury content in automobiles.
Chrome platers generally manufacture their products to clients' specifications, which means big automakers have sway over whether platers use hexavalent chromium. Some already voluntarily limit the compound's use.
And the surface finishing industry is working to swap out hexavalent chromium for safer trivalent chromium where possible, said Christian Richter, a lobbyist for the National Association of Surface Finishing. But that has proven easier for companies that do decorative plating than for those using hex chrome for safety purposes, such as coatings that keep planes from corroding midair or braking systems that protect drivers on the road.
April Smith, vice president of Diamond Chrome Plating in Howell, said the company is compelled by regulators and customers to coat its plane components to tight specifications. And those specifications often require the use of hexavalent chromium.
"If they find something new, I'm sure we'll be using it," Smith said. "But at this point, regulation draws us to do what we're required to do to get the parts out the door safely for flying."
While auto platers typically have more viable alternatives, Richter noted that most still use hexavalent for several reasons, from its anti-corrosive properties and industrial customers' whims to consumer preferences for its mirror-like shine.
"Hexavalent has that clear blue sheen, but trivalent is more grayish and smoky," one California plater told Hemmings Motor News. "Trivalent will not replace the look of hexavalent."
Gearhart, at the Ecology Center, argued those aesthetic benefits don't justify the risk.
"That's just an engineering challenge and a marketing challenge for the industry," he said. "It's not a reason not to do this."
Federal standards lag
The push for automaker activism comes as federal regulators appear to be in no hurry to craft their own policies to better regulate a chemical found at elevated levels in 251 million people's tap water.
There are no federal rules limiting hexavalent chromium in drinking water, though the EPA limits total chromium (including non-harmful trivalent chromium) to 100 parts per billion.
The EPA in 2008 began reviewing the compound's health effects – a first step toward potential future regulation. But fourteen years later, the review is still not complete. EPA officials did not answer questions from Bridge Michigan about why the agency has not proposed enforceable standards for hexavalent chromium.
That slow process irks U.S. Rep. Elissa Slotkin, D-Lansing.
Slotkin, whose district includes part of the Huron watershed, for years has urged the agency to enact enforceable drinking water standards for PFAS, another toxic chemical that's widespread in Michigan. Only this year did EPA announce plans to do so, and it will be at least another year before the standards are finalized.
"If these chemicals (such as PFAS and hexavalent chromium) are dangerous, if these chemicals are the subject of long standing legal suits, you know, the whole Erin Brockovich story, then the EPA needs to set a standard based on health," Slotkin said. "And then companies need to live up to it."
California has proposed its own hexavalent chromium drinking water standard of 10 parts per billion, along with timelines to phase out the compound's use in both decorative and hard chrome plating.
Rabhi, the Ann Arbor Democrat, said he wants to see similar action in Michigan. But Howell, the North Branch Republican, said he favors regulation at the federal level. Banning a substance that remains legal in neighboring states, he said, may only convince companies to relocate — an economic loss for Michigan that would yield no net decrease in pollution.
"If it really is a serious toxic issue, it ought to be the same in Indiana, or Michigan, or California or wherever," he said.
Industry representatives said they would oppose such standards at any level of government, noting that existing air and water regulations have already dramatically reduced hexavalent chromium releases to air and water.
"The industry has to figure it out," said Beth Gotthelf, vice president and general counsel to the Michigan chapter of the National Association of Surface Finishing. And for many applications, she said, it already has.
"When I first started practicing, everybody was doing hex chrome. Now there's only a small handful."
Michigan Environment Watch
Michigan Environment Watch examines how public policy, industry, and other factors interact with the state's trove of natural resources.
Michigan Health Watch is made possible by generous financial support from:
Our generous Environment Watch underwriters encourage Bridge Michigan readers to also support civic journalism by becoming Bridge members. Please consider joining today.
Only donate if we've informed you about important Michigan issues
See what new members are saying about why they donated to Bridge Michigan:
"In order for this information to be accurate and unbiased it must be underwritten by its readers, not by special interests." - Larry S.
"Not many other media sources report on the topics Bridge does." - Susan B.
"Your journalism is outstanding and rare these days." - Mark S.
If you want to ensure the future of nonpartisan, nonprofit Michigan journalism, please become a member today. You, too, will be asked why you donated and maybe we'll feature your quote next time!