Michigan 'river walker' program warns anglers on eating contaminated fish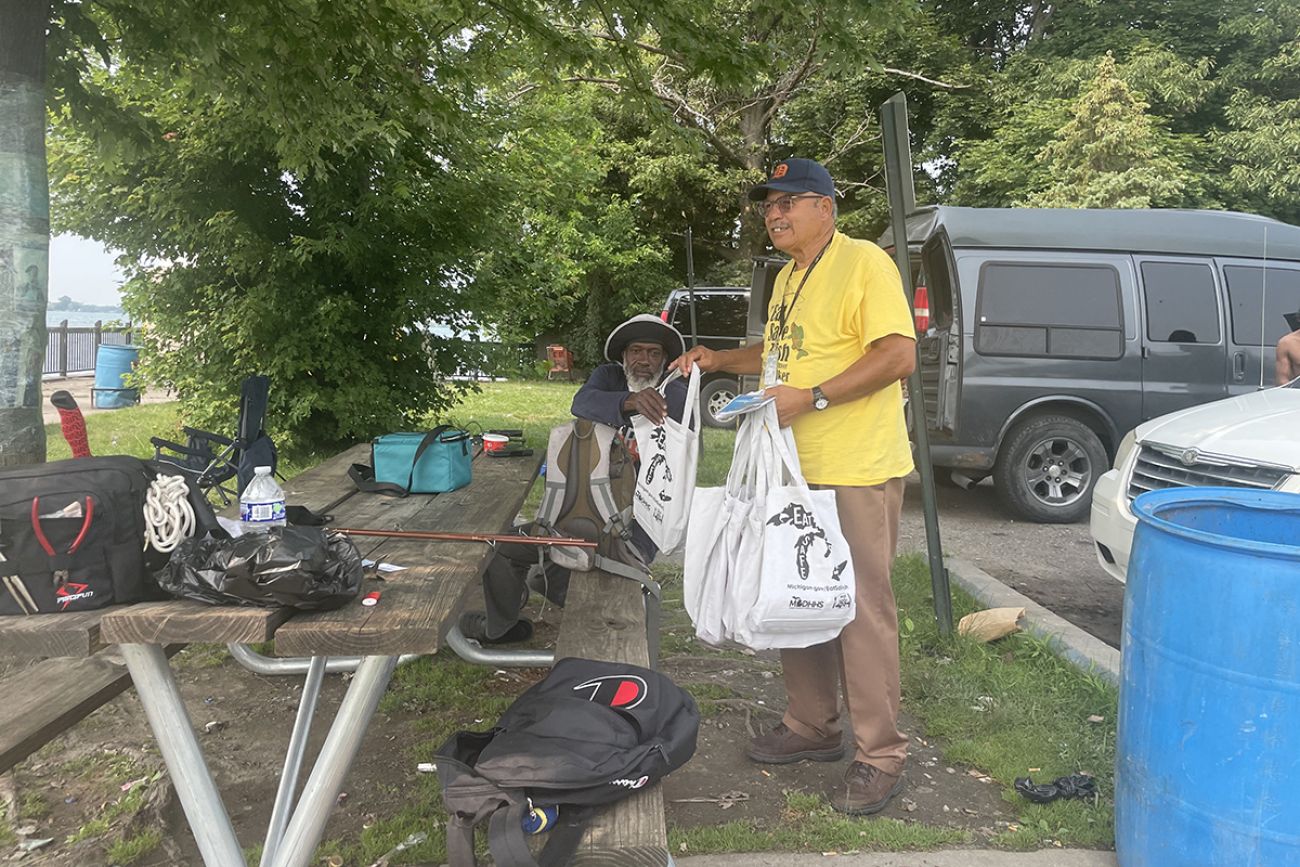 Jim Bridgforth, one of two river walkers assigned to the Detroit River, hands an "Eat Safe Fish" tote bag to an angler at Mariner Park. (Bridge photo by Ashley Zhou)
Michigan's legacy of industrial pollution continues to taint the flesh of fish in the state's lakes and rivers
Signs warning "do not fish" only go so far, so river walkers like Jim Bridgforth walk the banks telling anglers of the risks
Not everyone can afford to comply with the health advice
---
DETROIT—Sporting a bright yellow "Eat Safe Fish" t-shirt and lanyard, Jim Bridgforth carries an armful of pamphlets as he walks the Detroit River at Mariner Park.
Anglers sit in camping chairs equipped with bait of all colors and sizes, wearing bucket hats and dipping into their lunch boxes as they wait for a bite from the long row of rods that jut out into the water.
To Bridgforth, who visits this park multiple times a week, some are familiar faces.
Related:
He is part of a small army of volunteer "river walkers," who spend their days on the banks of Michigan's most polluted rivers, warning anglers of the risks that come from eating contaminated fish and advising them on how to fish safely.
"I believe that one of the things we can do is to educate people about things in the environment that can help protect their health," Bridgforth said.
In a state where industrial pollution has tainted the tissue of fish in waterways from metro Detroit to the Upper Peninsula, they have their work cut out for them.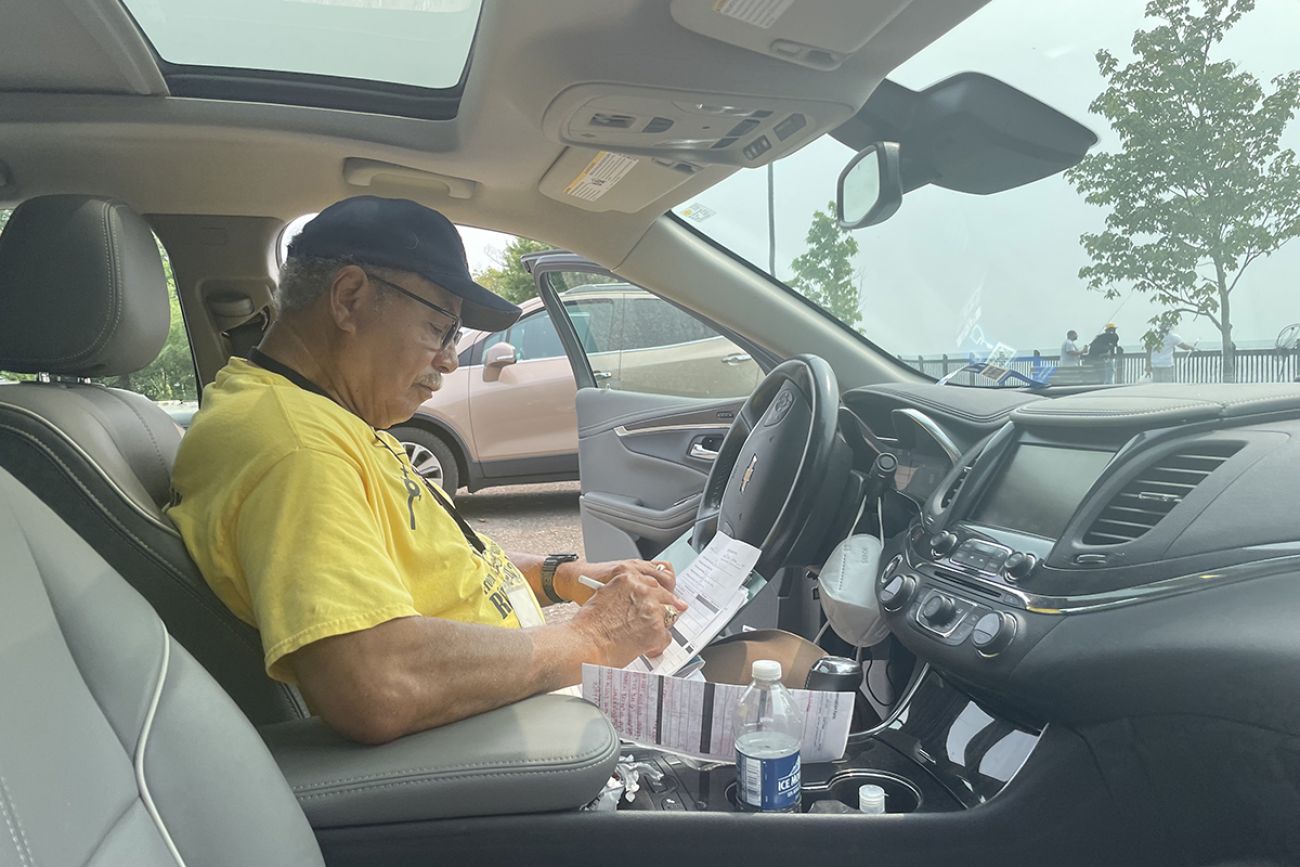 After visiting anglers along the Detroit River, Bridgforth marks down stats on who was fishing at each location. (Bridge photo by Ashley Zhou)
When posted signs aren't enough
According to a study from the Environmental Integrity Project, 96 percent of assessed Michigan rivers and streams are considered impaired for fish consumption, often because of industrial pollution.
The sediment beneath many Michigan waterways is contaminated with mercury, polychlorinated biphenyls (PCBs) and dioxins, vestiges of past industrial pollution that make their way into the tissue of fish. More recently, ongoing PFAS contamination has prompted a wave of new "do not eat" advisories, rendering once-popular fishing areas like the Huron River unfishable.
Such contaminants are "known carcinogens," said Donna Kashian, director of environmental science at Wayne State University, but a person's risk from eating tainted fish depends upon a number of factors, including how badly the fish is contaminated and how often they catch to eat that fish species.
For some contaminants, like PCB, risk can be reduced by properly cleaning and cooking fish to drain away the fat. And risk levels vary based on the type of fish, too.
The nuances can make it tricky to clearly communicate risks to anglers.
In the past, efforts to get the word out were largely passive. State health officials would post signs along waterways and publish guides that anglers could reference.
But it became clear not everyone was receiving the message.
Studies showed that fish advisory information was less likely to reach poor and minority groups — the same groups most likely to catch and eat fish from contaminated waterways like the Detroit River. That was resulting in Detroit River anglers having higher levels of mercury, PCBs and dioxins in their system.
So, the Michigan Department of Health and Human Services and Wayne State University launched the River Walkers program as a pilot in 2012 to directly communicate with Detroiters about fish contamination issues. It has since been updated in 2014 and expanded into the Saginaw Bay, Kalamazoo River watershed and Huron River watershed as an official state program.
"I think we need it in every watershed," said Daniel Brown, watershed planner at the Huron River Watershed Council. "It's just such a simple, effective model for getting the information out there to the people that need it in the places and times they need it."
Last year, the river walkers observed about 5,682 anglers and handed out 4,000 "Eat Safe Fish" materials. The percentage of anglers that fish for consumption varies across the state: 42 percent in the Saginaw Bay area with fewer in the Huron River watershed and Kalamazoo River watershed last year and 68 percent from the Detroit River in 2015.
The MDHHS is considering expanding the river walkers to other waterways when funding becomes available, said Lakecia Powell-Denson, community outreach unit manager at the division of environmental health within MDHHS.
During Bridgforth's visits to Mariner Park, he doesn't try to discourage eating Detroit River fish. Instead, he informs anglers about the elevated risks to certain groups, like children under 15, pregnant people and those with health problems.
And he advises them to avoid large fish and bottomfeeders, which tend to have higher contamination levels. He comes armed with a tape measure that anglers can use to measure their fish.
Not everyone has the luxury to limit fish meals
Even when they're aware of the risks, some anglers say they can't afford to heed the fish advisories. Often they're prioritizing the need to put food on the table over concerns about potential contamination.
At Mariner Park on Wednesday, Leonard Kimble and his son had been fishing since 3 a.m. for catfish and bass.
Both fish species are so heavily contaminated with PCBs and dioxins, health officials advise anglers to limit themselves to one serving a year from the Detroit River. Vulnerable health groups should eat none at all.
But Kimble said he fishes the river every day for protein.
"I missed 10 days last year," he said.
Kimble has seen Bridgforth at Mariner Park multiple times over the past five years. But he remains unconcerned, he said, arguing that he hasn't experienced health problems.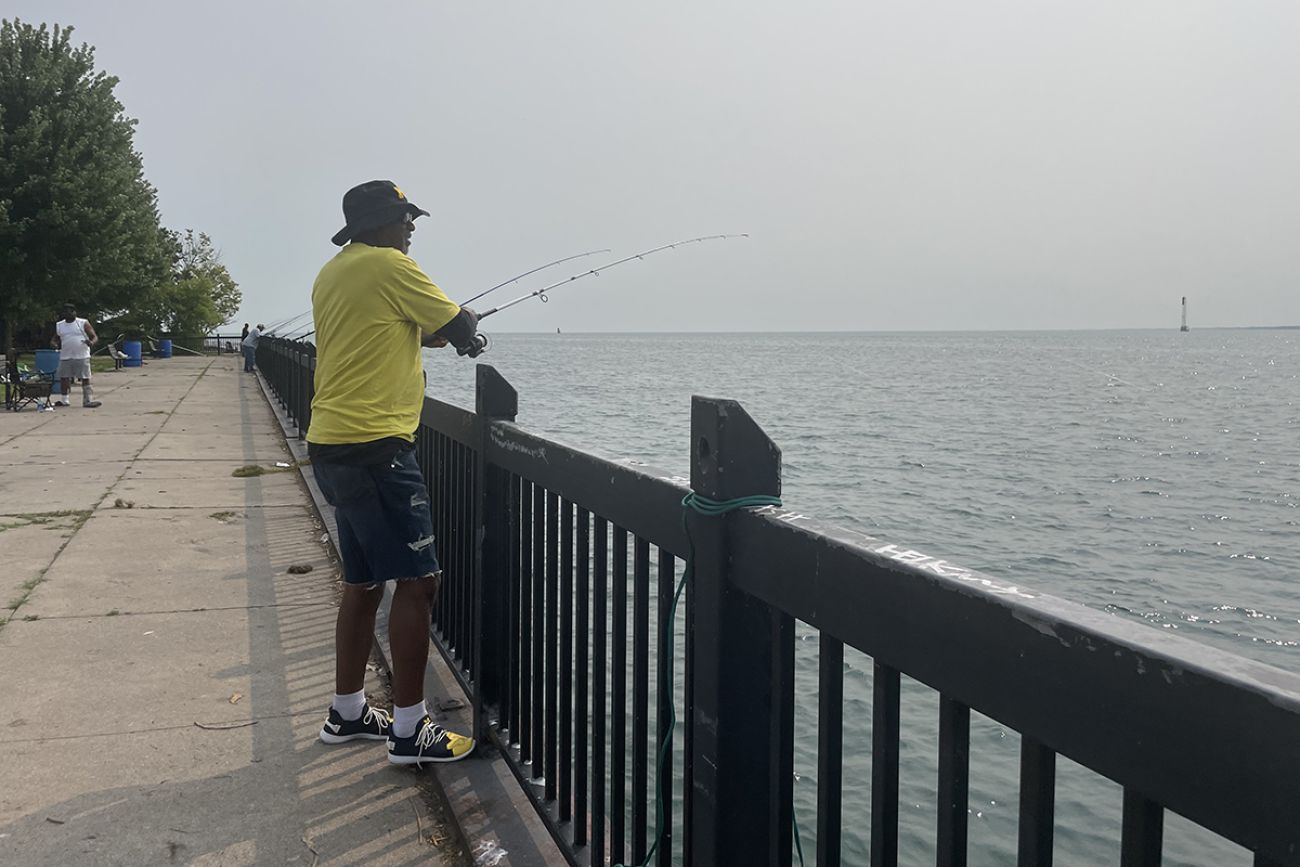 Freddie Davis casts a line into the Detroit River at Mariner Park, where he was fishing Wednesday morning. (Bridge photo by Ashley Zhou)
Just feet away, Andre Lewis was targeting smallmouth bass. He, too, said fish advisories don't stop him from catching and eating the fish. He's more concerned about rising grocery store prices.
"Everything has a risk factor," Lewis said. "They put preservatives, and god knows what in them. So what are you going to eat?"
Kashian said health officials are aware of the tradeoffs for anglers who fish not just for recreation, but to put food on the table or participate in cultural traditions. Instead of asking them not to fish, the River Walkers program aims to make sure they know how to do it as safely as possible.
It's a delicate balance for Marco Kamimura, events coordinator for the Research for Indigenous Social Action and Equity Center at the University of Michigan.
Kamimura, who is Indigenous Okinawan and Mexican, fishes at least once a week in southeast Michigan's rivers. He researches advisories beforehand and avoids large, predatory fish that can absorb large quantities of contamination through their prey.
Kamimura's grandparents taught him how to fish as a child, and subsistence fishing was crucial to their survival. Despite his fears about contamination, Kamimura said he finds it important to continue the practice with his 3-year-old son.
"It is our job to teach that intergenerational knowledge," Kamimura said.
Activists urge better laws to keep fish clean
Brown, of the Huron River Watershed Council, said rather than cordoning off a public resource after fish become polluted, state and federal regulators should get more serious about preventing pollution to begin with.
He said banning nonessential uses of PFAS, the chemical responsible for the Huron River's widespread "do not eat" advisory, would be a good start. But it would be difficult, as PFAS includes thousands of compounds used in a host of products, from food packaging to floss and nonstick pans.
There are also efforts afoot to clean up contaminated sediments, which would cut back on contaminated fish.
One 2020 project capped 1.2 acres of contaminated sediment along the Detroit River. Armed with a $1 billion windfall from the federal infrastructure package, officials with the U.S. Environmental Protection Agency say they plan to ramp up such efforts in the Detroit River and other so-called "areas of concern."
But as long as contamination remains a problem, spreading the word about risks remains Bridgforth's priority.
As he heads back to his car in Mariner Park, he spots two trucks reversing into parking spaces.
"Are you guys out here fishing here today?" he asks, as a group of young anglers lift their truck covers and begin unloading buckets and fishing rods.
They look at Bridgforth warily. But he pressed on, explaining how to fish safely before passing out tote bags, cracking jokes and wishing them luck on the water.
Michigan Environment Watch
Michigan Environment Watch examines how public policy, industry, and other factors interact with the state's trove of natural resources.
Michigan Health Watch is made possible by generous financial support from:
Our generous Environment Watch underwriters encourage Bridge Michigan readers to also support civic journalism by becoming Bridge members. Please consider joining today.
Only donate if we've informed you about important Michigan issues
See what new members are saying about why they donated to Bridge Michigan:
"In order for this information to be accurate and unbiased it must be underwritten by its readers, not by special interests." - Larry S.
"Not many other media sources report on the topics Bridge does." - Susan B.
"Your journalism is outstanding and rare these days." - Mark S.
If you want to ensure the future of nonpartisan, nonprofit Michigan journalism, please become a member today. You, too, will be asked why you donated and maybe we'll feature your quote next time!