Michigan's coast is being armored with seawalls, making erosion worse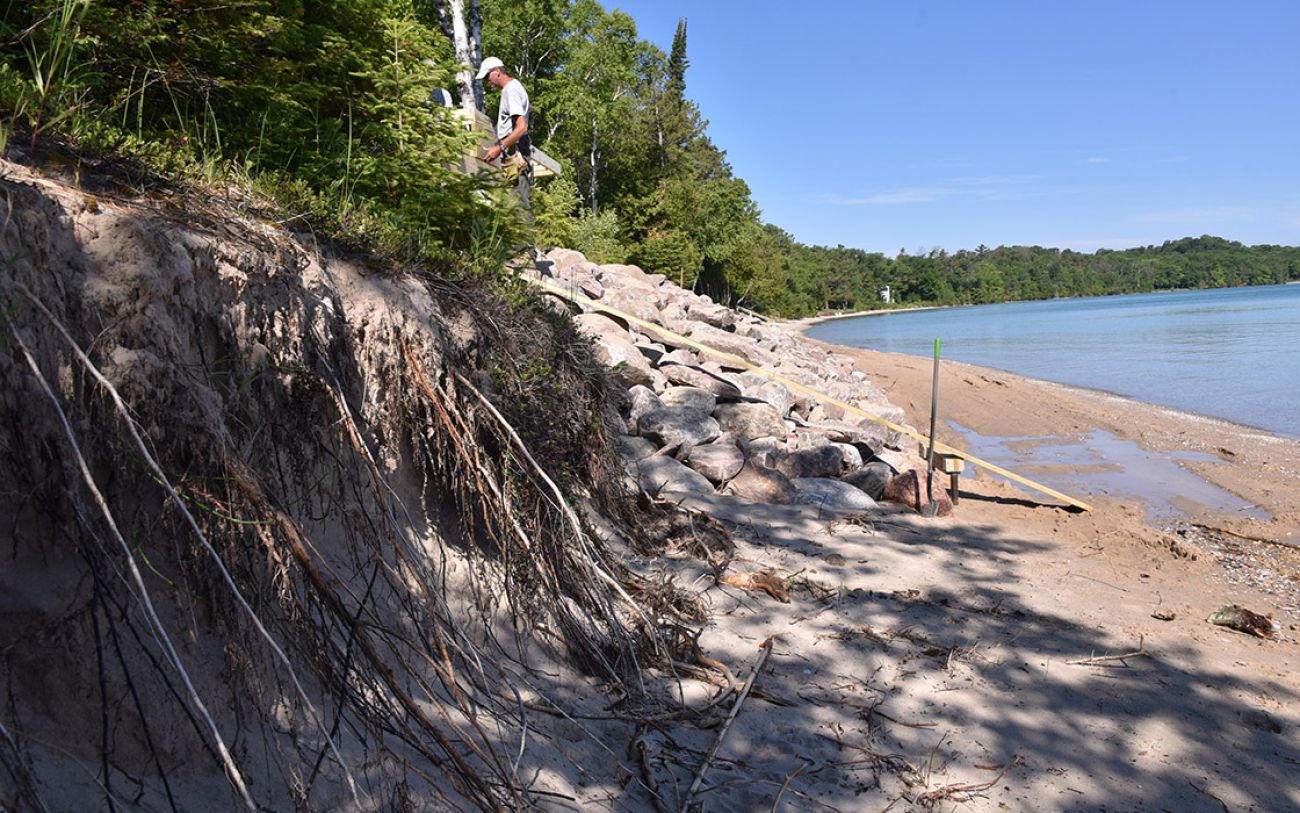 Wendy Slade loved to take in the sights and sounds of Lake Michigan from her beach house on Cathead Bay, until the lake began to turn against her.
Over several consecutive springs of heavy rainfall, Slade and her partner, Peter Davidson, watched the sprawling beach disappear from their property near the tip of the Leelanau Peninsula. Massive storm surges battered the remaining shoreline last winter and into the spring, uprooting trees and knocking chunks of their front yard into the water.
"Who could believe this big, beautiful blue pond would turn into a land-eating monster?" Slade said. "The beach became something I hated."
Related:
Desperate to halt the erosion, Slade and Davidson hired a contractor to install a boulder barrier along their shoreline. With the roughly $200,000 project completed this month, the pair hope they can again enjoy their dream home, instead of worrying it might collapse into the lake.
They are among more than a thousand Michigan property owners who have secured state permits to protect their Great Lakes shoreline this year, desperate for a reprieve from the rapid erosion that has accompanied record-high water levels throughout the Great Lakes.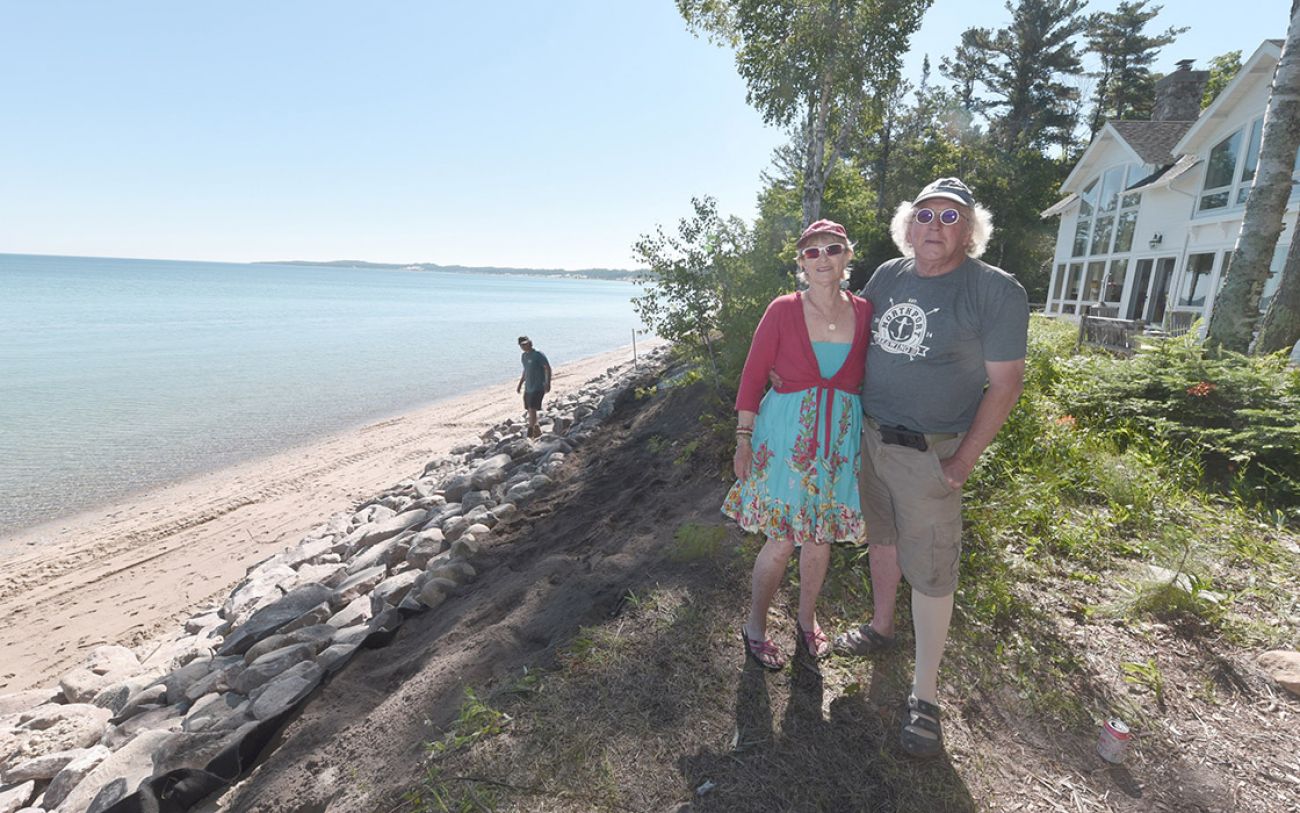 Since October, the Michigan Department of Environment, Great Lakes and Energy has approved 1,771 permit applications for shoreline protection projects, a dramatic increase over previous years that reflects the scope of the crisis facing shoreline homeowners, as well as efforts by regulators to speed up the permitting process as landowners race to save their properties.
But as the seawalls and boulders multiply on Michigan's shorelines, scientists and state officials warn that the emergency measures meant to protect homes will bear significant long-term consequences for both lakeshore property owners and the public with whom they share Michigan's beaches.
Hard shoreline barriers interrupt the Great Lakes' natural processes in ways that worsen erosion over time. While so-called "revetments" such as seawalls and riprap — armoring typically composed of boulders stacked along the shore — certainly provide short-term relief, they are ultimately doomed to fail.
"It pains me," said Guy Meadows, director of the Marine Engineering Laboratory at Michigan Technological University's Great Lakes Research Center. "People build a revetment, it does not hold up, and they will build a bigger revetment, and an even bigger revetment, until the cost of the revetment exceeds the value of the property."
A force of nature
Meadows has been studying these cycles for decades. In that time, he has learned that even the sturdiest seawall will eventually succumb to the lake. And in the meantime, it will alter natural systems in a way that can worsen erosion, downdrift and onsite, sometimes pulling sand so far out into the lake that it can never wash ashore again.
As relatively young geological features, the Great Lakes are "steep and deep," Meadows said. The lakes are gradually growing shallower and wider by chipping away at the surrounding land. West Michigan, for instance, loses an average of a foot a year to Lake Michigan's waves, he said.
But the lakes' march inward isn't steady. It happens in cycles.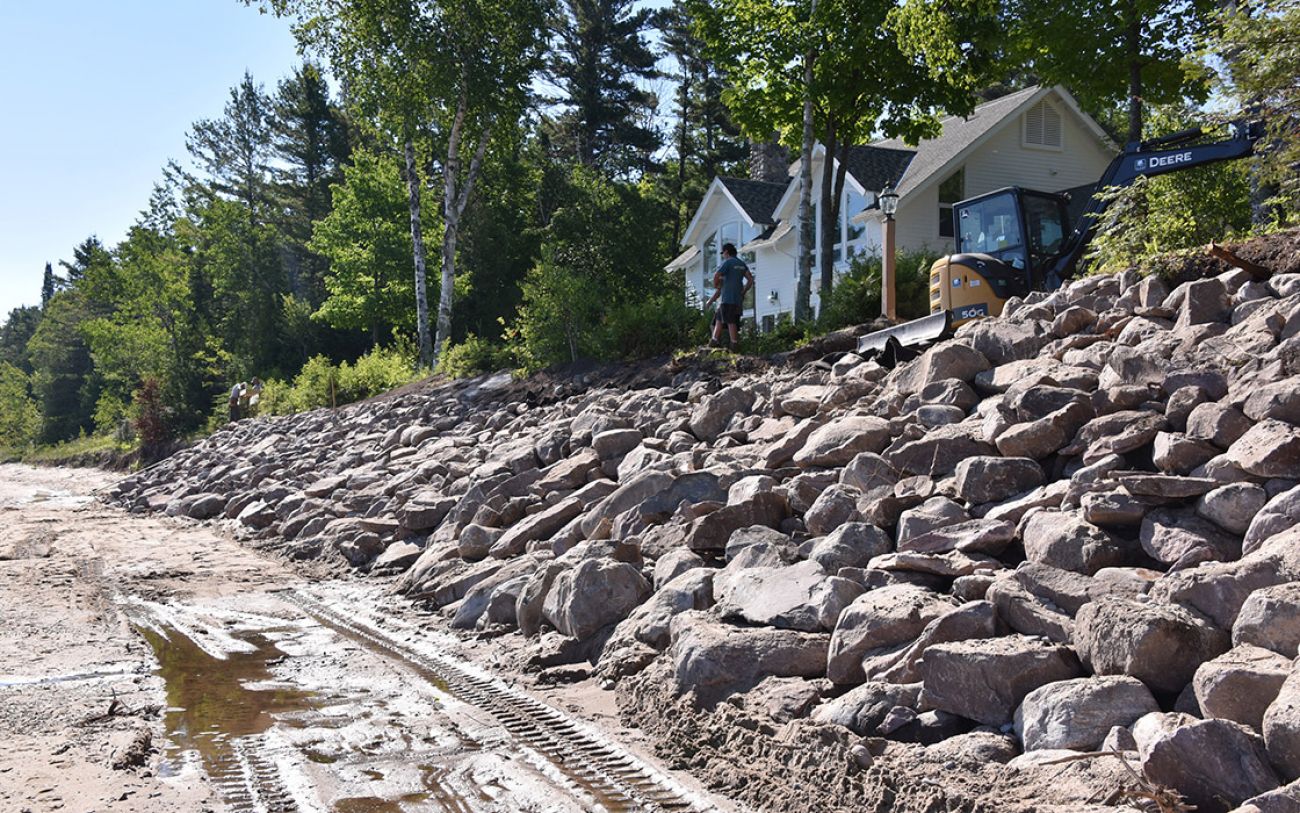 During periods of high water and stormy conditions, the lakes attack the shoreline more aggressively. As the waters recede, they often deposit sand back onshore, partially replacing what's been lost.
Seawalls and riprap disrupt that process. When waves encounter such obstacles, they redirect their energy to pull greater quantities of sand from neighboring beaches, or scour it out from underneath the armor.
"The places that don't have armoring have to provide the total amount of sediment that the waves are capable of carrying away," Meadows said.
In some cases, the sand is lost forever. Without a gradually sloping shoreline where the waves can deposit sand as they recede, sand is pulled out to ever-greater depths, where the force of incoming waves is too weak to carry it back ashore.
Jerrod Sanders, assistant director of the Michigan Department of Environment, Great Lakes and Energy's water resources division, said state officials who review applications for shoreline reinforcement are aware of these dynamics. But he said they must balance such concerns against private property rights that underpin homeowners' efforts to save their home.
"They may have built too close to the shoreline, but if they built there legally...we do need to arrive at some alternative to protect them," Sanders said.
Sanders said when state officials approve shoreline armoring projects, they require construction crews to minimize erosion impacts on neighboring properties, such as by often rejecting vertical seawalls for less-harmful sloping rock revetments. They also recommend that property owners create a maintenance budget for when the lakes inevitably breach their shoreline armor.
"You're building a structure in one of the most inhospitable places on the planet," Sanders said. "To paraphrase one of the shoreline engineers we work with, basically the only thing you can guarantee is that they're eventually going to fail."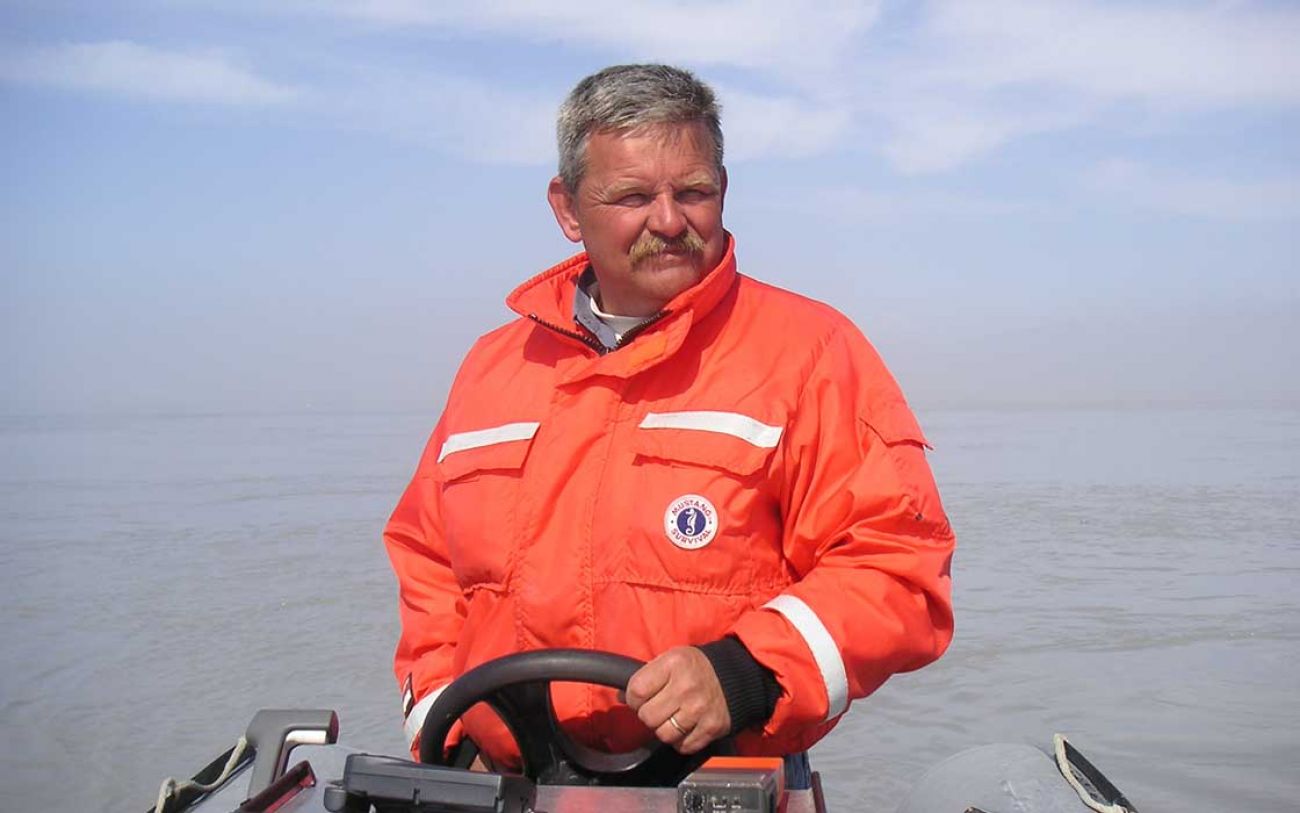 Disputes on the rise
With greater armoring comes greater conflict. As the seawalls and riprap proliferate, neighbor-to-neighbor disputes are cropping up in coastal communities, especially along Lake Michigan, whose sandy bluffs are prone to erosion.
Conflict often arises when landowners suspect their neighbors' revetment is worsening erosion on their property.
That's what Trish LaPorte contends. When she and her husband purchased a home on shore of Little Traverse Bay, they were smitten with the cobblestone beach where their children could collect Petoskey stones.
Then the neighbors commissioned a boulder revetment that LaPorte said has hastened erosion along her strip of beach. She complained to the construction crews who built the revetment, she said, and they offered to extend it onto her property. She accepted.
But as winter storms crashed ashore, she said, the revetment began to crumble and the erosion worsened. She blames sloppy construction and a state and federal permitting system that she believes is too quick to greenlight hard armoring without adequately considering impacts to neighboring properties.
"I'm talking about big boulders that just fell apart," LaPorte said. "I can't even walk out there anymore because it's so dangerous."
The neighbor, Irv Levy, argues his shoreline armor is not to blame. Erosion was underway before the revetment was built, Levy said, and recent spring storms have further battered the shoreline. Plus, he said, he couldn't just sit and watch the lake claim his home.
"We had to do something," Levy said.
In West Olive, on the central coast, a group of homeowners sued their neighbors over plans to build a seawall to stop their homes from toppling over a bluff, arguing the wall would destroy their shared beach. A judge ruled that the construction could proceed.
In New Buffalo, homeowners blame erosion along their properties on the U.S. Army Corps of Engineers, which built an upstream harbor that blocks the natural movement of sand down the beach.
In Chikaming Township, concerns about the proliferation of shoreline revetments raised such concern among area residents, the township board hired an engineering firm to evaluate proposed shoreline armoring projects that could impact township property.
Township Supervisor David Bunte said local officials are considering more permanent solutions, such as limiting when and how residents can armor the shoreline.
Bunte said he feels for people whose homes are at risk, but worries that as revetments hasten erosion on neighboring properties, they will force a chain reaction of armoring throughout the township.
That would transform beaches into boulder fields, he said, harming Chikaming Township's tourism-dependent economy by making beachwalking "almost impossible."
"It could be catastrophic, from an economic standpoint," Bunte said.
Seeking 'softer' solutions
As anxiety grows about the consequences of armoring Michigan's shoreline, some groups are working to promote alternative solutions.
Petoskey's Tip of the Mitt Watershed Council began hosting webinars to show property owners about how they can move homes away from the water or reject hard armoring in favor of "bioengineering" techniques such as using deep-rooted plants to help hold soil in place.
Jennifer McKay, the watershed council's policy director, hopes more landowners will consider such "softer" solutions. While bioengineered erosion control won't work in every situation, McKay said it can be a cheaper and more natural-looking alternative to hard armoring.
Lana Pollack, a former state senator who later went on to lead the Michigan Environmental Council and chair the U.S. section of the International Joint Commission, an agency that manages waterways bordering the U.S. and Canada, knows from professional experience that it's tough to engineer a way out of problems caused by Great Lakes water levels.
So when erosion began threatening her family's Mason County beach home, Pollack started looking for a compromise. She settled on a plan to line the shore with long, sand-filled fabric tubes, which she hopes will curb erosion until lake levels decline. When the water recedes, Pollock will tear open the fabric and leave the sand in-place. She hopes it will give the beach a chance to recover.
"I don't want to have to scramble over rocks," Pollack said. "I want the dunecrest to come back. I want the natural beach, and this gives the natural beach a chance at life."
But McKay, of the watershed council, said efforts to avoid hard armoring shouldn't be solely a matter of landowner preference. The council is working with local public officials to encourage policies that prevent homeowners from building so close to the shore, and lobbying state regulators to adopt permitting practices that prioritize alternatives to hard armoring.
"The state has a role and a duty under their statutes and the constitution to protect the Great Lakes," McKay said. "So in our opinion, they should be talking to the applicant and encouraging what is best for the Great Lakes, rather than just reviewing and permitting whatever the applicant wants."
Michigan Environment Watch
Michigan Environment Watch examines how public policy, industry, and other factors interact with the state's trove of natural resources.
Michigan Health Watch is made possible by generous financial support from:
Our generous Environment Watch underwriters encourage Bridge Michigan readers to also support civic journalism by becoming Bridge members. Please consider joining today.
Only donate if we've informed you about important Michigan issues
See what new members are saying about why they donated to Bridge Michigan:
"In order for this information to be accurate and unbiased it must be underwritten by its readers, not by special interests." - Larry S.
"Not many other media sources report on the topics Bridge does." - Susan B.
"Your journalism is outstanding and rare these days." - Mark S.
If you want to ensure the future of nonpartisan, nonprofit Michigan journalism, please become a member today. You, too, will be asked why you donated and maybe we'll feature your quote next time!