Senator wants to defang the 'radical' Michigan DEQ. He just may do so.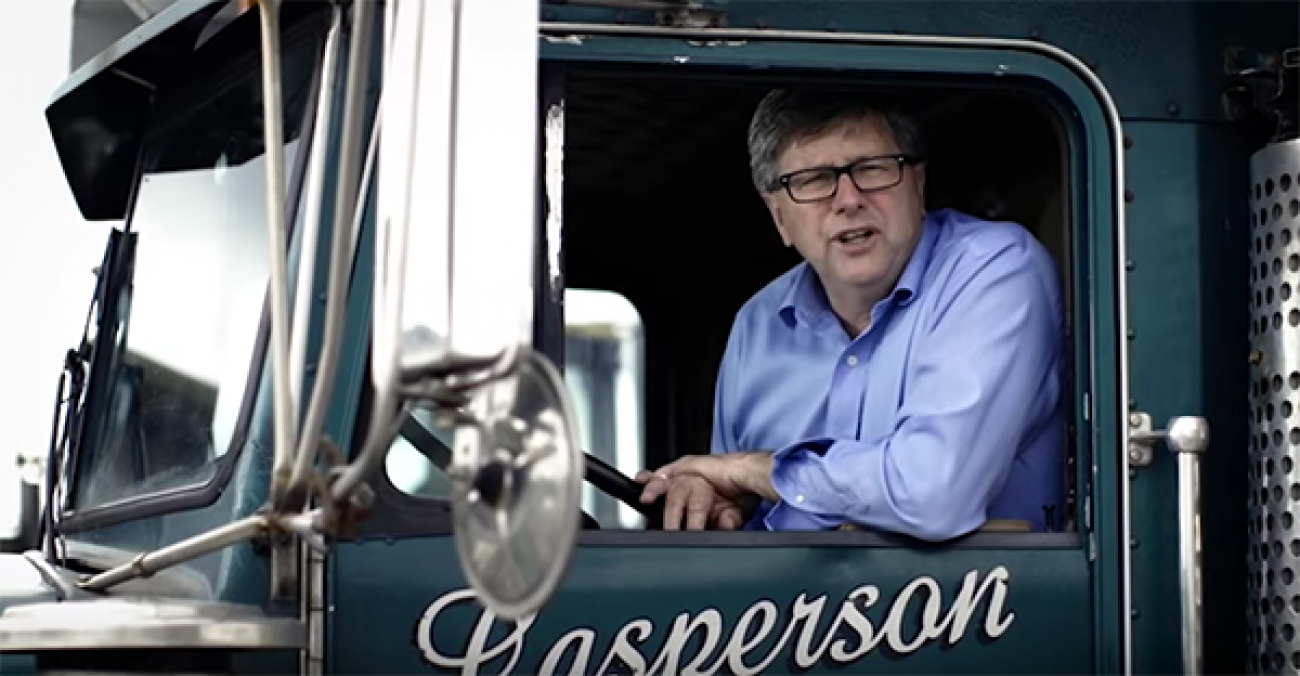 Dec. 2018: Michigan Republican Senator: I'm no anti-environmental villain​
Dec. 2018: As he exits, Michigan lawmaker wants to gut wetland protection, boost waste​
May 2018: Michigan House approves bills letting industry vote on environmental rules
LANSING — Visitors to Sen. Tom Casperson's state office suite might surmise his environmental priorities as soon as they walk in.
"IF YOU OBJECT TO LOGGING, TRY USING PLASTIC TOILET PAPER," instructs a green placard hanging near the door.
Before turning to politics, the Republican from Escanaba spent more than two decades alongside his father in the family log trucking business — an experience that helped shape his pro-industry, pro-private property rights belief that Michiganders would be better off if regulators did less regulating.
Opinion: Michigan's DEQ needs reform. Oversight boards are a common sense solution.
Opinion: Fox meet henhouse ‒ what happens if industry runs Michigan DEQ
His views matter mightily. In his eighth year as chairman of the Senate Natural Resources Committee, Casperson — who wears black-rimmed glasses and speaks in a Yooper accent — has, bill by bill, changed the way Michigan manages many of its natural resources.
"I would suggest he probably is the most powerful voice on natural resource issues in the state of Michigan," said Marvin Roberson, a forest specialist with the Michigan chapter of the Sierra Club. "There's a significant shift toward industry."
In a 15-year political career that began in the state House, Casperson, 58, has championed several landmark bills that are now law. His legislation — often fought by environmentalists — has regulated metallic mining in Michigan, capped how much land the state can own, removed wolf hunting restrictions and cut red tape for those wishing to groom beachfront property. If not for a governor's veto, Casperson would have also eliminated the Department of Natural Resources' duties to consider plant and animal biodiversity in managing forests.
MORE COVERAGE: Mining's last stand? A UP way of life is threatened
Now, in his final year in the Legislature, the term-limited senator is pushing perhaps his most sweeping effort yet: to fashion private-sector panels — one populated largely with industry representatives — that could override Department of Environmental Quality rules and permit rejections.
Casperson said environmentalists wield all the power at the DEQ. In an interview with Bridge Magazine, Casperson said the DEQ is overzealous, quick to deny permits and levy penalties, and fueled by a "radical left-wing" environmental agenda. Agency staffers "hate" mining, he said, and aren't fans of other extractive industries.
"They believe they're on a mission and have a cause, and they have justification to do what they got to do to save the environment," Casperson said of state regulators. "They're setting policy behind the scenes, working with (environmental advocacy) groups."
Environmental groups call his package of bills the "Fox Guarding the Hen House Act," arguing it would defang a regulator that's already lost some teeth due in part to years of budget cuts.
"It goes too far," said Nicholas Occhipinti, government affairs director for the Michigan League of Conservation Voters, an advocacy group. "Putting companies and interests that have a direct financial stake in the outcome of rules is just terrible policy."
'Trying to right the ship.'
Casperson's legislation — Senate Bills 652, 653 and 654— cleared the Senate last week and moved on to the House. The proposal would undercut DEQ's power by allowing governor-appointed panels to overturn agency decisions. It's modeled on a setup in Indiana.
An Environmental Rules Committee would "oversee all rulemaking of the Department of Environmental Quality," under Casperson's legislation. Six of 11 voting members would represent industries or businesses (solid waste management, manufacturing, public energy utilities, oil and gas, agriculture, small businesses). Other members include representatives from an environmental organization, a local government, a land conservancy group, the medical field and the general public. As currently written, registered lobbyists could serve on the committee if they didn't represent more than one client.
Meanwhile, a Permit Appeals Panel would resolve permitting disputes at the agency. Aggrieved parties trying to alter floodplains, drill for oil, mine minerals — or do most anything requiring DEQ permission — could seek relief. The panel's 15 members would need to meet certain educational and professional requirements, and they could not work in state government.
A third bill would create an Environmental Science Advisory Board, which the state formerly had until a decade ago.
Casperson has backing from some of the state's biggest industry groups: the Michigan Farm Bureau, Michigan Chamber of Commerce and the Michigan Manufacturers Association.
In testimony to Casperson's committee, Matt Smego, a Farm Bureau lobbyist, said creating the Permit Appeals Panel would allow aggrieved parties to bring forward scientific information DEQ had not considered.
The broader proposal "will provide the DEQ with new tools to increase transparency and accountability," he said.
Occhipinti, of the League of Conservation Voters, said the DEQ already "bends over backwards," to find compromise during permitting disputes and called Caperson's legislation an overreach to a nonexistent problem.
Opinion: C'mon, Michigan. Don't get hysterical about 'tree police' bill
Related: GOP senators say Michigan environmental agency is 'overzealous'
Bill Rustem, a former adviser to Gov. Rick Snyder and a environmental policy expert, said it's not unheard of in Michigan to put checks on environmental regulators' power, which can occasionally reach too far. He suggested the idea could have merits, but the panels' membership should be scrutinized for balance.
Casperson told Bridge he could support adding a conflict of interest provision to his legislation. That might include barring a panelist from voting on a matter that narrowly affects his or her business. But Casperson would allow — and even welcome — members to vote on issues affecting their wider industry. For instance: Could an official with Toronto-based Lundin Mining Corporation, which operates Eagle Mine in western Marquette County, remain on the panel while weighing a statewide mining rule?
"They need to be on it," Casperson said. "We're trying to right the ship."
The senator is making his anti-regulatory pitch as DEQ is still smarting from an entirely different line of criticism: That it caused Flint's lead-in-water crisis and failed to keep the public safe. In 2016, the governor's Flint Water Advisory Task force recommended a "cultural change program" within the DEQ "to refocus the department on its primary mission to protect human health and the environment."
'I don't litigate much with people I'm colluding with.'
Environmental advocates say DEQ already closely listens to industry — sometimes more so than they would prefer. Advocates point out the agency's director, Heidi Grether, is a former oil industry lobbyist and executive who spearheaded BP's public response to the Deepwater Horizon explosion.
But are environmentalists teaming with the agency to set policy, as Casperson says?
"That's news to us," said Roberson, whose Sierra Club has battled DEQ in court several times in recent years, including a DTE Energy air pollution permit. "We sue them frequently. I don't litigate much with people I'm colluding with."
The agency also rebutted Casperson's description of its work.
"I respectfully disagree with Senator Casperson's inaccurate assumptions and comments," Grether said in an emailed statement. "The department has a highly trained and educated workforce who are committed to being leaders in environmental stewardship, partners in economic development and providers of excellent customer service."
Grether recently met with lawmakers regarding concerns about "overzealous" enforcement, she added. "Interactions proved positive, and questions and concerns were answered and addressed in an expedient manner," she said.
MORE COVERAGE: Michigan has 7,300 toxic sites. Money for cleanups is almost gone.
DEQ approved 99.5 percent of permit applications — 7,413 of 7,447 — in the 2017 fiscal year and 99.8 percent the previous year, the figures show.
Casperson dismisses the data as a "bunch of baloney."
"The numbers are the most deceiving thing I've ever seen on the planet. They know many people have started and quit halfway through the process. They don't recognize that," he said. "They're just making it look flowery and nice out there."
Casperson's evidence of overreach is mostly anecdotal: A UP farmer who erroneously, in his view, ran up against wetlands restrictions when trying to develop a 3-acre parcel of his own land ("He can do whatever he wants with it, according to the rules and the law."). Casperson said his local Lions Club wanted to fill a valley in Bark River to put in more campsites. DEQ called the spot a trout stream, but there was nothing in it — no fish, the senator said. ("It was a joke. It was a farce.")
Path to policy
Casperson's proposal is moving quickly through the Legislature. The House — though not yet the Senate — has passed separate legislation that would limit environmental regulators' power in another way: by barring any regulations stricter than that of the federal government.
"We've been meeting with legislators and finding general support for the idea, much to our dismay," said Occhipinti.
But getting the bills to Snyder's desk does not guarantee either would become law. Snyder vetoed a no-stricter-than-federal bill in 2011, saying it could hamper the state's ability to protect the environment. And in 2015, he vetoed a Casperson bill that, among other provisions, would have struck "conservation of biological diversity" from the DNR's forest management duties. More than 130 researchers had opposed it.
Snyder has not yet taken a position on the bills, spokeswoman Tanya Baker, wrote in an email to Bridge.
Though environmentalists have publicly disagreed with the governor over a variety of issues over the years, Casperson said Snyder is too close to those groups.
"I wish he'd be a little more neutral, and not take everything they say verbatim," he said.
Snyder's office pushed back against that characterization. "The governor has always made a point to listen to and take input from everyone at the table, on every side of an issue," Baker wrote.
Michigan Environment Watch
Michigan Environment Watch examines how public policy, industry, and other factors interact with the state's trove of natural resources.
Michigan Health Watch is made possible by generous financial support from:
Our generous Environment Watch underwriters encourage Bridge Michigan readers to also support civic journalism by becoming Bridge members. Please consider joining today.
Only donate if we've informed you about important Michigan issues
See what new members are saying about why they donated to Bridge Michigan:
"In order for this information to be accurate and unbiased it must be underwritten by its readers, not by special interests." - Larry S.
"Not many other media sources report on the topics Bridge does." - Susan B.
"Your journalism is outstanding and rare these days." - Mark S.
If you want to ensure the future of nonpartisan, nonprofit Michigan journalism, please become a member today. You, too, will be asked why you donated and maybe we'll feature your quote next time!