In warming Great Lakes, climate triage means some cold waters won't be saved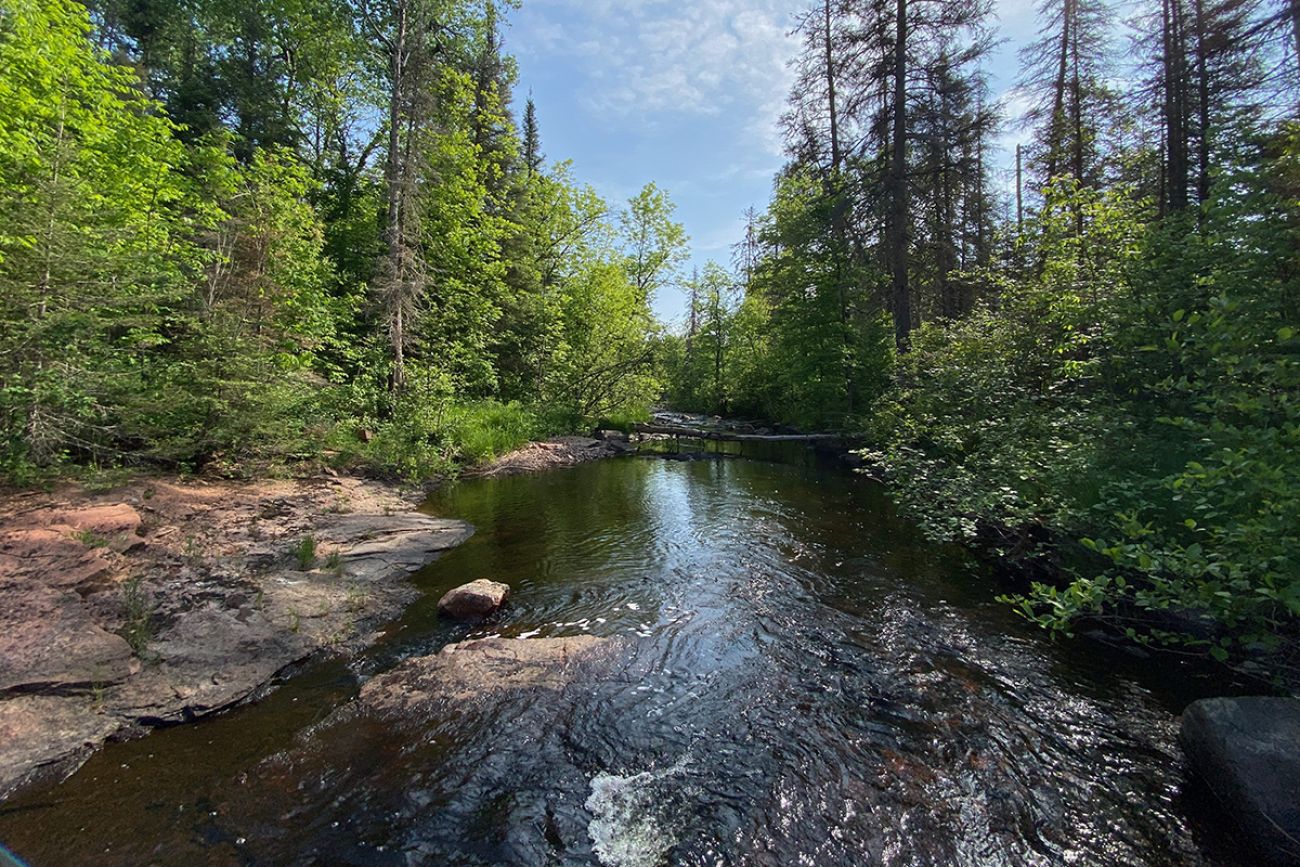 On Minnesota's North Shore, scientists predict more than a third of cold water streams will soon be too warm for wild brook trout to survive. (Bridge photo by Kelly House)
The Great Lakes basin is warming, which could spell doom for cold water species
With limited time and money to respond, government officials are beginning to acknowledge not everything can be saved
In Michigan, that means tough decisions on stocking fish in lakes that have got too warm
---
For as long as anyone can remember, the brook trout streams along Minnesota's North Shore have run cool and clear, fueled by the gradual melt of copious northwoods snow.
But by mid-century, scientists say, more than a third of the streams in this region, which hugs the Lake Superior shoreline between Duluth and Canada, will be too warm for the beloved sport fish.
"Stewart River, Crow Creek, Silver Creek…"
Dean Paron, statewide stream habitat supervisor for the Minnesota Department of Natural Resources, lists the rivers where the trout will disappear with a candor that would have been shocking just a few years ago.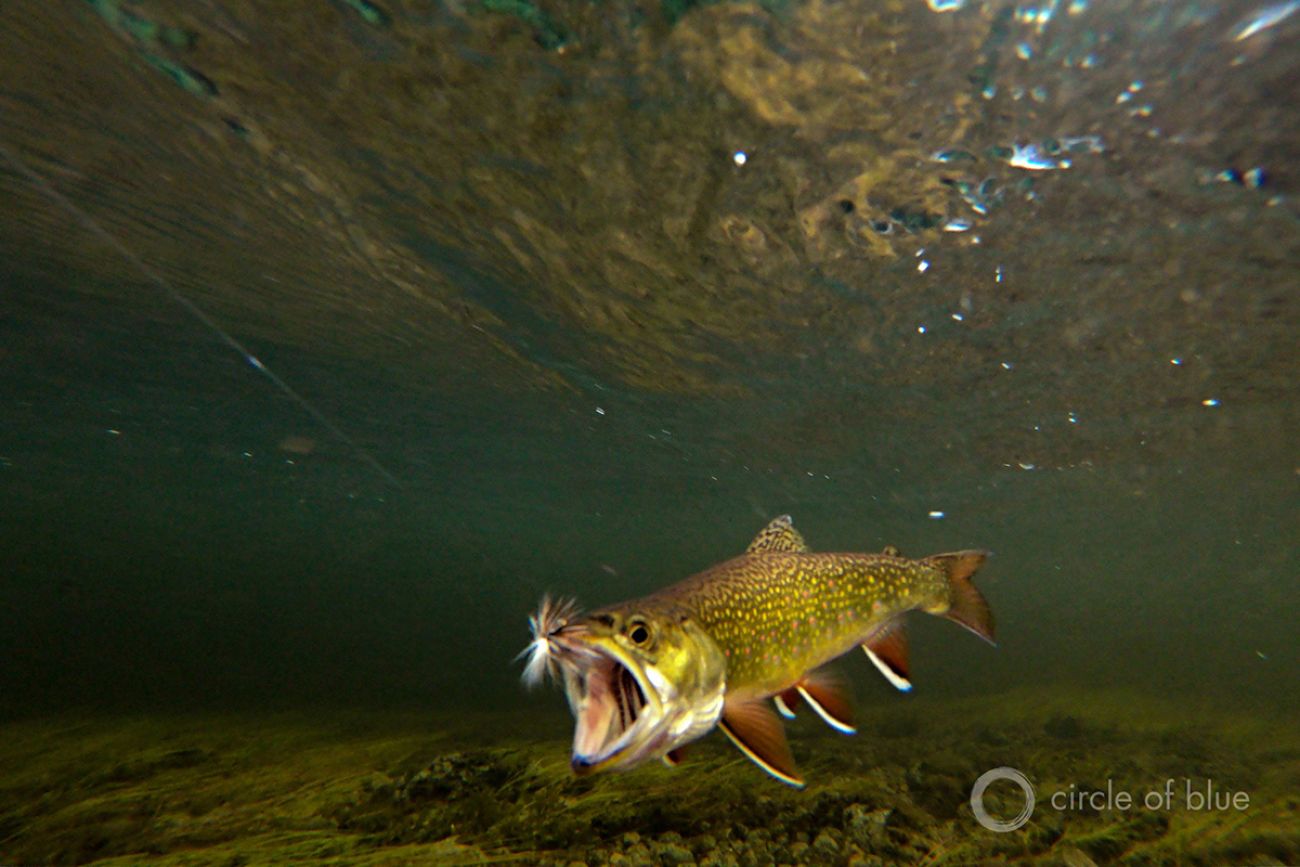 Brook trout are considered a "canary in the coal mine" for warming waters, because they prefer sub-60s temperatures that are growing rarer in Michigan rivers. (J. Carl Ganter/Circle of Blue)
But as a trained paramedic in addition to his day job as a state scientist, he knows the need to triage when he sees it.
And as climate change pushes the Great Lakes region's cold water lakes and rivers to a breaking point, he said, there simply isn't enough capacity, time and money to save them all.
"I've had times where you have five patients, and you have to make very tough choices," Paron said. "That's very akin to this experience."
Related:
Minnesota is not alone. Michigan, too, can expect to lose some of its prized cold water habitat, and the list of places at risk of warming includes some familiar names like Higgins, Charlevoix, Torch, and Crystal lakes, along with trout streams across the state.
Although Michigan officials haven't started openly acknowledging lost causes like their peers in Minnesota, experts say that as fossil fuel consumption continues to heat the globe, the entire region will be forced to grapple with the question of which habitats on the brink are salvageable, and which aren't.
"We have turned a corner, I believe," said Dana Infante, a Michigan State University professor who researches climate impacts on rivers. "People are starting to talk about it."
This video was produced by Aaron Martin, a documentary filmmaker based in Canton, Michigan. He produced the work in partnership with the Pulitzer Center's Connected Coastlines, a nationwide climate reporting initiative.
A looming loss
Climate change is disrupting the Great Lakes ecosystem in many ways, from warmer winters and hotter summers that stress plants and animals adapted to the region's historic climate, to more intense storms and more dramatic water level fluctuations in the Great Lakes.
Cold-loving fish like trout tend to be the canaries in the coal mine, said Bryan Burroughs, executive director of Michigan Trout Unlimited.
"They're worth protecting, and they're the hardest ones to hang onto," said Burroughs.
Cold water fish like trout and salmon, walleye and cisco prefer temperatures well below 70 degrees. Any warmer, and they need more food to survive, they're more vulnerable to predators and less likely to successfully reproduce.
If the water gets too warm, they'll disappear altogether.
Research shows that some of the region's lakes and rivers are creeping toward that threshold, said Joe Nohner, a resource analyst with the Michigan Department of Natural Resources Fisheries Division.
A study last year in the journal Ecosphere concluded that, by mid-century, more than half of Michigan's 300 high-quality cold water lakes will no longer be categorized as such.
Research on rivers is more dated and Nohner said it needs updating. But a 2016 study estimated that of about 10,000 miles of cold water streams in Michigan, the vast majority will become too warm to qualify by the end of the century.
"We're in the good old days now," Nohner said.
The places most vulnerable tend to be in the southern part of the state. There, rivers often lack the cold groundwater upwellings that refrigerate Michigan's northern cold water lakes and streams. And they're also subjected to more development pressure, farm runoff and other human influences that warm water.
But over time, Infante said, even the groundwater that feeds northern Michigan's rivers will warm. And more frequent climate-driven storms are expected to further heat streams with runoff.
"Certain rivers are likely to increase a few degrees," Infante said. "And where that becomes challenging are for those that are maybe not the coldest rivers to begin with."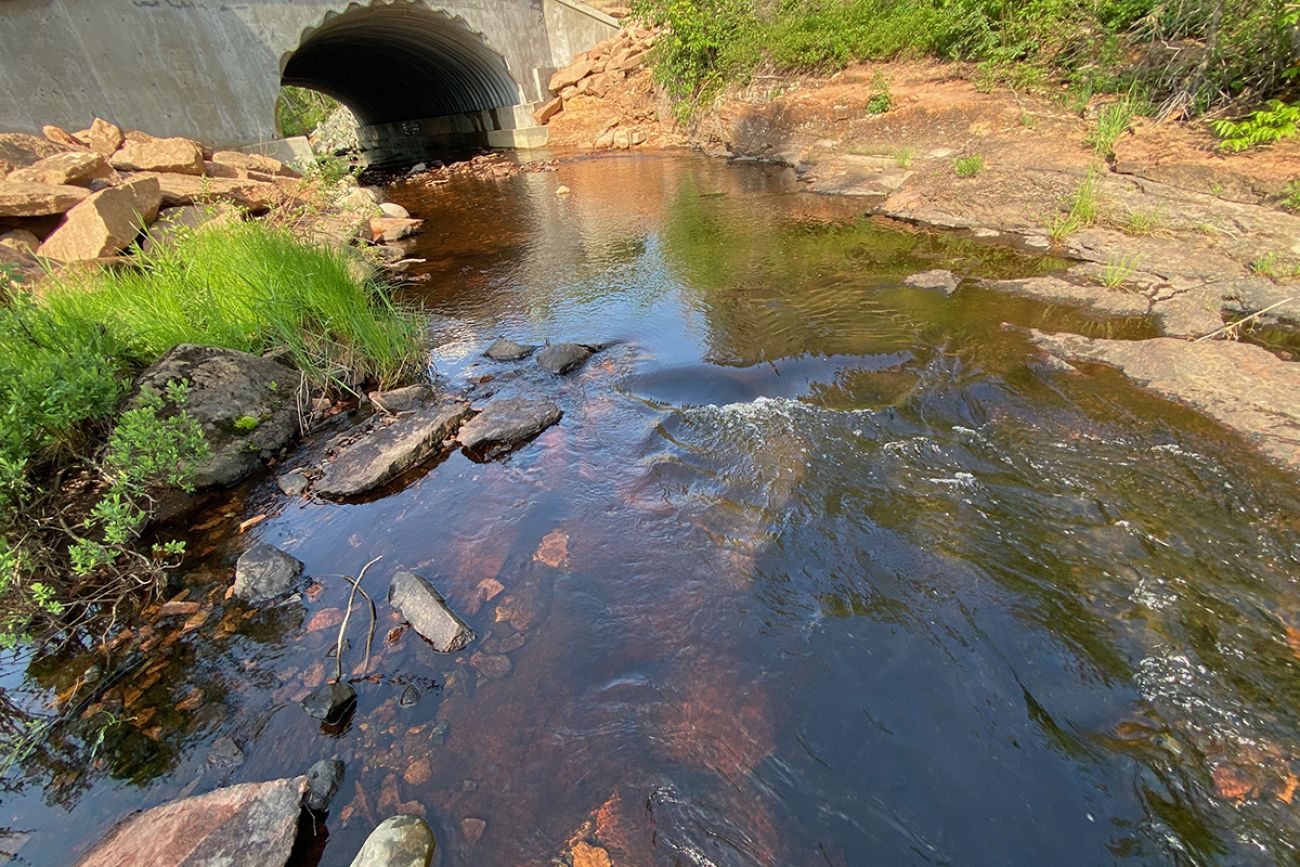 Human forces on the landscape exacerbate the warming trend in Great Lakes rivers. Here, an undersized culvert was replaced with a bridge to improve habitat for fish. (Bridge photo by Kelly House)
Deciding what to save
There's only so much money, staff and time to brace northern ecosystems against those changes. And in many cases, humans are adding to the problem with sprawling development, deforestation, agricultural pollution and other practices that degrade water quality.
So government natural resources managers are forced to choose which places are worth trying to save.
Natural resources management has always involved some degree of picking winners and losers — deciding where to stock fish or which habitat restoration efforts are most deserving of state grant money.
But the difference now is that the habitats themselves are changing in ways that resource managers can't control.
In Minnesota, the state natural resources department has adopted a "Resist, Accept, Direct" strategy for deciding which North Shore rivers are worthy of the state's limited resources to bolster them against climate change.
Those labeled "accept" are the ones where brook trout probably won't survive. They tend to be compromised by logging and development, with few nearby public lands that the state has the power to protect.
"We could put five times as much effort and money into these systems, and yet, they're still predicted to not be resilient into the future," said Paron, the Minnesota DNR supervisor. "We need to put our time, energy and money into watersheds we feel have the best chance."
That doesn't mean those streams will become wastelands. As brook trout disappear, for instance, the state may stock them with other species that thrive in warmer water.
In Michigan, so far, the conversation about what to save and sacrifice is more subtle. The DNR has yet to adopt a ranking system like the one in Minnesota. But it routinely decides to stop prioritizing cold water fish in places where officials believe they can no longer survive.
Last year, for example, the state stopped stocking trout in Cedar Creek, a Barry County tributary of the Thornapple River that had been managed for trout for more than a century. The agency will now be treating the creek as a warm water habitat.
The state also recently stopped stocking rainbow trout in Halfmoon Lake, northwest of Ann Arbor, after concluding that the water is too warm for them to thrive.
Over time, Nohner said, Michigan will face increasingly tough decisions about which rivers are worth the effort.
"We can't do it all everywhere," he said. "And so we have to be strategic."
Higgins Lake is among the iconic cold water lakes that are also expected to grow warmer as the climate changes, potentially pushing out cold water fish that have long thrived there (Bridge photo by Kelly House)
Don't write it off
But not everyone loves the idea of giving up on some waterways.
In Minnesota, Paron acknowledged the agency's approach has faced some blowback from anglers whose favorite fishing hole has landed on the agency's "accept" list.
"We're taking streams that people love and saying we don't have the time, money and ability to save these," he said. "That's hard for people to accept."
Burroughs of Trout Unlimited said he understands the need to funnel limited resources toward protecting Michigan's best lakes and rivers. But he stops short of admitting any losses just yet.
"I'm not sold yet on which ones we can't save for another 100 or 200 years," he said.
And he noted that many of Michigan's rivers are already unnaturally warm as a result of human land use. That means there are things residents, lawmakers and land managers can do to cool them off before climate change becomes an added burden.
Planting riverside trees is an example or removing dams that artificially warm rivers and block fish from the best habitat. Reining in Michigan's sprawl would also help, given that hard surfaces like roads and rooftops are a source of river-warming runoff.
It's a rallying cry that Rochester Hills resident Mark Johnston has embraced on his local trout stream, Paint Creek.
The 16-mile Clinton River tributary is often cited as an example of Michigan trout streams endangered by climate change.
But Johnston, who spearheads the local Trout Unlimited chapter, is not ready to give up.
So despite fears about the future, he and other local anglers diligently install log habitat in the creek. They've built rain gardens to collect runoff before it can enter the creek, and replanted streamsides to shade the water.
"It's about focusing on the river and conserving it for future generations," Johnston said. "If you do that, the trout thing will take care of itself."
Michigan Environment Watch
Michigan Environment Watch examines how public policy, industry, and other factors interact with the state's trove of natural resources.
Michigan Health Watch is made possible by generous financial support from:
Our generous Environment Watch underwriters encourage Bridge Michigan readers to also support civic journalism by becoming Bridge members. Please consider joining today.
Only donate if we've informed you about important Michigan issues
See what new members are saying about why they donated to Bridge Michigan:
"In order for this information to be accurate and unbiased it must be underwritten by its readers, not by special interests." - Larry S.
"Not many other media sources report on the topics Bridge does." - Susan B.
"Your journalism is outstanding and rare these days." - Mark S.
If you want to ensure the future of nonpartisan, nonprofit Michigan journalism, please become a member today. You, too, will be asked why you donated and maybe we'll feature your quote next time!