In Antrim County, economic worries replace election conspiracies among voters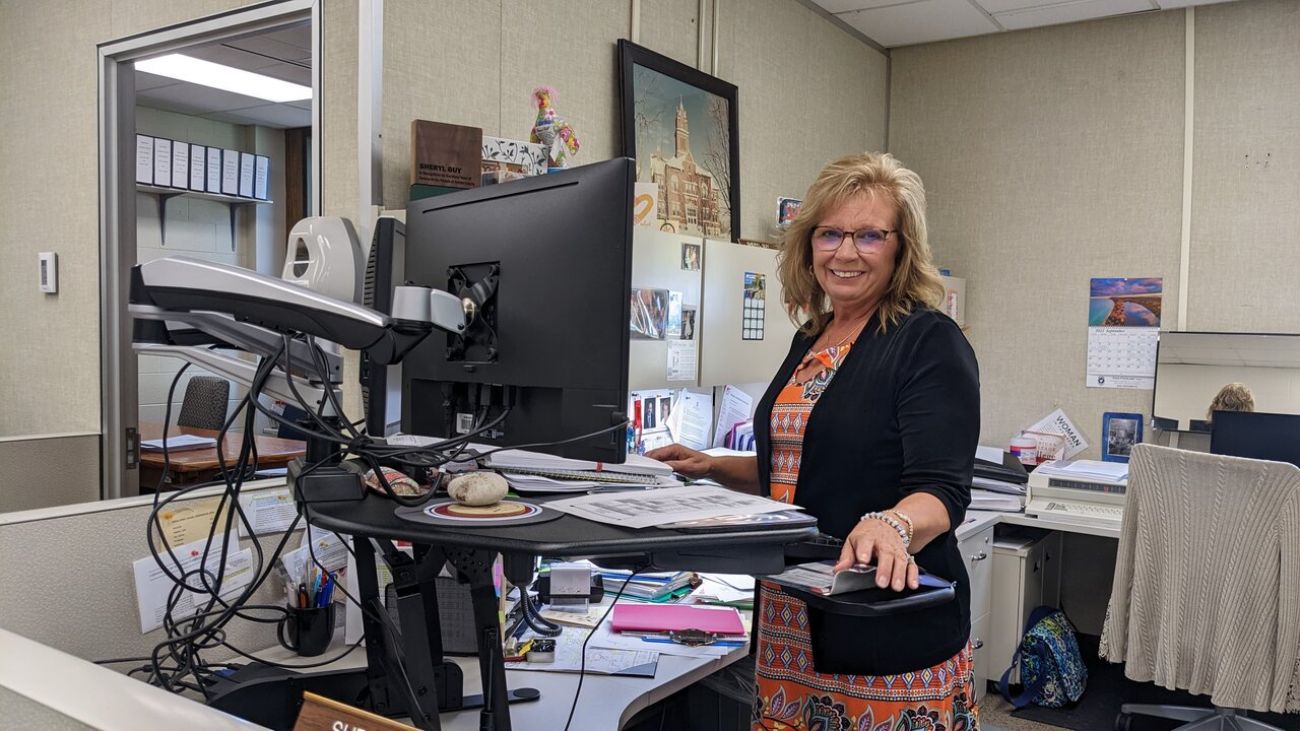 Antrim County Clerk Sheryl Guy said the "big lie" about the 2020 election made her life a "living hell." (Bridge photo by Jonathan Oosting)
Michigan Government
In Antrim County, economic worries replace election conspiracies among voters
Antrim County was focus of election fraud conspiracies, Whitmer kidnapping plot

Local voters say economy, inflation and abortion are top issues this fall

The clerk at the focus of election conspiracies said they've made life 'hell'
---
BELLAIRE — Antrim County Clerk Sheryl Guy is preparing for the November election but said she's "living" the 2020 contest "every day."
Guy continues to be bombarded with public records requests, unsolicited advice and ongoing litigation nearly two years after her initial release of the erroneous results that made Antrim "ground zero" for the voting-machine conspiracy theories then-President Donald Trump used to try and overturn his loss.
Related:
It's been a "living hell," Guy told Bridge Michigan last week. She spoke shortly before the Antrim County Election Commission met to review the ballots that will be available to voters next week for the Nov. 8 election that will decide control of statewide offices, the legislature, Michigan's congressional delegation and more.
Voters in Antrim County, a picturesque and rural area bordering the Grand Traverse Bay, said they are skeptical about the election process. But they plan to vote on issues, like the economy, gas prices and abortion, that could define mid-terms nationwide.
Local turnout in the August primary was up from 2018, a positive sign for Republicans hoping voters who believe Trump's claim that the system is "rigged" won't simply choose to stop casting ballots.
GOP voters are "highly motivated," said Tom Stillings, chair of the Antrim County Republican Party. "Let's talk about the future. Because you know what, I can't tell you with certainty what really happened in the past."
A conservative stronghold, Antrim emerged as an unlikely focal point in the 2020 election after initial and unofficial results falsely indicated Democrat Joe Biden won the county. Even Biden supporters knew those results were off, a mistake that experts later attributed to the clerk's failure to update tabulators to properly scan ballots that were redesigned when a candidate was added to a local race.
But the "big lie" isn't going away, said Guy. She voted for Trump two years ago, and now says she is "ashamed" of it.
She no longer considers herself a Republican but is not a Democrat either, she told Bridge. Guy, who has served as clerk for 10 years and worked in the office for more than four decades, resists calls to resign. However, she does not plan to seek re-election in 2024. The county clerk said she put on 40 pounds from "stress" eating and drinking following a series of "nasty threats."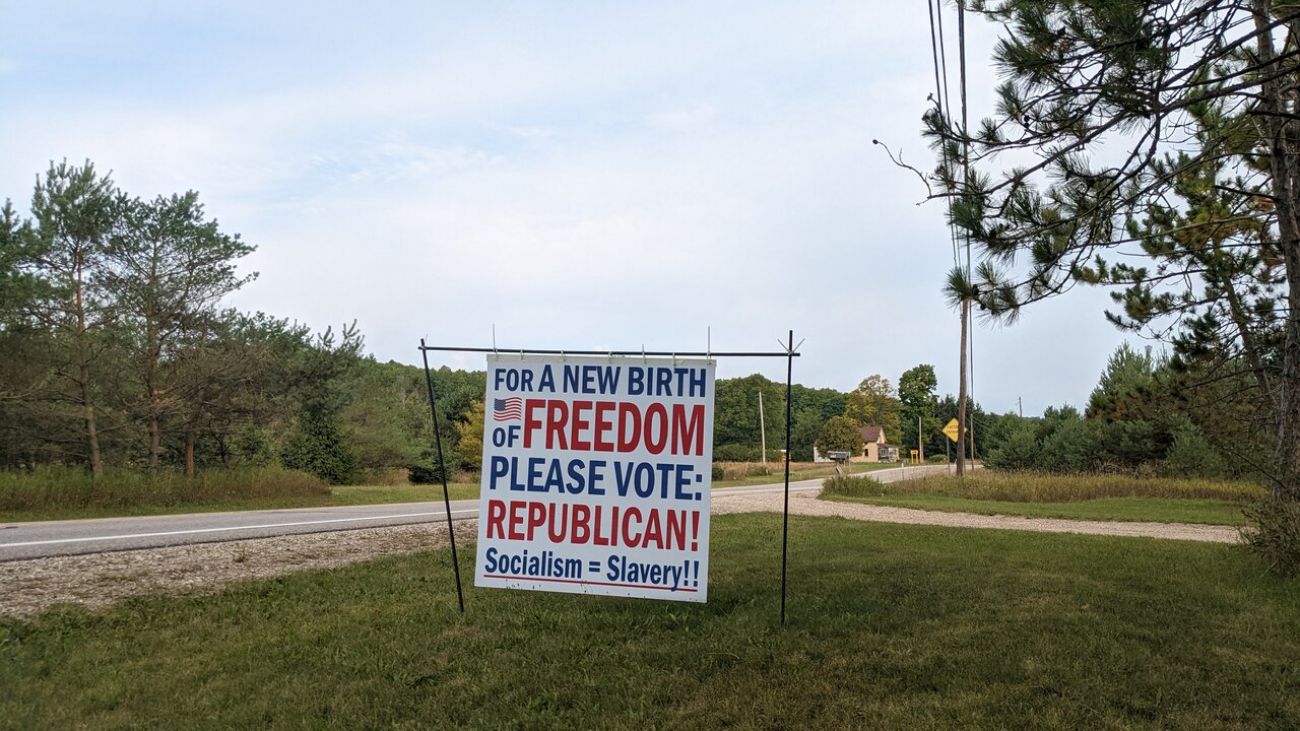 Republicans have erected a series of signs in Antrim County comparing socialism to slavery (Bridge photo by Jonathan Oosting)
Antrim corrected the result before certification to show Trump winning the county with 61 percent of the vote. However, Central Lake activist Bill Bailey and attorney Matthew DePerno — now the Republican nominee for Michigan attorney general — sued to demand a "forensic" audit.
DePerno persuaded Circuit Court Judge Kevin Elsenheimer to allow a team of Trump-aligned technicians to examine local voting machines. Though election officials and academic experts debunked their report Trump and his supporters cited it as evidence the equipment was corrupted.
"I think (Trump) used this county, and he didn't care what it meant," Guy told Bridge. She estimated Antrim has spent more than $110,000 on attorney fees and replacement equipment rentals as a result of the lawsuit.
"Twenty senior citizens could have had a new roof and furnace in their house (with that money)," said Guy, whose annual budget is around $420,000. "What a shame."
'Last thing in the world'
More than half of Michigan Republicans do not think the 2020 election was fair and want it overturned, according to a May poll from Glengariff Group Inc. The sentiment threatens to undermine a representative democracy that relies on the peaceful transition of power.
Despite doubts, Antrim County turnout in the August GOP primary topped 2018 figures. So did Democratic turnout, even though Democratic Gov. Gretchen Whitmer ran unopposed. All told, 39 percent of Antrim voters cast primary ballots, up from 33 percent four years ago.
"We just don't want to see (2020) happen again," said Jean Smith, a 71-year-old retired factory worker who plans to vote for Republican challenger Tudor Dixon in the gubernatorial election. "Too many things went on that were too suspicious or just downright wrong. We want to know everything will be above board and fair."
Locals describe Antrim as a divided county, home to both million-dollar lake houses and working-class inland communities.
In Torch Lake Township, the median value of an owner-occupied home is $312,700. In land-locked Mancelona, where 18 percent of households live below the poverty line, the median home value is $86,500.
Antrim is home to a series of beautiful inland lakes that have long made it a tourist destination. In most years, trash left behind from revelers at an annual Torch Lake party is arguably the biggest local controversy.
That changed in 2020, when the county found itself a focus of three national news stories: Trump's attempt to overturn the election, a militia plot to kidnap Whitmer from her vacation home near Elk Rapids and a failed attempt (or bad joke, as she contends) by Whitmer's husband to use her name to skip the line and get their boat out of storage during COVID.
"The whole thing — all the attention — was the last thing in the world that I would have expected," said Stillings, the Antrim GOP chair. There is still "a question in a lot of people's minds" about the 2020 election, but inflation and the economy are bigger issues this fall, he said.
Still, a battle over the 2020 election continues to play out in court.
In June, DePerno, the Trump-endorsed GOP nominee for attorney general, appealed his twice-dismissed Antrim County lawsuit to the Michigan Supreme Court, which has not yet said whether justices will consider the case.
A Circuit Court judge last month dismissed a separate lawsuit from conservative radio host "Trucker Randy" Bishop, who in May sued Guy and other Antrim officials for up to $1 million, alleging they violated his constitutional rights by erasing information from voting machines, a claim the county denied.
The ongoing fight has been "really frustrating," said Ed Boetcher, a county commissioner and former chair of the Antrim GOP.
He told Bridge he is "still a Republican" but "not a proud Republican anymore."
"Did we do everything perfect (in 2020)? No. Did we do anything fraudulent? Hell no. Were the machines rigged? Hell no. Everybody could see it, so why didn't they go away?"
A 'juggling act'
While Antrim voters have strong opinions on the 2020 presidential contest, most who spoke with Bridge said election security is not their top concern heading into the fall.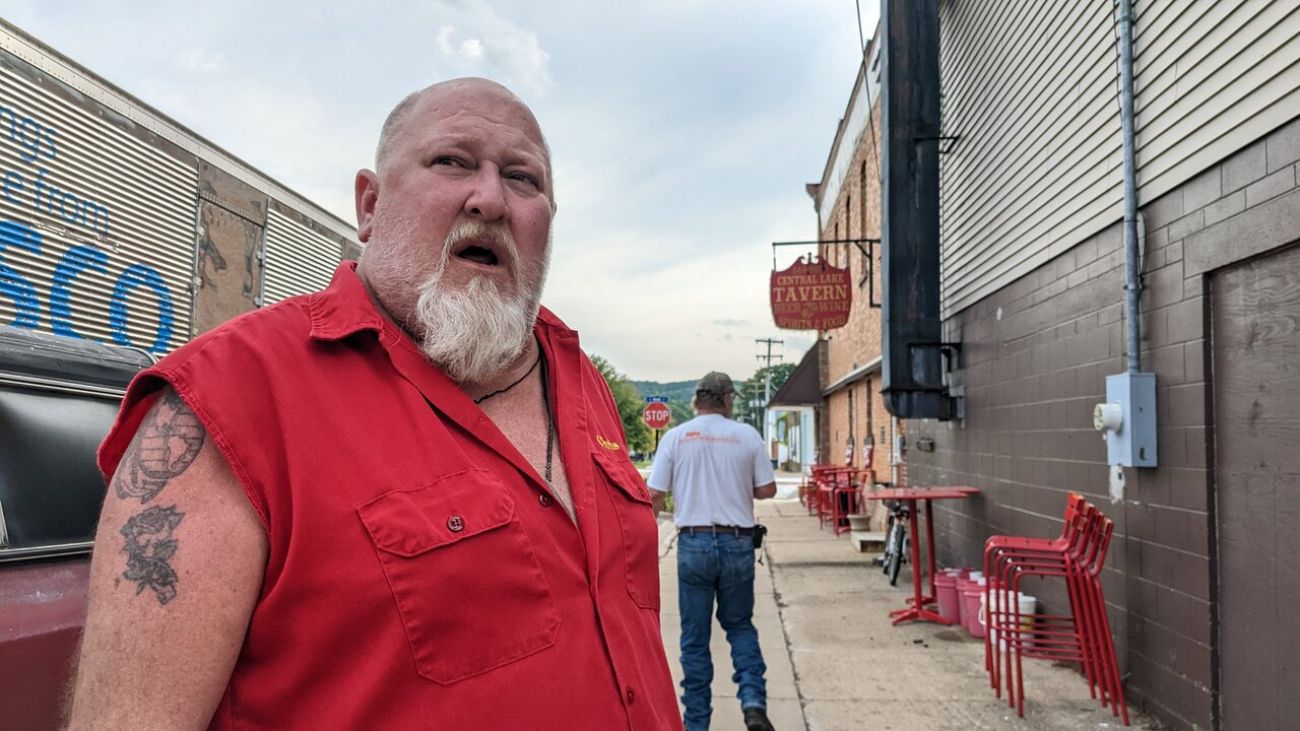 Chris Carpenter, owner of the Central Lake Tavern near Intermediate Lake, says he's angry about the economy and plans to "take it out at the ballot box." (Bridge photo by Jonathan Oosting)
"Food prices have gone up, fuel charges have gone up, and my utility bills have gone up," said Chris Carpenter, owner of the Central Lake Tavern near Intermediate Lake, who plans to vote Republican in November.
Those are new challenges for companies that survived the pandemic. Antrim has 11 more "business establishments" now than it did in early 2020, according to the U.S. Bureau of Labor Statistics. But the total number of jobs fell from 9,323 to 8,671, and the labor force has shrunk.
Staying afloat during COVID-19 government shutdowns was tough enough, Carpenter said, noting he "wouldn't have made it" were in not for forgivable federal loans. But now, inflation and worker shortages have him cutting hours, performing a "juggling act" and living paycheck to paycheck, he said.
"I'll take it out at the ballot box," Carpenter told Bridge, saying that while he doesn't know much about Dixon, he'd vote for a "shoe box" if it meant getting Whitmer out of office.
Democrats could "care less about the small businesses," he argued. "This is my retirement, so I'm fighting tooth and nail to keep it."
Central Lake Auto Clinic owner Joe Juracao expressed a similar sentiment. He told Bridge that while he does not trust voting machines and doesn't think Biden is "our real honest president," he's motivated to vote against Democrats because he thinks their economic policies are "destroying America."
Juracao's company stayed during the height of the pandemic as an "essential business." Still he said he thinks Whitmer's COVID orders were "strong-handed." Supply chain issues means it's now harder to get parts, and inflation seems to be slowing business as local customers have less expendable income.
"There's been a definite increase in the cost of just about anything," he said, noting rotors he installed on a customer's vehicle the prior day cost him $75, up from about $45 the prior year. "At the end of the day, the customer has to bear the brunt of that. I most certainly can't just carry that or eat it."
"Say what you want about Donald Trump, but look at the way our economy was from 2016 to 2020, and look at it now," Juracao added. "I don't even understand how anyone can say that Joe Biden has done anything that benefits this country."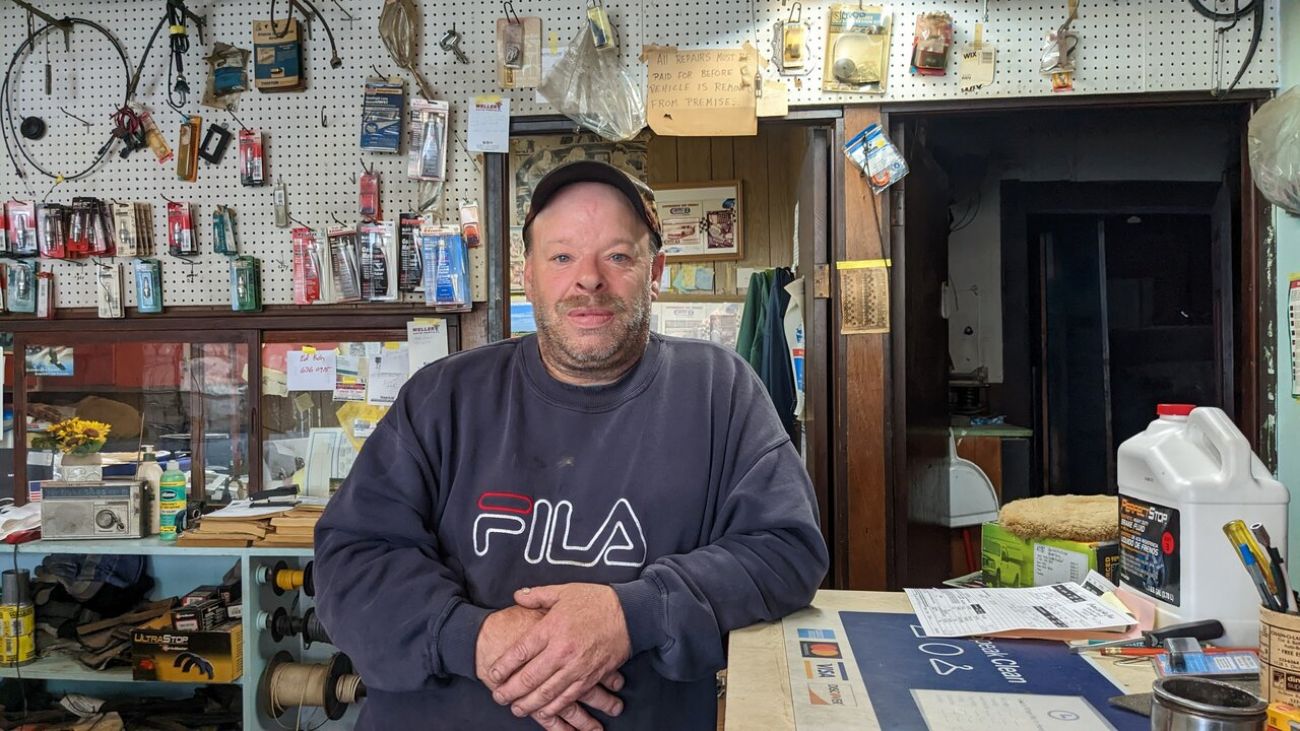 Joe Juracao, owner of Central Lake Auto Clinic, says he does not trust voting machines but will still cast a ballot this fall (Bridge photo by Jonathan Oosting)
But even in deep-red Antrim, Whitmer has fans.
Bill Stridiron, an Eastport retiree who has "historically leaned Republican," told Bridge he will probably split his ballot this year because he thinks Whitmer has been an effective governor overall.
"She's doing an excellent job, particularly on the roads," he said. "I defy you to drive around and not see a road under construction."
Connie Taylor of Torch Lake Township agreed.
"I think she did a great job with COVID, even though that's what some people are against," Taylor said of Whitmer. "They didn't want the schools closed, but do you want your children alive or sick? I think she did it right."
Abortion access is a top issue for her this fall, Taylor told Bridge.
"I don't think the government has any right to tell a woman what to do with her body — ever. We're going back 50 years."
Being 'realistic'
Antrim Democrats are advertising in local newspapers and putting up yard signs in a push to woo moderate voters and the rural poor to the party. However, they are under no illusions that Whitmer, Attorney General Dana Nessel or Secretary of State Jocelyn Benson will carry the county.
Instead, liberal activists are hoping to win some legislative seats that touch Antrim and at least pick up three to four percentage points in statewide races, a margin that could make a difference if the statewide total is close, said Veronica Welter, chair of the Antrim County Democratic Party.
"We have to be realistic here," Welter said. But Democrats believe they can improve on 2020 totals because abortion rights have emerged as a motivating issue for young voters, while some older Republicans may be turned off by a GOP they may no longer "recognize."
The Whitmer kidnapping plot was a wakeup call for Antrim County residents concerned about extremism, said Welter, who lives near Torch Lake.
"Gretchen has been up here in the Elk Rapids area for a long time," Welter said. "We know her. To think that somebody was actually stalking her and was going to blow up a bridge? Most people I know were appalled to think that was happening."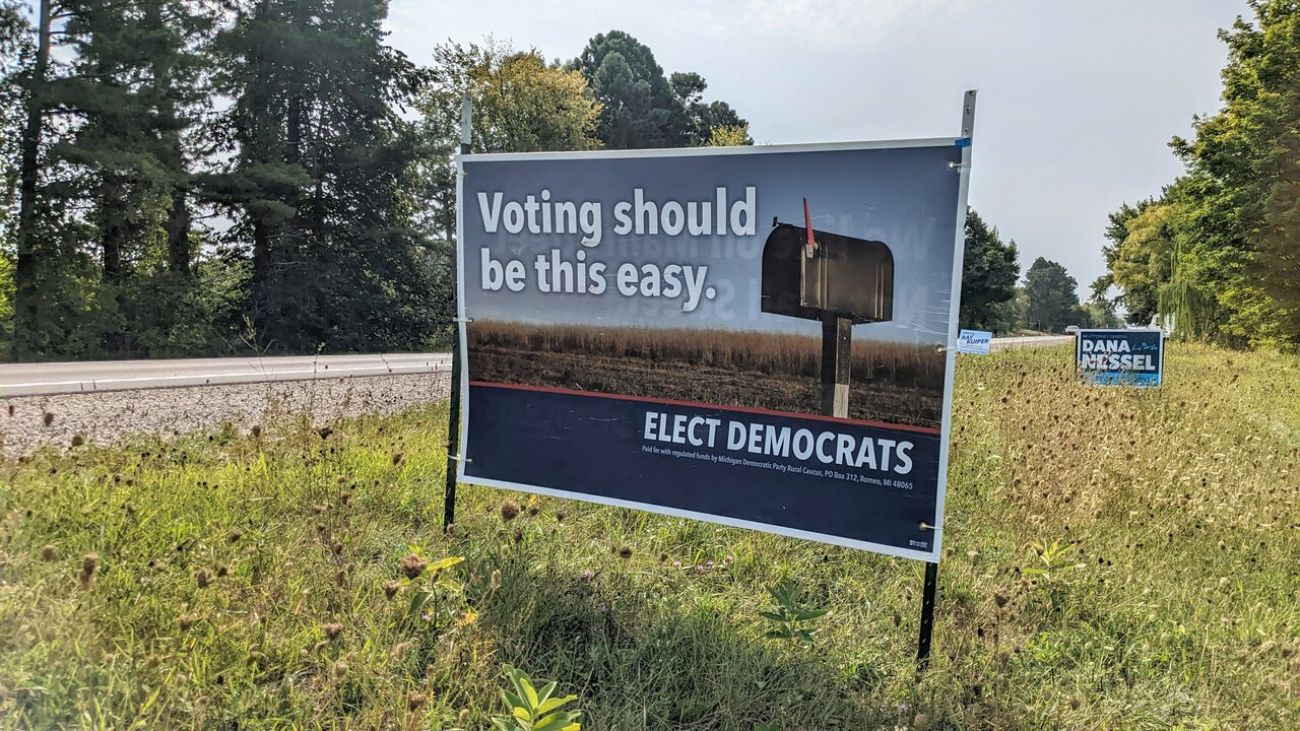 An Antrim County yard sign from the Michigan Democratic Party Rural Caucus promotes mail-in voting. (Bridge photo by Jonathan Oosting)
Two militia ringleaders were convicted last month, and two previously pleaded guilty. But two others were found not guilty in April, and local Republicans still have a "lot of questions as to how real it really was" and what role FBI informants and undercover agents played in the plot, said GOP Chair Stillings.
With less than two months to the November election, Stillings said he is concerned Dixon and other statewide Republican candidates have raised significantly less money than their Democratic counterparts, which is limiting their ability to reach local voters with television ads or mailers.
But he noted that Bailey, the plaintiff in the Antrim County election lawsuit now on appeal to the Michigan Supreme Court, is hosting a fundraiser for DePerno and Secretary of State candidate Kristina Karamo on his farm next month.
Regardless of candidate cash deficits, the local GOP is optimistic that Republicans will turn out in large numbers because of economic issues, Stillings said. He noted that gas prices are a particular concern given the distance between townships and the series of lakes drivers must circumnavigate.
"For me to go to the grocery store, it's 10 miles each way," Stillings. "So the price of gas becomes a big thing up here. The transportation costs are magnified."
Last week in Bellaire, gas was $3.89 per gallon. That's down some from prior months but still well above the $3.18 statewide at the same point in 2021.
Antrim has "always been at least as conservative as it is now" and that's not about to change, Stillings predicted. "It's gonna stay pretty conservative."
Only donate if we've informed you about important Michigan issues
See what new members are saying about why they donated to Bridge Michigan:
"In order for this information to be accurate and unbiased it must be underwritten by its readers, not by special interests." - Larry S.
"Not many other media sources report on the topics Bridge does." - Susan B.
"Your journalism is outstanding and rare these days." - Mark S.
If you want to ensure the future of nonpartisan, nonprofit Michigan journalism, please become a member today. You, too, will be asked why you donated and maybe we'll feature your quote next time!