Michigan Republicans shift pitches to voters weary of election fraud claims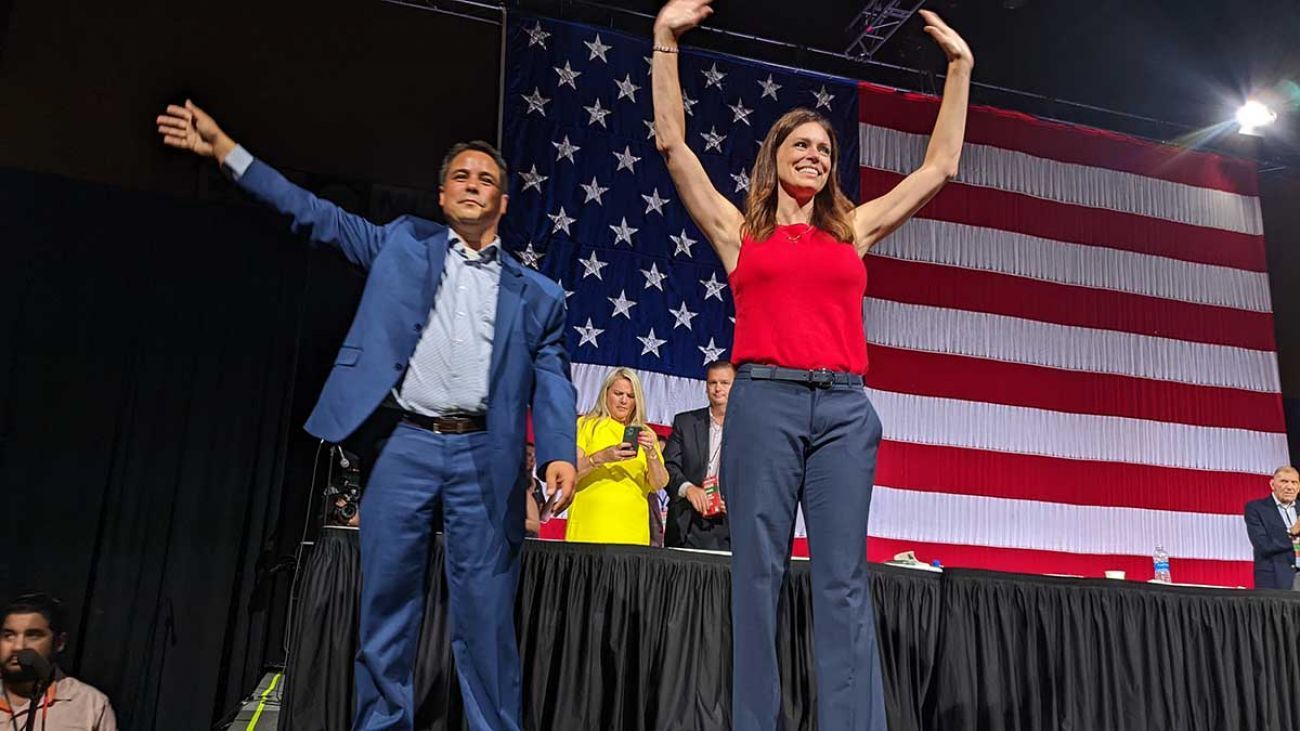 Tudor Dixon, the Republican nominee for governor, has said Donald Trump won the 2020 election in Michigan, despite evidence to the contrary. Her running mate, Shane Hernandez, called for a forensic audit while he was a lawmaker. They are shown here after winning their party's nomination this summer. (Bridge file photo)
To advance in the Republican primary, candidates echoed false claims that Donald Trump won the 2020 election

Now, they're tailoring their message to one of 'election security' or merely asking questions about the process

Democrats say election deniers are a threat to democracy
---
Michigan attorney general candidate Matthew DePerno rose to prominence because of his efforts to challenge Antrim County 2020 election results.
But he and others who became popular among the Republican faithful for claiming that fraud and faulty equipment skewed results to now-President Joe Biden (despite evidence to the contrary) will soon face an general election electorate that has mostly moved on.
In a recent video call with supporters surfaced by his opponent, incumbent Democrat Dana Nessel, DePerno appeared to acknowledge what he called a "hard truth": election integrity is not a main concern of many Michigan voters.
"You are not going to find middle-aged women in the suburban area over 50 years-old, you are not going to connect with them if you knock on their door and talk about election integrity," he said in the clip.
Instead, DePerno lately has shifted gears, focusing on Nessel's record over four years in office, including the decision to dismiss charges in the Flint water scandal and her personal controversies such as her admission to being intoxicated at a football game.
Related stories:
It's a similar story for several candidates on the Republican ticket, including gubernatorial nominee Tudor Dixon, who in 2020 accused Democrats of "obvious" and "sloppy" voter fraud. As recently as May, she publicly claimed Trump won Michigan.
Nowadays, she rarely talks about election fraud claims. The reason is obvious: Most voters are far more concerned about abortion, inflation and schools, said David Dulio, political science professor and director of the Center for Civic Engagement at Oakland University.
"This issue (election fraud) is not anywhere near the top of the list of concerns for middle-of-the road voters," he said. "They don't want to re-litigate 2020, they want to know how candidates for office are going to make their lives better in 2023 and beyond."
A May poll from Epic MRA found 61 percent of Michigan voters believe Biden won "fair and square," while 27 percent believe the election was stolen from Trump.
But while many Republicans have pivoted or softened their message to highlight voter security, Democrats are trying to appeal to moderates by highlighting Republicans' past attempts to overturn or de-legitimize the 2020 election.
Dixon's running mate, former state Rep. Shane Hernandez, as a lawmaker, signed onto a letter from 23 state representatives calling for a forensic audit of the 2020 election, citing "numerous irregularities."
At least six current Republican congressional candidates and 15 state Senate and House candidates have said there was fraud or irregularities in the 2020 election or supported a "forensic audit" of the 2020 results.
Kristina Karamo, right, says she witnessed numerous irregularities as a poll challenger in Detroit in 2020. She's now running for secretary for state as a Republican and says voters want to talk about fraud. (Bridge file photo)
Republican Secretary of State nominee Kristina Karamo, who is challenging incumbent Jocelyn Benson, chafes at being called an "election denier" but is still keeping the 2020 contest in the forefront of her campaign.
She was a poll challenger in the 2020 election who claimed she witnessed fraud in Detroit. Voters she meets would rather discuss that than the functions of the Secretary of State office like license renewals, Karamo told Bridge Michigan, noting she still has "major questions" about whether Biden won the election.
"They just want to talk about elections," she said. "It's the only way we the people have control over government."
Future focused
In west Michigan's 3rd Congressional District, Trump-backed candidate John Gibbs, fresh off a win over incumbent Rep. Peter Meijer in the August primary, also isn't backing away from talking about election security.
He said he's still concerned about 2020 and told Bridge Michigan before the primary that he would prefer to see the United States move away from use of absentee ballots altogether because "the potential for abuse is too high."
But his main talking points in his close race against Democrat Hillary Scholten are about inflation, gas prices and crime — as well as his record as a Trump administration official.
"Someone asked me if I'm left or right or far right, or whatever. I'm just basic common sense," he said. "Common sense solutions to the problems that are getting worse that we're all facing is the way to go, and I think we have a really, really strong chance."
After Gibbs defeated the more moderate Meijer, the Cook Political Report switched the district from a tossup to one that leans toward Democratic challenger Hillary Scholten, whom Gibbs faces in November.
Dulio, the Oakland University professor, said incumbents who questioned 2020 election results in solidly Republican districts won't have to worry. But they face a tougher test in competitive districts and suburban areas where voters "aren't responsive" to the claims, he said.
Michigan Republican Party spokesperson Gustavo Portela said the party is future-focused, noting the goal of election policy "will always be to make it easier to vote and harder to cheat."
"The Michigan Republican Party is fully focused on the 2022 elections and ensuring that we win at all levels to bring about the proper electoral reforms that safeguard our democratic process," he said.
But for a subset of Republican voters and party delegates, candidates' stances on what they believed happened during the 2020 election was a litmus test in the primary.
Ahead of the primary election, a group of "America First" Republicans in Michigan circulated a questionnaire to candidates asking their views on whether they believed fraud occurred in 2020, whether they support a "forensic audit" of 2020 results, what they believed happened at the U.S. Capitol on Jan. 6, 2021 and more.
"It's been a very good measuring stick for our Michigan first, America First group before we endorse a candidate," organizer Debra Ell told MLive in March. "There are some key questions; we want to make sure that they are not 'RINOs' or somebody that we really couldn't support."
'Perilous moment'
While Republicans are speaking less about voter fraud after the primary, Democrats and voting-rights groups plan to keep bringing it up, portraying the election as a stark choice that could determine the future of the democratic process.
"We'll spend a lot of time talking to voters about it," Michigan Democratic Party Chair Lavora Barnes said, adding that the party believes voters recognize that "having those truth deniers, election conspiracy theorists in charge" would hurt state election operations.
The first resolution Democratic delegates were asked to consider last month at the state party convention urged elected officials to uphold certified results and not challenge them without "court-ready evidence."
Secretary of State Jocelyn Benson says the 2020 Michigan election was the best-run in history and election critics are "repeating lies and misinformation." (Bridge file photo)
Benson told Bridge on Thursday that it's frustrating to see candidates for major offices "who have gained celebrity based on casting and repeating lies and misinformation and painting their political opponents as threats."
"It really underscores the perilous moment that we're in," Benson said.
Karamo said comments from Benson and other Democratic candidates about people who question the 2020 election "just creates more suspicion."
"If I was the elected official, and people have concerns about how I was doing something, I would invite the public to see more, because that's the only thing that's going to create more trust, not demonizing citizens asking questions," she said.
The group Voters Not Politicians — which is also backing a ballot initiative, Promote the Vote, aimed at expanding early voting and absentee ballot access — sent a questionnaire to all Republican and Democratic candidates for the state Legislature to ask their thoughts on whether they believed there was fraud in the 2020 election as part of their endorsement process.
Ninety Democrats and five Republicans responded, and the group ultimately endorsed only Democratic candidates.
Nancy Wang, executive director of Voters Not Politicians, said the group wants to make clear to voters that electing candidates who spread election lies could put the democratic process at risk. Claiming there was fraud in the 2020 election was a "dealbreaker," she said.
"We are seeing 2020 conspiracy theories kind of reemerge and be part of what some of these candidates up and down the ballot are using to get support. And that is alarming," Wang said.
'We must stand together'
In many parts of Michigan, congressional and state districts are so uncompetitive that those who supported overturning the state's election results or suggested widespread fraud don't have to mention the issue at all.
That's because they are virtually guaranteed re-election.
At the congressional level, the four Republicans who signed onto a brief backing a failed federal lawsuit that sought to delay the Electoral College vote and block electors from Michigan and other states from participating remain in office and are all running for reelection in comfortably Republican districts. The Republican incumbents are Jack Bergman of Watersmeet, Bill Huizenga of Zeeland, Tim Walberg of Tipton, and John Moolenaar of Midland.
Lisa McClain, another congressional Republican who took office in January 2021, supported an investigation of the 2020 election. She is also running for reelection in a heavily Republican district in November.
Eight of the 15 Republican state lawmakers who signed onto a brief challenging Michigan election results are on the 2022 general election ballot: Joe Bellino of Monroe, Michele Hoitenga of Manton, Matt Maddock of Milford, Greg Markkanen of Hancock, Luke Meerman of Coopersville, Jack O'Malley of Lake Ann, Brad Paquette of Niles, and Doug Wozniak of Shelby Township.
Rep. Gary Eisen, R-St. Clair Township, another who signed that letter, lost to fellow incumbent Republican Andrew Beeler in his district during the primary election.
Maddock, who is running for a third term in the House, is closely aligned with Trump and worked to recruit and support new Trump-endorsed candidates to the Michigan Legislature. Half of the 10 Trump-endorsed state legislative candidates advanced through competitive primaries.
Among them is Rachelle Smit, who served as the township clerk of Martin in Allegan County.
She lists election integrity as the top issue on her website, noting she supports a forensic audit "after seeing the countless irregularities with the 2020 election which Lansing refuses to investigate."
"In order to have a successful 2022 Election, we must stand together to fix the 2020 Election," her website states. "I will fight for election integrity in the State of Michigan which includes going back to paper ballots and giving the foreign voting machines the boot."
A majority of legislative Republicans who were serving in 2020 didn't sign onto letters or legal briefs questioning election results, and a Republican-led Senate committee that investigated the 2020 election found no evidence of fraud.
More popular among GOP lawmakers are efforts to tighten election security moving forward, including requiring proof of identification when voting, preventing election clerks from accepting non-government donations and ending a sworn affidavit option for voters without ID.
Only donate if we've informed you about important Michigan issues
See what new members are saying about why they donated to Bridge Michigan:
"In order for this information to be accurate and unbiased it must be underwritten by its readers, not by special interests." - Larry S.
"Not many other media sources report on the topics Bridge does." - Susan B.
"Your journalism is outstanding and rare these days." - Mark S.
If you want to ensure the future of nonpartisan, nonprofit Michigan journalism, please become a member today. You, too, will be asked why you donated and maybe we'll feature your quote next time!