Whitmer's school parent council: Public service, public relations, or both?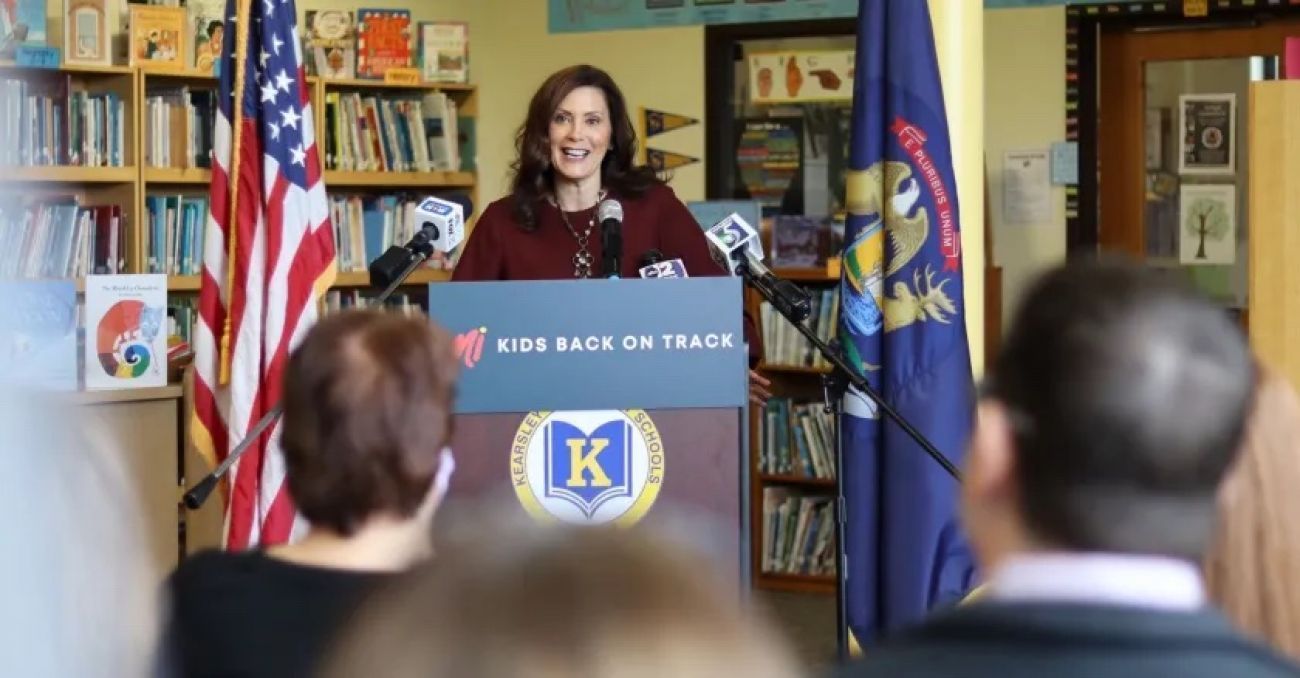 Gov. Gretchen Whitmer announced the creation of a parent council in July. The goal was to include parent feedback in the governor's education policy and budget proposal. (State of Michigan)
Talent & Education
Whitmer's school parent council: Public service, public relations, or both?
The group makes four recommendations for Michigan education after receiving input from 13,500 people
Gov. Whitmer's office has not provided specifics on how the recommendations were formed
Republicans have been critical of the council since its formation
---
To understand Gov. Gretchen Whitmer's Parents Council on schools, you have to go back to July, in the heat of an election campaign.
Tudor Dixon had emerged as the establishment choice in the Republican primary race for governor, having the support of Michigan's powerful DeVos family, while also gaining favor from former President Donald Trump.
One of her main pitches to voters was almost a carbon copy of a successful campaign a year earlier by Republican insurgent candidate Glenn Youngkin, who won the governorship in Virginia: Schools weren't listening to parents upset about how schools were handling issues tied to race, gender and book choices in school libraries.
Related:
Against this backdrop, Whitmer, running for re-election in a year expected to be a tough one for Democrats, issued a news release in mid-July announcing the formation of the Michigan Parents' Council, which promised to "more formally bring parents into the policymaking process."
Five months later, with a report released by the council in December, there's little agreement about the value of the effort. The governor's office has yet to provide key details about how the group of parents operated and how many people the council actually interacted with in-person. The report – 23 pages of slides – offers only four recommendations, none of which are new to education leaders and at least some of which are vague.
It's unclear how involved parents chosen by the administration were in the drafting of the report, or in the online survey which appears to have accounted for the vast majority of public input.
While Republicans continue to view the council as a cynical political stunt, education leaders who spoke to Bridge were neutral to positive about the report – in essence saying that no matter the reasoning behind the creation of the council, its findings reaffirm important issues that need to be addressed to improve the state's public education system.
What does the group recommend?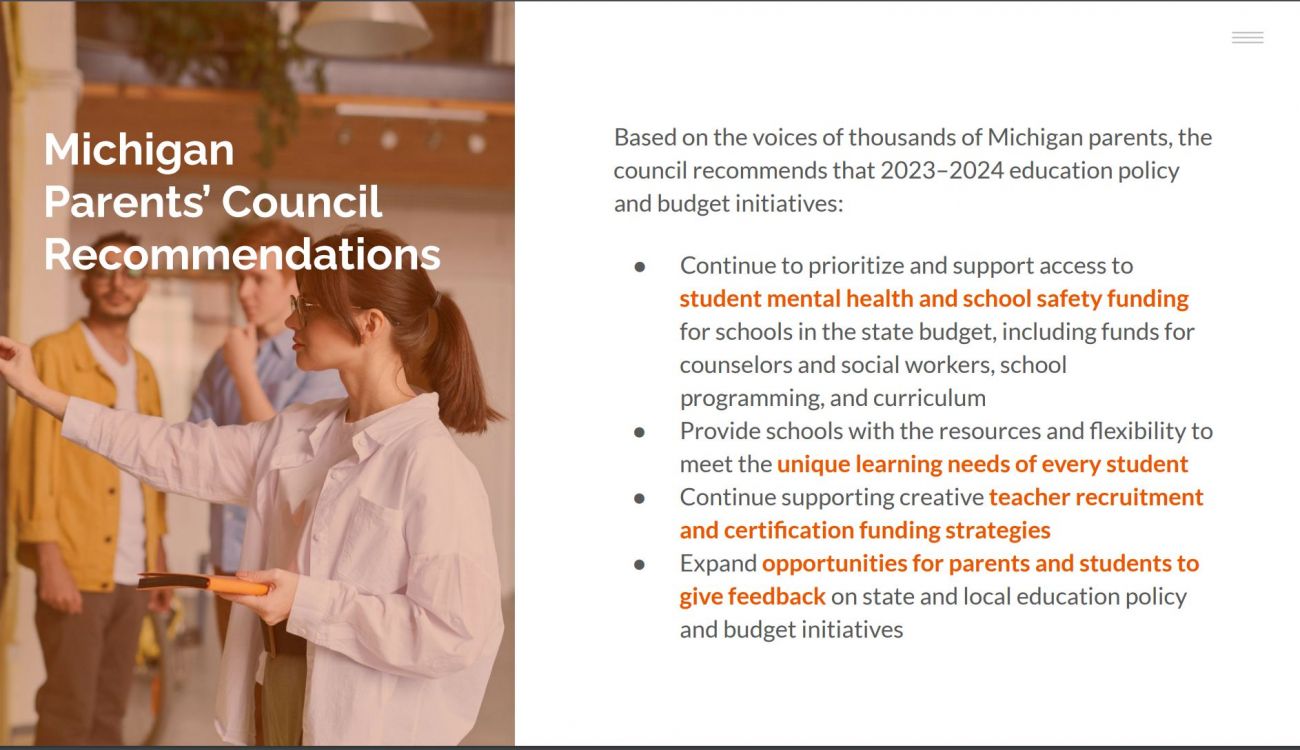 The Michigan Parents' Council released its education recommendations last week. Gov. Gretchen Whitmer created the council over the summer. (Screenshot)
The report recommends that the state budget prioritize student mental health and school safety through funding for counselors, social workers, school programming and curriculum.
Those recommendations aren't revelatory: they are in line with the state's budget over the last few years. Among the investments, the fiscal year 2022 budget includes $240 million for schools to use over three years to help increase mental health staffing in schools. In the latest budget, there is $150 million for schools to use on mental health initiatives along with several other line items for mental health funding. Additionally, schools can use federal pandemic COVID-19 funds for mental health initiatives.
But the council's report states parents still see a shortage of mental health providers and are not aware of how to access resources in their schools. Additionally, parents say they are unsure how schools are using funding to support mental health initiatives.
The parents also report that active shooter and lockdown drills are "significant stressors for students" and that they want school resource officers to "be trained appropriately and refrain from operating from a law enforcement perspective."
Michigan schools also have access to state school safety funding that can be used on several things, including staff training and security infrastructure such as cameras, door blocks, hardened vestibules and technology to detect guns on security cameras.
The parents council also recommends expanding opportunities for students and parents to provide feedback on local and state education policy and budget initiatives.
The two other recommendations are to "provide schools with the resources and flexibility to meet the unique learning needs of every student", and to "continue supporting creative teacher recruitment and certification funding strategies."
Sen. Jim Runestad, R-White Lake Township, agrees that the number one issue in schools is mental health but said Democrats want more social workers while he said he believes schools are causing mental health issues with "woke intervention."
Dedria Humphries Barker, an author and chairperson of her family's education foundation, wrote two columns for the Lansing City Pulse about her concerns about the council. One focused on why the structure of the group does not leave enough time for the group to be successful while another urged the governor's office to provide more details about the council members including their parenting backgrounds.
Dedria Humphries Barker, a columnist who focuses on education, told Bridge she would like to know more details about how the Michigan Parents' Council's report was put together. (Photo courtesy of Dedria Humphries Barker)
Humphries Barker told Bridge she was a little disappointed that the report did not include specific education policy suggestions but said there are other people trained to make education policy recommendations.
"A regular parent is doing their job when they are trying to provide support, not when they are trying to direct education for the state," she said.
Peter Spadafore, executive director of Michigan Alliance for Student Opportunity, agrees. He said not every parent is going to have granular knowledge of educational policy but it's "reassuring" to see that generally, parents agree with what his organization and others have been advocating for in Michigan education.
"This report really emphasizes what we've been saying for a number of years, which is that students are unique, not cogs in a machine."
How was parent input collected?
The parent council was to convene regional roundtables of parents, share its findings with the governor's team and issue proposals that would inform Whitmer's next education budget.
The group held discussions in Marquette, Detroit, Grand Rapids, Battle Creek, Flint, Midland and Eastpointe. There was also a virtual roundtable and an online survey.
The report states that input was collected from all 83 counties and more than 500 school districts.
It remains unclear, though, how many parents attended the regional gatherings. Whitmer's office claims the council "connected with more than 13,500 parents." But in interviews, two people who served on the council said only about a dozen or so people attended meetings they were at.
Bridge Michigan asked the governor's office how many people attended each session and the total number of people who completed the survey. The office did not provide specific numbers.
Yazeed Moore, a parent council member in Grand Rapids, told Bridge there were about 15 to 20 people at the Grand Rapids in-person roundtable and about seven to 10 attendees in Battle Creek. Blanca Astúa, a council member in Holland, told Bridge there were about 12 to 15 people at the virtual roundtable.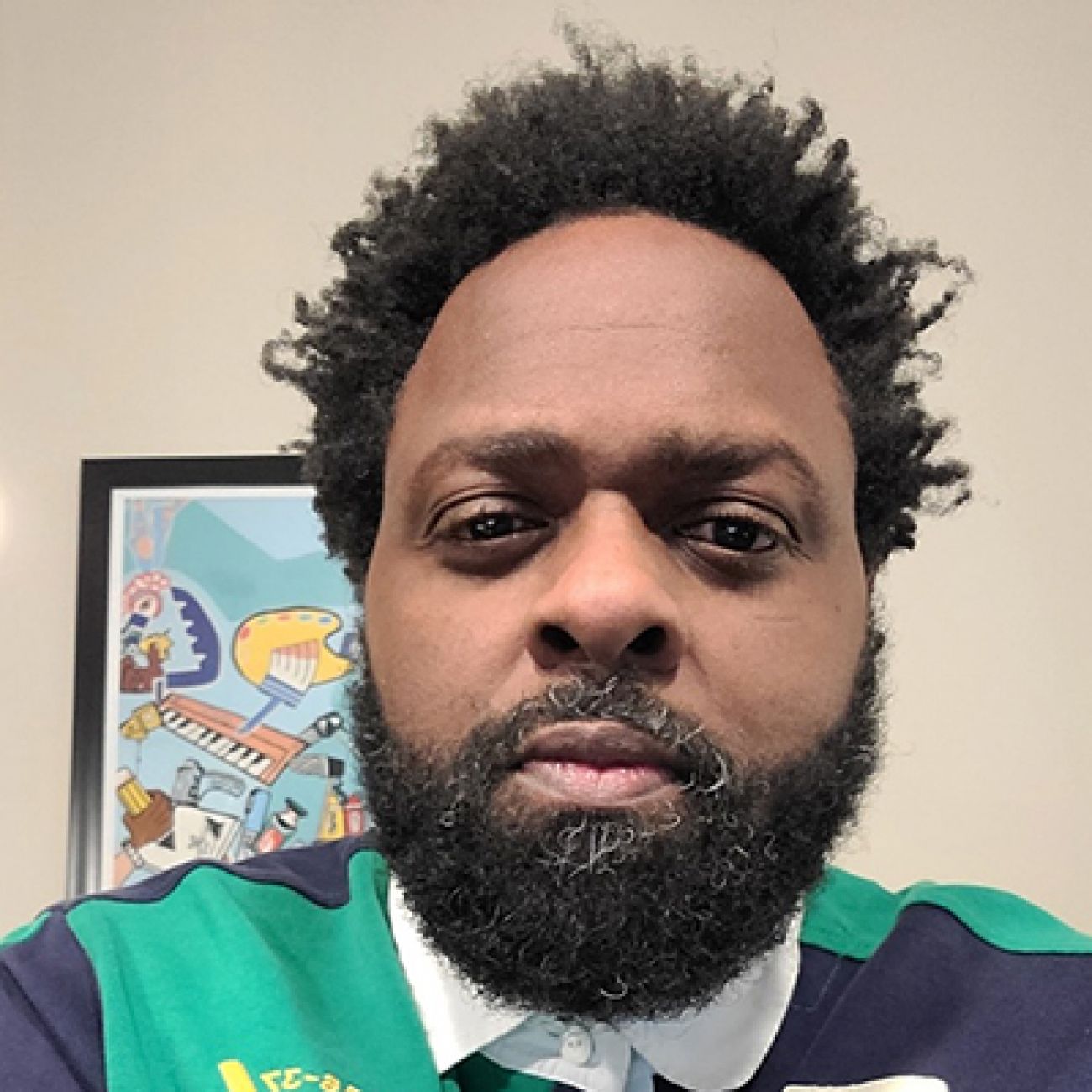 Yazeed Moore is a member of the Michigan Parents' Council and the father of two teenage children who are homeschooled. He told Bridge the council is an opportunity for the state to hear from parents and ensure that Michigan continues to invest in education. (Photo courtesy of Yazeed Moore)
Both Moore and Astúa told Bridge they were not sure how many of the more than 13,500 responses came from the online survey. The survey launched on Oct. 26, about two weeks before the Nov. 8 election.
It asked people to rank on a scale of "not very important" to "very important" a number of education issues including: "historic funding for schools, unfinished learning, mental health support in schools, teacher recruitment, teacher retention, school buildings, school safety, after school programs, preschool & early childhood programs, education after high school (including college and skills training)."
Respondents could also list what their top education priorities are.
There was also a question asking respondents what was going well in their schools and what they would do if they had a "magic wand" to do anything to their school.
Bob McCann works with 123 school districts across Michigan as the executive director of the K-12 Alliance of Michigan. He said the report is "helpful in that it reinforces a lot of what we've been advocating for. Certainly there's been an awful lot of rhetoric particularly in the last year given the political season we went through about parental rights, parental involvement, whatever you want to call it.
"And somehow that became almost a buzzword or a campaign attack," McCann said. "When the reality is that you know, there already is parental involvement and a great deal of it going on within our schools."
How did the parent council get formed?
When Whitmer first announced the creation of the council in July, Republicans expressed skepticism.
Runestad was one of the skeptics and told Bridge this week he is disappointed by the report and that he believes the council was a "complete canard crafted by Whitmer to make herself look good.
"I think this is exactly what I expected. It could have been something very useful," he said. "It's just a document to outline some bland ideas about how to make some change. But basically, it's a CYA report that's going to bury all of her responsibility for the outcomes."
Nikki Snyder, a Republican on the State Board of Education, told Bridge in a statement that the report is a "curated set of slides that repeat partisan talking points rooted in policies that have gotten students nowhere but behind."
She said she is connected to conservative moms who did not feel heard.
It was more than two months after Whitmer's initial announcement of the parent council that she named the members, making the announcement in September shortly after Republicans blasted the Michigan Department of Education for teacher training videos that explained there were certain times where teachers should not share a student's gender identity with the student's parents.
There were 11 appointees to the council, along with one representative each from the governor's office and the Michigan Department of Education.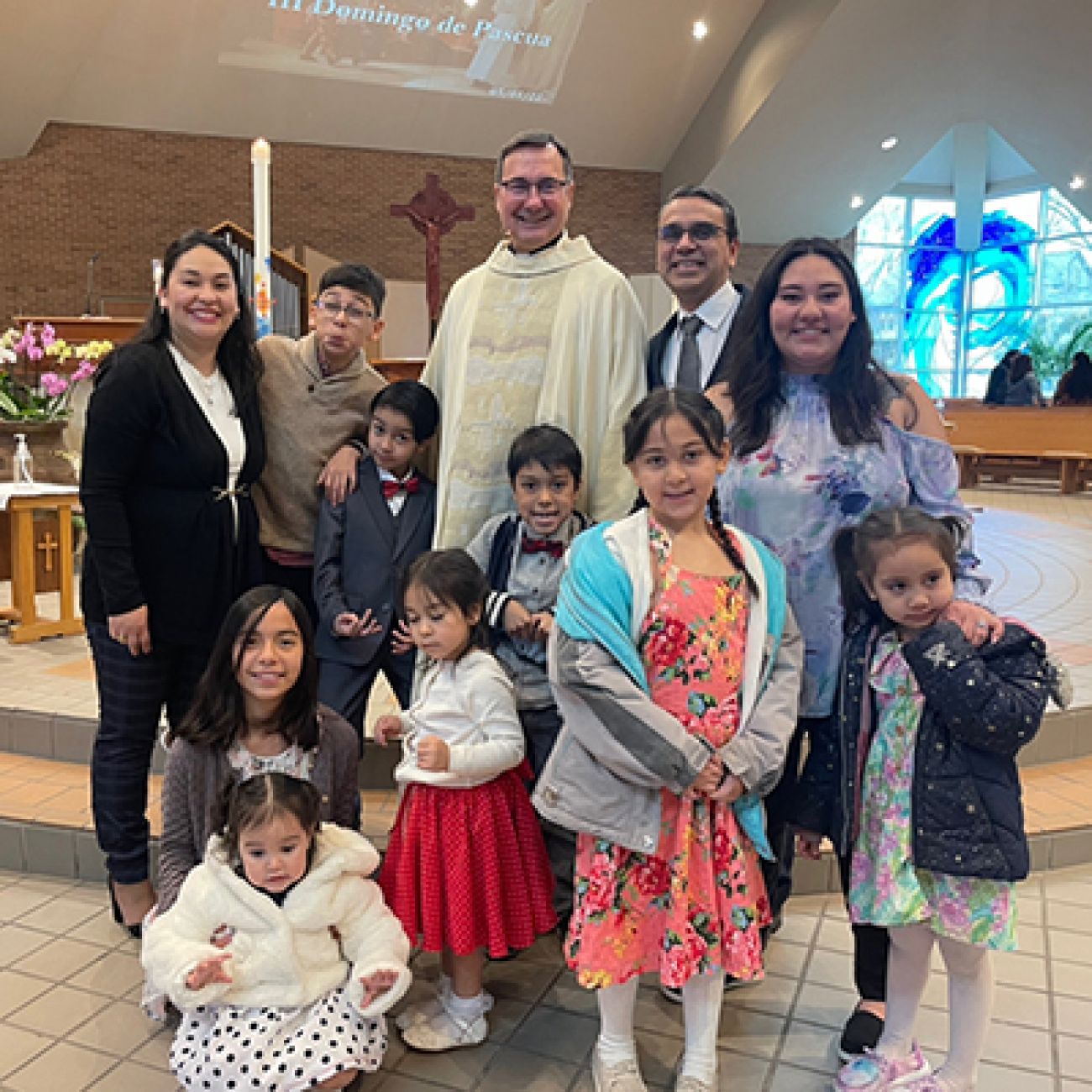 Blanca Astúa, left, is a member of the Michigan Parents' Council and is the mother of seven children and the grandmother of three children. She attended the Grand Rapids parent roundtable and the virtual roundtable. (Photo courtesy of Blanca Astúa)
Among the members, Moore has two teenage children who are homeschooled but previously attended a public charter school in Flint. Astúa is a mother of seven children and three grandchildren. Her school-aged children attend Holland Public Schools.
Council members held roundtable meetings throughout the fall. Moore said that at each meeting someone from Public Sector Consultants, a Lansing-based nonpartisan public policy organization that sometimes contracts with the state on projects, was there to help. The last roundtable was held virtually on Nov. 3. After each roundtable, the council would meet virtually to discuss the parent feedback they received. Moore said the council worked with the consultant group to make the recommendations and council members had a chance to review the report before it was made public.
The governor's office did not say who wrote the report and a spokesman for the Michigan Department of Education said the department did not write the report. The file name of the report is labeled "consulting proposal."
Moore said attendance at the in-person roundtables may have been suppressed because they were held during dinner time when parents may have childcare duties.
Still, he said the council was "a really great opportunity to hear and listen from parents" and that he would like to see the state formalize a parent input process. He suggested presenting how the council's work shows up in the next budget after the start of next school year. He said presenting this to community members "not only keeps us accountable to the process, but keeps us accountable to parents."
Astúa told Bridge that attendees at the Grand Rapids meeting were concerned about bus driver shortages, high costs for teachers who wanted to pursue additional learning, bullying and mental health and security concerns in schools.
"It's important that teachers feel like they have support at home," she said. "We're growing the future."
What happens next?
Whitmer is expected to make her budget proposal early next year. Moore said there is another meeting scheduled in February. The council is set to dissolve on March 1, according to the executive order.
The governor's office did not provide specific budget or policy recommendations it expects to come from the council's findings.
Bobby Leddy, communications director for the governor, said in a statement that the "turnout was incredible."
"This was step one in the process to solicit parent feedback on education policy and Governor Whitmer is committed to continuing to involve parents moving forward."
While the overall results are OK with Humphries Barker, she said she would like to know how the group came to a consensus about what members heard at different roundtables and in the survey.
"I imagine that the parents' council did discuss all the data that they got from the virtual session, in-person sessions and online survey. But the report really wasn't that clear about it, you kind of have to lean in to make sense about it."
Only donate if we've informed you about important Michigan issues
See what new members are saying about why they donated to Bridge Michigan:
"In order for this information to be accurate and unbiased it must be underwritten by its readers, not by special interests." - Larry S.
"Not many other media sources report on the topics Bridge does." - Susan B.
"Your journalism is outstanding and rare these days." - Mark S.
If you want to ensure the future of nonpartisan, nonprofit Michigan journalism, please become a member today. You, too, will be asked why you donated and maybe we'll feature your quote next time!