Applications open for new Michigan redistricting commission. What to know.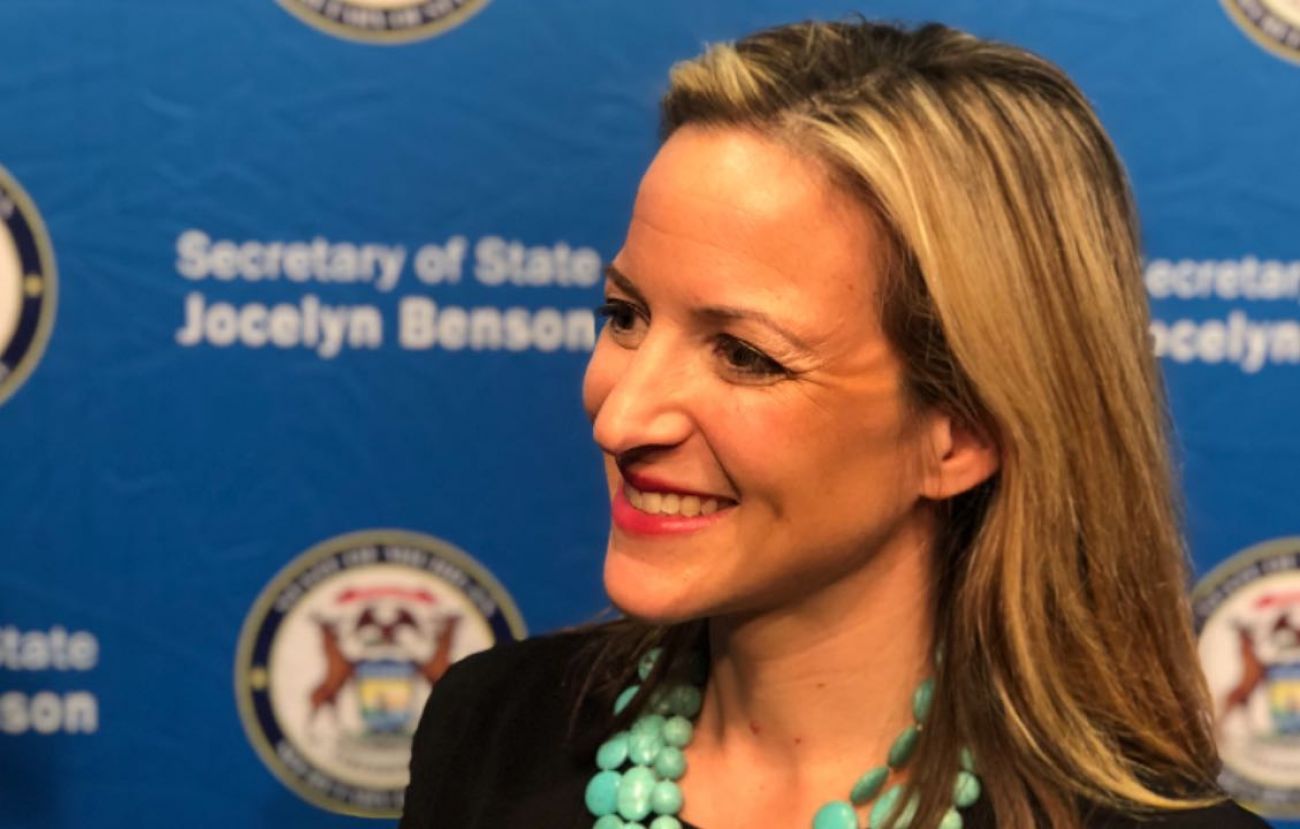 June 24, 2020: Pool of 200 selected for new Michigan commission to end gerrymandering
LANSING -- The process to seat the 13-member Michigan commission responsible for redrawing the state's voting district lines has officially begun.
Michiganders who are registered voters can apply to be on the commission from now until the end of May 2020, Secretary of State Jocelyn Benson announced Thursday.
"This is a historic moment for our democracy here in Michigan," Benson said at a press conference Thursday. "In order to ensure this process is truly citizen-led, citizens must lead it and be involved in it."
The new redistricting commission, written into the state Constitution following a successful 2018 ballot initiative, will have four members of each major political party (Republicans and Democrats) and five members unaffiliated with either. The selected commissioners will be required to solicit public input and can hire consultants to help them draw state and Congressional voting district lines that would be used for the first time in the 2022 elections.
The system replaces the one Michigan and many other states have used in the past, in which the party in power in the state Legislature draws the lines, which for the last two redistricting cycles has been Republicans.
Michigan's political lines have been found by experts to be among the most gerrymandered in the nation and were on a path to be redrawn this year. But a U.S. Supreme Court decision essentially found that determining the fairness of state political districts is not in the purview of federal courts.
The newly formed state commission will craft political boundaries beginning with the 2022 election cycle.
The commission is still about a year from beginning its work of drawing state and congressional lines in Michigan. But Thursday's announcement marks the first step in making the commission — once just a dream of a handful of political novices — a reality.
Here's what you need to know:
Who is eligible to apply?
All Michigan residents who are registered voters are eligible to apply, except someone who in the last six years has been:
A partisan candidate or elected official in local, state or federal government
An officer in a political party
A consultant or employee for a political candidate, campaign or PAC
A legislative staffer
A registered lobbyist or an employee of one
An unclassified state employee, except those who work for public universities, the courts or the armed forces
The parent, child or spouse of any of the above people, including stepparents and children
These exclusions are the basis of one of two ongoing lawsuits against the commission, which argues that they are overly restrictive and unfairly exclude people based on their profession or relationship to those people.
Nancy Wang, executive director of Voters Not Politicians, the group that was behind the 2018 ballot initiative, said the exclusions were included to ensure people who have had some influence in gerrymandering maps in the past (or would have a substantial political interest in doing so) are removed from the process. It excludes "the people that depend on those people, too, for their livelihood," Wang said.
"Those are the people that are taken out of the system because they compromise the integrity of an independent commission."
How can I apply?
Eligible registered Michigan voters can fill out an application online. To complete the application, however, they must print out the application and get it notarized (as required by the proposal's constitutional language). They must then submit it to the Secretary of State's office in person or by mail.
All Secretary of State branch offices will offer free notarization of commission applications by December 1, Benson said Thursday. That way, applicants can get their forms notarized and submit it in one visit to a branch office.
Applicants can get their forms notarized wherever they like. Several local clerks and city governments have also offered free notary service — you can find locations for free notaries in your county here.
Benson's office will also hold workshops around the state, where people can come in, fill out an application, get their application notarized and turn it in in one visit.
The Secretary of State's office is also required to send at least 10,000 applications to random registered voters around the state before 2020 to encourage broad participation in applying for the commission. Benson said Thursday her office plans to send out more than the minimally required amount.
Are commissioners paid?
Commissioners are required, per the state constitution, to be paid at least 25 percent of the Governor's salary. For 2019, that would be $39,825.
The job would last from October 2020 to at least November 2021, when the final maps are due. The Secretary of State's office says time commitments would vary by the week, but that commissioners would be responsible for setting meeting dates and "other time commitments within those parameters." The Secretary of State doesn't specify whether it would be a full time job, but California, which has had a redistricting commission for years, tells applicants it is close to a full-time commitment.
There wouldn't be an official end date to the commission's work. Per the constitution, a commissioners job ends "once the commission has completed its obligations for a census cycle but not before any judicial review of the redistricting plan is complete." That means if there are lawsuits challenging the maps they draw, commissioners would likely need to stick around to help defend them.
How are commissioners selected?
There must be at least 30 Democrats, 30 Republicans and 40 independents who have applied to the commission before the process of choosing them begins. Benson said Thursday that in the first hour of the application being open, 100 people started applications, so meeting that application threshold may not be a problem. But if it is, Benson is required to continue to randomly mail out applications until the quota is filled.
Then the Secretary of State's office will randomly select from the applicant pool 60 Democrats, 60 Republicans and 80 independents using statistical methods to "mirror the geographic and demographic makeup of the state."
State House and Senate Democratic and Republican leadership will review the applications and be allowed to collectively strike 20 applications from the pool of 200. The Speaker of the House, the House Minority Leader, the Senate Majority Leader and the Senate Minority Leader could each choose five people they'd like to strike from the pool — this is intended as a safeguard against partisan actors, organizers have said.
Then the Secretary of State would randomly choose four Republicans, four Democrats and five independents from the remaining 180 applications; the 13 that would serve as the commission.
What happens next?
The applications will remain open until June 1, 2020. The pool of 200 will be drawn by July, and the legislative leaders will strike their least favorite applicants by August. The final commission will be selected by September and they'll start their work by October 15, 2020.
They'll use census data and public input to draw maps over the course of the next year, which will be finalized by November 2021 to be used in the 2022 elections.
Two pending lawsuits brought by Michigan Republicans argue the commission is unconstitutional and should be shut down; they have since been consolidated into one. If the court sides with them, the commission could be killed.
But Benson and Voters Not Politicians say they are confident the commission will survive the legal scrutiny. Benson said Thursday that she's not concerned about moving forward with the process of seating the commission — which she's required by the constitution to do, regardless of the uncertainty.
"I believe that we're solid in our legal grounding and I believe that our responsibility is to further the will of the people that was very clear when they spoke last November to amend our constitution," she said.
We're not just a news organization, we're also your neighbors
We've been there for you with daily Michigan COVID-19 news; reporting on the emergence of the virus, daily numbers with our tracker and dashboard, exploding unemployment, and we finally were able to report on mass vaccine distribution. We report because the news impacts all of us. Will you please support our nonprofit newsroom?