DETROIT — As James Belser waited for Bernie Sanders to arrive for a rally on Friday, he pointed out a TCF Event Center window toward Windsor, where Canadians have the sort of single-payer health care system Sanders wants for the United States.
"We can look across the [Detroit] River right there, and the stuff that's 'too radical' for the United States has been happening for years," said Belser, who plans to vote for Sanders Tuesday in Michigan's Democratic presidential primary.
Primary eve events
Joe Biden and Bernie Sanders plan appearances in Michigan on Monday, one day before the state's Democratic presidential primary.
Biden plans a rally at 10 a.m. at Cherry Health-Heart of the City Health Center in Grand Rapids, a yet-unscheduled one in Flint and one at 7 p.m. with Sen. Kamala Harris, D-California, at Renaissance High in Detroit

.
Sanders, who had multiple rallies across the state over the weekend, plans a public health roundtable about the coronavirus at 3:15 p.m. at Westin Hotel at Detroit Metropolitan Airport and will participate in a Fox News town hall event at 6:15 p.m.
Sanders is promising revolution — and an expensive one at that — that supporters say is necessary to resolve rising health care costs and other issues burdening the working class, especially in Michigan.
Former Vice President Joe Biden offers what he says is a pragmatic approach, proposing to expand the Affordable Care Act by creating a public insurance option that would compete with private insurers, rather than replace them. 
Supporters say Biden offers reassurance, the prospect of a calming force after four years of turbulence under Republican President Donald Trump. 
"We've had our revolution. It was called Trump," said former Michigan Gov. James Blanchard, an early Biden backer. "Now we'd like to restore the soul of America and have a progressive president who will get results."
Sen. Kamala Harris of California, who dropped out of the presidential race in December, will join Sen. Joe Biden in Detroit on Monday night.
Michigan voters in Tuesday's primary could play a critical role in deciding the Democratic presidential nominee. A once-sprawling field has effectively narrowed to two candidates who offer dramatically different visions for the country and party.
Will Michiganders back a democratic socialist who pledges to blow up existing government structures in the name of equality, or a mainstay Democrat who promises normalcy after Trump?
Michigan's economy offers evidence for both visions. Employment, personal incomes and property values have grown since the Great Recession, suggesting some voters may have little appetite for upheaval. But with job growth primarily in low-wage work and the middle class shrinking, some may be ready to tear it all down.
Biden has momentum after a wave of Super Tuesday wins and high-profile endorsements from Gov. Gretchen Whitmer, U.S. Reps. Brenda Lawrence, Haley Stevens and Elissa Slotkin and Detroit newspapers.
A clear front-runner just two weeks ago, Sanders has fallen behind in the national delegate count and faces significant pressure to repeat in a state he won four years ago, when he pulled off a surprise Michigan win over Hillary Clinton. 
"This race is really fluid yet," said Richard Czuba, CEO of polling company Glengariff Group. Voters are "going to let this play out, and they're going to decide late."
The results could have far-reaching consequences for Michiganders, many of whom struggle with increasing loads of student debt, a growing gap between the richest and poorest, and rural communities and communities of color getting left behind in the state's recovery from the Great Recession.
For many Michigan Democrats, however, policy proposals are not their primary concern. Rather, they have become single-issue voters: Who can beat Trump?
"In 2016, people underestimated the level of depravity that Donald Trump possesses," said Jen Eyer, a Democratic strategist at Lansing-based firm Vanguard Public Affairs. 
"Our eyes are open now."
Some left behind in roaring economy
Sanders and Biden's surrogates spent the weekend crisscrossing Michigan, a state where health and prosperity vary widely from community to community. 
Over the last five years, jobs in Michigan grew by 5 percent, gross domestic product rose 11 percent, property values increased nearly 13 percent and personal income statewide grew 12 percent.
But median household income lags the rest of the nation: $60,449, 4 percent less than the $63,179 median nationwide. 
And the economic boom has not been shared evenly. Some counties have lost jobs since 2016 and residents of communities of color still make less money than the rest of the state. Wages haven't kept pace with inflation, and nearly half of all Michiganders struggle to make ends meet. In Detroit and Flint, more than a third of all residents live in poverty. 
The state's highest earners increasingly have a larger share of wealth in the state as the least well-off make less. For example, in 2013, 0.2 percent of the state's population claimed around 19 percent of all income. In 2017, 0.4 percent claimed 26 percent of all income.
Meanwhile, student debt keeps climbing, with the average 2018 Michigan college graduate owing $32,158.
Sanders has said he would address that gap by targeting the ultrawealthy with a progressive income tax on people with net worth above $32 million, which he says would raise $4.35 trillion over the next 10 years and help several of his proposals — including forgiving all student debt. 
Biden also wants to close the gap between the poorest and richest Americans, but proposes a more cautious approach: reversing the tax cut for the wealthy implemented by Trump by increasing the top tax bracket's rate from 37 percent to 39.6 percent, raising an estimated $2.3 trillion over the next 10 years.
Since the Affordable Care Act passed in 2010, Michigan's uninsured numbers have dropped markedly — a victory that Biden, as vice president when it was passed, can claim on the stump. But insurance costs have spiked: Potential out-of-pocket costs went from $3,281 on average in 2008 to $6,318 in 2018.
Biden wants to reduce the costs of health care by increasing tax credits for low- and middle-income families and expanding the Affordable Care Act to offer a public health option like Medicare but for all Americans. Sanders is pushing for universal health coverage under a single-payer system, which would expand coverage to more than 500,000 Michiganders but could raise taxes.
According to a recent poll by The Detroit News/WDIV, about 20 percent of Democratic Michiganders said health care is their most important issue, followed by about 7 percent citing the economy.
Keith D. Williams, chairman of the Michigan Democratic Party Black Caucus and a Biden supporter, said blowing up the Affordable Care Act would be foolish.
"[Much] of the country wants to go back to Barack Obama's policies. More practical, not out there, pipe-dreaming politics," Williams said. "You aren't going to get Medicare for All. So amend [the Affordable Care Act] a little bit and keep it moving."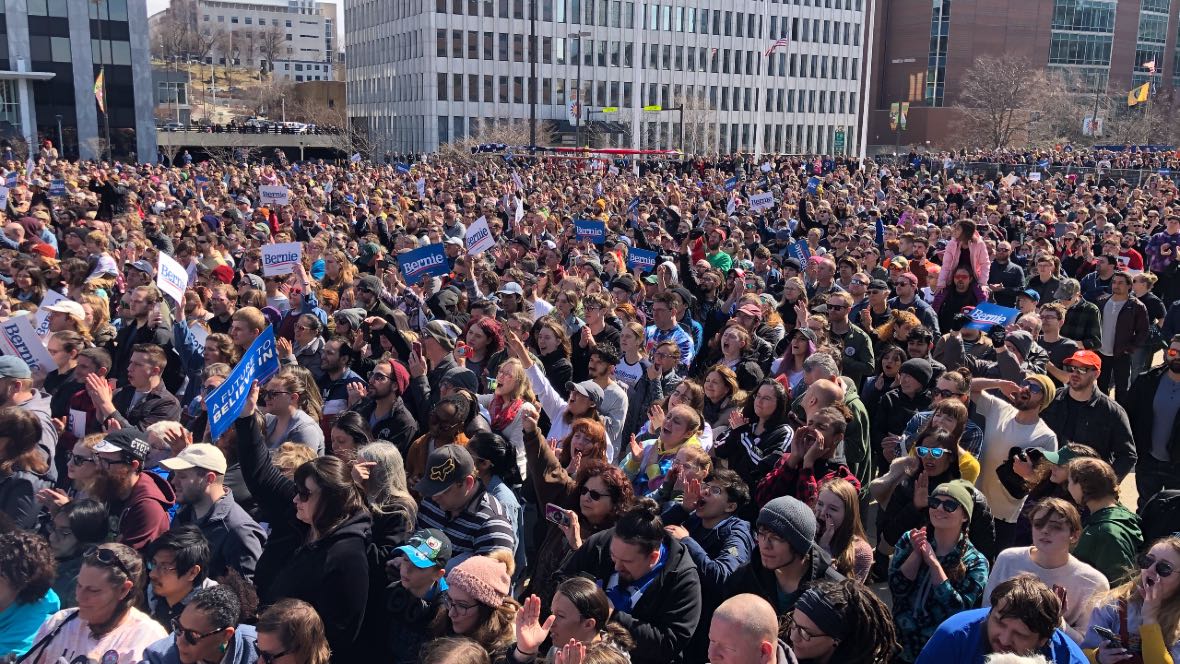 Sanders stopped in Grand Rapids this weekend, where railed against Biden's record supporting trade policies such as the North American Free Trade Agreement, which he contends decimated working families. (Bridge photo by Riley Beggin)
Health care as a human right?
But Sanders says that doesn't go far enough. 
"I believe that health care is a human right, and I believe in Medicare for All," he told reporters Friday in Detroit. 
"I think Joe [Biden] intends to keep the current health care system in place, which is costing the average American worker… much too much."
In stops in Grand Rapids, Ann Arbor and Detroit over the weekend, Sanders railed against Biden's record supporting trade policies such as the North American Free Trade Agreement, which he contends decimated working families.
Michigan has lost 214,000 manufacturing jobs since the recently scrapped trade agreement came into force in 1994, but experts say other factors including automation contributed to the decline.
Terry Vandermolen, a union member who attended a Sanders rally Sunday in Grand Rapids, said the senator is "for the people."
"He voted against NAFTA, he voted against the Wall Street bailout.," he said. "Main Street should come before Wall Street."
Tom Wilson, a retired teacher from Detroit, said he trusts Biden to improve health care and maintain the economy. 
"I want this country to go back to normalcy," said Wilson.
He added that Sanders' Medicare for All proposal "sounds good, but when reality set in, how are you going to pay for it?"
Despite the policy disagreements, the pollster Czuba and others say this year's election transcends normal assumptions about politics that people vote with the pocketbooks and for their economic self-interest. 
"It's not the economy right now," he said.
"There is such anger from the Democratic side and fatigue from the Independents that they're just saying, 'we just want to go back to some normalcy,'" Czuba said.
In his poll for The Detroit News, Democrats overwhelmingly said their top issue is defeating Trump.
'Electability makes me crazy'
Moderate Democrats have coalesced around Biden as the best bet to defeat Trump, who won Michigan by about 10,704 votes over Clinton in 2016. It was one of three Rust Belt states, along with Wisconsin and Pennsylvania, that provided Trump with the margin for victory.
"I think Joe Biden's the best pick," said Carla Guggenheim, a physician from East Lansing. 
She added the former vice president has made "horrible mistakes," including his leadership of a Senate committee that grilled Anita Hill over her allegations of sexual harassment against Clarence Thomas during his 1991 Supreme Court confirmation hearings.
But Biden "is much more likely to get things done" than Sanders, Guggenheim said. "He doesn't scream. He's even-handed. In my experience, screamers don't win."
Multiple moderate Democrats also cited concerns that having Sanders at the top of the ticket could hurt the chances of Democrats seeking to regain the Senate or other offices.
"I don't even want to speculate" about what happens to the party if Sanders wins, said Blanchard, the former governor. 
"But I can tell you that there isn't a single Democratic member of Congress in a marginal seat, including the 40 we flipped [in 2018,] that is supporting Bernie. They are horrified."
But who is considered "electable" can change by the day, said Matt Grossman, director of the Institute for Public Policy and Social Research at Michigan State University. 
"People increase their perceptions of electability along with their support," Grossman said. "Three days of positive media coverage has a huge impact on a race."
That may be why Sanders attempted to change the narrative over the weekend by blitzing the state and attacking Biden's record. 
Many left-leaning Democrats who support Sanders argue he is electable; he energizes people, speaks to issues they care about and is also favored by polls to beat Trump. 
"Electability makes me crazy," said Denise McGreen, a Detroit resident who attended a rally for Elizabeth Warren in Detroit last week before the senator dropped out of the race. 
"I was undecided for a long time because I felt I had to focus on electability and felt the pressure of everyone else focusing on it. I realized I need to care about the candidate that I like the most right now."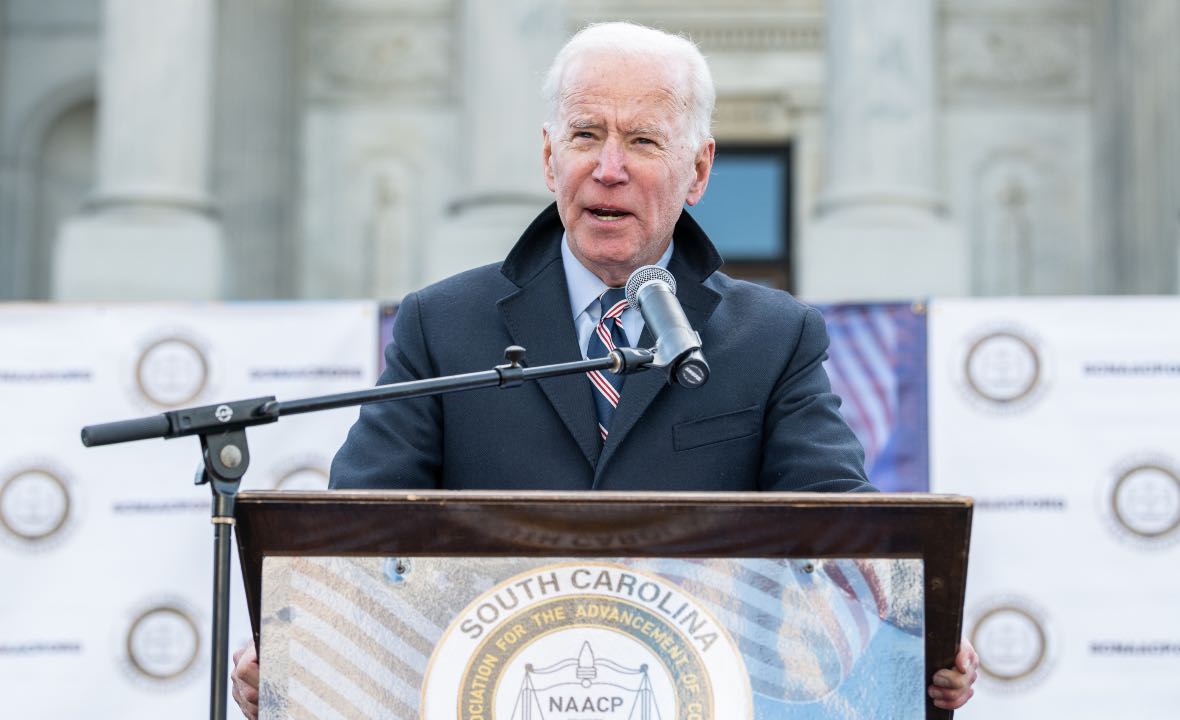 Biden has momentum after a wave of Super Tuesday wins and high-profile endorsements from Gov. Gretchen Whitmer, U.S. Reps. Brenda Lawrence, Haley Stevens and Elissa Slotkin and Detroit newspapers. (Photo by Crush Rush / Shutterstock.com)
Sanders has promised to support Biden in the general election if he is the nominee. 
So will Bex Buckelew, a 37-year-old Shipt grocery service worker from Burt who is voting for Sanders a second time after backing him four years ago. 
"I'm not a fan" of Biden, she said. "But no matter what, I'm voting blue. The main goal is to get Trump out of office, and I feel like that's what Bernie is trying to do."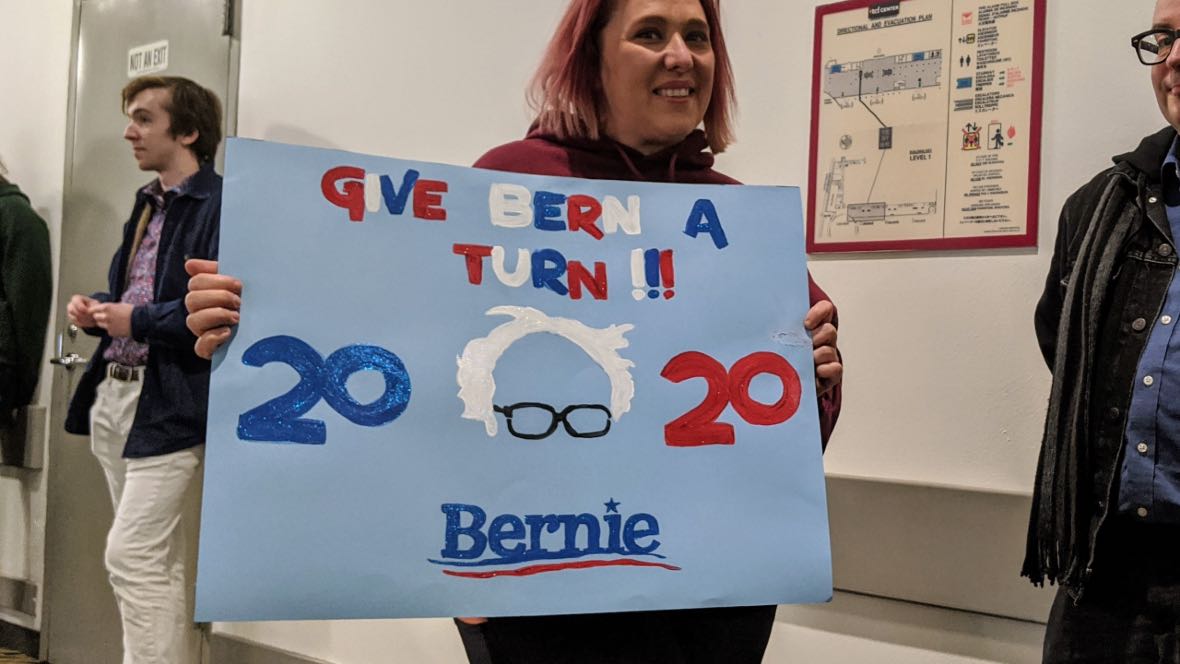 Bex Buckelew of Burt said she plans to vote for Bernie Sanders in the Michigan primary but is "voting blue" in the general election even if Joe Biden is the nominee. (Bridge photo by Riley Beggin)