Bill Schuette no longer touts Trump ties, but president's shadow follows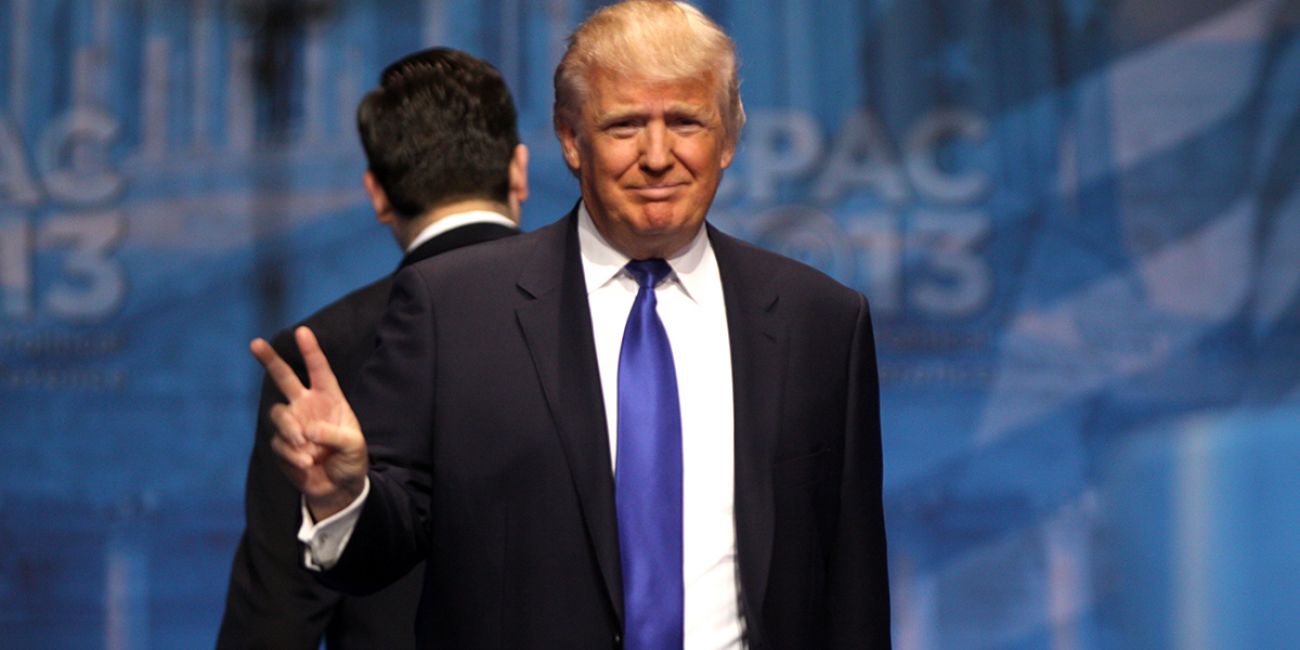 As recently as April, Michigan Attorney General Bill Schuette was sharing a stage with President Trump ‒ a "Trump-Schuette Rally," as Schuette put it ‒ and reminding anyone who would listen of the president's endorsement in the Republican primary.
"I'm the only guy in the country that has received two tweets from the president," Schuette gushed to MLive.com before the event. "I'm thrilled by it. It's a big day for Bill Schuette."
Now, less than seven weeks before the general election and trailing a Democrat in the polls, Schuette's mentions of a president unpopular outside his base have nosedived.
No matter. Trump seems to be clinging to Schuette's campaign — with or without the candidate's shout-outs.
"The only issue playing out in the governor's race right now is how voters view Donald Trump," said Richard Czuba, owner of research firm Glengariff Group, Inc., citing polling data.
Related stories on President Trump's impact in Michigan:
With the Republican primary over, Schuette's embrace of Trump is proving unhelpful, for now, in helping him expand his appeal. A half-dozen pollsters and academics told Bridge that while presidential performance is always a factor in midterm elections, Trump's presidency has created a uniquely challenging climate for Republicans who swore allegiance to Trump in primaries.
That does not bode well for Schuette, they say, who was connected at the hip, shoulder and ankle to the president this spring and summer.
"He tied himself to an unpopular president and he's kind of stuck there now," Czuba said.
Related: Turning Gretchen Whitmer into Granholm, a Republican gamble in governor race
In the past week or two, however, Schuette has shifted and in some cases softened his message in an apparent overture to independent and women voters.
Jettisoned are the constant reminders of his BFF in Washington. Instead, the two-term attorney general touts his record prosecuting sex traffickers, standing up for crime victims and ‒ most surprising ‒ suggesting that Obamacare, which he spent much of the last eight years contesting in court, will survive in Michigan if he's elected governor.
Hugging a little too closely
Most Michiganders are not fond of Trump. A recent poll by the Detroit News and WDIV-TV this month showed 57 percent of likely voters had an unfavorable opinion of the president, with two-thirds saying their views on Trump would have a major impact on their vote this November.
And that's a continuation of trends, not an aberration. In August, 53 percent disapproved of Trump. In fact, the last time Trump had a net positive approval rating in Michigan was in March of 2017.
"We find voters are making their decisions based on how they personally view Donald Trump," Czuba said.
Research from his firm indicates nothing unusual, at first blush: Most voters who view Trump favorably will vote for Schuette; most who don't will embrace Democratic nominee Gretchen Whitmer.
That might soothe conservatives in a traditional midterm, when Republicans routinely outpace Democrats in making it to the polls. But more than 2 million people participated in the August primary election in Michigan — more than ever before. That included around 100,000 more Democrats than Republicans.
Bernie Porn of EPIC-MRA said his polling shows Democrats are more motivated to vote than Republicans. And the most motivated of all: Democratic women.
"A lot of that is in reaction to the behavior of the guy sitting at 1600 Pennsylvania Avenue," Porn said.
Czuba and Porn, along with Republican pollster Steve Mitchell of Mitchell Research and Communications, said coveted independent voters also are leaning Democratic ‒ though Czuba noted that his research shows extraordinary enthusiasm among Republicans and independents as well.
"They are all motivated to vote in November in a way I have not seen in 35 years," he said.
John Truscott of Lansing-based public relations firm Truscott-Rossman said it remains to be seen whether Trump Republicans in Michigan outperform prognostications as they famously did in 2016 because many of them "don't answer to pollsters." If they are motivated, he said, "then it's a much different situation."
Jeff Grynaviski, a professor of political science at Wayne State University, said that Republican candidates are wise to shift their focus to how they would govern if elected. "So if I was a Republican politician running for office in November," he said, "I'd probably want to start talking about policies and not a lot about President Trump."
Trump who?
Republican gubernatorial candidates underwent a bruising primary, not least because the top two candidates (Schuette and current Lt. Gov. Brian Calley) had competitive resumes stacked with political experience and a deep well of conservative support.
One of the ways Schuette differentiated himself from Calley was to lean into his coveted presidential endorsement, which served as a guidepost for which candidate Republican primary voters should support.
Whenever possible, Schuette highlighted tax cuts, illegal immigration and a ban on sanctuary cities, areas in which he closely aligns with the president. In one campaign ad, Schuette twice referenced Trump. A Schuette newspaper column featured five Trump references and a debate performance against his Republican rivals netted 10 Trumps in 60 minutes. On Twitter, meanwhile, he vowed to "work to repeal & replace Obamacare."
A bromance interrupted
Now deep into September, the pivot away from a Trump-centric campaign strategy has begun.
Schuette's latest campaign ads give more emphasis to his history of pushing for testing rape kits in sexual assault cases and cracking down on sex traffickers, issues that resonate with moderates and especially women. Though he's said he won't "run away" from the president, none of his television ads since the August primary have mentioned Trump — a sharp contrast from before the primary, when most of them did.
"I think his best message (for the general election) is, he went after the Flint water crisis perpetrators, he went after (MSU sexual predator) Larry Nassar, he made progress on rape and domestic violence and human trafficking," said Matt Grossmann, Director of the Institute for Public Policy and Social Research at Michigan State University.
"The question is whether that's enough."
Schuette's most notable tack away from Trump came last week, when he walked back years of staunch opposition to the Affordable Care Act, telling the Associated Press he would not work to roll back the state's Medicaid expansion program known as Healthy Michigan if elected governor.
When asked how Schuette plans to appeal to moderate voters who may have a distaste for the president, campaign spokesman John Sellek cited those same aspects of his track record as well as Schuette's efforts to protect the Great Lakes from invasive species and water diversion.
"Bill stands on his own record as attorney general where he is a fighter for people who have been wronged and need help, and he is a voice for the victims of crime and indifference," Sellek wrote Bridge. "That's a good record and one voters will judge him on."
Three Republican consultants — Truscott, Dave Doyle of Marketing Research Group and Greg McNeilly of the Windquest Group — said both Schuette and Whitmer have kept their policy proposals largely intact since the primary. What has changed, they argue, is when and how they discuss aspects of their platforms to appeal to appropriate audiences.
"I don't see any incongruence about positions, I think it's about when you emphasize them," McNeilly said. He added that voters shouldn't expect duplicitous actions in office from either candidate should they win. "What you see is what you get with Bill. I think it's the same with Gretchen Whitmer."
But Trump's shadow over the gubernatorial election means a big casualty for Michigan voters concerned about how the next governor will govern, McNeilly said: There's no state-level issue that is igniting passions as much as national politics.
Schuette's "Bigger paychecks" motto and Whitmer's "Fix the damn roads" slogan are both so universally agreeable as to be almost meaningless, he said. Instead, independents are looking to the White House to chart their decisions.
Trump signaling
Schuette's recent ads promoting his record on sexual assault and sex trafficking do not mean he's abandoned the sharp-elbowed tactics of his admirer in the White House. He's also run ads saying Whitmer and her running mate Garlin Gilchrist II harbor extremist views, including a sympathy for terrorists, based on past remarks by the Democrats critical of ICE and the Israeli government.
Political analysts said the attack ads likely have a twofold purpose. With one recent poll showing Whitmer with a nearly 14-point lead, Schuette is trying to soften Whitmer's support among moderates who may not favor abolishing U.S. Immigration and Customs Enforcement, a position Whitmer appeared to briefly support before coming out against it.
Schuette might also be signaling to conservative voters — who overwhelmingly support ICE — that he is still with them.
"He's trying to generate some enthusiasm for his candidacy using Trumpian rhetoric without actually talking about the president," said Grynaviski, of Wayne State. "Because the people who voted for Trump based on the kinds of issues he campaigned on, they're still going to care about those same issues even if they're not really enthusiastic about how he conducted himself in the White House."
Riding "the damn roads" to Election Day
The same Trump-centric climate that is proving a challenge to Schuette is likely to help Whitmer come November, pollsters told Bridge.
She has unprecedented Democratic enthusiasm in her corner. Even in areas outside of Detroit — where many people favored President Obama in 2012 but voted for Trump in 2016 — "it's unclear how loyal these Trump voters are" to state Republican candidates, said Corwin Smidt, a professor of political science at Michigan State University.
Whitmer is also benefitting from a primary in which she faced challengers to her left who essentially split the progressive vote, allowing Whitmer to hold steady with her "fix the damn roads" message into the fall, Mitchell said.
"Schuette was in a real dogfight" in the primary, Mitchell said. "(Whitmer) really got lucky. Her result was never in doubt."
Issues such as improving schools and infrastructure are consistently cited as the most important issues by Michiganders across the political spectrum. While both candidates have made those issues central to their campaigns, Whitmer "claimed that territory very early," Czuba said.
Whitmer hasn't yet produced television ads attacking Schuette's ties to Trump, but experts said it's an effective campaign card if the race narrows.
"She doesn't need to at this point," pollster Bernie Porn said. "She's leading and she's talking about her issues and comparing her record with Schuette on healthcare, which is a strong issue."
When asked whether that framing would be a part of their strategy going forward, Whitmer spokesman Zack Pohl said that voters already know the facts.
"Schuette has made it crystal clear that he fully supports Donald Trump," Pohl wrote to Bridge.
Of course, a significant shift in Trump's public standing could change the game for Schuette, as could his effectiveness at hammering home his record as attorney general.
"A week is a lifetime in politics," Doyle said, "so who knows what happens between now and Election Day."
But Mitchell said Trump has ensured that Whitmer will have at least one huge advantage on Nov. 6.
Her Democratic base "will walk over broken glass with bare feet and through fire to get to the polls."
We're not just a news organization, we're also your neighbors
We've been there for you with daily Michigan COVID-19 news; reporting on the emergence of the virus, daily numbers with our tracker and dashboard, exploding unemployment, and we finally were able to report on mass vaccine distribution. We report because the news impacts all of us. Will you please donate and help us reach our goal of 15,000 members in 2021?