Democrats, out of power for decades, passing bills in record time in Lansing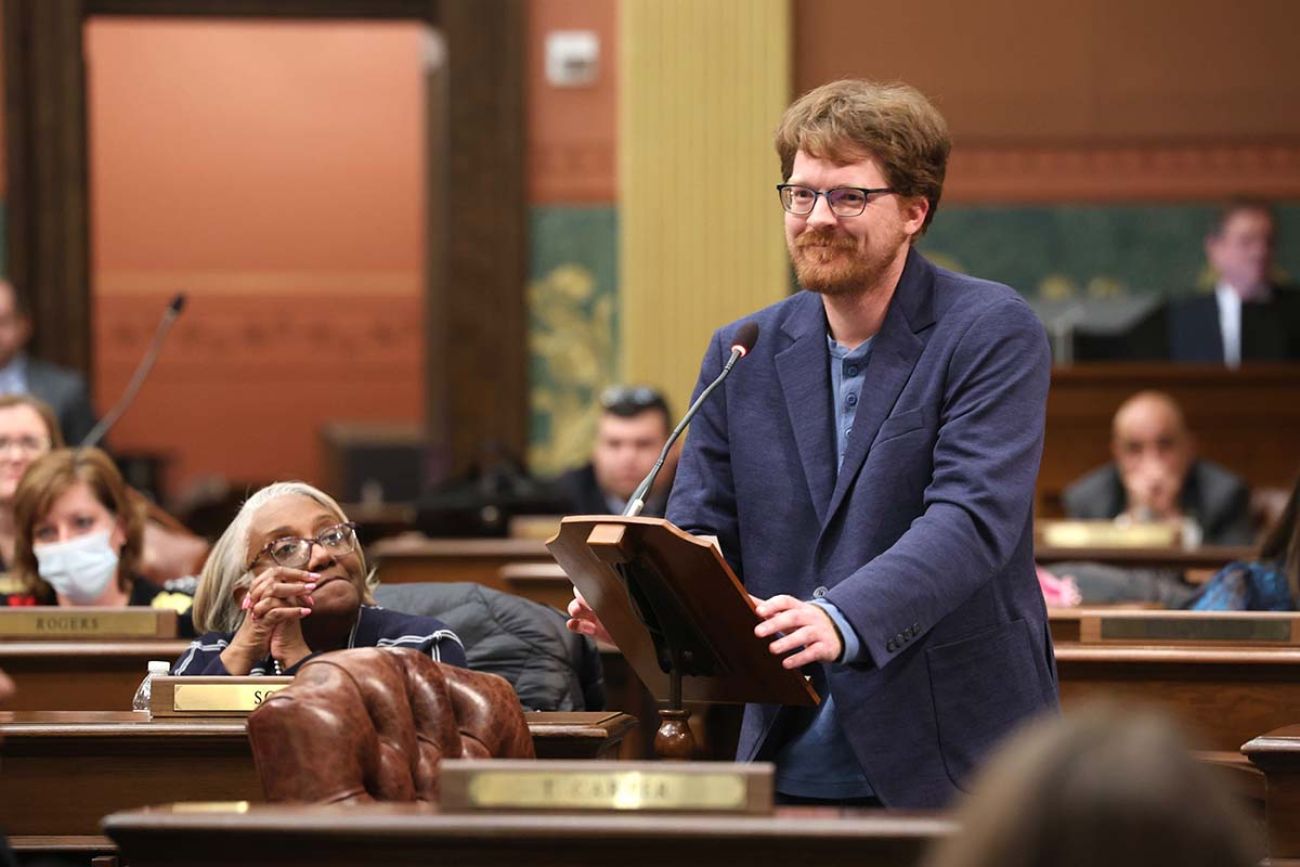 Rep. Joey Andrews, D-St. Joseph, speaks before casting his vote last week on a budget bill. He drove to Lansing shortly after the birth of his daughter to cast a deciding vote that moved the process forward. (Courtesy)
Michigan Government
Democrats, out of power for decades, passing bills in record time in Lansing
In their first month in power, Democrats have wasted no time moving bills
With slim majority, Democratic lawmakers already feeling the pressure to show up and vote despite illness, major life events
Republicans already wary, accuse Democrats of rushing through spending, policy plans without transparency
---
LANSING — Weeks into his new job as a state lawmaker, Rep. Joey Andrews IV left the hospital where his wife had just given birth and caught a ride straight to the Capitol.
The St. Joseph Democrat's vote was needed to break a deadlock over legislation that later morphed into a $1.1 billion spending deal. Too tired to drive, he asked a friend to chauffeur him on the two-hour trip to Lansing, and had to borrow a jacket to comply with the House dress code before blearily casting his "yes" vote.
Andrews said Democratic leaders gave him the choice to miss the session. But when he informed his wife of the situation, he said, "she cried about it," but agreed that he should go.
Related:
"We knew this is what we were signing up for," said Andrews, a 34-year-old attorney who worked as a policy analyst before entering politics. "This was one of those times we hoped that it wouldn't play out this way, but I think all of us know that this is just a possibility."
It's the new reality for Michigan Democrats.
The minority voice in Lansing for nearly 40 years, they won control in both the House and Senate for the first time in decades. Democrats are taking that power and running with it, assembling committees and putting bills on the board more quickly than is typical for incoming leadership.
The speed is in part due to immense pressure to deliver after a resounding win at the ballot box, but also, many lawmakers say, a genuine excitement to get started.
With a 56-54 split in the House and a 20-18 divide in the Senate, Democrats essentially need perfect attendance to overrule a united Republican caucus — and Republican leaders have indicated they plan to wield what power they have.
"If you're going to try a secret spending plan, then get all your Democrats to show up to pass it," House Republican Leader Matt Hall, R-Richland Township, told reporters while waiting for Andrews to arrive for last week's vote.
The complaints intensified Tuesday when House Democrats rushed through a bill to move up the state's presidential primary, a move that Republicans claim would severely diminish their clout because of the Republican National Commitee's rules about scheduling primaries.
No Republicans supported the move and one, Rep. Jay DeBoyer, called it "an ultimate embarrassment of transparency."
For years, it was Democrats raising similar objections about Republican leadership. Gov. Gretchen Whitmer had frequent clashes with the Republican-majority Legislature during her first four years in office, but set an agenda during her State of the State address this month that aligns with her Democratic colleagues in the Legislature.
"It was nice to sit through a speech knowing that those are all attainable goals," said Rep. Laurie Pohutsky, D-Livonia.
Government at warp speed
In their first month in leadership, House Speaker Joe Tate, D-Detroit, and Senate Majority Leader Winnie Brinks, D-Grand Rapids, queued up an array of policy bills, approved a $1.1 billion spending plan and set committee rosters.
Whitmer's signature on the spending bill Tuesday marks the first time since 1947 that legislation was signed the first month of a two-year session, according to an analysis by MIRS News.
Also this week, the House and Senate are poised to take up plans to expand the state's Earned Income Tax Credit for lower-income workers and repeal a tax on pension income signed by then-Gov. Rick Snyder in 2011. Senate-passed legislation to move Michigan's presidential primary further up in the calendar is also expected to come up in the House.
The speed is notable, considering it's typically taken weeks or months just to put committees together in previous legislative sessions, let alone hold votes.
"In past legislatures, you didn't get committee assignments until maybe the beginning of February…we got committee assignments before the State of the State," said Rep. Donavan McKinney, D-Detroit, a first-term lawmaker and former legislative staffer. "I have never been involved in so many meetings. It's a busy time, but it's a great time."
One factor in the Democrats' strategy is upcoming elections that could tip the scales on legislative power once more: 2024 is a presidential election year, and lawmakers serving in the House are up for reelection every two years. Many lawmakers represent competitive seats, and Republicans and Democrats alike will likely face competing pressures from their caucus and constituents.
Local elections in late 2023 could also temporarily upset the Democrats' slim majority. Two lawmakers in solidly Democratic areas, Reps. Kevin Coleman, D-Wayland, and Lori Stone, D-Warren, are running for mayor in their hometowns. If both win, the House will temporarily be tied 54-54 until special elections are held.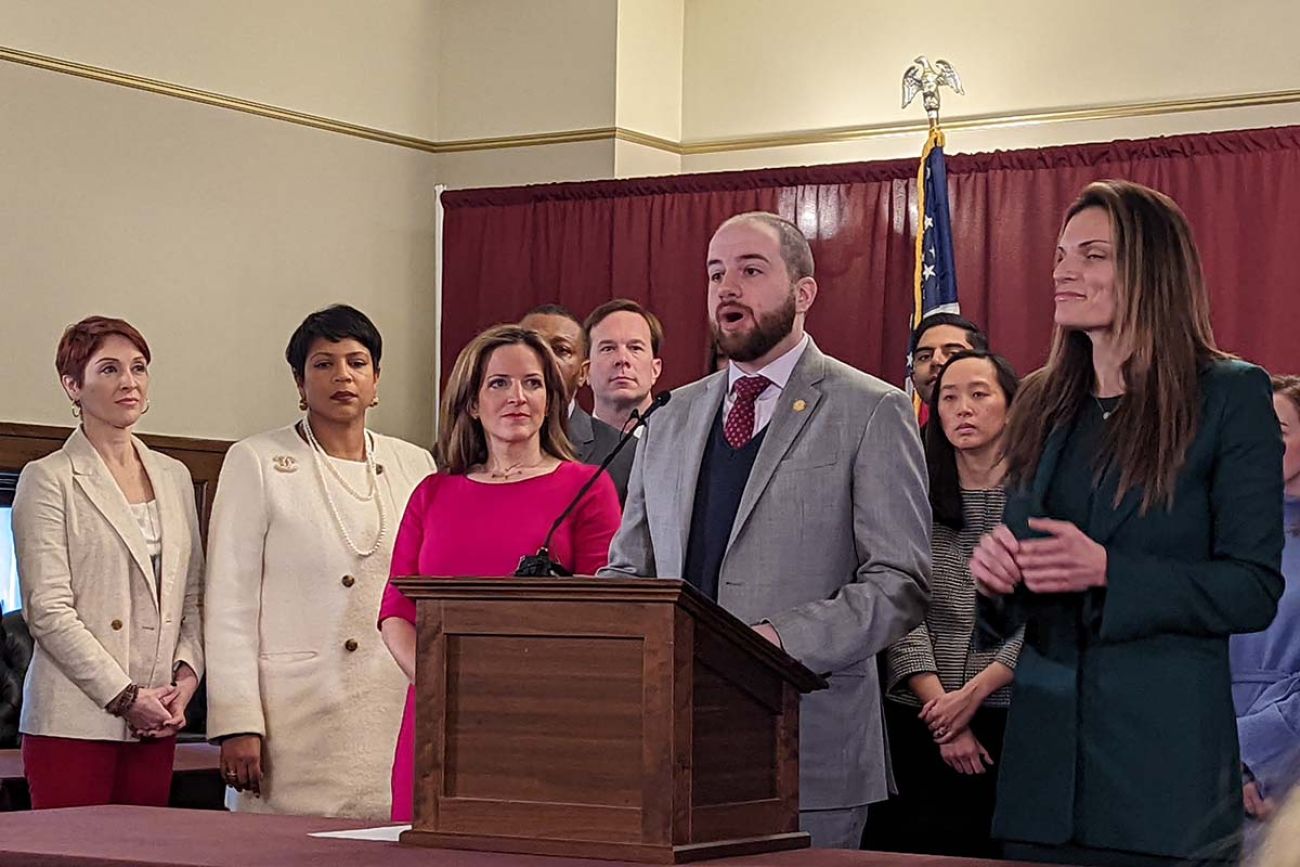 Legislative Democrats, joined by Secretary of State Jocelyn Benson, introduce the caucus election policy agenda, one of many topics deemed a priority by the new majority. (Bridge photo by Lauren Gibbons)
The pace is likely being helped along by the fact that some of the initial issues on the table aren't new and have bipartisan support.
An Earned Income Tax Credit expansion was considered last session under a Republican-majority Legislature and is backed by a large coalition of business, social services, religious and health groups. Ken Sikkema, a former GOP Senate majority leader, said he was encouraged by the Legislature's "quick action" on the Senate plan to increase the credit this term, noting in a statement the law would free up additional funds for workers and assist in the state's economic recovery.
Once Democrats tackle the low-hanging fruit on their legislative agenda, it could get more complicated as individual lawmakers and a slew of stakeholders jockey for attention. In the aftermath of Whitmer's State of the State address, organizations urged the administration and lawmakers to get going on just about everything: education, climate, healthcare, infrastructure, reproductive rights, gun reforms and more.
Most Democrats acknowledge the learning curve that comes with running the show.
Rep. Erin Byrnes, a Dearborn Democrat and first-term lawmaker who is chairing her first House Ethics and Oversight Committee this week, said it's been a "positive whirlwind" of getting acquainted with what it takes to be in the majority.
Her goal is to move her committee's top priority — subjecting the Legislature and governor's office to public records laws — to the floor within the next six months.
"Good timing doesn't even begin to describe what it feels like to be a new Democratic legislator right now," she said.
The need for speed has already put Democratic lawmakers in a pinch. In addition to Andrews' rush back from the hospital to cast his vote, Rep. Natalie Price, D-Berkley, cast votes from the House gallery last Thursday despite having COVID-19, drawing criticism from some Republicans.
Price, in a social media post explaining her decision, said she wore a mask the entire time she was in the building and was only present to cast votes from the gallery. Ultimately, her vote would not have changed the outcome on any of the three bills that came up.
Sen. Jim Runestad, R-White Lake, said he's concerned about what he's seen so far from Democrats, claiming Republicans have been "getting everything at the very last minute," from learning when committees are going to be to the status of negotiations on major legislation.
"Coming right out of the chute, there's a sense on our side of the aisle that we don't have good faith partners on the other end," he said.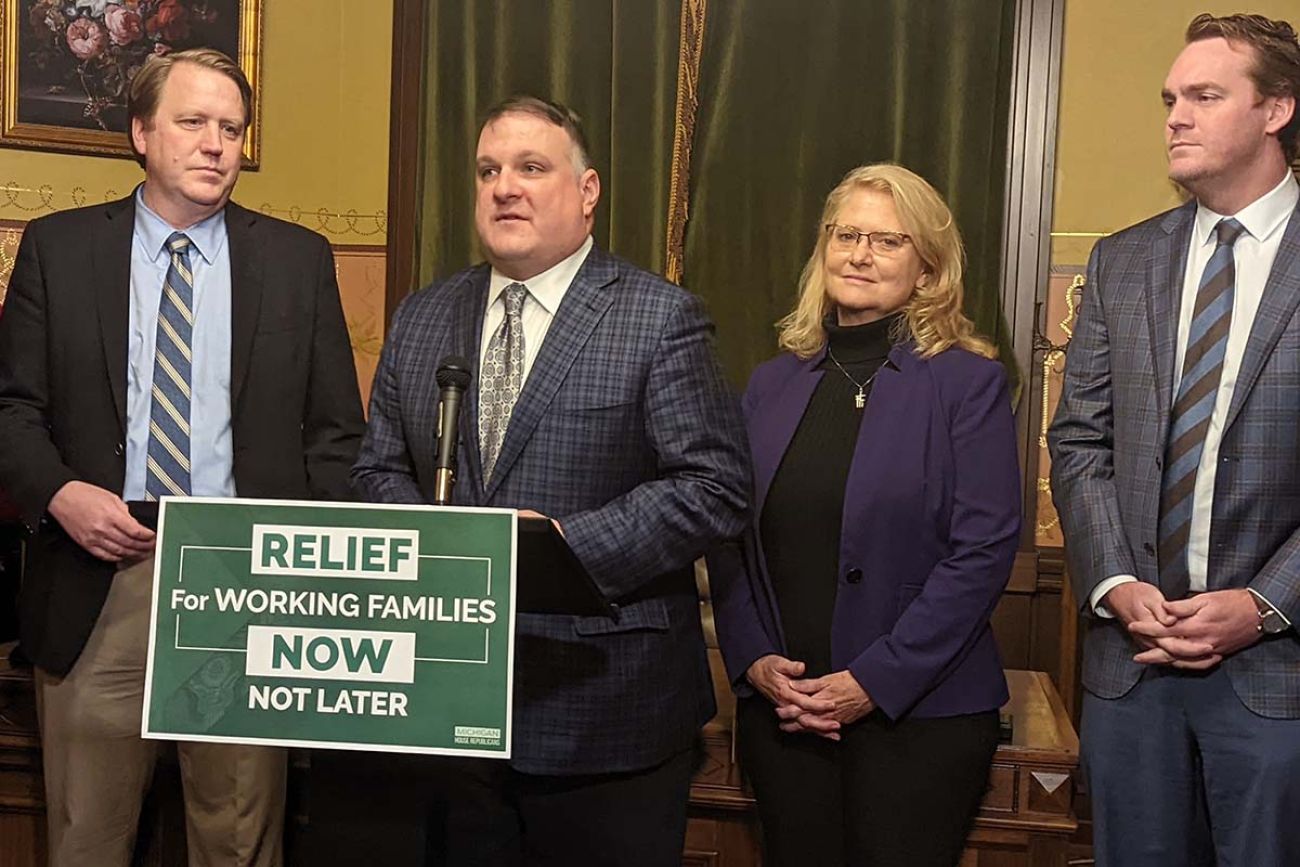 House Republican Leader Matt Hall, R-Richland Township, and Senate Minority Leader Aric Nesbitt, R-Lawton, hope the slim split between majority and minority affords some power to their caucuses. (Bridge photo by Lauren Gibbons)
The cash advantage
Democrats are coming in with an advantage unprecedented in Michigan history: billions of dollars in surplus cash in state coffers at their disposal.
The expected $9.2 billion in revenue surplus is a combination of federal aid and unique pandemic circumstances. It's also one-time funding, meaning that lawmakers can't rely upon it forever, and fiscal analysts recently predicted the state is heading into a 'mild' recession.
In the interim, though, it frees Democrats from needing to make painful budget cuts or ask for tax hikes, leaving more room to push forward other policies they haven't had the last word on for years, said John Lindstrom, a former publisher of Gongwer News Service who has followed Michigan politics for nearly 50 years.
The last time Democrats took control in 1982, Michigan was in an economic crisis, and then-Gov. Jim Blanchard spent most of his political capital the following session ginning up support for an income tax hike, Lindstrom said.
"If you had told anybody at that time, 'One day, 40 years from now, you're going to have a $9 billion surplus, somebody would have slugged you," Lindstrom said. "That money gives you a huge advantage and an even bigger responsibility that you need to consider, and there is no comparable situation ever — ever — in the state."
The Democrats' $1.1 billion spending plan included more than $700 million of general fund dollars as well as unspent federal funds, and included $200 million for a Swedish-owned company to upgrade an Upper Peninsula paper mill, $150 million for affordable housing and $25 million for water prevention shutoffs, among other things.
It's far more than the initial Senate-passed "books closing" bill funding carryover from last term, including money for the state's independent redistricting commission.
House Republicans opposed a version of that bill stripped of all funds except for placeholders, citing concerns with the strategy of sending the bill to a special conference committee instead of putting it through the regular committee process or up for floor debate.
Tate, who served as minority vice chair of the House Appropriations Committee before becoming speaker, countered that conference committees are a common legislative practice.
"We want to move in an efficient manner and actually get things done that we didn't get done in the last legislative session," he said.
Same as the old boss?
Amidst all the upheaval, the legislative process itself hasn't yet changed much, procedurally or politically.
While in the minority, Democrats frequently chided Republicans for playing political games, claiming they were unfairly excluded from negotiations and that the majority lacked transparency when pushing through major policy changes.
Now that the shoe is on the other foot, Republicans are airing similar grievances.
"I think this is what you guys are going to be seeing a lot these two years," Hall told reporters last week. "All we're asking for is, show us what your plans are and we'll vote on it, but until they do, they're not going to get Republican votes."
House and Senate schedules have stuck to the typical Tuesday-Wednesday-Thursday pattern. Legislative committees still have more members of the majority party than the minority, although some Republicans accused Democrats of rejecting House Republicans' committee recommendations and stacking committees with more of their own members. .
The House also plans to continue using voice votes to give immediate effect to bills once they're signed into law, Tate recently confirmed, a procedural move Democrats have previously criticized.
"There are things they will deal with at times where people will say, 'Wait a minute, you used to (complain) when the Republicans did that, and now you're doing the same thing,'" Lindstrom said of the Democrats, noting that party leaders might find it "a little trickier" to keep the high ground when they see the political advantages of certain procedural decisions.
"The Democrats have had no real influence for a long time. You want to proceed and you want to progress, but you also have to be careful as you do so," he continued. "If you need to drive near the cliff, drive near the cliff, don't go over it."
Pohutsky, who serves as the House's speaker pro tempore and often presides over session, said Democrats don't plan on cutting off floor debate as frequently as Republicans did. She said she noticed at one point last week a Republican lawmaker seemed to expect he'd be getting "gaveled down," or cut off from finishing his speech, during a floor debate. She let him continue.
Despite some concerns about what's happened so far, many Republicans expressed confidence they'll be able to find common ground with Democratic counterparts.
Sen. Michael Webber, R-Rochester Hills, previously served in the state House and returned to the Legislature after winning in a politically competitive Oakland County district. He said the Senate hasn't seen much drama so far and complimented the good relationships he's maintained with Brinks and other lawmakers he served with in the House.
"We have some good bipartisan committees that we can work on that I'm a part of," he said. "Health policy, regulatory affairs, that's a lot of the stuff that you can work in a bipartisan fashion on."
Andrews, the representative who left his wife and newborn child to cast a vote, said he believes voters put Democrats in power to do more meaningful legislating and less political grandstanding, and predicted his party would take that edict to heart.
But, he added, Republicans should "get to experience a little bit" of what they put Democrats through over the last few decades.
"I think they're getting a little taste of their own medicine, and they maybe don't like how bitter it is," Andrews said.
Only donate if we've informed you about important Michigan issues
See what new members are saying about why they donated to Bridge Michigan:
"In order for this information to be accurate and unbiased it must be underwritten by its readers, not by special interests." - Larry S.
"Not many other media sources report on the topics Bridge does." - Susan B.
"Your journalism is outstanding and rare these days." - Mark S.
If you want to ensure the future of nonpartisan, nonprofit Michigan journalism, please become a member today. You, too, will be asked why you donated and maybe we'll feature your quote next time!