Detroiters implore redistricting panel to 'do the right thing' and change maps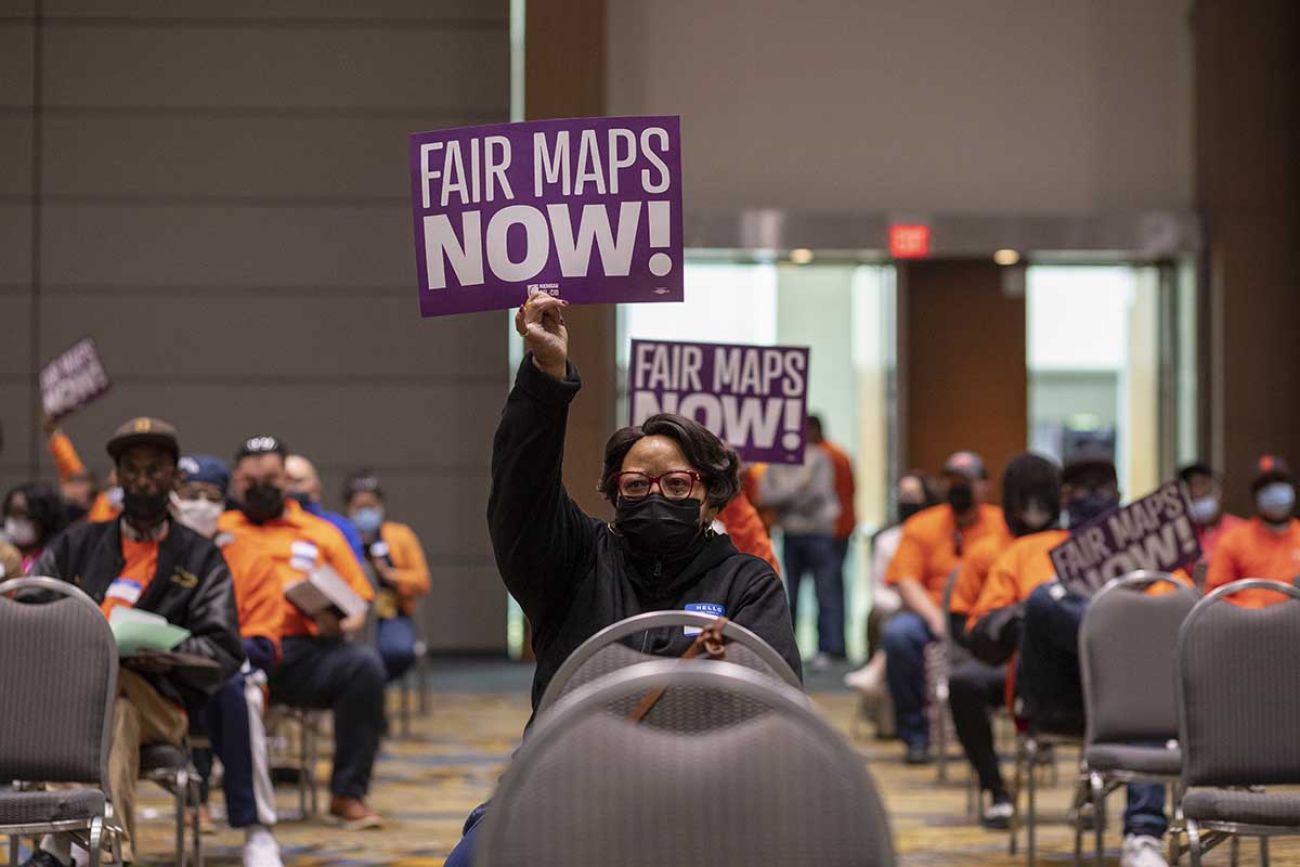 Residents hold up signs protesting the Michigan Independent Citizens Redistricting Commission's proposed maps during a public hearing at the TCF Center in Detroit. (Bridge photo by Elaine Cromie)
Michigan Government
Detroiters implore redistricting panel to 'do the right thing' and change maps
Oct. 21: Facing backlash, Michigan redistricting commissioners may adjust maps
DETROIT— There's one thing Michigan's redistricting panel will take away from Wednesday's hearing in Detroit: Black voters want different maps.
The Michigan Independent Citizens Redistricting Commission kicked off its second round of public hearings at the TCF Center to gather public input on the 20 proposed draft maps put out by the panel last week.
For weeks, the maps have received pushback from African-American leaders, particularly in Detroit. On Wednesday, the 13-member commission heard from residents who said the maps would disenfranchise voters of color by extending districts into the suburbs and lowering their percentages of minority voters.
"The commission's attempt to avoid gerrymandering, and to include African Americans in surrounding suburbs fail to address several important issues that will make electing African-American candidates, or retaining an African American elected official difficult, to virtually impossible in some districts," said Natalie Bien-Aime, a Detroit native and a home care consultant.
The Michigan Independent Citizens Redistricting Commission is continuing with a series of public hearings about draft legislative maps.
All meetings are 1 p.m. to 3:30 p.m. and 5 p.m. to 8 p.m.. Here's the information you need to participate:
Thursday: Lansing Center, 333 E. Michigan Ave., Lansing
Friday: Amway Grand Plaza, 187 Monroe Ave. NW, Grand Rapids
Monday: Treetops Resort, 3962 Wilkinson Road, Gaylord
Tuesday: Dort Financial Center, 3501 Lapeer Road, Flint
She added the maps do not represent the best interests of voters in Detroit, the nation's largest majority-Black city.
Related:
Michael Joseph, the president of the Detroit chapter of the Coalition of Black Trade Unionists, told the commission it was "failing" Detroiters."
"We must protect the rights of the people," Joseph told the commission. "Do the right thing."
On and on it went during the hearing that stretched into the evening.
At the core of the concerns is whether the commission is following the Voting Rights Act of 1965, a federal law created to protect the voting rights of minorities.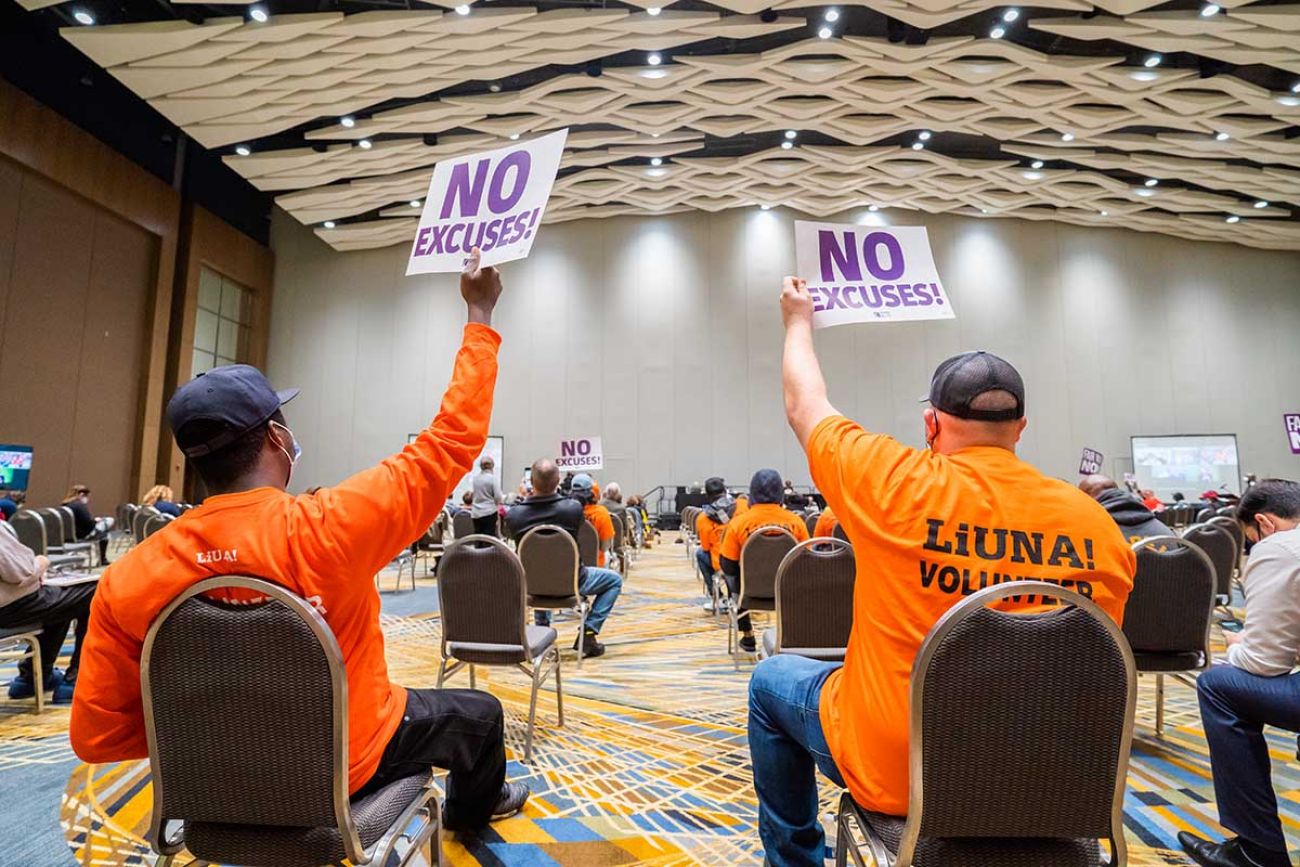 The Michigan Independent Citizens Redistricting Commission voted 7-5 not to release memos from attorneys. (BridgeDetroit Photo by Valaurian Waller)
Among other things, the law aims to ensure that voters of color can elect candidates of their preference, without their votes being diluted by packing them in a district, or spreading them around to other areas.
Currently, there are 17 districts in the state Legislature where people of color are the majority (known as majority-minority districts.)
In the state House, for example, there are three districts composed of 90 percent Black voters, including one represented by Stephanie Young, D-Detroit, that is 97 percent Black.
But the commission's proposed maps would only have one district over 50 percent Black residents out of the new 161 districts.
Brittni Kellom, a Democratic redistricting commissioner and a Detroiter, told reporters Wednesday the panel is listening, and is likely to act on the feedback.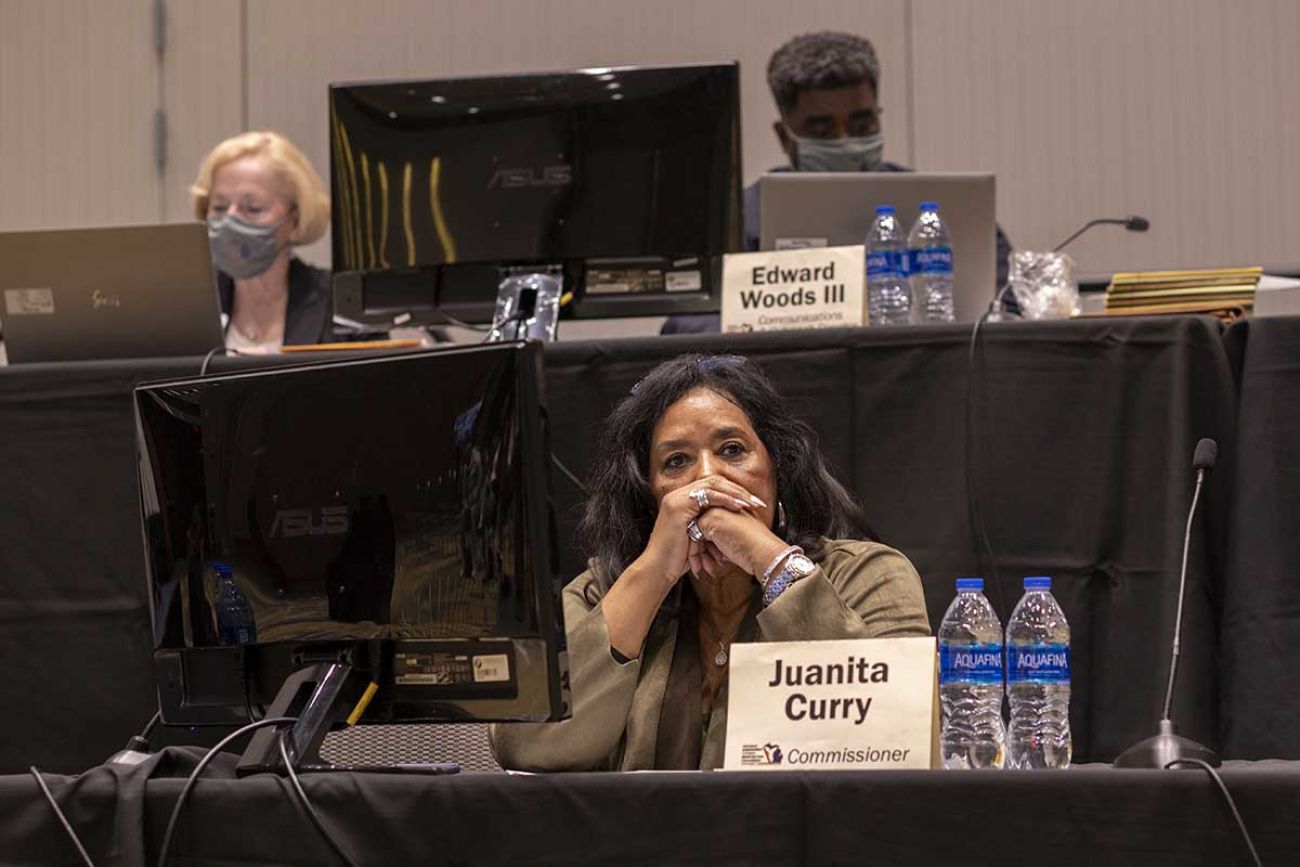 Michigan Independent Citizens Redistricting Commission members listen as residents give them an earful about proposed maps during a public hearing Wednesday at the TCF Center in Detroit. (Bridge photo by Elaine Cromie)
"Everything has been a hurdle, so I'm confident that we'll be able to triumph once again," Kellom said. "Again, we won't make everyone happy, but there's no way we could possibly ignore what was said today."
The Michigan Independent Citizens Redistricting Commission was created by voters in 2018 after the state for decades allowed the political party in Lansing power to draw political boundaries after the decennial census, a process that led to gerrymandering that benefited Republicans.
The commission has been following the advice of Bruce Adelson, its voting rights attorney, and Lisa Handley, its partisan fairness analyst.
They have both suggested the panel can meet the Voting Rights Act requirements with districts that are 40 to 45 percent Black.
This strategy has raised concerns.
Late Wednesday, the director of the Michigan Department of Civil Rights, John E. Johnson, Jr., came out against the maps, saying they violate the Voting Rights Act, according to an analysis from his department.
"Make no mistake: the decisions you make and the lines you draw will either protect the rights of minorities or ensure that for a decade to come, some Michigan voters will no longer have a voice in decisions that directly impact their lives," he said in a statement to the commission.
The department is expected to publicly follow up with its criticisms in Lansing on Thursday.
The objections follow a report this week from Michigan State University professors that also raised similar points about the maps' compliance with the Voting Rights Act.
Before Wednesday's public hearing, over 50 residents, lawmakers and union activists gathered for a Black Voters Matter rally outside the TCF Center.
Sen. Adam Hollier, D-Detroit, told the crowd the draft maps do not help promote Black power or Black issues.
"It is not helping to draw fair, competitive maps by pushing and cracking and diluting the Black vote," Hollier said. "It's really important that when we talk about these spaces we understand that going from 17 majority-Black districts to zero is unacceptable."
The panel will have only the week of Nov. 1 to deliberate and make adjustments to the maps, which are scheduled to be voted on on Nov. 5.
But not everyone is as hopeful the commission will act.
Jerron Totten, the legislative advocacy specialist at LGBT Detroit, a nonprofit awareness group, told Bridge Michigan the issue will likely end in litigation.
"I don't think that they're interested at all in redrawing the maps," Totten said. "The frustration is that this commission is not incompetent, but they have, they have ignored us."
We're not just a news organization, we're also your neighbors
We've been there for you with daily Michigan COVID-19 news; reporting on the emergence of the virus, daily numbers with our tracker and dashboard, exploding unemployment, and we finally were able to report on mass vaccine distribution. We report because the news impacts all of us. Will you please support our nonprofit newsroom?