Do red flag gun laws work? Answer unclear as Michigan eyes reform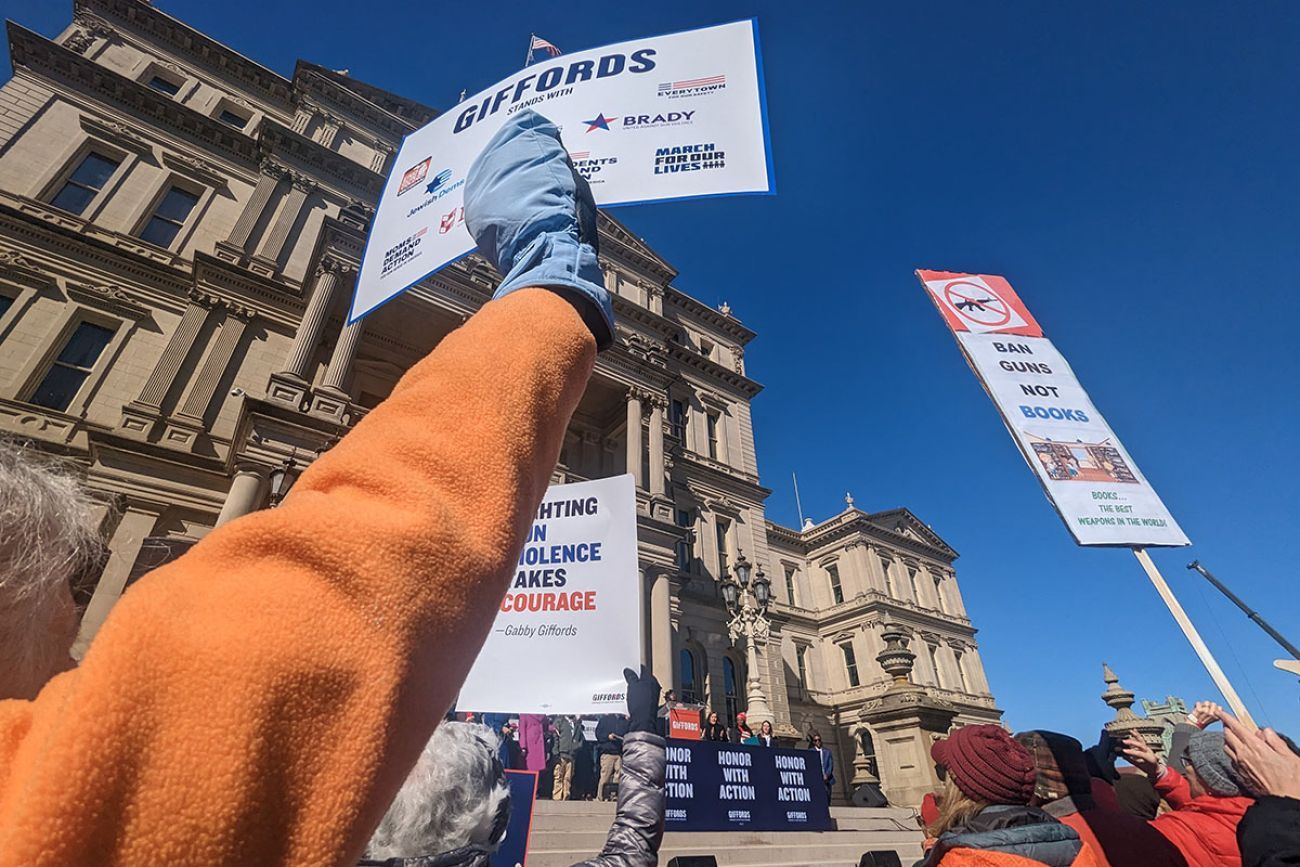 Research suggests that red flag laws in 19 states and Washington, D.C. don't use red flag gun laws enough to make a serious dent in crime. But advocates say the laws can prevent tragedies. (Bridge photo by Yue Stella Yu)
Enforcement of red flag laws is mixed, varies from state to state and county to county
The results in Florida, Colorado and Hawaii may offer some lessons for Michigan
Advocates argue the laws have merit, while foes say they deny due process
---
LANSING — Michigan lawmakers this week may approve a series of gun reform measures, including the so-called "red flag" law to allow judges to authorize the temporary seizure of guns from those deemed dangerous to themselves or others.
Nineteen states and Washington, D.C. have similar laws, many passed in the past five years. The laws are rarely enforced and enforcement varies from state to state and county to county, Bridge Michigan found reviewing research and through interviews with lawmakers, sheriffs and judges.
Even supporters who say the laws can prevent tragedies acknowledge their effectiveness is hard to measure.
Related:
"If a crime doesn't occur, how do you quantify that?" said Jack Tuter, chief judge of the 17th Judicial Circuit in Broward County, Florida. The state adopted the red flag law in 2018 after a teen gunman killed 17 people at the Marjory Stoneman Douglas High School in the city of Parkland the same year.
Nationwide, about 15,000 people in 19 states and the District of Columbus had guns removed since 2020 as a result of red-flag laws, according to an investigation in September by the Associated Press, which deemed the rate "woefully low and not nearly enough to make a dent in gun violence."
Effectiveness "depends on how many (orders) are being used and how well targeted they are to people who are risky," April Zeoli, policy core director of the Institute for Firearm Injury Prevention at the University of Michigan, told Bridge.
"They have to be implemented to make a difference."
Likewise, there is little research to know if the laws work, Bridge has reported. Some studies have found the laws could reduce gun-related suicides or mass shootings, but researchers say more study is needed before reaching conclusions.
How the laws work
Red flag laws are similar nationwide: In all 19 states and D.C., law enforcement officers can petition a judge to issue an emergency extreme risk protection order that allows them to take away firearms immediately if the judge believes someone is at risk of hurting themselves or others.
In 12 of those states and D.C., families and household members can also petition for an order, according to the advocacy group Everytown Gun Research and Policy.
In Hawaii, California and Illinois, educators and physicians can also file such petitions.
In most of the states with red flag laws, the temporary order lasts up to 14 days, and the court must hold a hearing within that time period to allow the person to defend themselves and contest the order. After that, the judge can grant a final order that can last anywhere from six months to five years, and petitioners can apply to extend the orders before they expire.
Michigan Democrats are pushing for bills that would allow law enforcement officers, spouses and mental health professionals to file a petition, and if a judge issues a temporary order, the court must hear the case within 14 days after the order is served.
The legislation cleared the Democrats-led Senate and is before the House, where Democrats also hold a two-seat majority. Other gun proposals up for consideration this week include universal background checks for all firearm sales, mandate safe storage of guns and provide tax breaks over safety device purchases.
While some polls show a majority of Michiganders favor stricter gun measures, red flag law has the least support and is often the most controversial.
Here's how three other states enforce red flag laws and what officials say about them.
Florida: High enforcement, low objection
Extreme risk protection orders are most frequently used in Florida, the Associated Press analysis shows.
In Florida, only law enforcement officers can petition the court for an extreme risk protection order, while judges can issue temporary orders. A formal hearing must occur within 14 days to allow the gun owner to contest the seizure.
Following the hearing, the judge can issue a final order to confiscate the gun for up to 12 months. Law enforcement officers can request an extension of up to an additional 12 months.
From July 2022 and January 2023, Florida officers requested 2,127 orders, 1,701 of which were granted, according to data from the Office of the State Courts Administrator in Florida. That's in a state with millions of guns, including 2.6 million people with concealed weapon permits. A 2020 RAND Corp. study estimated 35.3 percent of Florida's 8 million households owned a gun.
Tuter, the Broward County judge who was first appointed to the bench by former Republican Gov. Jeb Bush in 2005, said he supports the state's red flag law and was the first judge to hold an extreme risk protection order hearing.
Temporary orders are almost always granted, Tuter said, since police request them.
"It's hard for a judge to say, 'Well, you are wrong, officer.' What do I know if he's wrong or right?" he said. "At the initial stages, I would say you would be hard-pressed to see anywhere in the country" where temporary orders are rarely granted, he said.
The county is the second-largest in Florida and issued 138 final extreme protection orders from July 2022 to January — the fifth most in the state — including one in October from a 17-year-old student who had threatened to kill all students at the Seagull Alternative High School in Fort Lauderdale, Florida.
Critics have argued Florida's red flag law violates due process and affects low-income residents who cannot afford an attorney.
In southwest Florida, 80 percent of residents who had guns removed did not have lawyers to defend them, Naples Daily News reported in 2019. However, judges approved 90 percent of those orders regardless of whether defendants had lawyers, the paper reported.
For all the controversy, Tuter and other law enforcement in Florida said many don't even contest orders and willingly give up their guns.
"I was surprised initially … how often people just let them walk in and just search their houses for weapons," he said.
Tuter acknowledged the system is not perfect. He said that some gun holders could slip through the cracks if officers did not have evidence of gun ownership, such as registration records, to back up the search.
"They can't prevent people from lying to them with an unregistered weapon," he said. "There is no perfect system to this."
Colorado: Second Amendment sanctuaries
In Colorado, family members can also petition judges to remove guns from relatives, but more than half of the counties refuse to enforce the state's red flag law by declaring themselves a "Second Amendment sanctuary."
Similarly, Cass and Iron counties in Michigan have passed resolutions declaring themselves as Second Amendment sanctuaries or announcing they would not enforce any gun reform measures passed in Lansing.
Between 2020 and 2022, the extreme risk protection order was granted 151 times in Colorado, averaging 3.3 cases per 100,000 residents, by the Associated Press' count. The 2020 RAND Corp. study estimated 45.1 percent of Colorado's 2.2 million households own guns.
In El Paso County, one of the Second Amendment sanctuary counties and the most populous county in Colorado, judges only granted 1.1 orders per 100,000 adults, according to a Colorado Public Radio analysis of data between January 2020 and November 2022.
The county attracted controversy after a 22-year-old gunman shot and killed five people and injured another 17 at Club Q in Colorado Springs last November. He had made bomb threats in June 2021, but the case was dropped against him, Colorado Public Radio reported.
Critics say the shooting could have been prevented if law enforcement had applied for an extreme risk protection order under the red flag law. But Sheriff Bill Elder had pledged he would limit his office's use of the law, and his officers never filed a petition for an extreme risk protection order, according to Colorado Public Radio.
Elder's office declined an interview with Bridge. Elder spokesperson Karla Schmidt instead pointed to a statement the sheriff's office issued in December and a news article on why the red flag law would not have applied to the Club Q shooting.
In the statement, the sheriff's office said all guns belonging to the shooter found in 2021 were confiscated and an extreme risk protection order would have been "redundant and unnecessary" since a different order already barred the shooter from legally owning a gun. That order expired in July 2022.
Red flag laws are used far more in Denver.
Police there created a team of three detectives and a sergeant to determine how to apply red flag laws, Joe Montoya, Division Chief of Investigations at the police department, told Bridge. The team provides training for "street officers" who will most likely encounter situations where the law may apply, he said.
"We instructed if you come across something that fits in one of these categories or meets the criteria, that you call one of the on-call detectives," he said. "They … take it over from there. We didn't want officers having to make these decisions on their own because that's where you can get yourself in trouble."
Montoya said the enforcement must go hand-in-hand with providing mental health support to those in need. He noted clinicians often ride with officers to respond to mental health calls.
"We don't just take the gun and say, 'Hey, we'll see you in a year,'" he said. "We want to get that out of their hands, so they don't cause any damage to (anybody) or hurt anybody or themselves, but we also try to work with them to get them the resources to get the help they need."
Most people who filed for an extreme risk protection order were private citizens, but law enforcement officers' petitions were more likely to be granted, the Colorado Public Radio analysis shows.
Tuter, the Florida judge, told Bridge it's better to let trained law enforcement officers alone apply for the orders since family members could use the law for "retaliation."
Hawaii: Infrequent use, low gun violence
Hawaii is among states with the strictest gun laws, and allows not only relatives and police but also health care workers, educators and co-workers to apply for extreme risk protection orders.
The state has only used the red flag law once since it took effect in 2020, the Associated Press analysis found.
Hawaii state Sen. Karl Rhoads, a Democrat who sponsored the law in 2019, told Bridge in an email that's because the state doesn't "have much gun violence to start with."
Hawaii had the lowest gun death rate in the country in 2020 and constantly ranked the lowest among all states, according to data from the Centers for Disaster Control and Prevention.
But the state has had upticks in shooting deaths in recent years, prompting some state lawmakers to revisit the state's gun laws.
Andrew Namiki Roberts, a director with the gun rights advocacy group Hawaii Firearms Coalition, advocated against the red flag law before its passage. In a 2019 Facebook post, Namiki Roberts gave detailed descriptions of a hypothetical scenario of a shootout when forcefully served the order.
"It's very much 'Take the guns away, due process after,'" he said. By the time someone goes to trial, "the judges already had the evidence against you," he said.
Namiki Roberts worried the red flag law could be abused, noting judges almost always side with the petitioners and advocates have urged for more enforcement. Instead of confiscating guns, he said it makes more sense to allow psychiatric holds on those with mental health issues when there are signs of threat.
Tuter, the Florida judge, disagreed.
"At best, it's a temporary seizure for 14 days, and if the person convinces the judge that there was no grounds for that, then they can get their weapons back," he told Bridge.
"That's the give or take we (have) in a democracy," he added.
Only donate if we've informed you about important Michigan issues
See what new members are saying about why they donated to Bridge Michigan:
"In order for this information to be accurate and unbiased it must be underwritten by its readers, not by special interests." - Larry S.
"Not many other media sources report on the topics Bridge does." - Susan B.
"Your journalism is outstanding and rare these days." - Mark S.
If you want to ensure the future of nonpartisan, nonprofit Michigan journalism, please become a member today. You, too, will be asked why you donated and maybe we'll feature your quote next time!