With Gretchen Whitmer on national stage, Michigan Dems plot to dump Trump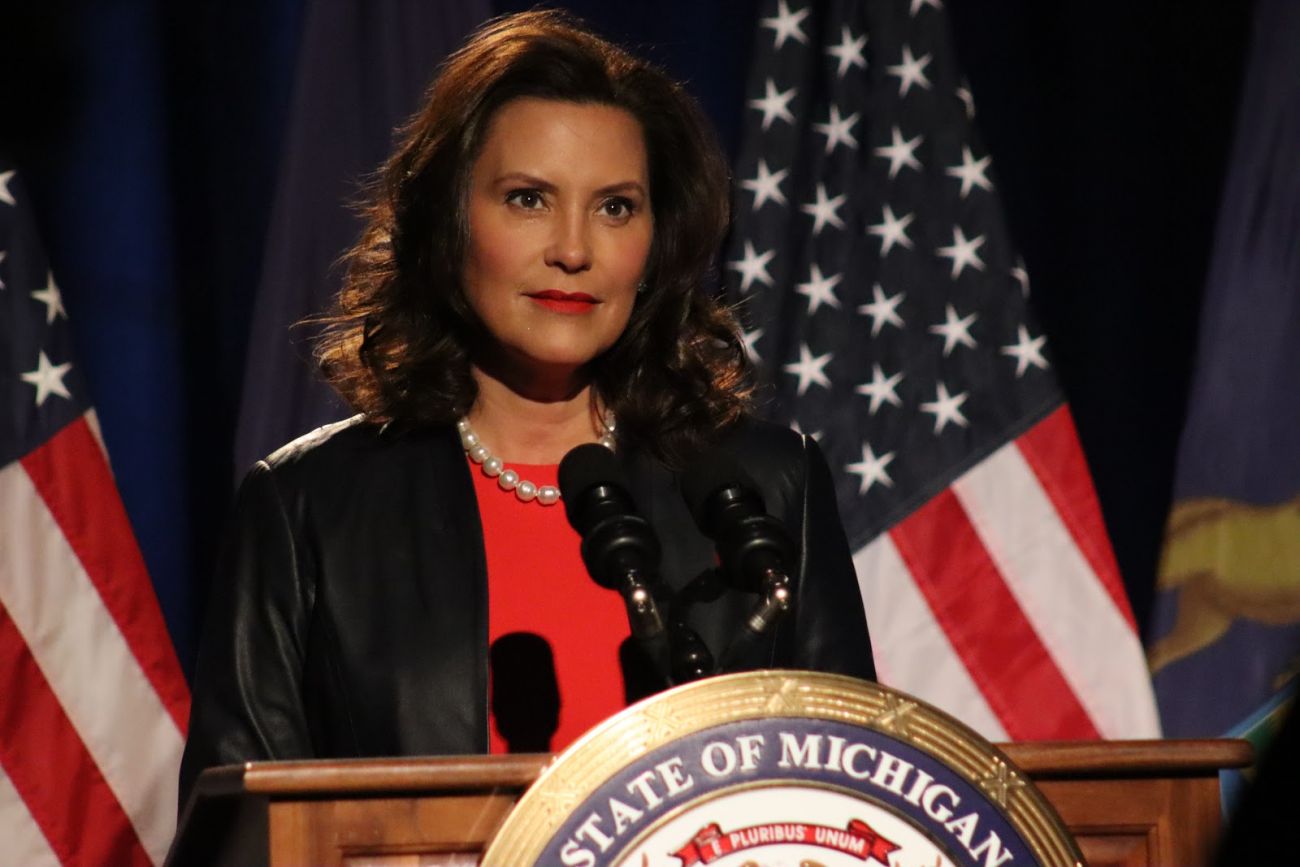 LANSING — Michiganders stepped up to fight COVID-19 while President Donald Trump was fighting scientists trying to slow it, Gov. Gretchen Whitmer said Monday night in a prime-time address at the Democratic National Convention.
"Over the past few months, we learned what's essential: rising to the challenge, not denying it," Whitmer said."We've learned who is essential, too. Not just the wealthiest among us. Not a president who fights his fellow Americans rather than fight the virus that's killing us and our economy. It's the people who put their own health at risk to care for the rest of us."
Whitmer spoke from a UAW Local 652 union hall in Lansing, where she addressed viewers on the first night of a four-day virtual convention that will culminate Thursday with former Vice President Joe Biden accepting the party's presidential nomination to take on Trump in November. He'll be joined by newly named running mate Sen. Kamala Harris of California.
Related stories:
Biden picked Harris over Whitmer, but Michigan Democrats say the governor's prominent role in the convention points to her rising profile and the electoral importance of the state. Trump narrowly won Michigan in 2016, becoming the first Republican presidential candidate to carry the state since 1988.
Whitmer previewed an attack Democrats will use against Trump this fall: His failure to take the coronavirus seriously allowed it to spread, killing more than 170,000 Americans and doing more damage to the national economy than it should have.
The governor praised Detroit auto workers who pivoted from assembling vehicles to producing personal protection equipment during the pandemic, highlighting Biden's role in the 2008-09 auto bailout that helped General Motors and Chrysler avoid collapse.
"President Obama and Vice President Biden saved these autoworkers' livelihoods," Whitmer said in her roughly four-minute speech. "Then these workers did their part to save American lives. That's the story of this great country. Action begets action. Progress begets progress. And when we work together, we can accomplish anything."
Whitmer, who went viral for what she didn't say after silently mouthing an expletive during a "hot mic" moment before her speech, was part of an opening night focused on what the DNC called "monumental challenges" facing the country, including the pandemic, economic turmoil and racism. The program also featured family members of George Floyd, whose death at the knee of a Minnesota police officer sparked national protests, and a woman whose father died of COVID-19.
"This election is going to be all about the way Trump has handled the COVID-19 pandemic," said Bernie Porn, a pollster with EPIC-MRA in Lansing. "People are worried about the economy. They want the economy to be opened up so that they can get back to jobs."
While voters had liked Trump's handling of the economy prior to the pandemic, most don't like the way he has responded to COVID-19, Porn said. In a recent poll of 600 Michigan voters, 39 percent gave Trump a positive job rating, compared to 57 percent for Whitmer.
Republicans, who will hold their own national convention next week, on Monday pivoted from attacking Whitmer for "auditioning" for vice president to accusing her of "auditioning" for a position in the Biden administration. Ahead of her speech, Michigan GOP officials criticized Whitmer's response to COVID-19, including a controversial nursing home policy they say has cost lives and a cancelled contract to a political vendor that delayed a contact tracing effort.
"At the end of the day, she does not know how to govern, and she's one of the people advising Joe Biden on how to govern, which is just laughable," U.S. Rep. Bill Huizenga, R-Zeeland.
Haunted by 2016
Michigan Democrats are riding high after a strong 2018 election that put Whitmer in office and polls showing Biden with a lead in the state. But those polls are essentially even with where they were four years ago, when Trump won Michigan by the smallest margin in modern history: 10,704 votes.
"This is the number I see every night when I close my eyes to go to sleep," Michigan Democratic Party Chair Lavora Barnes told Bridge on Monday. "It's the reason we woke up the day after [the 2016 election] and realized we had to build a grassroots organization here in Michigan."
Barnes and other Michigan Democrats say they earned a bitter lesson from 2016 when Hillary Clinton devoted most of her resources to other states.
Only when late polls suggested her "blue wall" of reliable Democratic states could crumble did Clinton make a last-minute trip to Grand Rapids and send surrogates to other parts of Michigan, including former President Barack Obama to Ann Arbor and her husband, former President Bill Clinton, to Detroit.
"No one is relaxing," said former Michigan Gov. Jim Blanchard, who backed Biden early in the primary cycle and has helped his campaign raise money in the state. "I think people are still suffering from the trauma of Trump carrying Michigan, albeit only by 10,704 votes. People are watching it pretty carefully, including Joe Biden."
It's unclear whether Biden or Trump will rally here again in person this year given the ongoing pandemic. But only Biden's campaign is currently airing extra television ads in Michigan beyond national ones both he and Trump are airing in the state.
A recent EPIC-MRA poll of 600 likely voters showed Biden an 11-point lead over Trump in Michigan, but that was down from a 16-point lead in June, and "I'm sure that the race will tighten up as we near election time," Porn said.
While Clinton led polls here four years ago but still lost Michigan, she never topped 50 percent like Biden has in recent surveys, Porn said, predicting it will be a "tough, uphill battle" for Trump to win the state a second time.
While the virtual convention lacks the pomp and circumstance used to fire up party supporters, Democrats said that excitement happened last week when Biden selected Harris as his running mate, making her the first African-American and Indian-American woman ever nominated as vice president by a major political party.
Virgie Rollins, a Detroiter who chairs the DNC Black Caucus, had predicted Biden would lose Michigan if he selected Whitmer despite her relative popularity in the state. But in a Monday meeting, she and other Black Democrats suggested Harris will motivate voters of color who turned out for Obama in 2008 and 2012 but were not excited by Clinton in 2016.
"I am so proud and excited for her and for what this means for her and all of us," Rollins told Black Caucus members by livestream from Studio A at the Motown Museum in Detroit. "It fills my heart with joy."
Harris will likely help Biden in the general election, "especially with suburban women, both Black and white" who broke sharply for Democrats in 2018, Porn said.
Biden was one of the more moderate candidates in the Democratic primary. Harris, who also had sought the presidential nomination, positioned herself as a progressive, and Republicans argue Biden has adopted "radical" policies in an attempt to appease the left wing of his party.
Huizenga, in a Monday afternoon press call with the Trump Victory joint re-election committee, argued that Biden's $2 trillion plan to fight climate change would force major tax increases and "devastate Michigan's economy."
"Prosperity for the middle class is on the line right now," he said.
Biden has promised to pay for his climate and clean energy plan, in part, by rolling back Trump tax cuts for the wealthy and corporations. He's pledged not to raise taxes on anyone making less than $400,000 a year.
The plan is one of the things that makes Biden appealing to progressives who supported Vermont Sen. Bernie Sanders in the presidential primary, said Michelle Deatrick, an Ann Arbor-area activist who is chair of the DNC's Council on the Environment and Climate Crisis and represented Sanders on the national party's platform committee.
"The big tent is coming together," Deatrick said. "We're going to do everything we can to get that mess out of the White House."
GOP defectors back Biden
Whitmer and other Michigan Democrats swept the top of the ticket in a 2018 midterm election that functioned as a referendum on Trump, but Republicans contend they have a good shot to win the state again with the president back on top of the ballot.
A series of high-profile Republicans have defected from the party during Trump's tenure, however, including former Gov. John Kasich of Ohio and former New Jersey Gov. Christine Todd Whitman, both of whom spoke in support of Biden on Monday night during the Democratic convention.
Giving Republicans stage time at a Democratic convention drew howls from some party officials, but Kasich and Whitman were invited to show "silent Joe Biden voters" in the GOP voters that it's OK to support the former vice president, said U.S. Rep. Cedric Richmond of Louisiana, who serves alongside Whitmer as a national campaign co-chair for Biden.
Michigan Republican Party Chair Laura Cox chalked up Kasich's appearance to "sour grapes" from a failed presidential candidate who lost to Trump in the 2016 GOP primary.
"Whatever — he's irrelevant to us right now," she said. "He let an enormous amount of people — Republicans — down."
Whitman, meanwhile, is a "pro-choice" and "very liberal woman that tried to fit into the Republican Party," Cox said. "She wasn't comfortable and she's probably much better suited speaking to Democrats."
Michigan's 2016 presidential election was marked by voter apathy and frustration with the major-party candidates, especially Clinton. More than 75,000 Michiganders who cast ballots didn't even bother to vote for president, and more than 250,000 voted for a third-party candidate, the most since 1996.
Both parties now claim unprecedented enthusiasm heading into the fall.
"We say every cycle, 'this is the change election, this is the most important election of our lifetimes', but many people recognize this really is such a critical moment in the future of our country that we all have to step up and be heard," said Barnes, who has led Michigan Democrats since 2019. "And that means you don't skip part of your ballot. You don't skip this election."
Only donate if we've informed you about important Michigan issues
See what new members are saying about why they donated to Bridge Michigan:
"In order for this information to be accurate and unbiased it must be underwritten by its readers, not by special interests." - Larry S.
"Not many other media sources report on the topics Bridge does." - Susan B.
"Your journalism is outstanding and rare these days." - Mark S.
If you want to ensure the future of nonpartisan, nonprofit Michigan journalism, please become a member today. You, too, will be asked why you donated and maybe we'll feature your quote next time!