A third of Michigan's COVID deaths are in nursing homes. Who is to blame?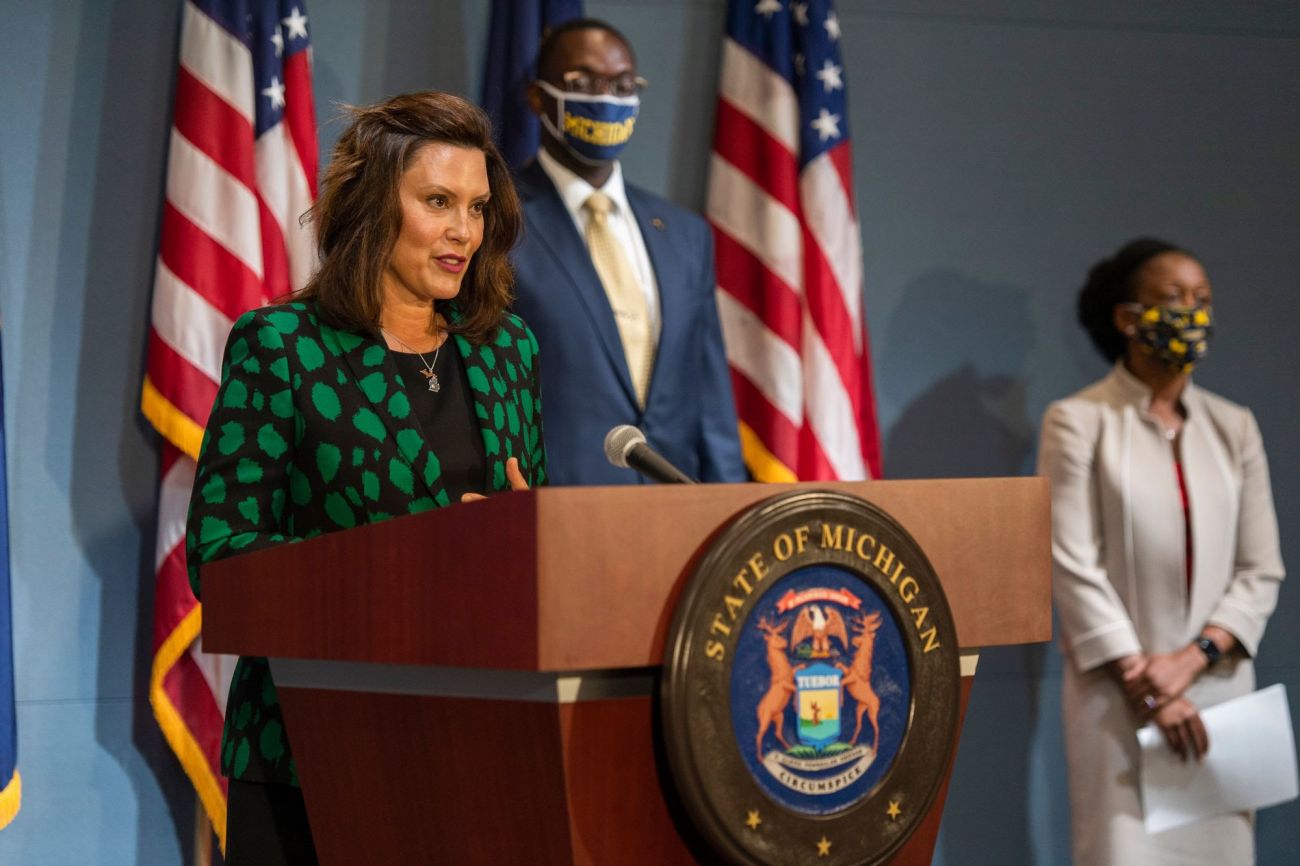 Connie Felstow died alone, infected and isolated in a hospital intensive care unit after contracting COVID-19 at the nursing facility she'd called home.
When her husband of 43 years died less than a month later, doctors attributed it to an aortic aneurysm; relatives blamed a broken heart.
"Ron just kind of gave up when he lost Connie," said Michelle Strickler, Connie's sister. "So we've lost both, and it makes it even harder to accept."
Felstow lived at Medilodge of St. Clair, an eastern Michigan nursing facility that has admitted or readmitted 59 residents previously diagnosed with COVID-19, according to federal data, and has reported 94 total cases to date.
Strickler said local health officials repeatedly assured her the nursing home had protocols to protect her sister despite patient transfers. But two weeks after testing negative for COVID-19, Felstow, 68, tested positive in the home and died at a nearby hospital May 21.
She is one of nearly 2,000 nursing home residents who have died from COVID-19 complications in Michigan, a tragedy that has prompted harsh criticism of Gov. Gretchen Whitmer and her policy that allowed recovering seniors back into facilities where they may have exposed peers.
Strickler can't say for sure how her sister contracted the virus, but she assumes it was either spread by newly admitted residents or nursing home staff.
"It just really sickens me to think that we put [Connie] in a facility that would put her at risk like this," she said.
Michigan ranks among the top ten states for nursing home deaths, prompting a partisan congressional inquiry and bipartisan action in the state Legislature to create COVID-only facilities that would house infected nursing home residents.
But experts say it is too soon to determine the effectiveness of strategies that Whitmer and other governors continue to modify in the middle of the global pandemic. While Michigan failed to protect its most vulnerable from the virus, new data show it is not alone.
As the coronavirus surges south, states such as Florida once heralded for protecting seniors by creating COVID-only facilities are seeing dramatic spikes in nursing home case counts. And without universal testing to ensure staffers are not transmitting the virus, experts say senior care facilities may remain at the mercy of the virus so long as it spreads outside their walls.
"It's bleak everywhere," said Brian Lee, executive director of Families for Better Care, a national nursing home watchdog group that advocates for policy and safety improvements. "There's not a single state I've watched that's doing things well when it comes to our loved ones who live in these facilities."
Hospital discharges
As of Wednesday, 7,582 Michigan nursing home residents had contracted COVID-19 and 1,986 had died since March, accounting for approximately 32 percent of all coronavirus deaths here. Michigan is not yet reporting data from assisted-living facilities and other long-term care centers that also house seniors.
The virus hit Michigan earlier and harder than most states, and nursing home spread has slowed considerably here in recent months despite small recent upticks.
Whitmer closed nursing homes to visitors on March 13, three days after Michigan confirmed its first two cases of COVID-19. A month later, with hospital capacity dwindling in metro Detroit, she signed an order that required nursing homes to accept "medically stable" patients previously hospitalized for COVID-19, so long as the facilities had set up isolation units and had access to adequate personal protection equipment, which was in short supply at the time.
Elder care groups cautioned the governor against that approach, fearful hospital discharges would bring the virus into clean facilities and expose other residents to the virus. They wanted Michigan to use vacant buildings for the kind of COVID-only facilities Florida would soon open.
But the Whitmer administration says it never enforced the hospital transfer rules. Instead, shortly after the governor's order, the state told nursing homes to "postpone movement of COVID-19 affected residents, except as required for medical reasons" until they received further guidance, according to the Department of Health and Human Services.
Michigan also designated some nursing homes as "regional hubs" that it determined were better equipped and able to care for COVID-positive residents that other facilities could not, an approach one leading senior care advocate called "reasonable" given the circumstances.
"The plan to serve COVID-positive individuals with dedicated units in regional hubs made sense to us, but our clear preference was to create facilities dedicated solely and exclusively to COVID care," DeAnna Mitchell of LeadingAge Michigan, a senior advocacy group, told lawmakers in June.
Neither elder care advocates nor the state health department say they are aware of any nursing home that was forced to admit a COVID-positive resident against its will.
But federal data show many facilities did take them in.
As of July 5, Michigan nursing homes had admitted or readmitted patients previously diagnosed with COVID-19 more than 2,750 times, according to the Centers for Medicare and Medicaid Services. Only about a quarter of those transfers were into one of the state's 21 regional hubs. The numbers may be elevated because some residents were transferred multiple times.
States including New York and New Jersey, also hit early and hard by the virus, adopted and enforced similar transfer policies in March and April. New York Gov. Andrew Cuomo's administration this month released a 33-page report that analyzed the strategy and attributed high death tolls there to spread by infected staffers, not hospital discharges.
The Whitmer administration hasn't yet completed the same kind of in-depth analysis but has enlisted the University of Michigan's Center for Health and Research Transformation to evaluate the state's hub model. The team will also assess best practices and alternative approaches from other states, said health spokesperson Bob Wheaton.
Whitmer has defended the state's early efforts, saying it acted on the best science available at the time. Earlier this month, she created a new task force to advise the state on future nursing home policy.
The governor "has been committed to protecting nursing home residents" and followed federal guidance by establishing regional hubs and isolation units, said spokesperson Tiffany Brown. "She's worked tirelessly to procure tests and PPE to keep seniors safe, with little to no assistance from federal authorities."
Legislative response
Whitmer revised her initial nursing home order in May, and again in June and July, to steer more COVID-positive residents toward the 21 nursing homes now designated as regional hubs. Those facilities are prioritized for PPE shipments, received $5,000 per dedicated bed to cover set-up costs and qualify for an additional $200 per day for each patient they take in.
Under current policy, hospitals cannot discharge nursing home residents until they test negative for COVID. They can then be transferred to a regional hub or the facility where they previously resided, provided that home is capable of isolating infected residents. If a nursing home cannot isolate COVID patients, it must transfer them to a regional hub or hospital.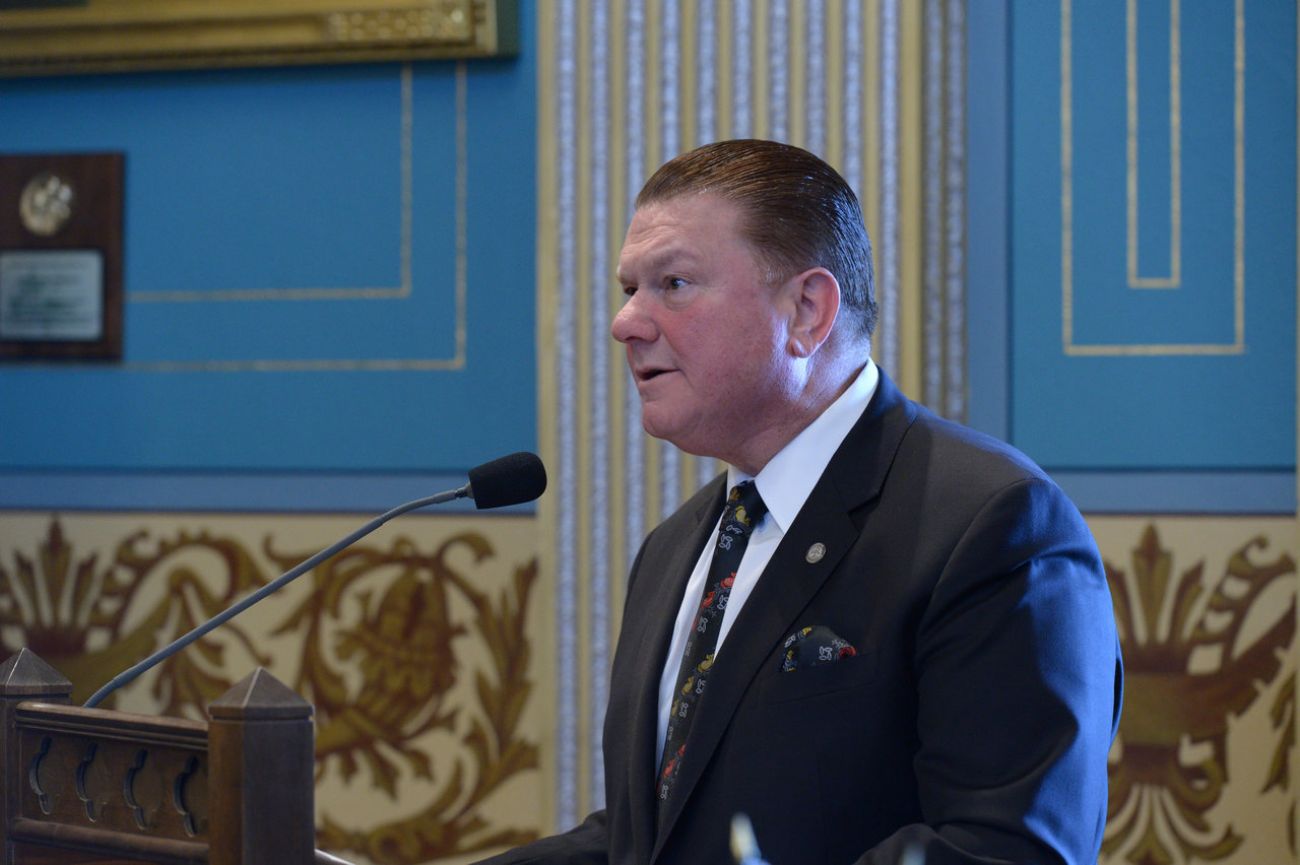 Other states like Florida, where a total of 2,255 long-term care facility residents and staffers had died as of last week, have opened COVID-only centers to house nursing home residents who contract the virus. Massachusetts, where more than 3,400 nursing home residents have died, announced a similar strategy in March but abandoned plans to empty out existing nursing homes for that use because of outbreaks during the resident transfer process.
Michigan's Republican-led Legislature is pushing the state to move in a similar direction. The House and Senate last week approved legislation that would require the state to operate at least one COVID-only facility for nursing home residents in each of healthcare eight regions by September.
The legislation, which 17 of 51 House Democrats and all Republicans voted for, would also require the state to evaluate its existing regional hub model and provide a detailed report to lawmakers by mid-August. Whitmer may veto the measure after setting up a bipartisan advisory board to study next steps.
State Sen. Peter Lucido, R-Shelby Township, sponsored the legislation and requested state and federal investigations in May of Whitmer's nursing home orders.
In a statement at the time, he said the policy endangered a "vulnerable population and their caregivers to the very virus which we had hoped to protect them," adding that he believes the "reckless and negligent policy .. resulted in the illness and death of many of Michigan's elderly and infirm residents."
Whitmer is expected to veto the legislation. It is "based on the false premise that isolation units within existing facilities are somehow insufficient — a claim entirely unsupported by the data," Brown said. "Instead of protecting seniors, this bill requires the state to create COVID detention centers."
Lucido and other critics have questioned why Michigan did not use temporary field hospitals at the TCF Center in Detroit or the Suburban Collection Showplace in Novi to house recovering seniors at the height of the pandemic. And state emails show hotels forced to close amid the pandemic had offered up empty space.
The state gave strong consideration to using the TCF Center for seniors before closing it in early May, said Wheaton. But "after a thorough review, including consultation with multiple medical experts, the state concluded that keeping the field hospital open to serve nursing patients did not make sense because of the physical limitations of the facility," he said.
TCF did not have mobility supports, like hallway handrails, or medical equipment like X-ray machines and CT scanners typically available in nursing homes, he said. And it was designed for short-term care, not the type of long-term skilled care that many seniors require.
"Alternative care sites were by their nature meant to be last resorts," Wheaton said. "They were not designed to provide, and did not provide, the standard of care one could expect at a nursing home or a hospital."
A national tragedy
As of July 12, more than 38,000 nursing home residents had died from COVID-19 nationwide, according to federal data published by the Centers for Medicare & Medicaid Services.
That was about 29 percent of all COVID-19 deaths in the United States and does not include data from other long-term care facilities. Nursing homes had reported more than 142,000 confirmed cases, along with another 90,000 suspected cases.
The federal data has flaws — it is two weeks behind so does not reflect recent surges in the south, and CMS is reporting fewer deaths in Michigan than the state health department — but it is the most complete data set available for comparison purposes.
Michigan ranked eighth among all states with the highest number of known nursing home resident deaths. And it ranked 11th in nursing home deaths per 1,000 residents. Michigan has recorded more nursing home deaths than Ohio and fewer than Illinois, but the states are comparable when considering those deaths as a share of total population.
It's too soon to say what states – if any – implemented policies that effectively protected nursing homes because there hasn't been a thorough national evaluation, said Tricia Neuman, a senior vice president at the Kaiser Family Foundation, a nonprofit focused on public health.
"Obviously the states that had early outbreaks were hit hard in nursing homes and long-term care facilities," she said. "The federal government, states and nursing homes were caught flat-footed and didn't have the systems and the supplies and the staff and testing in place to meet the crisis."
Critics of Michigan's nursing home response, including Sen. Jim Runestad, R-White Lake, have praised Florida, where Gov. Ron DeSantis created COVID-only facilities for nursing home residents. There are currently 19 such facilities in Florida with more than 1,200 beds.
But Florida has seen nursing home cases explode in recent weeks as the virus surges through southern states, a development linked to both staff infections and increased testing.
Confirmed COVID-19 cases nearly doubled in Florida and Texas long-term care facilities between June 24 and July 9, according to a Kaiser Family Foundation analysis of federal data. By comparison, Michigan nursing home cases rose by 3 percent over the same span.
"I'm reluctant to say if something works or doesn't work, because we don't really know," Neuman said. "It's clearly hard to keep residents and staff safe when there's a large outbreak in the community, even among mostly younger people."
Testing is key
Emerging research suggests community spread of COVID-19 outside the walls of a nursing home is typically the largest predictor of new cases inside.
Harvard professor David Grabowski, a leading health care policy researcher, argued nursing homes are incapable of keeping COVID-19 away from residents if it is widespread in the areas where staff members live and work.
In a June analysis, Graboskwi and other researchers determined that the locations of nursing home were most likely to explain COVID-19 outbreaks, not traditional quality metrics such as federal facility grades or prior infection control citations.
Grabowski and other experts say testing, in particular, is a critical tool for protecting nursing homes. Daily on-site testing can prevent infected staff from entering the facilities and identify residents who contracted the virus and need to be isolated or transferred.
The federal government this month announced plans to send COVID-19 testing units to all skilled nursing facilities in the United States, but it's not clear when those supplies will arrive and if facilities in states like Florida will be properly equipped to handle the southern surge.
Because COVID-19 can be spread by asymptomatic carriers, including staff, "nursing homes will not be able to reopen until they have access to accurate and rapid COVID-19 surveillance testing," Grabowski wrote this month in a medical journal commentary.
While Michigan struggled to provide testing and PPE to nursing homes in April, federal data shows access to those resources has improved.
All 437 Michigan nursing homes that reported data to CMS on July 5 said they had at least some N-95 or surgical masks, and only 12 said they did not have a one-week supply of either.
Just two nursing homes – Kith Haven in Flint and Windemere Park in Warren – said they did not have on-site testing capabilities.
There's not yet enough data to show whether Florida's policy of creating COVID-only nursing home facilities was "a difference maker" for seniors, said Lee, of Families for Better Care. But the situation there is "horrible" and "getting worse," he told Bridge.
"Politicians can talk about the types of facilities, the transfers and all that stuff, but without testing, they're running blind," Lee said. "These facilities are operating in the dark and have no clue who has the virus in their buildings."
Whitmer has acknowledged that, if she had a "time machine," she might go back and revise some of the nursing home decisions she made when the coronavirus hit Michigan. She revised her initial order in May, adopted new testing rules in June and created a bipartisan task force to advise the state on future actions by the end of August.
States like Michigan and New York with large nursing home death counts were on the front lines of the policy debate. Hit harder and earlier than most parts of the country, they were forced to adopt unproven strategies without clear direction from the federal government, Neuman said.
"When the virus struck rapidly, people were dying very quickly and governors were unable to get tests and PPE to bring into their state for their hospitals and nursing facilities," she told Bridge. "There was a quick learning curve, which happened as people were getting really sick and dying."
Only donate if we've informed you about important Michigan issues
See what new members are saying about why they donated to Bridge Michigan:
"In order for this information to be accurate and unbiased it must be underwritten by its readers, not by special interests." - Larry S.
"Not many other media sources report on the topics Bridge does." - Susan B.
"Your journalism is outstanding and rare these days." - Mark S.
If you want to ensure the future of nonpartisan, nonprofit Michigan journalism, please become a member today. You, too, will be asked why you donated and maybe we'll feature your quote next time!