If Roe v. Wade falls, expect Michigan abortion clinic closures, legal fights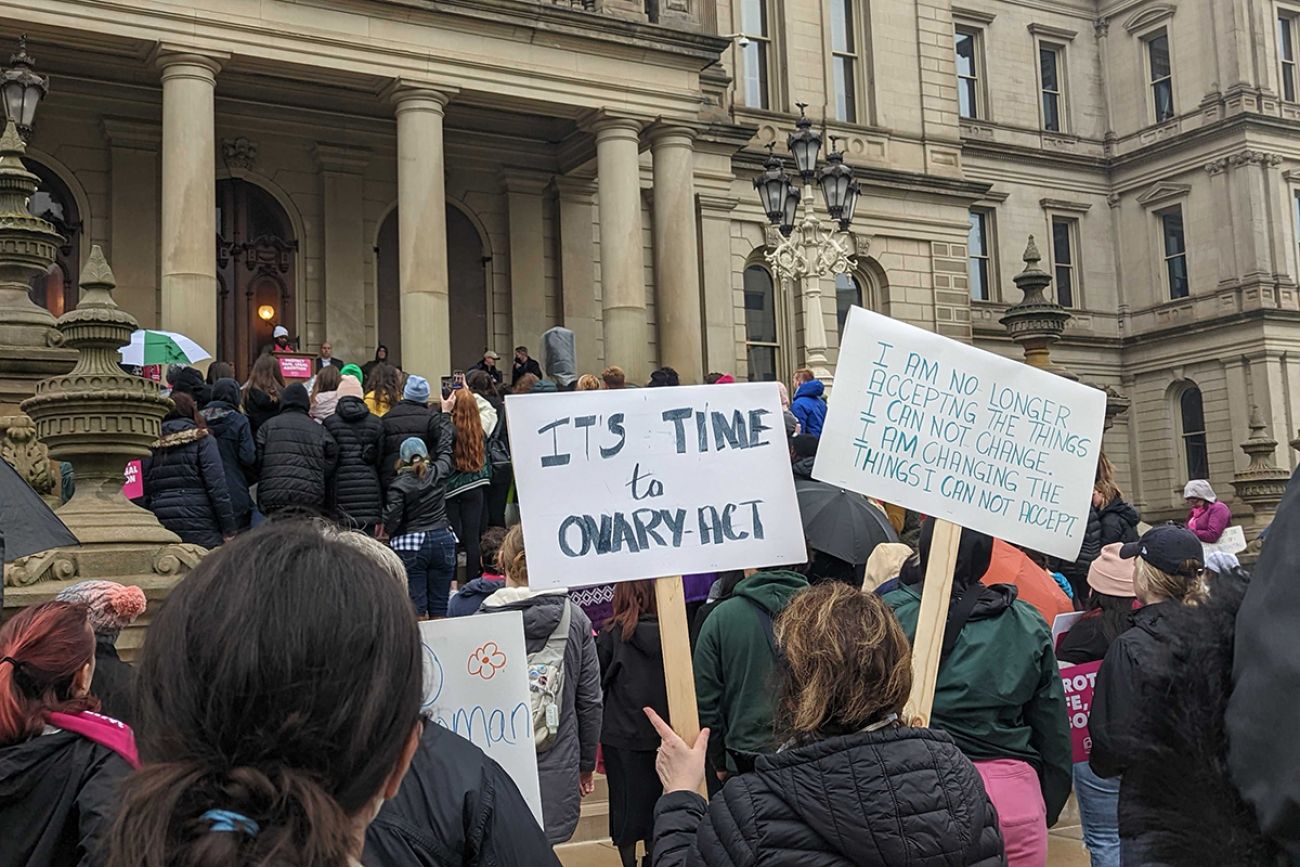 A protest in Lansing on Tuesday after a leaked draft opinion indicated a majority of conservative justices plan to reverse the landmark ruling that has guaranteed the legal right to abortion. (Lauren Gibbons/Bridge Michigan)
Michigan Government
If Roe v. Wade falls, expect Michigan abortion clinic closures, legal fights
May 24: Abortion foes launch campaign against 'anything goes' Michigan ballot measure
LANSING — Michigan abortion providers are fighting to preserve access but ready to halt services this summer should the U.S. Supreme Court overturn Roe v. Wade and re-activate a dormant state ban.
That scenario became likely after a blockbuster Monday night leak of a draft opinion indicating a majority of conservative justices plan to reverse the landmark ruling that has guaranteed the legal right to abortion for nearly 50 years.
"If some protection doesn't go into place before then, we would have no choice but to not be able to provide abortion care directly," said Dr. Sarah Wallett, chief medical officer for Planned Parenthood in Michigan.
Related:
Michigan is one of nine states nationwide with bans on the books that would go into effect if Roe is overturned. The 1931 law would make it a five-year felony to perform an abortion unless it is necessary to save the life of the pregnant person.
"It would be devastating to look at patients and have to tell them I have all of the knowledge and capability to help you, and I have to tell you no," Wallett told Bridge Michigan, saying she and other providers would still "help patients in whatever ways possible, to get them the information they need to help support them, traveling to a place where they could get (an abortion)."
Anti-abortion advocates said Tuesday they are not yet ready to declare victory in their decades-long fight to outlaw the procedure, following reporting from Politico that indicates at least five of nine justices have signed on to an opinion overturning the 1973 law.
"We are cautiously optimistic because this is not an official decision from the justices. This is just a draft from February that was leaked," said Anna Visser, the director of communications and education for the Right to Life Michigan. "So, you never know what (could happen) between now and then, and we just have to wait until it is official before we celebrate."
Attorney General Dana Nessel and Democratic prosecutors in seven of 13 Michigan counties with abortion clinics have promised they will not enforce the 1931 ban. Five counties with clinics have Republican prosecutors.
Regardless, reinstating the 1931 law will create a "chilling effect" for providers, a legal limbo "that I definitely don't want to be in," Wallett said.
Wallett is a lead plaintiff in a Michigan Court of Claims lawsuit seeking to overturn the 91-year-old law that has been unenforceable because of Roe. Democratic Gov. Gretchen Whitmer, who said Monday she will "fight like hell," has also asked the Michigan Supreme Court to reaffirm women's abortion rights and declare them protected by the state Constitution.
Additionally, Planned Parenthood and other advocates for legal abortion access are circulating petitions for a potential 2022 ballot proposal that would ask voters to enshrine abortion rights in the Michigan Constitution.
It's unclear if any of those efforts will be successful or resolved in time to prevent the 1931 law from being reinstated, however.
The U.S. Supreme Court is expected to strike down Roe v. Wade by mid-June.
In a Tuesday call with reporters, Nessel deemed the overturn of Roe "inevitable." Although her office would not prosecute physicians or women seeking abortion in the state, Nessel acknowledged that some county prosecutors — or her successor — could still choose to pursue criminal charges if the old state law is reinstated.
Matthew DePerno, a Republican candidate for attorney general expected to challenge Nessel this fall, has vowed to enforce the state ban should it take effect.
He celebrated the Supreme Court leak, saying Monday that overturning Roe "will be such a great win for the unborn and for state's rights."
Abortion clinics could be deterred from providing services even if their local prosecutors promise not to bring charges, because future prosecutors might still do so, Nessel said, noting alleged violations of the 1931 law could be charged up to six years later because of the statute of limitations.
The first-term Democrat suggested prosecutors could interpret the law to penalize not only physicians but also women who self-medicate to perform abortion.
"Doctors simply will not perform this procedure really under any set of circumstances because they don't want to get dragged into court, they don't want to face the possibility of getting prosecuted and the possibility of going to jail or prison," Nessel told reporters.
Still, by promising not to file charges, prosecutors could still buy time for ongoing efforts to overturn the 1931 law, including lawsuits and the petition drive, said Washtenaw County Prosecutor Eli Savit, a Democrat.
"I'm the prosecutor now, and hopefully for a while, but discretionary decisions are as good as the person and location that it's happening in," he said. "We need to get this 1931 law off the books, in one way or another."
Republican prosecutors in two of the 13 Michigan counties with abortion services — Jerard Jarzynka of Jackson County, and Chris Becker of Kent County — filed a joint amicus brief in late April asking the state Supreme Court to dismiss Whitmer's lawsuit.
They argued in their filing Whitmer does not have the power to request that the court "nullify" the 1931 state law or amend the Constitution.
The governor's request, they said, is "constitutionally infirm" and "based upon a series of hypotheticals" because the federal court has not released an official ruling on Roe.
"It is imperative this Honorable Court emphatically reject the executive branch's attempt to short-circuit the proper legal processes to change laws," the pair of prosecutors argued. "If not, this Honorable Court will open the floodgates to a litany of challenges to virtually any statute by any future governor who simply disagrees with a duly enacted law."
Jarzynka told Bridge he would not "prejudge" any case and would review evidence on a "case-by-case basis," should the 1931 state law take effect.
30,000 abortions in Michigan
Michigan has 27 abortion providers in 13 counties, down from 70 providers in 22 counties in 1998. Some hospitals also perform abortions, typically in pregnancies involving medical complications.
Planned Parenthood, the largest abortion provider in Michigan, operates 14 health centers in the state: Ann Arbor, Detroit, Ferndale, Flint, Grand Rapids, Jackson, Kalamazoo, Lansing, Livonia, Marquette, Traverse City, Petoskey and Warren.
The clinics provide access to "medication" abortions, where women can take pills to end pregnancies up to 11 weeks since their last period. Ann Arbor, Kalamazoo and Flint clinics also peform what Planned Parenthood calls "procedural abortions." where physicians use suction and sometimes other instruments up to 16 or 19 weeks into a pregnancy.
In fiscal year 2020, Planned Parenthood provided 8,448 abortions in Michigan, less than a third of the nearly 30,000 performed across the state, according to legal filings and records. Most at Planned Parenthood — 6,626 — were medication abortions.
While the organization welcomes promises from Nessel and county prosecutors, the 1931 law would still leave providers "in an unsure situation where they are still risking legal liability if they do continue to provide an abortion, said Planned Parenthood spokesperson Ashlea Phenicie.
As a national organization, Planned Parenthood "follows all state and federal laws," Phenicie said, telling Bridge that Michigan clinics would be in a "difficult position" if Roe is overturned.
In Texas, where officials last year made abortion illegal after the detection of a fetal heartbeat, Planned Parenthood health centers are now "working to connect folks with outside resources in any way that they can, legally," Phenicie said. "That often means trying to help people connect with affiliates in other states."
In Michigan, that might mean referring women to clinics in Illinois, New York or potentially Canada, she said.
But as of now, abortion remains legal in Michigan, added Wallett. "We've had to reassure patients all day that, yes, we are providing abortion care at all of our health centers. Come to your appointment."
Christen Pollo, the executive director of the Protect Life Michigan nonprofit, said Tuesday she is "excited that Roe could possibly be overturned," arguing abortion violates the "human rights" of the unborn.
"We should do everything we can to help women in need, but abortion isn't the acceptable answer," Pollo said.
"We can do a lot better for women, I think they deserve a lot better. We should extend all the love and support and resources that we can to them, but we shouldn't entertain abortion."
Petition drives, lawsuits
In a rare move, Whitmer on Apr. 7 asked the Michigan Supreme Court to reaffirm women's abortion rights and declare them protected by the state Constitution. The state Supreme Court, which is not required to intervene on the issue, has not stepped in.
"To participate fully and equally in society, Michigan women need access to abortion," the governor argued in a court document filed in Oakland County Circuit Court.
Republican prosecutors and anti-abortion groups have argued the governor has no legal standing to bring the case. Anna Visser, spokesperson for Right to Life in Michigan, said the legal challenge may not be "valid."
"She expedited that to the Michigan Supreme Court in hoping it would bypass the lower court, it would bypass citizens in Michigan, taking away their right to decide their own laws," Visser said.
"It's hard to say how any of these will work out," Visser added. "No one is having an issue with the law. The case is not ripe."
A similar suit was filed the same day by Planned Parenthood seeking to block the 1931 Michigan law, arguing the abortion ban is "unconstitutionally vague" and violates "the rights to liberty, privacy, bodily integrity, and equal protection."
Right to Life and Michigan Catholic Conference have filed a brief asking Court of Claims Chief Judge Elizabeth Gleicher, who presides over the Planned Parenthood lawsuit, to recuse herself from the case. Gleicher represented the abortion rights group and is a frequent donor to it, The Detroit News reported.
Additionally, a coalition of abortion rights groups are backing petition drive Reproductive Freedom for All, which would write women's right to abortion into Michigan's Constitution. Petitioners must collect at least 425,059 valid signatures before July 11 to place the issue on the November ballot.
A coalition named Citizens to Support MI Women and Children, which includes Right to Life in Michigan, is working against the proposal by persuading voters not to sign it.
"We could potentially be facing a scenario in Michigan where abortion would be illegal while this ballot initiative is being qualified for the ballot," said Merissa Kovach, policy strategist for ACLU-Michigan.
Only donate if we've informed you about important Michigan issues
See what new members are saying about why they donated to Bridge Michigan:
"In order for this information to be accurate and unbiased it must be underwritten by its readers, not by special interests." - Larry S.
"Not many other media sources report on the topics Bridge does." - Susan B.
"Your journalism is outstanding and rare these days." - Mark S.
If you want to ensure the future of nonpartisan, nonprofit Michigan journalism, please become a member today. You, too, will be asked why you donated and maybe we'll feature your quote next time!