Judge blocks Michigan's Medicaid work rules in victory for Gretchen Whitmer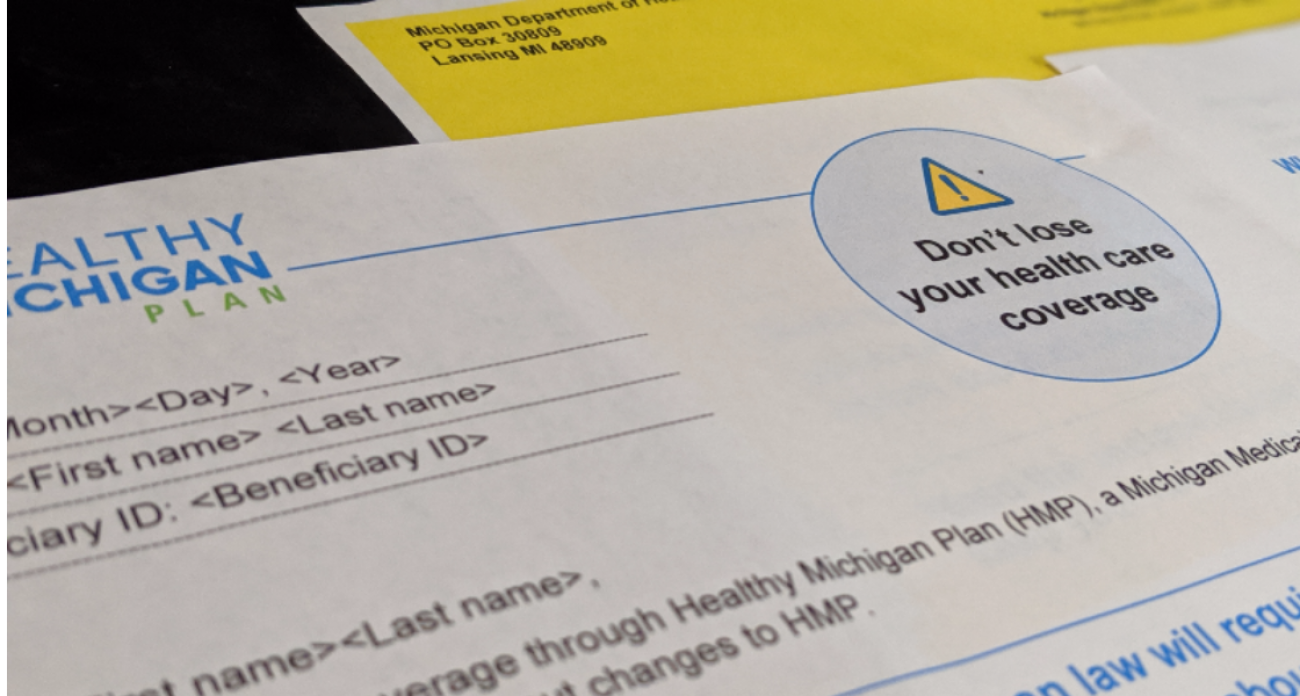 Michigan Government
Judge blocks Michigan's Medicaid work rules in victory for Gretchen Whitmer
A federal court has blocked Michigan's requirement that some of its needy work, attend work training or school, or engage in related activities as a condition of receiving Medicaid health coverage.
The ruling by U.S. District Court Judge James E. Boasberg of Washington, D.C. was filed Wednesday morning, granting Gov. Gretchen Whitmer a partial summary judgment in the case.
The order came at an auspicious moment for the roughly 100,000 Michigan residents who the state contends were bound under the law to report their January work activities. The state health director said in testimony Wednesday that only about 20,000 of this group — just 1 in 5 — had filed their January work reports under the now-blocked state law. The work rules had been passed by the Republican-run Legislature and signed by GOP Gov. Rick Snyder in 2018, before Whitmer took office.
Related:
The rules required more than Michiganders ages 19 to 62 who were presumed healthy to work at least 80 hours a month or provide a legitimate reason why they are not working, such as being pregnant or enrolled in school.
With the first of the monthly reports now past due, roughly 80,000 people had not filed documents on their work status by last week, according to Whitmer's office.
That puts them one step closer to losing health coverage under Healthy Michigan, the state's expanded Medicaid program, assuming the Medicaid work law is reinstated at some point. Beneficiaries who fail to properly document their activities for three months in a 12-month period can lose coverage.
Until Wednesday's ruling, Michigan has the nation's only active program requiring those who receive state Medicaid expansion coverage to work for those benefits, engage in activities like school or job training, or prove they are otherwise exempt from the rules.
Programs in other states had been suspended by court rulings or even by their own leadership after court challenges elsewhere.
Michigan's program, too, was cast into doubt after a U.S. Court of Appeals for the District of Columbia last month upheld a lower court's order striking down a work rules program in Arkansas. In a unanimous decision, the appeals court found the imposition of work rules do not fit within the primary objective of the Medicaid Act, which is to provide health care coverage to the poor.
That decision, Whitmer wrote in her request to the court Feb. 25, meant the Michigan program is also unlawful.
Even with Boasberg's order Wednesday to pause the Michigan's work requirements, court challenges remain — challenging the work requirements as well as the larger 2010 Affordable Care Act, which allowed Michigan to expand its Medicaid program, which in turn, lead to the requirements.
The ruling was filed hours before Robert Gordon, director of the Michigan Department of Health and Human Services, testified before the state Senate Appropriations Subcommittee on Community Health and Human Services, which grilled him on the status of the now two-month-old program.
Gordon, who along with Whitmer, a Democrat, opposes Medicaid work requirements, told senators that while the Wednesday court ruling makes the program unenforceable, at least for now, the department has spent $30 million to implement the program — hiring staff, overhauling computer systems, creating new outreach for residents impacted by the law, and training consumer advocates at agencies across the state.
"Since this administration began, the governor and I have said two things: One is that work requirements are ill advised, and the second is that, as long as they are on the books, we would implement them," Gordon told the senators.
The Healthy Michigan program has more than 650,000 beneficiaries. In December, the department said it had cleared all but 238,000 of those beneficiaries as being exempt from work rules because of disability, age, or other reasons.
Gordon testified Wednesday another 138,000 were found compliant or exempt in the first two months of 2020, leaving 100,000 people required to file paperwork under the law.
Kate Massey, deputy director of the Michigan's Medicaid office, testified that state was able to determine, in part through documentation in other public assistance programs, that many Medicaid beneficiaries were compliant in January even if they had not filed reports on their January work histories.
Health department spokesman Bob Wheaton told Bridge later Wednesday that the 138,000 were cleared for one of three reasons:
They asked for exemptions that were subsequently granted

They were no longer eligible for Healthy Michigan for other reasons

The January income reports filed for other programs — food assistance, for example — showed they met the January work requirements

That left about 100,000 individuals who had to file January reports by the end of February; only about 20,000 did so.
The low compliance rate was not a surprise, Gordon added upon questioning.
He and others have said many hard-to-reach recipients may remain confused about or unaware of work requirements. Many of Michigan's neediest residents simply don't open or understand their mail, he and other critics of the law have said.
Sen. Peter MacGregor, R-Battle Creek, pressed for details from Gordon, noting that the federal court ruling may well be appealed. For that reason, he said, it's important that the state stay on top of the need to enforce the law.
"I've been signaled that there is going to be an appeal. It's not over, so we need to stay vigilant and prepared either way," MacGregor said.
And Sen. Kim Lasata, R-Bainbridge, echoed MacGregor's continuing support for the program, pressing Gordon on how enrollees have filed their reports so far.
"For me, [work rules are] about empowering people, you know, getting them in the community so they can see what's out there," she said.
Even so, Whitmer's administration and Democratic critics of the work rules signalled their interpretation of the court ruling is that Medicaid work rules are now over in Michigan.
Attorney General Dana Nessel said in a statement the ruling "will ensure that Michigan won't be throwing away taxpayer money to enforce unlawful requirements."
Whitmer — also in a statement — lamented that a Republican-led legislature moved ahead with a program that was "clearly going to be thrown out by the courts."
The Michigan Health and Hospital Association cheered the decision, which it said "invalidates" the work rules. The group said it shows that "attaching additional personal responsibility requirements that have nothing to do with healthcare access fail to fulfill Medicaid's objective of providing healthcare coverage to Michigan's financially vulnerable population."
Meanwhile, Gilda Jacobs, president and CEO of Michigan League for Public Policy and one of the most outspoken critics of work rules, said she is thrilled with Wednesday's order.
The reporting requirement is "a huge anxiety not only for enrollees" but also the Michigan Department of Health and Human Services the administers the program, Jacobs said.
We're not just a news organization, we're also your neighbors
We've been there for you with daily Michigan COVID-19 news; reporting on the emergence of the virus, daily numbers with our tracker and dashboard, exploding unemployment, and we finally were able to report on mass vaccine distribution. We report because the news impacts all of us. Will you please donate and help us reach our goal of 15,000 members in 2021?