Lawmakers eye pause in Michigan gas tax as prices soar. But which tax?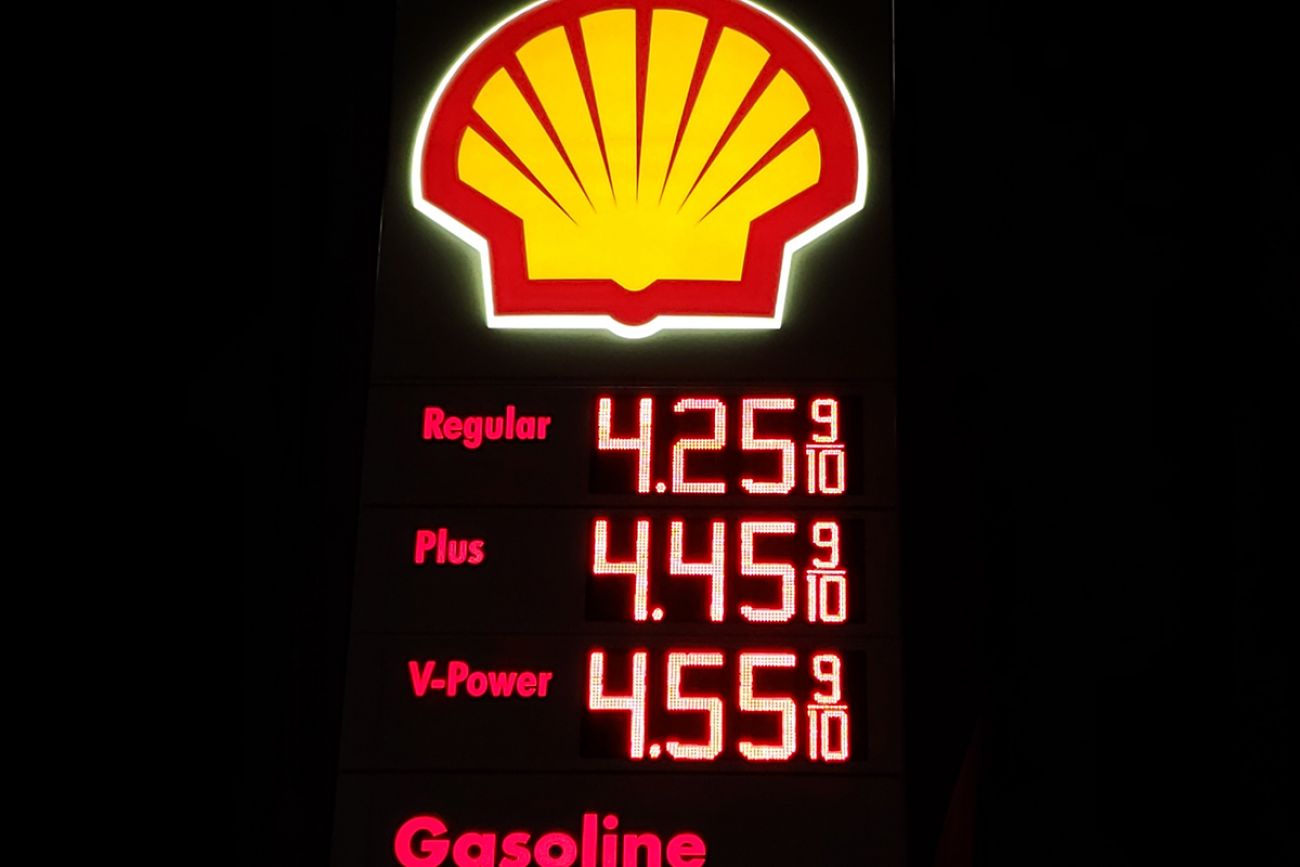 Michigan lawmakers are weighing different approaches for lowering fuel costs for residents amid a volatile war and surging global oil prices. (JollyPopLA / Shutterstock.com)
The bill, expected to earn approval from the GOP-controlled Senate next week, would take effect Apr. 1 unless Democratic Gov. Gretchen Whitmer vetoes it.
Related:
Multiple Democratic House members slammed the GOP proposal Wednesday, noting the lost revenue would lower funding earmarked for state roadway repairs. But House Appropriations Committee Chair Thomas Albert, R-Lowell, said the state's more than $4 billion in surplus revenue would help absorb the cost.
Senate Minority Leader Jim Ananich, D-Flint, hopes to instead suspend the 6-percent state sales tax on gas for a year, which he argues will prompt bigger savings as gas prices have spiked. Michigan's school aid fund and general fund both rely on the state's sales tax revenue.
It is unclear if either plan would get the greenlight from Whitmer, who has floated a third option for lowering fuel bills. The first-term Democrat this week asked President Joe Biden and Congress to suspend federal gas tax collections through the end of the year, but she has been reluctant to support a statewide suspension of any form of tax on gas.
"Right now, the best way to bring down the price of gas without impacting our ability to fix the damn roads is by suspending the federal gas tax," Whitmer spokesperson Bobby Leddy said in a statement Wednesday.
Talks of gas tax relief have emerged in various states as gas prices jump across the nation amid ongoing inflation, Russia's military attacks on Ukraine and Biden's retaliatory ban on U.S. imports of Russian oil.
Experts have expressed uncertainty as to when the rising prices would go down. "When I look at this situation, I don't know what that end point is," Mark Griffin, president of the Michigan Petroleum Association, an industry group, told Bridge Michigan earlier this week.
In Michigan, the average regular gas price is $4.25 per gallon as of Wednesday afternoon, on par with the national average, according to the American Automobile Association. That represents a 26-percent increase from the $3.37 per gallon from last month and a 53-percent spike from last year's rate of $2.78, AAA data shows.
Republican plan would cost state roughly $770 million
The Republican-backed suspension of Michigan's gas tax would take an estimated $725 million from the Michigan Transportation Fund, according to a House fiscal analysis. That would mean a reduction of $255 million in state highway funding, $255 million for county road commissions, $142 million to cities and villages and $72.5 million in the state's Comprehensive Transportation Fund, a primary source for public transit systems.
In addition, it would reduce earmarked funding to local and state bridge repairs by a total of $45 million, the analysis states.
Albert, who chairs the House Appropriations Committee, told reporters Wednesday the state should be able to absorb the fiscal impact with $4 billion in revenue surplus. Meanwhile, the state has yet to appropriate $4.8 billion in federal COVID-19 aid through the American Rescue Plan Act, he said, although federal rules prohibit the funds from being used to pay for tax cuts.
"We have more than enough cash on hand to pay for this, so that's not really a concern at all," Albert said.
So how much would the Republican plan benefit average drivers in Michigan?
On average, fuel economy for U.S. cars stood at 25.4 miles per gallon in 2020, according to data from the Environmental Protection Agency. As of October 2020, Michiganders averaged 10,338 miles of vehicle travel per year, which means Michigan residents burned roughly 407 gallons annually on average, according to data from the Federal Highway Administration.
Under the Republican plan, the suspension of the flat $27.2-cent-per-gallon tax would save an average Michigan driver roughly $111 per year.
What about suspending the sales tax?
Ananich, who favors suspension of the 6-percent sales tax on gasoline, told Bridge his plan would yield bigger savings as the gas price continues to rise. Based on the current average gas price in the state, the sales tax suspension would mean a saving of roughly $25.5 cents per gallon — $2 cents less than what the Republican proposal would offer.
But as prices keep rising, drivers would benefit more from Ananich's plan.
The Flint Democrat said the state currently is getting a "windfall" in sales tax collections due to the gas price spikes.
Entering fiscal year 2022, the state had expected to receive $621 million based on the price of $2.84 per gallon, Senate Democrats spokesperson Rosie Jones told Bridge Michigan. Instead, the price has almost doubled.
"It was money we didn't expect to have," he said. "If we suspend those dollars, we can give people back some money right away."
The GOP-controlled House also approved a nonbinding resolution 62-40 to urge the state to allow the Enbridge Line 5 — a petroleum pipeline in the Straits of Mackinac operated by Canadian company Enbridge — to remain in place. The resolution states the pipeline needs to remain in operation to ensure an "affordable" supply of energy amid volatile global oil supplies. Even if the vote had teeth, it would be a nonstarter with Whitmer, who campaigned for office in 2018 on a promise to shut down the pipeline.
Whitmer in November announced the company had 180 days to shut down the operation. Opponents were worried the pipeline exposed at the bottom of the straits would be vulnerable to anchor strikes and lead to a catastrophic oil spill, although the pipeline has withstood several strikes and endured dents and scrapes. The fate of the governor's order is now tied up in court.
Environmental activist groups who support the end of the pipeline condemned the resolution vote Wednesday.
"To use Putin's war to promote a dangerous oil pipeline in the Great Lakes at a time when people are dying for freedom and democracy should be condemned by Michigan's political leaders and every citizen," a joint statement from the National Wildlife Federation and Oil and Water Don't Mix states.
We're not just a news organization, we're also your neighbors
We've been there for you with daily Michigan COVID-19 news; reporting on the emergence of the virus, daily numbers with our tracker and dashboard, exploding unemployment, and we finally were able to report on mass vaccine distribution. We report because the news impacts all of us. Will you please support our nonprofit newsroom?