Michigan board approves recall petition for indicted Rep. Larry Inman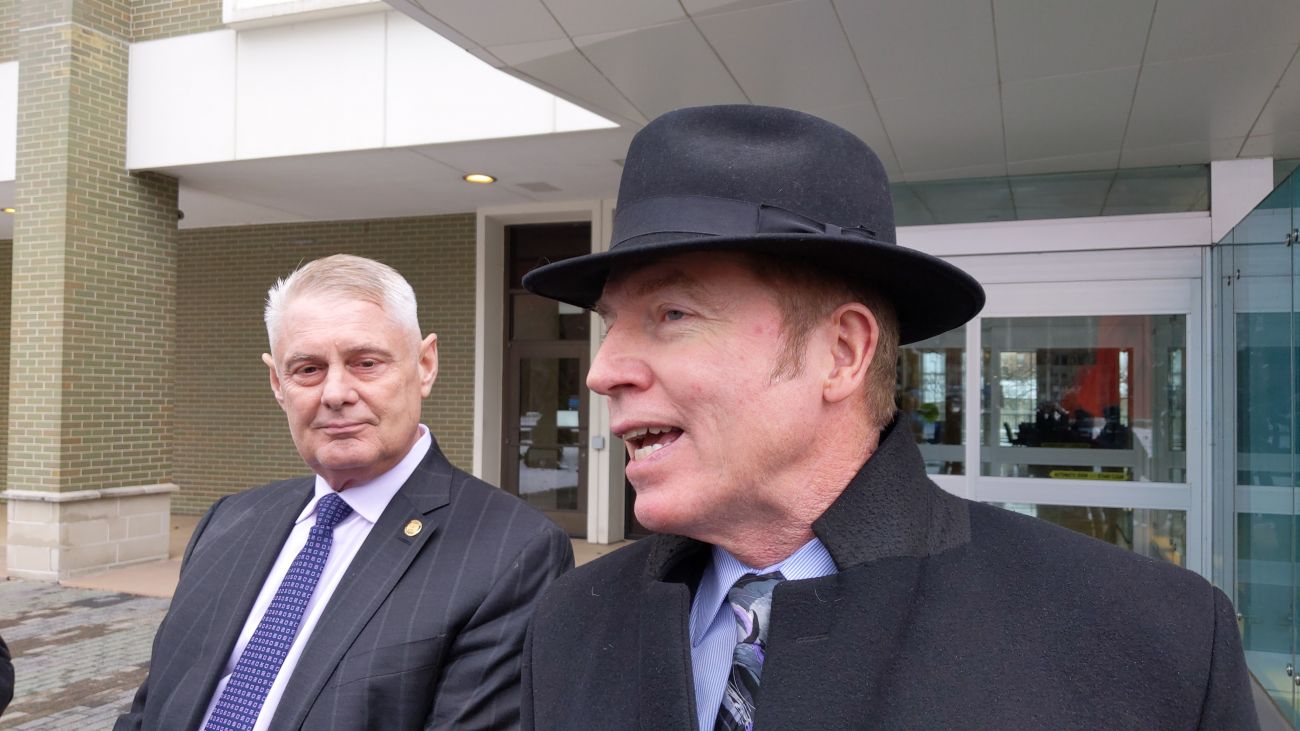 Oct. 15, 2019: Judge: Jury should decide if Michigan Rep. Larry Inman broke the law
Aug. 29, 2019: Michigan House urges resignation of Inman, who told donors 'I need money'​
DELTA TOWNSHIP—A state elections board on Thursday gave the green light to a group of Grand Traverse County residents aiming to recall indicted state Rep. Larry Inman, who faces federal charges for allegedly seeking campaign donations in exchange for his vote.
The four-member Board of State Canvassers unanimously approved the recall petition, filed by Grand Traverse County residents Sondra Hardy and Staci Haag. The petition says Inman, R-Williamsburg, should be recalled on the grounds that three felony charges were filed against him in May, his defense filed notice in court "asserting a diminished capacity defense" and he has missed more than 80 votes in the House.
Inman's attorney, Chris Cooke, said he is considering whether to appeal to the Michigan Court of Appeals to block the recall — a decision he'll have to make within 10 days, under state law.
"It's really difficult right now, given the circumstances that he's facing, because launching that kind of appeal is a pretty dramatic thing to do, extensive thing to do," Cooke told reporters after Thursday's canvassers meeting.
Should the activists prevail, the recall group will need to collect at least 12,201 signatures from Grand Traverse County voters ‒ who live in the 104th District Inman represents ‒ within 60 days of starting to circulate petitions. They won't be able to collect signatures while an appeal is ongoing.
"The voters of Grand Traverse County elected Inman to do one thing: Represent us in the Michigan state House," Hardy said Thursday in a statement. "He has failed to (do) that one, key, fundamental duty."
The activists spearheading the initiative argue that residents in his district are lacking representation in Lansing while Inman faces a legal battle and refuses to resign, despite calls from House Speaker Lee Chatfield, R-Levering, for Inman to step down.
Inman was indicted in May on federal charges of bribery, extortion and lying to the FBI for allegedly soliciting a bribe in exchange for a vote against the prevailing wage repeal proposal the Legislature passed last summer.
Prosecutors allege Inman asked for a more than $5,000 campaign donation in exchange for a vote against the prevailing wage repeal — a move popular with Republicans and unpopular with unions, as the law required union-scale wages and benefits be paid on state construction projects.
"My suggestion is you need to get people maxed out" on contributions, Inman wrote in one text to a representative of the Michigan Regional Council of Carpenters and Millwrights union days before the repeal vote in June 2018, prosecutors allege. "We never had this discussion," Inman wrote at the end of the message.
The indictment also cites two more text messages from Inman seeking donations from the union representative. The union did not donate after receiving his text messages.
Prosecutors also allege an FBI agent later asked Inman about the text messages and that he lied, denying he had any communication with a union representative asking for campaign contributions. Inman later said in an interview with Bridge that he doesn't deny writing the text messages.
Chatfield stripped Inman of his committee assignments and called upon him to resign. House Republicans voted to kick him out of their caucus, so he's forced to miss the closed-door sessions in which lawmakers strategize on policy.
Inman has not been to a legislative session since his indictment. In a press release from early June, Inman's lawyers said he would be seeking treatment for opioid addiction and that "his physicians will continue to evaluate his ability to effectively serve his constituency as his treatment progresses."
Inman has maintained he is innocent of the charges and indicated in a court filing in June his attorneys intend to present evidence of "diminished cognitive ability" due to his addiction to prescription pain medication.
The particulars of that legal defense were the subject of debate at Thursday's canvassers meeting. State law requires that petitions state "factually and clearly" the reason for recall, and be based on the elected official's conduct while in office.
Cooke, Inman's attorney, said the notice filed in federal court was not, in fact, "asserting a diminished capacity defense," but rather "a notice of intent to present evidence of defendant's diminished cognitive ability" as a result of misusing opioid prescription medication.
The recall petition does not reference opioid use.
He also raised concerns that a recall effort would hinder Inman's constitutional rights to a fair and impartial trial.
Those leading the charge to recall Inman can wait until either the charges are dropped or a jury renders a verdict, Cooke said.
"They have their facts. He missed these (80) votes," Cooke told reporters. "They have a basis for doing it without jeopardizing his constitutional right to a fair jury, a fair trial and an impartial trial" by having the petition cite the still-unresolved criminal charges. "That's my problem with what's happened."
Michael Naughton, an attorney representing petition sponsors Hardy and Haag, criticized Cooke's argument. He told reporters Thursday that serving as a state lawmaker is a privilege, not a right, and the fact that an accused lawmaker has not yet been convicted of criminal wrongdoing does not preclude their being held to account in a recall.
"He was given that privilege by the people in our community. He has to live up to that privilege," Naughton said. "Do we just wait until he's ready to go back to work? Would you expect that of anyone else at any other job? 'Well, we're going to wait this out.' Absolutely not. And the people of our district, we demand better."
That's the contention of the Traverse City-area residents who are leading the recall effort.
They "discovered that he had missed over 80 votes and we weren't as a county being represented," Hardy, a former Republican Grand Traverse County commissioner, told Bridge.
In one example of how Inman's absence has affected them, Traverse City residents hoped to take a state-owned plot of land and turn it into a dog park, Hardy said, but they needed their proposal to be backed by both their state senator and representative, so the park couldn't be approved.
"There are other stories like that," she added.
The recall committee's board also includes multiple members of the local Democratic Party, she said.
"Everybody that I've talked to is absolutely disgusted with the fact that Mr. Inman has not resigned, particularly because the indictment charges are so serious," Hardy said.
Inman's trial has been delayed to allow time for federal prosecutors to gather medical information on the lawmaker's claim of opioid addiction. A hearing on Inman's motion to dismiss the case is scheduled to take place in Grand Rapids on Aug. 9.
The last time a state elected official was recalled was former state Rep. Paul Scott, a Republican from Grand Blanc, in 2011, according to the Michigan Secretary of State's office.
We're not just a news organization, we're also your neighbors
We've been there for you with daily Michigan COVID-19 news; reporting on the emergence of the virus, daily numbers with our tracker and dashboard, exploding unemployment, and we finally were able to report on mass vaccine distribution. We report because the news impacts all of us. Will you please support our nonprofit newsroom?