Michigan deeply divided over race, education, geography and news feeds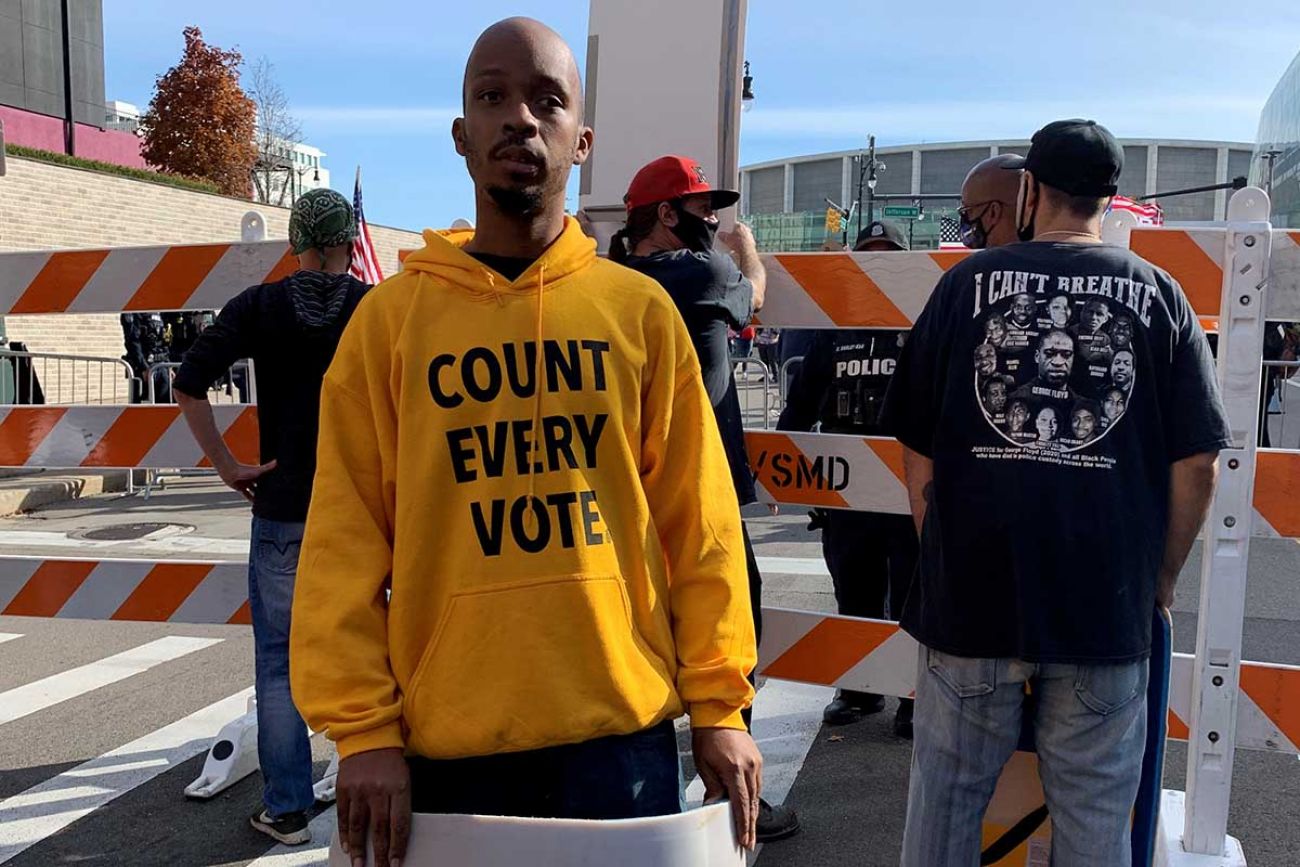 Marlando Wade has seen this movie before. In fact, he was in the movie.
The 46-year-old Flushing resident was featured in a documentary that chronicled the devastating impact of political polarization in Michigan in the months leading up to and following the 2016 presidential election. "It's like they're gangs…like we're the Crips and they're the Bloods," a frustrated Wade said in the Bridge and Center for Michigan documentary, "Michigan Divided." "They don't realize people are getting hurt in their turf war."
Related:
Four years later, with Democrats dancing in the streets after Joe Biden was declared the winner and Republicans protesting that the election had been stolen from President Donald Trump, Wade said he worries Americans haven't budged from the partisan divide – and maybe don't want to.
"I actually think it's gotten worse," said Wade, who is a Democrat. "It feels like it's just the Reds versus the Blues."
Michigan flipped from a razor-thin Trump victory in 2016 to a more comfortable win for Biden in 2020. But one thing didn't change: The state remains deeply divided in ways that go far beyond what oval we fill in on Election Day. Divides can be found in where we live and how long we went to school, in whether we wear masks or believe in climate change, in where we get our information, and whether we believe that news accounts — including in the publication you're reading now — are "fake news."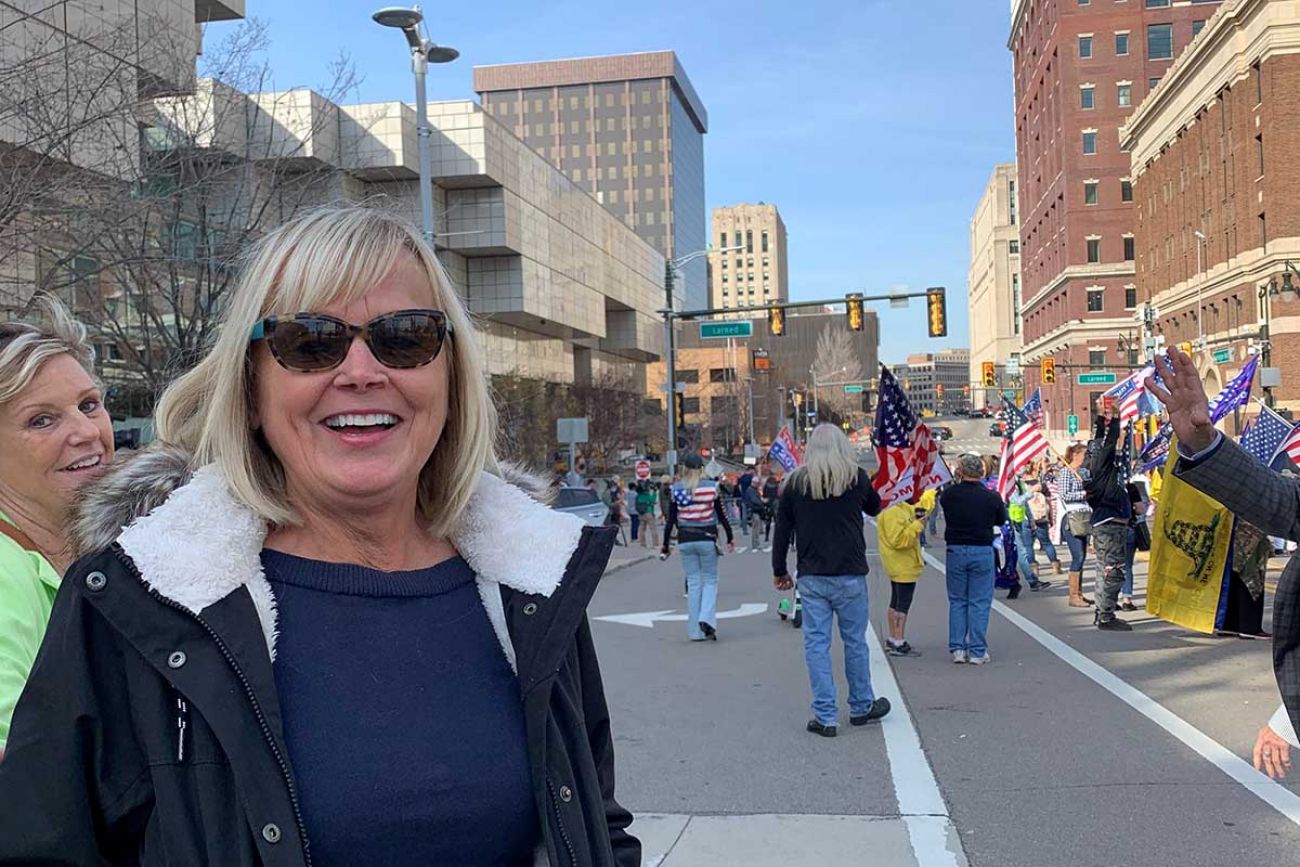 Battling bubbles
Nine dependably Democratic Michigan counties became more blue in their vote totals this year. Meanwhile, GOP counties tilted increasingly toward Trump. In 56 of 72 counties that went to the GOP this year, Trump increased his 2016 vote percentage.
One divide can literally be measured in miles. Among Michigan's 45 northernmost counties (everything north of Saginaw), just two voted for Biden. Trump won these northern counties with an average of 60 percent of the vote; meanwhile, to the south, Trump got 5 percent of the vote in Detroit.
Beyond degrees of latitude, the divide can be measured by degrees of education. The six counties with the highest percentage of adults with a bachelor's degree or higher all voted for Biden; by contrast Trump won majorities in the 46 counties with the lowest percent of college grads.
Washtenaw County has the highest rate of college grads (55 percent), and the highest vote for Biden (72 percent).
Oscoda County has the lowest college grad rate (10.7 percent), and one of the lowest votes for Biden (27.5 percent).
Exit polls conducted among Michigan voters also found a yawning racial gap, with Biden winning Black voters by an 80-point margin, and white voters favoring Trump by a 12-point margin.
Black voters have traditionally voted heavily for Democrats, but this year the Black-white vote gap may have been exacerbated by a summer of racial tension following the high-profile deaths of African Americans at the hands of police officers — most notably, after the police killing of George Floyd in May.
Indeed, a national survey of more than 100,000 voters for the Associated Press found that the protests played a role in how roughly 9 in 10 people voted, for often starkly different reasons.
Racial undercurrents also were hard to ignore last week, when mostly white Republican protesters banged on the windows and actively challenged the integrity of mostly Black poll workers at Detroit's TCF Center.
Other wide gaps in Michigan voting groups, according to exit polls:
Those earning less than $100,000 a year supported Biden by a 9-point margin; wealthier Michiganders voted for Trump by an 11-point margin.

Urban residents voted for Biden by a 25-point gap; rural residents for Trump by 5 points.

70 percent of self-identified evangelical Christians voted for the Republican president, compared to just 37 percent of non-evangelicals.
As a swing state, Michigan elections often are close. What's changed, said Michigan pollster Richard Czuba, founder of Lansing-based Glengariff Group, is a growing distrust of those with different political views.
"Politics has become much more important to more people," Czuba said. "That in itself is not a bad thing. But where we start to have problems is where it affects every one of our policy decisions."
For example, "There's a lot of agreement Michiganders have on big policy issues – everyone wants the Great Lakes to be clean, they want their children to get a good education," Czuba said. "But the problem is we are not figuring out how to agree any more. We are in this environment where it's my bubble and your bubble, and if you talk to the other bubble, you're bad.
"That's not the way it used to be," Czuba said.
Those bubbles were apparent Friday in Detroit, at protests and counterprotests over the vote count at the TCF Center.
Ralph Gaines, 29, of Detroit — an independent who voted for Biden and was among the counterprotesters at a Trump rally — said a combination of COVID-19, monthslong protests over police violence and a tumultuous election season has further divided Michigan.
"I think this election should bring us together," Gaines said. "Instead of us working to see how we can lift each other up, we're putting each other down, he said. "And we're Michiganders. We're supposed to stick together."
To Gaines, the culprit is clear. "We're bringing each other down," he said. "That's what Trump wants."
Marty Devries blames Democrats for the divide.
"We're divided right in half," said the Kent County woman, who attended the Detroit protest in support of Trump. "The Democrats have attacked President Trump from the day he took office. They have used every possible means to make him look awful to try to steal the presidency.
"We are peaceful people, but we are not going to let people walk all over us anymore," Devries said.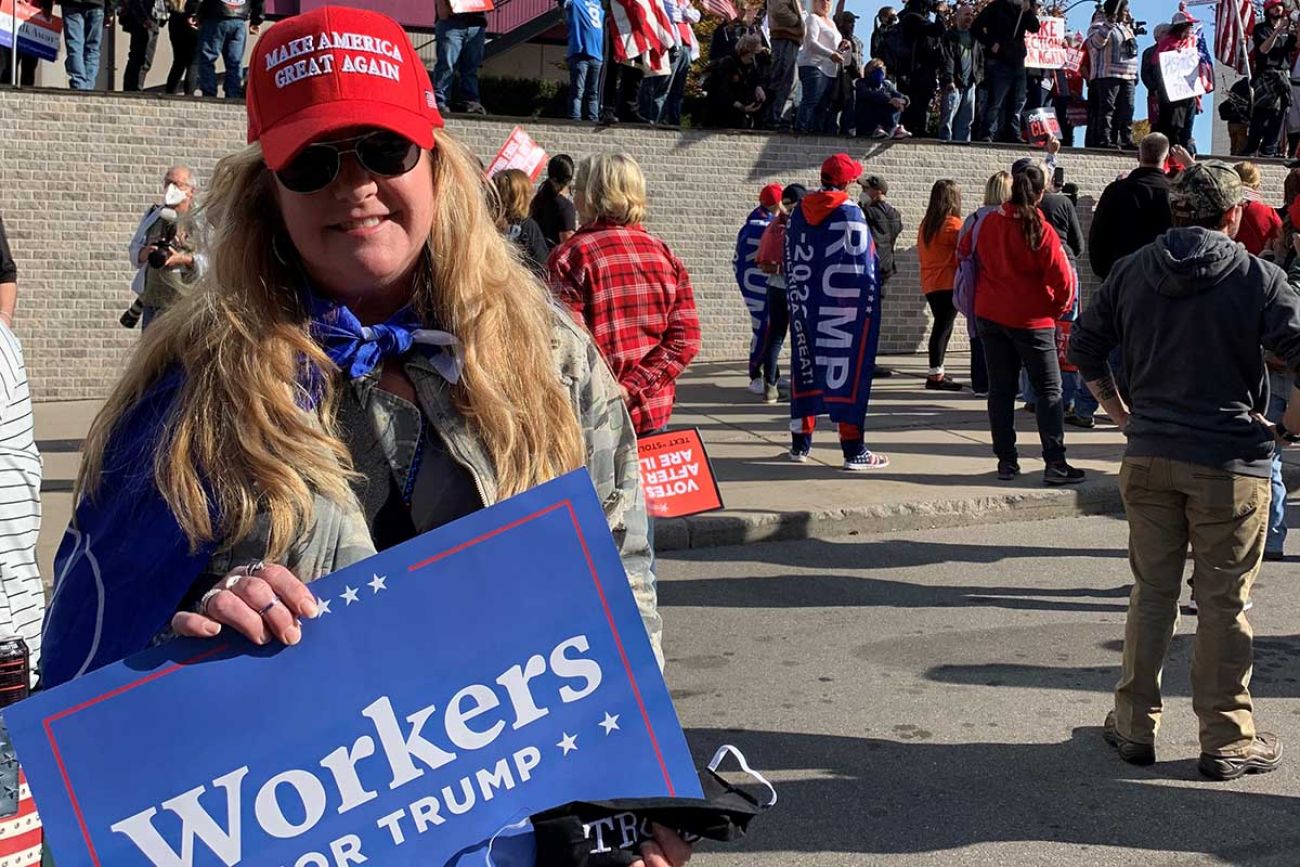 Cable news drives divisions
The partisan divide is evident in more than who we vote for. One example: how safe Michigan residents believe classrooms are during the pandemic depends on political leanings. In an August poll conducted by Epic-MRA for Bridge Michigan, Republicans were more than four times as likely to believe schools would be safe during the pandemic than Democrats (67 percent to 15 percent).
A recent poll of battleground states, including Michigan, found that 90 percent of voters who favored Biden were worried about climate change, compared to just 23 percent of voters who backed President Trump.
News sources vary by political leaning.
A Pew Research Center survey of more than 12,000 people nationally found that Democrats are much more likely to trust most mainstream news sources than Republicans. One example of the divide: CNN was trusted by 70 percent of self-described liberal Democrats, but only 16 percent of conservative Republicans – a gap of 54 percentage points. Conversely, Fox News was trusted by 75 percent of conservative Republicans but only 12 percent of liberal Democrats – a 63-point gap.
Those gaps have grown in recent years, a fact that worries Michigan pollster Czuba.
"We regularly ask (poll respondents and focus group participants) where they get your primary news," Czuba said. "We find those who get their primary news from cable channels like Fox, MSNBC and CNN are the ones that drive to their [partisan] corners the most. Those who get their news from the major networks (NBC, CBS, ABC) or local newspapers, they are much more open to hearing other positions.
"There was a day when you had four networks and a newspaper and everyone had to hear other views," Czuba said. "If you're listening to one of those cable networks, you're not hearing other views."
The result: Many Republicans and Democrats can't find common ground because they don't have a common base of facts," Czuba said.
Tammy Nottingham, 56, of Howell, one of the attendees at Friday's Detroit rally in support of Trump, agreed that some media outlets show people only one side of the story.
"I think that it's cyclical," Nottingham said. "We need a reset, we need to take a step back and make sure that our Republic is working how it's supposed to."
Lisa King, a Democrat from East Lansing who participated in the Michigan Divided documentary, said she learned four years ago that she was living in a liberal bubble of news, social media and friends. King said she's worked hard to expand her network of social contacts to include those with conservative views.
"Through all of this, I have not unfriended one person on Facebook," she said. "I have friends from where I grew up in rural Michigan, and people I've met along the way, who are conservative. I wanted to see what they were saying and posting."
Still, those contacts haven't dulled King's partisan feelings. She described Trump as a "horrible person" and wonders how leading Republicans "can sleep at night with all that hatred."
Shortly after the 2016 presidential election, King and her husband had a choice of school districts for their young son, who was preparing to start kindergarten.
They chose the district they believed had a larger percentage of residents who were Democrats.
"The divisions are probably the same now" as in 2016," King said. "It's just now, they're more out in the open."
We're not just a news organization, we're also your neighbors
We've been there for you with daily Michigan COVID-19 news; reporting on the emergence of the virus, daily numbers with our tracker and dashboard, exploding unemployment, and we finally were able to report on mass vaccine distribution. We report because the news impacts all of us. Will you please support our nonprofit newsroom?