Michigan Democrats 'in knots' as calls to 'defund the police' grow louder
As thousands of protesters across Michigan and the nation march against racial injustice and police brutality, one policy proposal has emerged as a rallying cry: defund the police.
The slogan generally means slashing law enforcement budgets and redirecting the money to social services, and activists are hoping it will translate into real change that reins in police abuse. They've found success in Minneapolis, where officials agreed to disband the police department and rebuild it using "a new model of public safety" after a white police officer killed George Floyd, a black man, by kneeling on his neck for more than eight minutes.
But in Michigan, the proposal has gained little traction, even in Democratic strongholds.
In Lansing, Mayor Andy Schor said he would support cutting $100,000 from the local police department — about 0.2 percent of the department's funding — and was met with jeers and calls to resign from protesters.
Dana Nessel, Michigan's progressive attorney general, this month took to Twitter and Facebook to say she's "saddened by the demonization of all police officers and calls to defund law enforcement." In a typical response, one commenter wrote Nessel "sounds like a privileged, unconscious person."
And when Gov. Gretchen Whitmer recently told The Root she supports "the spirit" of defunding the police, she quickly clarified the remarks to say, "I don't believe police should be defunded," but she supports investment in education, transportation and health care.
The Michigan Republican Party is capitalizing on the division, calling on Democrats to state whether they support a policy they say is "dangerous" and "a step too far."
Political observers say Democrats face a tough choice. If they call for defunding police, they could upset moderates and independents. Staying silent or backing traditional reforms could alienate progressives and appear tone-deaf to complaints about police brutality.
"It's sort of a conundrum for Democrats," said T.J. Bucholz, Democratic strategist who heads Lansing-based Vanguard Public Affairs.
"I think they for years have been unfairly painted by conservatives for being soft on crime… there's always a desire to fund [social services] but resources are limited, especially now."
For protesters, the time for compromise is over. They say decades of reforms have failed to curb police violence and transformational change is necessary.
DeWaun E. Robinson, leader of the Black Lives Matter chapter in Flint, said he was "disappointed" to hear Whitmer hedge her support for defunding. Protesters demand action and voters are watching, he said.
Democrats "have talked a good game and have given lip service for a long time," Robinson said.
"If you see a need, if you see an issue, it's about being present when we need you. It's about making those hard decisions that leaders make. It's not always going to be a favorable position," he said.
A new call to action
What does defunding the police mean? It depends.
While some advocate for the total abolition of police, most activists instead call for budget changes that would shift some resources from police forces to social services such as education and social workers.
Some proponents point to programs like RIGHT Care in Dallas, in which an officer, a paramedic and a social worker are dispatched together in response to mental health calls. It led to a decreased number of arrests and ambulance calls and freed officers to deal with other emergencies.
Others look to Salinas, California, which implemented a program that lobbies against increasing police presence in schools and pushes to divert funding to social services, or to Milwaukee's Office of Violence Prevention that developed a program to interrupt violence and improve health and family resources.
Osha Tolbert, a 22-year old student at Western Michigan University who attended an NAACP march in Lansing on Wednesday, said defunding the police "sounds like something that can work."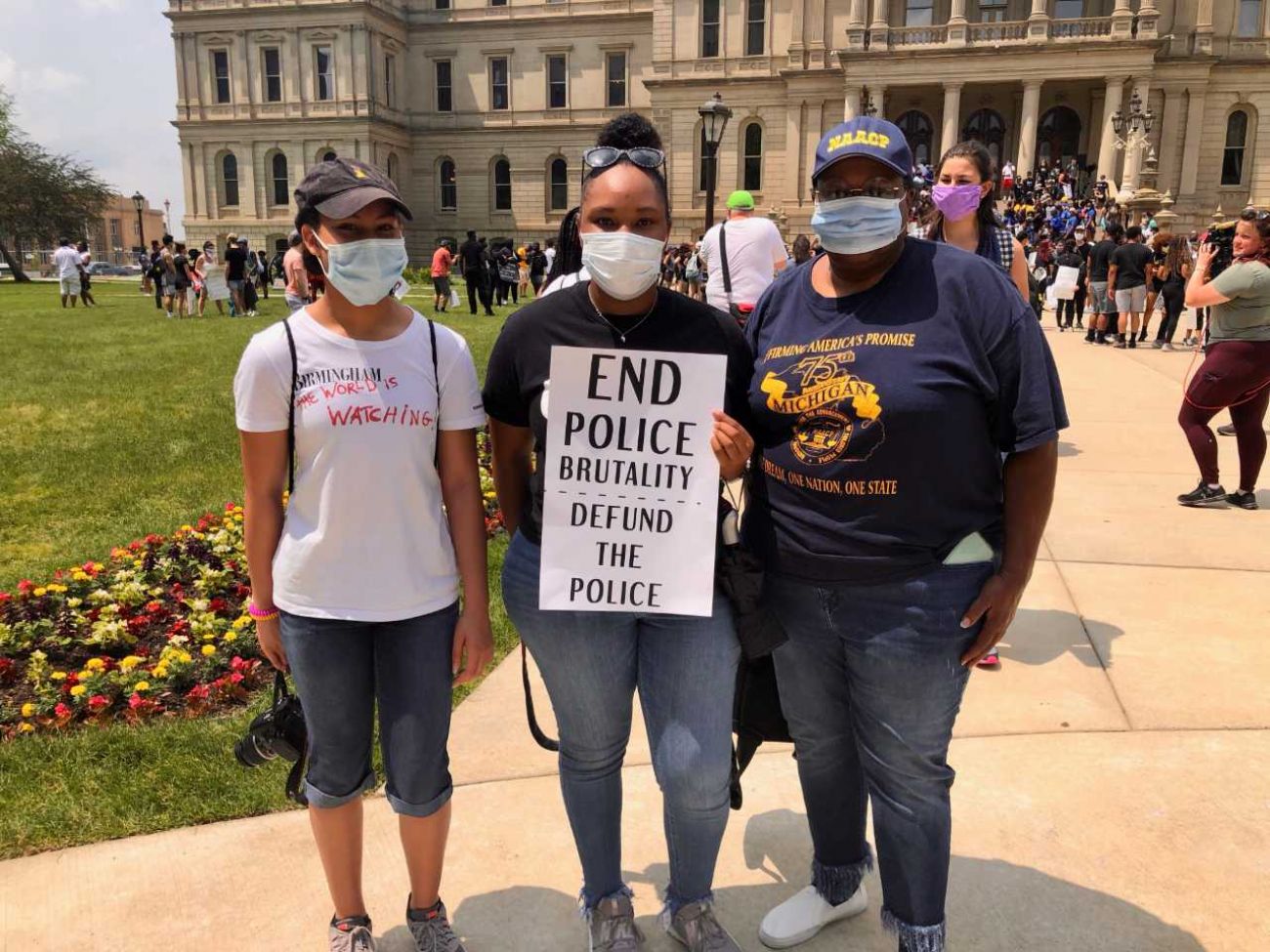 It would involve "taking resources that are mostly given to the police" and putting it into "things like education and the health care system," she said. "If we have the resources to immediately have tear gas and swat teams at a protest but we don't have enough masks in our hospitals, that's where we need to be putting our resources toward."
San Juanita Perez, a 19-year-old from Alma who attended the protest, said she supports reallocating police resources to community services because "they have too much power."
"With money there is power," she said. "They're able to buy more weapons, more ways to be against the black community and anyone, in reality."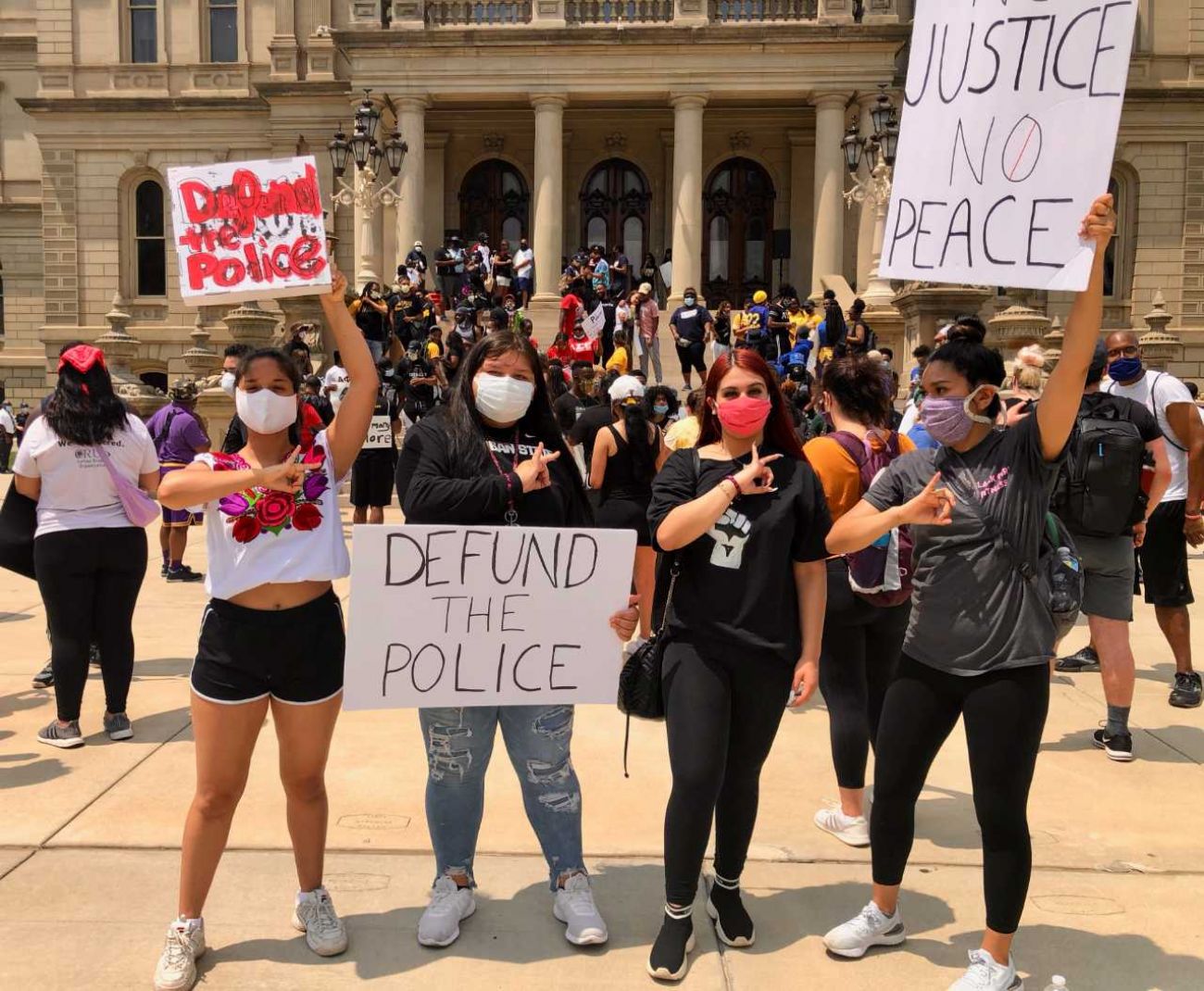 Police typically comprise 20 percent to 40 percent of city budgets, according to data compiled by The Center for Popular Democracy, Law for Black Lives and the Black Youth Project 100. In Detroit, the police budget, $331 million this year, is bigger than the Fire Department, Health Department and Public Works combined.
Joseph Hamm, a professor of criminal justice at Michigan State University who studies communities' trust in law enforcement, said there's a balance between the two psychological camps in discussions of police reform: those who fear harm from others, and those who fear harm from the police.
But "there is a loud, loud argument right now from the people who are protesting against the police, which is that any level of risk from law enforcement is unacceptable," he said.
After the 2014 police killing of Michael Brown in Ferguson, Missouri, there was some patience for the argument that police are largely effective and misconduct stems from a few bad officers, Hamm said.
"That's just not good enough now," he said.
Over the last five years, black Americans have continued to be killed by police at more than twice the rate of white Americans.
Since 2015 in Michigan, 78 people have been shot and killed by police, according to data collected by the Washington Post. More than 35 percent of those were non-white, despite making up around 20 percent of the population. With eight shootings per million people, Michigan has one of the lower rates of deadly police shootings in the United States, according to the Post's database.
Calls to defund the police are less "a dollars and cents issue" and more an issue of "social control and regulation," said Alford Young, a professor of sociology and African American studies at the University of Michigan. That's why the majority of those calling to defund the police aren't actually asking to disband all law enforcement, he said.
"I think for a lot of people, there's a feeling that the police department, functioning effectively, can contribute to the public good," Young said.
Activists want "a police force that adheres to policies that demonstrate some kind of sanction for abuse and increase the ability of police to respond in a healthy fashion," he said.
Nearly two-thirds of Americans surveyed in an ABC News/Ipsos poll released Friday said they did not support the defund the police movement. That varied by race and by party: Black Americans were twice as likely as white Americans to support it, and a slight majority of Democrats supported it.
"Generally speaking, the public believes that there are bad people out there to do them harm and police are what stands between them and the bad guys," said Bucholz, the Democratic consultant.
'A terrible slogan'
As protests continue, both Democratic and Republican lawmakers have moved quickly to introduce reforms.
Michigan legislators are fast-tracking a bill that would codify de-escalation and anti-bias training, and others to ban chokeholds and require excessive force intervention have been introduced in recent days. Other legislators have introduced resolutions to declare racism a public health crisis. Whitmer has added four non-police seats to a commission that dictates police licensing and training standards in Michigan.
During a hearing over police training legislation Thursday, Rep. Steve Johnson, R-Wayland, said calls to defund the police and add training requirements are "incompatible."
"You have to either decide we are going to fund these training requirements or not," he said.
The state Republican party has sent out five statements since last week highlighting the protesters' "outrageous" calls to defund police departments, comparing it to some Democrats' demands to abolish Immigrations and Customs Enforcement.
"This issue is tying some Democrats up in knots as they try to acknowledge the frustration in the black community while not freaking out suburban whites who typically live with no fear of calling 911 in an emergency," said John Sellek, who runs Lansing-based public relations firm Harbor Strategic and who formerly worked for Attorney General Bill Schuette, a Republican.
It's more of an issue in Michigan's bigger cities, whose mayors typically run for office seeking the support of police unions, Sellek said. Adding to the complications: Protestors typically don't have a singular leader and can have different reform demands while voicing the same call to "defund the police."
"It's a terrible slogan. It's not actually indicative of the policy choices that protesters want made," said Adrian Hemond, a Democratic political consultant with Grassroots Midwest in Lansing.
"I think that over time you'll see some of the messaging around this start to change, even from the protesters, from 'defund the police' to a broader conversation about police oversight and accountability."
John Truscott, a public relations consultant who worked as the press secretary to former Republican Gov. John Engler, said protestors are unlikely to "accept a middle ground" policy solution.
"It could be one of those issues that people make their deciding vote on," Truscott said. "I don't see this going away anytime soon."
Both Bucholz and Hemond argued that Republicans have their own concerns this election cycle, including a president who some say is inflaming racial tensions by threatening to send troops into cities to restore "law and order."
Truscott and Sellek said Republicans and Democrats generally agree that there should be no tolerance for bad policing.
"Most of these politicians know that there is an eventual way forward in which we have to not just acknowledge but implement reforms that protect African Americans and minorities, make them feel heard, make them feel safer, and continue to have law enforcement," Sellek said.
Only donate if we've informed you about important Michigan issues
See what new members are saying about why they donated to Bridge Michigan:
"In order for this information to be accurate and unbiased it must be underwritten by its readers, not by special interests." - Larry S.
"Not many other media sources report on the topics Bridge does." - Susan B.
"Your journalism is outstanding and rare these days." - Mark S.
If you want to ensure the future of nonpartisan, nonprofit Michigan journalism, please become a member today. You, too, will be asked why you donated and maybe we'll feature your quote next time!