Michigan GOP infighting leads to actual fight between Karamo, DePerno backers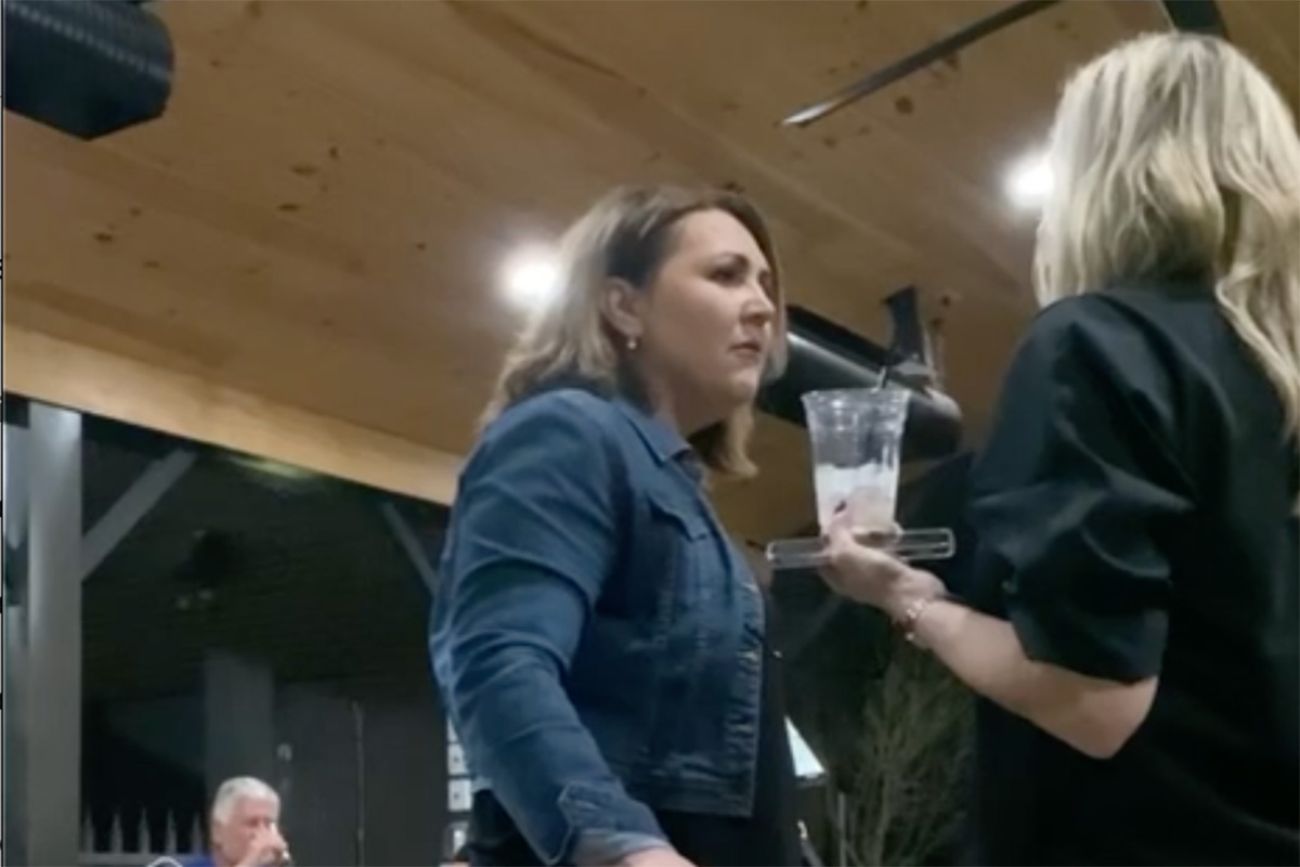 A video recording shows a verbal and physical altercation between Macomb Republican Secretary Melissa Pehlis and Kalamazoo GOP Chair Kelly Sackett at the Doherty Hotel in Clare. (screenshot)
Michigan Government
Michigan GOP infighting leads to actual fight between Karamo, DePerno backers
Police called for alleged assault before Michigan GOP meeting
Feud involves Kalamazoo GOP chair sued by ousted members
Fight a proxy battle between Chair Kristina Karamo, Matt DePerno
---
July 10: Kicked in groin, Republican downplays party feud: 'Some people are crazy'
LANSING — An alleged assault on the eve of a Michigan Republican Party leadership meeting stemmed from an escalating proxy battle between new state GOP Chair Kristina Karamo and former ally Matthew DePerno, party insiders say.
Authorities say local police were called to a patio bar at the Doherty Hotel in Clare on Friday night, where members of the Michigan GOP's new state central committee gathered for their first formal meeting the following day.
A video recording obtained by Bridge Michigan shows a confrontation between Kalamazoo Republican Party Chair Kelly Sackett and Macomb County GOP Secretary Melissa Pehlis. After they exchanged words, Sackett appeared to knock a cigarette and phone from the hand of Pehlis, who responded by thrusting an open hand at Sackett's head.
Sackett told Bridge she filed a police complaint over the incident but declined further comment. Bridge was unable to reach Pehlis, and the Macomb County Republican Party did not respond to a request for comment on Tuesday.
The women, who represent competing factions of the Michigan GOP, appeared to be arguing over an alleged move by Sackett to purge Karamo loyalists from the Kalamazoo GOP.
Related:
Pehlis is a "Karamo sycophant who was there, it appears, to intentionally harass" Sackett, said DePerno, an attorney who ran against Karamo for state party chair and is now defending the Kalamazoo GOP in a lawsuit filed by two other women forced from the county party's executive committee.
"There's big internal disputes within the party right now, and Karamo has done nothing to bring the party together," said DePerno.
"And how could she after she ran on a platform for the chair to divide the party? Her platform was to burn it down to eliminate the people who don't agree with her."
The Michigan Republican Party did not respond to requests for comment. But Karamo supporters contend DePerno is sowing divisions in an attempt to undermine the new leadership and encourage a revolt.
"The people that say we need to unite the most are the ones that are dividing us the most," said Ken Beyer, the new chair of the Michigan GOP's 4th Congressional District Committee in west Michigan. "Matt DePerno is a sore loser trying to keep us from succeeding and advancing."
Beyer accused DePerno of trying to "sabotage" Karamo, suggesting he wants the Michigan GOP to fail so that the Republican National Committee will decide to "step in and take over the (state) party and place Matt into (her) position."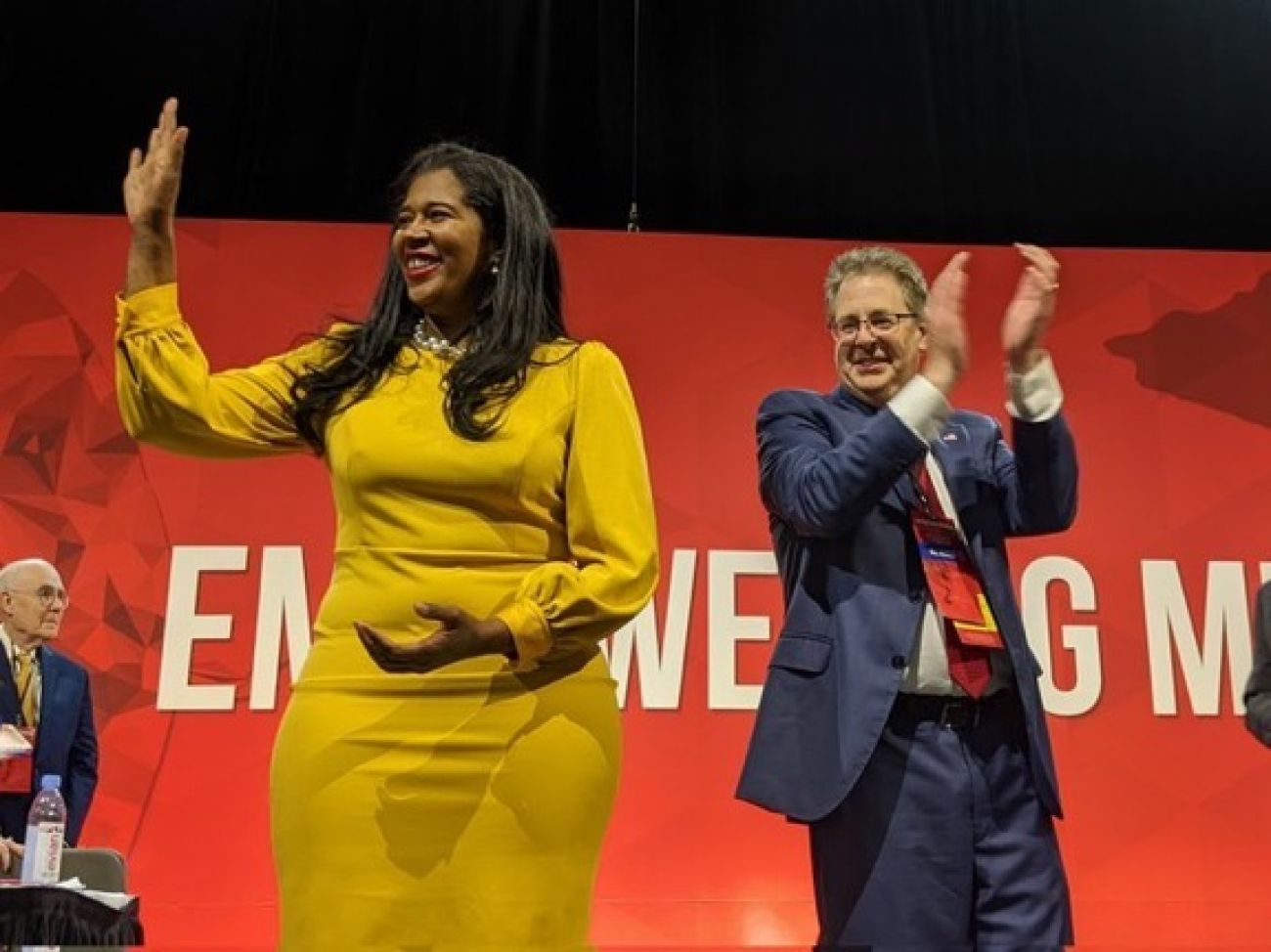 Kristina Karamo and Matthew DePerno at a Michigan Republican Party endorsement convention in April 2022. (Bridge photo by Jonathan Oosting)
Power play
The Friday night altercation appeared to stem from the Kalamazoo feud that was referenced by Pehlis, who is part of a Macomb GOP leadership team that backed Karamo for state chair at the February convention.
Before things turned physical, Pehlis shouted at Sackett about "22" letters the Kalamazoo GOP chair allegedly sent to elected precinct delegates last week informing them they "have been removed" from those local posts.
Bridge obtained a copy of one of those letters, in which Sackett cited "authority vested" in her as county chair, along with a memo to a local clerk naming two precinct delegates Sackett said were "no longer delegates."
The alleged delegate purge followed the recent censure and removal of three Karamo loyalists from the Kalamazoo GOP executive committee. Two of those local Republicans sued Sackett and the county party in late March after she accused them of orchestrating a "coup" ahead of the February state convention where Karamo defeated DePerno.
The lawsuit also alleges DePerno was illegally appointed to the Kalamazoo GOP executive committee.
If Sackett and DePerno can "get away with" removing political opponents, local chairs elsewhere in Michigan could follow suit, warned Beyer, the 4th Congressional District chair who supported Karamo at the convention.
"I was a great fan of Matt," Beyer told Bridge. " I'm not his enemy. But now that I see how he's acting, I'm relieved that he lost (the state party chair race)."
DePerno told Bridge the ongoing Kalamazoo litigation "may set precedent across the state as to the power of the delegate" and grassroots activists.
"There's those who claim that delegates have all the power — they can stand up and scream at everyone, they can overthrow county board chairs out of their position," he said. "And then there's others of us who take a more, I think, moderate approach. Which is, delegates have a role at county and district conventions, but policy needs to be set by people in leadership."
A proxy battle in Kalamazoo
Karamo and DePerno are both prominent 2020 election deniers who shared the ballot in 2022 as the Michigan GOP nominees for secretary of state and attorney general, respectively. Both were endorsed by former President Donald Trump but lost to Democrats in November.
Trump endorsed DePerno for state party chair, but Karamo prevailed at a February convention, where she appealed to grassroots delegates who now control the Michigan GOP by touting her refusal to concede the 2022 election despite a 615,349-vote loss to Secretary of State Jocelyn Benson.
In February, it was DePerno who refused to concede what he called a "fraudulent convention" vote. In an interview this week, he alleged Karamo had campaign staff "in the pits counting ballots" at the Lansing Center. "There's no way to ensure the actual vote count," he said.
DePerno is now fighting a seemingly separate battle in Kalamazoo County Circuit Court that he acknowledges is actually related.
There, he is defending Sackett and the county party against a lawsuit filed by Sabrina Pritchett-Evans and Kimberly Harris, local Republicans who sued in late March as they faced ouster from the Kalamazoo GOP's executive committee.
In the suit, the women alleged the county party committed libel and slandered them in censure motions and press releases posted online. Pritchett-Evans, who is Black, also alleged Kalamazoo GOP officials discriminated and openly "mocked" her because of her race.
The county party, through DePerno, have aggressively disputed those claims. But both sides agree the in-fighting is tied to a congressional district delegate election meeting on Feb. 17 — one day before the state convention where Karamo was elected.
Pritchett-Evans, a Karamo supporter, alleges Sackett attempted to push her own hand-picked candidates for congressional district and state central committee positions instead of publicly nominating them.
So Pritchett-Evans and others moved to amend the congressional district rules, claiming Sackett had previously violated Michigan law and GOP bylaws by appointing DePerno and others to "statutory" executive committee positions reserved for elected officials.
As a result, the county party censured both and stripped them of their local membership. The Kalamazoo GOP accused Harris of assaulting someone at an April 10 meeting. Harris declined to discuss the allegations or litigation.
Pritchett-Harris told Bridge that police twice prevented her from attending Kalamazoo GOP meetings.
She argued that Sackett and DePerno are trying to kick out anyone who disagrees with them.
"I've never experienced something that I would say is so unethical, non-professional and unlawful," Pritchett-Harris said. "I've been on many boards over 30-something years, and I've never experienced anything like this."
Sackett and DePerno counter that Pritchett-Evans and Harris were part of a "coup d'etat" on Feb. 17 that allowed all 4th Congressional District Republican delegates to vote on Michigan GOP central committee positions reserved for the county, diluting the voice of the Kalamazoo GOP in a way that helped Pritchett-Evans and others aligned with Karamo.
The women are among a series of "anarchist-minded delegates" in the Kalamazoo Republican Party who are focused less on raising money and winning elections than they are on pushing a "radical agenda through a 'Christian only''cult mentality that will 'purify' the party," DePerno claimed in a court filing, an apparent allusion to Karamo's religious background.
Sackett has already asked Karamo and the state party to intervene twice, by letter, according to court filings. But Karamo has not responded, DePerno said.
A judge last week rejected the plaintiffs' request for a temporary restraining order, and the county party proceeded to remove both Pritchett-Evans and Harris from the executive committee. But the case is still active, with an evidentiary hearing set for May 22.
The lawsuit seeks a declaratory judgment that the ouster was illegal, along with at least $25,000 in "punitive" compensation, attorney fees and "any other relief" the court deems "just and proper."
The plaintiffs are seeking a jury trial, but it's possible the Michigan GOP could "intercede" to resolve the Kalamazoo delegate "divide" before then, said attorney James A. Thomas, who is representing the plaintiffs.
"It's only giving each other a black eye," Thomas said of the local litigation. "You have two sides to this story, so both sides think they're right."
Only donate if we've informed you about important Michigan issues
See what new members are saying about why they donated to Bridge Michigan:
"In order for this information to be accurate and unbiased it must be underwritten by its readers, not by special interests." - Larry S.
"Not many other media sources report on the topics Bridge does." - Susan B.
"Your journalism is outstanding and rare these days." - Mark S.
If you want to ensure the future of nonpartisan, nonprofit Michigan journalism, please become a member today. You, too, will be asked why you donated and maybe we'll feature your quote next time!