A hero to election deniers, Michigan clerk has a new fight: keeping her job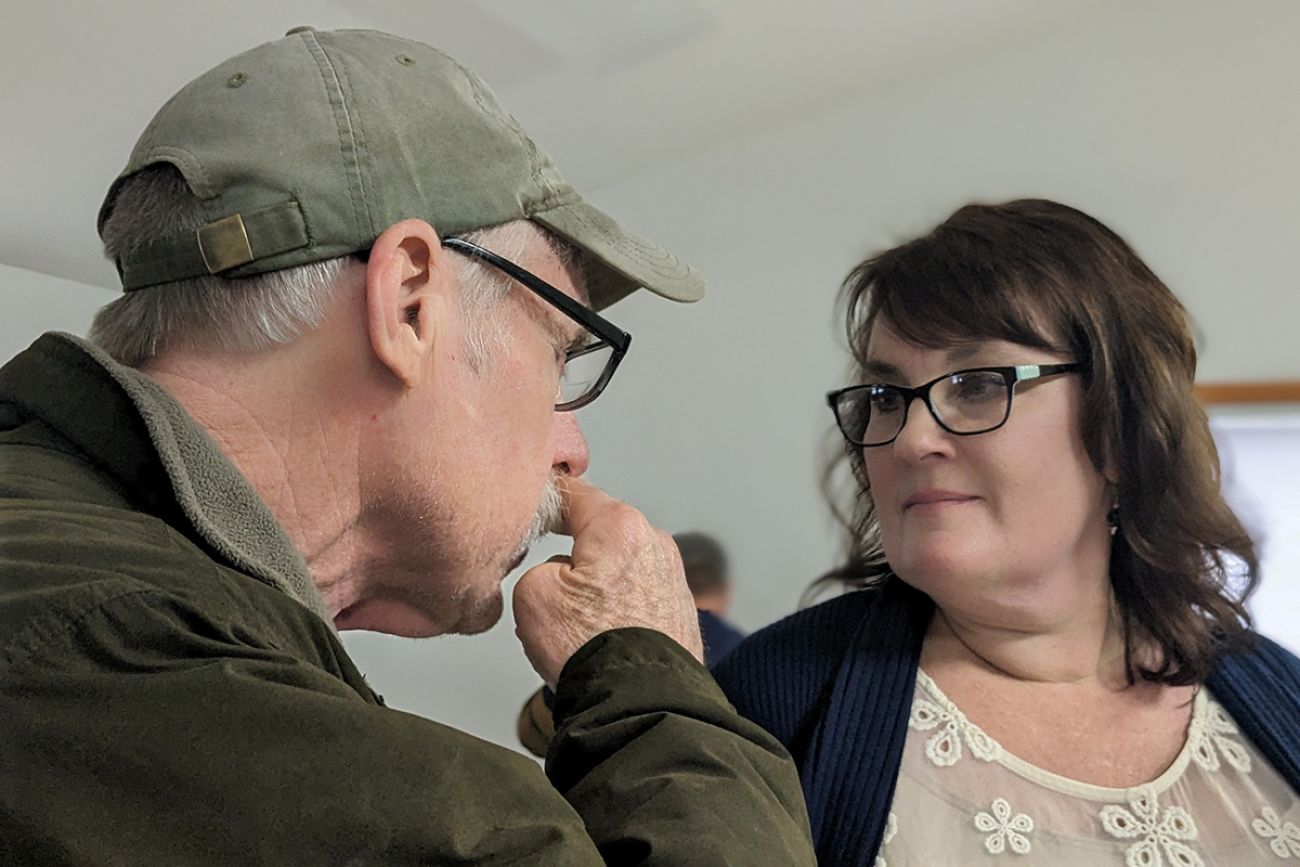 Adams Township Clerk Stephanie Scott, facing recall, defended herself in an April 1 town hall meeting. (Bridge photo by Jonathan Oosting)
Michigan clerk investigated by state police faces recall election
Stephanie Scott of Adams Township maintains she 'did nothing wrong' Attorney General hasn't decided on charges for 'open and ongoing' probe
---
ADAMS TOWNSHIP — A small-town election clerk accused of stealing election equipment has become an unlikely hero among conspiracy theorists continuing to claim the 2020 contest was rigged against former President Donald Trump.
Stephanie Scott, the Republican clerk of rural Adams Township in Hillsdale County, claimed she was trying to preserve election data to prove fraud. But some residents in the town of 2,200 are fed up with the drama and want to oust her through a recall at the May 2 election.
Related:
"A small little township should not be all over the national news," said Cynthia "Suzy" Roberts, 68, an auto industry retiree who has never held political office but told Bridge Michigan she was upset enough by Scott to run against her as an independent challenger.
"They have theories, not facts," Roberts said, referencing Scott and her allies, which include some local Republican officials and prominent 2020 election deniers.
"We need to make lying wrong again. It's just wrong what they're doing."
Michigan voters rejected election deniers at the top of the Republican ticket in 2022.
Now, Scott's recall is the latest test of support in the kind of small, conservative communities where election suspicions still run deep and Trump remains a favorite in the 2024 GOP primary despite his arraignment Tuesday on 34 counties of falsifying business records in New York.
Matthew DePerno, an attorney under investigation in a tabulator tampering case, coasted last year in Adams Township, winning nearly 72 percent of the vote against Democratic Attorney General Dana Nessel, who won statewide by nearly 9 percentage points.
Nessel's office has not yet decided whether to charge Scott, who was separately investigated by state police on claims she defied orders to perform routine maintenance on voting machines, hid a piece of voting equipment from county officials and shared personal voter data with a third party.
Scott first won her post in the 2020 election, running unopposed in a contest conducted with the same equipment she has since questioned. She previously posted QAnon conspiracy messages on social media, promoting the theory that a shadowy cabal of pedophiles undermined Trump.
Scott hasn't had authority to administer elections since the fall of 2021. Democratic Secretary of State Jocelyn Benson shifted responsibility to the GOP county clerk after Scott allegedly refused to prepare voting equipment for future elections, suggesting that doing so could destroy data proving past fraud.
Scott, 51, maintains that she was simply asking questions about local voter roll discrepancies and trying to follow federal law for election data preservation.
"Despite the slander from Secretary Benson, I want you to know that I've done nothing wrong," Scott said last weekend during a local town hall meeting where she defended herself ahead of the recall election.
"I have only asked the questions that other clerks should also be asking," she told roughly 100 attendees, including some from other areas in the state.
"If we're intimidated and silenced from doing our jobs, you the people are the victims."
Scott declined to answer questions from Bridge Michigan, and she did not take audience questions at the town hall, instead asking attendees to fill out a comment card that she promised to respond to through email at a later date.
The event was led by her attorney, Stefanie Lambert, who is also under investigation alongside DePerno in the separate tabulator tampering case.
In 2021, Lambert was sanctioned by a federal judge for her work on a failed Michigan lawsuit seeking to overturn Trump's loss.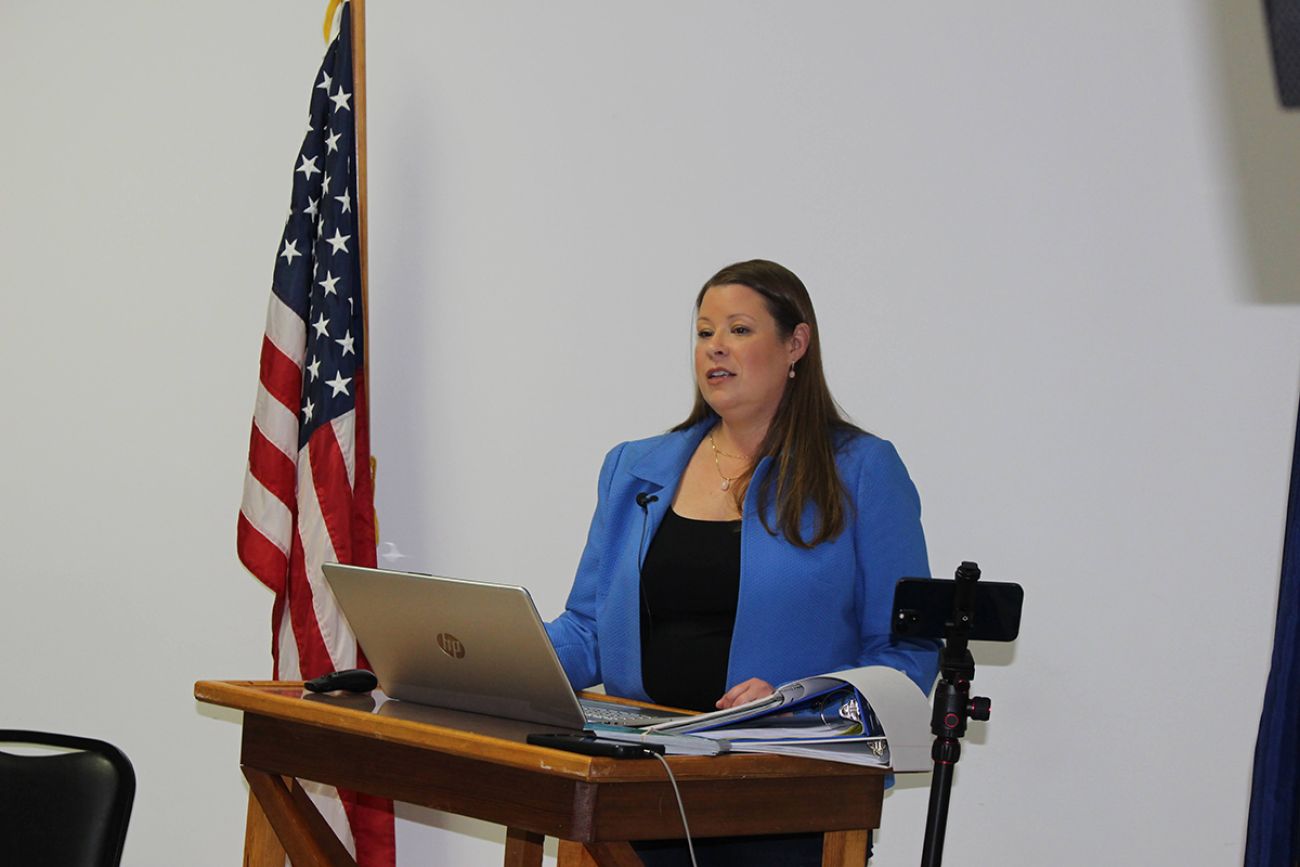 Stefanie Lambert, an attorney for Adams Township Clerk Stephanie Scott, claims her client is the victim of a "witch hunt." (Bridge photo by Jonathan Oosting)
Lambert described Scott as one of the "heroes" who are still fighting to prove election fraud across the country. She accused Benson of leading a "witch hunt" against Scott.
They were joined remotely by Patrick Byrne of Utah, the former CEO of Overstock.com who has used his wealth to fund amateur investigations of the 2020 election in Michigan and other states.
Adams Township is "on the front" of what will become "World War III," Bryne claimed via Zoom during the town hall, alleging a sprawling global conspiracy by China, Iran, Venezuela and Mexican drug cartels to spur a civil war in the U.S. and take over the country once 90 percent of Americans have already died.
"You're on the Normandy of this World War III, and this coup by corruption," Byrne said. "Stephanie Scott is one of those brave Americans who said, 'Not through me. Not on my watch.'"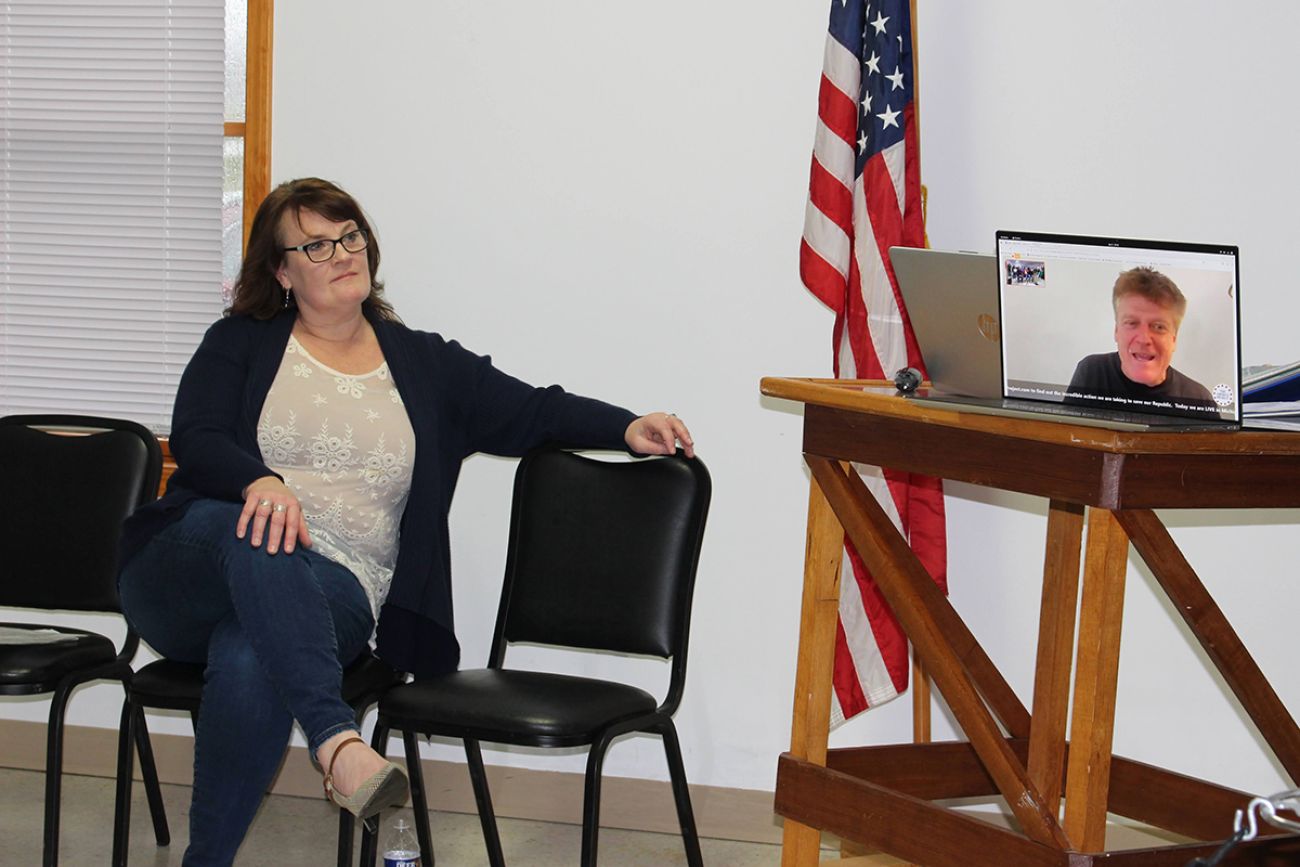 Patrick Bryne, a prominent 2020 election denier, claims Adams Township Clerk Stephanie Scott is fighting one battle in what could become World War III (Bridge photo by Jonathan Oosting)
An 'ongoing' investigation
Benson's office offered little comment on Scott's recent comments, recall election or the investigation. A spokesperson said only that "Michigan election officials are required to follow all relevant state and federal laws."
Michigan Bureau of Elections Director Jonathan Brater, who works under Benson, has accused Scott of making "numerous false statements" about election equipment and in October 2021 ordered her to give the county "immediate access" to all election machines and records.
State police began investigating Scott that fall after an internal Secretary of State investigator suggested the clerk had "committed an election law violation" by refusing to conduct accuracy testing on her tabulator scanner unit, according to police records obtained by Bridge through a public records request.
Emails show Scott repeatedly objected to required maintenance and testing requests. In one August 2021 email to a county official, she suggested that doing so could help voting machine manufacturers "cover their... trail."
Shortly after the state revoked Scott's election administration authority, county officials went to Adams Township Hall to gather the local voting tabulator but later discovered that a "scan unit tablet" was missing from the machine, prompting a state police raid on Adams Township Hall four days later, on Oct. 29, 2021.
By refusing to provide the scanner tablet, Scott may have violated a misdemeanor statute by disobeying "a lawful instruction or order of the Secretary of State," Lori Bourbonais, director of Benson's election administration division, told police before the raid, according to an investigative report.
State police secured a warrant for the missing tabulator scanner and found it locked inside a filing cabinet in Scott's office. Officers then spent months investigating claims by the state Bureau of Elections and local clerk, including equipment analysis by police experts in the computer crimes division.
Documents show state police referred the case to Nessel's office for possible criminal charges in June 2022, but state police investigated again in September after Scott was accused of sharing "identifying information" about local voters with a third party as part of her own unauthorized investigation.
In a failed lawsuit against the state, Scott had submitted an affidavit from Ben Cotton, a self-described "computer forensics" expert based in Virginia. He helped lead a controversial Arizona elections audit and is also under investigation in Michigan as part of the separate tabulator tampering case involving Lambert.
In the affidavit, Cotton said he had reviewed data from the township electronic poll book laptop and claimed it contained unique voting information that the state wanted clerks to delete in order to prepare for future elections.
An attorney for Cotton told state police that his client never examined the electronic poll book, which could constitute an illegal breach, according to an investigative report. Instead, he had obtained "data from that device" through Signal, an encrypted chat application and had been "advised" by Scott's attorney he was authorized to view it.
Nessel's office did not respond to requests for comment on the case or the duration of the investigation into Scott. But in denying a public records request, her office called it an "open and ongoing investigation."
Muskegon County Prosecutor D.J. Hilson, serving as a special prosecutor in the separate tabulator tampering case involving Lambert and DePerno, declined to say whether Scott has become part of his investigation, which initially focused on 2020 voting machines accessed in Roscommon County, Richfield Township, Lake Township and Irving Township.
"I hope they pursue it, because this is just wrong," said Roberts, the political independent now challenging Scott in the recall election. "You can't steal a part of the machine to satisfy some sort of theory you have. When she released our personal information (to Cotton), that was my final straw."
A $5,500 machine
The controversy has roiled Adams Township, a rural community 18 miles north of the Ohio border. But it doesn't seem to have divided it, said Gail McClanahan, a 75-year-old retiree who organized the recall election.
"We (had) no trouble getting the signatures at all," she said, telling Bridge that she and fellow volunteers easily collected more than the 264 required signatures to put Scott back on the ballot.
She remembered only six local voters who refused to sign the petition, she said.
McClanahan also successfully petitioned to force a recall election for Township Supervisor Mark Nichols, a Scott ally who joined the clerk to vote against buying a new tabulator to replace the unit confiscated by Michigan State Police.
Scott "cost our district $5,500" by requiring the tabulator purchase, which was ultimately authorized by the township board, said McLanahan, who told Bridge she had been Republican "all my life up until the last few years."
McLanahan noted the township has also been required to cover all county costs associated with running local elections, including the upcoming May contest that will decide the recalls as well as a separate school millage question.
But Scott still has local supporters, and recall organizers acknowledge the (R) next to her name on the ballot could still be an important factor for some voters in a township that Trump dominated with 76 percent of the vote in 2020.
"When (Scott) does something or looks into something, she is very thorough," said Evans Mekas, a local retiree who attended her town hall meeting and echoed Scott's 2021 proposal to ditch the voting tabulator for a hand count, which is not currently allowed under state law.
"Whatever issues or concerns people have about the voting machines, the only thing I would like to have Michigan do is allow the various townships or electoral divisions to have a choice as to whether they want to use the machines or to (hand count) paper ballots," Mekas told Bridge.
Experts say hand counts are significantly less reliable, more expensive and more time-consuming than using tabulators. A 2018 study of a hand recount in Wisconsin found the error rate nearly doubled when humans tallied votes.
McLanahan, who organized the recall election, said she's been a local Election Day worker since 1972 and accused Scott supporters of not understanding how the process works.
"I would stake my life on the Adams Township election — the honesty of it," she said. "You've got Republicans and Democrats working together. Do you think one person is going to stand there and let somebody else mess with our election?"
She's optimistic that the recall will be successful, and Adams Township will finally be able to move on from 2020.
"This is not the kind of reputation we want," McLanahan said. "Most of us, we're older people who love this area, but we don't like what's going on."
Only donate if we've informed you about important Michigan issues
See what new members are saying about why they donated to Bridge Michigan:
"In order for this information to be accurate and unbiased it must be underwritten by its readers, not by special interests." - Larry S.
"Not many other media sources report on the topics Bridge does." - Susan B.
"Your journalism is outstanding and rare these days." - Mark S.
If you want to ensure the future of nonpartisan, nonprofit Michigan journalism, please become a member today. You, too, will be asked why you donated and maybe we'll feature your quote next time!