Michigan Gov. Whitmer on tough first year: 'I did what I said I was going to'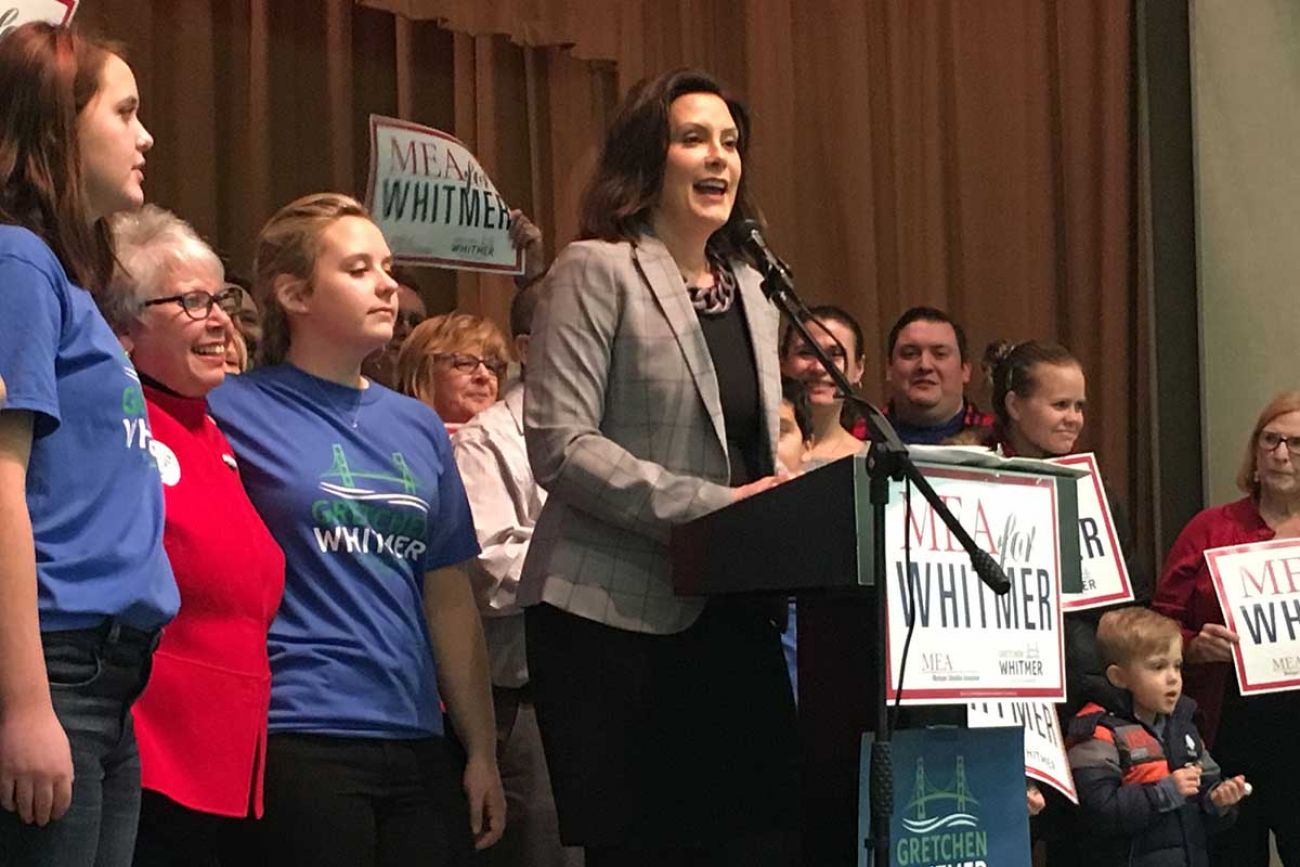 Michigan Government
Michigan Gov. Whitmer on tough first year: 'I did what I said I was going to'
LANSING – She's the popular "fix the damn roads" candidate whose roads plan crashed and burned at the Capitol. A former legislator who clashed with lawmakers. A rising star in national Democratic politics bogged down by political infighting in her own state.
Michigan Gov. Gretchen Whitmer's first year in office was, in many ways, defined by another first: The state's first period of divided government in eight years.
The Republican-led Legislature blocked some of the Democratic governor's top priorities, fought back when Whitmer flexed her muscle with executive authority, called her names and refused to let her drive the agenda in a state they were both elected to lead.
But political observers say Whitmer slowed progress with high-risk moves that infuriated GOP lawmakers, including a veto and transfer spree that turned a partisan budget divide into a gulf during a months-long battle that was partially resolved in December.
"I did what I said I was going to do," Whitmer told reporters this week in a year-end roundtable, referencing her initial budget plan that proposed a 45-cent fuel tax hike and would have reshaped state education spending in a more significant way than the final product.
"These were the fundamentals I ran on," she said. "Had the Legislature followed suit or worked with me on those things, we could be avoiding the worst pothole season in recent memory, which is what we're gearing up for for in the spring."
Ultimately, Whitmer's first year in office included few major Democratic wins in the Legislature, where GOP majorities passed bills at the slowest pace in at least 20 years.
The biggest breakthrough came in May, when Whitmer signed a Republican-led bill to overhaul the state's no-fault auto insurance system in an attempt to drive down the rates that routinely rank among the highest in the nation. Whitmer also signed bipartisan reforms to "raise the age" and no longer treat 17-year-olds as adults in the criminal justice system.
"There was a lot of vitriol and sound and fury, but there wasn't a whole lot of significant policy change that reflected the new governor's agenda or that moved policy leftward from where it had been under Republican control," said Matt Grossmann, director of the Institute for Public Policy and Social Research at Michigan State University.
No 'home runs'
In all, 175 bills made it to Whitmer's desk in 2019, almost half the number that went to her Republican predecessor, Gov. Rick Snyder, during his first year in office in 2011.
"This isn't even a criticism, it's just a fact: this wasn't a very productive year," said Senate Minority Leader Jim Ananich, a Flint Democrat and legislative peace broker who described his role as a "translator" between officials from different parties who seem to be speaking different languages.
"I hope that next year… we realize that if we're going to do this right, we're going to have to compromise and give and take," Ananich told Bridge Magazine. "If not, we're going to have four years of bumpiness."
Senate Majority Leader Mike Shirkey, R-Clarklake, said he is pleased with a pace that suggested a GOP commitment to small government.
"Every piece of legislation steals from somebody's freedom," Shirkey told Bridge in a year-end interview. "It's a marvelous gift. I love that. Pin that on me, and I'll wear it everyday."
House Speaker Lee Chatfield, R-Levering, said the Legislature spent much of the year working on "big ticket" policies, including auto insurance, online sports betting regulations and criminal justice reforms.
"We focused on some very key priorities that will continue to move our state forward and we accomplished that because it was our focus and we didn't get sidetracked with other issues," he told Bridge.
The pace frustrated some of Whitmer's supporters and allies, including voters in southeast Michigan who helped propel her to office in 2018. Her signature issue, fixing roads, went nowhere when she proposed raising more than $2 billion a year by raising the gas tax by 45 cents per gallon.
"She hasn't hit any real home runs in a way that has captured the public's attention," said Greg Bowens, a southeast Michigan political consultant.
"The thing that tends to stick in people's mind is that she wants to raise the gas tax 45 cents, and I universally cannot find people who think that's a great idea."
Detroit-area activists hoped Whitmer would be more aggressive, Bowens said. The governor hasn't pushed to repeal the state's emergency manager law and rankled black voters when she proposed closing Benton Harbor High School, a plan she dropped after public outcry.
"People were so used to protesting the unfairness of governing by Republicans, particularly as it relates to race, that it was kind of shocking," Bowens said.
Budget battle
The lack of progress was embodied by a budget battle between Whitmer and GOP leaders that dragged on for nine months.
Avoiding a government shutdown, Whitmer used an unprecedented flurry of executive power this fall to try to force continued negotiations, issuing $947 million in line-item vetoes and using rare executive powers to transfer $625 million within state departments.\
Republicans cried foul, arguing Whitmer usurped the Legislature's authority to decide state spending plans. The ensuing power struggle jeopardized funding for local sheriffs, county jails, isolated schools districts and rural hospitals.
Outside of Lansing, some Democrats questioned the governor they'd helped elect.
"She had the right strategy with the line-item veto, but then she messed with autism funding and charter schools" said Steve Hood, a Detroit political consultant and talk radio host. "She caused herself a problem."
While she later reversed cuts, Whitmer initially vetoed $1 million in funding for an Autism Navigator program that provides online resources and a free call center for parents. She also nixed $35 million for charter schools that are popular in southeast Michigan, temporarily denying a per-pupil funding increase provided to other public schools.
The deal Whitmer and GOP leaders struck in December restored $573.8 in vetoed spending and reversed $82.3 million in transfers. It will require the governor to give notice to the Legislature before executing transfers in future years, but require the Legislature to send a budget to the governor three months ahead of the constitutional deadline.
Left unresolved: how to spend another $373 million in vetoed funding and what to about crumbling roads, mediocre schools or rising college costs, issues that Whitmer campaigned to fix.
"I'm determined to continue to make greater investments in education," Whitmer said this week. "But I would have liked to have taken that huge step this year with the budget that I'd introduced."
Relationship building… at the bar
State Sen. Curtis Hertel Jr., D-East Lansing, sought to ease tensions between Whitmer and GOP leaders this fall when he helped organize a casual sit-down at Dagwood's Tavern and Grill.
The governor, Shirkey and Chatfield gathered at the dive bar on the east side of Lansing. But things appeared to get worse before they got better, at least with Shirkey.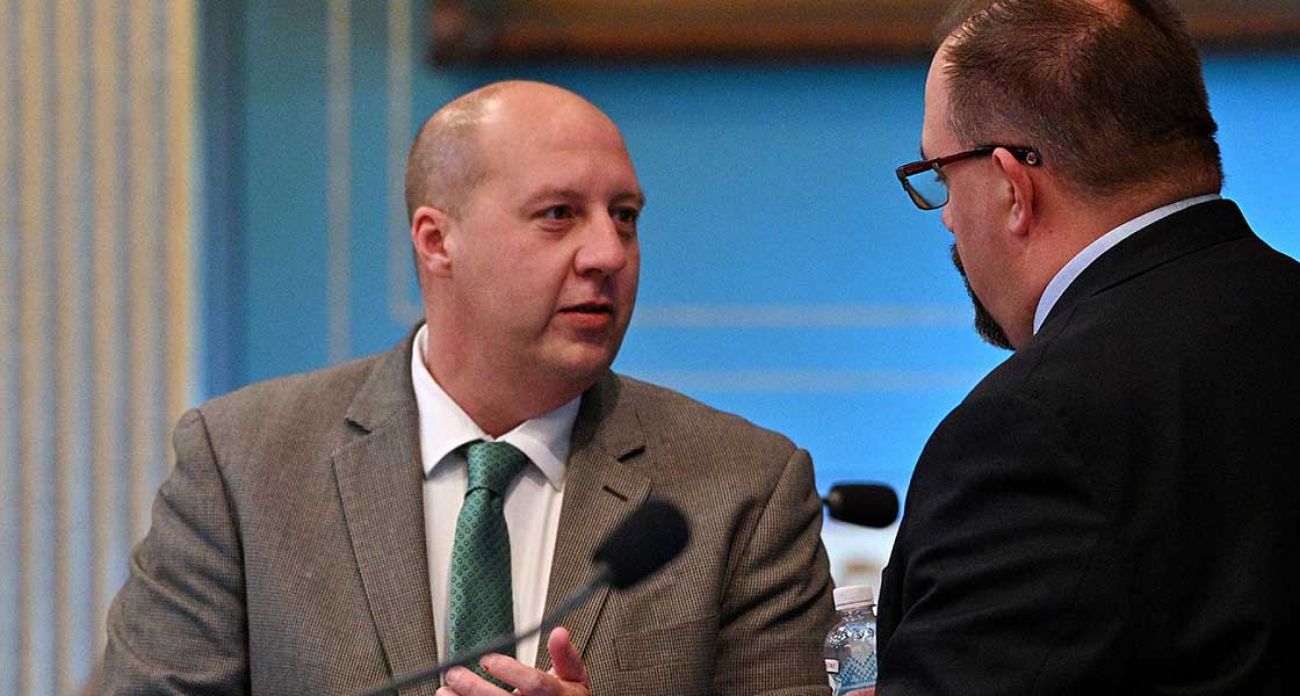 Speaking to a Republican student group at Hillsdale College amid the budget stalemate, the Clarkale Republican described Whitmer and Democrats as "batsh*t crazy," a jab the governor said she was "sad to see" and reminded her of "ugly rhetoric" in Washington D.C.
Whitmer broke the ice two weeks later, sending Shirkey a "bat day" cake for his 65th birthday.
"I think she's more of a gamer than most people know," Shirkey said this week in an interview with Bridge. "We started the year off in a rather robust bipartisan way. I believe we ended the year in the same (way)."
But there lessons learned along the way, he said. Among them: "Hard lines are hard to erase" and "When the governor says something, me knowing what she actually means. Because sometimes … we're talking past each other."
The quintessential miscommunication was on road funding. Shirkey said he interpreted Whitmer's proposal to raise the gas tax by 45 cents per gallon as a "BHAG: A big hairy audacious goal."
He thought the proposal was intended to say "let's set an aggressive goal and then see what we can get."
"Over time it became clear to me, at least my interpretation was, that was it and there wasn't any negotiating about it," Shirkey said.
Unlike her Republican predecessor, Whitmer served in the Legislature and has been up-front about bills she intends to veto – but willing to negotiate changes, Hertel said.
Sen. Ed McBroom, R-Vulcan, said Whitmer's legislative experience could ultimately help, but hasn't paid dividends because "we've been so bogged down in the budget."
"As much as I liked (Sndyer) and admired so much of what he did, at times he didn't seem to understand how frustrating it could be to legislators to have policies vetoed and never get a phone call to give them a five-minute chance to explain why they thought it was a good idea," McBroom said.
'I'm not perfect'
Still, Whitmer has frustrated Democrats at times, particularly when she negotiated primarily with Republicans on auto insurance reform.
"We can definitely do better in that area, in making sure that all parties are at the table," House Minority Leader Christine Greig, D-Farmington Hills, told Bridge this week.
"Because the last thing you want is for a significant part of the Legislature to not be up to speed on the details of a deal. And yes, you know, to be honest, there were a couple times where I felt that way."
Blocked by the Legislature, Whitmer pursued her agenda this year by using her executive authority. She issued a combined 34 executive orders and directives in 2019, topping Snyder's high of 26 in 2016 and nearly doubling his average of 17.
This week, she signed an executive order creating a new Michigan Poverty Task Force in state government.
Whitmer's directives, limited in scope because they apply only to state government, created new internal ethics rules, toughened workplace protections for women, gay and transgendered employees, committed the state to reducing greenhouse gas emissions and sought to increase contracting opportunities for businesses in economically-distressed areas.
"She is building a state government that this entire state can be proud of because it looks like us," said Greig. "And that is a huge step in really delivering on Democratic values."
Whitmer also bypassed the state Legislature in an attempt to ban the sale of flavored vaping products under emergency rules form the Michigan Department of Health and Human Services that have been challenged in court and eased rules for accessing public welfare programs.
While 2019 had its bumps, Whitmer said the year has helped her improve time management, making sure her administration is "putting our priorities where they really need to be" by engaging with people and businesses across the state.
"I'm not perfect," the governor said. "I certainly have learned a lot in this process."
Only donate if we've informed you about important Michigan issues
See what new members are saying about why they donated to Bridge Michigan:
"In order for this information to be accurate and unbiased it must be underwritten by its readers, not by special interests." - Larry S.
"Not many other media sources report on the topics Bridge does." - Susan B.
"Your journalism is outstanding and rare these days." - Mark S.
If you want to ensure the future of nonpartisan, nonprofit Michigan journalism, please become a member today. You, too, will be asked why you donated and maybe we'll feature your quote next time!