In Michigan, juvenile justice carries high cost: crippling debt for parents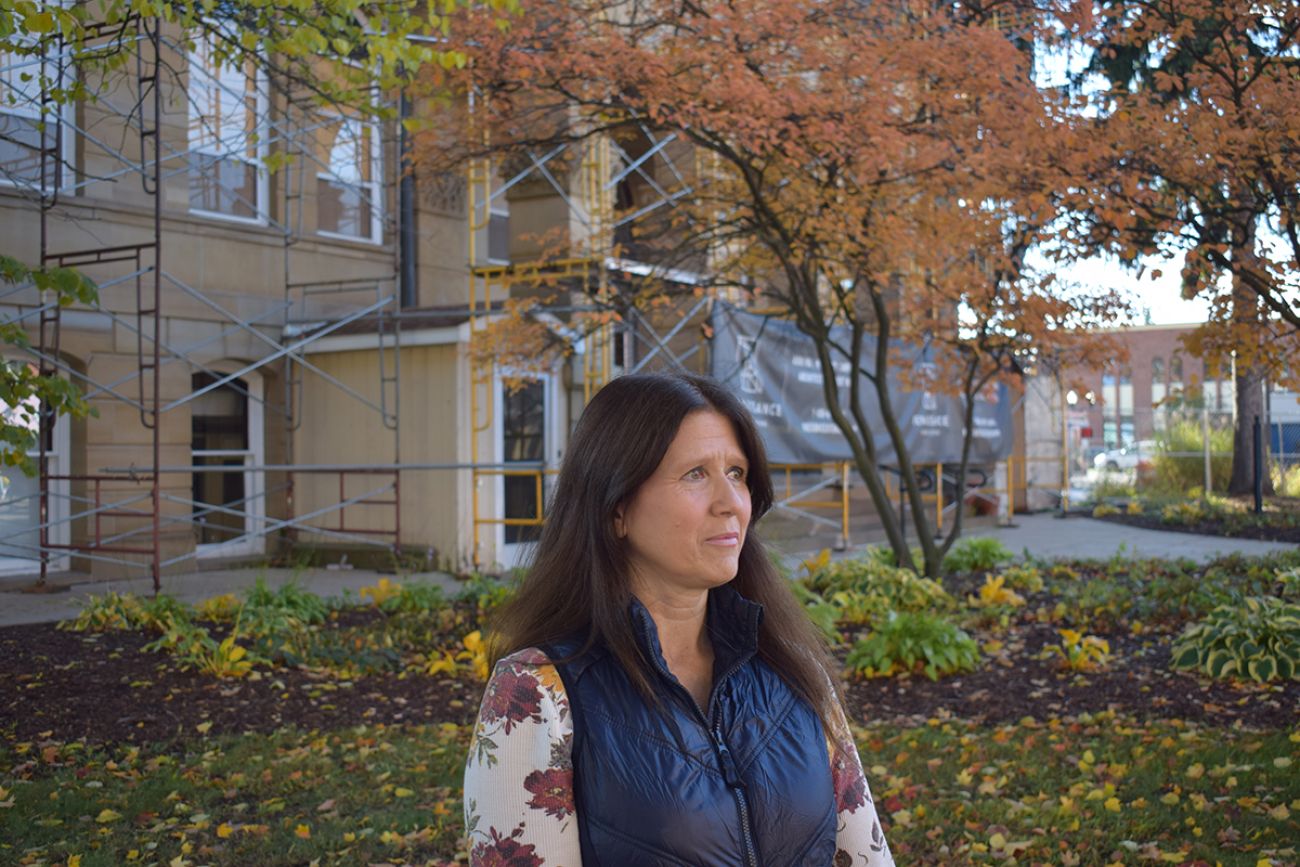 Jonesville resident Kathy Dihle stands outside the courthouse in Hillsdale County, where she and her husband filed an incorrigibility petition against their son out of frustration. He ended up spending months in detention, and she and her family now owe nearly $4,000 in fees. (Bridge photo by Lauren Gibbons)
Michigan allows counties to bill the parents of juvenile offenders for their own detentions, fees that can quickly climb
Statewide, families owe millions of dollars, with some in debt upwards of $100,000
Now, the push is on for Michigan to follow the lead of other states and waive fees
---
Ernest Bracanovic knows hardship. As a teenager, he moved to Michigan from the former Yugoslavia as a war refugee and quickly had two children.
Trouble followed him to Macomb County. His son couldn't stay out of trouble, spending the bulk of his teenage years in juvenile detention centers for assault and illicit substances.
Ultimately, Bracanovic paid the price, amassing more than $100,000 in debt because Michigan law allows judges to impose fees on juvenile offenders and their parents for everything from drug tests and counseling to detention, which averages $100 to $300 per day.
UPDATE Nov. 14: Michigan lawmakers vote to end most juvenile court fees, citing harms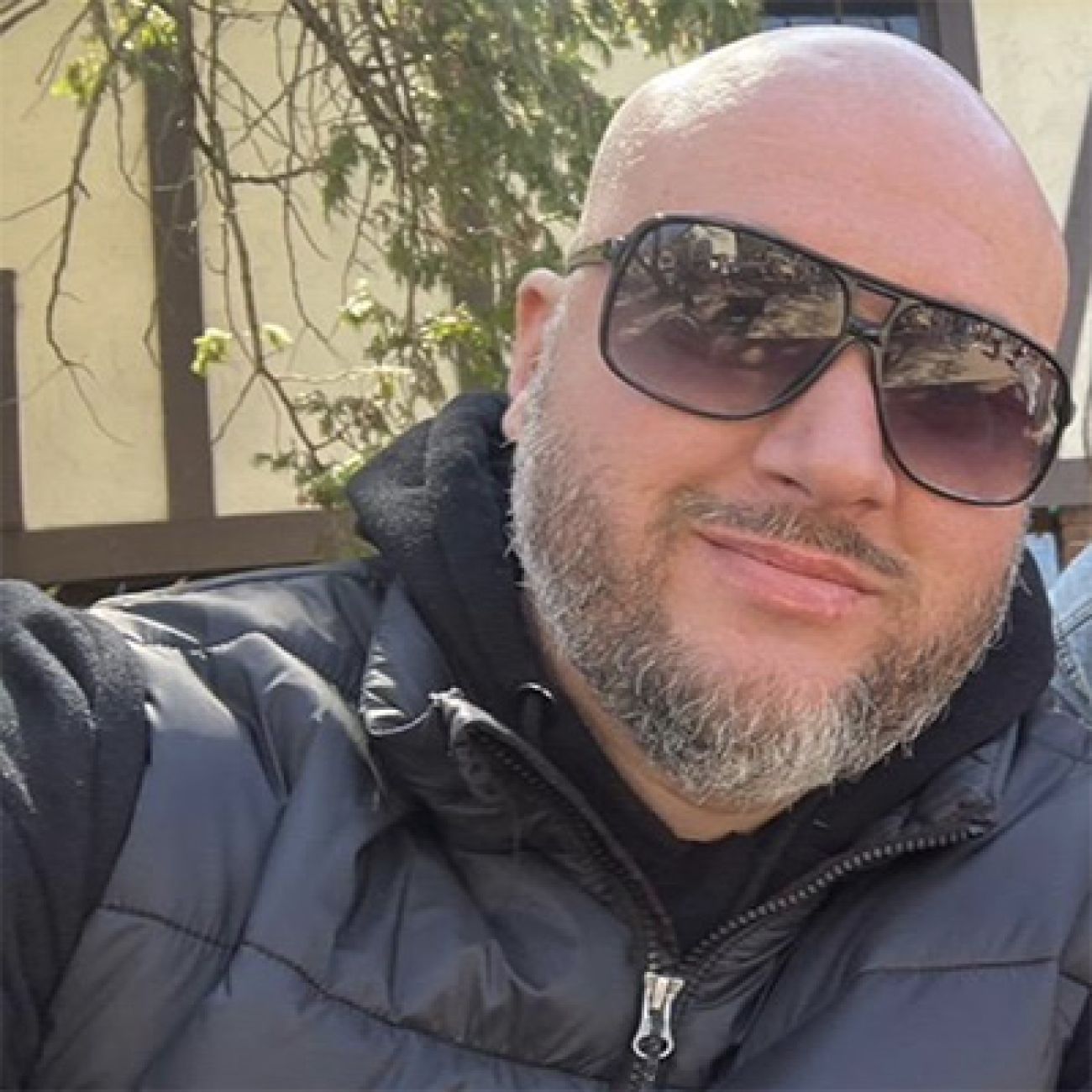 Before Macomb County's juvenile court stopped assessing and collecting on most juvenile court debts, Ernest Bracanovic owed more than $100,000 for the time his son spent in juvenile detention and other court-ordered treatments. (Courtesy photo)
Advocates say the fees shackle parents like Bracanovic with crushing debt that amounts to double punishment. In all, he owed more than the cost of four years of in-state tuition at the University of Michigan.
"Whatever I was paying, it just kept coming," Bracanovic, 39, told Bridge Michigan. "It's just like a hamster, always working, running in a wheel. You're always doing something, but you're always in the same spot."
Related:
He isn't alone. Statewide, thousands of families collectively owe millions of dollars in juvenile fees, prompting efforts from counties to the state Legislature for Michigan to follow other states' lead and waive fees for parents.
At one point, Bracanovic was paying 40 percent of his budget each month toward fees. He had reduced the bill by $20,000 — and delayed buying a house in the process — when the county decided to absolve most juvenile justice-related debts in 2021.
"You've just got this big weight over you, just pulling you down every day. It's very depressing," Bracanovic said.
On average, Macomb County families with children in juvenile detention owed $87,000 in court debts in 2021, according to a study that year that prompted the county to waive most juvenile fees and debt.
As with many other policies, Michigan gives counties broad latitude about whether to require families to pay court fees for juvenile offenders.
Little data is publicly available on the collective debt currently owed statewide, but a Michigan Center for Youth Justice review of 74 of 83 counties found $28 million in fees had been assessed between 2017 and 2019. A separate report from the National Juvenile Defender Center that reviewed 10 Michigan counties found that most have millions of dollars in outstanding unpaid court fees that are kept open indefinitely, in some cases pertaining to children who are now deceased.
Now, after years of lobbying from juvenile justice advocates, some counties, including Macomb, Wayne and Washtenaw, are waiving outstanding fees — and there's movement to do the same statewide.
Lawmakers are in the process of passing bills to eliminate most fines and fees as part of broader reforms to the system.
"The whole point of juvenile justice is to make sure that we're rehabilitating and then getting folks on track to success," state Sen. Stephanie Chang, D-Detroit, told Bridge. "But how can you do that when people are saddled with an enormous amount of debt from the court, where it's hindering their ability to get ahead and move forward? … It just feels so wrong."
State Sen. Stephanie Chang, D-Detroit, is sponsoring legislation to waive most fees for parents whose children are in the juvenile justice system. "How can you (rehabilitate children when parents) are saddled with an enormous amount of debt from the court?" she asked. (Courtesy photo)
While the measures have broad bipartisan support, critics including Sen. Jim Runestad, R-White Lake, note that taxpayers will ultimately pick up the costs if fees are waived or forgiven.
"It will have a substantial impact on court budgets and does not allow for a lot of time to account for the changes," Runestad said.
Lasting impacts
Advocates say the fees are so excessive that parents of troubled teens sometimes avoid getting help for fear of entering the system and going into debt.
Kathy Dihle can relate. She and her family collectively owe nearly $4,000 in juvenile court fees, even though her son has never been arrested.
In a moment of frustration in May 2021 after he refused to come home, she and her husband sought advice from police, who recommended they file what's called an "incorrigibility petition" with Hillsdale County. Dihle agreed, saying she felt she had "no other choice." The decision put her son, now 16, on probation and gave the court discretion over future treatment.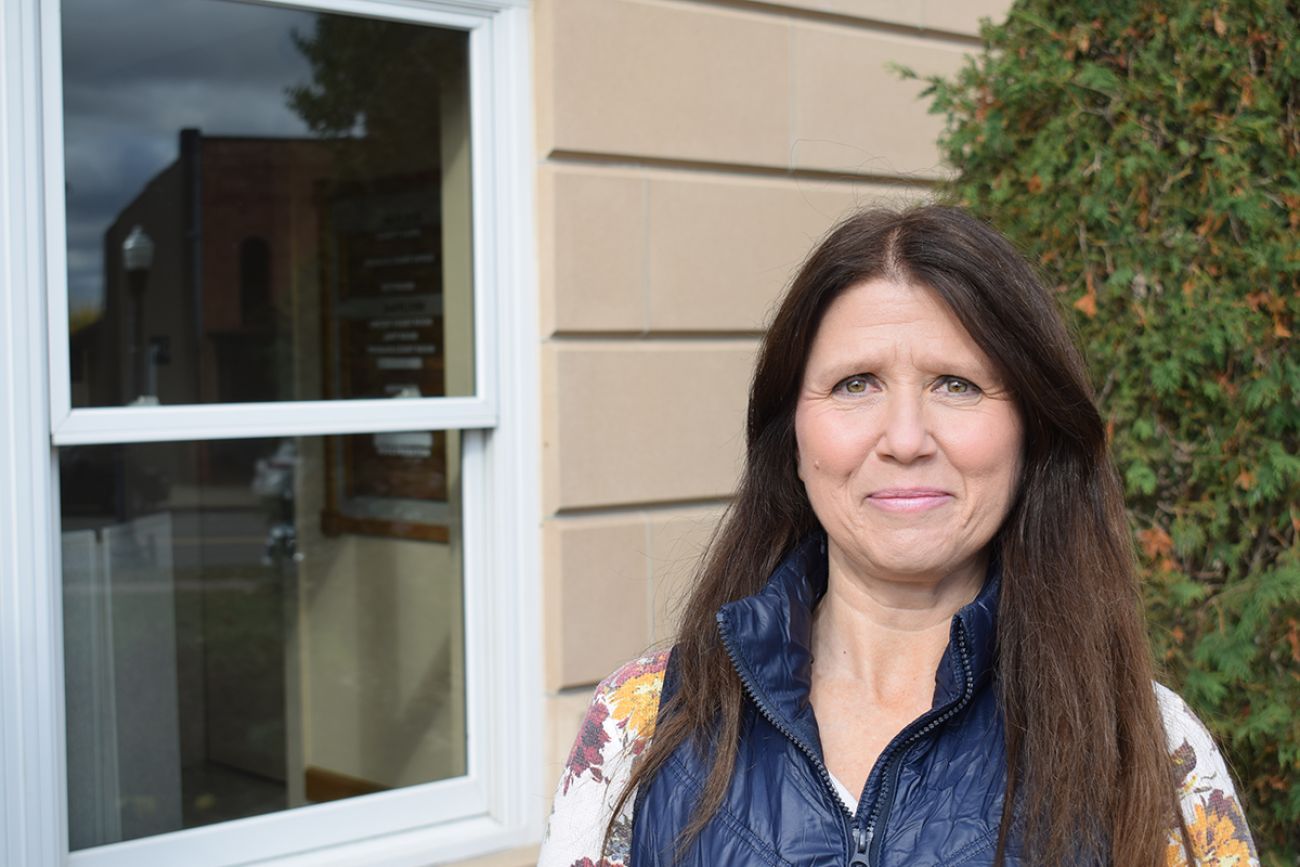 Hillsdale County resident Kathy Dihle says she and her husband "had no idea what … we were getting ourselves into" when they got involved in the juvenile justice system after their son didn't come home. (Bridge photo by Lauren Gibbons)
Shortly after probation began, her son tested positive for nicotine. Dihle said the incident led to months away from home in detention, an outcome she never wanted.
"We had no idea what … we were getting ourselves into," said Dihle, a stay-at-home mom who lives in Jonesville. "It's very stressful, it's hard. And then your child runs the risk of being put back into the system if all this doesn't get paid for."
Her son was released from residential treatment in April. A court order outlining the fees and a payment schedule states that "detention could result" if the family doesn't make timely payments.
The Dihles appealed the fees. The appeal was denied last month.
State law mandates some juvenile court fines and fees, including those for crime victim rights and restitution, DNA testing, and late fees charged after 56 days of nonpayment.
There is more discretion for court-ordered programs, including probation, counseling, substance abuse testing and attorney costs. Add in late fees, and debts can grow, lead to wage garnishment, probation extensions and the possibility of bench warrants for parents.
"Any excess money that the family has to go toward paying down this juvenile court debt," said Jason Smith, executive director of the Michigan Center for Youth Justice advocacy group. "That's not ideal."
'A lose-lose type situation'
Frederic Epps, a Detroit resident whose daughter served time in juvenile detention for carjacking between 2018 and 2020, had no idea he was on the hook for her court costs until he got a bill in the mail.
Epps, a single father living paycheck-to-paycheck with other children to take care of, learned he owed well over $10,000 in fees related to his daughter's case. His daughter wanted to contribute, he said, but he didn't want her to start her adult life with that financial burden.
Parents of justice-involved youth "do need help sometimes, but once they're in the system, we don't know the financial repercussions," Epps said. "It's almost a lose-lose type situation."
Macomb County court officials came to a similar conclusion in June 2021, eliminating all discretionary and waive-able fines as well as previously assessed debt.
The decision was spurred by a study of the county's juvenile justice fees by the Michigan Center for Youth Justice, which found that as of 2019, Macomb County had $92 million in outstanding court debt, $84 million of which stemmed from detention and residential placement costs.
The county collected less than 8 cents on the dollar in debt, and about a third of the costs it did incur came from seizing income tax refunds from parents.
For court officials and the families involved alike, the math didn't add up, said Nicole Faulds, juvenile division administrator in Macomb County's 16th Circuit Court.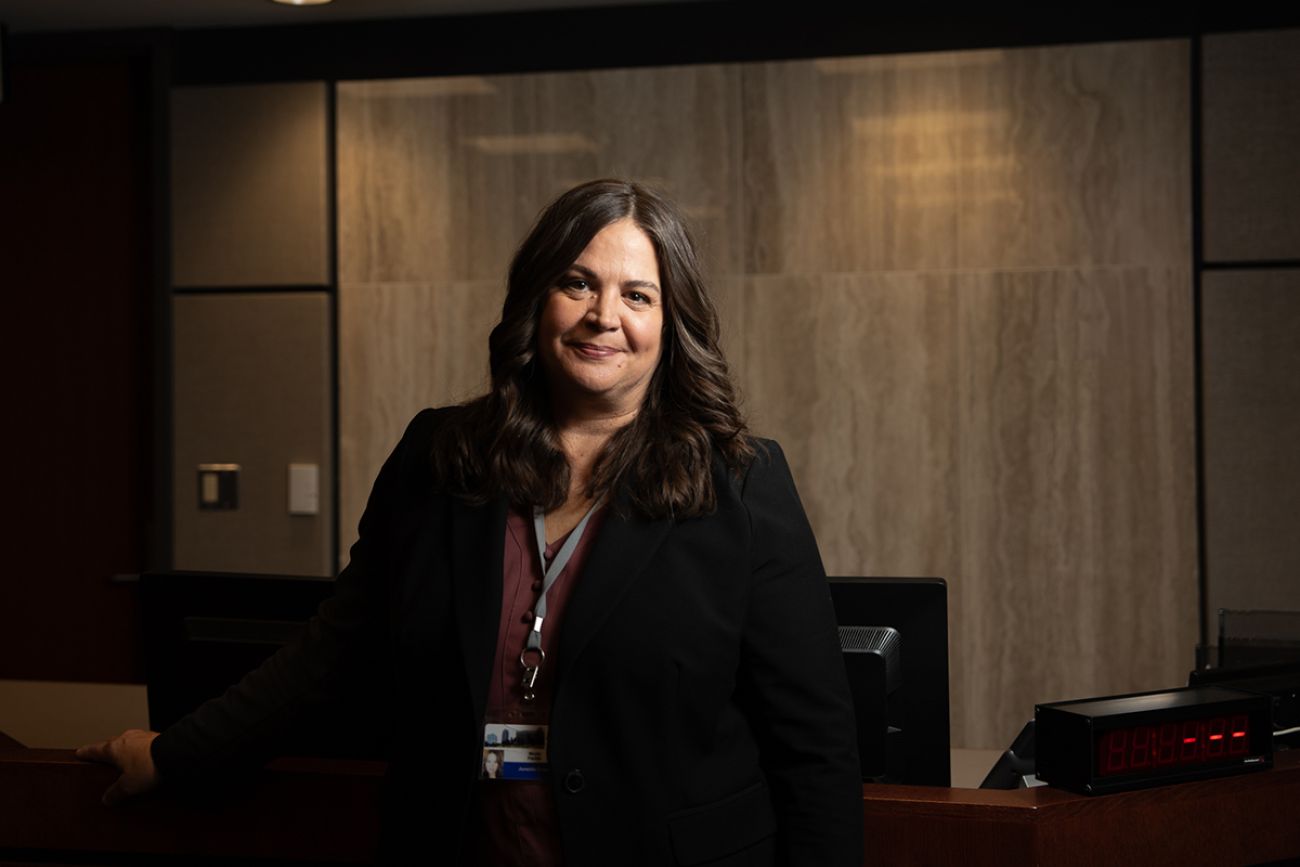 Nicole Faulds, juvenile division administrator in Macomb County Circuit Court, said the county stopped assessing juvenile court fees in 2021 because the cost of collecting debt was prohibitive. (Bridge photo by Brayan Gutierrez)
The county barely broke even after paying for collections services, and the threat of additional fees prevented families from seeking help, Faulds said.
"We had families that were not reporting behaviors that we would need to address because they were doing the math, like, 'What's this going to cost me if my kid goes into detention?' and just the stress and frustration with the debt," Faulds said.
After the county eliminated most fees, more families made mandatory payments and tensions with probation officers eased, Faulds said.
Judges and court administrators around the state argue that all Michigan youths coming into contact with the juvenile justice system deserve that opportunity.
"The key element of this reform package is to ensure that all counties statewide are consistently adhering to research-based policies and practices in our juvenile justice systems, while also allowing for local flexibility and innovation," Michigan Supreme Court Chief Justice Elizabeth Clement told lawmakers during a June committee hearing.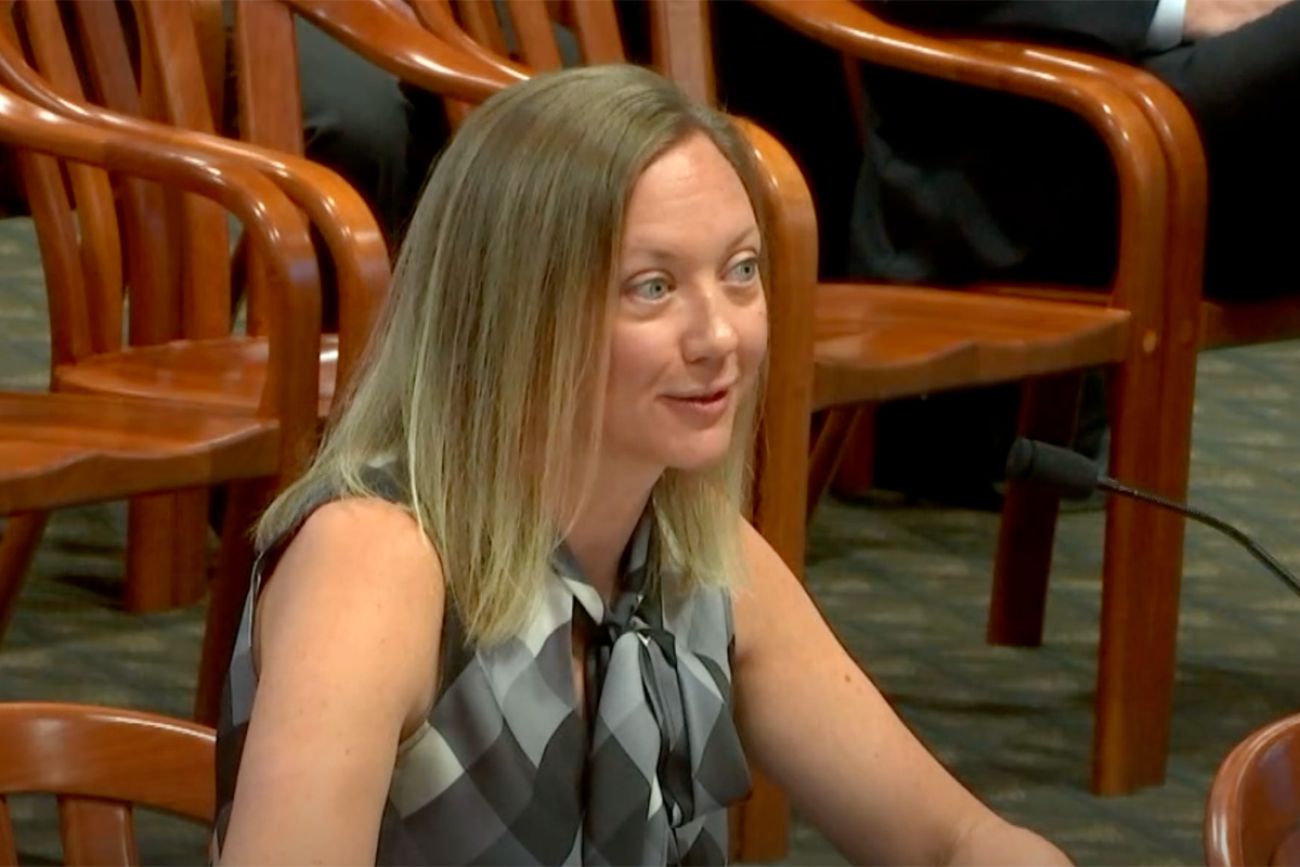 Michigan Supreme Court Chief Justice Elizabeth Clement, pictured testifying in a June legislative committee, is among the supporters of legislation to eliminate most court fines and fees for juveniles. That and other juvenile justice reforms pending in the Legislature stem from recommendations of a bipartisan task force. (Screenshot)
Momentum for change
The movement to eradicate juvenile court fees in Michigan comes as other states and the federal government reassess how the system works — and who it harms.
The U.S. Department of Justice, in an April letter to state and local courts, maintained that levying fines and fees without taking financial status into consideration violates constitutional protections and disproportionately impacts low-income and minority households, particularly in juvenile courts where youths are unlikely to be able to afford to pay without familial support.
Several states have eliminated some or all juvenile court fees, including California, Maryland, Nevada, New Jersey and New Hampshire, and similar efforts are pending in Arizona, Florida and others. A new Indiana law removed fees for public defenders and now requires courts to prove a juvenile's family has the means to pay any fees assessed.
Michigan's legislation would keep mandatory crime victim payments and restitution, but eliminate most other references to fines, costs and assessments. Other legislation included in the package would require evidence-based risk and needs assessments to be completed prior to any minor's disposition hearing, prioritize diversion programs over detention when possible and increase access to indigent defense options.
Local governments and courts largely support the plan because the state will pick up more fees.
Michigan, which now splits juvenile justice costs 50-50 with counties, would increase reimbursements to 75 percent for community-based services and in-home care.
An analysis by the nonpartisan Senate Fiscal Agency estimated the change would increase state costs by about $16 million and reduce county costs by $10 to $13 million once the legislation is fully implemented.
It's unclear how much the loss of future fines and fees will cost counties, the agency determined.
Amanda Pollard, an attorney referee and juvenile division director in Eaton County, told lawmakers the policy shifts can help court officials better tailor services to kids' individual needs, but noted the state funding boost is critical to make sure that happens.
"We will find, I think, better outcomes for young people in the long term," she said. "I believe that we'll find fewer incarcerations, fewer detentions, and less of a need for removal from homes."
Many of the ideas stemmed from a bipartisan task force on juvenile justice commissioned by Gov. Gretchen Whitmer in 2021.
Epps, the Detroit resident whose daughter spent time in detention, hopes the changes can bring more transparency into the juvenile justice system to help prepare parents like him for what to expect in a situation they never imagined themselves in.
"We as parents, we're handcuffed if they do something wrong…we're on the hook for something that we didn't have anything to do with," Epps said.
"The whole thing is really a big cry out for help."
Only donate if we've informed you about important Michigan issues
See what new members are saying about why they donated to Bridge Michigan:
"In order for this information to be accurate and unbiased it must be underwritten by its readers, not by special interests." - Larry S.
"Not many other media sources report on the topics Bridge does." - Susan B.
"Your journalism is outstanding and rare these days." - Mark S.
If you want to ensure the future of nonpartisan, nonprofit Michigan journalism, please become a member today. You, too, will be asked why you donated and maybe we'll feature your quote next time!