Michigan lawmakers expand unemployment benefits, pass business COVID liability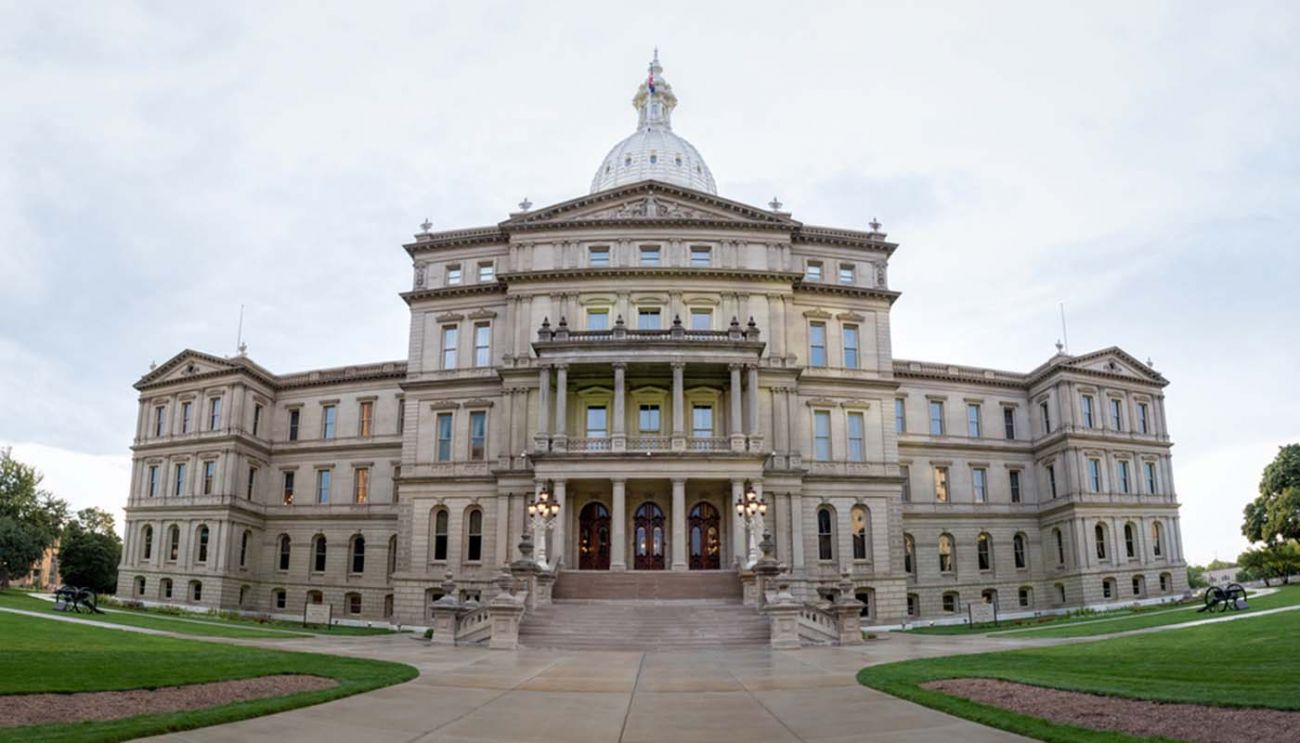 Michigan Government
Michigan lawmakers expand unemployment benefits, pass business COVID liability
LANSING — Michigan's Legislature worked deep into the morning Wednesday, as Republican leaders announced a deal with Democratic Gov. Gretchen Whitmer to continue expanded unemployment insurance eligibility and provide businesses with new legal protections against COVID-19 lawsuits.
Unemployment insurance was among the most pressing issues of the marathon session, which saw the House work past 3 a.m. in its first meeting since the Michigan Supreme Court struck down an emergency powers law Whitmer had used to issue executive orders.
Related stories:
Legislation now heading to Whitmer will essentially codify her earlier order that was nullified by the court ruling. Among other things, the bill allows most claimants up to 26 weeks of benefits instead of 20 weeks, expands eligibility definitions and expands a work-share program allowing partial benefits for employees with reduced hours.
Still, tensions remained high as the GOP-led House also approved a resolution that, if adopted by the Senate, would give the Legislature's Joint Select Committee on the COVID-19 Pandemic the power to issue subpoenas and compel testimony from Whitmer administration officials.
Other bills approved Tuesday and Wednesday morning would:
Extend the validity of expired driver's licenses through the end of the year

Allow governments to continue holding public meetings remotely. Several state and local government boards canceled virtual meetings this week after the Michigan Supreme Court said Monday its previous ruling

took effect immediately.

Regulate nursing homes based on recommendations from the

Michigan Nursing Homes COVID-19 Preparedness Task Force

Continue temporary allowance of electronic signatures on official documents

Restore legal liability exemptions for pharmacists, nurses and physicians assistants who perform COVID-19 testing.
Republicans took up less pressing — and partisan – matters as well, including a non-binding House resolution to oppose "packing" the U.S. Supreme Court with more members and a non-binding Senate resolution that used the recently exposed Whitmer kidnapping plot to discourage governments from "defunding" their police.
While both sides agreed on the need to continue expanded access to unemployment benefits, talks dragged into the early morning as GOP leaders sought to pair the extension with separate legislation to help businesses that comply with health rules avoid lawsuits from employees or customers who contract the novel coronavirus.
House Speaker Lee Chatfield, R-Levering, announced a deal at 12:29 a.m., saying a "tie-bar" that had linked the bills together was no longer necessary because Whitmer is now willing to support a revised version of the business liability legislation.
"Great news for working families and small businesses!" Chatfield wrote.
Republicans agreed to tweak the business liability legislation by modifying legal threshold language. An earlier version, opposed by trial lawyers and unions, sought to make businesses immune from lawsuits if they "substantially" complied with COVID regulations. The new version instead allows immunity for businesses that make technical or minor "de minimis" violations.
Benefits extended
Restoring unemployment benefits was arguably the most immediate need in a state where roughly 2.3 million residents have qualified for some form of benefits since mid-March, when the coronavirus first hit Michigan and Whitmer issued a stay-home order that closed many businesses.
As of Oct. 1, the Michigan Unemployment Agency had paid nearly $24 million in state and federal benefits during the pandemic. While initial claims have slowed, 15,915 Michiganders still applied for the week ending Oct. 3 and a total of 369,864 claimants received benefits.
Whitmer had allowed most businesses to reopen before the Supreme Court's Oct. 2 ruling, but companies remain subject to new and renewed health regulations imposed by Robert Gordon, the state health director who issued his own epidemic orders since the court ruling.
Republicans continue to push the Michigan Unemployment Insurance Agency to reopen physical offices. The House approved a spending bill that, if approved by the Senate, would require UIA to open its 12 offices to the public by December but give the agency $2 million to install plexiglass barriers and buy personal protective equipment, among other things.
Director Steve Gray said in June the UIA was developing plans to reopen offices closed early in the pandemic. Spokesperson Jason Moon said Tuesday the agency is still working on those plans, and a way to prioritize customers who "most need face-to face contact" such as those without internet access, but he told Bridge UIA workers are typically more efficient over the phone.
"While some may consider offices as the traditional way to access the unemployment system, as a practical matter, UIA has always served the vast majority of our clients over the phone or online," Moon said.
Subpoena power
Gray has testified multiple times before the Legislature's Joint Select Committee on the COVID-19 Pandemic, but its chairman, Rep. Matt Hall, said early Wednesday that the subpoena power resolution approved by the House is necessary because some administration officials have been less forthcoming.
Among other things, the Marshall Republican has complained about the health department's slow response to a records request over nursing home policy communications and refusal by two staffers to testify on the origins of a scrapped contact tracing contract with a political firm.
"We've been committed to giving the people of Michigan a voice, allowing them to share their experiences and providing them with answers on decisions that have been made by [the Whitmer] administration in response to COVID-19," Hall said in a statement. "We've been impeded in these efforts as several people within the administration have not been transparent and have actively worked to keep key information concealed."
The marathon session marked the first full day the Legislature met since state and federal officials last week charged 13 men in alleged plots to storm the capitol, take hostages and kidnap Whitmer from her vacation home in northern Michigan.
At roughly 9:15 p.m. – more than 11 hours into their work day – Senate Republicans adopted a resolution thanking law enforcement for their work on the kidnapping case and discouraging local units of government from "defunding or abolishing police departments," an apparent reference to the unrelated activist reform movement.
"The exposed plot is reprehensible, and there is no excuse for these actions," said Sen. Jon Bumstead, R-Newaygo. "Defunding or disbanding the police will cause chaos and disorder."
Sen. Jeremy Moss, D-Southfield, lambasted the resolution, calling it a political attempt to paint Senate Democrats as "anti-public safety, which is demonstrably false."
"I haven't heard of a single community in Michigan that is working to abolish their police department," Moss said. Law enforcement does deserve thanks for foiling a plot "which put us all at risk," he added, but the logical response would be to "ban guns from the Capitol, not to shame our cities, villages and townships for abolishing police — something they're not even doing."
Michigan is one of a handful of states that allow guns inside its Capitol, despite months of deliberation from a bipartisan commission that oversees the building.
In what could be their final meeting before the Nov. 3 presidential election, Republicans in the state House also waded into national politics.
A non-binding House resolution, adopted around 3 a.m., discourages Congress from "expanding the size of the Supreme Court of the United States," a potential Democratic response to conservative appointments by President Donald Trump, whose latest nominee, Amy Coney Barrett, is immersed in Senate confirmation hearings this week.
Democratic presidential challenger Joe Biden avoided a question over potential "court packing" two weeks ago in his first debate with Trump but said Tuesday he is "not a fan" of the option.
We're not just a news organization, we're also your neighbors
We've been there for you with daily Michigan COVID-19 news; reporting on the emergence of the virus, daily numbers with our tracker and dashboard, exploding unemployment, and we finally were able to report on mass vaccine distribution. We report because the news impacts all of us. Will you please support our nonprofit newsroom?