Michigan may decide presidency; early results give hope to Trump, Biden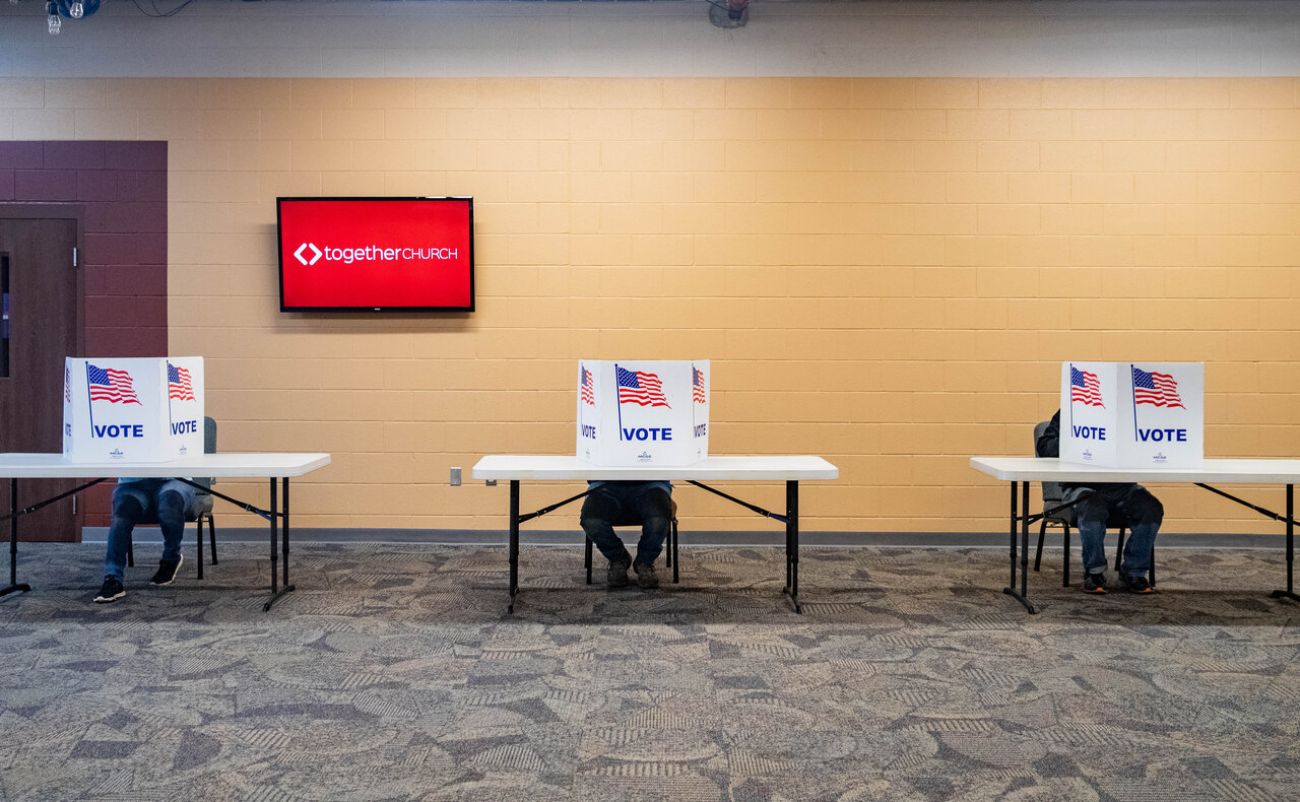 LANSING — Michigan's top statewide races remained undecided Wednesday morning as clerks continued to count a flood of absentee ballots in a presidential election projected to break the state record for total voter turnout.
Republican President Donald Trump's repeat wins in states including Florida and Ohio only increased Michigan's importance to Democratic challenger Joe Biden, but the state's top election official was preaching patience late Tuesday as results trickled in.
"It's critical in the hours ahead that we work to ensure that we do not give space to anyone who attempts to make premature declarations about the outcome of any races in Michigan," Secretary of State Jocelyn Benson said late Tuesday.
"We're going to remain vigilant as votes are counted to make sure the democratic process unfolds as the law stipulates."
Benson is predicting full Michigan results will be in by Wednesday afternoon or evening, a significant improvement over her prior estimate of Friday. Detroit and other large jurisdictions were tabulating absentee ballots faster than expected, she said.
That "puts us on track to see our results much sooner than we'd ever anticipated, because all around the state today our clerks went above and beyond to make sure that every single vote was counted," said Benson, a Democrat.
As in 2016, the election could be decided by Michigan, Wisconsin and Pennsylvania.
Biden, speaking shortly before 1 a.m., told supporters his campaign is feeling "real good" about Michigan and Wisconsin and believes he is "on track to win this election." But the race "ain't over until every vote is counted," he said.
Trump, in a 2:30 a.m. speech, falsely claimed he'd already won re-election and vowed legal action before the U.S. Supreme Court to stop what he called "a major fraud." He offered no evidence to back up that assertion.
Here's what we know so far in Michigan:
Trump was up in early results, and had won 47 of the state's 83 counties by Wednesday morning, but those totals are far from conclusive because dozens of jurisdictions have not yet finished counting absentee ballots. Democrats were more likely to vote by absentee ballots, according to public opinion polls, suggesting a full count could still swing the race toward Biden. As of 11:30 a.m., Biden had pulled ahead of Trump by 33,000 votes.

Full Detroit results will boost Biden, but the city's count was still very much in process Wednesday morning, with roughly half of all precincts reporting full results. Clerk Janice Winfrey said at least 53 percent of registered voters cast ballots in Michigan's largest city, rivaling the turnout rate in the 2008 election that saw Barack Obama become the country's first Black president. Biden is poised to dominate Detroit, but how much he wins by could be a key in development in the statewide race. As of Wednesday morning, Biden was leading with nearly 94 percent of the local vote, up from the 92 percent Democrat Hillary Clinton enjoyed in 2016.

Trump is banking votes in rural Michigan, where he's rallied supporters in an attempt to build on his performance from 2016. In the 47 fully counted counties he won, Trump grew his margin of victory by a combined 31,870 votes. In Cass County, for instance, unofficial results show Trump topped Biden by 7,564 votes and added 591 votes to his margin. In Lake County, which had twice voted for Obama before breaking for Trump in 2016, the president grew his margin by 438 votes with a 1,658-vote win. Trump won Shiawassee County by 7,783 votes, 1,099 more than he had in 2016, when he flipped what had been a two-time Obama county and he again won Bay County, which had voted for Obama twice, but this time grew his margin by 2,500 votes. While those aren't huge gains, they add up. Biden flipped at least one northern Michigan county, topping Trump by 878 votes in Leelanau which the president won by 465 votes in 2016. In winning Marquette County, the former vice president bested Clinton's margin by 2,781 votes.

Biden is running up the score in Oakland County, the state's second most populous county that continues to shift liberal. With 409 of 506 precincts fully reported, Biden topped Clinton's Oakland County margin over Trump by 25,285 votes with many communities not still fully counted. In those that were counted, Biden generally outperformed Clinton by significant margins. In liberal Royal Oak, for instance, he beat Trump by 12,979 votes, besting Clinton's 2016 margin by 4,839 votes. Trump won the traditionally conservative Commerce Township by 3,138 votes, but that was down from his 4,560-vote margin in 2016. Biden also took Washtenaw County by 100,000 votes, better than the 78,000-vote margin Clinton scored in 2016.

Saginaw County, which had traditionally voted Democrat until Trump's 1-point win in 2016, flipped back to the Democrat, albeit narrowly: Biden won the county by fewer than 300 votes; Trump had won by 1,073 in 2016.

Other key counties have been slower to count. As of Wednesday morning, Trump was leading Macomb County by about 14 points, up from his 12-point margin in 2016, but only 61 percent of precincts had reported full results with absentee ballots. In Kent County, Trump was leading by nearly 6 points with 78 percent of precincts fully reported. But only 50 percent of precincts had been fully counted in Grand Rapids, the state's second largest city that Clinton carried by 33 points in 2016.

Republicans flipped a Michigan House seat and dealt a major blow to Democrats, who were hoping to seize control of the chamber for the first time in a decade. Rep. Brian Elder, D-Bay City, lost to Republican challenger Timothy Beson in the 96th District. Elder had won the district by 13 percentage points in 2018, but the Thumb region has swung sharply towards Trump and Republicans. Democrats had reclaimed the status quo by Wednesday morning after Christine Morse of Kalamazoo flipped an open GOP seat in the 61st House District, topping Republican Bronwyn Haltom by 4,796 votes. They still need to flip four seats to send a majority to the state House. Several competitive races in suburban Oakland County remain too close to call.

Michigan's U.S. Senate race is up in the air, as Democratic Sen. Gary Peters and Republican challenger John James also remained competitive early Wednesday. Partial results Wednesday morning showed James with a 20,000-vote advantage but a large number of uncounted absentee ballots could still break the race toward Peters, the first-term incumbent. In early results, James was outperforming Trump in some parts of the state, including Kent County, where Peters was underperforming compared to Biden.

GOP U.S. Rep. Fred Upton of St. Joseph won an 18th term, holding off Democratic challenger Jon Hoadley of Kalamazoo in Michigan's 6th Congressional District, according to the Associated Press. West Michigan's closely watched 3rd Congressional race remained too close to call, but Republican grocery scion Peter Meijer was leading Democratic attorney Hillary Scholten with 75 percent of precincts reporting. Both candidates live in Grand Rapids. The winner will succeed U.S. Rep. Justin Amash, who left the GOP in 2019 and did not seek re-election.

The Michigan Supreme Court's conservative majority hangs in the balance, with the race for an open seat too close to call. Chief Justice Bridget McCormack, a Democratic nominee and the only incumbent on the non-partisan portion of the ballot, appeared headed toward easy re-election as the top vote-getter in many Democratic and Republican leaning counties. But the race to replace retiring Justice Stephen Markman, a GOP nominee, had not yet been settled by Wednesday morning. Republican nominees currently have a 4-3 edge.
In Michigan's first presidential election since voters approved sweeping new access rules, a contest marked by fears over continued COVID-19 spread, more than 3.2 million residents voted early by absentee ballot, crushing the record 1.6 million set in the August primary.
All told, state officials predicted Michigan was on pace for a turnout of more than 5 million voters, which would rival and possibly exceed the record of 5,039,080 in the 2008 election that saw Obama become the country's first Black president.
While the shift to absentee balloting may make exit polls less reliable, surveys suggest women voters backed Biden by wide margins in Michigan, while men more narrowly favored Trump. Voters of color also broke sharply for Biden. Trump enjoyed a narrow lead among white voters.
Trump made Michigan a focal point of his re-election strategy, visiting the Great Lakes state four times in the last four days of the general election and camping his campaign Monday night in Grand Rapids.
Working to boost rural turnout, Trump campaigned in parts of Michigan that presidential candidates typically ignore, drawing huge crowds to rallies in areas like Saginaw County, Muskegon and Traverse City.
In his speeches here, the president touted the state's pre-pandemic economy, recent auto industry investments and revised trade deals that he had railed on in his winning pitch to blue-collar voters in 2016.
But the president faced blowback for downplaying COVID-19 amid a Michigan surge, and experts questioned his repeated attacks on Democratic Gov. Gretchen Whitmer, whose job approval ratings have consistently outpaced his among statewide voters.
The Biden campaign was banking on a strong showing in Michigan and gave the state plenty of attention as well.
Obama joined Biden for drive-in rallies in Detroit and Flint on Saturday as the campaign worked to boost turnout in the African-American majority Democratic strongholds. Vice presidential nominee Kamala Harris spent part of Election Day in metro Detroit, including Oakland County.
In his Michigan rallies, Biden touted his role in the 2009 auto bailout expansion that helped General Motors and Chrysler avoid collapse and saved jobs industry wide. But issues became almost an afterthought late in the campaign, as Biden railed against Trump's handling of the COVID-19 pandemic and vowed to restore the "soul" of the nation.
Matt Walters, 64, of Lapeer County and Beth Serafino, 57, of Macomb County, say they both voted for Trump in 2016. But this year they voted absentee for Biden.
"We gave him four years and he wrecked the place," said Walters. "It's like you hire a babysitter for four years and you come home and they've wrecked the place." (especially referring to COVID). "He made promises he didn't keep."
Other Trump supporters were unwavering in their faith.
"I think he's done really great things," Gary Walker, 53, of Fenton Township. "Some people don't think so. My family doesn't think so… In my bag, I have a copy of the constitution, if we don't have those rights that are listed in there, there's nothing else left to fight for."
Walker said he was the first in line to vote at 6 a.m. at Lake Fenton High School on Nov. 3, where the township's six polling places were consolidated for the presidential election.
Once he finished voting, Walker went home, changed his clothes, and came back with a Trump sign and a megaphone. He stood on top of his pickup truck for the rest of the day, holding his sign, playing music from his car speaker and yelling phrases like "God bless America" into the megaphone.
"I think I was more confident about Trump's ability to win in 2016," Walker told Bridge. "But I'm more enthusiastic about him now."
We're not just a news organization, we're also your neighbors
We've been there for you with daily Michigan COVID-19 news; reporting on the emergence of the virus, daily numbers with our tracker and dashboard, exploding unemployment, and we finally were able to report on mass vaccine distribution. We report because the news impacts all of us. Will you please support our nonprofit newsroom?