Michigan wine country again confronts race, and its own isolation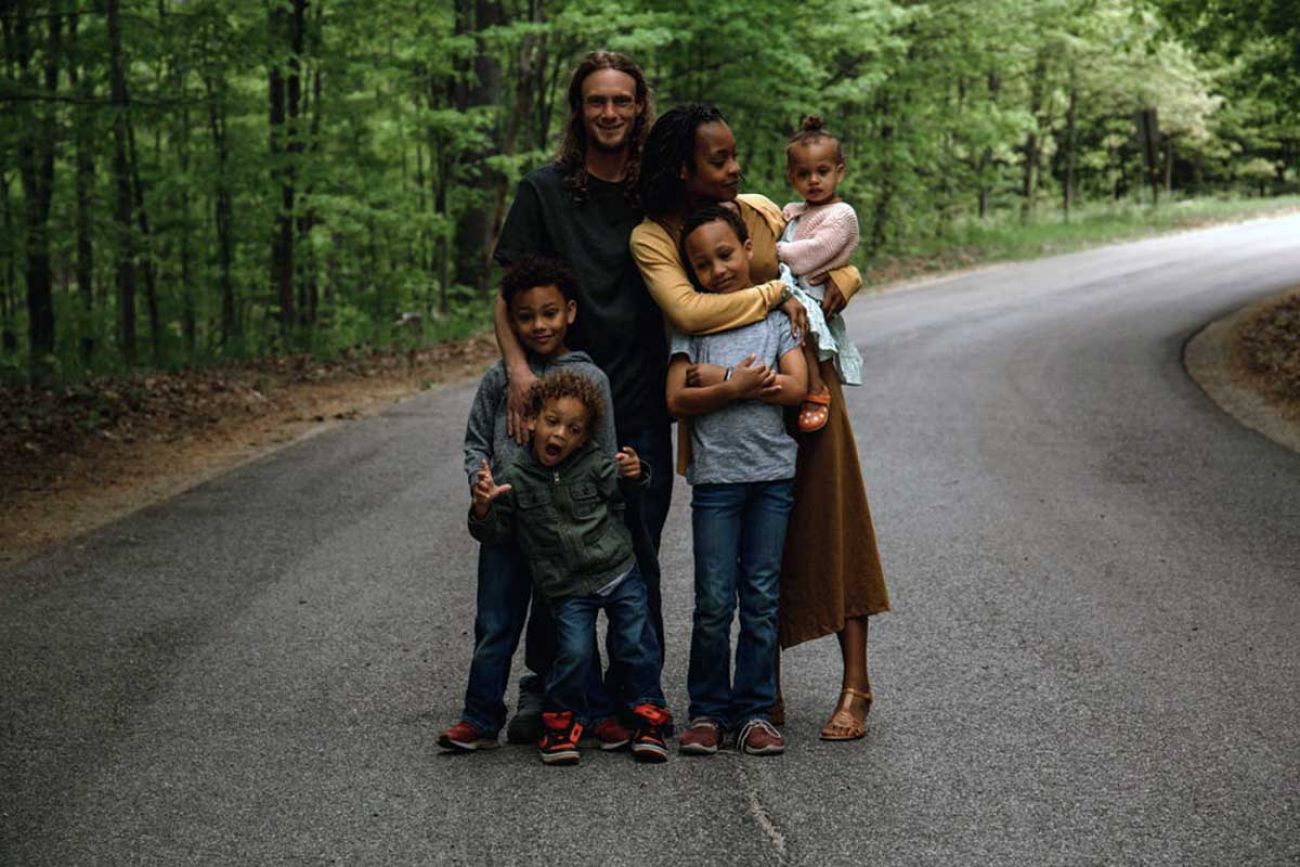 The Harrison family — in front, Ezekiel, and left to right, Isaiah, Joe, Jacob, and Tyasha and Josephine — say they have struggled with racism since moving to northwest Michigan. (Courtesy photo from the Harrison family and Casey Chamberlain Photography)
April 1: Northern Michigan township official apologizes for 'colored people' remark
WILLIAMSBURG—The issue before the Whitewater Township Planning Commission on a cold Friday night earlier in March was low-key even for a community known for peace and quiet.
Members were fly-specking a draft of a 10-year master plan laying out development goals for the rural township just east of Traverse City.
Then, an hour into the meeting, the conversation lurched from misplaced commas to "colored people."
Related:
By the end of the meeting, the planning consultant hired by the township to craft the master plan had stormed out, one of the six commissioners said he would resign, and this idyllic corner of northern Michigan known for boating, vacation homes and cherry orchards was once again thrust into an uncomfortable spotlight over race.
It was less than two years ago, in August 2020, that a road commissioner in neighboring Leelanau County repeatedly and unapologetically used the N-word at a public meeting. In April 2021, high school students in Traverse City held a mock slave auction of their Black classmates on Snapchat.
What was said at the sparsely-attended March 11 meeting in this township isn't in dispute. Yet the implications of those words for the residents of this region vary like the riesling and merlot grapes growing along the slopes of the Leelanau Peninsula. Some saw racism. Others saw ignorance or rural isolation.
No one was happy it had happened again.
A meeting goes sideways
In a video of the meeting reviewed by Bridge Michigan, and first reported by Traverse City-based independent online news site The Ticker, planning commissioner Mike Jacobson said he was "opposed to this whole color issue" in census data.
He was referencing a chart inside a 46-page report prepared by the township by professional community planner and former Michigan State University professor Christopher Grobbel. The chart indicated that 94.7 percent of the township's roughly 2,800 residents were white.
"In my opinion, you're either a citizen, or you're not a citizen," Jacobson said. "With this government listing everyone by their color, that's the government and the media promoting racism."
Jacobson, 59, asked if the report could be modified to leave out the demographic data and say the township was a "diverse community."
"It's not like we're an exclusively white community," Jacobson said of the township, which has five black residents. "It's not like we don't let colored people in."
There was no immediate reaction to Jacobson's comment among commissioners. Grobbel said the comment was "totally inappropriate." Several commissioners seemed in general agreement with Jacobson's concerns about including census demographic data in a township report.
In response to Grobbel saying it appeared some commissioners had a "personal problem with race," one commissioner noted he had a black brother-in-law, and another said she had a Chinese sister-in-law.
"It's not that we have a problem with persons of color," said commission chairperson Kim Mangus, "it's that we have no problem with persons of color."
"If any person of color were listening to this conversation, they would take the exact opposite away," planner Grobbel said.
The discussion over the census race data continued for 10 minutes before Grobbel announced he was resigning as the township's planning consultant and left the meeting. Commissioner Carlyle Wroubel resigned soon after, saying, "I don't understand any of this (discussion). It's just data." (Wroubel later told the Traverse City Record-Eagle he may reconsider and stay on the board.)
Township property owner Eileen Cianciolo attended the March 11 meeting to advocate for zoning approval for a horse farm, and told Bridge she was left "speechless" over what she viewed as racist comments by public officials.
"I couldn't believe the conversation was happening, and that it continued the way it did," Cianciolo said. "It was absolutely unacceptable (and) there was no acknowledgment whatsoever that anything they said was wrong in any way."
The video of the full meeting has been taken down by the township, a standard procedure by the office. But the portion in which race was discussed was downloaded by Bridge Michigan before the internet link was removed.
Many township officials did not return requests for comment before publication. Jacobson does not have an email or cell phone, according to Township Supervisor Ron Popp, and a message left on his landline telephone earlier this week was not returned until Thursday morning, after this article was published. Jacobson said in the message he was not yet ready to talk.
Commission chairperson Kim Mangus did not respond to requests for an interview, and Township Clerk Cheryl Goss declined comment. Grobbel, the planner, also declined to talk, referring Bridge to his comments at the meeting.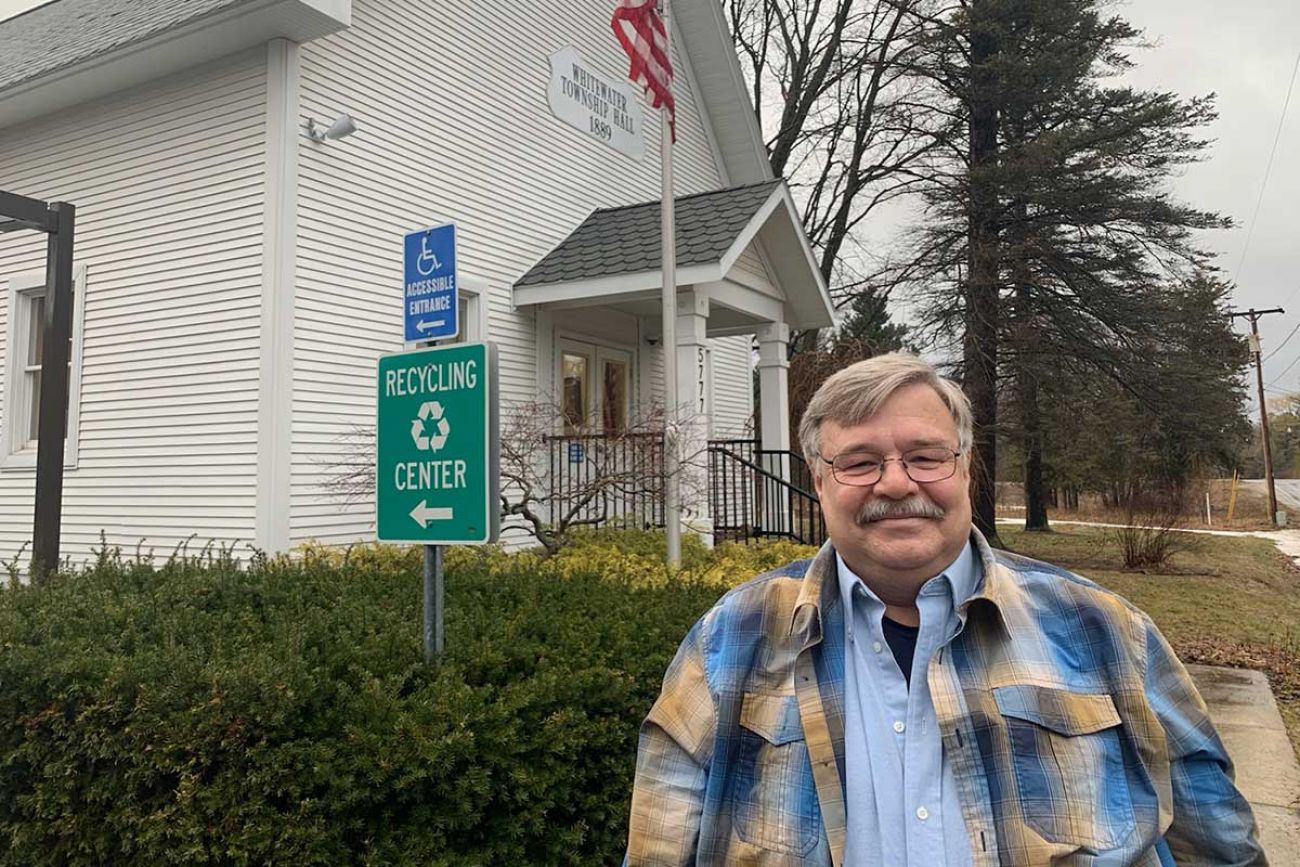 Whitewater Township Supervisor Ron Popp says an incident in which a planning commissioner referred to "colored people" wasn't racism, but a lack of education about race. (Bridge photo by Ron French)
Last week, Township Supervisor Ron Popp met with a Bridge reporter in his office in the back of a township hall built in 1889, his desk situated so he could look out the window at a cold rain turning the last remnants of gray snow to black mud.
Popp quipped that the area has four seasons — June, July, August and winter — and described how the potato fields that dotted the township a century ago were replanted as cherry orchards that remain today. Many of the residents' families have lived here for generations, Popp said, and have watched warily as the hustle and bustle of nearby Traverse City began to creep toward their farms and woodlands.
Already, the lights of the six-story Turtle Creek Casino & Hotel glimmer along the eastern edge of the township. Across the street from the casino, behind the TrueNorth Shell gas station, a developer wants to build 325 condominium units and about 300 RV campsites in what is now a cherry orchard. A second proposed development would add about two dozen more condos.
Residents are nervous about how so many new residents could "change the rural character" of the township, Popp said.
Popp tried to walk the line between defending the members of the planning commission, who are appointed to their roles and are paid $70 per meeting, and acknowledging the language used in the meeting could easily be construed as racist.
"I just don't think I have racist people on the planning commission," Popp said.
"I think I have people that have made statements that definitely were wrong, but that does not mean that it's an inherent belief in their heart. It may have been something that was heard years ago and this is just restated improperly with today's view."
A new and old divide
Popp and others in the greater Traverse City area who spoke to Bridge about the recent highly publicized racial incidents said they believe a contributing factor is the isolation of northwest Michigan residents.
Michigan is second in the nation in the percentage of residents who were born in-state, at 76 percent. Grand Traverse County is higher, at 78 percent. In Whitewater Township, it's 83 percent.
Nationally, the average is 58 percent.
"You have a lot of people here who never left Michigan, who don't even venture beyond the local counties," said Deyar Jamil, a Traverse City attorney.
The coffee shop in downtown Traverse City that Jamil suggested as a meeting place with a reporter was crowded and loud, so Jamil suggested walking across the street to the quiet, empty bar of an upscale hotel. On the way, she pointed to construction projects on surrounding streets, some of which are housing projects to make room for more people moving into the area.
Grand Traverse was the second second-fastest-growing county in the state between 2010 and 2020, increasing its population by 9.4 percent, almost five-times the growth rate of the state.
"When you've had such limited life experience, and you see change happening here, it's easier to blame the newcomers," Jamil said, "rather than recognizing that the same change is happening everywhere."
Jamil is one of those newcomers, moving to Traverse City from Chicago in 2015. Since then, she said she's faced "a lot of hostility" because she is Middle Eastern.
That wouldn't be a surprise to Ty Wessel, a retired teacher and county commissioner in Leelanau County, where residents are still grappling with the 2020 incident in which a road commissioner used the n-word in a public meeting.
"We were shocked when it happened in Leelanau County, but we shouldn't have been," said Wessel, who is white, and moved north from Grand Rapids in 2005. "We are so isolated here. Part of our issue is we don't have the opportunity to interact with people who don't look exactly like us."
Leelanau County is 93 percent white, and Grand Traverse County, where Traverse City and Whitewater Township are located, is 95 percent white. Less than 1 percent of residents in both counties are Black.
Grant Parsons is a lifelong resident of Traverse City and an attorney whose official portrait on his law firm's website shows him proudly holding a steelhead trout. Parsons, who is white, said he's seen racism that has always been endemic in the region become more public in recent years.
"It used to be a sort of quiet racism. Now, every meeting there are people who raise hell," said Parsons. "I've got friends from Toledo Ohio, (who) own a lake cabin in (neighboring) Antrim County. The wife is black and the man white, and they don't come to their cabin anymore because they're scared."
Still, Parsons said he can empathize with the anger felt by his neighbors in the rural stretches of the region.
"People in the rural areas are scuffling to make a living," Parsons said. "Rural people have been left behind. Every identity, black, gay, women, is fawned over by us liberals, and rural people feel left out."
'You can only do so much'
If rural residents of Northwest Michigan think they're isolated, they should see how it feels to be Black, said Tyasha Harrison.
The Georgia native moved to Lake Ann, 15 miles west of Traverse City, with her husband to be near his family when they were expecting their first child. Harrison, who has a degree in dance and works as a dance instructor in Traverse City, is Black, and her husband is white.
She said she and her four biracial children still sometimes get stares when they travel around the region. "You hear people making racist jokes, like 'Chinese people can't drive' and 'Black people are lazy,' and they're like, 'It's not racist, it's just what we were all taught.'
"I found myself feeling very isolated," she said. "I felt like there was no one here who looked like me. So it's really hard for me to communicate how it felt to be a person of color in a predominantly white community."
Harrison helped organize Black Lives Matter rallies in Traverse City in the wake of George Floyd's death, and has remained active in diversity and inclusion efforts in the region following local racial incidents.
"You know, sadly, our region here in northern Michigan has been put on a map nationally a lot, not because of our beautiful landscape, but because of these racist incidents," she said. "And It's not in a back corner. It's not in some shady alley. It is literally in a meeting where you're supposed to be handling business for your constituents to make your area better for the people that want to live there."
Harrison said she was less surprised than frustrated when she heard of the latest incident, when a township planning commissioner referred to minorities as "colored people."
"You can only do so much," she said. "It's like, am I going to keep beating my head against the wall?
"A lot of it comes down to, for some people to understand certain things, they have to experience it for themselves," Harrison said. "Nobody wants to experience racism. Nobody wants to experience being marginalized or oppressed. We understand that that's a thing that happens, but that's other people (who have to) deal with that."
'A distraction'
There was a special meeting of the township board Monday in response to the March 11 planning commission brouhaha.
The subject of the meeting, though, was solely about getting the new township master plan back on track.
The racial incident "really wasn't even a topic," township supervisor Popp told Bridge afterward.
To Popp, the racial issue is a "distraction" from the completion of the new master plan he considers a necessary first step to addressing the proposed condominium developments and "maintaining the rural character" of the township.
Cianciolo, the township property owner who was at the March 11 meeting, told Bridge she views "rural character" as code for the discomfort longtime residents feel about potential new neighbors.
"Maintaining the rural character of the township means maintaining their image of what the community should look like — to preserve it the way it should be, which is white."
Since the meeting, Cianciolo and her husband, who split time between Michigan and Florida, have had second thoughts about the horse farm they planned to develop in Whitewater Township.
"That meeting … was eye-opening," Cianciolo said. "Is that where we really want to have our dream farm, and deal with that kind of narrow-mindedness and racism?"
Those types of comments frustrate Popp, who says he thinks too much attention is being paid to a few words said by one planning commissioner in a tiny township.
"We don't understand what all the crooning (about racism) is about," Popp said from behind his desk at the Whitewater Township Hall. "We all have struggles, every one of us. Hurdles are there for everyone. Are some hurdles taller? Probably. Do parades help? I don't think so.
"I think the rural perspective is, let's focus on the problem. And let's leave the fluff for those who want the fluff."
And the comments made by commissioner Mike Jacobson?
That wasn't racism, Popp said. It was just ignorance.
"I know I'm going to insult some people on the planning commission, and I don't mean to do that," Popp said. "(But) what I saw (at the March 11 meeting) was a lot of misunderstanding and ignorance about how to talk about racial things because we just aren't exposed to it."
Harrison, the Black resident from nearby Lake Ann, isn't buying it.
"To say that it's not a race issue, that it's just an ignorance issue, is a slap in the face to people of color who do live here," she said. "It's very easy for people, especially (those) who live up here who aren't exposed to other races or ethnicities, to fall back on this non-accountability notion that 'We're not racist, we just don't know any better.'
"There should be room to say, 'Yes, we may have a little ignorance on this issue, but we are open to learning how to be better community members.'"
Harrison said she worries about whether her children, who are in elementary school or younger, will have to confront the same issues she's faced.
"There are times where I feel like, 'God, I am saying the same thing over and over,'" Harrison said. "It's like we're going around like a hamster wheel.
"But I can't sit around feeling sorry for myself. This is going to happen. It may not happen in my life, but maybe it will happen in my kids' lifetime."
Bridge data reporter Mike Wilkinson contributed to this report.
Only donate if we've informed you about important Michigan issues
See what new members are saying about why they donated to Bridge Michigan:
"In order for this information to be accurate and unbiased it must be underwritten by its readers, not by special interests." - Larry S.
"Not many other media sources report on the topics Bridge does." - Susan B.
"Your journalism is outstanding and rare these days." - Mark S.
If you want to ensure the future of nonpartisan, nonprofit Michigan journalism, please become a member today. You, too, will be asked why you donated and maybe we'll feature your quote next time!