Rising wages, few workers: A small town in Michigan adjusts to the new economy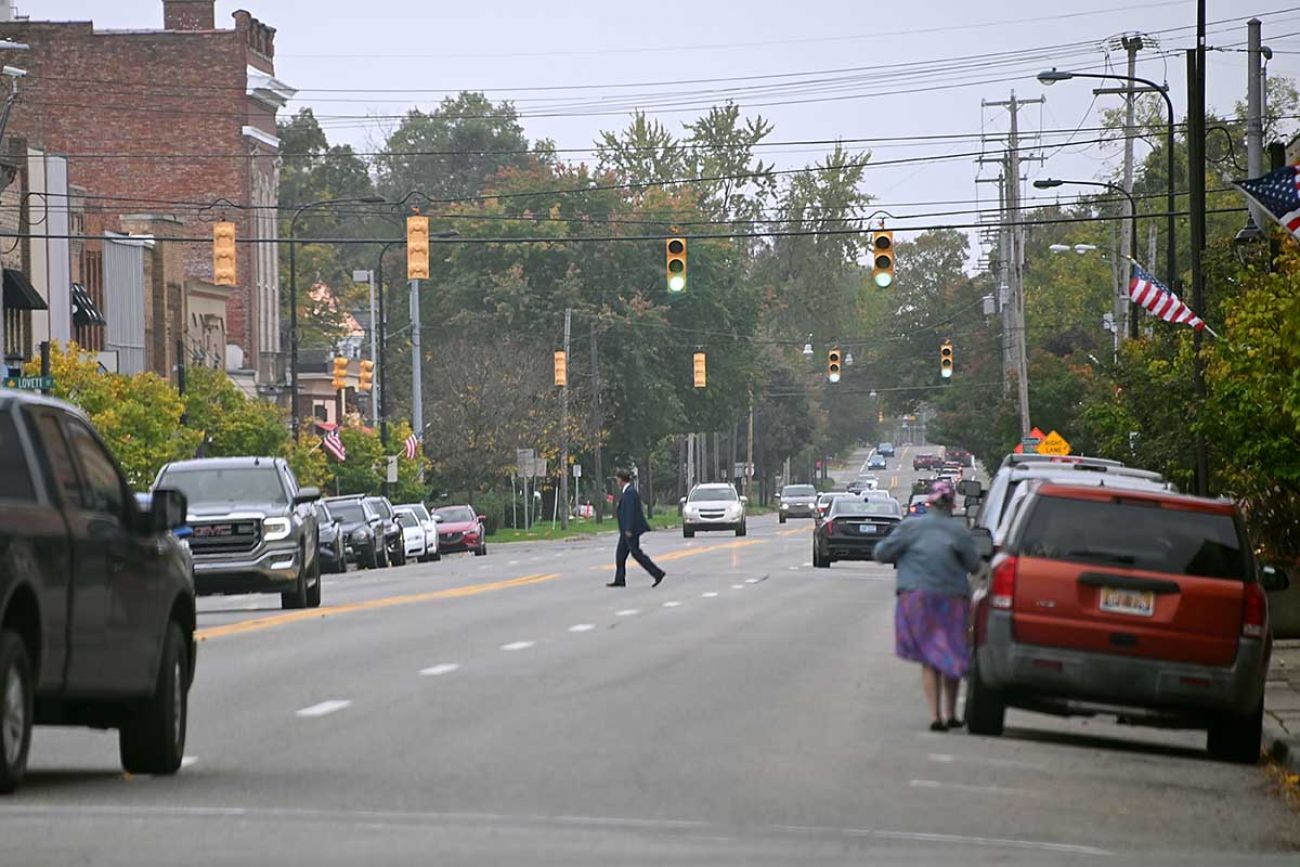 Charlotte, a city of 9,300 southwest of Lansing, has struggled with labor like many Michigan towns. Employers have had a hard time finding workers, many of whom have taken advantage of an improving job market to get better wages and working conditions.(Bridge photo by Dale Young)
CHARLOTTE— The two-week notice startled D'Lynn Smith. One of her lead daycare teachers was quitting Smith's Acres of Play for a job that would pay her $150 per week more.
In years past, Smith could quickly fill vacancies. But not this year, when a pandemic-shrunken labor force was forcing thousands of businesses across the state to chase too few workers.
Worse for Smith, restaurants 2 miles away were offering higher wages to flip burgers than the $13 an hour she pays staffers to care for young children. That made her doubt her plans to open a second daycare — a facility desperately needed by parents in Eaton County after a nearby school district recently closed its daycare.
Related:
"I'm scared to death if I'm going to find people to work it," Smith told Bridge Michigan.
Smith's predicament — and others like it — have sent ripples all year through Charlotte (pronounced shar-LOTT), home to 9,300 residents in Eaton County, southwest in Lansing.
One less teacher at Smith's Acres would mean the daycare would not be able to enroll as many children. And that would mean parents such as Sarah Kowalesky, a Lansing firefighter, and Damaris Garcia, an East Lansing counselor, might not get slots for their sons at the facility, and one of them would have to quit their job and stay home.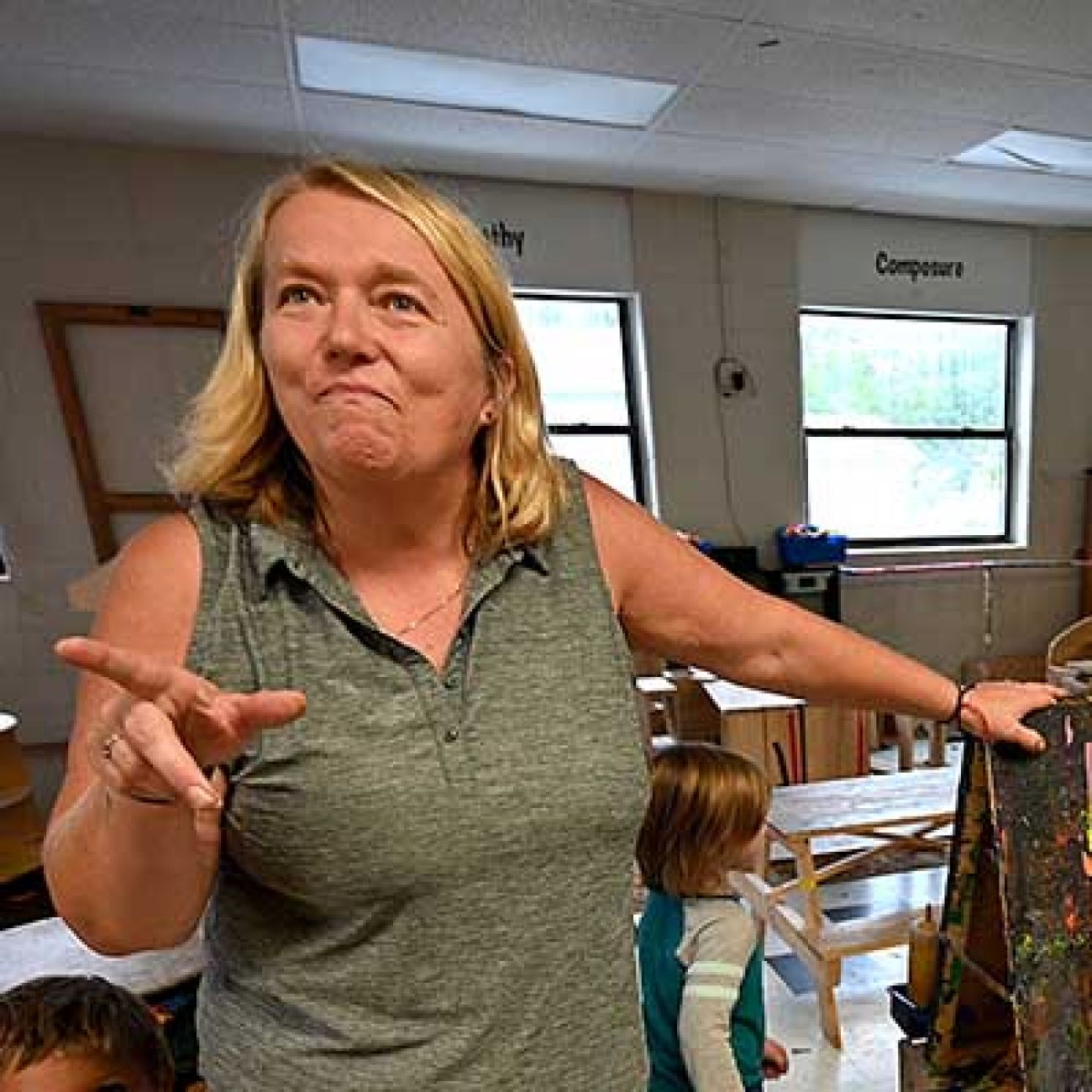 D'Lynn Smith, owner of Acres of Play child care, panicked when she learned she was losing a teacher. Replacing the woman was a concern amid increasing pay rates for hourly work in Charlotte. (Bridge photo by Dale G. Young).
Ultimately, Smith found a teacher and admitted the two families' sons last month. Crisis was averted — for now.
"I almost started crying when she told me (my son) could come," Garcia said.
This is how the economy now works: A well-paying dream job for one person can trigger a cascading nightmare for others — for employers trying to run a business, employees left to pick up the slack with smaller staffs and customers who feel the effects of diminished service and higher prices.
Yet the changes aren't solely about wages. Experts say the coronavirus pandemic caused many to think about their work differently. Workers have new expectations about hours, job flexibility and what their time is worth — and even whether they would rather own a business or stay home.
Today, in Charlotte, there are signs everywhere that point to new expectations: Fast-food restaurants tout jobs paying $12 to $15 an hour. "Hiring" signs dot intersections. In one downtown block, six of two dozen retailers are seeking workers.
A help-wanted sign in front of the McDonald's restaurant advertises $15 an hour wages in Charlotte. It's a sign of change and opportunity, workers say. (Bridge photo by Dale Young)
This evolving labor market means childcare workers making $13 at Acres of Play can easily find better-paying jobs that the daycare center's owner, Smith, said she can't match. If she raised wages, she'd have to raise costs to parents beyond what many could afford.
While some workers rejoice, the new economy has restaurateur Amy Ramos unhappy and frenzied. She and her husband Martin can barely find enough workers for the Thirsty Bird restaurant and bar they own in the center of downtown Charlotte.
"I'm here open and close," Ramos said during a brief break on the bar's back patio in mid-October. Before the recent staff shortages, the Thirsty Bird was open seven days a week and Ramos had enough staff that she never had to both open and close.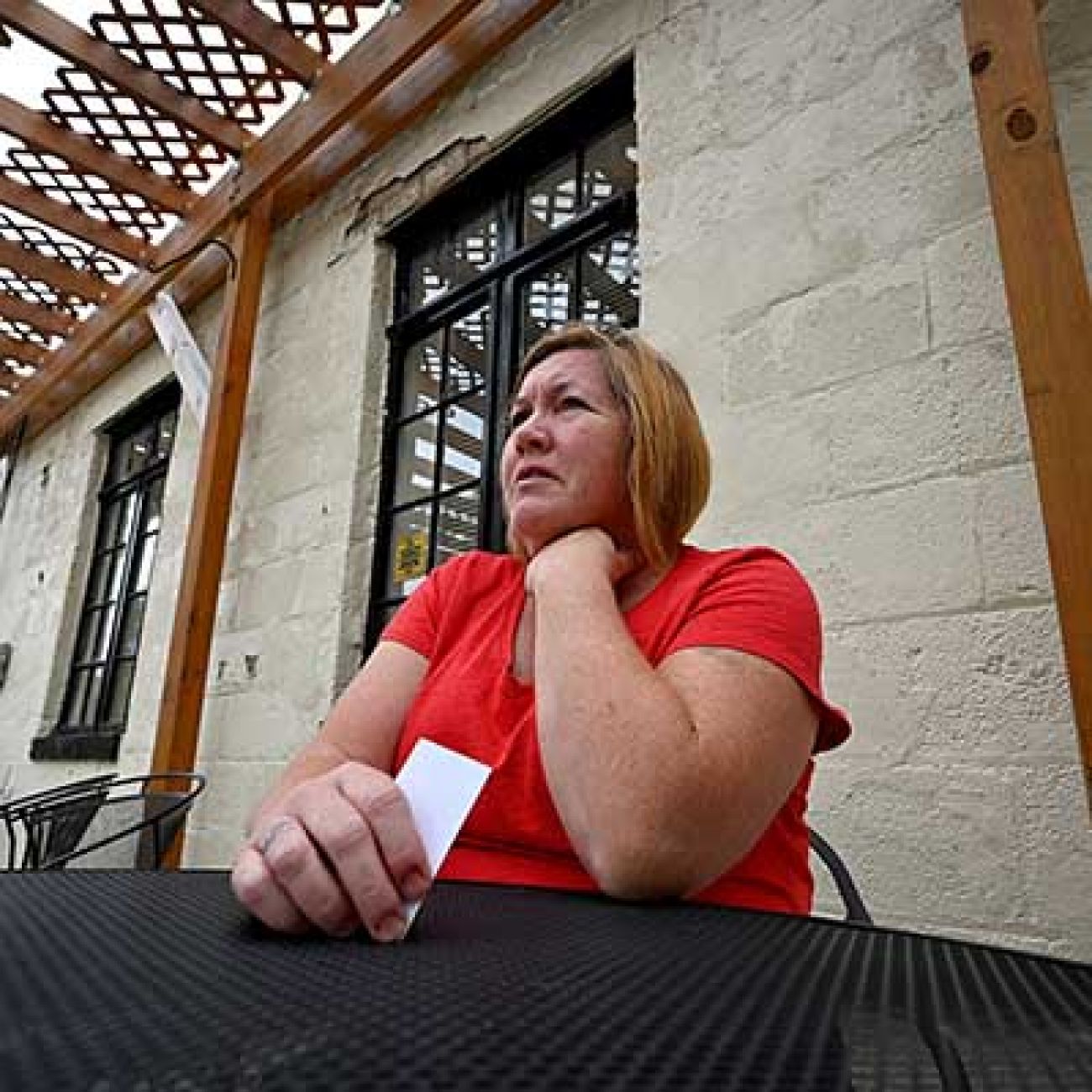 Amy Ramos, co-owner of the Thirsty Bird restaurant and bar in downtown Charlotte, pauses on her patio while explaining changes to her business. She went from seven employees to four recently, forcing her to spend most of every day at the restaurant. (Bridge photo by Dale G. Young)
Now the bar is closed on Sundays — not enough staff — and Ramos works most of the other six.
"At some point, I'm going to burn out," she said.
Big changes
Economists say the shortage has forced, for the first time in decades, real growth in overall wages for lower-pay workers.
Leisure and hospitality jobs in Michigan now average $17 an hour — nearly double the minimum wage of $9.65 — and up from $14.75 in 2019. Adjusted for inflation, that's the highest pay in 10 years for a sector that employs nearly 375,000 people in Michigan. The manufacturing, education and health industries all reporting sizable wage increases.
The higher pay signals a labor shortage now, and the situation on Main Streets across Michigan feels urgent.
The rapid rise in worker pay follows 20 years of stagnation caused by investors and corporations taking a greater share of business profits, said Betsey Stevenson, a University of Michigan economist who is a former U.S. Department of Labor chief economist.
"Workers are asking for what has been taken from them over the past couple of decades — and some of them are getting it," said Stevenson, who was a member of the Council of Economic Advisers during the Obama administration.
This fall, about 190,000 fewer Michigan workers are seeking jobs than there were in the month before the COVID-19 crisis began, including about 3,000 who live in and around Charlotte in Eaton County. Across Eaton County, there are 5.3 percent fewer workers than in February 2020, one of the largest drops in the state over the pandemic.
That's not a surprise to Ramos at the Thirsty Bird, Smith at Acres of Play or Samantha Gareiss, manager at Charlotte's Big Boy, who persuaded a customer to join her waitstaff after the woman stopped in for a meal while the entire restaurant was staffed by two people.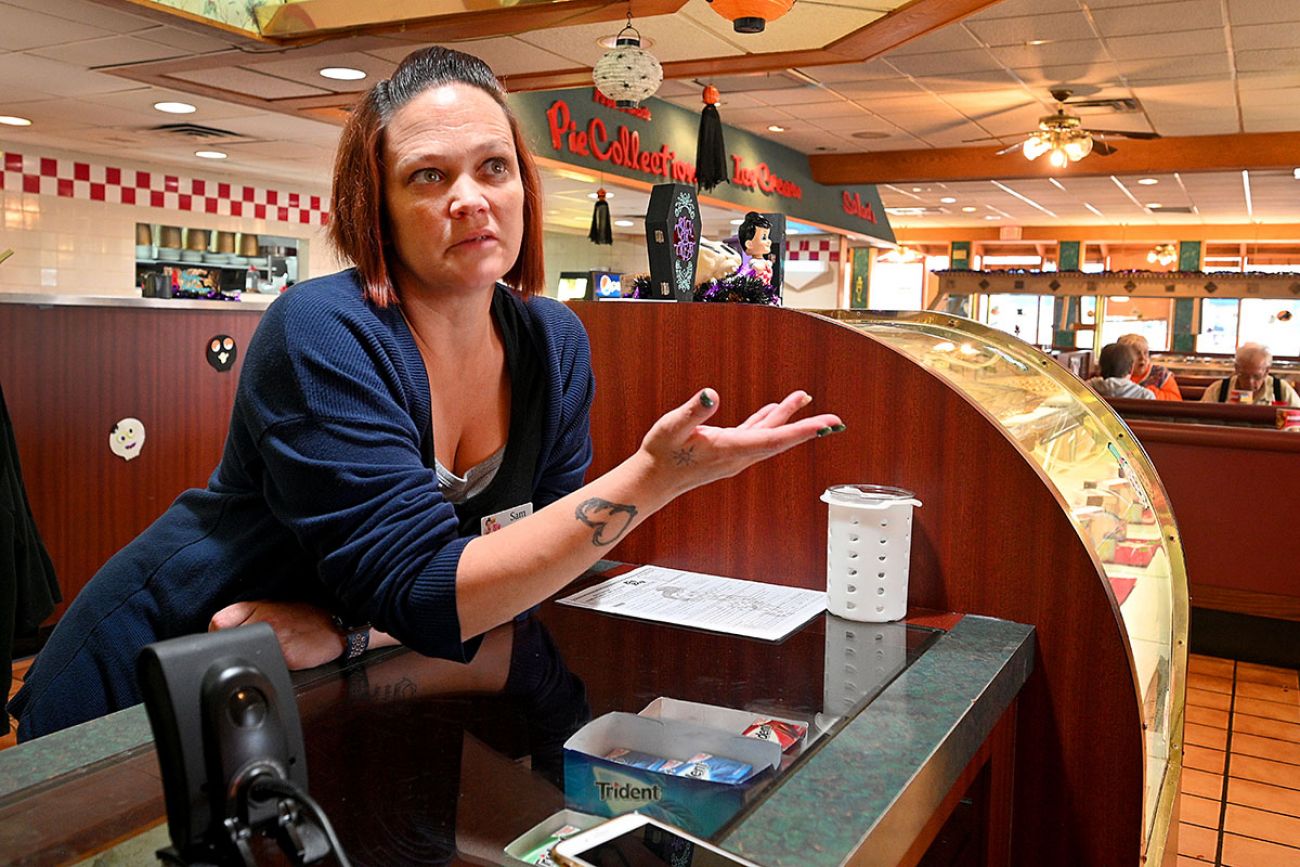 Big Boy restaurant manager Samantha Gareiss talks about efforts to keep her best employees — and hire more. (Bridge photo by Dale G. Young)
What might surprise them is that, contrary to hopes of returning to normal after the pandemic, labor shortages are predicted to last for years.
"When will it come into balance? Who knows," said Donald Grimes, economist at the University of Michigan.
By the end of next year, the U.S. labor force participation rate — the number of people 16 and older working or looking for work — is expected to be 62.8 percent, up from September's 61.6 percent, but still 1.5 percentage points lower than the start of the pandemic, according to U-M economic forecasts.
Michigan, which is the 12th oldest state in the nation, has the 9th lowest labor participation rate: 59.3 percent in September. The rate is expected to trail other states for years.
Labor is a "unique commodity," and higher wages prompted people to choose to both work more, because they can earn more — and less as they receive income from other sources, Grimes said.
Several policy decisions drove up incomes, including a series of direct payments from the federal government including stimulus checks and $300 per month per child child-tax credits for most families with kids under 18.
Michigan also retained the $300 per week unemployment bonus through Labor Day, when other states canceled it in summer, as they tried to urge people back to work — something that didn't happen in large numbers.
National data shows a variety of people with varying motivations left the workforce in the past year and a half, economist Susan Houseman of the Upjohn Institute for Employment Research told Bridge Michigan. Among them:
People close to retirement age who retired early. COVID-19 safety was a part of it for some; so was diminished job satisfaction.
Women with young children. The reasons here can get complicated, including whether daycare is available and whether parents feel like they can rely on schools being open consistently.
Lower-wage workers — including mothers — who consider their circumstances and see a net gain from staying home. They may have savings from unemployment benefits and stimulus checks. They may have a partner whose wages increased. The child tax credit and increased food benefits to lower income homes can also change a family's budget.
The data doesn't reveal how many people fit those scenarios in Michigan — or Charlotte, where many people asked by Bridge couldn't answer the question: "Where did the workers go?"
"It seems like this ghost workforce," said Damaris Garcia, who has struggled to find day care. "No one can find them."
Unemployed
They're people like Alena Cassel, who has big plans for renovating a three-bedroom bungalow on Charlotte's south side that she bought over the summer with her boyfriend.
New windows are coming soon. Someday, she'll paint the oak window seat in the foyer. The metal railings on the front steps of the former rental could use paint, too, but they, too, may have to wait.
Cassel, 20, doesn't have a job.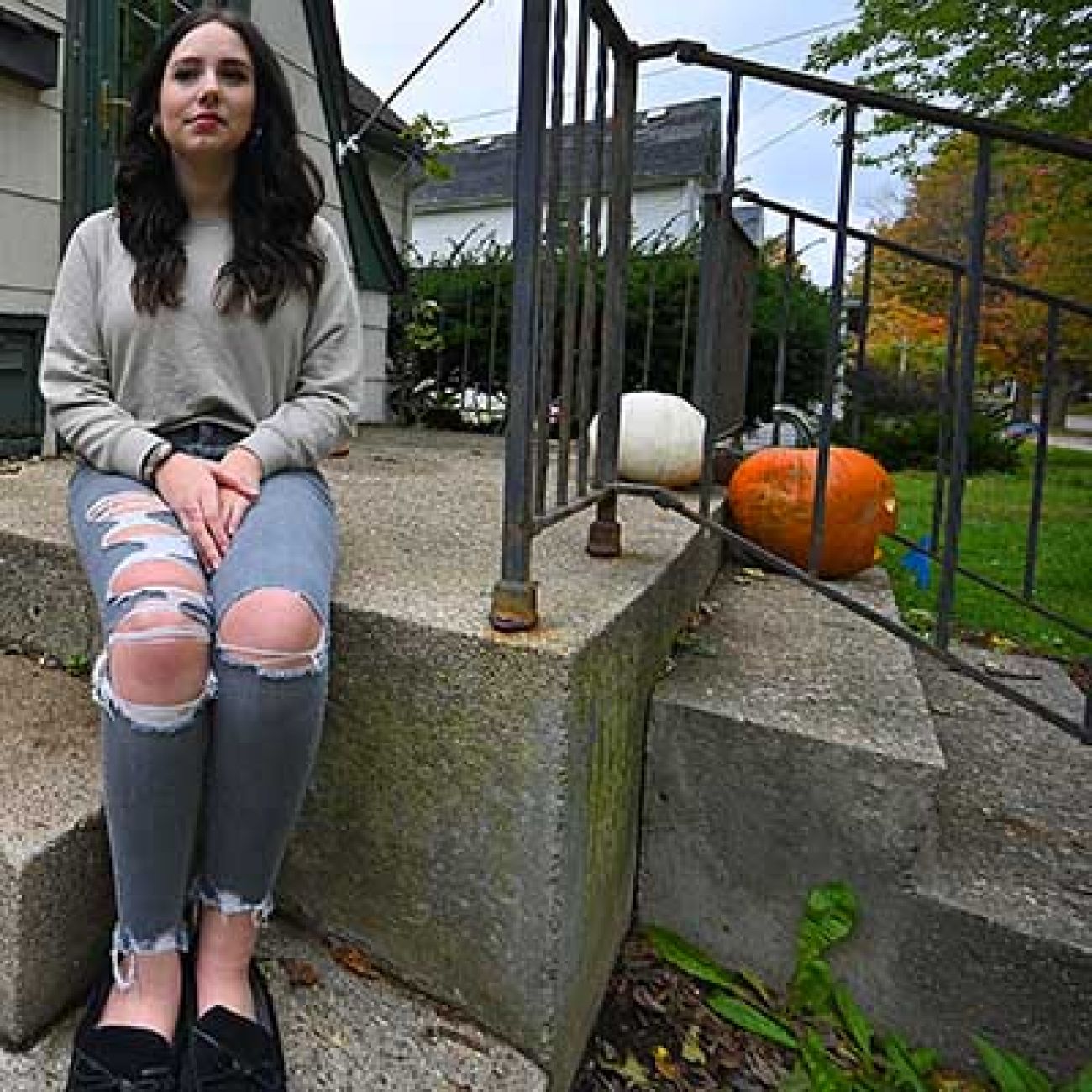 Alena Cassel was working during the pandemic but had to quit because of a health condition. As she operates a home craft business, she's now waiting for a "stable job and a secure job "that allows her to work from home. (Bridge photo by Dale G. Young)
If she had a steady income, Cassel said, she knows what she'd do with the money: spend some on her fixer-upper and put the rest into her business selling custom-decorated apparel and treats.
The former marketing intern at a Lansing construction firm lost her job in March 2020 when the pandemic closed all but essential businesses, and the position ended.
She knows some people assume that she's lazy. Or, incorrectly, that she chose to collect unemployment benefits that included an extra $300 per week before they ended Labor Day weekend.
"I'm sure there's a lot of judgment there," Cassel said.
She's right.
Versions of the phrase "People don't want to work" can be heard all over downtown Charlotte, from a barber shop to a gas station to restaurants struggling to hire.
Some people express concerns for businesses, especially if they have to limit hours. And some raise their own inconveniences — like dirty tables spotted all over a short-handed fast food restaurant during a recent visit — as a sign that there's a problem.
But Cassel did work during the pandemic, first at Applebee's — a job that she took after Michigan's restaurants could reopen dining rooms in June 2020 — then this spring at a Lansing eye care company.
And she said wants to work now — but from home because of a series of health problems.
Cassel suffers from an autoimmune disease and has suffered two seizures since July. That caused her driver's license to be suspended, forcing her to quit her job as an optometric technician.
She's searching for a job that lets her work from the couple's new home.
"I thought it would be easier to find because so many businesses would just be remote," Cassel said, describing few matches between her skills and what's available for at-home work.
Cassel no longer has a dream job. But she still has a goal. "I'm going for a stable job and a secure job," Cassel said.
Employers
Across town, Mark Johnson sits in his paneled office and wishes he could find workers to staff his booming business at the fourth-generation LL Johnson Lumber Manufacturing Co.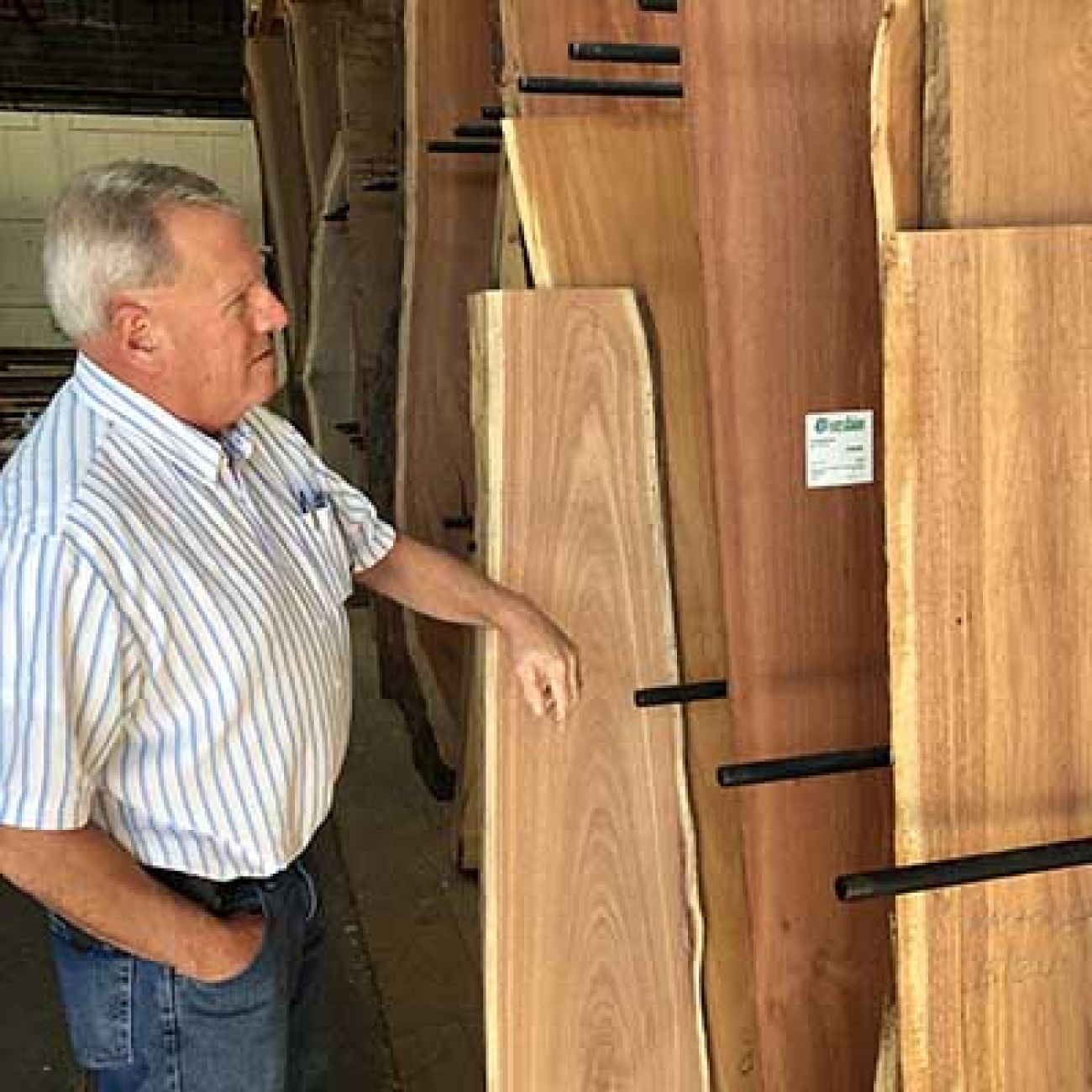 Mark Johnson, co-owner of LL Johnson Lumber Manufacturing in Charlotte, lost fewer than 10 employees during the pandemic, but struggled to fill the positions. (Bridge photo by Paula Gardner)
He uses online charts to tell the story of his family's business in 2020. At the top of the year, business was at the 9.5 percent growth target. After a two-week closure due to COVID, sales spiked — fueled in part by stimulus funds that made people willing to buy Brazilian hardwood decking and custom cabinetry — that powered an annual sales gain of 33 percent.
The 2021 chart isn't much different, thanks in part to the multiple sales calls going on in the background as Johnson describes what it's been like to hire just eight people over the 19 months of operating an essential business with skyrocketing opportunities for revenue.
"We were begging for people to help our staff."
Some of Johnson's problems are unique to the fourth-generation business, but they also touch on nearly universal struggles in the pandemic workforce: Higher wages. Few applicants, many of whom can't or won't do the work. A search for efficiencies and dreams of automation as overtime mounts.
Employers are doing similar math all over the country, along with making changes that mitigate the higher costs for workers. McDonald's gave a glimpse into that in its most recent public filing: Profits rose along with labor costs as many dining rooms closed, requiring less staff to operate, and prices increased by close to $1 for popular items like the Crispy Chicken Sandwich.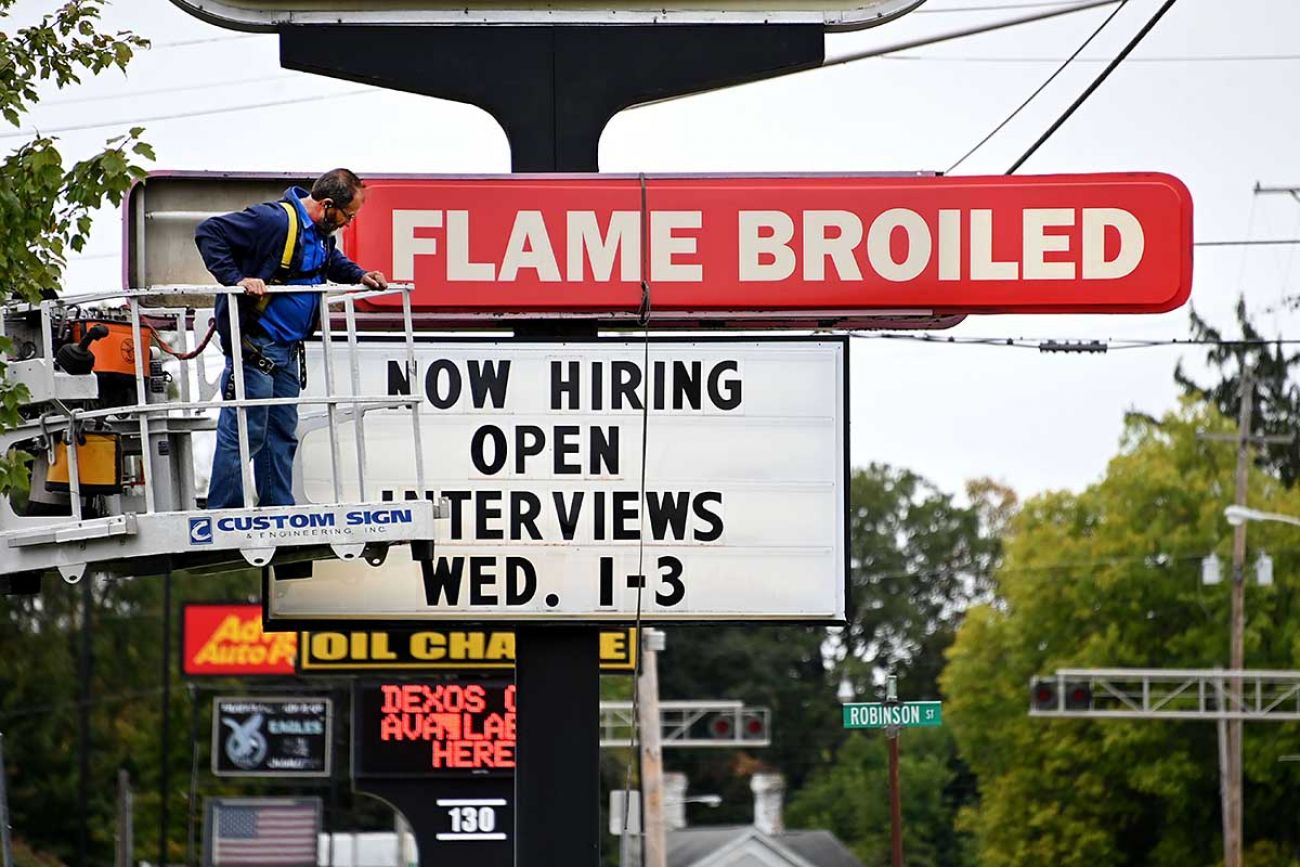 Across town, "now hiring" signs are ubiquitous, some touting wages as high as $15 for fast-food work. It's put pressure on employers trying to keep their businesses open.(Bridge photo by Dale Young)
Back in Charlotte, Shyft Group, the city's largest employer, raised wages over the summer as it tried to fill jobs created by the addition of motor-home chassis production to its operations that include its work for Amazon customizing commercial trucks.
The company's 1,102-employee workforce grew by 140 in the last two months. Employees can now work a three-, four-, or five-day workweek, a move that not only helps their work-life balance to manage childcare and schooling, but also should pay off in retention.
At Sparrow Eaton Hospital, Charlotte's second-largest employer, "no one" makes the $14 per hour base pay for work in the kitchen and cleaning, said Helen Johnson, its president. New hires, when they can find them, will get up to $2 an hour more.
Workers know other companies are paying — and aren't shy about bragging about it, Johnson said.
"People never really talked about what they made," Johnson said. "Everyone talks about what they make now."
Hospital jobs are harder to fill because the work was stressful even before COVID-19, so Sparrow seeks to trim costs as it expands and streamline. That could eventually mean fewer hourly workers to absorb the costs of raises.
Back at Johnson Lumber, charts showing trend lines help the company try to make sense of an economy full of mixed signals about the future of wage increases and consumer spending.
The company replaced eight employees it lost during the pandemic — most to retirements — but no more workers were added.
The lumber company now starts general laborers, who don't need a high school diploma at $11 to 12 per hour, up from about $10.
The company for years also has set up a quarterly bonus system based on profitability. In 2020, the lowest paid person earned an extra $9,000 in bonuses, bumping their base pay — before overtime — by about 38 percent.
Payroll, so far, is at about 22 percent of sales, Johnson said, and that's what the business can support. He and co-owner Tim Johnson, his brother, expect sales growth to taper as federal stimulus spending declines.
Ongoing wage increases will join the increased costs of sales and operating expenses.
"So what do we do?" Johnson asked. "Do we want to peel our margin back, which reduces our profits, which then doesn't support the bonus supplements?"
Employees are still working overtime this fall, as they have all year, without new positions or starting wages that match the fast food places near the highway. Johnson said they all buy into the "rising tide lifts all boats" for the company, and they'll get to spend the results in a couple of months when the next bonus is added to their checks.
"If you're not making any profit, you're not growing the company," Johnson said. "If you're not growing the company, you're waiting (for it) to die."
Workers empowered
Unlike Johnson, Maya Skippers wasn't thinking long-term in July when she and her boyfriend moved to Eaton Rapids, a town about 10 miles southeast of Charlotte. She needed a job fast.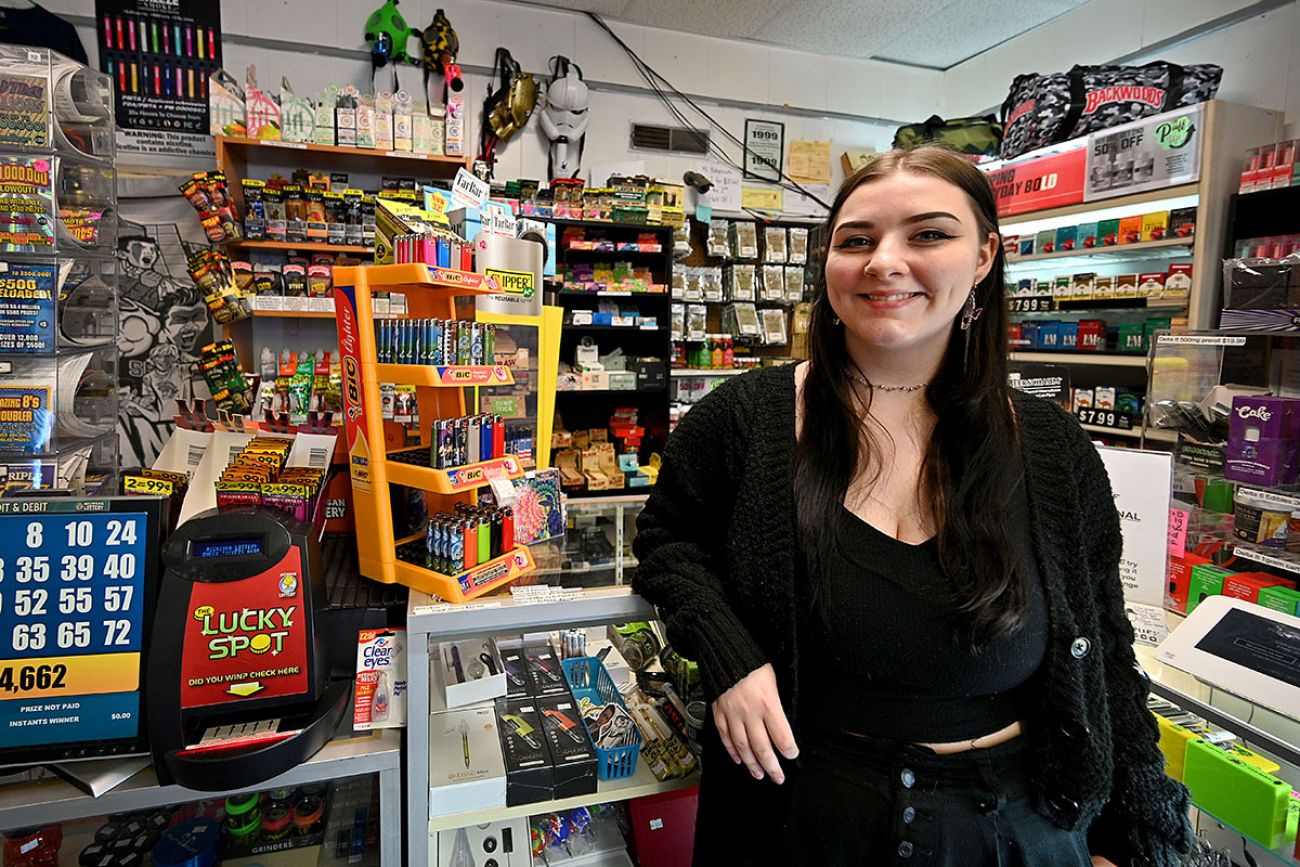 Maya Skippers was hired at Puff Puff Tobacco shop this summer as she returned to the workforce. (Bridge photo by Dale G. Young)
She took a day to fill out applications, and within 24 hours had an interview and an offer at Puff Puff Tobacco in Charlotte. She'd targeted other places, too, but drew a line for herself.
Skippers had no intention of working in a fast food restaurant again.
"People have realized their worth and what they deserve from an employer, and they're not willing to take as much crap," she said from behind the store's counter, where she was surrounded by smoking products.
To Skippers and other Charlotte residents — especially younger ones — it's not a coincidence that, amid waves of "help wanted" signs in town, many of those offering high hourly wages and immediate interviews are the fast food restaurants near the I-69 interchange on the north side of town. Or that many job postings are for unskilled work in the city's small factories.
People across the country are quitting jobs at a record rate, with about two-thirds of the increase reported in August representing restaurant and hotel workers.
"They're job-hopping," said Housemen, the Upjohn Institute economist. "That's exactly what you would expect."
The reason, said U-M's Stevenson, is that almost all big pay increases happen when people switch jobs — and millions have recently taken advantage of widespread opportunities.
"That (pay bumps) often only happens to people five or six or seven times in their career," Stevenson said. "So I think what's happening is we're seeing a lot of people at once looking for that better fit, getting that raise because they're making that job change."
Yet rising wages are also contributing to inflation, putting further pressure on the economy and raising questions about whether shortages — which go beyond labor, and include everything from semiconductors to appliances to shipping capacity — will continue to send many consumer prices soaring, eroding the value of the wage gains.
Consumer price data released this month for October showed an average 6.2 increase over the last year for the prices of most things that people spend money on, including food and shelter, in metro areas.
"Everybody is sort of holding their breath, hoping that inflation is transitory, and that somehow supply is going to catch up," Grimes said.
Money is motivating many, but so too is job satisfaction.
That's playing out not just in the number of people quitting jobs. In Battle Creek, Kellogg employees are striking for reasons that include erratic schedules with mandatory overtime and seven-day workweeks. Teacher retirements in Michigan shot up 44 percent from August 2020 to March 2021. And up to 15 percent of the state's community college students this fall are expected to be adults getting free tuition through new programs to help residents train for new jobs.
Like bigger cities across the country, Charlotte is now seeing more flexible "gig" jobs that may compete with ones that demand a set schedule in a fixed location. Drivers for Lyft and Uber have contacted City Hall this fall, checking on whether there are restrictions. (The answer is no.) And independent contractors who will do grocery shopping for residents are making deliveries from the local Meijer.
Positive signs
Amid worries about inflation, there are positive signs for workers and employees.
By early November, the stock market was rallying on the latest national employment report that an estimated 531,000 people returned to work, the highest number in three months.
In Michigan, 12,000 more workers joined the workforce in September, the first month state residents didn't have access to enhanced unemployment benefits.
And closer to Charlotte, at least 900 people in Eaton County resumed the search for paychecks. In the preceding seven months, the county only added just under three dozen job seekers.
Cassel, who is looking for a job that she can do from home, wishes she was among them. After weeks of searching, Cassel decided around Halloween to apply for in-person jobs, thinking that she could manage it after weeks without seizures. She landed an interview at a nearby optical shop, but canceled it, calling it "unrealistic" until she can drive again.
But until then, she's pouring energy into her year-old business, Cassel's Creations. It's among the 37 percent increase in new businesses launched in Michigan in 2020.
Her dining room table could seat six, but she and her boyfriend never have had a meal on it. It's pushed into the corner of the kitchen's eating area, Cassel's new $200 Cricut crafting machine sitting in the middle of it amid bags of supplies and a pair of coffee tumblers bearing new transfer logos.
She'll be getting a ride to the Port in Portland for a sales event, hoping that she can sell enough items like chocolate-covered hot cocoa bombs during the winter holidays to get closer to earning income from her business.
Cassel also wishes for more acceptance of unemployed workers who don't fit stereotypes.
"I feel like a lot of people have … lost the sense of giving people extra grace," she said, "or trying to understand their situation, or even understanding that you're never going to know what somebody else is going through."
At LL Johnson Lumber, after waiting months for potential workers, the company has filled all of its open jobs.
"Until maybe two to three weeks ago, there was nobody walking in the door," Mark Johnson said. And now, people are starting to show up, asking about openings. The latest job-seekers have been turned away.
Just this week, Amy Ramos said she was relieved to have hired three people to work at the Thirsty Bird since Bridge first visited her three weeks earlier.
And D'Lynn Smith is now confident she can open that second daycare.
Yet one of Smith's new hires worked at a nearby daycare, which now has its own open slot.
For Smith, the tension in the labor market is clear: She hires one teacher, another center loses theirs. But she said she's optimistic because she knows there is rising demand for daycare because so many are returning to work. That's good for almost everyone.
"Even if it's a struggle we're going to get past it," she said. "It just may take a little bit of time."
Business Watch
Covering the intersection of business and policy, and informing Michigan employers and workers on the long road back from coronavirus.
Thanks to Business Watch sponsor:

Support Bridge's nonprofit civic journalism. Donate today.
Only donate if we've informed you about important Michigan issues
See what new members are saying about why they donated to Bridge Michigan:
"In order for this information to be accurate and unbiased it must be underwritten by its readers, not by special interests." - Larry S.
"Not many other media sources report on the topics Bridge does." - Susan B.
"Your journalism is outstanding and rare these days." - Mark S.
If you want to ensure the future of nonpartisan, nonprofit Michigan journalism, please become a member today. You, too, will be asked why you donated and maybe we'll feature your quote next time!