Michigan women 'struggling' as they leave workforce. So are their employers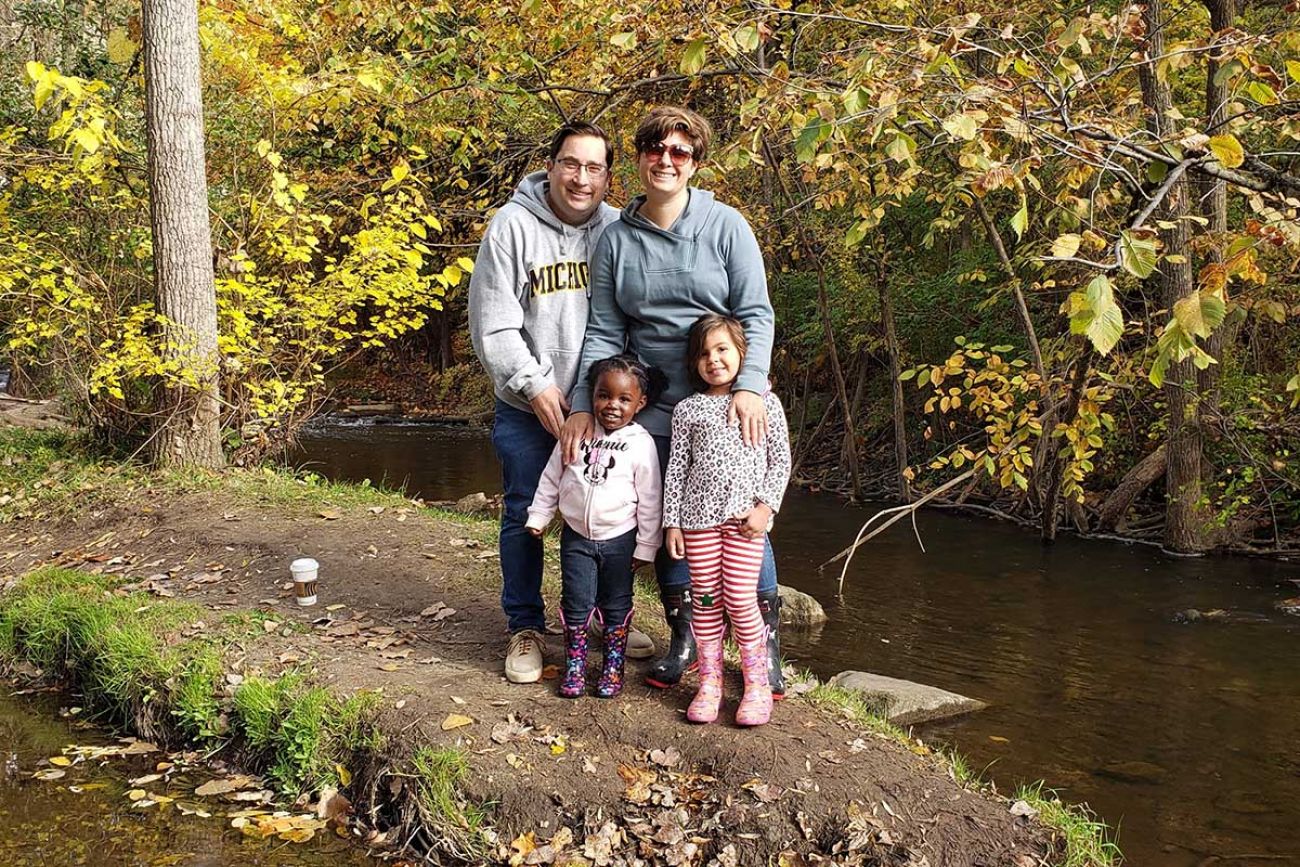 Sam, Becky, Alida (6), and Simona (2) Welzenbach adjusted to the pandemic, in large part through Becky cutting back on work hours. (Courtesy photo)
Sept. 21: Michigan $70B budget deal hailed for 'historic investment' in child care
July 29: Leftover child care money gives a boost to cash-strapped Michigan providers
June 9: Lack of child care now a 'crisis' facing Michigan's workforce
Before the pandemic, women who resigned from their jobs at Development Centers, a Detroit non-profit, usually did so for a new job that advanced their careers. But since COVID-19 hit, they've left the workforce altogether to manage child care or family issues.
Many of the teachers, psychologists, nurses, job developers, and social workers at Development Centers — like millions of moms working in professional roles nationwide — spent the year of change under pressure to abandon their careers indefinitely.
Nationally, the percentage of women who are working or looking for work has fallen to its lowest level since 1988, according to the National Women's Law Center. In September, when students returned to online school-from-home, 865,000 women dropped out of the workforce — four times more than men. And the trend continues. In January, 275,000 women left the workforce compared with 71,000 men, according to the Bureau of Labor Statistics.
Related:
Changes in labor force participation are more acute for Black women, according to the BLS. The percentage of white women in the workforce fell 3.3 percent from February 2020 until February 2021. During the same period, the participation rate for Black women fell 6.6 percent.
The long-term cost to these women, their employers, and the economy is significant, advocates and economists say. Many have called for more robust child care and family leave benefits and on-the-job flexibility that acknowledges the disproportionate burden family responsibilities place on working women.
"It's a huge impact on women, especially for the professionals with younger children at home," said Cathy Liesman, CEO of Development Centers, where 90 percent of the employees are female. "They struggle with that constant feeling that they're not doing enough for their clients and they're not doing enough for their families."
It's also a huge impact on employers like Liesman who have lost knowledgeable, experienced staffers and struggled to recruit qualified replacements as the talent pipeline dried up. Development Centers, like many employers, has tried hard to retain employees by offering them the flexibility to work in the office or at home, part-time schedules, paid leaves, payouts for unused time off, and even hazard pay for coming to the office during a deadly pandemic.
It's often not enough. About 20 percent of the Development Centers' workforce took paid family leave provided under the Families First Coronavirus Response Act (FFCRA), but half of that group still resigned after the benefit ran out.
"The other issue is we have these vacancies and we cannot find qualified applicants," Liesman said.
Talent Shortage
She is not alone. There is a serious shortage of candidates for jobs at the lower end of the professional ladder, said Amy Cell, president of Amy Cell Talent, a recruiting agency serving small companies, startups, and municipalities across Michigan. These positions — including account managers, sales reps, marketing managers, and administrative assistants — pay less than $60,000 a year and are disproportionately filled by women.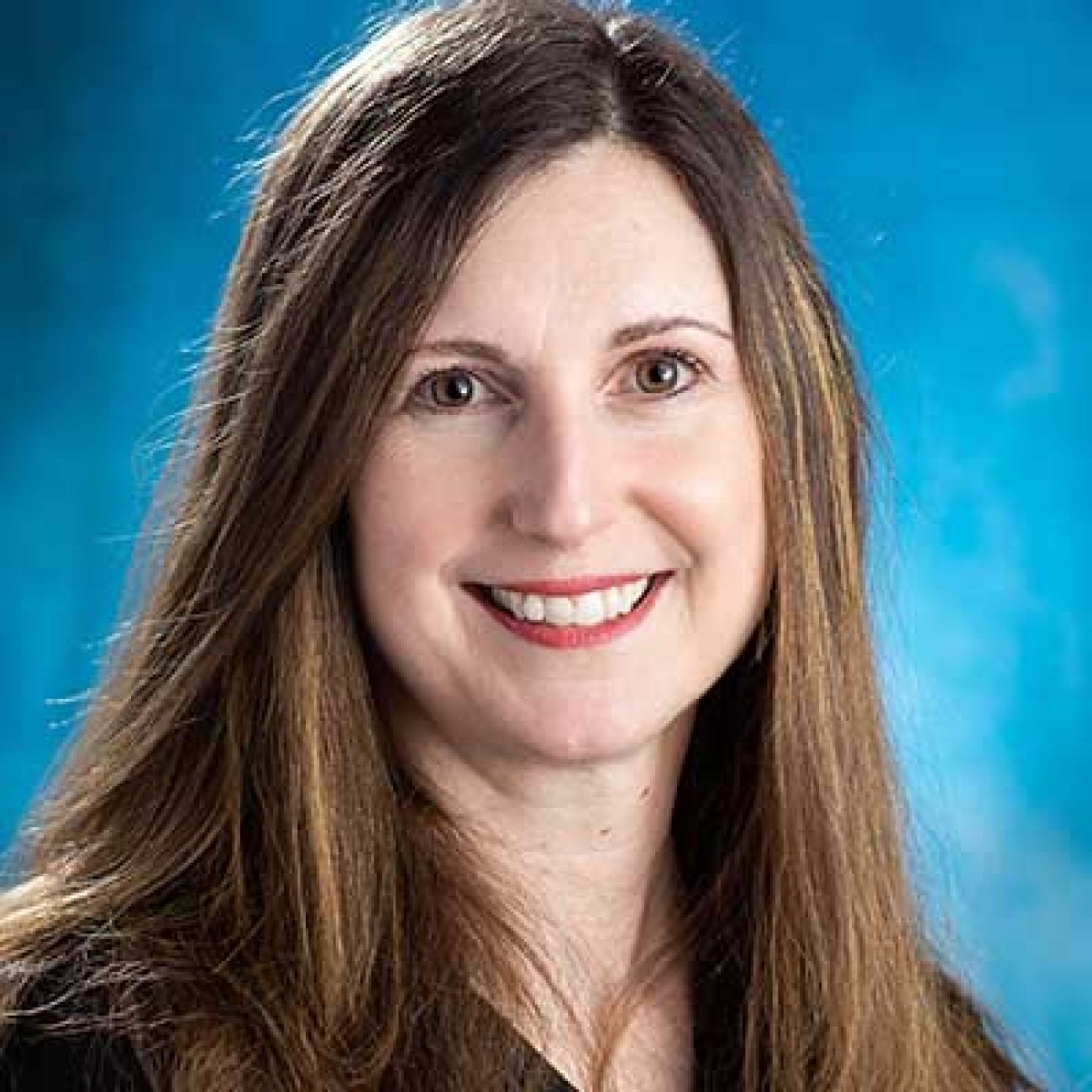 Amy Cell runs a recruiting agency that is struggling to find job candidates during the pandemic. (Courtesy photo)
"We are really struggling," Cell said. "Our candidate volume is down 80 to 90 percent. We were not struggling to fill these positions before the pandemic, but women have extra responsibilities now. They are staying home with their kids because they have to."
While the supply of applicants has shrunk, hiring demand intensified after the presidential election and accelerated in the new year, Cell said. For small companies, the inability to fill a few positions can have a significant impact on productivity and revenue, she noted. "There's a multiplier effect. It can impact their ability to grow.
This is a macroeconomic issue, too: A study from Booz Allen found that the U.S. gross domestic product would climb 5 percent if female employment rates equaled rates for men.
Cell said some employers are expanding their candidate pools by recruiting out-of-state and permitting new hires to work remotely from wherever they live and whenever it's best for them to get the job done. She advises some clients to hire new college graduates and train them for vacant roles, because many haven't found entry-level positions in the pandemic job market.
"I am seeing employers becoming more flexible," Cell said. "It's the only way they've been able to keep staff. . . . In general, employers recognize that remote, asynchronous work is here to stay."
The Long-Term Impact
Women were adversely affected by the gender pay gap and entrenched obstacles to senior management roles before COVID-19. Now, many face an additional career setback due to this lost year—lost earning power, skills, development, and opportunities for advancement.
And there's no guarantee they will easily pick up where they left off after most Americans are vaccinated for coronavirus and kids are back in school.
Among women who voluntarily left the workforce and later sought to return, according to a 2004 study, only three-fourths were able to do so—and only 40 percent of that group returned to full-time professional jobs.
Women who take maternity leaves, even for less than a year, often are perceived to have fallen behind on technological advances, industry developments, and job skills, said Sonia Antolec, policy director for The Mom Project, a Chicago-based career services company that advocates for working moms. These women often accept lower-status jobs, she said, and may no longer be on track for promotions and other opportunities.
Gov. Gretchen Whitmer addressed lack of childcare in her 2022 budget proposal. She seeks to use $370 million in state and federal funds to increase the income limit for families to be eligible for state aid for child care, as well as boost pay to child care providers and provide stimulus funding to help child care centers stay open.
Terry Barclay is president and CEO of Inforum, which provides networking and professional development opportunities for Michigan women. She noted that more than half of U.S. college graduates are female, so it's imperative for companies to accommodate women in the workforce and ensure they "avoid career derailment."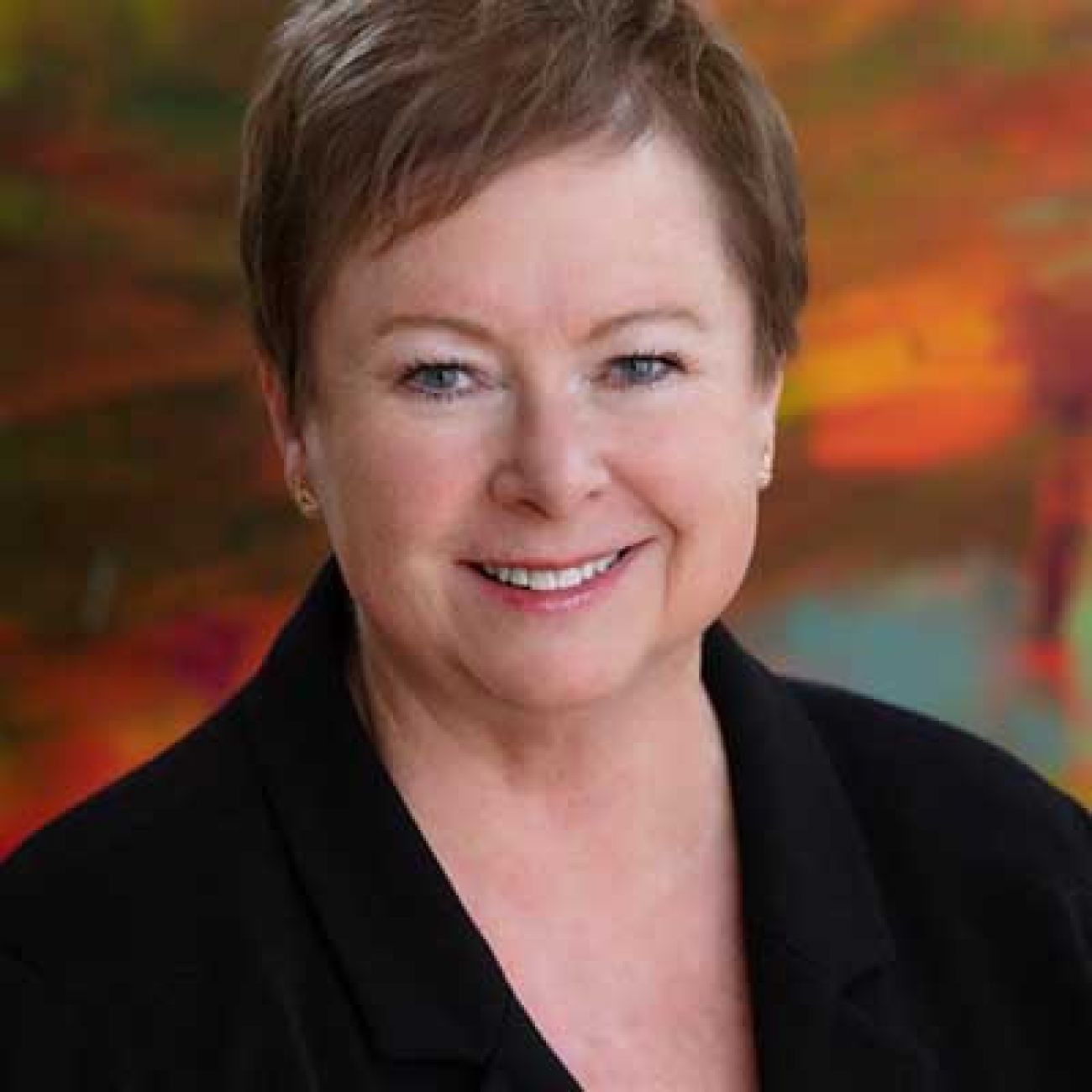 Terry Barclay is CEO of Inforum, a networking organization for professional women. (Courtsey photo)
"I do see Michigan companies responding with policies and practices to help," Barclay said. These include flexible schedules, improved healthcare, mental health, family leave, and child care benefits, and a commitment to providing a diverse, inclusive workplace.
"They are accelerating these innovative HR practices to hang onto the talent they already have," she said. "It's an opportunity for them to establish a competitive advantage."
However, not all companies have made this leap. Some moms who shared their stories with Bridge Michigan describe keeping children home even after daycare re-opened and having a supervisor repeatedly ask when they would return to daycare, and being fearful of their kids showing up on Zoom business calls. Working moms also described corporate support for women dealing with childcare waning after the first few months of the pandemic.
Inadequate childcare benefits are a big part of the problem, Barclay said. "How we deal with childcare is different in this country than it is in other industrialized countries."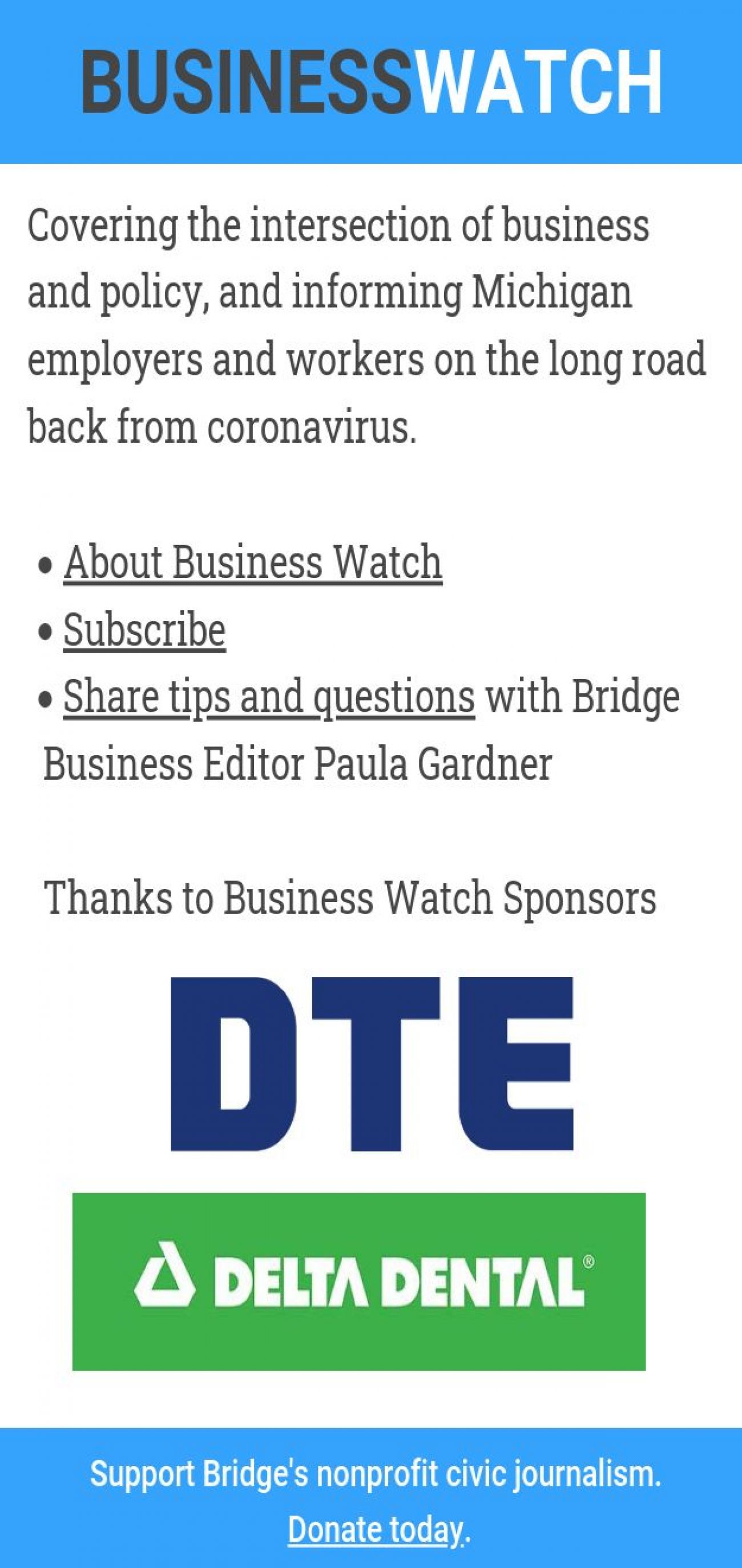 Career Planning on Hold
All last fall, Becky Welzenbach led kitchen-table kindergarten for her daughter and two classmates whose parents didn't have the option to work from home.
A librarian at the University of Michigan, Welzenbach cut back from full time to two days a week so she could oversee online school at her Ypsilanti home. A babysitter covered the two days Welzenbach was (remotely) on the job. Meanwhile, her younger daughter attended day care and her husband, Sam, worked from home three or four days a week and went in to work on other days. In January, Becky's work schedule doubled to four days a week and a parent of one of the other students in the pod picked up kindergarten supervision two days a week.
"It's been weirdly complex," Welzenbach said.
She says she and Sam are fortunate, and grateful, to have flexible jobs they can do from home and understanding, empathetic colleagues and supervisors. She has been "amazed and impressed" with the Ypsilanti Schools response to the pandemic.
Welzenbach is troubled, however, by the inequity in COVID's wake. For example, she was able to scale back her hours at two-thirds pay because she works for a public institution obligated to provide paid family leave under the Families First act —a benefit unavailable to most workers, including her husband.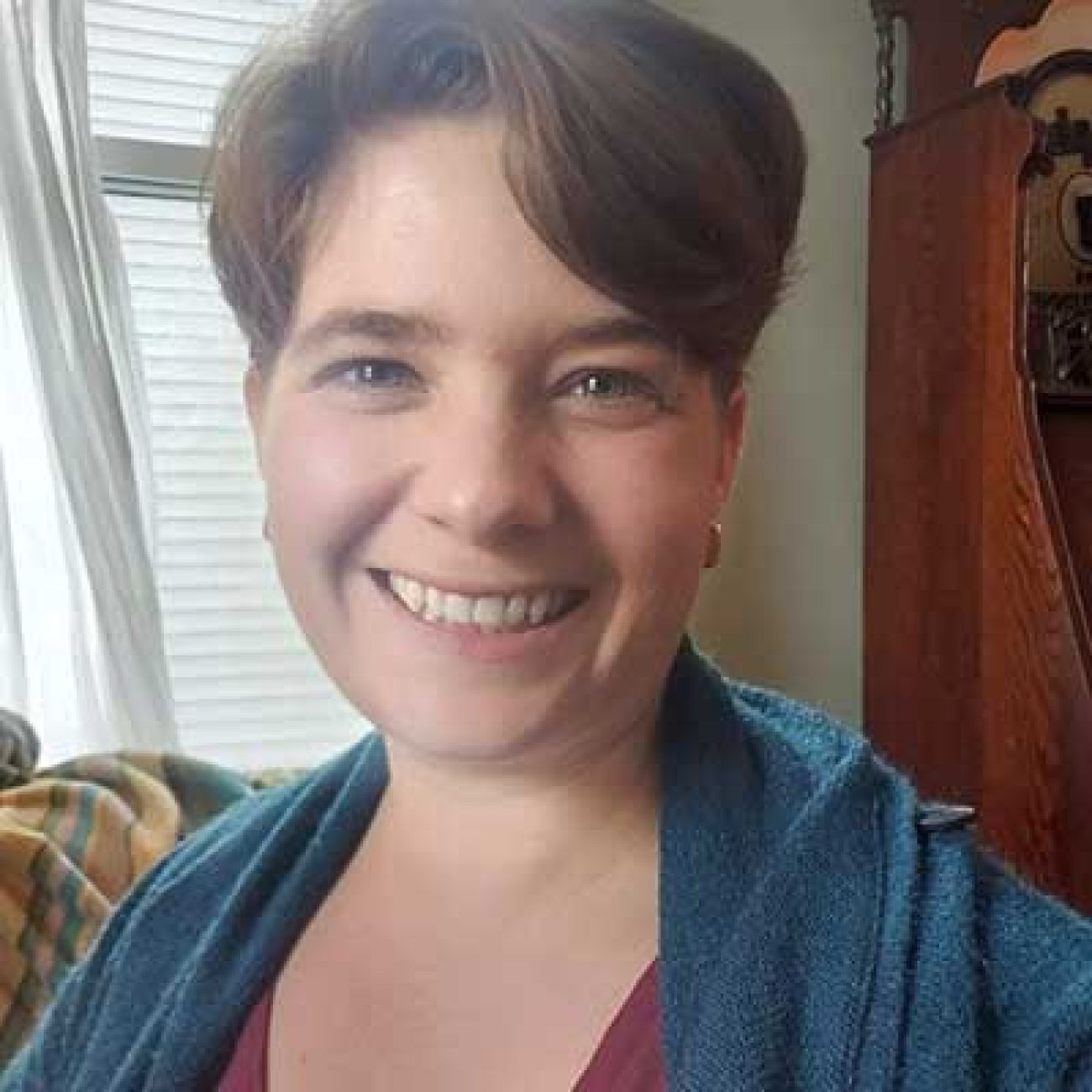 A courtesy photo of Becky Welzenbach.
"So much of the aid and relief that is available comes about through byzantine, arbitrary, in-kind support that isn't equally available to everyone, such as access to particular types of paid leave," she said in an email to Bridge. "Another example is that we just unexpectedly got almost a month of free childcare because our daycare director applied for a grant for relief and got it. That's great news for all the families that attend there, but not something that's visibly and equitably available."
Meanwhile, Welzenbach is uncertain how all this will affect her long-term career prospects and, frankly, is too burned out to think about it. She's not assessing opportunities or professional goals or steps she might take to reach them.
"I can't fathom even thinking about that. I've put that to the side, because I can't look ahead a year or two years and determine what needs to be accomplished," she said. "I'm sure that goes for a lot of people. So much executive function has been eaten up by everything we have to deal with that we don't have any to spare."
Business Watch
Covering the intersection of business and policy, and informing Michigan employers and workers on the long road back from coronavirus.
Thanks to Business Watch sponsor:

Support Bridge's nonprofit civic journalism. Donate today.
Only donate if we've informed you about important Michigan issues
See what new members are saying about why they donated to Bridge Michigan:
"In order for this information to be accurate and unbiased it must be underwritten by its readers, not by special interests." - Larry S.
"Not many other media sources report on the topics Bridge does." - Susan B.
"Your journalism is outstanding and rare these days." - Mark S.
If you want to ensure the future of nonpartisan, nonprofit Michigan journalism, please become a member today. You, too, will be asked why you donated and maybe we'll feature your quote next time!