Northern Michigan resort town confronts shortage of year-round housing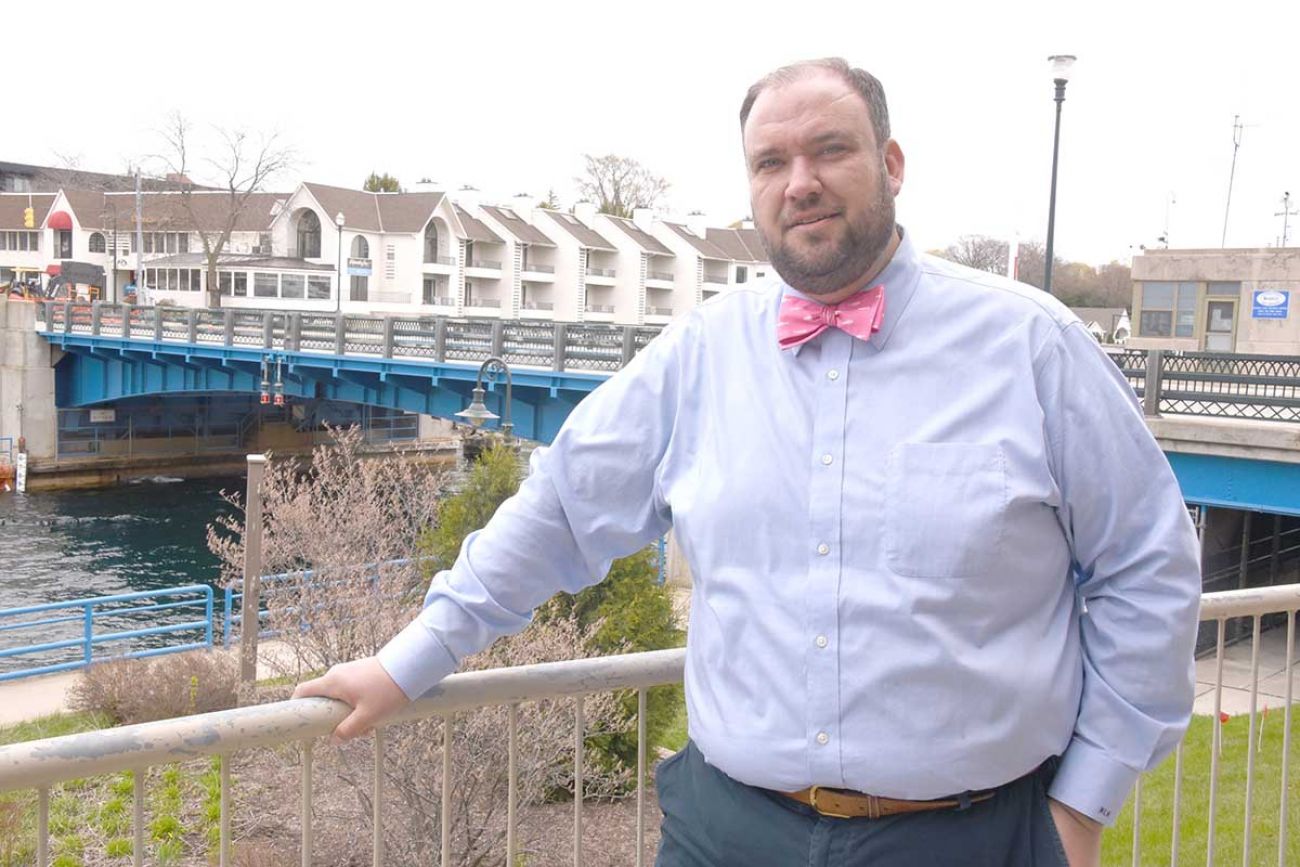 Charlevoix City Manager Mark Heydlauff said his community struggles to recruit workers (Bridge photo by John L. Russell)
July 27: 5 things to know about buying a house in Michigan in real estate 'crisis'
For more than a century, Charlevoix and its resilient local economy have survived on a singular mix of natural beauty and outside wealth.
But those very qualities are endangering the workforce in this small Lake Michigan summer resort community north of Traverse City, as upward pressure on rent and home prices are driving away workers who can't afford the cost of housing. That, in turn, makes it tough for area business to retain the employees it needs.
"It's certainly a challenge that we face, even as an employer," Charlevoix City Manager Mark Heydlauff told Bridge Michigan.
Related:
He said this affordable housing shortage hits both those at the lower end of the income scale ─ critical retail and service sector workers looking to rent ─ as well as middle-management and professional workers who either can't find homes to buy or are priced out of a market where homes have a median value of $235,000.
Heydlauff said the city lost one potential hire a few months ago who balked at regional home prices, which increased 17 percent in 2020, climbing to an average price of $347,315, according to the Antrim Charlevoix Kalkaska Association of Realtors. He said another recent hire is "bouncing between rental property and looking for opportunities to buy."
According to Networks Northwest, a 10-county regional nonprofit community development organization, Charlevoix needs 185 more affordable rental units for households with incomes of $26,000 or less. It calculates that Charlevoix County needs nearly 500 more affordable rental units for those lower-income households.
But it also estimates that more than 200 Charlevoix County households earning $70,000 to $100,000 a year can't afford a home. For its 10-county region, buying a home is out of reach for more than 1,800 households at that income level.
"It's not just those at the lower end of the income scale," CEO Matt McCauley told Bridge.
"We have dual-income households in traditional middle-income jobs that are having difficulty finding housing, whether it's in the rental market or homeowner market."
Answers have proven hard to come by in this city about 2,300 people, even as local officials and nonprofit groups keep trying by looking at using public property for new homes, adding deed restrictions and incentive for establishing year-round housing and even turning to other resort communities for strategies.
The tricky balance between outside money and the local economy has been in play for well over a century in Charlevoix, dating as far back as the establishment of exclusive settlements like the Chicago Club and the Belvedere Club in the late 1800's.
Situated on 40 acres within the city, the Chicago Club is a 31-cottage association graced with tennis courts, a century-old clubhouse and beachfront on Lake Charlevoix, taking its name from the nineteenth century Chicago millionaires who laid its foundation. Just outside Charlevoix, the Belvedere Club home association has 91 cottage homes, a tennis club, gardens, golf course and a dining club.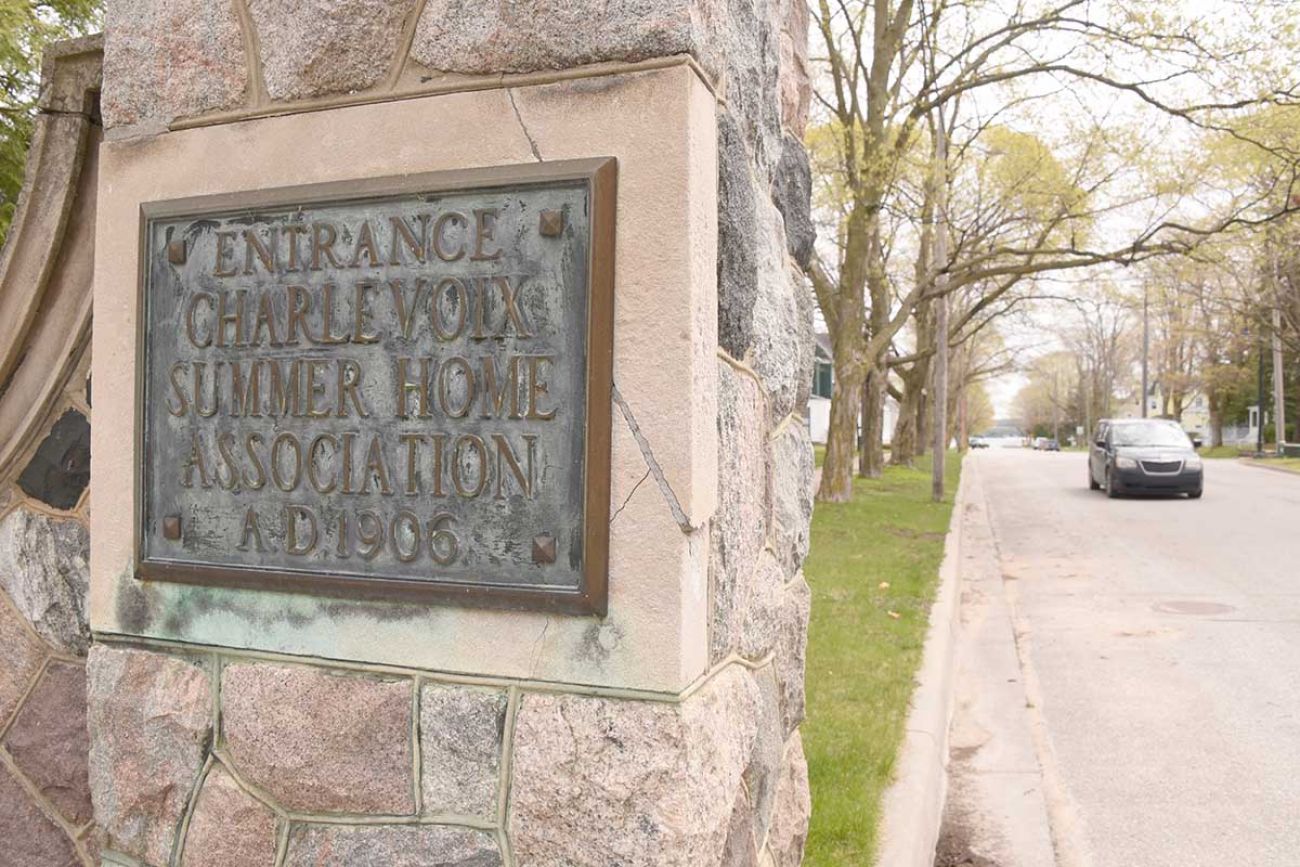 Exclusive housing "clubs" like the Belvedere Club and Chicago Club have been in the Charlevoix area since the 1880s. (Bridge photo by John L. Russell)
But this housing stock offers no immediate help to the need for year-round housing, as most of these cottages remain empty and dark most of the year.
In 2020, the city asked voters to approve converting part of its golf course to affordable housing. By more than three to one, they said no thanks.
Long-time Charlevoix resident and former city council member Shirley Gibson was among those who voted it down.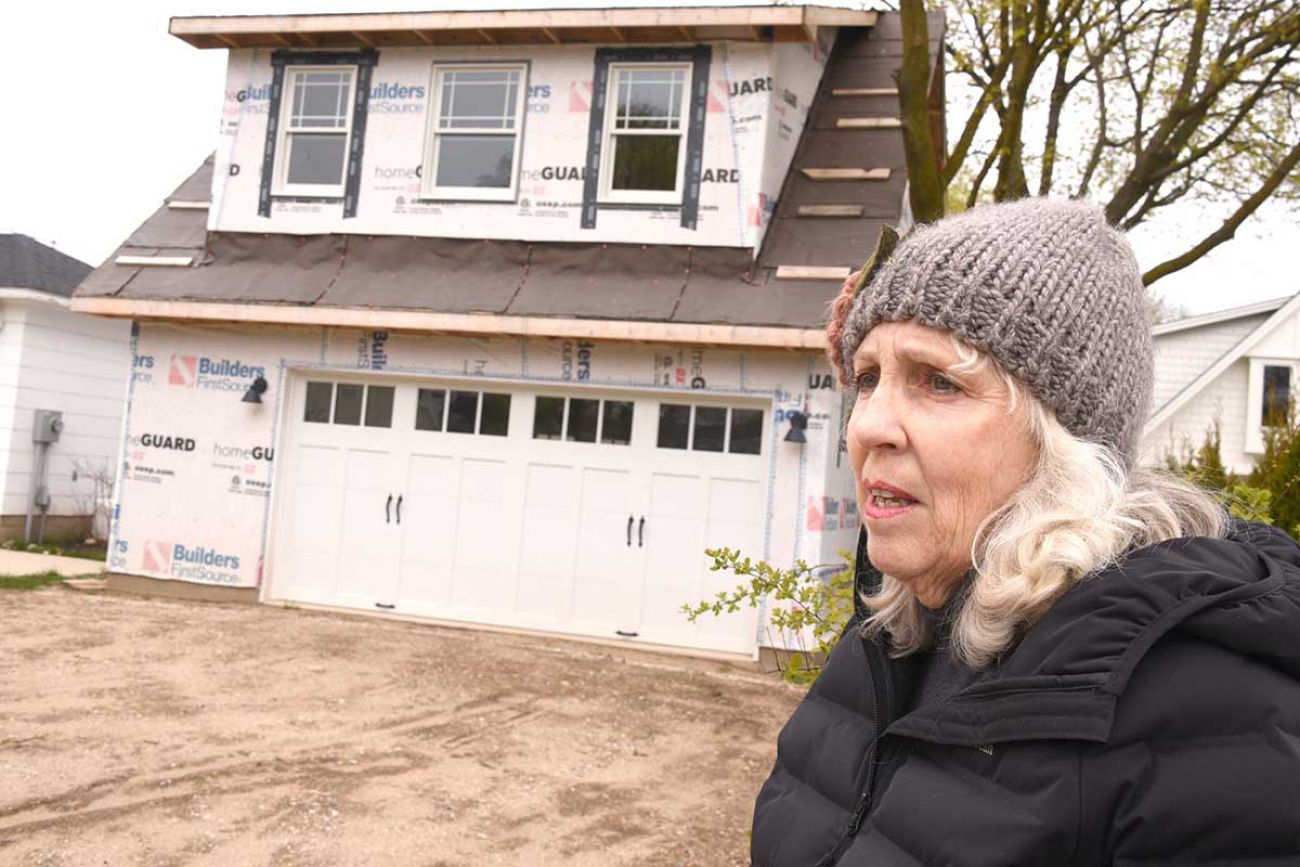 Long-time Charlevoix resident Shirley Gibson stands in front of a garage and newly approved apartment above it. (Bridge photo by John L. Russell)
"I don't believe that the city should get involved in real estate," Gibson told Bridge. "Charlevoix has always been a resort town. They are going to destroy why people even come here to visit if they don't stop this nonsense."
Taking small steps
In 2020, Housing North, a Traverse City-based regional housing nonprofit, launched a program with $20,000 in donated funds to secure deed restrictions to assure property will be used for long-term housing.
Indeed, according to Housing North, just 38 percent of homes in Charlevoix are principal residences. And in recent years, just as in other resort communities, dozens of those second homes are now churning out short-term rentals through agencies like Airbnb and Vrbo.
Under the deed restriction program, homeowners and apartment owners can get cash incentives for purchase or renovation if they agree by deed that the home or apartment will be occupied by the same people at least 10 months a year. Once recorded, a deed restriction stays with the title and survives changes in ownership.
"We know that housing is expensive," said Steve Schnell, who directs housing initiatives in Charlevoix County for Housing North.
"Deed restriction does not address that. It's meant to address the need for year-round housing."
In April, Charlevoix builder Robert Jess completed renovation of a small Charlevoix Baptist church he converted to two three-bedroom apartments. In exchange for several thousand dollars in funds, he signed a deed restriction assuring its residents will be there year-round.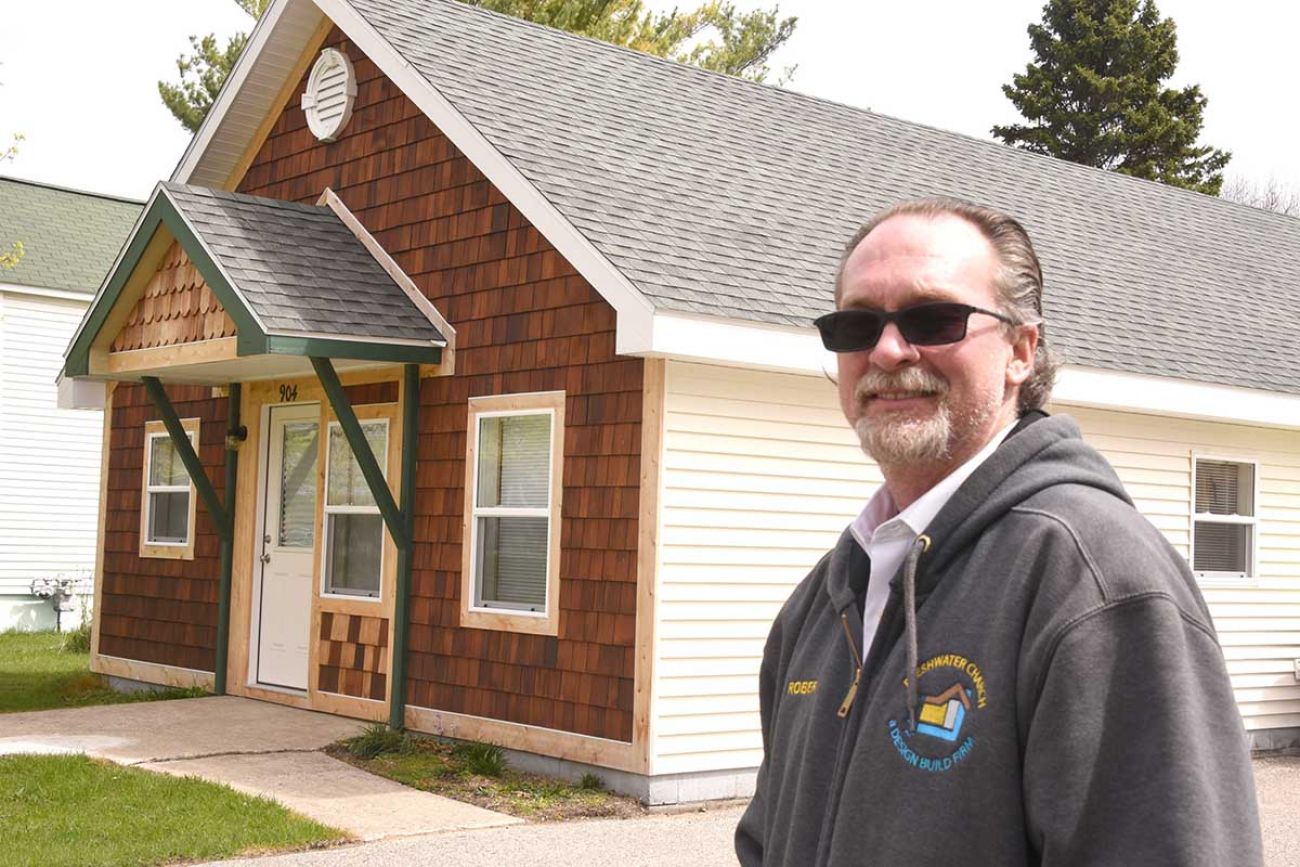 Charlevoix builder Robert Jess signed a deed restriction that assures this apartment project will provide permanent housing. (Bridge photo by John L. Russell)
Jess said he signed on to be one small part of helping solve a community-wide issue.
"Everybody knows that it's needed. Maybe if Charlevoix had a hundred more of these or 150 of these, it sure wouldn't hurt."
But Schnell of Housing North said only approximately $7,000 remains of the original $20,000 funds ─ hardly enough to add many more such projects.
"This is very much in its infancy," he said.
Schnell said he's working on a fundraising plan with the Charlevoix County Community Foundation to boost those funds, adding: "We'll be enacting that soon."
Small changes were realized after the Charlevoix city council in 2019 adopted a measure greenlighting "accessory housing units" in one residential section of the city. It allows property owners to add living quarters of up to 650 square feet on their existing home or build detached living units, and to make those units available for long-term rental.
To date, according to Charlevoix zoning administrator Jonathan Scheel, two such units have been approved.
"It's a small, incremental solution. It is one small arrow in your quiver to deal with the housing situation. For every one of these, we are probably losing two or three homes a year as year-round family homes."
Officials are considering expanding this measure to a second residential area, as some local residents fret about what this could do to the character of the city.
"Strong neighborhoods are created by people who live in this community year-round," Charlevoix resident Darlene Klien told Bridge. Klien was also a vocal opponent of the ballot proposal to build affordable housing.
"You end up with too many people in too small an area, which means cars and traffic. All of it impacts a neighborhood. It takes away from that small-town feel. Do I want affordable housing? I don't think it's entirely possible in a resort town."
A workforce issue
For restaurant owner Rich Bergman, concern over how COVID-19 will affect his tourist-dependent business is just one of his worries.
As he gears up for summer, Bergman said he's short 10 positions, including host, bartenders and servers, cooks and managers.
"Trying to recruit new employees to the area is a no-go," said Bergman, managing partner for the Bridge Street Tap Room in Charlevoix and nearby Boyne City Tap Room.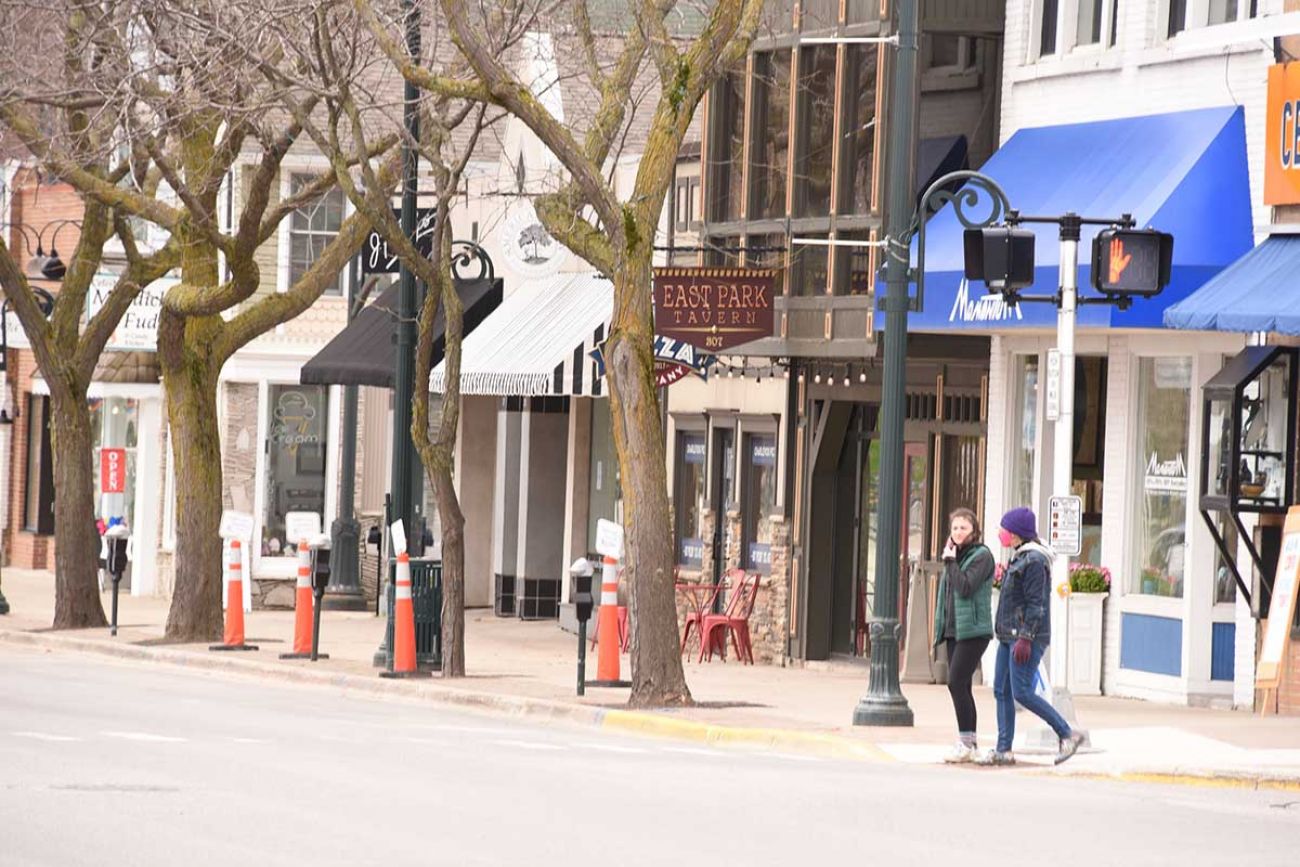 Downtown Charlevoix, quiet before the summer months, needs a robust tourist season to thrive. (Bridge photo by John L. Russell)
"You just can't recruit from outside the area because there is nowhere for them to live. We have a lot of high net-worth people who moved into the area. They built a lot of phenomenal homes on the lake.
"As a summer resident, when you want a nice restaurant to go to, you still need an employee base to work in that restaurant."
In the meantime,15 miles east of Charlevoix, businesses and health care providers in the resort community of Petoskey face similar trouble recruiting workers.
"It's been an issue ever since I've been here," said Derek Peters, vice president for human resources the past three years at McLaren Northern Michigan Hospital in Petoskey,
"If you're looking at a house in Petoskey and surrounding townships that is under $250,000, you're not likely to find that. If they expand their search, then you might find something, but then you are looking at long drives to get to work."
Peter said the hospital currently has about 140 job openings out of approximately 1,400 positions, jobs that include everything from nursing to housekeeping to management.
"How many people just don't consider working here, people that take a peek at the postings and take a look at the real estate market, and don't even apply for jobs?"
Housing proponents point to Colorado resort towns like Aspen ─ where the upward pressure on real estate is even more acute ─ and how officials have resorted to bold measures to assure they will have a local workforce in a community where homes go for an average of $2.2 million.
In 1982, the Aspen-Pitkin County Housing Authority was founded, charged with providing affordable housing for workers unable to afford to rent or buy at market rates.
The authority carved out a second housing market, insulated from soaring housing costs and to be made available only to residents who live and work full-time in the county and whose income falls below a set threshold.
Today, some 3,000 units, from studio apartments to single-family houses, offer seasonal and year-round occupancy in the housing pool controlled by the authority. Rental rates on deed-restricted rental units are capped, as are the sales price of deed-restricted homes.
But Networks Northwest CEO McCauley doubts that area politicians, as well as many residents, are prepared for such dramatic steps.
"We have looked at Aspen as a case study and there are some parallels to consider, but there is always a healthy skepticism to 'more government' in northwest Michigan ─ especially with matters that have historically been market driven," McCauley said.
He added: "There's no silver bullet. What's happening here has been going for a matter of years. It's a basic principle of supply and demand. There's just no homes."
But until the housing gap is closed, McCauley said, the region will pay a price.
"We need working families in this region. If we don't have a core infrastructure of housing to support those families, they will go elsewhere."
Business Watch
Covering the intersection of business and policy, and informing Michigan employers and workers on the long road back from coronavirus.
Thanks to Business Watch sponsor:

Support Bridge's nonprofit civic journalism. Donate today.
Only donate if we've informed you about important Michigan issues
See what new members are saying about why they donated to Bridge Michigan:
"In order for this information to be accurate and unbiased it must be underwritten by its readers, not by special interests." - Larry S.
"Not many other media sources report on the topics Bridge does." - Susan B.
"Your journalism is outstanding and rare these days." - Mark S.
If you want to ensure the future of nonpartisan, nonprofit Michigan journalism, please become a member today. You, too, will be asked why you donated and maybe we'll feature your quote next time!