COVID supercharged Upper Peninsula travel. Looks like it's going to last.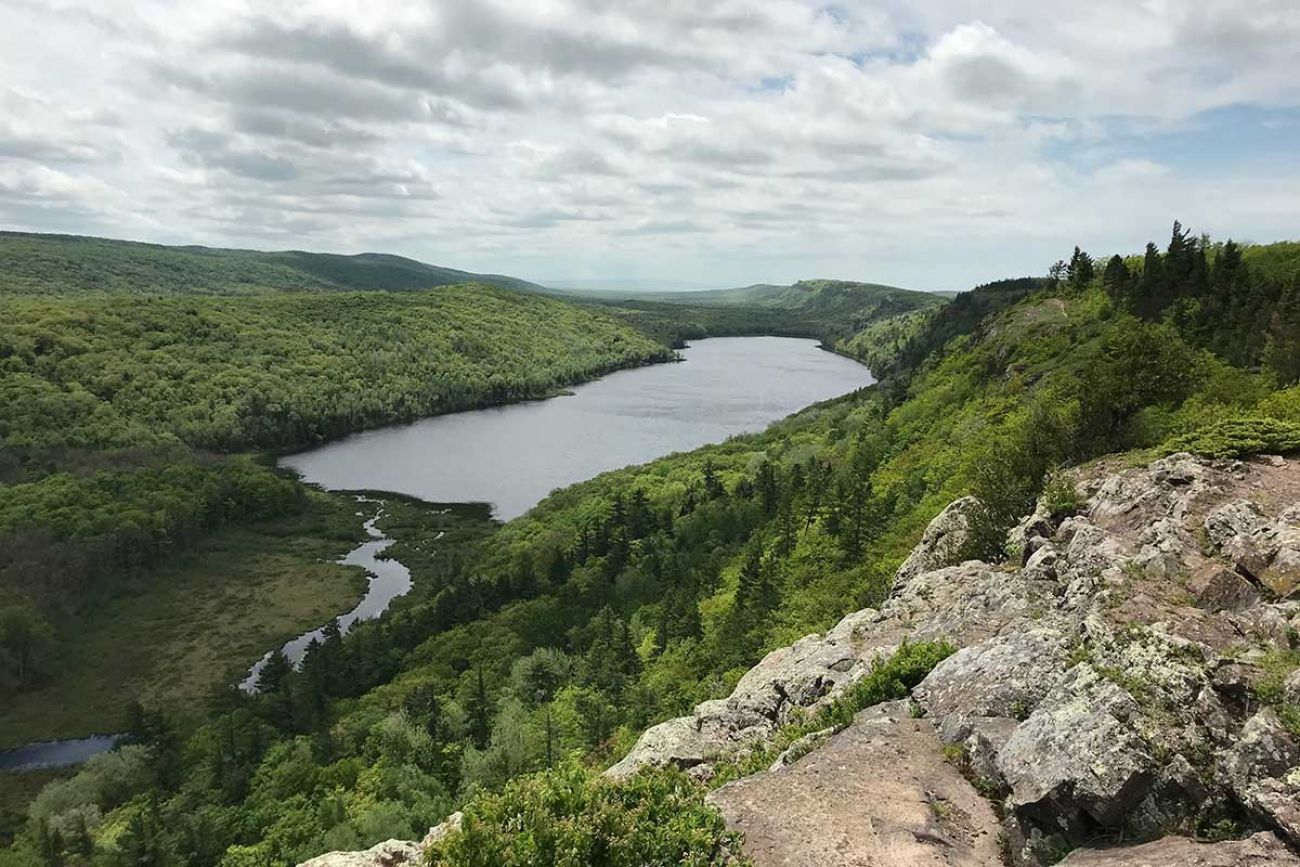 Skyrocketing visitation at Porcupine Mountains Wilderness State Park was a blessing and a curse: The tourism boom is great for local economies, but it brought a dramatic spike in emergency rescues as first-time visitors came unprepared for a wilderness experience. (Bridge photo by Kelly House)
GERMFASK—A computer print-out taped to a shelf behind the register at the Northland Outfitters campground and canoe and kayak livery says it all.
Last July 4, it proudly notes, Donna and Leon Genre and their small staff helped more people paddle the Manistique River than on any other day in the livery's history.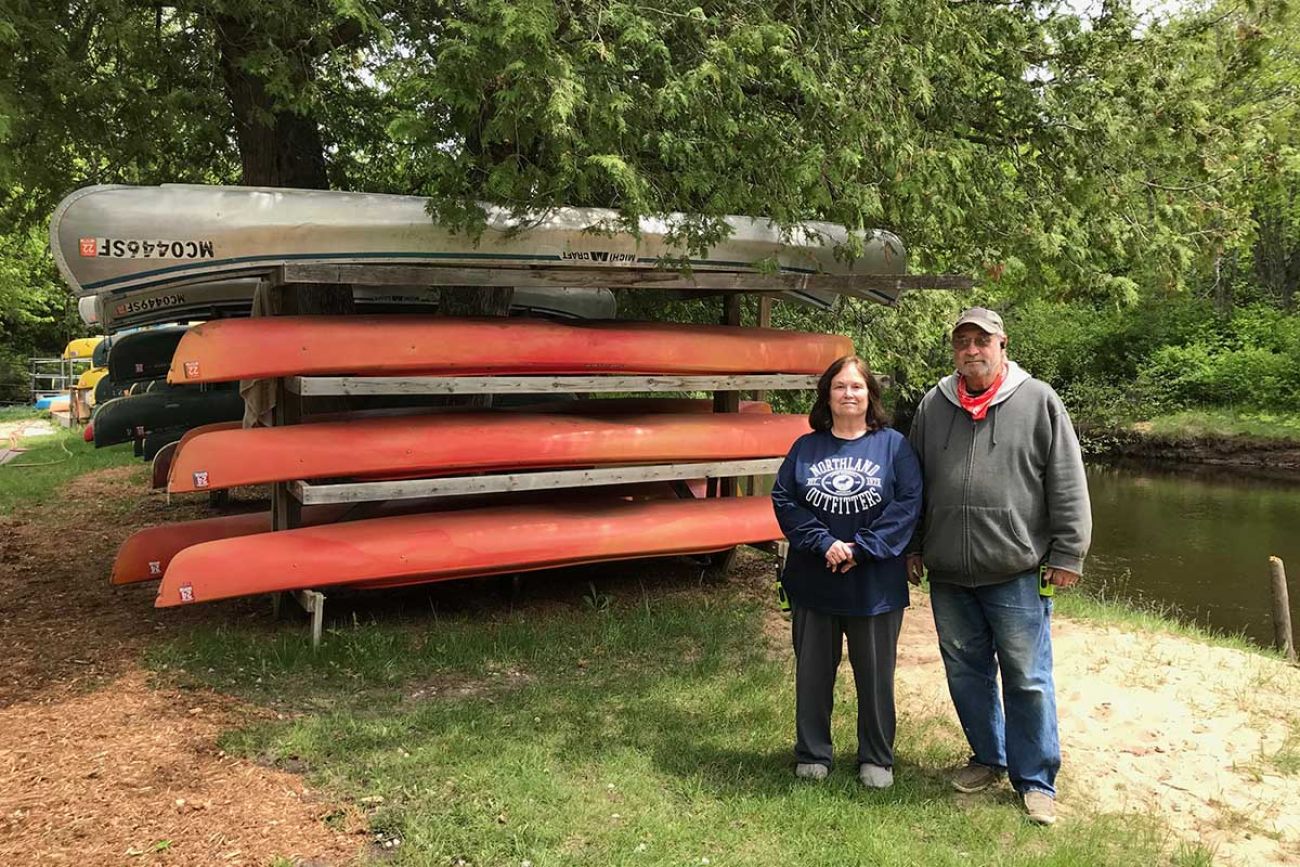 Donna and Leon Genre own the Northland Outfitters canoe and kayak livery in Germfask, in Schoolcraft County. The pair helped more than 3,500 customers get on the water last year, a record-breaking 68 percent increase in business that also included its busiest single day on record. (Bridge photo by Kelly House)
That record-breaking day, the highlight of a record-breaking year, came as a shock to the Genres.
Related:
Just weeks earlier, their phone was ringing with cancellations, as health fears and travel restrictions prompted downstaters to back out of planned vacations on the scenic Upper Peninsula river that glides through the Seney National Wildlife Refuge.
The Genres were hoping to keep their business afloat on a mix of frugality, loans and mortgage deferrals.
"We were really, really worried," Donna said.
Across the U.P., where whole communities rely on income generated by vacationers who escape to the outdoors between Memorial Day and Labor Day, the consensus last spring was that COVID-19 would kill U.P. tourism.
Instead, it supercharged it.
Michiganders and out-of-staters, wary of catching COVID indoors or on planes to distant destinations, instead streamed northward to the great outdoors, resulting in record visitation at Up North campgrounds and hotels, canoe liveries, hiking trails and pasty shops.
Pure Michigan did a lot for the U.P., but COVID did a heck of a lot, too. The whole town was crazy. And I know they'll be back. They all said so." — Mary Jo Gariepy, Munising campground worker
And with vaccines now available, travel restrictions and mask mandates lifted, and many people still hoping to get mileage out of the kayaks, mountain bikes, travel trailers and tents they bought last year, land managers and tourism officials in the U.P. say they expect the boom to continue.
"Last year, we exposed more new people to the U.P. than we ever have in history," said Tom Nemacheck, executive director of the Upper Peninsula Travel & Recreation Association. "That will pay off for years to come."
'More business than we could imagine'
Last year's Mackinac Bridge crossing numbers tell the bust-to-boom story. From March through May, cross-bridge traffic was down 40 percent while Michigan remained mostly closed. By September, nearly half-a-million people were streaming into the U.P., more than any of the previous six Septembers.
Nemacheck attributed the turnaround to early COVID heatmaps that showed the isolated peninsula to be one of the least-affected regions of the country.
Although the U.P. would later face outbreaks, the low infection rate early in the pandemic "was like a billboard for the U.P.," he said. People flocked to the region from every corner of the country. Many of them, Nemacheck said, were first-time visitors.
With bars and restaurants still operating at limited capacity, Marquette's Jean Kay's Pasties and Subs could barely keep up with takeout orders. In fact, owner Brian Harsch considered retiring at year's end after working 100-hour weeks to keep up with demand. This year, expecting the surge to continue, he has doubled his staff.
On the whole, the surge in outdoor recreation is great news for the U.P. economy. But in beloved outdoor destinations that were not designed for such intensive use, it also presents a challenge.
Tips for traveling to the U.P.
Bring a paper map. Cell phone service can be spotty in the U.P., making it risky to rely on a smartphone maps app to lead you to your destination.
Make reservations. With demand high and some businesses still struggling to staff up, campgrounds, hotels and outfitters are booking up early. Don't expect to drive north and book a room or activity on the fly.
Pack for changing weather: If you're planning to get outdoors, remember that weather conditions can change quickly. Plan accordingly. Bring layers.
Top off the gas tank frequently: Gas stations can be infrequent in rural parts of the U.P., and occasionally run out of gas in the busy summer season. And not every town has a 24-hour station.
Know the rules: Remember that littering is illegal, and many of the most popular camping and backpacking spots require reservations to combat overcrowding. In those cases, it's illegal to just walk into the woods and pitch a tent.
The U.P. is home to millions of acres of forests, 12,000 miles of rivers and streams, thousands of inland lakes and 1,700 miles of Great Lakes coastline. But visitors tend to beeline for a handful of iconic places: Tahquamenon Falls State Park, the Pictured Rocks National Lakeshore, Kitch-Iti-Kipi and the Porcupine Mountains Wilderness State Park, to name a few.
Bridge Michigan wrote last year about the rampant resource destruction, infrastructure strain and overcrowding at Pictured Rocks amid a six-year run of record breaking years.
This year, said Susan Reece, the park's spokesperson, Pictured Rocks received funding to hire two seasonal workers to clean bathrooms and empty trash cans. But that boost falls far short of meeting staffing needs, she said, let alone paying to repair and improve infrastructure that has deteriorated from overuse.
Pictured Rocks officials have proposed an entrance fee to help cover rising costs and wear-and-tear due to massive crowds — a common practice at other popular national parks. But the fees wouldn't begin phasing in until next year.
In the Porcupine Mountains, in the western U.P., record visitation has created a similar strain.
Michigan's largest state park, the Porcupine Mountains contain 60,000 acres of mostly roadless wilderness, with more than 90 miles of trails snaking through densely-forested hills and the rugged Lake Superior shoreline. Weather can change suddenly. Cell service is nonexistent.
Those features make the Porkies a favorite of wilderness enthusiasts. But they also make them dangerous to those who come unprepared, said Ron Olson, parks and recreation chief for the Michigan Department of Natural Resources.
And last year, with many first-timers in the woods, lack of preparedness was rampant. People took to the woods without a map, expecting to rely on their smartphone to orient themselves. People hiked on rugged trails in flip flops, resulting in accidents. They took off on long hikes without rain gear, then got caught in storms.
By year's end, those mishaps resulted in 52 search-and-rescue operations in a park that has typically averaged about a dozen a year.
"This year we are already up to 16," Olson told Bridge. "Normally it would be one or two at this time."
Elsewhere in the U.P., residents reported jammed cell signals and slow internet amid a surge of visitors making phone calls and checking emails. A dramatic increase in mountain bikes on trails near Copper Harbor sparked concern about accidents and overcrowding in the tiny town.
And while COVID caused a welcome tourism surge, it also complicated the region's ability to cater to all those visitors. The Genres of Northland Outfitters are still waiting to receive boats they ordered in October, a delay they attribute to a nationwide run on kayaks and canoes and supply chain issues caused by the pandemic.
"We could be doing more river trips," Donna said, "but we're having to turn people away."
Other businesses are still struggling to hire enough staff to capture summer crowds amid a worker shortage that has prompted many to cut hours, reduce occupancy or pare down offerings. It's a statewide problem that's compounded in the U.P., where some towns are so small, there simply aren't enough locals to hire for the busy season, nor housing to entice workers from out of town.
Olson, the state parks chief, said his agency has in some cases resorted to hiring teenagers for jobs that are usually reserved for those 18 and older. And still, summer positions are only 80 percent full, he said.
Across the peninsula, Nemacheck, of the U.P. travel association, said, "we will literally lose millions of dollars of income because we can't get enough help."
The question on everyone's mind: Will it last?
Nemacheck said he expects word-of-mouth from people who first discovered the U.P. last year to create a new generation of visitors.
Evidence that last year's boom will continue through this summer is everywhere. Even before the Memorial Day weekend that typically kicks off tourism season, campgrounds in the Porkies were nearly full.
The Munising Tourist Park Campground has been booked every weekend through the summer since reservations opened in October, campground worker Mary Jo Gariepy said. She takes calls daily from people looking for advice on where else they can pitch a tent.
"Pure Michigan did a lot for the U.P., but COVID did a heck of a lot, too," Gariepy said. "The whole town was crazy. And I know they'll be back. They all said so."
Rosy Lopez is among them. Lopez joined Yaletzy Alaniz for a long weekend at Pictured Rocks, her first time to the U.P. The pair are avid hikers, but natural areas in the Lansing area, where Lopez lives, are far smaller and fewer in number.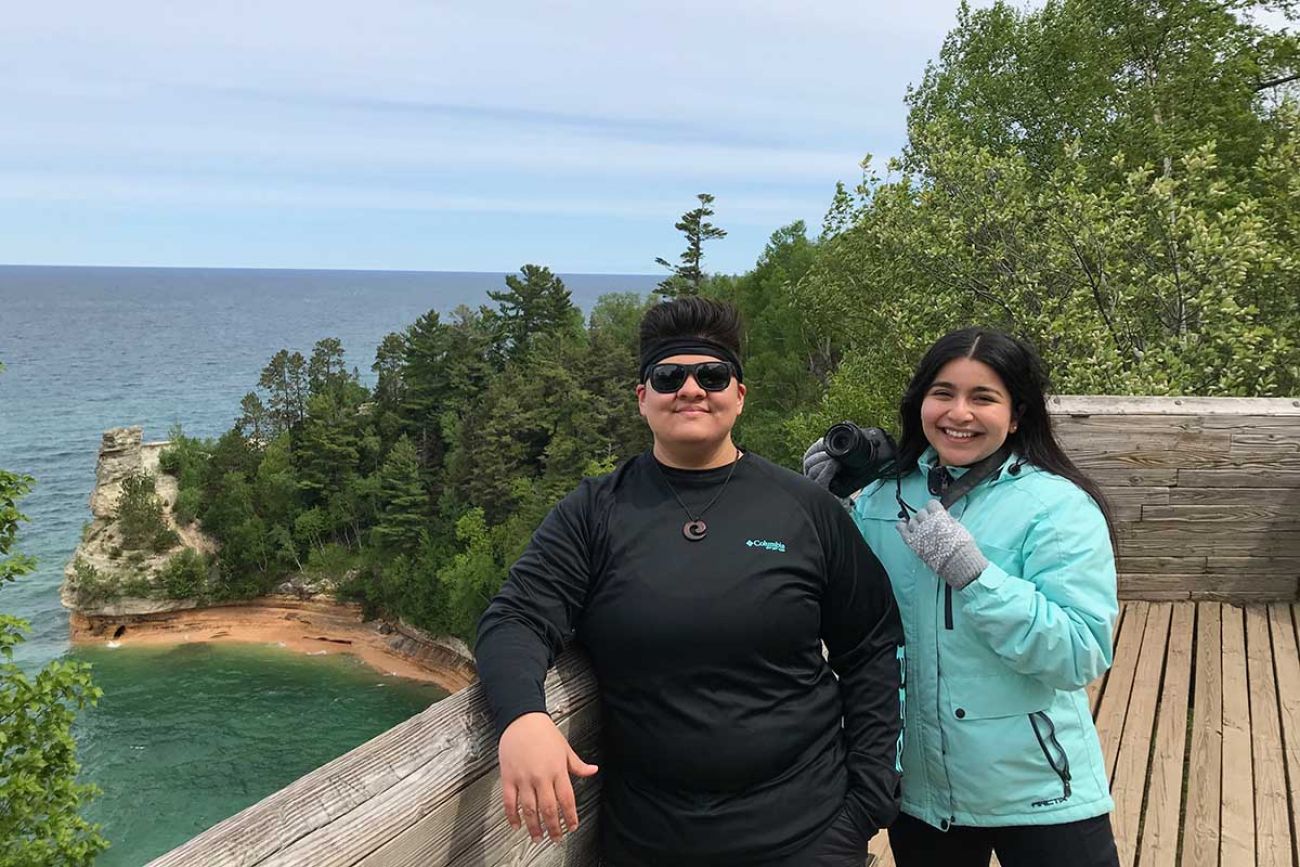 Rosy Lopez, left, and Yaletzy Alaniz spent Memorial Day weekend in the Munising region, visiting Pictured Rocks and the surrounding area. Lopez is among a wave of first-time visitors to the U.P. amid a surge in outdoor tourism during the COVID-19 pandemic. (Bridge photo by Kelly House)
Will they be back? "For sure," Lopez said, but next time they will come armed with paper maps, written notes about how to check into their lodging, and a better understanding of the importance of filling the gas tank at every opportunity.
Until recent summers, U.P. visitors could generally plan on the fly, driving up and finding an empty campsite when they arrived. That's no longer possible, land managers said. Pictured Rocks went to a reservation-only system in 2019. A similar system debuted for backcountry camping in the Porkies in 2018.
Securing a campsite on state or national forestland near Pictured Rocks has become so competitive, campers often wake up at dawn to find lines of vehicles idling near their tents, their occupants waiting to snag a site as soon as last night's campers leave.
"Everyone thinks nobody else will be up here," Reece said, but those days are long gone. "If you're counting on getting a first-come, first-serve campsite, you're really taking a risk. What's your backup plan?"
The demand has spurred a handful of area landowners to convert their properties into campsites. One, Fort Superior Campground, is under construction just down the road from the Munising Tourist Park. Tent sites with access to a hand-pump well and privy toilet are $50 a night.
Land managers say demand from would-be campers will likely outstrip even that expanded capacity. Reece, of Pictured Rocks, said staff will survey area campgrounds this week to ask whether they want the park to redirect visitors there when the park's campgrounds fill up.
Demand is so high, she said, "we know we can crush them if we just start sending out their phone numbers."
Sam Raymond, owner of the Keweenaw Adventure Company in Copper Harbor, said he has already booked a record number of reservations for summer bike and kayak rentals. The difference this time, he said, is that "we're ready for it."
There are also new food trucks in Copper Harbor and Munising.
A year after their dire spring, the Genres feel hope, and are allowing themselves to believe the COVID-19 tourism boom will continue after the pandemic. People have discovered the U.P., Leon Genre said, and those who invested in travel trailers and boats will want to get more use out of them.
"Not going to Disney World, but instead doing family time around a campfire; I think a lot of people enjoyed it," he said. "They hadn't done it in years and got to re-experience what they did when they were kids."
Michigan Environment Watch
Michigan Environment Watch examines how public policy, industry, and other factors interact with the state's trove of natural resources.
Michigan Health Watch is made possible by generous financial support from:
Our generous Environment Watch underwriters encourage Bridge Michigan readers to also support civic journalism by becoming Bridge members. Please consider joining today.
Only donate if we've informed you about important Michigan issues
See what new members are saying about why they donated to Bridge Michigan:
"In order for this information to be accurate and unbiased it must be underwritten by its readers, not by special interests." - Larry S.
"Not many other media sources report on the topics Bridge does." - Susan B.
"Your journalism is outstanding and rare these days." - Mark S.
If you want to ensure the future of nonpartisan, nonprofit Michigan journalism, please become a member today. You, too, will be asked why you donated and maybe we'll feature your quote next time!