In tiny Copper Harbor, a mountain biking boom causes growing pains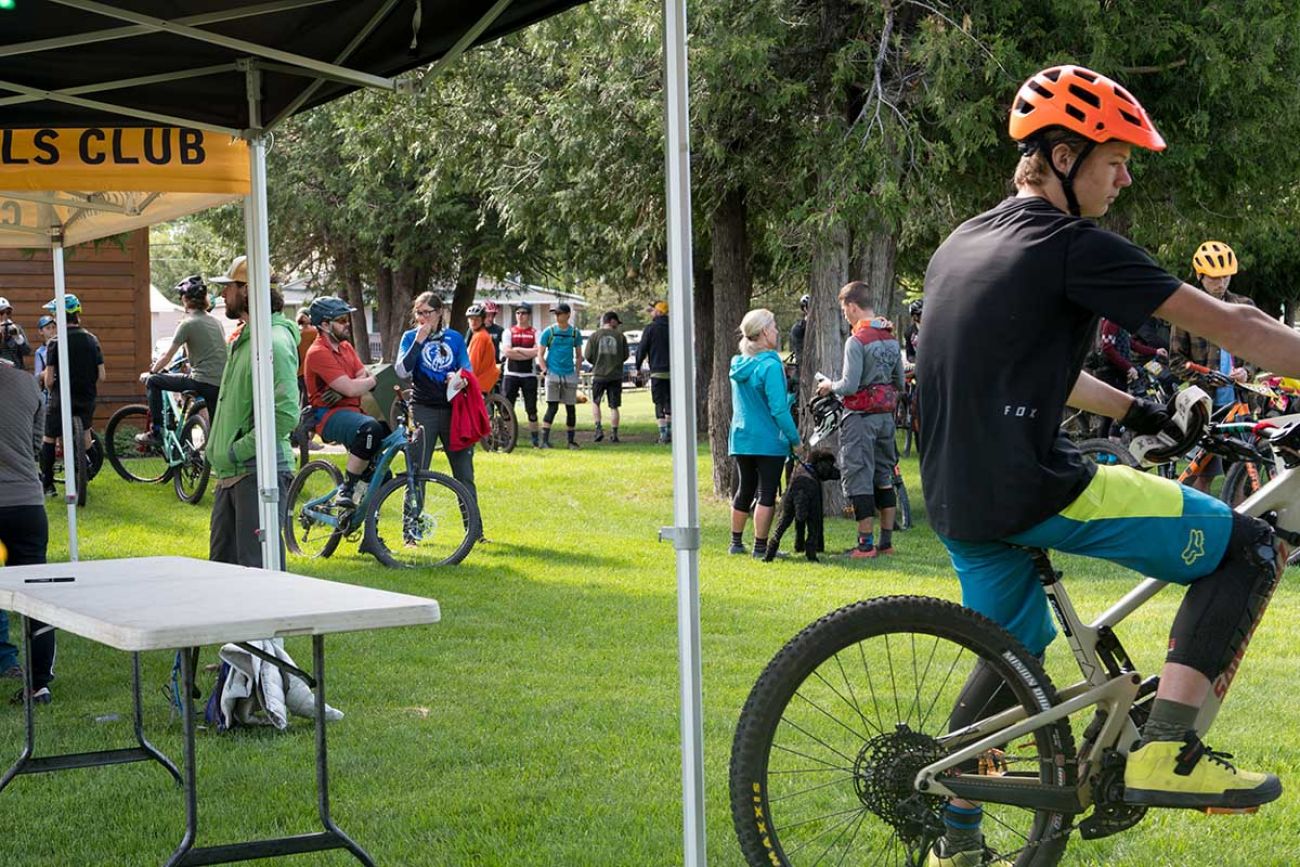 Bikers gather in Copper Harbor for the Experience the Keweenaw Enduro Race over Memorial Day weekend. The event kicks off the harbor's busy summer mountain biking season. (Bridge photo by Eric Laabs)
COPPER HARBOR—When Sam Raymond bought the Keweenaw Adventure Company in the late '90s, Michigan's northernmost community had what he called a "gift shop mentality."
Tourists arrived at this tiny settlement on Lake Superior to catch the ferry to Isle Royale, stopping over to shop for art and knickknacks while nursing an ice cream cone.
"It seemed like Copper Harbor was kind of dying on the vine," said Raymond, who rents mountain bikes and sea kayaks from his shop on the town's main drag. He recalls being overjoyed when the Fat Tire Festival — a mountain biking event that was then in its infancy — attracted 44 people in 1998.
Pedestrians walk by as the Keweenaw Adventure Company shuttle loads up bikes to drive people to the top of Brockway Mountain. Copper Harbor's main drag can become congested in the summer, with motorists, pedestrians and bicyclists sharing space on a two-lane road with no sidewalks or bike lanes. (Bridge photo by Eric Laabs)
It's a laughable memory now. The once-sleepy former mining town, population 85 as of 2019, has become a nationally-renowned outdoor tourism destination, with mountain bikers anchoring a bustling scene that includes growing throngs of all-terrain vehicle riders, hikers, birders, leaf-peepers, snowmobilers and others seeking adventure in the forested ridges overlooking the Big Lake.
On any given summer weekend, thousands of bikers stream into Copper Harbor. The Fat Tire Festival, since renamed the Bell's Beer Copper Harbor Trails Fest, is now a massive annual event. Skills camps hosted by the nonprofit Copper Harbor Trails Club sell out within minutes. Hotels, campgrounds and restaurants fill to capacity with visitors willing to travel vast distances to a region so remote, some people jokingly refer to it as the end of the earth.
Related:
But that growth — a point of pride and source of livelihood for many in a community with few other economic drivers — has created tensions with others who worry the harbor's rising popularity threatens its quaint, small-town charm.
"We love to see (the tourists)," said Bequita Parks, president of the Copper Harbor Improvement Association, "but for some of the residents who've lived here a really long time, they're not as excited."
Trail closures, safety concerns, rising land prices and other worries arising from the region's skyrocking popularity have put the harbor at a crossroads, forcing difficult conversations about how to sustain the growth without taking it too far.
Tensions about 'overtourism'
Copper Harbor's bike scene began back in the '90s with a ragtag group of volunteers building trails by hand, mostly for their own enjoyment.
Over time, that group coalesced into a nonprofit, the Copper Harbor Trails Club. The trail system expanded deeper into the hills around town, accessible from a trailhead smack-dab in the town center. Some in the community began actively promoting Copper Harbor as a destination. Government and private grants helped further enlarge the trail system, and accolades from the International Mountain Bicycling Association put Copper Harbor on the national map.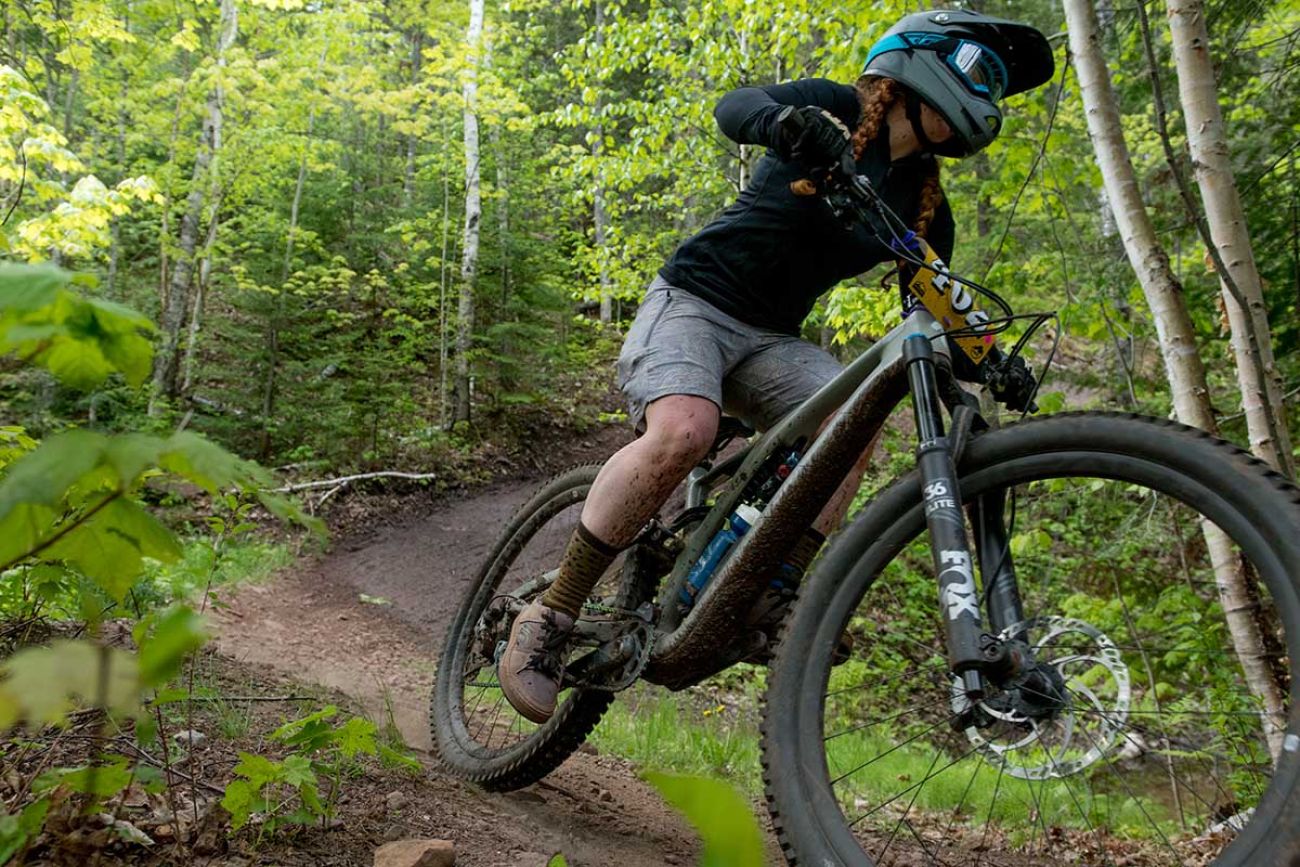 Rider Madyson Hague rolls down a trail along the Copper Harbor trails system over Memorial Day weekend. (Bridge photo by Eric Laabs)
"We're a microcosm of a macrocosm," Raymond said. "I think the U.P. in general has been discovered."
Then came the COVID-19 pandemic. Nationwide, mountain biking and other outdoor industries saw meteoric growth last year, as people took up socially distant outdoor pursuits as a pandemic-safe alternative to other summer traditions.
Although no entity keeps count of trail users in the harbor, it's clear traffic was way up. Ben Ciavola, president of the trails club, estimated that as many as 40,000 people rode the club's 37-plus miles of trails last year.
The boom has been great for business. Some local business owners reported that between a third and half of their summer traffic came from bikers.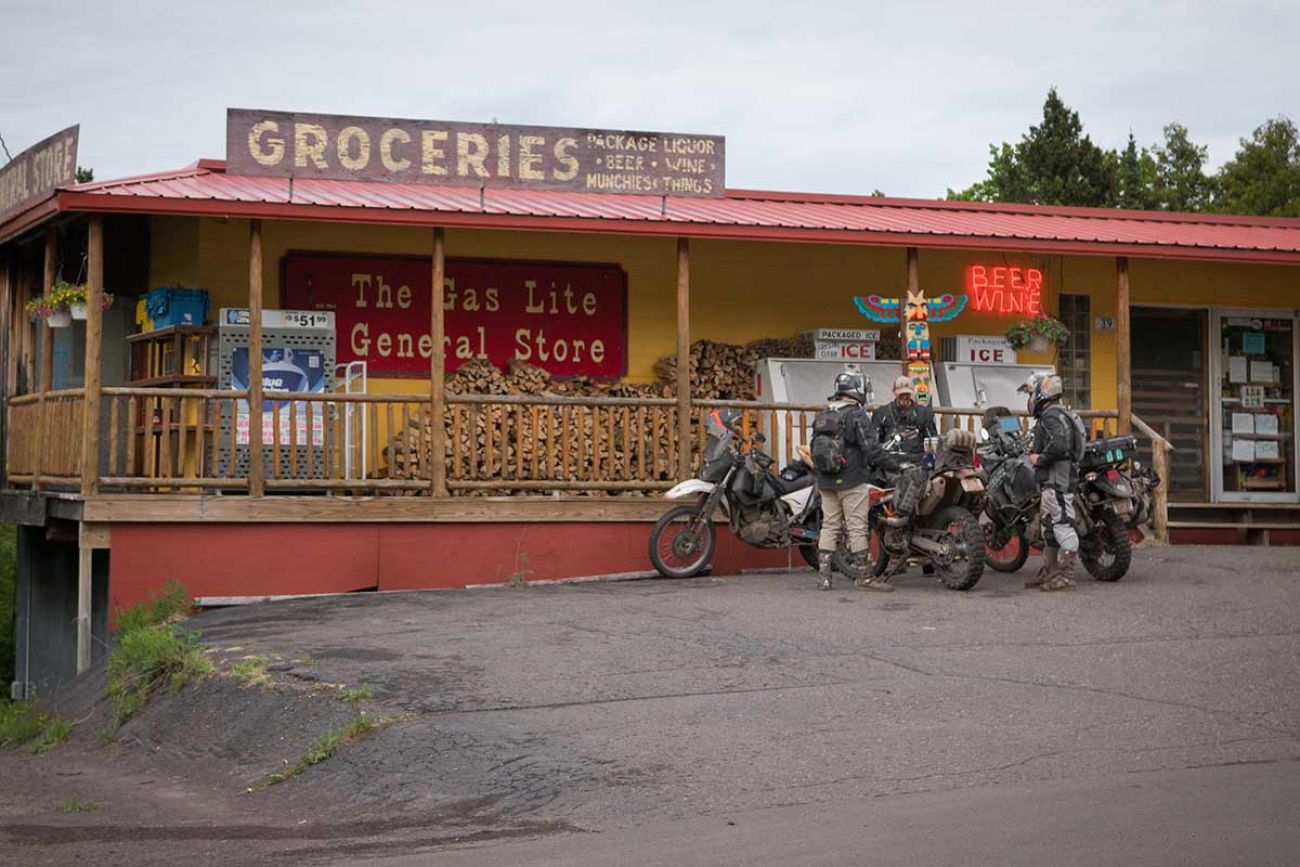 Dirt bikers stop for supplies at Copper Harbor's general store. The town, surrounded by vast, hilly forests overlooking Lake Superior, has grown increasingly popular with outdoor adventure-seekers. (Bridge photo by Eric Laabs)
"The trails are expanding our business," said Don Kauppi, who owns the The Mariner North lodge and restaurant with his wife Peggy. Outdoor recreation-based tourism, he said, has turned a small community where business owners once had to work multiple jobs to make a living into "a real town."
But some residents are nostalgic for the sleepier days. Gridlock traffic as pedestrians, bicyclists and motorists convened on the town's tiny main drag, littering and a cluster of bicycle accidents last summer raised concerns among some, including Grant Township Supervisor Scott Wendt, that the harbor has begun to fall victim to "overtourism."
Copper Harbor remains a town with no sidewalks. Technically, it's not a town at all, but a "census-designated place" that hit peak population during the copper mining boom of the 1800s. Its students still learn in a one-room schoolhouse. Its single public restroom contains three stalls. One building houses the township offices, post office, welcome center and community hall. Emergency response capacity is limited to a small crew of aging volunteers.
Copper Harbor's one-room schoolhouse is emblematic of the town's tiny size. Although its summer population can swell to several thousand as tourists pour in, year-round residents numbered below 100 at last count. (Bridge photo by Kelly House)
One of them, Wendt said, has threatened to retire if this summer is as hectic as last.
"We get thousands of people in a town that is really not set up for that," Wendt said.
Following the harbor's busiest summer in recent history, Keweenaw County officials last fall began to address the community's rapid growth. Among the questions: Would the town expose itself to legal risk if it approved a proposed snow terrain park that would nudge into county-owned lands surrounding the Keweenaw Mountain Lodge, a Works Progress Administration project that is now a privately-owned wilderness resort?
Many of the area's mountain biking trails also traverse county property and neighboring township-owned land, and officials worried an injured biker could sue the local governments for medical bills.
The answer is likely no. Michigan law protects landowners from most claims arising when people get injured recreating on their land, so long as the landowner wasn't charging a fee to use the property. The county board eventually agreed to sell the property to the lodge owner, with the agreement that the trails will remain open for public use.
But the Michigan Department of Natural Resources must first approve the transaction, and until that happens, three of Copper Harbor's most iconic and challenging trails remain closed.
"Nobody wants to see the trails closed," said board Chair Don Piche, "but we've got to protect the county."
Meanwhile, a landowner who had long allowed mountain bikers to pass through his property has revoked access, closing off a main artery between downtown and the surrounding hills.
The owner, Clyde Wescoat, said he grew tired of rowdy bikers ripping through his property. His trails will remain open to hikers, he said, but "bicyclists have all sorts of other places that they can go."
"This is nature," he said. "It ain't the city, and it's not Disney World."
Ciavola, of the trails club, said he's disappointed but understands the concerns.
"It's tough right now for the longtime residents, especially the ones that aren't business owners, that come up here for that quiet lifestyle," he said. "They're seeing it change around them."
Land access in jeopardy
The small trail closures hint at a bigger concern for the area's outdoor recreationalists, from bikers and ATVers to birders and hikers: Public permission to build and use trails has often been secured through temporary handshake agreements.
As a hot real estate market sparks a flurry of property sales, recreation advocates worry their access to large swaths of private forestland that have long been open for public use could soon be jeopardized, too.
One landholder, a hedge fund called The Rohatyn Group, owns more than a third of the land in Keweenaw County. Because the company's vast acreage is enrolled in Michigan's commercial forest lands program, it is generally open to hunters, anglers and trappers. The company also allows ATVers and snowmobilers to use old logging and mining roads that cross its land.
But last year, land managers closed the main ATV trail into Copper Harbor after one too many riders got in the way of logging trucks during an ongoing harvest.
"A few knuckleheads ruin it for everyone," said Daryl St. John, president of the Keweenaw ATV Club.
St. John and other recreation advocates worry this temporary trail closure won't be the last.
Buyers have been purchasing homes and land sight-unseen, above asking price. That trend is expected to continue if a controversial proposed cell tower gets built, ending the digital isolation that limits the region's appeal to those seeking vacation homes or a picturesque place to realize their work-from-home dreams.
The Rohatyn Group already occasionally parcels off chunks of its land. With prices high, area residents fear such sales will grow more common. That would leave outdoor recreationalists to negotiate with countless small landowners for access.
"All it takes is one person to buy a portion of property a trail crosses, and they can shut it," St. John said.
The various outdoor interest groups have banded together to form the Keweenaw Outdoor Recreation Coalition, a group that is now lobbying the state to buy 15,800 acres from the hedge fund. That would secure public access to a beloved swath of land stretching from south and east of Copper Harbor to the tip of the peninsula.
"Fragmentation is our biggest enemy," said Gina Nicholas, the coalition's president. "If we don't have the outdoors, we really don't have the basis for an economy in Keweenaw County."
Michigan Parks and Recreation Chief Ron Olson told Bridge Michigan that DNR staff have discussed the proposal but "there's been no affirmative decision one way or the other."
Hedge fund officials did not return calls and emails seeking comment, but a company representative has previously entertained the idea of a land swap with the state.
Charting a path forward
The rising land prices also threaten to exacerbate a longstanding dearth of worker housing in the harbor, which in turn makes it more difficult for the town's businesses to recruit summer help to serve an ever-growing crowd of tourists.
The Kauppis, who own The Mariner North, have vacated their house in Copper Harbor, moving south of town so their employees can live in the Copper Harbor home.
Peggy Kauppi said the town also needs more focus on attracting tourists during the off-season, so workers who occupy seasonal jobs are able to make a year-round living. The growing outdoor tourism scene, she said, is helping stretch out the season.
"This town used to close up Labor Day weekend and that was it," she said. "Now one of our strongest seasons is fall."
Copper Harbor's growing pains follow a familiar story line. The rising popularity of mountain biking, ATV riding and other relatively new forms of outdoor recreation has sparked similar concerns in popular destinations across the country.
Ian DeVlieg rolls through a pump track at the Trails End Campground west of downtown Copper Harbor. This campground, which opened in recent years, caters to Copper Harbor's growing mountain biking tourism base. (Bridge photo by Eric Laabs)
Some local governments have embraced outdoor tourism as a form of economic development. In Duluth, Minnesota, for instance, voters approved property taxes and the city council taxed lodging and entertainment to pay for park and trail expansions. Civic leaders in Bentonville, Arkansas have poured money into developing a mountain biking trail system. The Northwest Arkansas Council even offered remote workers $10,000 and a free bike to move there.
Wendt, the township supervisor, said he supports biking, but he sees the challenges posed by last summer's boom as a prompt to better plan for the harbor's future, rather than moving forward with "unregulated growth."
Because the town is hemmed in by Lake Superior on the north and state parkland on the east, with bits of public land to the west and south, there is little room to grow out. And growing up would likely change the harbor's feel. Think mom and pop rental cottages replaced with chain hotels.
"I understand that things are going to change," said Wendt, "but I would hate to see Copper Harbor someday turn into the next Mackinaw City."
Liability, noise and growth management aren't the only issues that concern Wendt. With just 219 residents in the entire township, which includes Copper Harbor and a handful of even smaller communities, who should pay the $8,000 water bill the township accrued last summer from visitors using the harbor's sole public restroom? Or the $9,000 porta-potty bill? Who should pick up the tab to build bike lanes and parking lots?
"My budget for the entire township is in the realm of $370,000," he said, money that comes solely from township residents, because Grant Township doesn't have the kind of tourism taxes that have helped fund recreation economies in places like Duluth.
"There's very little wiggle room."
The economic stakes are high. Mountain bikers alone spend an average of $511 per visit to Copper Harbor, according to a 2016 economic impact analysis from the Michigan Technological University Association of Students Marketing Researchers.
Conversations about how best to manage growth are ongoing. Last year, the township gathered input on ways to redesign downtown to reduce conflict among bikers, pedestrians and motorists. And Wendt said the community must find a way to capture tourist dollars to help pay for local services that cater mostly to tourists.
Ciavola, of the trails club, called those conversations necessary. The town's current infrastructure may be reaching its capacity limit, he said.
"Tourists are welcome, we want them to come," he said. "But we know we have to figure out how to manage the volume."
The trails club launched a bike patrol this year to backstop emergency crews by serving as first responders on the trails. A new public changing room should help appease residents who, Trails Club Executive Director Nathan Miller, "are tired of seeing buttcheeks in downtown Copper Harbor" when riders swap their trail clothes for streetwear.
And the Keweenaw Outdoor Recreation Coalition has installed trash cans and is working with the DNR to install pit toilets at unofficial campsites on state land east of town, hoping to address problems with litter and human waste.
A messaging initiative that emphasizes trail safety and etiquette is also underway, and new trail construction east of Copper Harbor should help spread bikers out, easing the downtown congestion.
Ciavola agreed that visitors should help foot the bill for the harbor's tourism-related expenses, but the mechanism remains unclear. Charging riders to use the trails is not an option, because it would open the trails club up to liability.
Those conversations, for now, are on hold while everyone looks toward another summer tourism season that, by all indications, will be just as busy as the last.
Sam Raymond, the early mountain biking evangelist who runs the bike and kayak shop, is ready. The challenges that arose this spring, he said, are "a hiccup in the big realm of things."
And while Copper Harbor's once-sleepy summers are now frenetic, those who prefer the quiet life still have plenty of offseason months when the harbor is so vacant "there's tumbleweeds blowing through downtown."'
Michigan Environment Watch
Michigan Environment Watch examines how public policy, industry, and other factors interact with the state's trove of natural resources.
Michigan Health Watch is made possible by generous financial support from:
Our generous Environment Watch underwriters encourage Bridge Michigan readers to also support civic journalism by becoming Bridge members. Please consider joining today.
Only donate if we've informed you about important Michigan issues
See what new members are saying about why they donated to Bridge Michigan:
"In order for this information to be accurate and unbiased it must be underwritten by its readers, not by special interests." - Larry S.
"Not many other media sources report on the topics Bridge does." - Susan B.
"Your journalism is outstanding and rare these days." - Mark S.
If you want to ensure the future of nonpartisan, nonprofit Michigan journalism, please become a member today. You, too, will be asked why you donated and maybe we'll feature your quote next time!