In Michigan's Dutch heartland, undecided GOP voters ask: Who can beat Whitmer?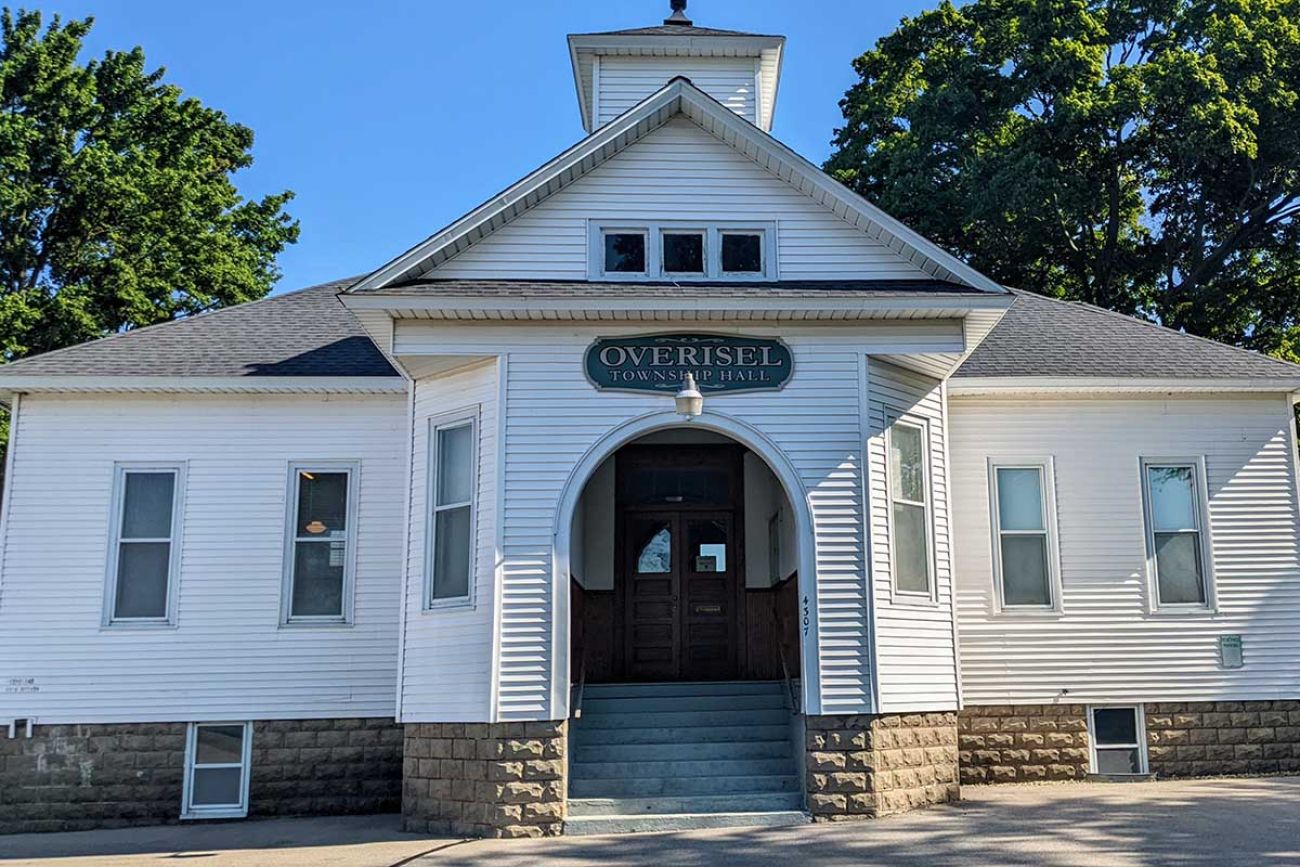 Overisel voters will cast ballots next week in a former one-room school house converted into a township hall (Bridge photo by Jonathan Oosting)
Michigan Government
In Michigan's Dutch heartland, undecided GOP voters ask: Who can beat Whitmer?
Pandemic policies, inflation are key issues for voters in one of Michigan's most Republican townships

But many voters remain undecided ahead of the Aug. 2 gubernatorial primary

Trump has not yet endorsed in the gubernatorial primary but could be a deciding factor
---
OVERISEL TOWNSHIP — Ken Laarman knows his favorite footwear: wooden shoes, imported from the Netherlands, carved to fit the exact contours of his feet.
But Laarman is less certain about Michigan's Aug. 2 gubernatorial primary. He's not sure which Republican candidate he'll vote for, or if he'll even vote at all.
"I need someone in there that has the values I like, is going to push the issues that I'm in favor of — and beat (Gretchen) Whitmer," said the retired gun shop owner, who described himself as pro-Second Amendment, anti-abortion and a staunch supporter of individual liberties.
"I want her out of there bad," he added, referencing the Democratic governor who is now seeking re-election to a second term.
Laarman, sporting the wooden shoes he wears "all day, every day," spoke with Bridge Michigan while watering plants outside his home in Overisel Township, a rural enclave of about 3,000 residents settled by Dutch immigrants in 1848 that has grown into one of Michigan's most consistently conservative communities.
It's so conservative Overisel is just one of five Michigan townships that prohibit all local sales of alcohol, including beer and wine.
More than 82 percent of local voters in this northern Allegan County community backed former President Donald Trump in 2020, down slightly from 84 percent four years prior.
Whitmer won just 221 out of 1,539 votes in 2018.
Local livestock and crop farmers whose fields dominate the pastoral landscape say inflation, gas prices and supply chain issues have cut into profits since Democratic President Joe Biden took office in 2021. And voters who spoke with Bridge almost uniformly complained about Whitmer's handling of the COVID-19 pandemic.
Related:
But with the gubernatorial primary fast approaching, many voters said they remained undecided in the primary between five Republican candidates to determine who takes on Whitmer in November.
That's a defining characteristics of a "toss-up" primary in which disqualifications kept some better-known candidates off the ballot, according to pollster Richard Czuba of Glengariff Group Inc. whose latest survey showed that nearly 40 percent of likely GOP voters remained undecided in the final weeks of the race.
"I don't think Republican primary voters know who can beat Whitmer because they don't really know who any of these candidates are," Czuba said. "That's what's really unique here."
Former Gov. Rick Snyder, a political outsider who narrowly won Michigan's 2010 GOP primary, was known by about 84 percent of primary voters in the run-up to that election — and that was low, according to Czuba, who said major party nominees are typically known by at least 90 percent of voters.
As of July 16, Czuba's survey found Allendale Township real estate broker Ryan Kelley had the highest name identification in the race: 63 percent, a figure likely boosted by his common Irish surname and recent arrest on charges stemming from pro-Trump riots at the U.S. Capitol on Jan. 6, 2022.
Kevin Rinke, a Bloomfield Township businessman who has spent millions on television ads, was known by 61 percent of likely primary voters.
Tudor Dixon of Norton Shores, who is backed by the Michigan Chamber of Commerce and the powerful DeVos family of west Michigan, was known by only 50 percent of voters, while Mattawan chiropractor Garrett Soldano clocked in at 41 percent of voters statewide, per recent polling.
With all four having a realistic path to victory — and retired pastor Ralph Rebandt continuing to court Christian voters — "the best way to win this primary, is to go and win Donald Trump's endorsement," Czuba told reporters during a recent taping of WKAR-TV's "Off the Record."
On a recent afternoon, Kelley and Soldano appeared to be winning the lawn sign war in conservative Overisel Township.
But lawn signs don't vote, as Laarman attested while standing in front of a Soldano yard sign his wife erected.
"Soldano might be a guy that I really like, but a big thing for me is, can he beat Whitmer?" Laarman said, explaining why he remains personally undecided. And, he added, "my biggest concern with Kelley at this point is all the bad press he's getting with the arrest and all that. Can he beat Whitmer?"
From church to the voting booth
Overisel is a rural but relatively wealthy community in northern Allegan County, located less than 12 miles southeast of Holland.
The median household income of $70,491 is significantly higher than the statewide average of $59,234. Most residents are white – 93 percent of the population – and work in either agriculture or manufacturing.
Come the November general election, Overisel will be one of the most reliably Republican precincts in the state, said Jason Watts, a former Allegan County GOP official.
"They vote almost 90 percent straight ticket," Watts said, calling Overisel the "heartland of the Dutch Sahara" because the sprawling farms blanketed by snow can resemble rolling dunes in winter.
"Like a lot of small Dutch areas, they thought Holland (Michigan) was too liberal, so they moved," he added.
The township's residential square surrounds side-by-side churches — Overisel Reformed and Overisel Christian Reformed.
"We're very fiscally conservative, but socially too," said Township Treasurer Patty Reuschel, who works out of a converted one-room schoolhouse. "The values that are taught in church carry over to our voting and in the way we look at things."
Reuschel said she's been "so disappointed" by Whitmer, including her decision to close schools early in the pandemic, along with her support for legal abortion and gay and transgender rights.
She plans to vote for Soldano in the Aug. 2 primary because "I like his values" and "like the way he's straightforward," Reuschel said. "He has my trust."
Reuschel also considered Dixon because of arguments she might be best suited to "go up against Whitmer, mother to mother," she said. But "I hate having to choose based on a female or male. I want the person who is best for the job."
Trump flags adorn several barns and houses in Overisel, where voters praised the former president for appointing Supreme Court justices who recently overturned Roe v. Wade's national right to abortion. But many said they remain wary of Trump's personal style and combative rhetoric.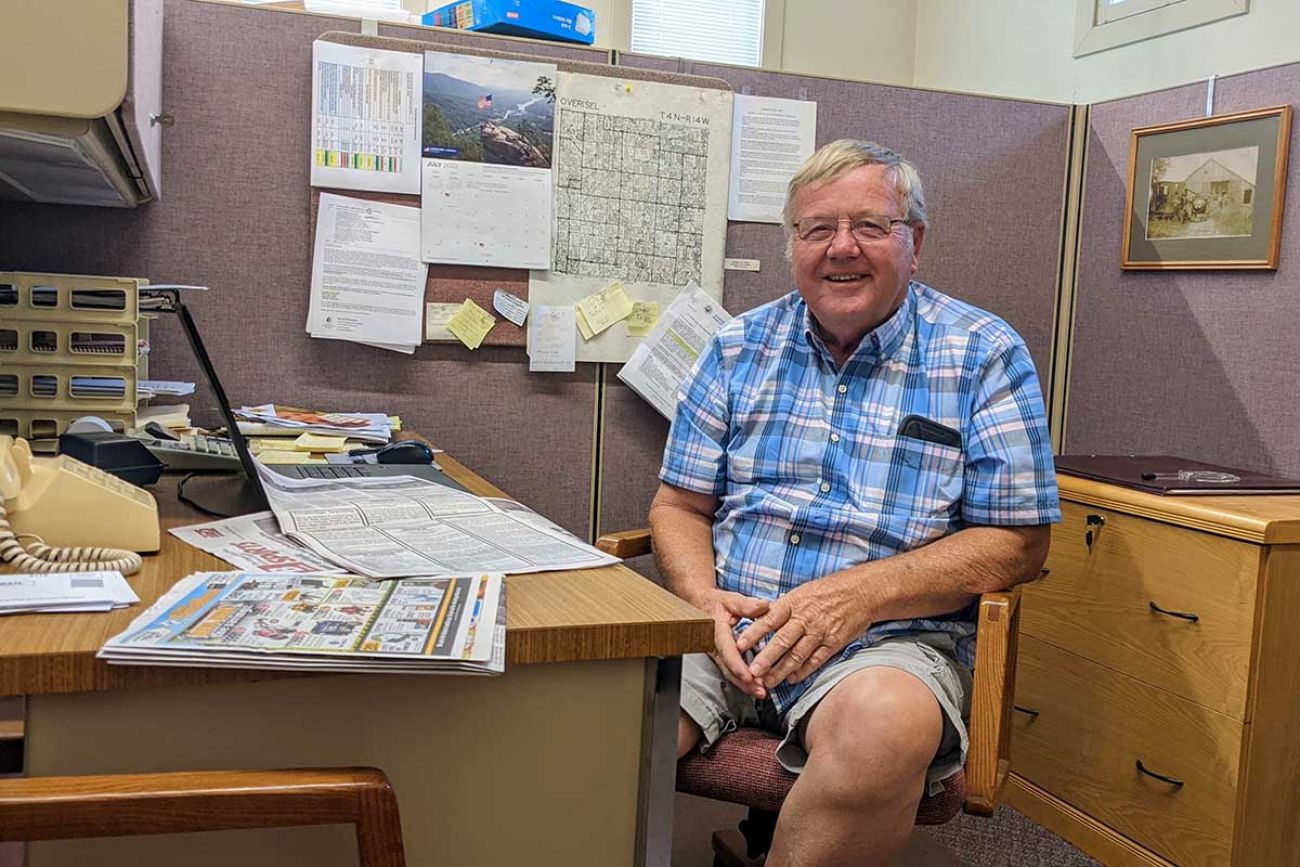 "We need the most qualified candidate to beat Whitmer," said Overisel Township Supervisor Russell Van Dam. "It's going to be tough." (Bridge photo by Jonathan Oosting)
"His mouth got him in trouble," said Township Supervisor Russell Van Dam, a recently retired farmer. "If he could control his speech a little bit, he'd be president today."
Van Dam said he intends to vote in the Republican gubernatorial primary but has not made up his mind who to support. He's looking for someone who will "spend our money wisely," he said.
"We need the most qualified candidate to beat Whitmer," Van Dam told Bridge Michigan. "It's going to be tough."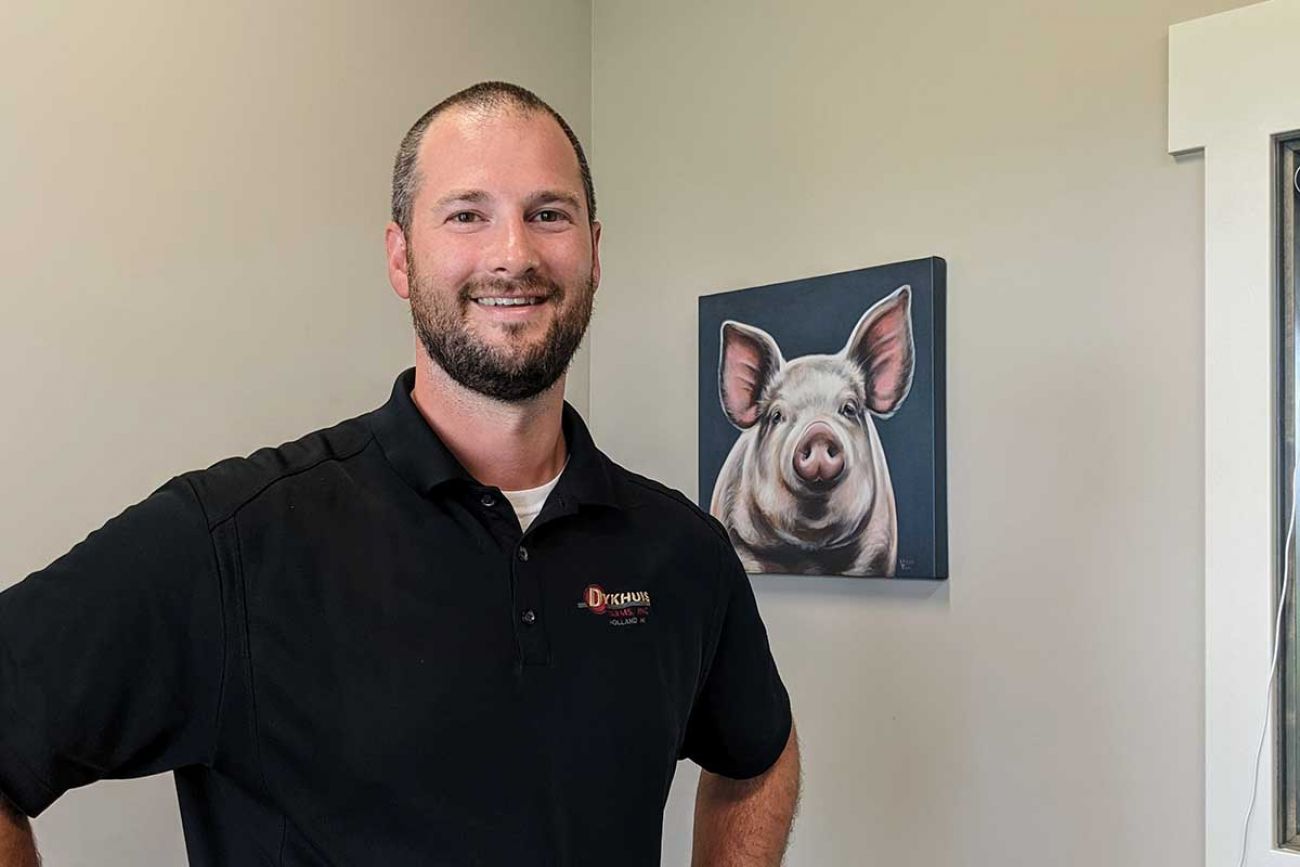 Pig prices have been on a "yo-yo" as inflation and supply chain issues complicate farming, said Joe Dykuis, president of Dykhuis Farms. (Bridge photo by Jonathan Oosting)
'Swallowing costs'
Whitmer's pandemic policies "made it really difficult to run a business, especially a business that can't shut down during the height of the COVID crisis," said Joe Dykuis, president of a third-generation farm that is headquartered in Overisel but specializes in pigs that are housed in west Michigan and Indiana.
"Our pigs have to be cared for every day," he said. "They don't care how everyone feels. They depend on us to provide care."
More recently, inflation, fertilizer prices, gas prices, labor shortages and supply chain issues have cut into profits at the farm, which grows about 500,000 acres of corn, soybeans and wheat in Overisel and has 17,000 birthing sows stationed from Zeeland to South Haven, Dykuis told Bridge.
The price of corn – used to feed pigs – has increased roughly 50 percent since the fall, peaking at about $8 per bushel in April, a spike partially attributable to Russia's invasion of Ukraine, he said.
Pigs are a "commodity," and sale prices have increased too, he acknowledged. "But not as much. Our margins have reduced… we are just swallowing costs right now."
The national labor shortage isn't likely to be solved at the state level, Dykuis said. But he noted pork farmers are part of an agriculture coalition lobbying Congress for a federal solution: Permission to hire immigrant workers under the H-2A visa program typically reserved for temporary seasonal help.
Allegan and neighboring Ottawa counties increased their populations over the last decade, and "we still don't have close to enough people for all the jobs in this area," Dykuis said. "There's got to be a shift there that's well beyond what I think anyone in our state can do."
Dykuis said he's planning to vote in the primary for incumbent U.S. Rep. Bill Huizenga, a Republican likely to represent the region for the first time after the state's new independent redistricting commission drew new political boundaries.
Overisel is also part of a new state House district with a competitive Republican primary between Trump-endorsee Rachelle Smit of Shelbyville, Lindsay Kronemeyer of Dorr, Phillip Joseph of Delton and Nevin Cooper-Keel of Allegan.
Dykuis told Bridge he "has not yet had the stomach" to pay much attention to the gubernatorial race, let alone legislative races, saying it's become "hard to even know what's true" in the "ridiculous" world of politics.
As of now, he's leaning towards Dixon for governor because she has the backing of groups he respects, including the Michigan Chamber of Commerce, he said.
"Supply chain issues are huge concern," said Krista Koets, owner of Bliss Bakery in Hamilton. (Bridge photo by Jonathan Oosting)
A pandemic positive
The pandemic was good for the bottom line of at least one local business owner: Krista Koets, 51, whose Bliss Bakery on the border of nearby Hamilton specializes in sugar-free, gluten-free and grain-free goods.
Koets started the company out of her kitchen in mid-2019 and found customers quickly during the ensuing pandemic, which she called a "perfect storm" for success: "Everybody wanted treats, because everybody felt bad, and nobody wanted to gain weight," she said. "Plus I delivered. We did really, really well."
But life outside work – with three special-needs children living at home and in remote school – was "really hard", Koets said.
"They're still struggling to catch up. My son is … going to have to go to community college for his first couple years to make up for that slack. And that's kind of sad," Koets said.
Koets opened a brick-and-mortar store last summer, right when Whitmer began to lift COVID restrictions and "everything was opening up."
The bakery was "bonkers busy the first couple of months," she said. "But as you can imagine, since the recessions and inflation and the cost of gas has gone through the roof, our sales have definitely suffered. We've had to pivot."
Koets described herself as a "conservative" and said Whitmer is not her "favorite" governor. But, like several voters in this region, said she hasn't yet decided who she might back in the GOP primary.
With business costs rising, Koets said tax policy will be a major driver for her in elections this year. "The more money that we can keep here without having to send to the government, the better off we are," she said. "I'm a big fan of small government, and so that's a big issue."
At her specialty bakery, ingredient costs are up 30 percent to 50 percent, "across the board," she said, noting that egg white protein, which she uses in a proprietary flour blend, has gone from $10 a pound to $40 a pound.
Supply chain issues are a huge concern too, Koets said, affecting her ability to get everything from sugar to white chocolate chips, depending on the week.
"I don't know who to blame. I'm not going to blame Joe Biden because I can't get my white chocolate chips," she said. "A solution is much preferable."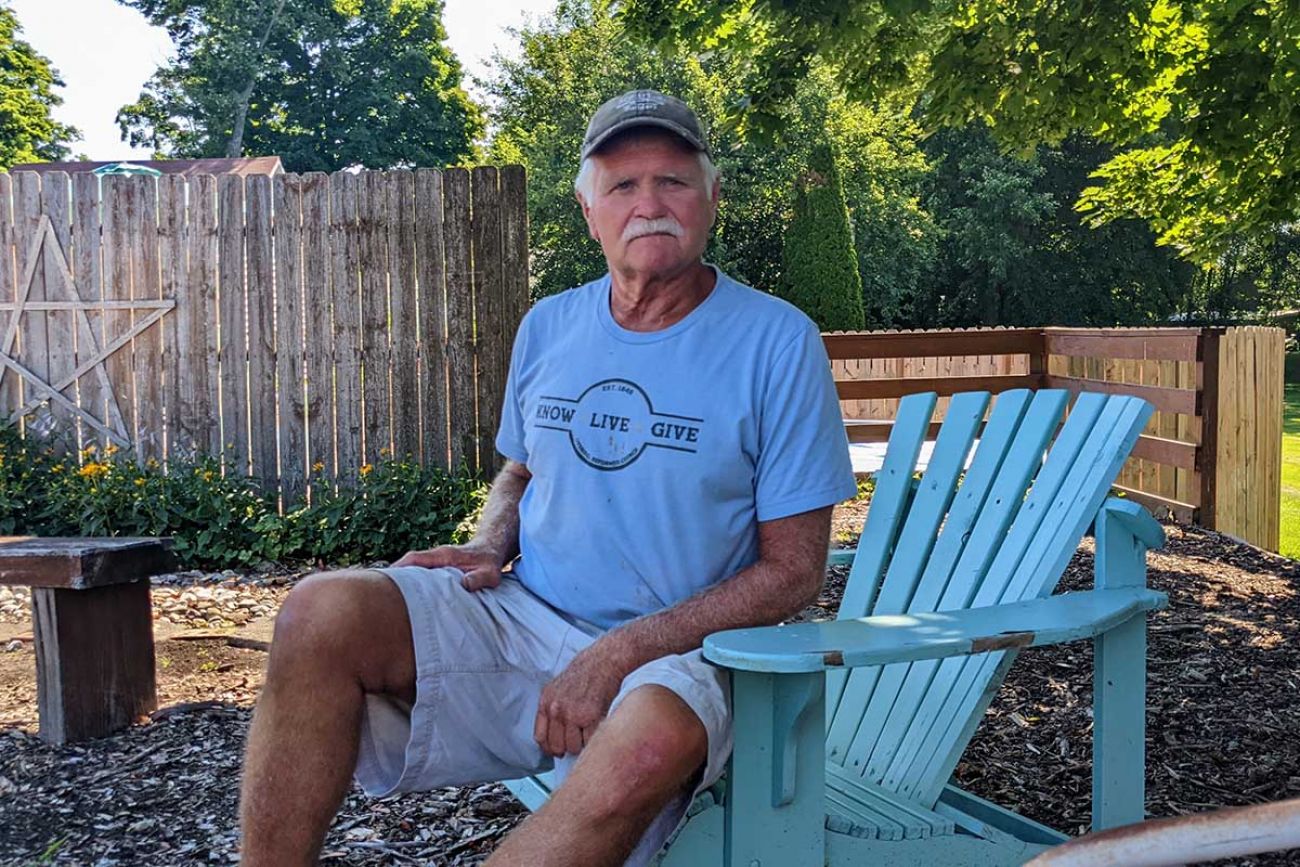 "We've been Republican for so long that we just vote Republican," said Don Slotkin, a retiree who works part time as a custodian at an Overisel church. (Bridge photo by Jonathan Oosting)
Fears of Whitmer
Don Slotman, a 71-year-old retiree and former furniture factory worker, said he needs to "look into" the gubernatorial candidates before deciding who he'll back.
Slotman said he's seen television ads from Rinke, Dixon and "the guy with the funny hairdo," a reference to disqualified candidate Perry Johnson.
But so far he's only sure about one thing: Kelley "shouldn't be on the ticket for governor" if the allegations against him are true, Slotman said, referencing the misdemeanor charges Kelley has pleaded not guilty to.
"We've been Republican for so long that we just vote Republican," Slotman told Bridge. "But I didn't go to Jan. 6 or anything. If Biden won, Biden won. I ain't going to protest."
Kelley's pending trial for alleged "disorderly and disruptive conduct" outside the U.S. Capitol, isn't a deterrent for Karmel Berens, a Republican precinct delegate who helps run a local farm with her husband.
While she personally isn't convinced the 2020 election was "compromised" - as Kelley continues to allege – she doesn't think he was personally "inciting riots" on Jan. 6 and is "leaning towards" him in the upcoming primary, Berens said.
"He's not your typical establishment Republican," she said of Kelley. "The establishment can really seem no different than (Democrats). Everybody's spending like drunken sailors. I feel like he might be willing to go against the grain, as far as spending."
Berens serves on the central committee of the Allegan County Republican Party, which has grown increasingly pro-Trump in recent years.
This summer, the county party adopted a resolution calling on lawmakers to continue investigating 2020 election conspiracy theories, and other to "censure" state House Speaker Jason Wentworth because he removed from the GOP caucus state Rep. Matt Maddock, a Trump loyalist seeking the leadership post next term.
But Berens said a Trump endorsement would not likely have a big impact on her vote in the Aug. 2 primary. She told Bridge she's confident that anti-Whitmer sentiment will unite the GOP this fall no matter who the nominee.
But Van Dam, the township supervisor, said he fears voters won't remember the COVID-19 restrictions Whitmer imposed early in the pandemic.
"She's very nice right now, and she's not ruffling feathers, but you've got to look back two years ago to see what she did to us and how she treated the people during COVID," he said. "I fear she's going to get re-elected."
Only donate if we've informed you about important Michigan issues
See what new members are saying about why they donated to Bridge Michigan:
"In order for this information to be accurate and unbiased it must be underwritten by its readers, not by special interests." - Larry S.
"Not many other media sources report on the topics Bridge does." - Susan B.
"Your journalism is outstanding and rare these days." - Mark S.
If you want to ensure the future of nonpartisan, nonprofit Michigan journalism, please become a member today. You, too, will be asked why you donated and maybe we'll feature your quote next time!