Mike Shirkey navigates changing Michigan GOP. His mouth doesn't help.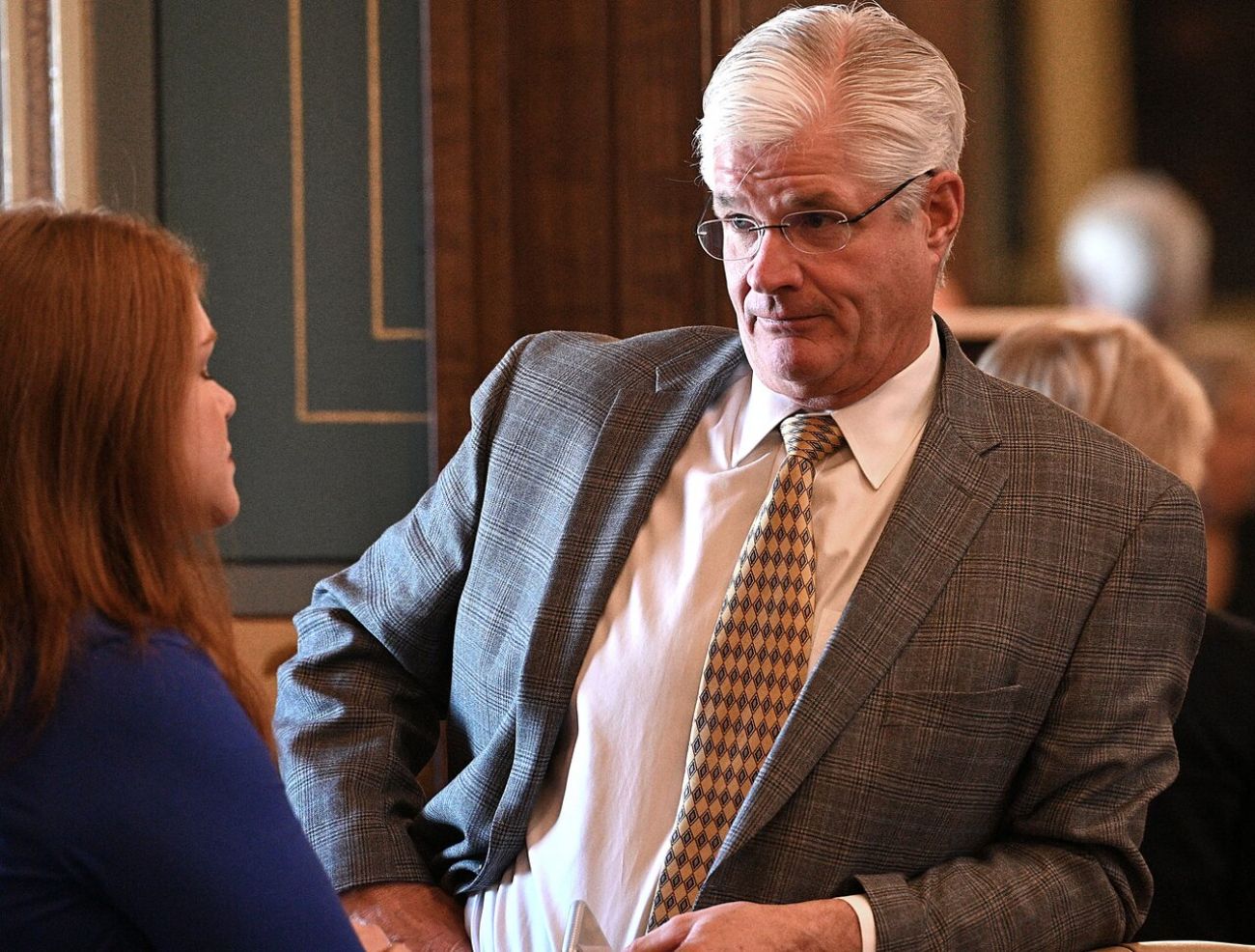 Senate Majority Leader Mike Shirkey, R-Clarklake, speaks with aide Amber McCann on the floor of the Michigan Legislature. Shirkey is a traditional religious conservative, but is under fire for not being conservative enough from the Trump wing of the Republican Party. (Bridge photo by Dale Young)
LANSING — When Mike Shirkey announced his candidacy for the Michigan Legislature in 2010, the Jackson-area entrepreneur promised a return to "integrity" and end to gridlock in Lansing.
"There is no longer time for obstructionism, for non-value added partisanship, or placing the prospects of re-election ahead of doing what is right," Shirkey said at the time.
Eleven years later, after rising through the ranks to assume the powerful post of Michigan Senate majority leader, the Clarklake Republican finds himself amid a "non-value added" mess of his own making: His recent string of sexist and conspiratorial comments have exacerbated a bitter, partisan feud in state government.
Related stories:
This month alone, he called the Jan. 6 insurrection a "hoax" orchestrated to cast blame on former President Donald Trump's supporters, bragged that Republicans "spanked" Gov. Gretchen Whitmer "hard" in response to her COVID-19 orders and then admitted on a live microphone that he wasn't sorry for what he said, only how he said it.
It's the latest in a string of controversies for Shirkey, a 66-year-old businessman known as deeply religious, strongly conservative and a potential candidate for governor in 2022.
He was already facing scrutiny for meeting with militia leaders last year to offer them "messaging" advice a month before paramilitary groups attempted to kidnap Whitmer. He has called the coronavirus the "Chinese flu," compared abortion to slavery and, in a 2019 meeting with Hillsdale College Republicans, said Whitmer is on the "batshit crazy spectrum."
The Michigan Women's Commission responded last week by publicly condemning Shirkey for what CEO Cheryl Bergman called "violent, misogynistic and xenophobic bloviating."
Shirkey, whose office has not responded to interview requests, has acknowledged his penchant for the "occasional lapse in restraint of tongue."
Senate Majority Leader Mike Shirkey, shown here reading to students, has denied interest in seeking the Republican nomination for governor in 2022, but others view him as a top contender. (Courtesy photo)
But political experts and Lansing observers say he is also struggling to navigate shifting dynamics in the state's political landscape, which was rocked last year by Trump's false claims that the Michigan election was "rigged" against him, an accusation Shirkey batted back.
He's too conservative for liberal critics, who have accused him of obstructionism in the Legislature and more recently lumped him in with QAnon conspiracy theorists.
But he's not conservative enough for the Hillsdale County Republican Party, whose leaders secretly recorded a meeting with Shirkey, released embarrassing footage, and then censured him this month after the senate majority leader refused Trump's call for the Michigan Legislature to appoint its own electors and overturn the election.
John Sellek, a Republican public relations consultant, said the fallout from the secret recording shows how pro-Trump factions have taken control of the party and have "absolutely no investment in any of the GOP officials who have been previously elected."
That means it could be a "tough two years" in Lansing, making compromise difficult on issues from COVID-19 to the economy, especially with 2022 elections on the horizon, Sellek told Bridge Michigan.
"Mike Shirkey is not the only person smarting from what happened in Hillsdale," said Sellek, who served as an aide to former Republican Attorney General Bill Schuette.
"Every GOP senator and House member watched that (video) and is thinking, OK, what do I do next? How do I avoid that from happening to me, and still speak my mind, and vote my conscience and do the right thing?"
A run for governor?
For now, at least, most Republicans in the Senate caucus remain loyal to the majority leader, and there is no concerted push for a leadership change, officials tell Bridge Michigan.
"He's a good, honest leader," said Sen. Dale Zorn, an Ida Republican who has experience with public apologies after wearing a Confederate flag mask in the Michigan Capitol last year.
Shirkey will be term-limited out of the Senate at the end of 2022 and has long been rumored as a potential gubernatorial candidate that year. He has publicly denied interest in the job, but the Democratic Governors Association isn't buying it and has been attacking him by press release.
Whitmer has already built a re-election war chest of $3.5 million. Shirkey hasn't been a prolific fundraiser himself, pulling in around $370,000 across his Senate campaign and political action committees since 2018. But a nonprofit he is tied to, which does not disclose donors, has been active: The group donated $550,000 to an anti-Whitmer petition drive to repeal an emergency powers law the governor used early in the pandemic.
Donors like Blue Cross Blue Shield and DTE Energy distanced themselves from a political fundraiser for Shirkey last week, and GOP House Speaker Jason Wentworth said Shirkey's comments are his alone.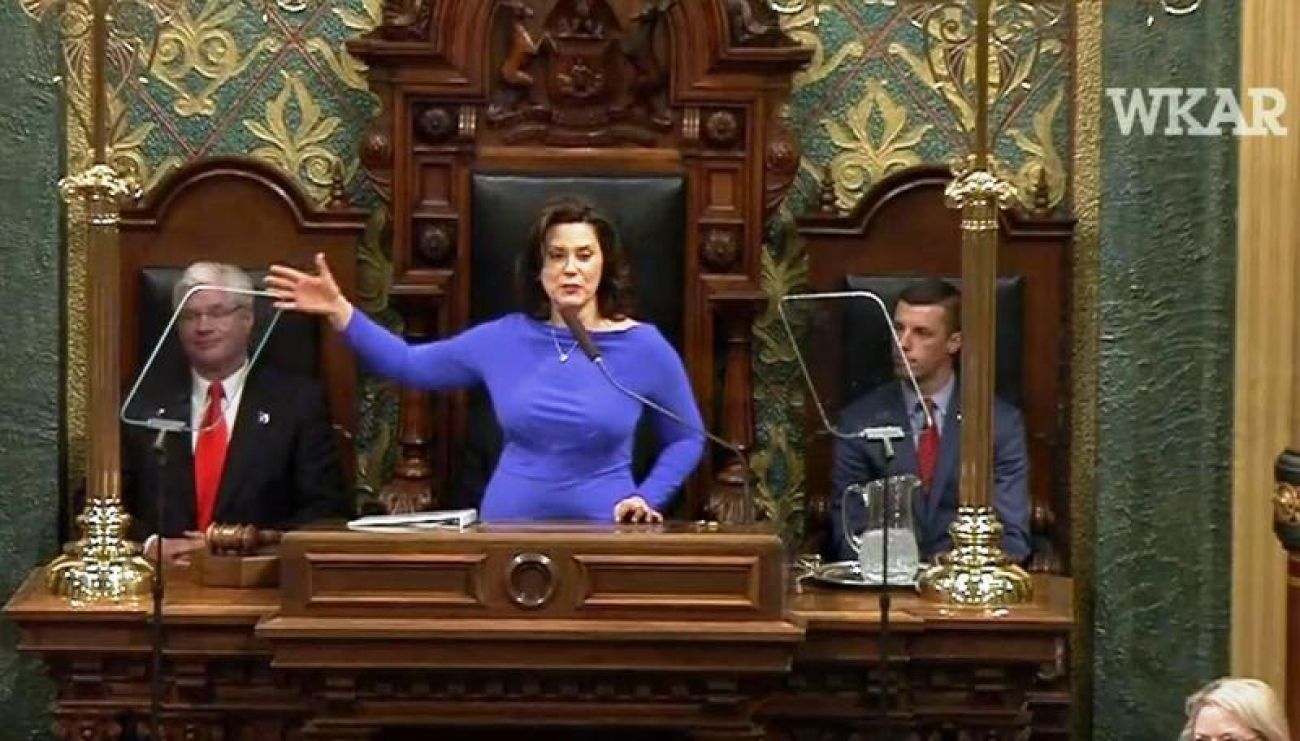 Gov. Gretchen Whitmer, shown here during her 2019 State of the State address, has feuded with Senate Majority Leader Mike Shirkey (left) and other Republicans over her coronavirus pandemic orders. (Screenshot)
The recent controversies don't necessarily rule Shirkey out of the GOP race to take on Whitmer, but the Hillsdale GOP censure begs the question: "Where is the natural constituency for him in the party primary?" asked Matt Grossmann, a political science professor at Michigan State University.
In most years, before the Trump revolution, Shirkey would seem like a tailor-made GOP candidate. Not only is he a successful businessman, but he's proudly religious, known for singing hymns on the floor or the Senate.
He has a master's degree in mechanical engineering and in 1987 formed Orbitform, a manufacturing company in Jackson, where he became a prominent figure in the business community and was recruited to run for the state House in 2010.
Those who know him describe Shirkey as thoughtful and intelligent, although some say privately he always thinks he's the smartest person in a room and is better at talking than listening.
Because of that confidence, they say, he has a tendency to speak his mind without considering the ramifications, which has landed him in hot water multiple times.
As a rank-and-file legislator, Shirkey helped advance conservative policies favored by the business community, like right-to-work, which prohibited making union dues or fees a condition of employment. And he's brought his religion to Lansing, sponsoring 2015 legislation that sought to provide legal protection for businesses that objected or denied service to gay customers.
But Shirkey also played a key role in what arguably stands as the Michigan Legislature's biggest act of bipartisanship in the past decade: Medicaid expansion under the Affordable Care Act, which he helped secure House GOP votes for back in 2013.
Obamacare was toxic to Republicans at the time, but then-GOP Gov. Rick Snyder pushed the Legislature to accept federal funding for Medicaid expansion on the grounds that insuring more Michiganders would reduce uncompensated care costs that plagued the health industry.
Shirkey initially resisted, but he listened to both sides and eventually helped craft a more conservative flavor of Medicaid expansion that required some recipients to pay income-based premiums they could reduce through healthy lifestyle choices. He stood on stage with U.S. Rep. John Dingell, a Democrat who had long championed health care access as a liberal cause, while Sndyer signed the bills into law.
Five years later, Shirkey sponsored a 2018 law to add work requirements to the Medicaid expansion law, as requested by powerful business groups.
But when it became clear that implementing the law would be onerous, Shirkey worked with Democratic Sen. Curtis Hertel Jr. of East Lansing to ease compliance reporting rules. A federal judge later blocked the work rules altogether after Whitmer challenged them in court.
"Medicaid expansion itself wouldn't have gotten done if it weren't for Mike, but I think in some ways he may have forgotten who he is," said Hertel, who called Shirkey's comments about the insurrection and the governor "embarrassing."
"Mike and I have gotten a lot of things done together over the last six years," Hertel added, "but this last year, especially the last few months, it's become very very difficult."
'Oppressed, and depressed'
Shirkey's unsubstantiated assertion the Jan. 6 insurrection was "staged" by unseen "puppeteers" came in a private conversation with far-right leaders of the Hillsdale Republican Party in which he also wrote off Trump claims the election was stolen from him.
But Shirkey has also publicly expressed empathy with those who stormed Congress in riots that left five dead.
"It was people feeling oppressed, and depressed, responding to what they thought was government just stealing their lives from them," Shirkey told The New York Times. "And I'm not endorsing and supporting their actions, but I understand where they come from."
Shirkey's conspiracy claims prompted the Michigan Democratic Party to call for his resignation — again. The party had already called for him to step down because of "his close ties to Michigan militia," accusing him of emboldening, if not encouraging, extremists.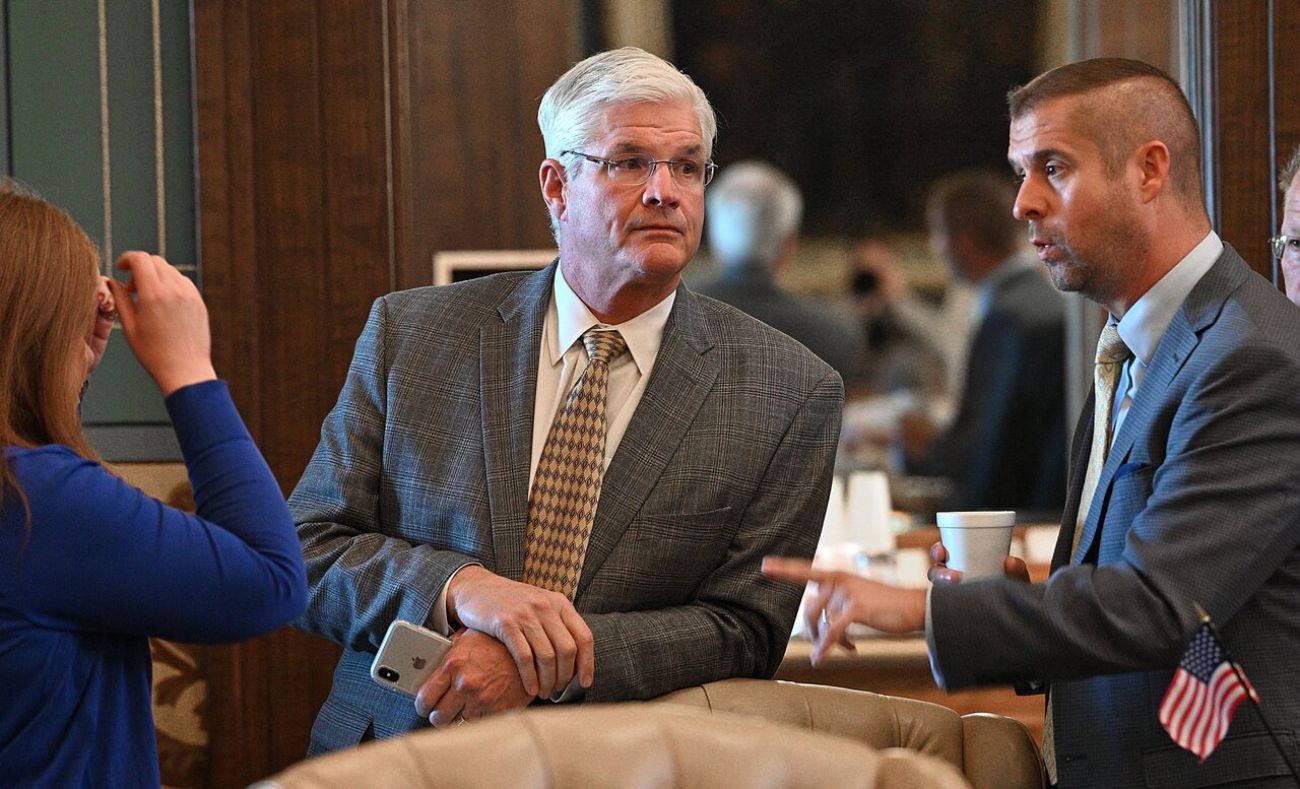 Mike Shirkey, speaking last year with his former chief of staff Craig Ryan, is lauded by his allies as intelligent, disciplined and deeply religious. But his glib mouth and failure to back President Trump's bid to overturn Michigan's election results have alienated moderates and conservatives alike. (Bridge Michigan photo by Dale Young)
In May, after right-wing rancor over Whitmer's lockdown led to an armed protest at the Michigan Capitol, Shirkey called some participants "jackasses."
But two weeks later, he joined some of the armed men at a Grand Rapids rally organized by the American Patriot Network, since labelled an extreme anti-government group by the Southern Poverty Law Center.
"Be ready to test and challenge government when they get it backasswards and they think they're the ones who have the rights to give us, when really the government is to provide and protect our rights," Shirkey said at the rally, according to MLive.com.
One of the armed men on stage with Shirkey that day, William Null of Shelbyville Township, was arrested in October after allegedly helping to stake out Whitmer's vacation home in northern Michigan, assisting a militant group that had plotted to kidnap and potentially kill the governor.
Shirkey also met with unnamed militia leaders in September, a month before the FBI foiled the Whitmer kidnapping plot, a move he has defended as an effort to encourage them to adopt a code of conduct and improve their messaging.
Shirkey has complained that critics have blown those relationships out of proportion. In interviews, he's suggested he talked to militias about safety.
"Of course that was painted as I was assisting them and maybe even being complicit in their planning," he said.
More recently, Shirkey endorsed a recent ban on openly carried guns at the Michigan Capitol but privately boasted to GOP activists that he had helped prevent the state's Capitol Commission from also banning concealed weapons in the building.
Still, that wasn't enough for the new pro-Trump leaders of the Hillsdale County Republican Party, who censured Shirkey for what they called "complete and utter surrender" to Whitmer shutdown orders and for supporting the open carry gun ban, among other things.
Shirkey has "no problems trading away your rights," said Hillsdale GOP Secretary Jon Smith.
"The guy is always a victim, and he's always given us an attitude, with no humility, so it was time for disciplinary (action)."
Levers of power
As he's drawn heat from conservative Republicans, Shirkey's relationship with Whitmer has deteriorated throughout the coronavirus pandemic, fueling the sort of partisan gridlock he campaigned against.
Whitmer said last week she does not "hold grudges" against legislators, even when they threaten to perpetrate violence against me," a reference to Shirkey musing that he's thought about challenging her to a fist fight.
But with donors eying the mess, the governor on Friday urged business leaders to hold accountable "people who espouse rhetoric that is dangerous."
Predecessors say the job of Senate majority leader can be thankless and challenging.
"There's factions on both sides that don't think you're doing a job that is satisfactory to them," said former Senate Majority Leader Arlan Meekhof, R-West Olive.
"There are things your party would like to see done… but then sometimes it's harder to get that done in your own party."
Meekhof declined to discuss Shirkey's recent string of controversial comments, but he described the job of senate majority leader as a challenging "balancing act" and lamented what he called a rise of "uncivil" discourse in Lansing.
"He is very thoughtful, very diligent in his reading and his research and very good at giving his explanations for why he voted yes or no," Meekhof said of Shirkey.
"Mike Shirkey is about as conservative as anybody that I've served with, and to say he's not conservative enough is in my mind ridiculous," added former Senate Majority Leader Randy Richardville, R-Monroe, who first got to know Shirkey back in his 2010 primary race.
"He was known as a very strong conservative, a far-right kind of conservative. He was smart and a pretty good communicator, at least to me."
Only donate if we've informed you about important Michigan issues
See what new members are saying about why they donated to Bridge Michigan:
"In order for this information to be accurate and unbiased it must be underwritten by its readers, not by special interests." - Larry S.
"Not many other media sources report on the topics Bridge does." - Susan B.
"Your journalism is outstanding and rare these days." - Mark S.
If you want to ensure the future of nonpartisan, nonprofit Michigan journalism, please become a member today. You, too, will be asked why you donated and maybe we'll feature your quote next time!