Update: Michigan House passes A-to-F school grades but nixes new commission​
Update: Michigan Republicans advance bills on campaign finance, voting, education
Dec. 21: That's a wrap! What bills passed, died in Michigan lame duck for the ages
Related: See what Michigan lame-duck bills we're tracking
Republicans are working to rein in power over Michigan's public schools from an incoming Democrat governor and before a Democrat majority is seated on the State Board of Education.
Bills now being considered in the Michigan House of Representatives during the frantic lame-duck legislative session would create a commission largely appointed by Republicans that would have broad authority over schools. In essence, it would serve as a shadow State Board of Education that would not be accountable to the incoming governor, the elected State Board of Education or the state Department of Education.
And, apparently, Republican Gov. Rick Snyder is all in on stacking the commission with his appointees before his Democratic successor takes office.
The bills have flown under the radar in Lansing, with much of the media attention focused on Republican bills aimed at gutting minimum wage and paid sick leave laws and diluting the authority of incoming Democrats Gov.-elect Gretchen Whitmer, Secretary of State-elect Jocelyn Benson and Attorney General-elect Dana Nessel.
Related: Michigan power grabs, pipelines and pot: What we're tracking in lame duck
If passed, the new commission would almost certainly have a huge impact on K-12 education in Michigan ‒ from which schools are closed, to which would get extra money and how much classroom instruction students receive.
"These bills basically strip the next governor of the ability to reform education," said a person intimately involved in negotiations over the bills who asked not to be identified because he works with both parties. "That's why we're jumping up and down over this. It's such a complete power steal from Whitmer that no one should be participating in this."
The sponsor of the bills, term-limited Rep. Tim Kelly, R-Saginaw, doesn't shy away from the power-grabbing implications of the legislation. Michigan schools are flailing, as measured by standardized tests, and the State Board of Education and the Department of Education haven't succeeded in turning the state's K-12 system around.
"The state board is not doing their jobs," Kelly said. "It's time to move forward."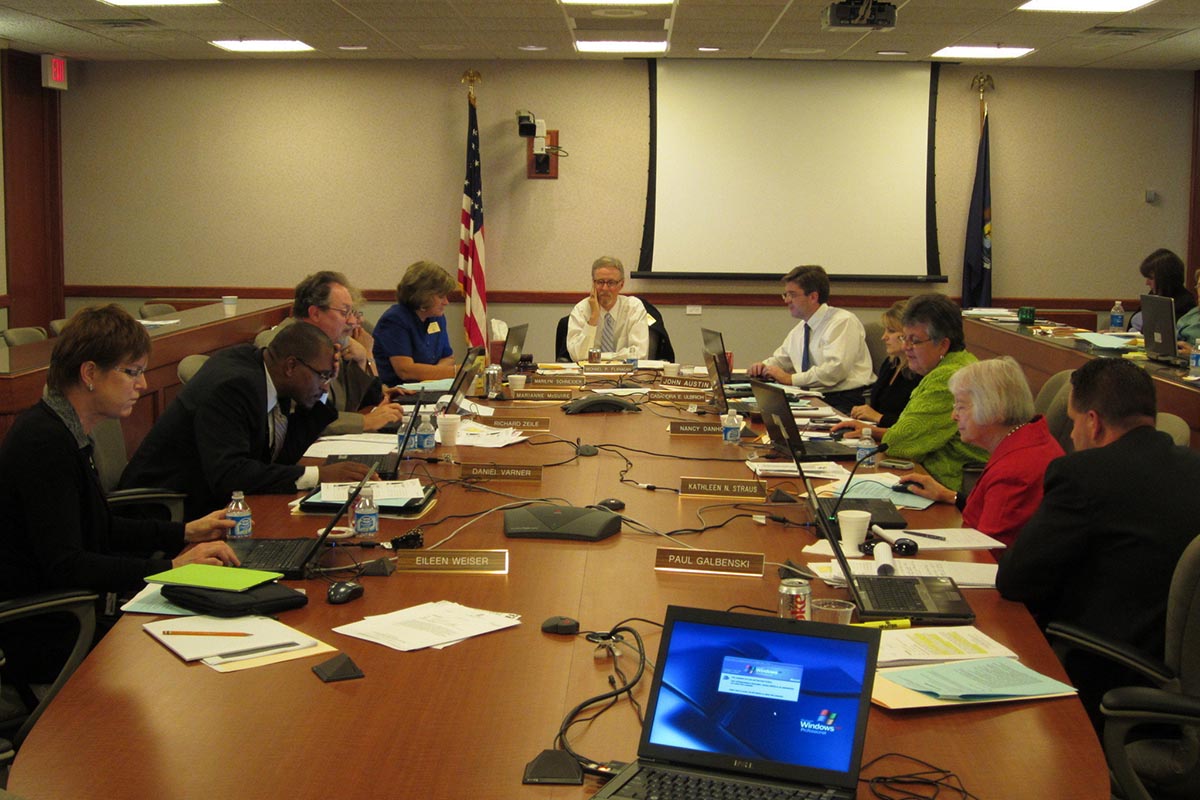 The State Board of Education, shown here from several years ago, could lose some of its power under bills now being considered in the Legislature.
Whitmer appears ready to fight the effort to hobble her education reform plans. "The Governor-elect remains steadfast in her commitment to ensuring every Michigan child has access to high quality education, and opposes any actions that would impede her authority to address those issues starting Jan. 1," Michelle Grinnell, communications manager for Whitmer's transition team, said in a statement released to Bridge.
A member of the State Board of Education is already threatening a lawsuit if the bills pass, and a leading Democrat on the House Education Reform Committee calls the effort "scary."
The effort to create a new education commission is tucked into Republican-backed education reform efforts. House Bill 5526 would create an A-to-F grading system for public schools. House Bills 6314 and 6315 would create Public Innovation Districts that wouldn't have to comply with state regulations on classroom hours of instruction.
Related: Michigan may soon rank schools A-to-F. Will it help? Nobody knows
The reform bills are unrelated, but each mandates creation of a 13-member Education Accountability Policy Commission that would have broad power over schools. The commission would, for instance, determine the fate of schools that earn an A or an F. (Broadly speaking, Republicans have urged the closure or reduction of funds for low-performing schools while Democrats have pushed for more investment in struggling schools, which often are filled with low-income students who need more academic support.)
Under the Kelly bills, the proposed commission would also determine just how far "public innovation districts" can stray from class-time regulations mandated for traditional public schools. The bill is meant to allow schools more freedom in how they approach education ‒ allowing, for example, students to get credit for internships that might otherwise keep them from meeting state requirements for the number of hours they must be in class.  
The proposed commission would create policy, and MDE would implement its decisions, according to language of House Bill 5526.
Kelly, the bills' sponsor, is a longtime critic of the state Department of Education and the State Board of Education.
He admitted in an interview with Bridge that the point of the commission is to take away some control of education from the elected and constitutionally mandated State Board of Education. Kelly has tried to eliminate the state board in the past but failed. These bills would instead create a "parallel" group that the Legislature could imbue with authority on education issues, Kelly said.
Kelly, who is term-limited, said he could imagine future legislatures giving more and more authority over education to the commission.
Republicans hope to stack the commission with GOP appointees before Democrats take charge of the Governor's office and the State Board in January, according to several people involved in the legislative battle. The board now has an even 4-4 partisan split, with co-presidents from each party; in January, that changes to a 6-2 Democratic majority.  
Of the 13 members on the proposed commission, seven would be appointed by the governor to serve four-year terms, effectively giving the governor majority control of the commission. The Speaker of the House and the Senate Majority Leader, who are also currently Republicans,  would each get to appoint one member to the commission, with the remaining four members appointed by the state superintendent of schools.  
Should Republican Gov. Rick Snyder make the appointments before he leaves office Dec. 31, he would be sticking Democratic successor Whitmer with his picks through the entirety of her four-year term, locking Whitmer out of shaping a commission with broad authority over school accountability.
By most measures, Michigan ranks in the bottom third of states in educational performance, a record that has remained fairly consistent over the past eight years in which Republicans have controlled the governor's office and both chambers of the legislature. Improving schools is key to improving the Michigan economy, and Whitmer made education one of the focal points of her campaign.
Ari Adler, director of communications for Snyder, said that if one or both of the bills pass, Snyder will in fact appoint his seven commissioners.
"It will go through our usual appointment process, (but) he would" appoint the members to the education commission, Adler said. "The governor is the governor until the end of the year. It's a commission that is being formed on an issue on which he's been working for years."
Grabbing power away from the new Democratic administration "is the whole plan," said Adam Zemke, D-Ann Arbor, who serves on the House Education Reform Committee. "There are three weeks left in his (Snyder's) term. And he'd be filling positions that would be filled through the end of Whitmer's first term. It's hard to argue you're not doing it to take power away from the next individual."
A commission with power over school accountability would look very different under the control of Republicans versus Democrats. A progressive commission would likely push for additional money to failing schools; a conservative commission might give bonuses to schools with high standardized test scores, and close schools with low marks, as Bill Schuette, the losing Republican candidate for governor, proposed during his campaign.
"The commission could shut down a whole host of schools across the state, and most citizens are going to blame the governor when in reality the next governor had no control over it," Zemke said. "An unelected body that doesn't report to the executive is … quite scary."
Brian Gutman, communications director for Education Trust-Midwest, a nonprofit education reform group, said that if the bills pass, Snyder should allow the incoming governor to appoint members of the commission.
"The will of Michiganders is clear, and vacancies on education boards and commissions should be filled by Governor Whitmer and legislative leadership once they take office in January," Gutman said. "Education is too critical an issue to be overrun by partisan politics. The central question that Michigan lawmakers should be asking on pending legislation is whether it serves the needs of students and puts Michigan on a path toward becoming a top 10 education state."
Board of Education member Tom McMillin, a Republican and former state representative, said the state board spends time every month reviewing the state's lowest-performing schools, looking for ways to improve student learning.
That authority would reside  with the commission, under one of the bills being considered.
"If this commission is deeming what can and cannot be taught in Michigan, it's taking away part of the constitutional authority of the board," McMillin said. "They're setting themselves up for a lawsuit."
The Republican bills advanced out of the House Education Reform committee and are awaiting a vote on the floor. If they pass in the House, they would need to also pass the Senate and be signed by Snyder to become law.
Votes on the bills are being held up because, as of Tuesday, Republicans hadn't rounded up enough support for them yet to pass, Zemke said.
"It's going to be tight," Zemke said.
Casandra Ulbrich, Democratic co-president of the state board, blasted the bills as a GOP attempt to usurp power from incoming Democrats.
"After a failed attempt to outright eliminate the publicly-elected State Board of Education, some members of the Legislature are now using the lame duck session to create a 'commission' staffed with GOP appointees that will assume many of the powers of the SBE," Ulbrich said. "This is a blatant power grab and needs to be rejected. 
"Every voter in this state should be outraged by what is happening in Lansing right now."