Right-to-Work repeal soon headed to Gov. Gretchen Whitmer. Now what?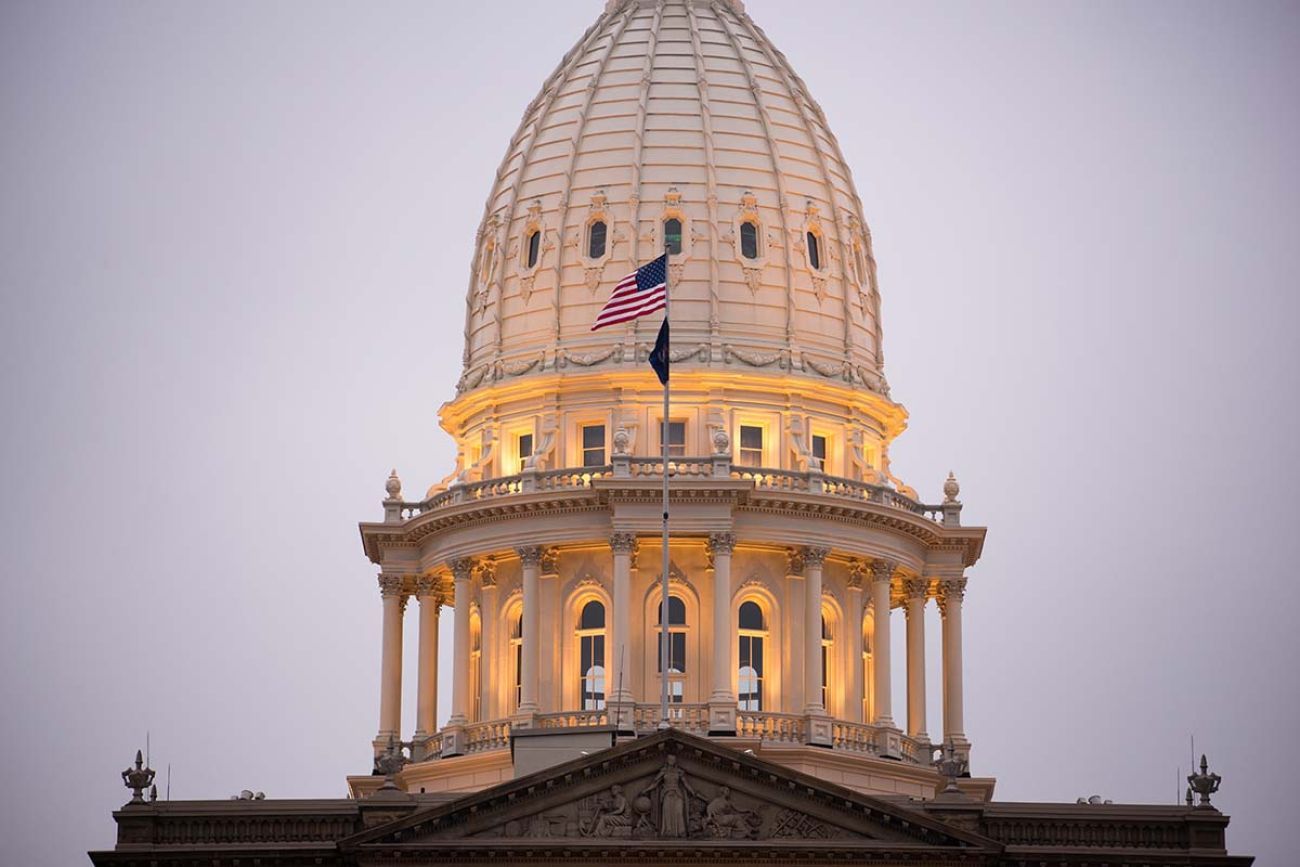 Voting along party lines, the Michigan Senate on Tuesday repealed the state's Right-to-Work law. The vote is a win for unions and was opposed by business groups. (Shutterstock)
Right-to-Work repeal clears Michigan Senate with 20-17 vote along party lines
Republicans blast Democrats for inserting appropriations language in bill to make it referendum-proof
Gov. Gretchen Whitmer intends to sign, but doesn't say if she will line-veto the appropriations language
---
March 24: Whitmer signs Right-to-Work repeal, prevailing wage restoration
March 21: Right to Work repeal, prevailing wage poised to pass and head to governor
LANSING — The Michigan Senate voted 20-17 along party lines Tuesday afternoon to repeal the decade-old Right-to-Work law and restore a construction-industry prevailing wage law repealed in 2018.
The vote set off applause and cheers in the legislative gallery and outside chambers, where more than 100 union members and supporters remained for most of the day.
The measure will return briefly to the House before it goes to Democratic Gov. Gretchen Whitmer for her signature. The repeal — a priority for unions for a decade — is the latest in a flurry of activity for Democrats who gained control of the Legislature in January for the first time in decades.
Related:
Right-to-Work allows workers to opt out of paying dues in union-represented jobs but still receive benefits. A total of 28 states have the laws, which Democrats say encourages "freeloaders" and reduces union membership.
"We are taking action to empower workers by restoring the rights that they always rely on, including the right to speak with one voice for better pay benefits, safer working conditions," said Senate Majority Leader Winnie Brinks, D-Grand Rapids.
Democrats employed a parliamentary procedure they once decried that likely would bar opponents from overturning the repeal through a ballot initiative.
Business groups and Republicans say the repeal would make Michigan less competitive for employers and force workers to pay for representation some don't want.
"This is disgraceful," said Senate Minority Leader Aric Nesbitt, R-Porter Township. "The action of repealing this Right-to-Work (law) will effectively be denying our fellow citizens the freedom of self-determination."
Republicans on Tuesday pushed unsuccessfully for amendments to the bills that would allow workers to opt out of union representation, grant workers the ability to vote periodically to certify their union status, require unions to disclose their spending to members and exempt small businesses with 50 or fewer employees and more.
Here's what you need to know about the debate.
Right-to-Work repealed. Now what?
The repeal of the 2012 Right-to-Work law, which will take effect 90 days after the Legislature adjourns this year, means private sector labor unions will once again be allowed to require all workers they represent to pay membership dues or an equivalent amount of fees.
Under the new law, at a union shop that requires fee payment as a condition of employment, workers who don't want to become union members would either have to pay the fees or leave their job.
The repeal only applies to contracts with private sector employers, such as automakers and manufacturers, because a 2018 Supreme Court decision prohibits compulsory dues or fee payment for public employees.
Nevertheless, the legislation passed Tuesday includes language to repeal Right-to-Work for public employees if the Supreme Court decision is overturned.
Can anyone hold a referendum against the repeal?
Unlikely.
Tuesday's legislation includes a onetime $2 million allocation to help the Michigan Economic Development Corporation implement the changes, respond to public questions about the changes and "inform employers, employees, and labor organizations about changes to their rights and responsibilities," according to the legislation language.
The allocation effectively blocks any referendum attempt to overturn the laws since the state Constitution prohibits referendums on laws with appropriations.
Business groups are nonetheless contemplating a constitutional amendment to circumvent the repeal and write Right-to-Work into the state Constitution, Bridge has reported. If that succeeds in 2024, the repeal will be overturned.
What has Whitmer said about this?
There is little doubt that Whitmer, who is a strong supporter of unions, will sign the legislation.
But doing so puts her in a position that invited criticism.
For years, the governor has blasted Republicans for including appropriations in legislation to make them veto-proof. In fact, she promised in a 2019 executive order she would "veto legislation that circumvents the right to a referendum."
When Bridge asked about the situation on Tuesday, Whitmer spokesperson Bobby Leddy said she "announced her intentions to sign the legislation" and pointed to remarks she made at a Monday event.
"I did not ask the Legislature to put that part into the bill, and it certainly is not on my agenda," Whitmer told reporters Monday. "But I am going to sign a bill that restores workers' rights
Whitmer in 2019 line-vetoed $10 million in appropriations to the Wrongful Imprisonment Compensation Fund, fulfilling her promise to veto referendum-proof legislation. Leddy did not respond to Bridge's follow-up questions whether the governor would consider line-vetoing the appropriations language.
Over the years, several Democrats have blasted Republican efforts to insert appropriations language into bills to make them referendum-proof, according to a compilation by conservative group Michigan Rising Action. In 2018, Senate Majority Floor Leader Sam Singh, D-East Lansing, told Michigan Radio that doing so "circumvent(s) the right of the people to actually petition their government."
Eric Ventimiglia, executive director of Michigan Rising Action, accused Democrats of "hypocrisy."
Sen. Lana Theis, R-Brighton, slammed Whitmer and other Democrats, asking if "those in the majority are interested in good governance or selling political scores to repay their major campaign contributions."
Unions are a big donor to state Democrats. Five big unions alone — the United Auto Workers, Michigan Region of Carpenters, the AFL-CIO, AFSCME and SEIU — made a total of $3 million in political contributions across Michigan during the election, all but $51,000 of which went to Democrats, Bridge reported.
Senate Labor Committee Vice Chair Darrin Camilleri, D-Brownstown Township, told reporters after the Tuesday session the appropriation is important since the money will educate the public. But he acknowledged the money was inserted to block a potential referendum.
"I don't think we are going to shy away from all the tools in our tool belt about how we are going to effectively pass legislation," he said.
"This is one of the tools that I think we are comfortable using."
Singh agreed, noting that Democrats are merely "working with the rules and environment that were created by the Republicans and the courts over the last 20 years."
What do supporters, opponents, studies say?
Multiple union representatives and workers appeared at the Tuesday Labor Committee hearing to advocate for the repeal, arguing Right-to-Work hurt workers' wages and make it harder for unions to organize.
Jennifer Sherer, senior state policy coordinator at the research group Economic Policy Institute, told the Labor Committee that Right-to-Work is an "attack" on workers rights that "especially benefited the rich."
"An overwhelming body of research shows that states with anti-union laws restricting workers' collective bargaining rights end up with lower wages, worse benefits, and higher workplace fatality rates," she said in a later statement.
Republicans, such as Albert, said Right-to-Work incentivizes unions to do a better job to represent workers. They have argued the repeal would force employees to join unions, although a repeal does not mandate union membership.
GOP lawmakers and conservative groups have said the Right-to-Work law helps attract businesses to the state, but Michigan has lagged in unemployment and economic growth before and after the 2012 law.
"It's about freedom and personal choice," Wendy Block of Michigan Chamber of Commerce said of the Right-to-Work law. "It's about the ability of employees … whether to pay union dues or other equivalent of fees."
Conclusions from studies and polls vary greatly based on who backs them. Labor unions-backed studies show Right-to-Work laws lowered worker compensation and worsened health, whereas business group-backed research shows the law benefits economic growth.
Since the passage of the 2012 Right-to-Work law, union membership in Michigan slipped from 17.1 percent of the workforce to 15.3 percent last year. The rate remains unchanged in neighboring state Ohio.
And while manufacturing wages have increased in Michigan, it has not kept up with inflation. Nationwide, half of the states with the biggest wage increases are Right-to-Work states.
Have Democrats introduced other union-related bills?
Yes. On Tuesday, the Senate approved a bill to restore construction-industry prevailing wages, which guarantees union-scale pay on government-funded construction projects, including schools.
The bill will now head to the House, where the Democratic majority had already approved their own version of the bill.
The bill would restore a law repealed in 2018 after a campaign led by Associated Builders and Contractors in Michigan, which represents non-union construction contractors.
Whitmer in 2021 had restored the law for state-funded projects.
Democrats say the bill would protect worker wages and guarantee the quality of construction work.
But Republicans argued the legislation would drive up the cost of construction projects and diminish local control. Nesbitt, the Senate minority leader, called the legislation a "special carveout for a select few."
Democrats have filed a slew of bills related to unions.
For example, Democratic Rep. Alabas Farhat, D-Dearborn, introduced legislation to provide tax incentives to those who pay union dues. The bill, co-sponsored by 34 Democrats, drew criticism from conservatives, who argue it would force taxpayers to subsidize unions.
Another bill sponsored by Rep. Jamie Churches, D-Wyandotte, would allow public school employees to help collect union dues or fees from public school employees using public school resources.
What else have Democrats done?
Democrats have wasted little time moving their agenda since gaining control of the Senate and House for the first time since the mid-1980s.
Within the first two months in power, Democratic lawmakers have passed laws to prohibit LGBTQ discrimination, repeal the third-grade read-or-flunk law and repeal the 1931 abortion ban following the November passage of Proposal 3 that wrote abortion rights into the state constitution.
They also passed the Legislature's first bipartisan tax relief package after reaching a deal with Republicans, expanding the state's Earned Income Tax Credit and repealing the state's pension tax.
Only donate if we've informed you about important Michigan issues
See what new members are saying about why they donated to Bridge Michigan:
"In order for this information to be accurate and unbiased it must be underwritten by its readers, not by special interests." - Larry S.
"Not many other media sources report on the topics Bridge does." - Susan B.
"Your journalism is outstanding and rare these days." - Mark S.
If you want to ensure the future of nonpartisan, nonprofit Michigan journalism, please become a member today. You, too, will be asked why you donated and maybe we'll feature your quote next time!