Some Michigan Republicans propose local opt-out for COVID lockdown orders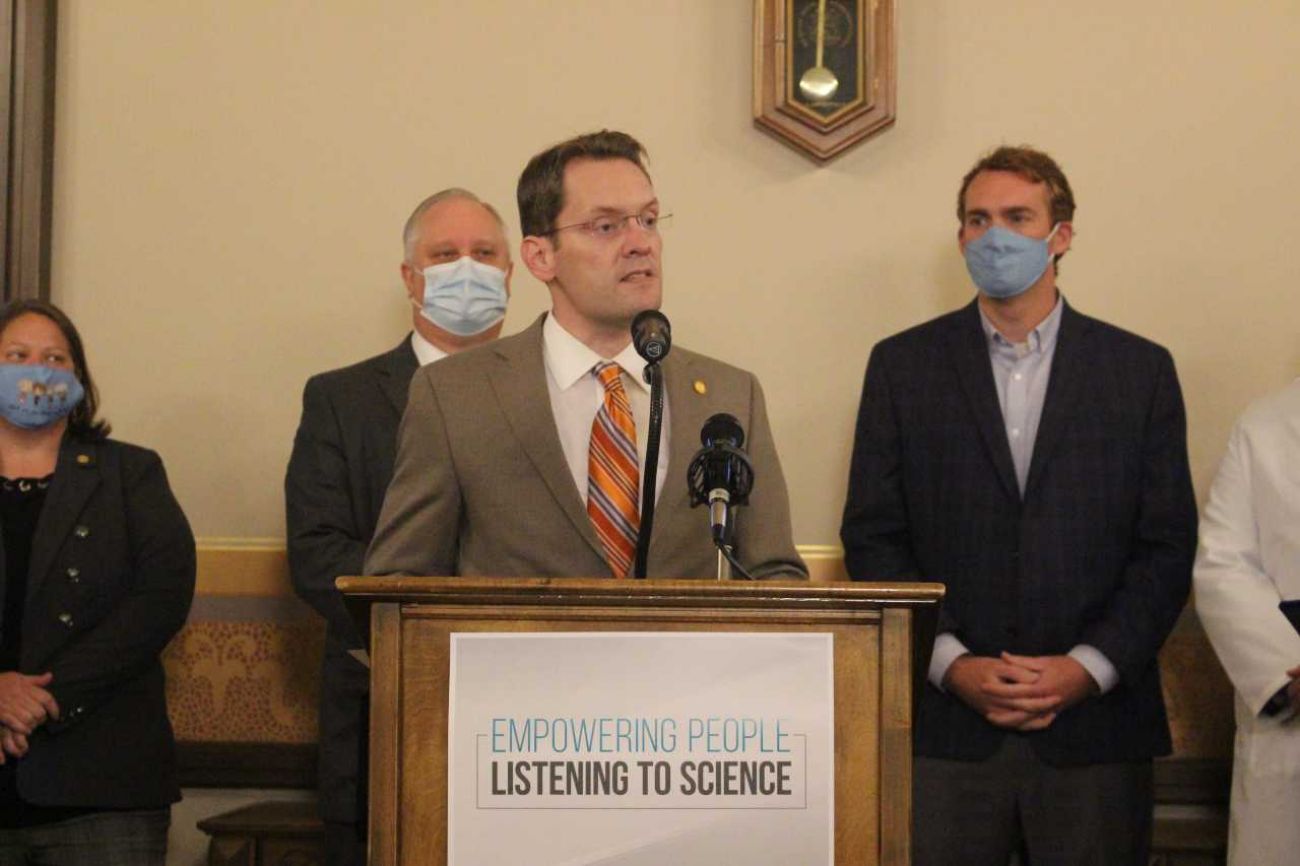 LANSING — Seeking to influence Michigan Gov. Gretchen Whitmer's response to the COVID-19 pandemic, House Republicans on Tuesday outlined a plan to allow counties to opt out of statewide mask mandates, business rules, crowd size limitations and other public safety orders if local virus spread is low.
Local health officials could relax regulations only if their county was below certain thresholds, including a daily average case count of less than 55 confirmed cases per 1 million residents over a 14-day period.
Only 13 counties with a combined 300,000 residents currently meet that mark, about 3 percent of the state's population. And four of those counties are not currently meeting a separate requirement for testing capacity.
State Rep. Ben Frederick, R-Owosso, who oversaw creation of the plan through a GOP workgroup, acknowledged most of Michigan's 83 counties would not be able to opt out of state rules currently but told reporters that "speaks to the fact we really need to establish these goals and move forward on these goals in a transparent way."
To qualify for the opt-out, local communities would also need to keep COVID-19 testing positive rates below 5 percent over 14 days and prove they have adequate hospital capacity, personal protective equipment and testing capacity, with the ability to test 15 people per 10,000 residents per day and provide results in three days or less.
Frederick said he does not anticipate any county health officials would move to end all COVID-19 regulations, which he suggested would be "a very reckless decision," and one they'd have to answer for before their local board of health.
The goal, he said, is "removing politics from the process as much as possible" and moving from "an environment of one-size-fits-all restrictions to one better reflecting local conditions, which empowers communities."
The plan is the first put forward by House Republicans since the state confirmed its first coronavirus cases in March.
Senate Republicans outlined a plan in mid-April that, among other things, would have prevented large sports venues from reopening until there was a vaccine or no community spread.
Senate Majority Leader Mike Shirkey, R-Clarklake, is now advocating for a "element of herd immunity," an approach panned by some public health experts that would continue safeguards for vulnerable populations but allow younger residents to contract the virus and develop antibodies.
Whitmer's office did not have immediate comment on the House GOP plan, with a spokesperson saying only that "we will review" the proposal.
Its release comes amid surging COVID-19 case counts and an ongoing power struggle between the executive and legislative branches that has been marked by a GOP win in court, an advancing petition drive and accusations of "dictatorial" moves by the Democratic governor, who contends her aggressive restricts helped save lives.
"We are going to engage with the governor's office," Frederick told reporters. "At the end of the day though, we are a governing majority. It is our role to put in legislation, and we want to start that process."
The Michigan Supreme Court's conservative majority this month invalidated a law Whitmer had used to issue COVID-19 orders and encouraged her to work with the Legislature.
But the administration responded by continuing most of the same protective measures — including a statewide mask mandate, crowd size limitations and business regulations — through the public health code and Michigan Occupational Safety and Health Administration.
Those powers only extend so far, however, and Whitmer has had to ask the Legislature for help in some instances.
Lawmakers last week agreed to extend defunct Whitmer orders allowing for expanded access to unemployment benefits and for remote meetings by local governments.
In exchange, the Democratic governor is expected to sign a GOP bill providing new legal safeguards for businesses that substantially comply with COVID-19 regulations.
House metrics
The new House plan adopts some metrics the Whtimer administration has established to allow for regional variations in public health regulations. Instead of eight regions, it allows for variations in up to 83 counties, a delineation Frederick said several other states have already adopted.
Among the opt out provisions, counties must have a test positivity rate of 5 percent or less over 14 days.
That's consistent with U.S. Centers for Disease Control guidelines but less stringent than the 3 percent rate state health officials and experts at the Harvard Global Health Institute have recommended for the relaxation of regulations.
Statewide, nearly 6 percent of all coronavirus tests reported Monday came back positive, triggering another 2,909 confirmed cases of COVID-19. To date, the state has reported 147,806 confirmed cases and 7,031 deaths.
Thirteen northern counties now average less than 55 cases per 1 million residents: Missaukee, Charlevoix, Crawford, Leelanau, Arenac, Presque Isle, Emmet, Sanilac, Wexford, Montmorency, Alcona, Chippewa and Alpena.
Four of those counties are not testing at least 15 out of every 10,000 residents, as also required by the House GOP plan: Alpena, Chippewa, Presque Isle and Montmorency.
House Republicans said their plan would also require counties to adopt certain "intervention strategies" if coronavirus spread increases and they no longer meet the opt-out requirements. Details were not immediately available, but Frederick said bills will be introduced this week.
While the Whitmer administration publishes extensive data about COVID-19 cases, testing rates and hospitalizations and more recently school outbreaks, the House Republican plan would require local officials to publish county-specific data each day, which many already do.
"No doubt data has been used, and we have plenty of it, but now we need transparency in how data is driving decisions," said Rep. Greg VanWoerkom, R-Norton Shores.
The plan offers "certainly and hope" to residents who have suffered through "the stress and confusion of this pandemic," added Rep. Sarah Lightner, R-Springport.
Shirkey defends herd immunity comments
The House GOP plan could relax Whitmer regulations in some parts of the state, but it is a different approach than the type of "herd immunity" that Shirkey has advocated.
The Republican leader defended his view Monday on JTV News in Jackson, reiterating that he thinks "there's room in a comprehensive approach to COVID for a bit of herd immunity." He also criticized the Whitmer administration for using public health and occupational safety orders to continue COVID-19 regulations effectively invalidated by the state Supreme Court.
"It comes across as vindictive," Shirkey said. "It comes across as dictatorial, whatever word you want to use, instead of helping train people to do the right thing."
Herd immunity is not a "scientifically sound or humane strategy to address COVID-19," Dr. Joneigh Khaldun, the state's chief medical executive, testified Monday in a legislative hearing.
Scientists estimate that up to 80 percent of residents would need to be immune from the virus for herd immunity to slow the spread, Khaldun told lawmakers.
"That would mean 6 million more people in Michigan would need to be infected, and an estimated 30,000 more would need to die. That's just unacceptable."
Shirkey, in his Monday interview, referenced Great Barrington Declaration, a document authored by three epidemiologists and co-signed by more than 40 others who voiced "grave concerns about the damaging physical and mental health impacts of the prevailing COVID-19 policies."
The most "compassionate" approach to the pandemic would be to "allow those who are at minimal risk of death to live their lives normally to build up immunity to the virus through natural infection, while better protecting those who are at highest risk," they wrote.
Dr. Anthony Fauci, the nation's top infectious disease official, called the Barrington Declaration "total nonsense."
A group of 80 public health experts last week published their own memo calling the herd immunity theory "a dangerous fallacy unsupported by scientific evidence."
"Uncontrolled transmission in younger people risks significant morbidity and mortality across the whole population," they wrote. "In addition to the human cost, this would impact the workforce as a whole and overwhelm the ability of health care systems to provide acute and routine care."
The former head of the U.S. Centers for Disease Control and Prevention and four other health experts issued similar warnings to Shirkey in a letter last week.
---
Bridge reporter Mike Wilkinson contributed to this report.
We're not just a news organization, we're also your neighbors
We've been there for you with daily Michigan COVID-19 news; reporting on the emergence of the virus, daily numbers with our tracker and dashboard, exploding unemployment, and we finally were able to report on mass vaccine distribution. We report because the news impacts all of us. Will you please donate and help us reach our goal of 15,000 members in 2021?