Whitmer seeks Michigan's biggest budget amid pandemic. Republicans are wary.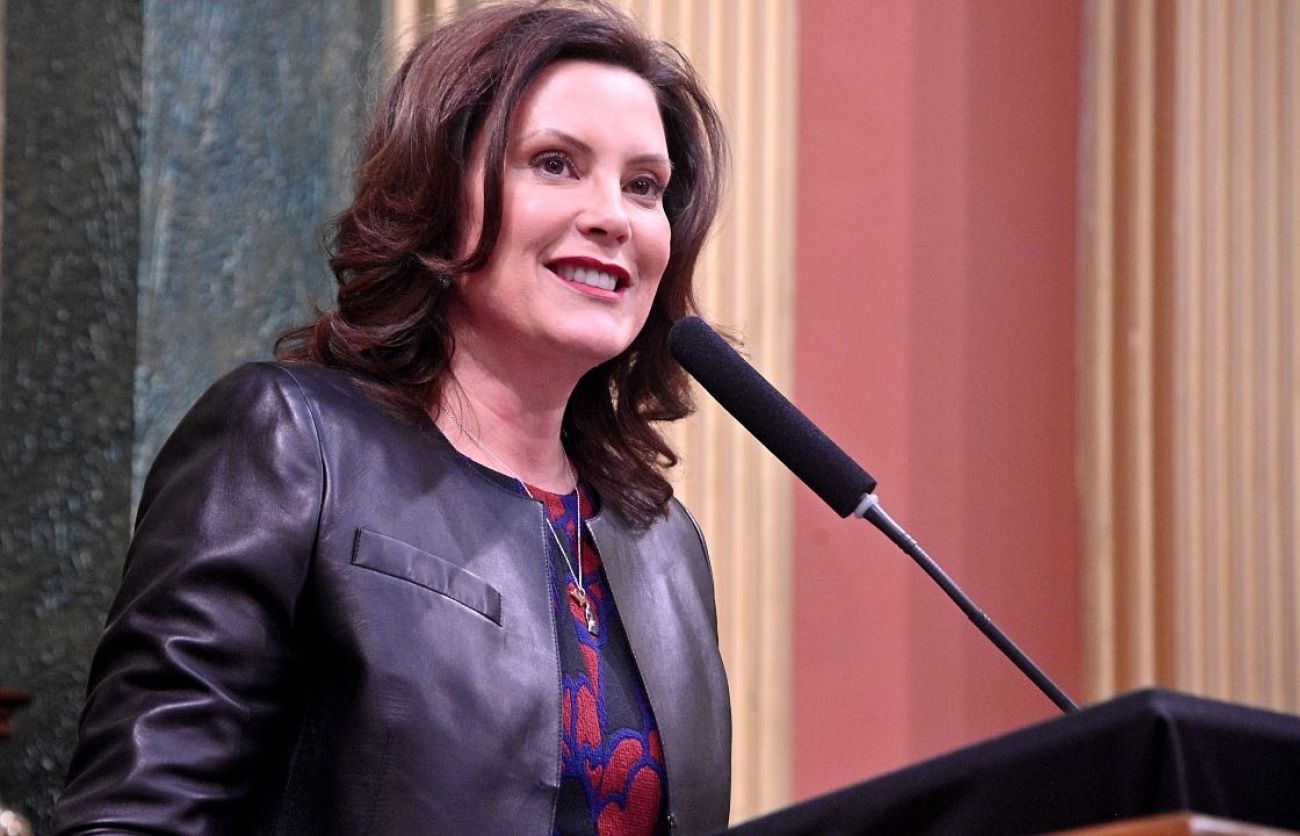 Gov. Gretchen Whitmer has faced weeks of scrutiny over her use of a chartered jet in March to fly to see her father in Florida. (Bridge file photo)
Michigan Government
Whitmer seeks Michigan's biggest budget amid pandemic. Republicans are wary.
LANSING — Gov. Gretchen Whitmer on Thursday proposed a $67 billion state budget for fiscal year 2022 she says would "keep Michigan on the road to recovery" from a global pandemic that led to unprecedented health, economic and educational challenges.
The Republican-led Legislature is sure to reject or modify some of the spending initiatives, but the proposal stands as a statement of priorities for the Democratic governor. She claimed it would help Michigan "build back better," referencing a campaign pledge by President Joe Biden.
The Michigan plan would continue a pandemic pay increase for direct care workers, expand a college tuition program for frontline workers, help replace or repair local bridges, boost K-12 school spending and give districts more money to address learning losses associated with remote learning during the COVID-19 pandemic.
"I'm confident that we can come out of this crisis stronger than ever before," Whitmer told reporters in a Zoom conference call.
Related:
Whitmer's executive budget is the largest proposed in Michigan. It is bolstered by one-time federal stimulus and COVID-19 response funding, which has helped the state avoid economic calamity and major revenue losses that were projected early in the pandemic.
"Because of the (fiscal) management we had at the beginning of the pandemic, we now have an opportunity to invest in our state," Budget Director Dave Massaron told lawmakers in a joint hearing of the House and Senate appropriations committees. "And I want to really stress: This is an opportunity that is really unparalleled in the recent history of the state."
As of last month, the state projected its own tax collections would drop by $505 million in 2021, but that was far from the $1.7 billion loss initially predicted, and officials also projected $1 billion in tax revenue growth for fiscal year 2022.
Tax and lottery collections have continued to exceed expectations in early 2021. Revenue into Michigan's general and school aid funds totaled $2.8 billion in January, a 24 percent increase from the same month last year, and $235.5 million above earlier projections, according to the non-partisan Senate Fiscal Agency.
Whitmer unveiled her 2022 budget proposal amid a standoff with Republican lawmakers over a supplemental spending plan for the current fiscal year.
The administration and Legislature are at odds over how and when to spend another $5 billion in federal funding for COVID-19, including vaccine distribution. Whitmer wants to deploy that full allocation now, but the GOP is proposing a smaller authorization and using the funding as a bargaining chip to seek policy concessions from the Democratic governor.
This is Whitmer's third budget proposal, which will prompt a months-long negotiation with the Legislature that must be resolved by Oct. 1, when the state's new fiscal year begins.
The governor's proposal "does not do enough to get kids back into classrooms for in-person instruction," said House Appropriations Chair Thomas Albert, R-Lowell, who has held up federal funding in an attempt to make Whitmer relinquish state authority to close schools.
Whitmer is encouraging all schools to resume in-person instruction by March, but her budget does not require them to do so in order to access funding.
"We must remember that state tax revenues are declining sharply – our finances are propped up by artificial and temporary federal COVID relief," Albert said in a statement.
"It's not sustainable. The state budget won't be truly healthy until Michiganders can get back to work. Families and job providers have had to tighten their budgets during this pandemic — this is no time to go on a spending spree with taxpayer dollars."
Read the governor's full executive budget proposal by clicking here, or read on to learn about some of her key initiatives for fiscal year 2022.
Here are some major takeaways:
Pandemic pay increase
Whitmer wants to extend a $2-per-hour pandemic wage hike for state-subsidized direct care workers through October 2022.
The administration estimates the plan would help 120,000 workers in fields plagued by low wages and high turnover, including staff at long-term care facilities like senior nursing homes and home health care workers.
The plan would cost about $110 million this year beyond May, when it is set to expire, and then another $360 million in fiscal year 2022. The state would pay for it using a combination of restricted and general fund money.
"These heroes have been working tirelessly amid a grave public health crisis, and they deserve to be compensated for their dedication," Whitmer said.
But the pay boost would continue through fall of 2022 even if the pandemic ends before then. That's important to recruit and retain workers to direct care jobs whose average wages are "only slightly better than the minimum wage," the administration said in a briefing document.
The average starting pay for direct care workers is $11.44 per hour, according to a coalition of advocacy groups supporting the governor's spending plan. "We can't afford to lose the very workers that are keeping around 100,000 Michigan individuals and their families strong and supported," said Robert Stein, general counsel for the Michigan Assisted Living Association.
The governor's budget proposal also includes:
$38 million for one-time COVID payments to nursing homes

$91 million for behavioral health and child welfare and

$6.7 million for an initiative to help an estimated 4,000 Michigan residents living with sickle cell disease, which primarily affects Black people.
Free college and job training
Whitmer wants another $75 million to expand her Future for Frontliners program, which provides a path to tuition-free community college for pandemic essential workers.
Whitmer's budget would expand eligibility to workers who lost their jobs between Nov. 1, 2020, and Jan. 31, 2022, when the "pandemic spiked" again, Massaron said.
The governor also wants $120 million to fund her Michigan Reconnect program through 2023. The Legislature previously approved $30 million to launch the program, which has enjoyed bipartisan support and seeks to provide tuition free skills training or associate degrees for residents 25 years of age or older.
As Bridge Michigan reported last week, new guidelines released by the state show the Reconnect program won't benefit all residents equally. For about 1-in-5 residents who otherwise meet the program's requirements, community college still won't be free.
Fix the bridges
The Whitmer administration is moving forward with plans to issue bonds to pay for state road and bridge repairs.
The governor who won election in 2018 promising to "fix the damn roads" isn't proposing another gas tax increase, which Republicans rejected in 2019. Instead, Whitmer wants to use $300 million to repair or replace up to 129 local bridges that are in serious or critical condition.
Priority projects would include the Smiths bridge that connects Spring Lake and Ferrysburg in Ottawa County nd the Miller-Rotunda Bridge in Dearborn, which "is an essential part of the infrastructure of that area (and) services a major employer," Massaron said, referencing the Ford Motor Co.'s Rouge Plant.
Fix the dams
Beyond roads and bridges, Whitmer seeks more money for water infrastructure, including a $15 million deposit into the Dam Safety Emergency Fund.
That could be used for any "emergency response when dam owners are unwilling or unable to mitigate hazards caused by dam malfunction," the budget office said in a reference to the massive flooding caused by Midland-area dam failures last year.
The governor also continues to push what she's calling the MI Clean Water Plan to provide $290 million in infrastructure grants to address local sewage discharges and failing septic systems.
Whitmer wants another $40 million for "high water level and resilient infrastructure and planning grants" would help local governments address coastal erosion, flooding, stormwater management and other issues.
K-12 schools
Michigan's K-12 school districts would see another funding boost under the governor's budget proposal, which would also continue a shift toward what Whitmer calls a "weighted" funding formula that recognizes higher costs associated with some students.
The governor's plan includes $203 million to increase base per-pupil funding levels $82 to $164, depending on the district's current funding levels. That would raise the base to between $8,275 and $8,611 per student.
Whitmer proposes a $12.5 million increase in spending on academically at-risk and economically disadvantaged students. That would bring annual spending up to $534.5 million and provide districts with an additional $765 for each economically disadvantaged student. The governor also wants $61.4 million to help districts cover costs associated with special education students.
To address pandemic-related learning losses, Whitmer proposes $250 million in one-time supplemental spending to implement academic recovery programs, along with physical, mental health and college-preparation initiatives.
Another $120 million for this year and next would help schools implement new summer learning, after-school and day camp programs.
Expand child care subsidies
Whitmer's new budget proposal includes $370 million for what she called a "game-changing" investment to help an estimated 150,000 additional families afford childcare. The plan would "significantly lower childcare costs, in some cases down to zero," she said in a statement.
Whitmer and the GOP-led Legislature last year agreed to expand child care subsidy eligibility to families that earn up to 150 percent of the federal poverty level, which is about $39,300 annually for a family of four.
The governor's new plan would temporarily increase eligibility to 200 percent of the federal poverty level, which is $52,400 for a family of four, during the pandemic and waive out-of-pocket copays through October 2022.
The plan would also increase hourly rates for childcare providers by 10 percent and would be paid for with a combination of federal and state funding.
While COVID-19 has prompted many parents to keep their kids at home or with family and friends, a new statewide survey for the Michigan Women's Commission suggests nearly half of all parents with qualifying children want to send their kids out of the home post-pandemic.
"What this tells us is that there will soon be a dramatic and immediate surge in demand for licensed child care options at a time when Michigan's child care infrastructure is already in need of support for staffing, slot availability and overall sustainability," Danielle Atkinson, a MWC Commissioner and founder of Mothering Justice, said in a statement.
End the 'tampon tax'
Whitmer's plan proposes $5 million in general fund spending that would allow the state to eliminate the "tampon tax" on feminine hygiene products, which are subjected to the state's 6 percent sales tax, unlike other medically-necessary supplies.
Democrats have tried and failed to eliminate the so-called tampon tax several times in recent years. Part of the hold up has been potential revenue losses for the state's School Aid Fund, which is funded by the sales tax.
The House Fiscal Agency, in a 2019 analysis, estimated that the sales tax on feminine hygiene products generates about $6.5 million a year for the state. About $4.8 million of that tax revenue flows into the School Aid Fund. Whitmer's budget seeks to avoid any K-12 funding loss by backfilling that lost tax revenue with $5 million from the state's general fund.
Fund criminal justice reforms
The governor's budget proposes spending to implement a series of bipartisan criminal justice reforms, which have provided some of the most fertile soil for cooperation between Republicans and Democrats in the state Legislature.
Whitmer wants to spend $21.2 million this year and next to create an automated system to expunge criminal records, which would effectively implement "clean slate" legislation approved last year by the Legislature.
Whitmer also wants $29.1 million to implement a new state law that prohibits prosecutors from automatically treating 17-year-olds like adults, which will shift more minor offenders from the court system into the juvenile justice system.
Whitmer's plan would allocate another $31.4 million for an Indigent Criminal Defense grant program to ensure legal representation of poor residents and $10.2 million to continue developing and expanding de-escalation and crisis response training for law enforcement personnel across the state.
We're not just a news organization, we're also your neighbors
We've been there for you with daily Michigan COVID-19 news; reporting on the emergence of the virus, daily numbers with our tracker and dashboard, exploding unemployment, and we finally were able to report on mass vaccine distribution. We report because the news impacts all of us. Will you please support our nonprofit newsroom?