Who gets paid minimum wage in Michigan? Only 1% of workers, as pay soars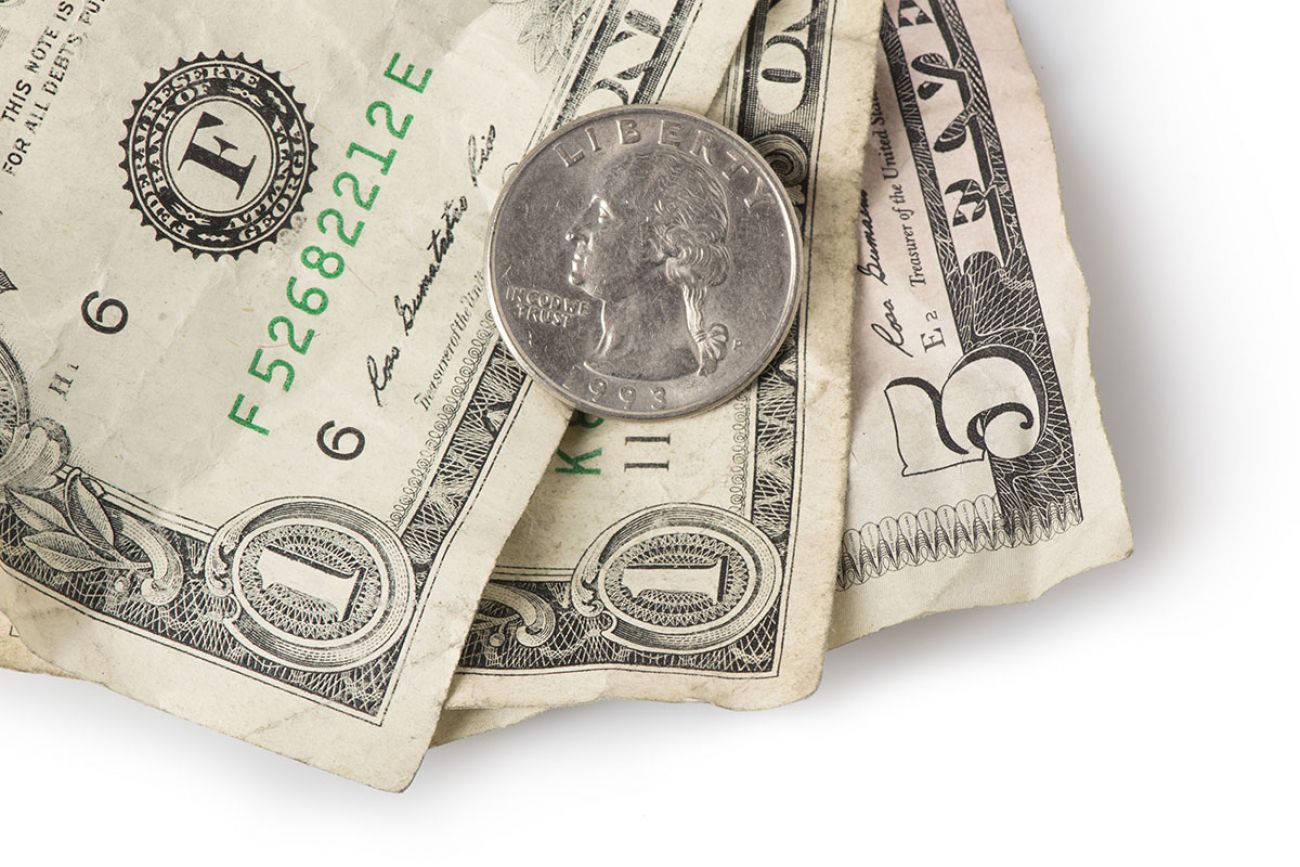 A Michigan Court of Appeals panel is expected to rule in February on whether the Republican-led Legislature violated the state Constitution when it adopted a progressive citizens ballot measure in 2018 only to weaken its provisions later that year. (Shutterstock)
Michigan's minimum wage jumped to $10.10 an hour this month; 52,000 workers directly benefited.
Wages have increased due to worker shortages, pushing entry-level jobs to $15 an hour or more
Minimum wage may increase again past $13 in February
---
Michigan's minimum wage jumped to $10.10 an hour from $9.87 on Jan. 1, but for the first time in decades, that pay is well below what many employers can even consider offering entry-level workers.
Instead, business owners are paying $1 to $4 more an hour in order to find employees and keep their doors open.
"No," said Dennis Gerth when asked if he'd be able to hire anyone at $10.10. The owner of a small grocery store in Bedford Township in Monroe County, Gerth said wages began creeping up four years ago, coinciding with a lack of available workers.
Related:
Only 1 percent of Michigan's 4.4 million workers, about 52,000 total, were making minimum wage when the rate increased this month, according to an analysis by the Economic Policy Institute, a progressive think tank in Washington D.C. that conducts research.
Just nine years ago, nearly 10 percent of Michigan workers made minimum wage, according to federal statistics.
What's changed is the market and a labor shortage that has closed the gap between the lowest and highest-paid workers nationwide for the first time since the 1980s, said Brad Hershbein, a senior economist and deputy director of research for the W.E. Upjohn Institute for Employment Research in Kalamazoo.
Between 2016 and 2019, pay for the bottom 10 percent of wage earners — those making $23,980 or less — increased 3.3 percent nationally.
From 2019 to 2022, their wages rose 12.9 percent even factoring in inflation, according to Hershbein's analysis of federal labor statistics.
"(Lower wage workers are) making up for lost time. And they had a lot to make up," Hershbein said.
During that same time, middle-wage workers' wages increased just 4.4 percent from 2019 to 2022 when adjusted for inflation. In Michigan, the median wage is $45,190 in 2021, compared to $58,260 nationally.
The issue could gain even more resonance in the next few weeks, as the Michigan Court of Appeals is expected to consider whether to adopt a 2018 ballot initiative that could raise the minimum wage to $13.03 an hour.

Michigan followed the federal minimum wage until 2011, when it climbed to $7.40 an hour. The federal minimum wage has remained at $7.25 since 2009.
Who makes minimum wage?
Minimum wage workers in Michigan tend to be younger, less educated, without children and work in restaurants and retail, according to an EPI analysis shared with the Michigan League for Public Policy.
Of the estimated 52,000 workers who got the 23-cent bump in hourly pay on New Year's Day, 80 percent are between the ages of 16 and 24 and roughly 80 percent work less than full-time.
Just over two-thirds of them, 65 percent, are women, according to EPI.
People of color are disproportionately impacted: 21 percent of minimum wage earners are African-American and 8 percent are Hispanic (compared to 14 percent and 5.6 percent of the population as a whole.)
EPI's David Cooper applauded the newfound power that drove workers' wages up as "Now Hiring" signs became ubiquitous, with employers offering signing bonuses and higher pay.
Average hourly wages for Michigan's 31,000 restaurant cooks, for instance, jumped 28 percent to $14.53 from $11.45 between 2016 and 2021, after increasing only 5 percent total in the preceding five years, according to Bureau of Labor Statistics data analyzed by Bridge Michigan.
Likewise, average hourly pay for Michigan's 92,000 cashiers increased 20 percent to $12.64 since 2016, after rising 7 percent over the preceding five years.
The "leverage it has given the lower-wage workers has been fantastic," Cooper said.
But if the market has pushed the actual minimum wage up, does the mandatory minimum need to rise?
Cooper, director of EPI's Economic Analysis and Research Network, said they should be raised "because someone is always making the minimum wage."
He contended those who do are often those who may be a felon or someone with a physical ailment that limits their ability to work.
"For those folks, having a reasonable wage standard makes sense," Cooper said.
Not everyone agrees.
Minimum wage may jump again
As historic as the recent jump in wages is, another increase looms.
If a Michigan Court of Appeals panel agrees with another court ruling and reinstates a 2018 ballot measure that hoped to ask voters to approve a big jump in the minimum, the impact could be far larger: an estimated 305,000 workers, or 7 percent of Michigan's workforce, would see a bump in wages if they rose from $10.10 to $13.03 an hour, and for tipped workers to jump from $3.84 to $11.73.
The restaurant and hospitality industry is very concerned about a jump in the tipped minimum, which would more than double. But the jump to $13 an hour for no-tipped workers would be less impactful.
It's why former state Sen. Wayne Schmidt, a Traverse City Republican, proposed increasing the minimum wage to $12 in December, along with freezing the tipped minimum at 40 percent of the non-tipped minimum.
Schmidt said his 18-year-old son makes $18 at a Traverse City McDonald's. "So that's clearly way above Michigan's minimum wage," he said.
Schmidt said his son's experience, along with talking to workers and employers in the region paying well above minimum for entry level restaurant, retail and manufacturing work, made him comfortable proposing a higher wage that the business community had fought just over four years ago.
But four years ago, no one had heard of COVID-19.
When the pandemic hit in early 2020, it triggered massive layoffs and fear. In Michigan, over 1 million workers were unemployed in April 2020 as Gov. Gretchen Whitmer, like most governors, ordered people to stay home to limit the spread of COVID-19.
But as restrictions relaxed, many workers chose not to return to the labor force, pushing wages up. Government paid for some raises, like helping healthcare and child-care workers but overall, raises increased at the fastest rate in years.
If the appeals court agrees and if no other court steps in, employers will face another round of pay hikes that could cut into profitability and threaten survival.
Robin Jankowski, an owner of DRC Cleaning Solutions of Romulus, said her company always offered its janitorial workers a bit over minimum wage. Now it's paying starting workers $14 an hour and struggling to fill jobs.
"I could hire 20 (today)," she said.
She said people now think they should be paid more, at rates that were once reserved for college graduates, for entry level positions.
"Minimum wage is $10, but people think it's $15."
If the state goes to $13 an hour, "I'd have to increase again," she sighed.
She said she worries if her customers would tolerate an increase in her cleaning rates.
And if wages go even higher, Gerth said he wonders if his grocery could stay open.
Speaking to a Bridge reporter, he quickly added up the totals: 10 employees, 300 hours of work per week. If each got $1 or $2 more, "that's a big jump." Bigger grocery chains could handle it better, he said, spreading the added cost across more items and aisles of product.
"It's definitely not easy (to absorb)," Gerth said. "And it does make me nervous."
Only donate if we've informed you about important Michigan issues
See what new members are saying about why they donated to Bridge Michigan:
"In order for this information to be accurate and unbiased it must be underwritten by its readers, not by special interests." - Larry S.
"Not many other media sources report on the topics Bridge does." - Susan B.
"Your journalism is outstanding and rare these days." - Mark S.
If you want to ensure the future of nonpartisan, nonprofit Michigan journalism, please become a member today. You, too, will be asked why you donated and maybe we'll feature your quote next time!