From Battle Creek to Bay City, Monroe to Macomb County, few people, it seems, are talking about Democrat Gretchen Whitmer's "damn roads" or Republican Bill Schuette's fear of another "lost decade."
It's Trump, Trump, Trump. All Trump from Republicans and Democrats alike.
Take Johanna Wellwood, 74, who is active with the Eaton County Indivisible group that opposes the president's agenda and works on behalf of local progressive candidates.
"Every race is a race against Republicans because every Republican has been supporting Trump," said Wellwood, who lives in Sunfield, a village in Eaton County, west of Lansing.
Or Renee Lindsey. The Calhoun County woman is backing all Republicans in the Nov. 6 elections so no one gets in Trump's way on trade. She blames the loss of her job at cereal giant Kellogg Co. in 2000 to NAFTA, and was heartened to hear Trump criticize that trade deal as bad for the country.
"It's like, my God, somebody is finally telling the truth," said Lindsey of Battle Creek.
Both live in one of the 12 Michigan counties whose voters twice supported Democratic President Barack Obama, but backed Republican Donald Trump in 2016, helping him win Michigan and the presidency.
The counties comprise just 18 percent of Michigan voters but accounted for nearly one-third of the 460,000-vote swing from Obama to Trump, and they could be key again in determining winners during state elections next week.
Bridge Magazine spent three days this month speaking to voters in five of the counties: Bay, Calhoun, Eaton, Monroe and Macomb.
The so-called pivot counties that switched from Obama to Trump typically have fewer college graduates on average than the rest of Michigan, and rely on manufacturing industries that have struggled for two decades, in part because of trade policies and foreign competition.
Flipping support
In 2016, Donald Trump scored an upset victory in Michigan, taking a state no Republican had won since 1988. A dozen counties that had twice voted for Democrat Barack Obama backed Trump, propelling him to victory. Click on a county to see how it voted the last three presidential elections.
Source: Michigan Secretary of State
Bridge wanted to gauge enthusiasm and learn what issues motivated voters in the counties.
We didn't hear much concern about roads or schools, two issues that have dominated the gubernatorial campaign because Michigan lags national standards.
But we got an earful about Trump, supporting pollsters' predictions that, far above what candidates like Whitmer or Schuette say or do, the divisive president likely will have a ripple effect up and down the Michigan ballot.
"Everything revolves around Trump," said Bernie Porn, president of Lansing-based polling firm Epic-MRA.
Anti-Trump fervor is driving tens of thousands of volunteers, many of them women, to campaign for Democratic candidates and even run for office. Pro-Trump voters, outraged by the outrage against him, are fired up.
But which tribe will show up at polls next week?
In the 12 swing counties, interest is high, but perhaps less so than the rest of the state, if requests for absentee ballots are any indication.
In the swing counties, absentee requests are nearly equal to this time in 2016 and up 47 percent from the last gubernatorial election in 2014.
That's below averages statewide, where absentee ballot requests are up 56 percent from 2016 to 1.08 million, according to Secretary of State records released Friday.
Hard times, changed minds
Of the 12 counties that pivoted from support of Democrat Barack Obama to Republican Donald Trump in 2016, most have been hit hard by the economic downturn, experienced population losses and have fewer college grads, as a percent of adults, than the state average.
| State/county | Median income (2016) | Change from 2011 | Population (2016) | Change from 2011 | Percent with college degree (2017*) |
| --- | --- | --- | --- | --- | --- |
| Michigan | $50,803 | -2 percent | 9,876,199 | 0.6 percent | 28.1 percent |
| Bay | $45,851 | -6.3 | 107,382 | -2.7 | 21.9 |
| Calhoun | $44,681 | -0.8 | 135,039 | -0.6 | 21.9 |
| Eaton | $56,472 | -2.1 | 107,854 | 0.9 | 28.9 |
| Gogebic | $35,833 | -3.6 | 16,115 | -4.8 | 17.5 |
| Isabella | $40,706 | 3.8 | 70,556 | 0.8 | 32.1 |
| Lake | $30,824 | -5.5 | 11,454 | 3.6 | 9 |
| Macomb | $55,951 | -2.9 | 843,535 | 2.8 | 24.8 |
| Manistee | $42,530 | -3 | 24,772 | -1.3 | 19.9 |
| Monroe | $56,968 | -4.2 | 151,453 | -1.5 | 17.5 |
| Saginaw | $43,712 | -5.1 | 198,833 | -3.3 | 20.4 |
| Shiawassee | $48,470 | -4.3 | 69,965 | -2 | 16.1 |
| Van Buren | $47,141 | -0.4 | 75,922 | -0.9 | 20.8 |
*Note: Education data for Lake, Gogebic and Manistee are from 2016.
"The reason they are more interested than four years ago and eight years ago is Trump and the general Republican hegemony," said Mark Grebner, a Democratic pollster.
"What Trump has done is he's mobilized long-term, radicalized really, those people."
Though Grebner was largely talking about Trump's impact on the left, he said the president has impacted the right as well, accelerating the movement of working-class voters to the Republican Party.
At the same time, many people's political identity is tied more to Washington D.C. than their home state, and research shows an increasing number of people can't name their governor but know national political figures, said political scientist Matt Grossmann.
"There has been a broad nationalization of American politics," said Grossmann, director of Michigan State's Institute for Public Policy and Social Research.
"Almost everything you think is refracted through your view of the president."
Trump as litmus test in Macomb
Jazmine Early is quite familiar with a that view.
A Republican running for the 25th State House District that represents parts of Sterling Heights and Warren in Macomb County, Early said the first question she typically gets when going door-to-door is "Did you vote for Trump?"
Trump won the county as it was recovering from the 2000s and the Great Recession, when unemployment hit nearly 18 percent in 2009 and median incomes plummeted (in 2013, the median household income was nearly $27,000 less than it was in 1969 when adjusted for inflation.)
Famous as home to the "Reagan Democrats,"  Macomb backed Obama twice, but also GOP President George W. Bush's re-election in 2004.
The county's economy is rebounding strongly, but Macomb has its share of problems: Growing poverty in inner-ring suburbs just north of Detroit, declining test scores, and a record number of opioid deaths last year.
Most voters want to talk about the president, said Early. When she knocks on doors, the first question is often whether she supports Trump.
It's become a quick way for both sides to size someone up. For Trump haters, a "yes" generates a curt word and a shortened conversation. For Trump supporters, it opens doors, she said.
"It all goes back to Trump. Because they see the change," said Early, 48.
For Early, 48, that change is Trump's spirited defense of the country.  A native of Colombia, Early came here when she was 30. She's familiar with the struggles in Venezuela, Colombia's neighbor in South America that was taken over by socialist Hugo Chavez.
"We have a lot to protect here," she said.
A surge of Democrats in Monroe
But Trump also created a groundswell of new Democratic support among those infuriated by his crude comments, attacks on women and bragging about groping in the infamous "Access Hollywood" tape.
"Holy moly, they showed up. It was incredible. There really hasn't been any drop off," said Dan Minton, vice chairman of the Monroe County Democratic Party.
Many new faces, mostly female, attended the party's meeting the month after the 2016 election, he said.
"Most of the stories you get out of people is 'We can't let this happen again. Voting isn't enough anymore,'" he said.
Trump got 58 percent of the vote in Monroe County, just four years after Obama won the county, albeit barely.
Like Macomb, Monroe County has lurched between Democrats and Republicans in presidential elections, but Trump drew far more voters than other Republicans: 43,000 compared to more than 35,500 for U.S. Sen. John McCain and former Massachusetts Gov. Mitt Romney.
It was the kind of swing that was seen in Monroe and a handful of largely manufacturing counties in Michigan that have not shared in the recovery seen in the rest of the state and country.
The counties were hard hit by NAFTA, the trade agreement that relaxed borders between Canada, Mexico and the United States and led to many companies opening factories south of the U.S. border where wages are cheaper.
"That was a sore point for a lot of people," said Jim Barcia, the Bay County executive and a former Democratic congressman.
In Congress in 1993, Barcia voted against NAFTA.
Bay County, which has long, strong ties to the auto industry, lost numerous small shops and plants. When plants closed, Barcia said it was common for the soon-to-be-laid-off to hold parties serving Mexican food and wearing sombreros, a dark nod to where their jobs were headed.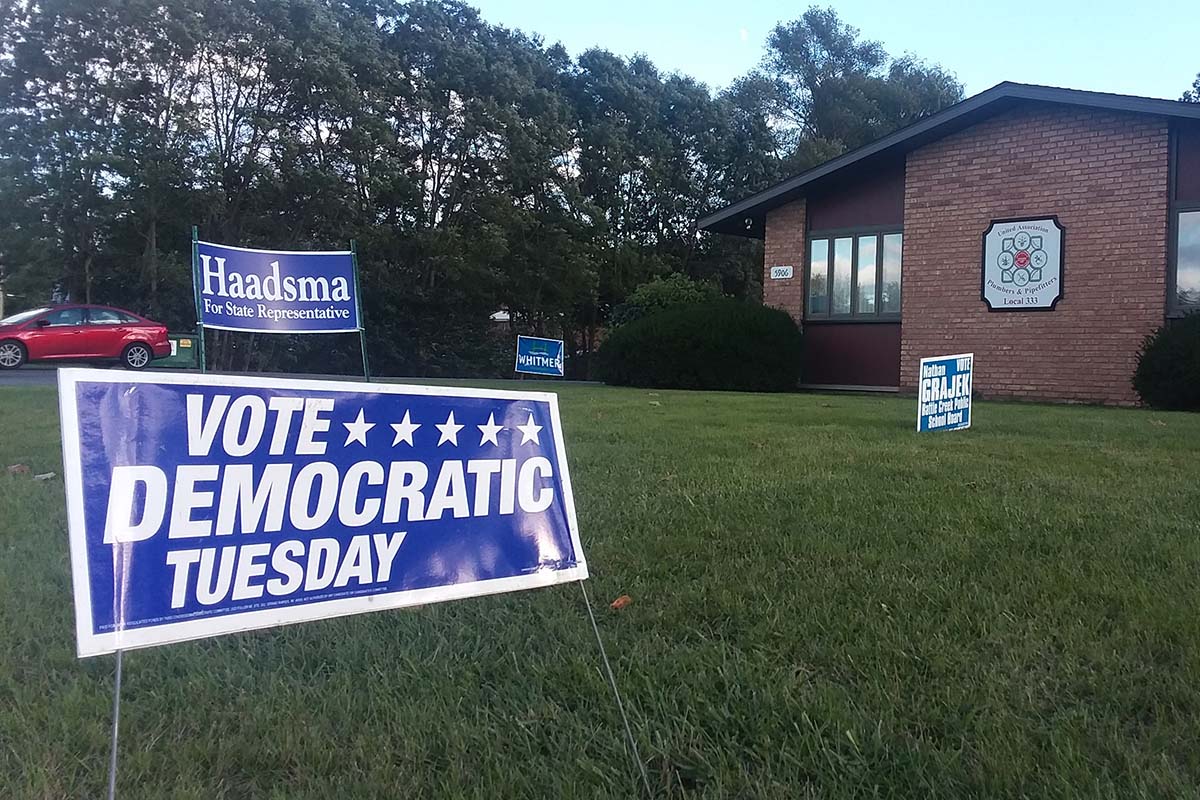 In Battle Creek in Calhoun County, a union hall touts votes for Democrats. One former union worker, Renee Lindsey, said President Trump's message on trade pushed her from the Democratic Party to support him and Republicans. (Bridge photo by Mike Wilkinson)
Battle Creek's Lindsey, an African-American, felt the pain too.  
"NAFTA just ripped us apart," she said.
And though she voted for Obama both times, Trump got her support in 2016. She said she'll continue to vote Republican.
Lindsey was among Kellogg Co. workers who lost their job because the company had moved work to Mexico following passage of the NAFTA, the U.S. Department of Labor later concluded.
Trump's message was tailor-made to those workers: His first campaign stop in his 2016 candidacy was to Birch Run, a village in nearby Saginaw County (which also flipped from Obama to Trump), just south of Bay City.
"Mexico is killing us on trade," he told the crowd, which roared its approval.
That was music to the ears of blue-collar workers in the region, said Dustin Riness.
In 2016, he worked at the GM Powertrain plant in Bay City, where many workers back Trump, Riness said.
"You would be surprised how many union guys voted for Trump. Guys who voted blue until Trump," said Riness, 33. "I think they were just tired of getting screwed."
In this year's gubernatorial campaign, Schuette has tried to tap that well of economic anger, repeatedly calling his campaign the "paycheck agenda" and saying a Whitmer victory would return the state to the "lost decade" of job losses in the 2000s.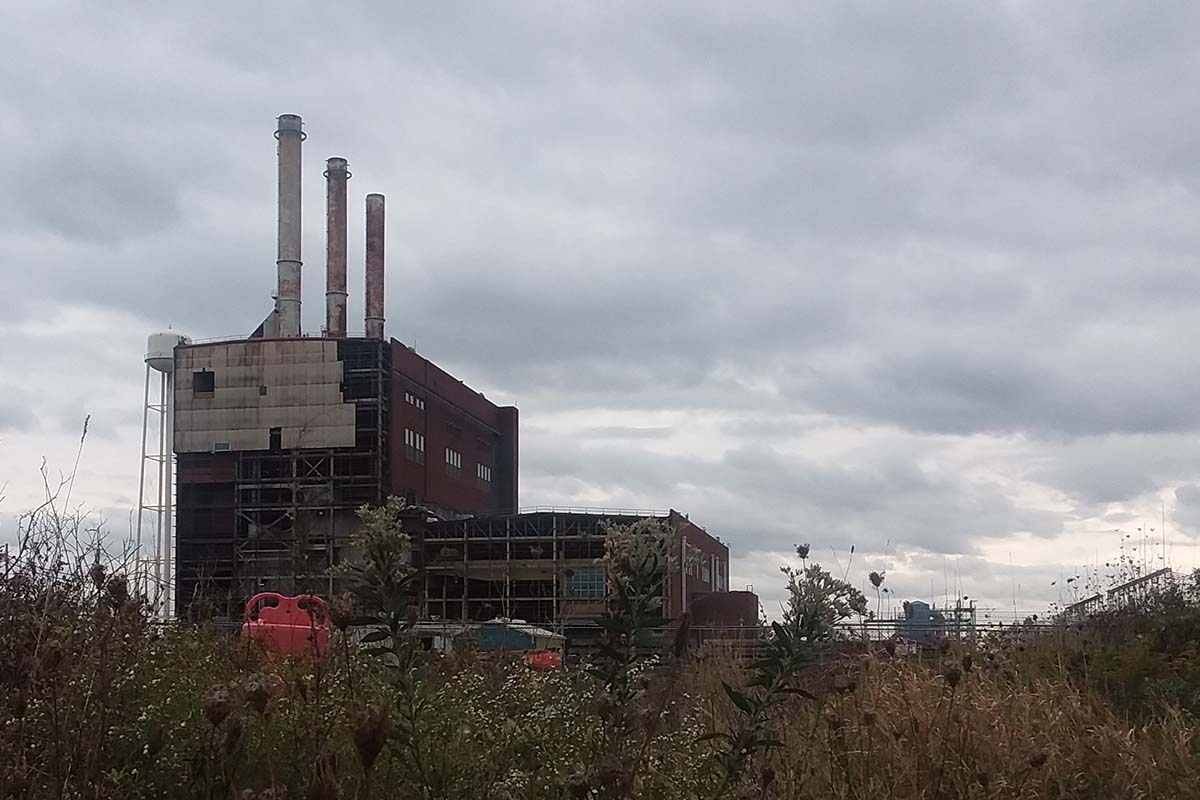 The former Consumers Power J.R. Whiting electric plant in Monroe County is being dismantled two years after it was shuttered, costing the county more than 70 jobs. The county has lost numerous heavy industry factories.
Minton, the Monroe County Democrat, said the Democratic message on jobs is a weak part of their platform.
Whitmer has proposed strengthening skilled trades training and raising the minimum wage to $15 an hour.
That might not be enough for voters in Monroe County, which has lost two Ford plants, an electric-generating facility and countless jobs in the last two decades.
"That's our drag down," said Minton, who is a local labor leader who said he knows many union workers who voted for Trump.
"(Democrats are) hanging their hat on 15 (dollars) an hour without (talking) about real sustainable jobs."
Activism in Eaton County
Not all the pivot counties –  or their voters – are so easily classified.
Southwest of Lansing, Eaton County remains mostly rural but is becoming more suburban and educated because of its proximity to the capital (part of Lansing is in Eaton County) and Michigan State University: 28.9 percent of residents have college degrees, about the same as the state.
That compares to 17.5 percent in Monroe County and 21.9 percent in Bay County.
Eaton County narrowly went for Obama in 2012 and it narrowly went for Trump four years later (fewer than 700 votes split Trump and Hillary Clinton out of more than 56,000 cast).
In Grand Ledge, Johana Wellwood and a handful of women sat around a table at a local brewery this month and talked about their anger at Trump.
"I've lived so long and I've seen how women have been treated and it needs to change," Wellwood said.
The pivot counties are bellwethers in part because of demographics, Grebner said: Educated areas are moving toward Democrats, and less educated toward Republicans. He said Oakland County, where nearly half of all adults have a college degree, will be just as important to watch as the pivot counties.
Wellwood and her daughter, Brenda Frezell, are active with Eaton Indivisible, a group formed in the wake of the 2016 election. Most of the women are college-educated and back Whitmer. But in the wake of the Trump presidency, they are equally interested in helping Gretchen Driskell, a Democrat challenging U.S. Rep. Tim Walberg, R-Tipton, in the 7th Congressional District.
The anger and the activism was so strong that Beth Bowen, a technical writer and member of the group, ran for the state representative in the 71st District (she lost in the Democratic primary to another woman.)
Just voting or volunteering wasn't enough, Bowen said, so she quit a good-paying job and campaigned for the better part of a year.
"I never thought I'd do something like that (run for office)," said Bowen,
Some went to the Women's March in Washington in early 2017, others attended similar rallies in Lansing. The group became and inspiration and a refuge –  a running group message board allows them to vent almost daily.
Top of ticket a drag?
The issues in a presidential race are different than those in a gubernatorial one. Michigan's next governor can't stop trade deals and has little to do with immigration. It's more about making sure third-graders can read, college tuition is low and roads are drivable.
But during Bridge Magazine's tour of pivot counties last week, there were far more political road signs for candidates for local and school elections than for Whitmer or Schuette.
And at local GOP offices, activists say the talk is less about Schuette than John James, a businessman and Army veteran who is challenging longtime U.S. Sen. Debbie Stabenow.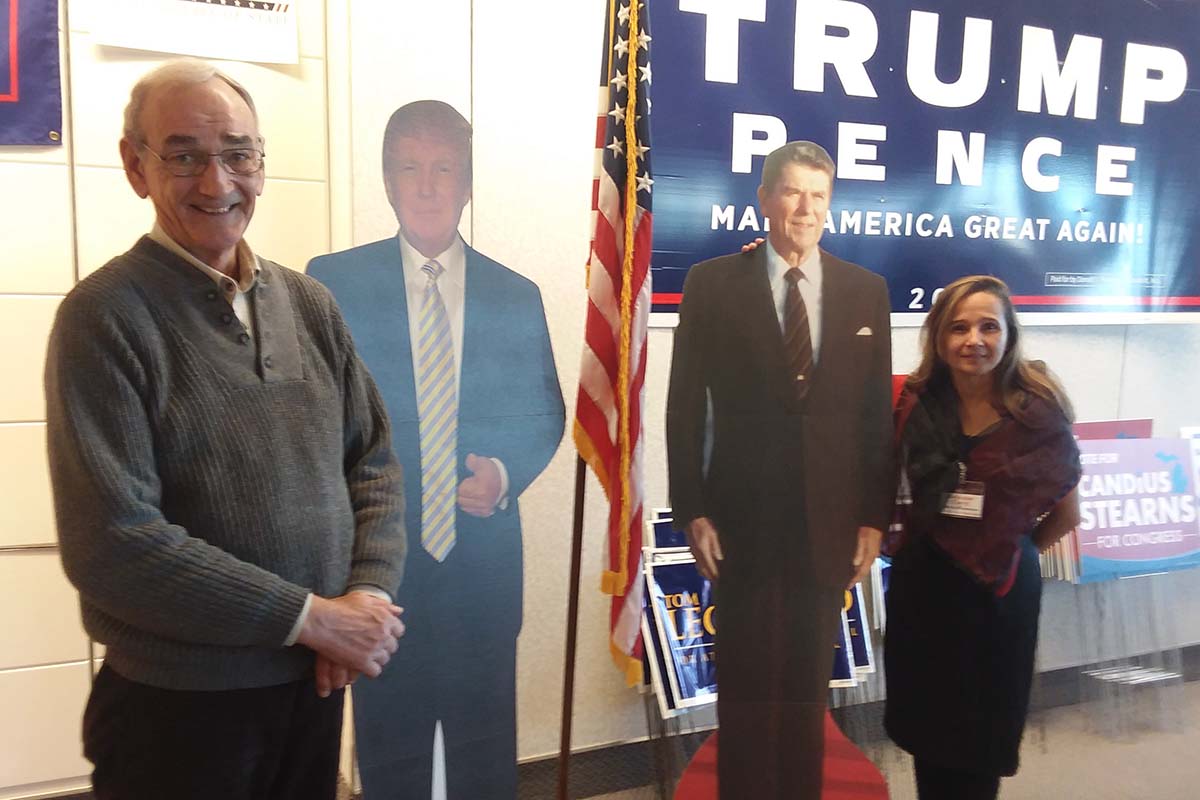 Tom Mitchell, left, has called hundreds of Macomb County voters for the county Republican Party and President Trump is a constant topic. Jazmine Early, right, is running for the 25th state house seat in Sterling Heights and Warren.
"John James has lit people on fire," said Jeannie Burchfield, chairman of the Calhoun County Republican Party in Battle Creek.
Volunteers in Macomb County agreed.
"You don't feel the same energy as you did then," said Early, the legislative GOP candidate.
And that's what may make this midterm election unique. Despite a host of state issues, many say are looking past the top of the ticket.
In Eaton County, the liberal activists are splitting their focus between two Democratic Gretchens –  Whitmer and Driskell, the challenger to U.S. Rep. Tim Walberg.
When asked whose victory would be more important -- Whitmer, the one who will lead the state or Driskell, the one who could provide a check against Trump, Bowen hesitated.
"That's a tough question to answer," she said.
Related: 2018 Bridge Michigan Voter Guide: Links to our relevant election coverage